Preparing and enjoying a delicious meal around the campfire is a rewarding part of any camping trip. But the whole process of cooking around a campsite part? That's another story!
Some people love cooking outdoors, and others avoid it like wildfire. Whether it's your first time around a campfire or you're a seasoned camper, cooking in the wilderness can be quite a challenge. But knowing how to prepare a flavorful and satisfying meal after a long day of adventuring outdoors is always worth the effort!
This guide to cooking outdoors goes over everything you need to know to put tasty meals together, including what camp kitchen gear to pack, the top camp cooking methods, and our best tips for outdoor food preparation.
Campsite Cooking: All You Need to Know
Learning how to cook while camping is just another part of the adventure! Some people like to keep it simple by roasting hot dogs and marshmallows for s'mores on sticks over the campfire. Yet others prefer to make it a full camping culinary experience with freshly baked pizza topped with foraged herbs. 
Whatever your take on campground cooking may be, let's start with the basics.
The food, heat source, and cooking gear you need for your camping trip depend on the meals you're preparing and the type of camping you're doing.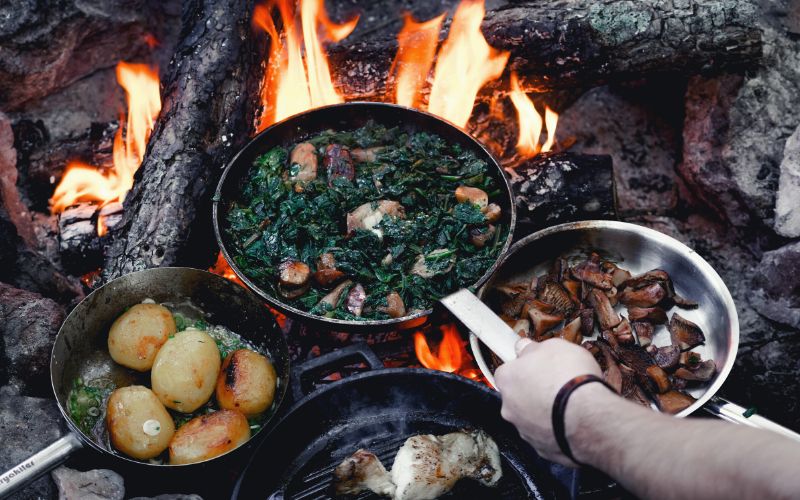 Food
Many campers stick to a traditional camping menu with the tried and true classics, like hot dogs, burgers, and s'mores. Others like to challenge themselves with outdoor gastronomy by making things like campfire pizza and dishes prepared with freshly foraged ingredients.
In either case, the food you choose to bring for your campsite cooking depends on what you like to eat. Plan on cooking meals you already know you like and have experience preparing. There's no use in packing up and cooking a meal that you don't end up eating because the flavor is off.
Wondering how much food to bring? Don't overdo it because you don't want to bring home food that's been sitting in a cooler for three days. But always pack extra food in case of an emergency, like having a bear sneak into your campsite to steal half of your food!
Car campers are free to bring as many provisions as they can fit in their food cooler and car. Meanwhile, those hiking to their campsite need to plan their meals diligently to avoid overpacking and minimize the amount of weight they carry on their backs.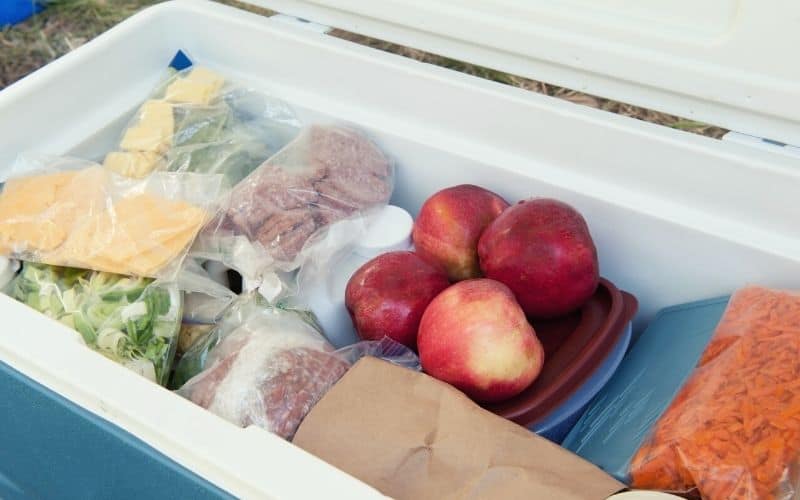 Heat Source
Obviously, you're going to need a heat source to cook your food. Most campers like to try their hand at cooking over the campfire at least once during the camping trip, whether with a pie iron, skillet, dutch oven, or simple frypan. It gives food a rich, smoky flavor, unlike any other method.
This approach takes some practice because the open flames make the temperature challenging to figure out, often leading to either undercooked or burnt food. You also need to know how to properly start and maintain a campfire to use this method.
Using a camping stove is the easiest way to prepare meals outdoors, especially for beginners. It has temperature controls and is similar to using a regular home stove.
Most camping stoves have two burners and windscreens to stop random gusts of wind from putting out the flame. Camping stoves are somewhat large and work best for car campers, while backpackers prefer to use lightweight backpacking stoves with mini fuel canisters.
Cooking Gear
As far as gear goes, car campers and RVers have far more options than tent campers.
They usually have enough space to transport storage bins full of kitchen supplies and ingredients. Being able to drive right up to your campsite allows you to set up a camp kitchen with multiple coolers, camp table, stoves, portable grills, and a variety of cookware (including heavy cast iron skillets) and utensils.
These types of camp kitchens are well-equipped enough to prepare almost every type of dish on a whim.
Backcountry backpackers are on the opposite end of the spectrum. Every ounce counts when you're carrying everything for miles! Those hiking to their campsite need to pack multifunctional and lightweight cooking gear that takes up as little space as possible in their packs.
Utensils and cookware made out of aluminum and titanium are ideal for those seeking lightweight alternatives. Since space is limited, many backpackers forgo dishes and eat straight out of the pot with a multi-use spork.
The most popular option for backpackers is to ditch the cookware completely, instead relying on a tiny stove to boil water for dehydrated backpacking meals.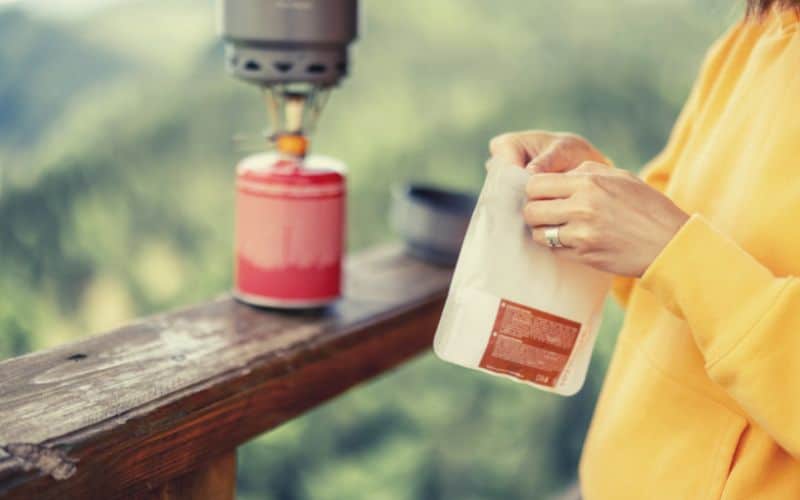 Essential Cooking Utensils and Camp Cooking Gear
What you choose to pack for your camp kitchen depends on your meal choices, but there are some items that everyone needs for cooking outdoors.
Here's a list of essential cooking utensils and tools to add to your camping gear:
Camping stove
Fuel
Lighter and matches
Ice
Cutting board
Pan
Pot with lid
Spatula
Metal tongs
Wooden spoon
Aluminum foil
Can opener
Utensils
Plates
Bowls
Cups
Mugs
Folding table
Sponge
Biodegradable soap
Paper towels
Trash bags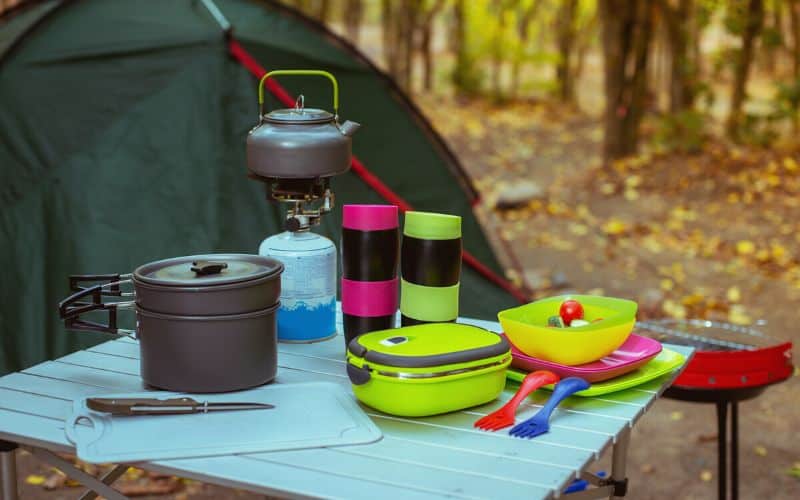 How to Cook While Camping: 8 Methods
There are a variety of techniques for making meals in the great outdoors. Here's a summary of the top eight camping cooking methods, along with meal ideas for each.
1. Boiling
Boiling water is the easiest and simplest way to prepare hot food while camping, especially when backpacking. Use a small pot covered with a lid to boil water quickly over high heat on a camp stove or wood fire. If you plan on heating the pot of water over the campfire, be sure the pot can handle that kind of heat first or you might accidentally melt it!
Bring jugs full of drinking water or collect water from a nearby source. It's important to make the water drinkable by using a water filtration system or purification tablets before using water from a lake or river.
Heating water is a popular method because it requires very little effort. The downside is that it uses up a sometimes limited resource: water. This may not be the best technique to use if you don't have enough water or access to a clean source of water.
You can use hot water to make instant oatmeal, pasta, quick-cook rice, instant noodles, and for dehydrated backpacking meals. It's also essential for preparing hot beverages to sip around the campfire, like coffee, tea, hot cocoa, and spiced cider.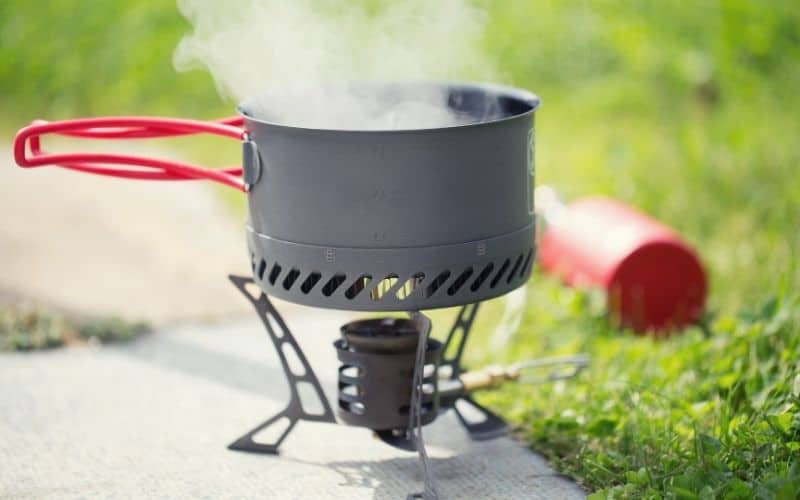 2. Frying
Whether it's regular frying, deep frying, pan-frying, or stir-frying, this technique is always a crowd-pleaser on camping trips.
Use a frying pan or cast iron skillet to heat oil over a camp stove or campfire.
Cooking with oil on a cast iron pan is perfect for camping because all it takes to clean up is a quick wipe with a paper towel. If you use too much oil, it can be difficult to dispose of properly when camping. Frying is not the healthiest way to prepare camping food, but it sure is tasty!
Foods that can be prepared by using different frying techniques include bacon, fried chicken, french fries, onion rings, stir-fried vegetables, beer-battered fish, and apple fritters.
3. Grilling
Grilling is an excellent way to cook healthy meals outdoors. Plus, food cooked over the campfire has a unique wood fire flavor that's difficult to recreate at home.
Some campers bring along a portable grill to set up at their campsite, but most rely on the fire ring and grill grate provided at developed campgrounds. You can also use a grill grate over the campfire and place your food on top to create a similar effect as your backyard barbeque.
This technique is best for those who know how to control the campfire temperature well enough to thoroughly cook food, like meat, without burning it.
Burgers, hot dogs, corn on the cob, steak, kabobs, fish, and portobello mushrooms are all foods that are good for grilling.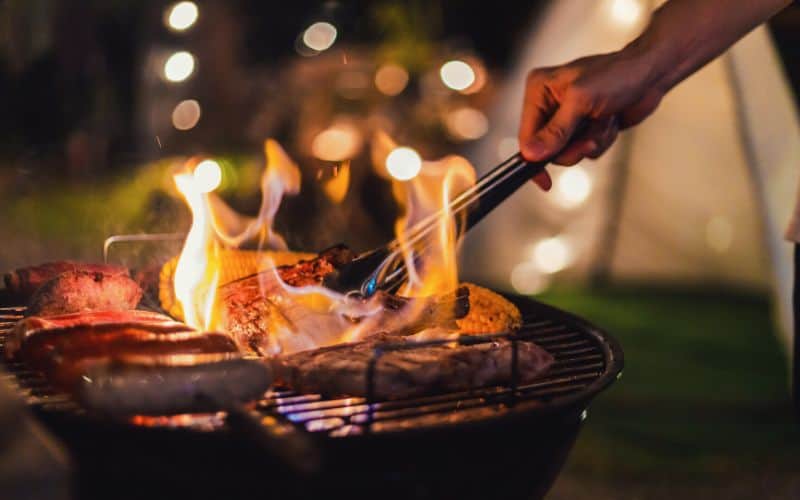 4. Dutch Oven
A dutch oven adds a whole new dimension to outdoor cooking. It's a thick-walled, cast iron pot that is used for everything from cooking to baking over a campfire.
It's one of the best campsite camp kitchen tools because it's extremely versatile and easy to clean. The only bad thing about a cast iron pot is that it's extremely heavy, making it impossible to use for backpacking and a hassle to carry around.
You can use a dutch oven to make stews, chili, lasagna, pizza, chicken pot pie, nachos with sour cream, cornbread, cinnamon rolls, and even apple pie.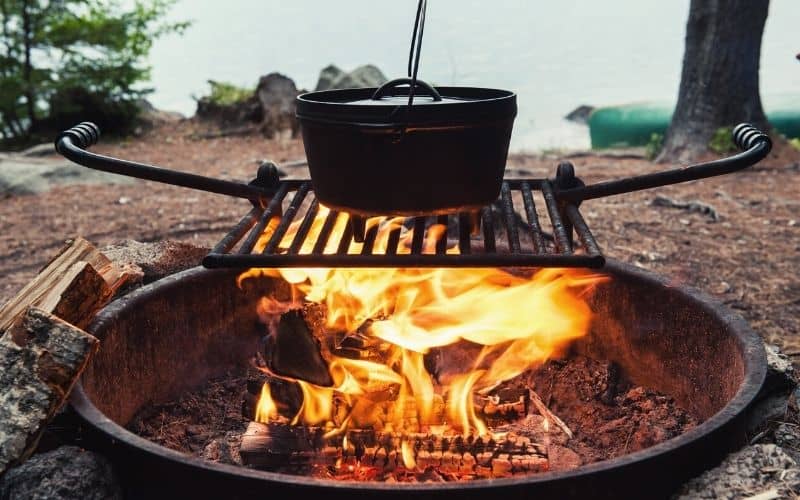 5. Camp Stove
Cooking on a camp stove is almost like cooking at home, except you're out in nature! Most camp stoves have two burners, making it easy to prepare two dishes at the same time.
A camp stove requires fuel to use, which you can buy in portable propane canisters for camping. Unlike cooking over the campfire, you can use regular pots on the camp stove. These types of stoves are popular with car campers because they can be heavy and clunky. Those looking for a lightweight option should opt for a small backpacking stove.
You can cook everything you cook on your home stove, like scrambled eggs, pancakes, country potatoes, and pan-seared meat and fish.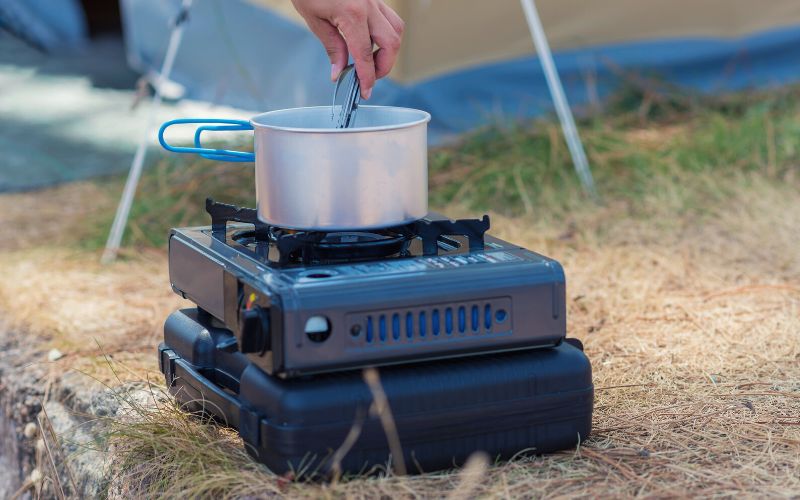 6. Cast Iron Skillet
A cast iron skillet is ideal for cooking over the campfire. Cast iron cookware stands up to open flames and high heat. You can place a cast iron skillet on a grill grate over the fire or right on top of the hot coals.
This is a highly versatile piece of gear that will last forever. But its weight limits it to car camping and not backpacking.
Cast iron skillets work great for making bacon and eggs, breakfast hash, seared steak, quesadillas, grilled cheese sandwiches, and frittata.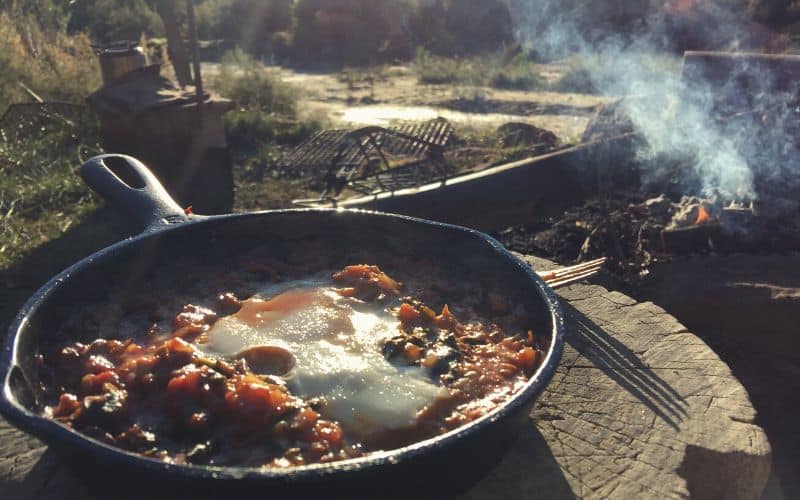 7. Foil Packets
Don't want to deal with packing pots and pans? Just bring along a roll of aluminum foil! Using foil packets (also called hobo packets) is one of the top hassle-free methods of cooking while camping.
Foil packets are easy to prepare at home and there's no cleanup at the campsite! Just wrap up your ingredients in aluminum foil, place the packet on the grill or campfire, enjoy your meal, and throw away the foil when done. The downside to this method is that you can't heat any liquids like soups or stews because they will spill.
There are tons of balanced meal options that you can make with foil packets. These include roasted vegetables with fresh herbs, sausage and peppers, cheesy baked potatoes, salmon with asparagus, and cilantro-lime shrimp.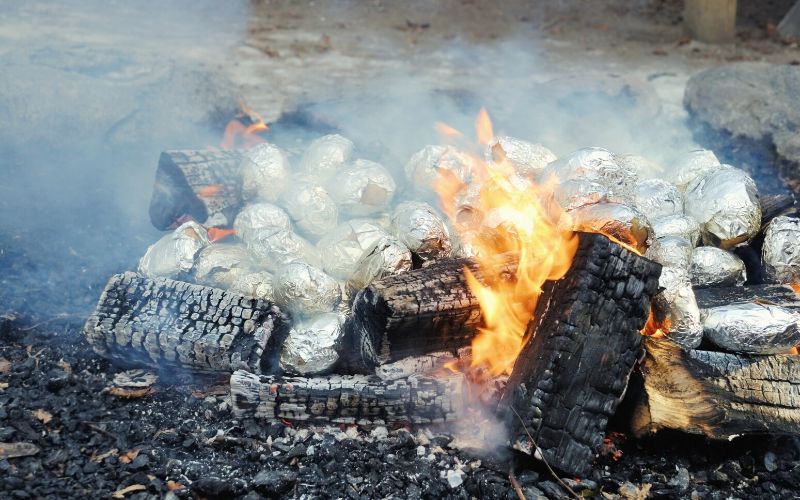 8. Stick Method
For the quintessential camping experience, cook your food on a stick over the campfire. It's the easiest and most minimalistic method of cooking while camping.
It's best to use extendable roasting sticks that won't light on fire like an actual stick from a tree. This method is very limited since you can only cook whatever you can pierce with a stick and hold over an open flame.
Foods that work well for cooking on a stick are hot dogs, corn dogs, sausages, and marshmallows for s'mores.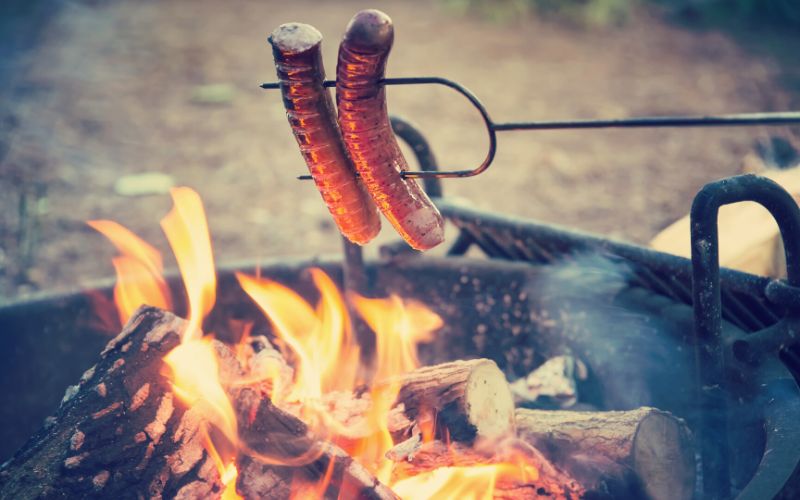 Campsite Cooking Tips
Learning to cook outdoors takes preparation, practice, and this cheat sheet of advanced camp cooking tips. Here's a list of expert tips to up your cooking game at the campsite.
Stick to simple and easy-to-prepare meals to spend less time cooking and more time enjoying the outdoors.
Bring snacks! You'll need plenty of snacks for hiking and lounging around camp. Fresh veggies, trail mix, and granola bars are good options.
Keep a storage bin with separate cooking utensils specifically for camping and use a checklist so you don't forget anything.
Plan out every meal in advance to be sure you have the right tools and ingredients for your camping menu.
Give yourself a break! Make sure you have a few meals that don't require heating.
Prepare food items for easy camping meals at home: chopped veggies, marinated meats, and burger patties.
Cook meals, like stews and soups, at home, put them in storage containers, freeze them, and store them in the cooler. It'll keep your cooler cold and you can heat a meal in minutes.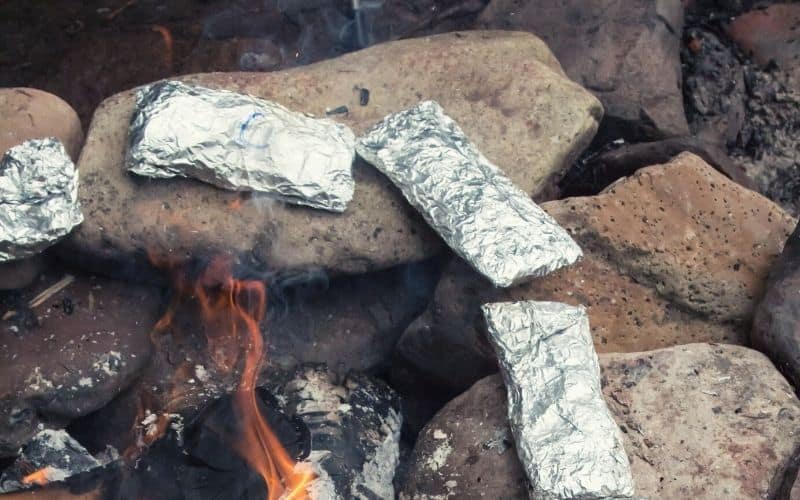 If you're camping with a group of people, trade-off kitchen duties by assigning each person a different meal to bring and prepare.
Pre-chill your cooler the night before your trip to keep it colder. Fill it with ice overnight, dump that ice in the morning, and then add in your food and fresh ice.
Pack extra reusable containers to store leftover food.
Remove any food packaging to reduce trash at the campsite, especially if you're going somewhere without trash bins.
Carry a backup heat source. If you're using a camp stove, bring along your backpacking stove or have firewood handy.
Pack firestarters if you're just learning to light a campfire properly or just prefer to light it quickly.
Don't forget the fuel! Always make sure you have enough fuel and bring some extra canisters.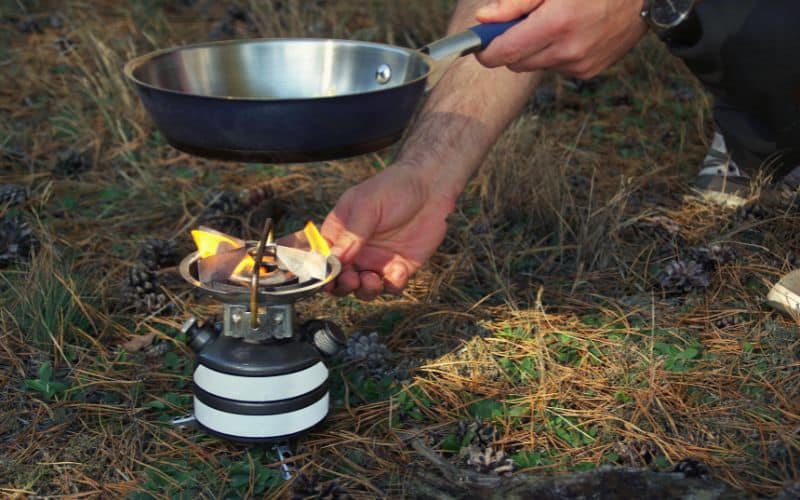 Hang a lantern near your food preparation area. You don't want to be left cooking in the dark!
Bring two small plastic bins for washing dishes. One to fill with soap and water and the other with rinsing water.
Pack a tablecloth to cover a dirty picnic table and keep your prep surface clean.
Don't leave any food or dirty dishes laying around because they attract animals.
Hang food from a tree or store it in your vehicle to keep it safe from bears and other critters.
Check for local fire bans. You might plan on cooking all of your meals over a campfire, but fire restrictions might have other plans for you.
Pick up all your trash and always leave the campsite cleaner than you found it.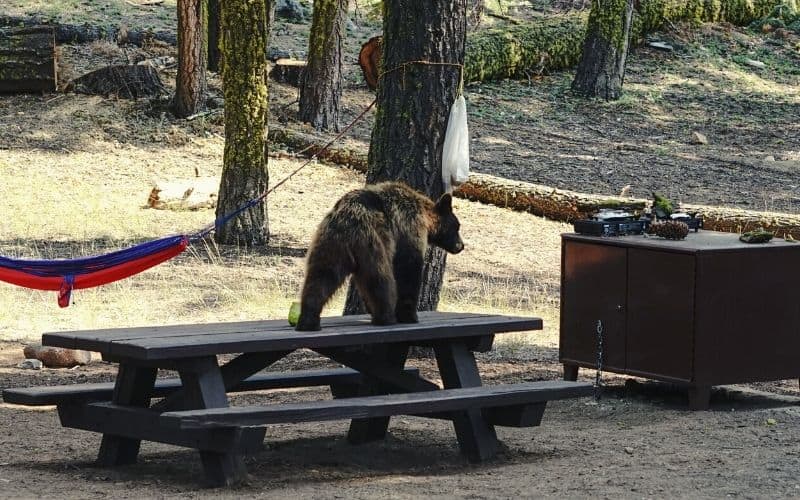 Happy Camping!
You're ready to start cooking! We've covered the basics for how to cook when camping, what cooking equipment to pack, and the top methods for cooking outdoors. Make sure you have a fire source, pack enough food, and don't forget any camp kitchen supplies.
Minimalist cooks can rehydrate meals with boiled water, roast hot dogs on sticks over the campfire, or prepare foil packets. Campers wanting to indulge in gourmet outdoor meals should invest in a dutch oven.
What are your go-to camping meals? Let us know in the comments below! If you enjoyed this article, please share it with your family and friends.