Waterproofing or "seasoning" your canvas tent may seem like a daunting task… and a big job.
Don't fret – with the right techniques and a few insider tips, the whole process can be quick and hassle-free.
In this post, we're going to take you through the steps involved in making sure your "home away from home" is weatherproof and ready for any kind of adventure. By following these steps, you'll have confidence knowing that you won't wake up in a puddle in the middle of the night!
What You'll Need
Access to a water supply
Canvas waterproofing product
Seam sealant
An old toothbrush
White vinegar
A few dry days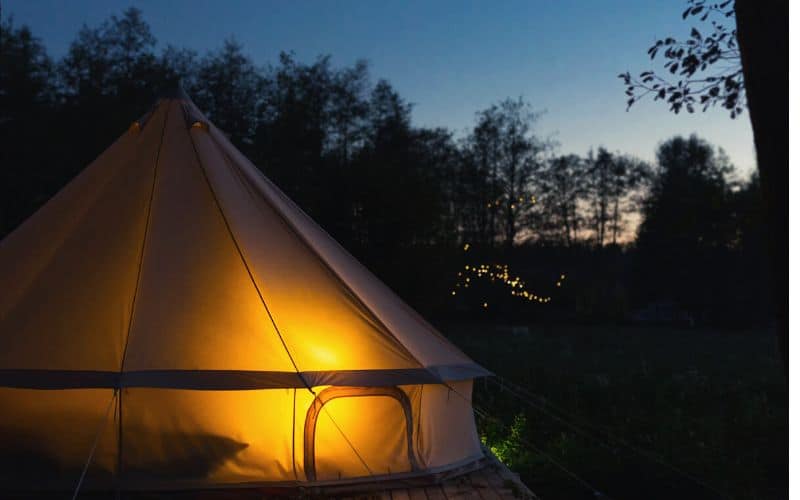 Why You Need to Season Your Canvas Tent
While canvas is a naturally waterproof fabric, it isn't waterproof "from the box". The reason for this is that the fabric is produced with a loose weave. When washed, the cotton fibers of the weave swell to create a tighter, impermeable weave. Before washing, the minuscule gaps between the fibers will leak when camping in rain.
When you buy a new canvas shelter, therefore, it's imperative that you "season" it. Seasoning simply means pitching it before your camping trip and giving it a good soaking.
If you use your tent regularly, you'll also have to reproof it once every year or two so the fabric maintains its water, mold, mildew, and UV resistance. Treating it to an annual clean will also extend its lifespan and enhance breathability.
How to Season a Canvas Tent: Step-by-Step Instructions
1. Set Up Your Tent
To season a canvas tent, you need to get the entire tent wet…twice. To do this, we recommend pitching it in your yard or any other area where you'll have access to water. It's also wise, of course, to choose a spot that you don't mind getting wet.
You'll need 2 or 3 dry days to complete the seasoning process, so check the weather forecast before you begin.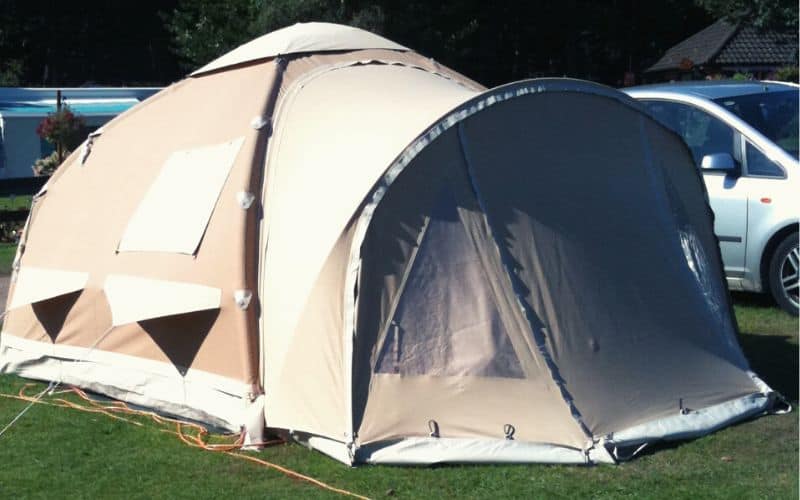 2. Soak
Now it's time to soak your tent material thoroughly. We recommend using a hose but you can also do this with a few buckets if you have a helper and a little more time.
Ideally, you should first soak the material in cold water, then hot water, then finish off with more cold water. Doing this will speed up the shrinkage of the fibers of the canvas fabric so there are no tiny holes between them.
3. Check
After soaking your shelter, head inside. Spend five minutes inspecting the fabric for any daylight sneaking through. If you see daylight, you need to repeat Step 2.
4. Dry
Leave your tent to dry in the sun for a full day.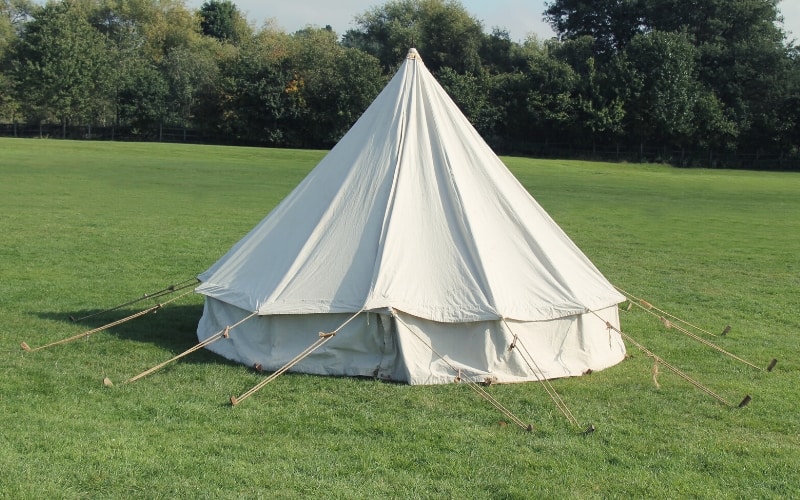 5. Soak Again
Repeat Step 2, above, this time using only cold water and doubling the time you spend soaking the fabric.
6. Test
Throw a willing volunteer inside your shelter. Simulate heavy rain by spraying your hose over it and having the person inside check for leaks.
7. Dry Completely
No leaks? Great! In that case, you're almost done. Leave your shelter pitched, open the doors, windows, and vents, and let it dry in the sun. Make sure it has dried completely before placing it in storage.
Waterproofing Canvas: Step-by-Step Instructions
1. Choose Your Waterproofing Spray
Silicone spray or fluoropolymer waterproofing products?
Both are good options, but fluoropolymer-based products like StarBrite or Scotchgard Heavy Duty Water Shield will not only provide water resistance but also protect the fabric against UV damage and stains.
To waterproof the seams – where leaks are most likely to occur – we recommend the Gear Aid Fast Cure.
2. Lay Your Tent Out
To get started, lay your shelter out on a clean and flat surface. It's going to be here for a while, so make sure it's in a spot nobody will have to pass through!
3. Spot Clean Stains
If your tent has any stains from tree sap, oil, or dirt, now's the time to clean them.
To do so, mix a quarter cup of vinegar in a liter bottle of warm water and use this with a soft brush (an old toothbrush will work well) to gently scrub out the stains. Alternatively, use a damp sponge with a gentle soap.
4. Apply Your Waterproofing Product
Follow the instructions on your waterproofing product and get down to making your shelter as water-resistant as it was when it left the shelves!
In most cases, this will involve liberally applying a coat of the product using a spray, plant sprayer, or paint roller. If you're using a water-based solution, you may have to dilute it (usually with 3 parts water to 1 part concentrate) and use your own spray bottle.
For a complete reproof, cover one side of your tent in product, leave it to dry, then flip your shelter over and treat the other side. If you have isolated leaks, you can simply treat these areas alone (and save yourself a lot of time!).
5. Test
Will your waterproofing treatment ensure you stay dry in wet weather conditions in the great outdoors? Now, not later, is the time to find out!
Try to simulate heavy rains by spraying your shelter with the hose, using a less powerful flow rate, and squishing the head fitting with your hand.
When done, check for moisture inside your tent. If you find any, re-apply your product in the leaking areas. If not, it's time for Step 6!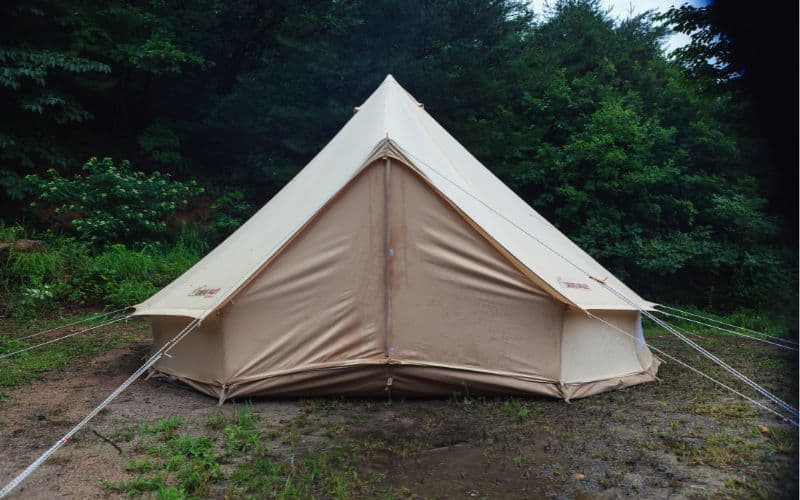 6. Dry
As when seasoning your tent, leave your tent pitched, open the doors, windows, and vents, and let it dry in the sun. Make sure it has dried completely before placing it in storage.
Additional Maintenance Tips for a Healthy, Waterproof Canvas Shelter
1. Dry Your Tent Thoroughly After Each Use
Make sure your tent, groundsheet, guy lines, and carry sack are completely dry before you put them in storage.
If post-trip you throw your tent into your gear closet when still wet or damp, it will develop mold and mildew. These aren't just unsightly, but can seriously damage the material.
2 Store in a Cool Dry Place
To ensure humidity doesn't make your tent damp and cause mold or mildew, make sure you store it in a room or cupboard that's dry and has decent airflow.
We also recommend storing it in a hard-sided container to help prevent rips and tears.
3. Clean Your Tent Regularly
How often you need to clean your tent depends on how often you use it and how well you store it. We recommend a cleaning schedule of once per year. If you only use your tent two or three times per year, however, and it doesn't get too grubby, then once every two years should do.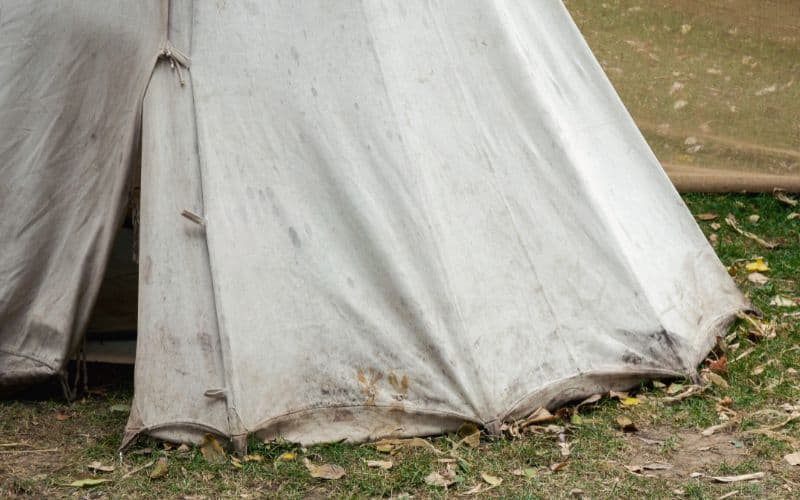 How to Waterproof a Canvas Tent…
Congratulations! Now you know how to waterproof a canvas tent you'll have a healthy tent to serve you well on all your upcoming camping adventures!
If you have any questions about this post, drop us a line in the comments box below. And if you'd like to share it with your friends, please do!