Canvas tents may seem like a blast from the past, but the Kodiak Canvas Flex-Bow 6 tent is a practical and luxurious option for extended outdoor living.
While its weight makes it impractical for hiking trips, its durability makes it an excellent choice for activities that don't require you to move location every day. Whether you use it for car camping, a hunting trip, or for week-long outdoor festivals, you'll appreciate its waterproof yet breathable walls, large living area, and sturdy construction.
The Kodiak Canvas Flex Bow 6 tent is a sturdy structure that you'll be able to use for season-long outdoor living. With a large amount of interior space and a generous awning, there's more than enough room for you and your gear.
Key Features
Made from 100% waterproof cotton duck canvas sealed with Hydra-Shield
Sleeps up to six people comfortably
Large awning for ample outdoor living space or gear storage
Durable steel frame made from one-inch steel pipe and Flex-Bow rods
Includes a customizable gear loft as well as organizer pockets
PROs
Bulletproof canvas construction makes this one tough, long-lived tent
Two large mesh doors for easy entry and through ventilation
100 square feet of floor space and plenty of headroom
Perfect for hunting trips or extended camping stays
CONs
At 72 pounds, this is one of the heaviest six person tents on the market
Canvas fabric takes time to dry after rain; not ideal for humid areas
Single wall construction. No separate rain fly
Bottom-Line: If you are looking for a large 6 person tent with great durability, then the Kodiak Canvas Flex-Bow 6 may be just the ticket. However, don't plan on hiking with it. CHECK PRICE ON AMAZON
Hands on Review
Livability
If you hate having to crawl into a tent, if you prefer using a cot to a sleeping pad, or if you plan on using your tent for a longer than average period of time, you will likely find the Kodiak Canvas Flex Bow 6 more comfortable and livable than a typical six-person tent.
The heavy canvas walls and steel frame make for a sturdier structure than other six-person tents and offer plenty of headroom and elbow room. The floor is ten feet by ten feet, which provides more than enough space for sleeping and for sheltering inside on rainy days. The awning adds protection from the sun and rain and creates a sheltered area to cook, store gear, or simply sit and watch the sunset.
Because of the large floor area and steep walls, it's quite easy to fit full-sized camp cots inside. More than one queen-sized bed wouldn't fit, but two twin-sized cots leave plenty of room to move around and still have room to store all of your gear. Inflatable mattresses fit even more easily than cots, and if you use traditional sleeping pads, you can comfortably house six adults for the night.
The large mesh windows and mesh doors offer cooling cross breezes throughout the night, and because the walls are cotton canvas, they keep the interior less muggy than a typical tent.
https://www.instagram.com/p/BgLwouRldul/?utm_source=ig_embed
Weather Resistance
The floor and walls of the Flex-Bow 6 tent are exceptional at repelling water. Even during heavy downpours, the cotton duck canvas with Hydra-Shield will shed water quickly. Because of the strength of the tent's frame, it handles heavy snow loads better than other six-person tents. The floor is made from 16-ounce vinyl which is reinforced with polyester for strength and water resistance. All seams are factory sealed.
One of the primary benefits of using a tent made from cotton canvas fabric is that it allows the interior of the tent to breathe and let out moisture. During cold weather, or during intermittent rain, moisture will not stay trapped inside the tent. Condensation, which might normally be problematic in other single-walled tents, does not readily collect on the canvas walls.
Unlike canvas tents of decades past, the cotton cloth used for Kodiak tents is tight-woven and is treated with Hydra-Shield, a silicone product that makes the walls completely waterproof, yet still, allows the fabric to breathe. This means that even during inclement weather, the walls will feel dry to the touch and will be free of condensation.
However, because the walls have a slight upward slant, rain can hit the rear door during a storm, and some rain may get into the tent if you use that door to exit. Using the primary door under the awning solves this issue.
Ease of Set-Up
Compared to the lightweight poles and fabric of other tents, some may find the heavy shell and steel frame of the Kodiak Canvas Flex-Bow 6 a struggle to set up. Two adults shouldn't find the process challenging, and after a bit of practice, you can erect it with little trouble. It's possible to set up alone, but you may find it challenging.
The strap and cinch storage bag for the tent comes apart easily, allowing you to simply roll out the single-walled tent in your desired camping spot. The frame itself is made from one-inch steel tube poles that connect easily. The bows are made from high-tensile spring steel rods which slide effortlessly into place.
https://www.instagram.com/p/BNlRkz8AS-2/?utm_source=ig_embed
Durability
Durability is where the Kodiak Flex-Bow 6 outperforms other tents in its class, hands down. Not only are you unlikely to ever need to replace this tent due to broken parts or wear, but you may be able to hand it down to your children. Each of the door zippers makes use of a heavy-duty #10 YKK zipper which won't snag or break. The seams of the tent are double-stitched to ensure a watertight seal and durability. The corners of the tent are reinforced with a second layer of fabric. Even the twelve-inch tent pegs are made from solid steel and will bite into hard or rocky ground without bending.
Both the canvas walls and the vinyl floor are exceptionally sturdy and are more resistant to tears and punctures than any standard camping tent. But keep in mind that you should always be sure it is thoroughly clean and dry before packing and storing it. Because it is made from natural fiber, it is more at risk of mold and mildew than other tents, and if there is no way to dry the tent before you leave your camping area, you must be sure to erect it once you return home and allow it to thoroughly dry before storage. This goes for all tents but is of particular importance for a canvas tent.
It is unquestionably built for heavy use year in and year out. While you'll sacrifice easy portability, the bulletproof design and material of the Flex-Bow 6 make it a great option for people who need a tent that is more like a home.
Packed Size & Weight
The Kodiak Canvas Flex Bow 6 tent weighs in at a hefty 72 pounds. This is much heavier than just about any six-person tent available due to the canvas and steel frame. When packed, the tent is 11 inches by 11.25 inches by 49.5 inches long.
You certainly won't be able to fit this tent in a hiking backpack. Nor does the strap and cinch storage bag have backpack straps like the REI Kingdom 6 tent's storage bag. Your best option for bringing this tent into the backwoods is on a vehicle or a pack animal.
Features
It's clear that a lot of thought and effort has gone into making Kodiak tents as durable and livable as possible. The first feature worthy of mention when considering the Flex-Bow 6 is the ingenious spring steel tension rods that allow for this tent's unique shape. The primary frame for the tent consists of a single 1-inch square steel pipe from which the canvas tent is suspended. The flexible rods pull the canvas walls of the tent taut and provide generous headroom inside. They also add to the stability of the tent during adverse weather.
Other features of the Kodiak Flex-Bow 6 are geared towards making this tent as rugged as possible. Unlike most tents, the door zippers are rock-solid #10 YKK zippers. Snags are unlikely, and a broken door zipper would be nearly impossible. The reinforced corners of the tent ensure that, even after a rough wind storm, the fabric of the tent will not fray or rip where it is pegged to the ground.
Technical Specifications
| | |
| --- | --- |
| Best Use | Camping |
| Seasons | 3-season |
| Sleeping Capacity | 6-person |
| Packaged Weight | 68 lbs. |
| Packed Size | 30 x 15 inches (tent), 50 inches (poles) |
| Floor Dimensions | 120 x 120 inches |
| Floor Area | 100 square feet |
| Vestibule Area | 40 square feet |
| Peak Height | 6 ft. 6 in. |
| Number of Doors | 2 doors |
| Poles | Galvanised steel poles |
| Wall & Ceiling Material | 8.5 oz Hydra-Shield Canvas (walls) & 10 oz Hydra-shield Canvas (ceiling) |
Best Applications
There's no doubt that the canvas and steel construction of this tent makes it more durable than any tent made from thin nylon and aluminum poles. If you need a tent that can become a home away from home and does not need to be frequently moved, then the Kodiak Canvas Flex Bow 6 is ideal.
There is any number of venues and locations where the Flex-Bow 6 may be a better choice than a standard six-person tent. It can indeed be used on weekend camping trips with the family, though it is best suited to campgrounds and other areas where you can set up right out of the car. Long fairs and festivals can also be made more comfortable when using this tent. Why sleep on the ground after a long day of music and dancing when you can sleep much more comfortably on a cot under a breathable canvas rather than stuffy polyester?
If you own off-grid property – especially in hot or muggy areas – that is used for four-wheeling, hunting, dirt biking, fishing, or similar activities, the Flex-Bow Six offers the kind of livability that few other tents can provide. Even if you plan to stay for several weeks or an entire season, this tent will keep you and your gear dry. Just be sure that it is clean and free of moisture when you pack it up, and it will be there for you year after year.
Limitations & Alternatives
The biggest drawback to using the Kodiak Canvas Flex Bow 6 tent is its weight. While some ambitious backcountry explorers may choose to use the Flex-Bow 6 for semi-permanent shelter in the deep wilderness, most outdoor enthusiasts will find it impractical for anything but drive-up camping locations. For anyone who prefers hike-in camping, a lighter six-person tent such as the Eureka Midori Basecamp 6 Tent is a much better option. And given the price of the Flex-Bow 6, casual campers or families who need lots of tent space, but don't need the durability of canvas may want to investigate the REI Kingdom 6 Tent.
Other Versions & Accessories
Kodiak offers a broad range of canvas camping tents. In the Flex-Bow line, sizes range from a two-person tent to an eight-person tent. All tents in the lane share the silicone-treated 100% canvas fabric of the Flex-Bow 6 as well as its rugged durability under any and all weather conditions.
The Flex-Bow VX tent is the smallest of the line, and like all Flex-Bow tents, has two entry doors, large mesh doors and windows, and an ultra-sturdy galvanized steel frame. Unlike its larger cousins, it lacks a front awning, and at its peak, it has an interior height of just four feet. Nevertheless, it's a great option for one or two people who like the strength and breathability of Kodiak tents, but who prefer a smaller version of the Flex-Bow design.
The largest tent in the line is the Kodiak Flex-Bow 8 tent. In almost every respect it is identical to the Flex-Bow 6, but it is four feet wider, offering room for up to eight people at a time. Both the Flex-Bow 6 and Flex-Bow 8 come in a deluxe model. Dubbed the 'VX', this option has two additional large panel windows. For outdoor enthusiasts who frequent hot climates, the VX option offers superior airflow for warm nights.
Alternatives
BEST CAMPING TENT – 6 PERSON
REI Kingdom 6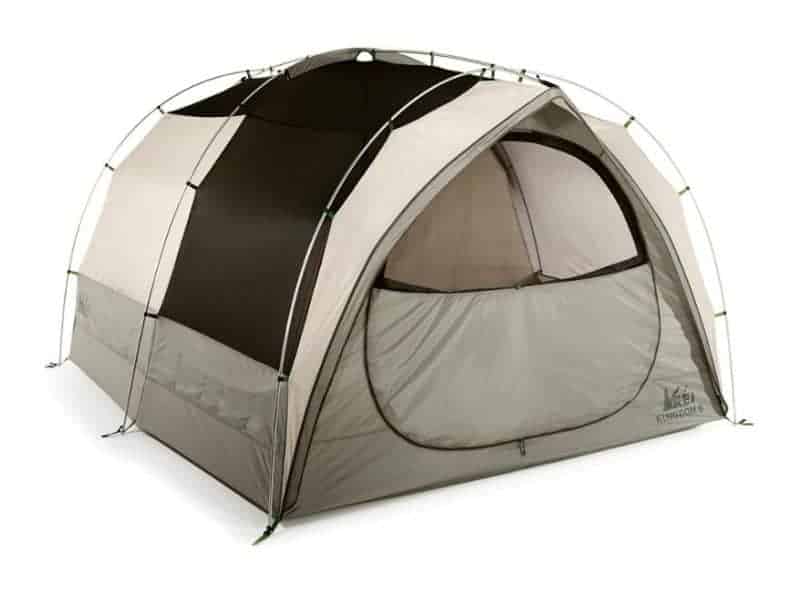 The REI Kingdom 6 makes for a perfect base camp or car camping tent. In addition to its two-room design, it can be connected to an optional zip-on garage which gives up to six people ample room for air mattresses and storing gear.
There is also a large vestibule and numerous interior pockets for extra storage. The spacious interior and easy setup make this tent a perfect choice for families or friends who are in need of a tent that will provide plenty of room for spreading out and relaxing in comfort while enjoying nature.
BEST LIGHTWEIGHT CAMPING TENT – 6 PERSON
Eureka Midori Basecamp 6
No products found.
The Eureka Midori Basecamp 6 tent is one of the lightest six-person tents in its class and weighs only 12 Pounds and 7 ounces. It may be less luxurious regarding square footage and headroom and lacks some of the durability of a canvas tent, but this tent is ideal for groups on the move. Unlike most large tents, the Eureka Midori is light enough to be used on hiking trips yet still has enough room for sleeping pads as well as a gear vestibule. However, the cramped quarters may feel claustrophobic on rainy days.
BEST VALUE 6-PERSON CAMPING TENT
Coleman Carlsbad Fast Pitch 6
If a canvas tent is out of your price range, the Coleman Carlsbad Fast Pitch 6 is an affordable alternative. At half the price of other tents in its class, the Carlsbad Fast Pitch may lack some of the luxuries of the Flex-Bow 6, but offers features such as a dark interior that blocks 97.5% of sunlight. A large mesh room doubles as extra sleeping space or can be used to store gear. While there may be small quality issues on individual tents, the Carlsbad Fast Pitch is one of the best six-person tents for campers on a budget.