Disclosure: The team at My Open Country highlights products we hope you might find interesting. If you buy them, we get a small share of the sale revenue from our partners at no additional cost to you. This never drives our decision as to whether or not a product is featured or recommended – you can read more about
our editorial process here
.
Marmot Hydrogen Review
Our Rating: 4.5/5
The Marmot Hydrogen sleeping bag is an ultralight bag at just one pound, eight ounces. This means it can be used by minimalist and ultralight backpackers without concern that it weighs you down, and with a pack size of only 6 inches by 12 inches, you will not have to worry about it taking too much space in your pack, either.
Filled and finished in the USA, you can buy this bag in good faith that your purchase supports American workers. This bag is all about comfort, warmth, and versatility. Its materials make the bag very comfortable to sleep in, while the 11 ounces of down and the Nautilus hood with face mask and drawcord help prevent loss of warmth.
With a full-length, two-way zipper and secondary 13-inch zipper, you can stay cozy warm or open up the zippers when you need ventilation. A very small internal stash pouch can hold your keys, chapstick, or even a mp3 player, while the two hang loops make it easy to place this mummy bag on a clothesline or connect to a support line with the help of a carabiner.
Key Features
Outside material: Pertex 20d nylon 1.3 ounces/yard
Insulation material: 11 ounces of high-quality 800+ fill-power goose down insulation treated with Down Defender for water-resistance giving a 30 degree rating.
Unique fold-down second zipper (13 in.) opposite the main zipper provides ventilation and easy access
Lifetime guarantee
Lining material: 30d nylon 1.09 ounces/yard
Nautilus Multi-Baffle Hood with draw cord and face mask
Fits up to a 6'9" frame with a full length zipper
Packs down to 6 in. x 12 in with stuff and storage bag included
Category Scores
Warmth
Weight & Packed Size
Comfort
Versatility
Features
PROs

Nautilus hood entirely encircles the head and, with the draw cord, shrinks down to a small hole around the mouth.
Packs down smaller than most bags for easy storage
Full-length zipper can be separated to mate with another sleeping bag of a similar size
Weighs only one pound, eight ounces, making it perfect minimalist and ultralight backpacking

CONs

30-degree rating is a little too ambitious
Loses 6.6 degrees in eight hours
Hands on Review
A cold night awaits you at the end of a long day of backpacking, but you are prepared. You have the Marmot Hydrogen mummy bag in your pack. Ideal for ultralight and minimalist backpackers, you know you can count on your bag for temperatures as low as 35 degrees. Warm and cozy with its 11 ounces of 850 fill goose down, you do not mind the idea of the cold night ahead and know it will cover your head completely with its Nautilus hood for even more warmth where it matters most.
Warmth
Rated for 30-degree weather, this rating seems a little too low. Many people who have tested this sleeping bag have commented on the chilliness below 35 degrees. However, the Hydrogen excels at keeping you warm between 40 and 50 degrees. It should, with 11 ounces of high-quality down between you and the cold. However, over eight hours of rest, you will lose 6.6 degrees of warmth, so the very comfortable warmth at 40 degrees when you go to bed will feel a bit chillier in the morning.
This mummy bag excels at cooling you off, however, If you are too warm, you can undo the zippers at the top and use that part of the sleeping bag as a comforter, with just the bottom half to keep you inside. You can also open the bottom half to let your feet and legs cool off while keeping your torso warm. This ventilation is great for warmer nights where a tightly enclose mummy bag can be a problem.
Weight
At just one pound and eight ounces, this mummy bag is one of the lightest on the market. This makes it excellent for ultralight and minimalist backpackers. It is a little heavier than some of the bags in the 30 degrees class. However, it provides a more durable Pertex outer material; the outer material is 20d, while the greatest amount of the weight comes from the 11 ounces of high-quality down, which is necessary for the great warmth and comfort that the mummy bag provides.
The greatest thing about the weight of this bag is that it does not substitute size for a lower weight. You still get a roomy bag, but you also get the light weight.
https://www.instagram.com/p/BG97tnYFUas/?utm_source=ig_embed
Comfort
The first thing to mention about comfort is the interior liner. Its soft brushed nylon will make sleeping cozy and relaxing. Baffles keep the down from shifting around, so there are no lumps or bumps in the sleeping bag.
Another great feature that facilitates comfort is the full-length zipper and secondary 13-inch zipper on the opposite side. These zippers make getting in and out of the mummy bag very easy, so there's no wiggling or struggling to get in or out. As was mentioned earlier, there are also excellent ventilation features to make warm nights more comfortable. If you like a sleeping bag that is roomy enough to move around in, but not so large that you slip and slide inside, this might be the perfect bag for you.
Packed Size
The Marmot Hydrogen mummy bag packs down smaller than most bags in its class. Its pack size is an ultra-small 6 inches by 12 inches, allowing you extra room in the sleeping bag or main compartment of your backpack, wherever you put your bag. The pack size is due to extra thin but durable nylon that is used on the exterior and interior, leaving only the goose down as bulk.
Like weight, pack size is a major component to consider when backpacking, as you need everything to fit in your backpack. With the Marmot Hydrogen, there is no concern for trying to stuff the rest of your gear in around a large sleeping bag. It fits nicely in the pack to leave extra room for other gear such as pots, stove, and clothes.
https://www.instagram.com/p/BFmvNTtFUSJ/?utm_source=ig_embed
Versatility
One of the most versatile sleeping bags on the market, this bag can be used for backpacking of all types, from minimalist to car camping, as well as climbing, canoeing, and almost any other outdoor adventure.
This versatility can be found in its cold weather warmth and warm weather ventilation and water-resistant down. Light in weight and small in packing size, the Hydrogen is roomy enough for most body sizes, making it very versatile to a variety of people.
Features
The Marmot Hydrogen is devoid of many of the features found in other bags, like removable liners and Velcro to keep the zipper closed. However, there are a few things to mention about this mummy bag.
First, it has an internal stash pocket just big enough for keys, watch, or mp3 player. This is good for keeping up with the small items that matter most. Next, it comes with two hang loops that are great for hanging the mummy bag up for airing and drying. 30-degree be a regular practice that you do every time you go backpacking with this bag.
A final feature of the Marmot Hydrogen is a Nautilus hood with a drawcord. This allows the hood to completely encompass your head and, when the draw cord is completely drawn, cover all but a breath hole for your mouth. An added face mask will keep the lower half of your face warm as well.
Limitations
The only real concern with this bag is that the 30-degree rating is a little inaccurate for the real-world experience. A rating of 40 degrees would be more appropriate.
Best Applications
This mummy bag is best used by minimalist and ultralight backpackers, as the extra cost for the lightweight and small packing size would probably be wasted on a casual or car camper. It would also be good for canoeing and climbing, thanks to the water resistance and hang loops of the bag.
https://www.instagram.com/p/BGw1nXFFUWT/?utm_source=ig_embed
Technical Specifications
| | |
| --- | --- |
| Best Use | Backpacking |
| EN Lower Limit | 24.4 degrees Fahrenheit |
| EN Comfort | 33.6 degrees Fahrenheit |
| Temperature Rating (F) | 30 degrees Fahrenheit |
| Temperature Rating (C) | -1 degrees Celsius |
| Weight | Long Left1 lb. 11 oz.Regular Left1 lb. 7.3 oz. |
| Shell | Nylon |
| Zipper Location | Left/Right |
| Insulation Type | Down |
| Water-Resistant Down | Yes |
| Fill | 800-fill goose down |
| Fill Weight | Long Left13.8 ouncesRegular Left10.9 ounces |
| Lining | Nylon |
| Sleeping Bag Shape | Mummy |
| Fits Up To (in.) | Long Left78 inchesRegular Left72 inches |
| Shoulder Girth (in.) | Long Left63 inchesRegular Left61 inches |
| Hip Girth (in.) | Long Left58 inchesRegular Left56 inches |
| Stuff Sack Size | 6 x 12 inches |
| Stuff Sack Volume | 5.6 liters |
| Gender | Unisex |
Value
This mummy bag, though it has a few minor flaws, is worth every penny you may pay for it. It is ultralight, durable, comfortable, and warm. Also, it has one of the lightest weights and the smallest pack sizes on the market, which makes it perfect for backpacking.
Other Versions & Accessories
The other version of this product is the Marmot Hydrogen Long, which is six inches longer, long enough to fit a seven-foot-two-inch frame versus the regular Hydrogen's six-foot-nine-inch interior length. The longer version also weighs three ounces more.
The Marmot Hydrogen has a nylon interior material that is durable and comfortable, but if you want something you can take out and wash without the hassle of washing the entire sleeping bag, you may want to get a liner made of cotton, polyester, or even silk. Liners are great for extra warmth or comfort and are removable for washing ease.
Another accessory you might consider getting is a small camping pillow. Compact and light, camping pillows fit easily into your pack but provide a comfortable place to rest your head within the hood of your sleeping bag. While smaller than a regular pillow, camp pillows fit perfectly within a mummy bag's hood and remained under your head all night long.
You will probably need something under your sleeping bag, too, for insulation against the cold of the ground. A sleeping pad will do the job well and also provide padding underneath your bag for extra comfort. Consider buying one that is slightly larger than the widest part of your sleeping bag because you will not want part of your body hanging off the sleeping pad.
Alternatives
BEST SLEEPING BAG
Enlightened Equipment Revelation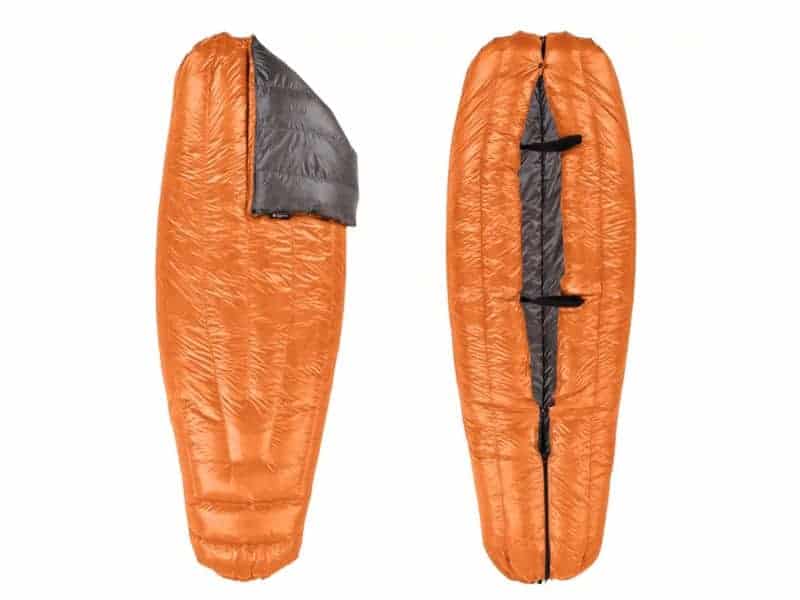 While the Marmot Hydrogen weighs less than most sleeping bags, the Enlightened Equipment Revelation Camping quilt weighs even less at one pound and four ounces. The quilt's pack size is about the same as the mummy bag; the Revelation has an area of 77 inches, while the Hydrogen has a minimally smaller area of 72 inches.
The Revelation has a toe box like a sleeping bag, but is otherwise open, while the Hydrogen, the complete opposite, is entirely enclosed. One disadvantage of the Revelation is that it leaves your head exposed, which is the part of your body that releases the most warmth. While the Hydrogen is best for backpackers looking for a snug fit, the Revelation can best be described as for people who want a much looser, draped fit.
BEST FOR DAMP NIGHTS SLEEPING BAG
REI Igneo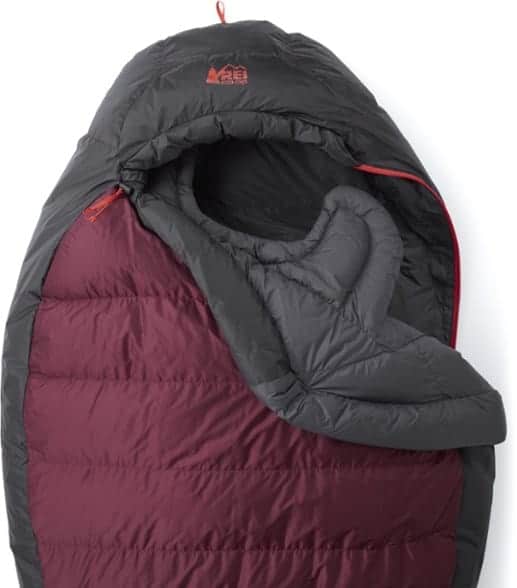 A sleeping bag with a 19-degree rating, the REI Igneo uses 15 ounces of duck down instead of the Hydrogen's 11 ounces of goose down, which makes the REI Igneo a warmer choice for cold nights. It also has water resistance on the down and a water-resistant nylon shell which are great for keeping the bag dry when the tent walls are wet.
A disadvantage of the REI Igneo is its smaller toe box, which felt a bit too tight. The REI Igneo is great for very cold, damp nights, while the Marmot Hydrogen is better for dry nights and has wonderful ventilation for warmer nights, even though it can handle cold nights, too.
BEST BUDGET SLEEPING BAG
Kelty Cosmic Down
The Kelty Cosmic Down, having lower-quality fabrics and 600 fill down, does not compress into as small a pack size as the Marmot Hydrogen. Because of this, as well as the weight and level of warmth, the Kelty Cosmic Down cannot be recommended as a three-season bag like the Marmot Hydrogen is.
Best suited for car camping or for people who do not mind the heavier weight and larger pack size. At a much more budget-friendly price, this sleeping bag is a good alternative for people with low finances. The Marmot Hydrogen, in comparison, is best for ultralight backpacking where the weight and dimensions of the sleeping bag count.