Mountain Equipment Ibex Pants: On Paper
We were drawn to the Mountain Equipment Ibex pant following rave reviews from hiking friends both in the UK and stateside. Mountain Equipment aren't yet established in the US in the same way that Rab, Inov-8, Montane, or Lowe Alpine are, but these pants demonstrate why, in all likelihood, that won't remain the case for long.
ME bills the Ibex as a lightweight, technical mountain pant. While designed to cope with fluctuating temperatures, it is geared towards three-season adventures above the treeline.
Specs and features-wise, the Ibex tick all the boxes. They're made with an EXOLITE 210 stretch, double-weave softshell that provides great breathability, water-resistance, and are built to increase mobility.
There are five pockets in total: two zippered hand pockets, one rear pocket, and two zipped thigh pockets with integrated mesh lining for ventilation. An integrated belt is hidden beneath the hip fabric to prevent snagging, while a microfleece-lined waistband is there to wick sweat and boost comfort. Ankle zips with an internal gusset panel provide the cherry on top of the cake.
At 15.9 oz., the Ibex are no lightweights, but they're far cheaper than competitors like the Arc'teryx Gamma LT (12.5 oz.) and lighter than the Arc'teryx Gamma AR (17 oz.), all offering similar performance.
Mountain Equipment Ibex Pant: In the Field
I took the Ibex for a spin on a trip to the European Alps this fall. Over a two-week period, they summited three 13,000-foot peaks and put in over 60 miles on other trails in temperatures ranging from 43 to 76 degrees. Here's how they fared…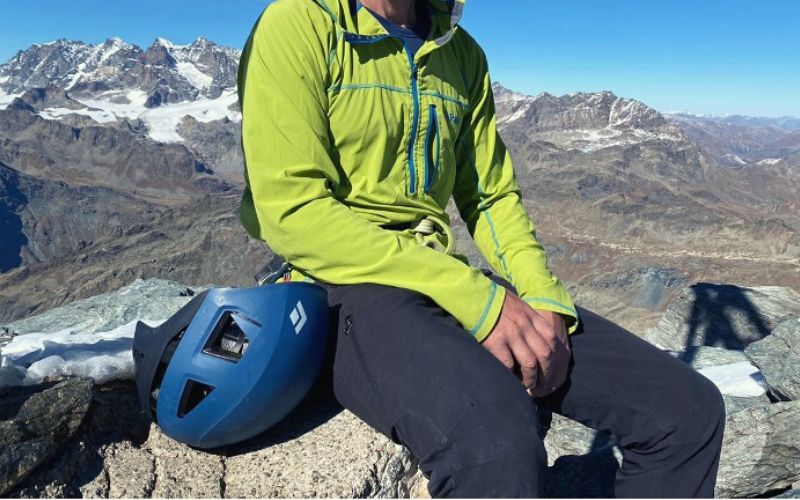 Materials
The stretch fabric used in the Mountain Equipment Ibex Pants was the first thing I noticed. Whether strolling up mellow trails or stretching up steep sections of a mountainside, they didn't inhibit movement in the slightest. On the first day I used them for rock climbing, performing so well as to relegate my regular rock pants for the next day's climbing too.
Just as pleasingly, the fabric in these pants adapted well to varying temperatures. On a hike that began at 6,500 feet and culminated at just under 12,000 feet, at no point did I feel either too warm or too cold, even though temps varied significantly throughout the day.
The only time I had to open the thigh vents/pockets was on the steepest sections of the ascent, by which point temps were in the high 60s.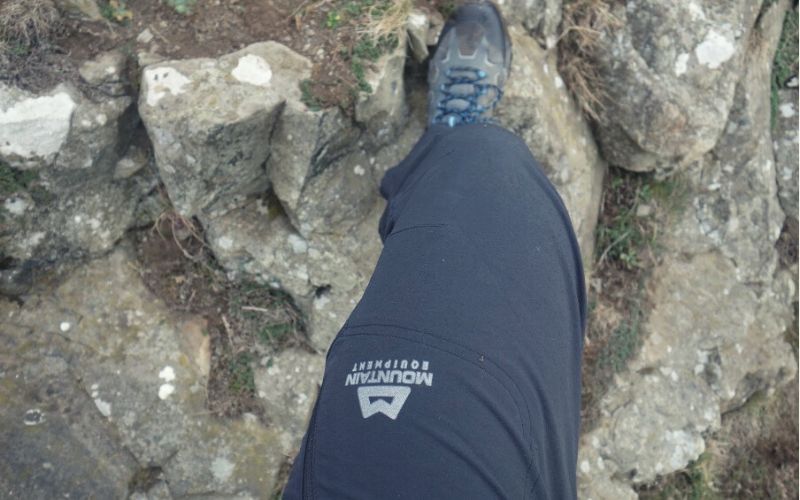 The only potential downside I can see at this stage is that these pants might be a little too warm for summer hiking, which obviously detracts from their versatility. The fact that they're only available in dark (black or gun-metal gray) color schemes doesn't help, either.
While it's too soon to gauge durability, the fabric feels tough and has already come through a few collisions with rock, snow, and ice unscathed.
Comfort and Mobility
As mentioned above, the Ibex's built-in stretch makes them a pleasure to wear and more mobile than many other pants in their price range. There are, however, other features that made them winners in the comfort and mobility stakes. The most notable of these are the articulated knees, gusseted crotch, and fleece-lined waistband, which felt great even under a climbing harness.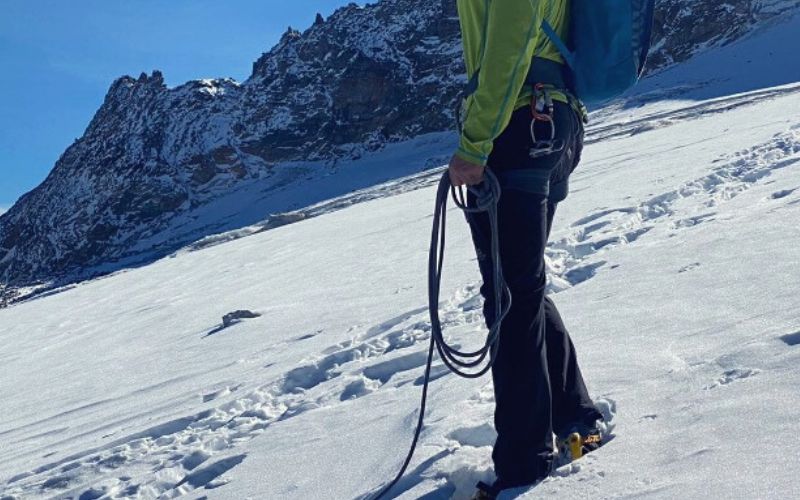 I also appreciated the low-volume lower leg, which meant there was less fabric swishing around and liable to snag on undergrowth or my crampons.
In the past, my knees haven't taken kindly to many types of softshell fabric, feeling like they've been scrapping with a cheese grater or sheet of sandpaper by the end of a day's hiking. With the Ibex, this wasn't the case thanks to a brushed interior that felt smooth and soft against the skin, even at the end of a 12-hour day on the trails.
Venting
While there are no designated vents in these pants, both of the thigh pockets are lined with mesh, which allows for plenty of airflow when needed.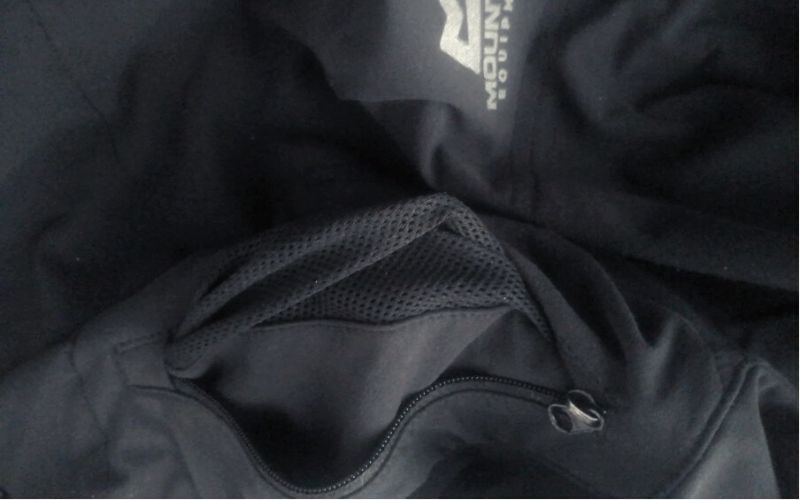 Weather Resistance
The Ibex's water repellency is provided courtesy of a DWR finish. This won't provide the same weather protection as rain pants but it will fend off light rain showers. 
As with most softshell pants, the Ibex provide significantly more wind resistance than regular hiking pants.
Sizing
Both the men's and the women's version (called the Chamois) are available in three leg lengths and run true to size, so it's easy to find the perfect fit.
Features
As mentioned above, the Ibex give you:
Two zippered pockets
Two thigh pockets
A rear pocket
A fleece-lined waist
A gusseted cuff at the ankles that first over any size of boots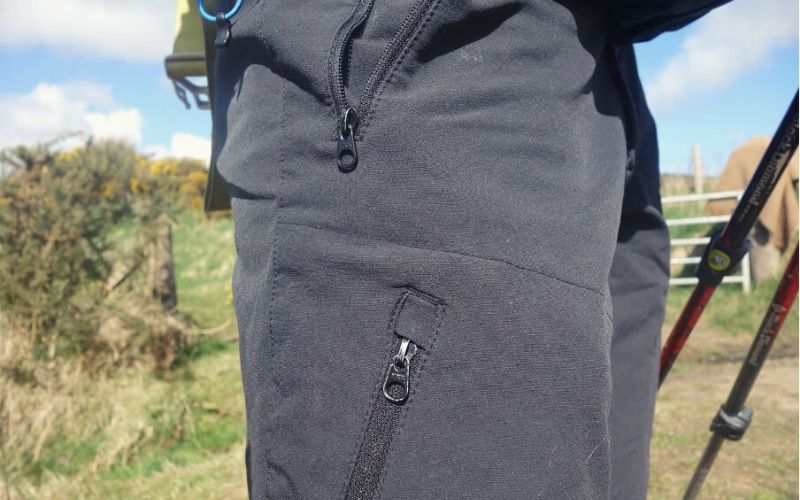 Alternatives
The first alternatives that came to mind when I was testing the Ibex pants were Outdoor Research Cirque Pants and the Mountain Hardwear Chockstone Alpine, which are my go-to pants for winter and shoulder-season hiking respectively.
Compared to these two, the Ibex sits squarely in the middle as regards price, weight, and warmth.
The OR Cirque are the priciest and heaviest of the bunch, tipping the scales at 22 ounces. They are also, however, the warmest, and a better bet if you're looking for a pant that's suitable for the shoulder seasons plus winter rather than the shoulder seasons plus the odd summer outing.
The MH Chockstone are an ounce lighter than the Ibex, equally as mobile, and a fraction cheaper. Otherwise, there's very little to split the two except for the Ibex's additional pockets and slightly better insulation.
Mountain Equipment Ibex Review: The Verdict
All of the above leads to a fairly simple conclusion: the Ibex Pant from Mountain Equipment are a great pair of pants!
But who are they for?
While I'd still be tempted to plump for the Arc'teryx Gamma LT if I had cash to burn and was looking to add a lightweight, summer-slash-shoulder-season hiking pant to my quiver, the Ibex are a better bet for cooler conditions and just about the ideal shoulder-season-slash-winter pant.
The Ibex are also a great pick for summertime mountaineering thanks to their durable build, stretchy fabric, alpine fit, breathability, and weather-resistant finish.
If you liked this post or have any questions, drop us a line in the comments box below. And if you'd like to share this post or any of our other gear reviews with your hiking friends, please do!