Disclosure: The team at My Open Country highlights products we hope you might find interesting. If you buy them, we get a small share of the sale revenue from our partners at no additional cost to you. This never drives our decision as to whether or not a product is featured or recommended.
MSR Hubba Hubba NX Review: Backpacking Tents
Our Rating: 3.3/5
In our MSR Hubba Hubba NX review, we soon realized that this was more than a tent with a humorous name, though the name isn't something to ignore. It's clear that MSR intended for this freestanding three-season, two-person tent to match up comfort and livability with backpacking portability.
With a compressed packed size this lightweight tent is perfect for backpacking adventures, and with a special design that maximizes interior space, is comfortable enough for regular camping. In part, this is due to the two covered large side-entry vestibules, which offer additional storage space for your outdoor gear and frees up more room inside the tent.
A separate footprint is recommended if you intend to use the vestibules for storage, but the tent itself has a bathtub style, waterproof floor that makes a footprint unnecessary for the tent itself.
The MSR double Hubba NX 2 also comes with a rainfly coated with the same trademarked waterproofing as the floor and rain gutters to keep water away from the zippers to help keep you cozy in the middle of the wilderness.
Key Features
Symmetrical geometric design optimizes interior space
Side entry zipper orientation
Two doors for easy entrance and exit
Rain gutters keep water away from zippers and doorways
Durable, high-tenacity nylon fabric
Xtreme Shield coated rainfly and bathtub style floor
Compression stuff sack with pull handle
Rainfly kickstand vents
Category Scores
Comfort & Liveability
Weather Resistance
Ease of Setup
Weight & Packed Size
Durability
PROs

Lightweight and compact design make this tent ideal for backpacking
Excellent ventilation keeps air fresh and counters condensation
Easy and fast set-up makes it easier to get out of the rain fast
Great value

CONs

Additional stakes and guylines needed for stormy weather
Grey nylon lets in a lot of bright moonlight
No footprint for vestibules
Bottom-Line: A reasonable middle-of-the-road tent at a decent price. It does everything pretty well, but if you want more in terms of comfort, weight, or weather protection expect to pay a higher price for one of its competitors.
Hands-On Review
Our review of the MSR Hubba Hubba NX 2 found this tent to have impressive protection made with durable nylon fabrics and with an Xtreme Shield coated rainfly and tent floor, allowing it to withstand the wind, rain, and the other rigors of the outdoors without tearing or getting waterlogged.
Furthermore, the distinctive design of this tent creates more interior space, with the side entry zipper allowing for easier entry and exit, and specially designed rain guttering keeping the doorways dry. Kickstand vents help to keep fresh air moving into and out of the tent, and, once it's time to move on, the compression stuff sack allows the tent to be collapsed back into a highly portable, lightweight package.
Comfort & Livability
With a floor space 7 feet long and 4 feet two inches wide, the MSR Hubba Hubba NX 2 is spacious for one person, and certainly cozy for two, allowing just enough space for two sleeping pads. Of course, in addition to the 29 square feet of floor space, the interior peak height of 39 inches gives backpackers sufficient space to move around inside the tent without always bumping heads or elbows.
Those unfamiliar with backpacking might feel a bit snug, but for experienced backpackers and campers, the Hubba Hubba NX 2 offers a comfortable space that doesn't force you to act like a caterpillar when slipping into, or out of, your gear. The symmetrical design also assists with this, as the outer walls of the tent rise close to vertically, so there's less room sacrificed by the curve of the tent and more usable space inside to move around.
Of course, dimensions aren't the only thing that makes a tent comfortable. The double Hubba NX 2 also offers two mesh pockets below the mesh window vents that run the width of the tent so you can store essentials, such as flashlights or a few pieces of clothing, by your pillow for easy access during the night.
What's more, this tent features dual doors, a feature many backpackers consider essential when sharing a tent. Few things are as annoying as being stepped on or crawled over in the middle of the night when your partner goes to answer the call of nature. To go along with the two-door design, the rainfly unzips on the sides, so it's easy to exit without having to crawl over gear or press against the inside of a wet rainfly. Just another element that indicates that MSR very much had comfort in mind when designing this tent.
The MSR Hubba Hubba NX 2 features two kickstand vents on the rainfly, which keeps the tent well-ventilated without letting rain in. Also, due to the exoskeleton rainfly design, which elevates the rainfly off the top and sides of the tent, the amount of condensation inside the tent is minimized, important when two people are sharing such a confined space. Leaving the vestibules partially unzipped will also help with cross-ventilation, but isn't recommended when there's the possibility of nasty weather.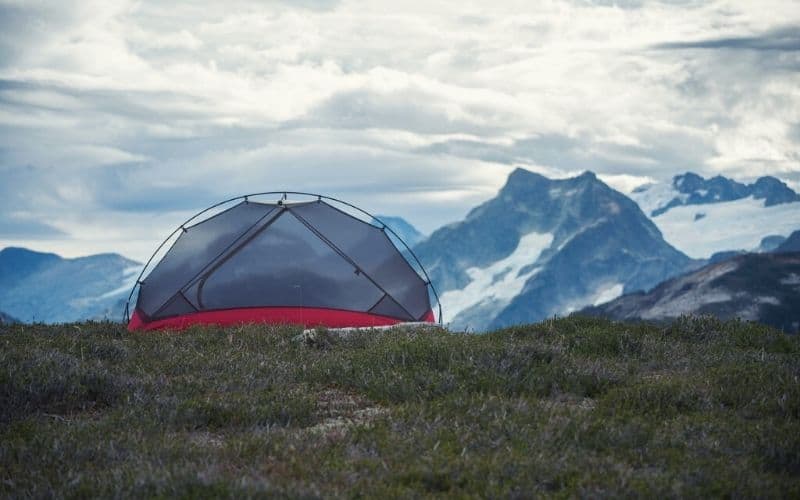 Lastly, the gray color of the MSR Hubba Hubba NX's nylon fabric allows for a greater amount of light to pass into the tent's interior, which is great during the day, but not ideal for moonlit nights. Obviously, it depends on how sensitive you are to light while slipping, but this could be a significant downside for some hikers.
Weather Resistance
If there is one type of inclement weather that the MSR Hubba Hubba NX 2 is best designed for, it would be rain. The floor of the tent, for instance, utilizes a bathtub shape, as well as having an Xtreme Shield coating. Both these ensure that no moisture will seep in from below and that you won't need a separate footprint. Similarly, the rainfly is also treated with Xtreme Shield waterproofing technology, which is sure to keep the rain out whilst the rainfly's kickstand vents allow fresh air to still circulate through your tent and help eliminate condensation. Nevertheless, high humidity conditions, or large amounts of mist, can still create condensation inside as it does allow for air to move into and out of the tent, even with the vents closed.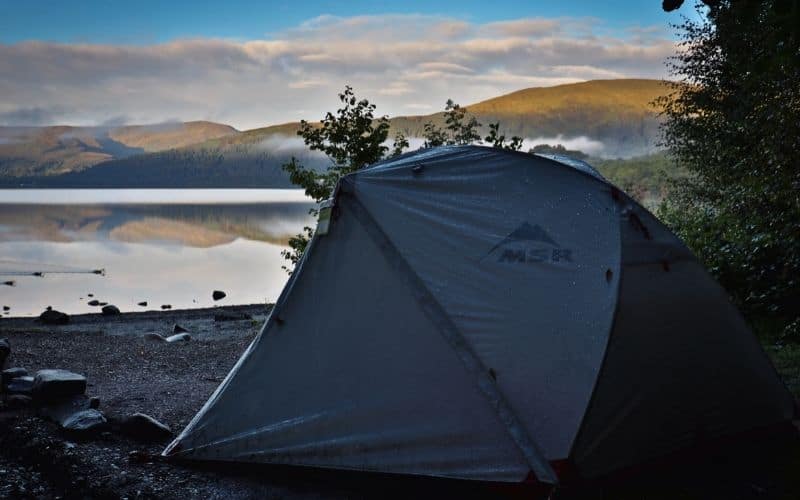 However, this tent comes with few guylines, as well as stakes, which makes it more vulnerable to windy conditions. In fact, the tent fly features very few places to even attach extra guys, as the only guy points are on the vestibule tent doors, or very low on the sides of the tent. It's also possible that winds could compress the rainfly against the side of the tent, thus compromising the exoskeleton design and the tent's ability to keep moisture outside. So, if you expect to run into windy and other storm conditions while in the backcountry, you'll want something sturdier than this tent model.
Ease Of Setup
One of the main advantages to the MSR Hubba Hubba NX 2 is that its design allows for two different ways to set it up, depending on the weather conditions when you decide to make camp. If the weather is clear, or you're feeling like racing the storm clouds, then you'll be happy to know that the traditional setup is as fast as it is easy.
The tent comes with only one segmented tent pole, with an attached roof cross piece, which you unfold to form the exoskeleton of the tent. Once the exoskeleton is set up, the rest of the process is as easy as slipping the ends of the Easton Syclone poles into the metal tent corners of the inner tent body and then using the clips along the top of it to secure it to the pole. Once that's done, you can stake out the tent using the adjustable webbing straps attached to the metal corner pieces, which will allow you to firm up the tent.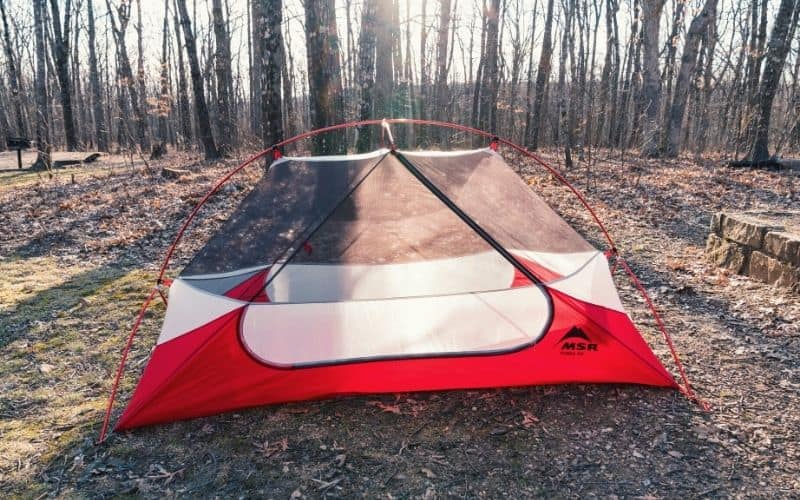 Once the body of the tent is set up and staked out, you simply drape the rain fly over the exoskeleton, using the red and grey color-coded corners to guide the orientation, and then slip the metal corner pieces of the fly beneath the tent pole tips and the metal corner pieces of the interior body.
Once that's done, you can use your guylines and stakes to secure and tighten the rain fly, including the vestibules. In fact, the structure of the vestibules is created using guylines and stakes, which is why many experienced backpackers consider the MSR Hubba Hubba NX 2 to only be a semi-freestanding tent, which is a distinction that can matter depending on personal preference.
If you're new to hiking, the stuff bag also has the set-up instructions attached to it, so you'll never have to worry about losing the instructions.
Durability
When it comes to durability, the MSR double Hubba NX 2 is excellent, until you start to encounter high wind. If this tent is not properly guyed out, backpackers have reported tears in the fabric of the tent. However, it is more durable than most lightweight tents as it's made from sturdier materials.
If high winds are common, you'd be better served to find a tent specially designed for wind resistance, rather than a tent like this one which is designed for versatility. For the average hiker, though, that same versatility makes this tent an excellent choice.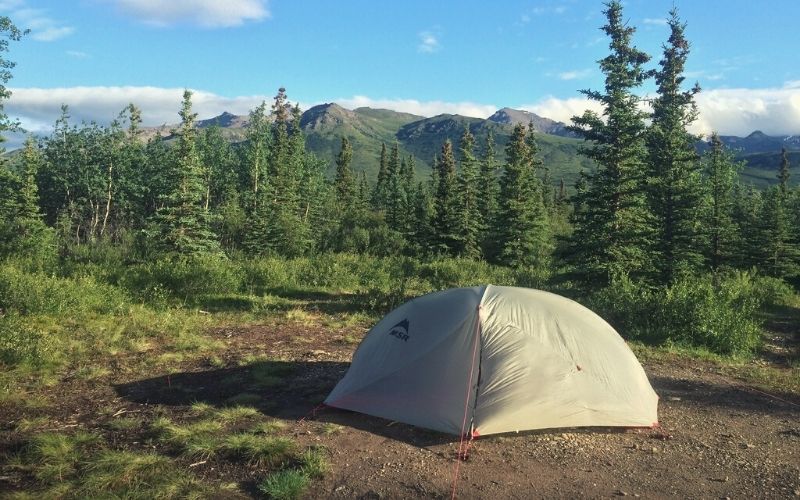 It isn't a poorly constructed tent, or one made with delicate materials as some ultralight tents are, but there's always a sacrifice made when it comes down to choosing between durability and weight. As the Hubba Hubba is designed to be trim enough for backpacking, the weight saving made means there is some sacrifice on durability, and though it can stand up to most types of weather, it isn't ideal for severe weather conditions.
Weight & Packed Size
And, speaking of that shed weight, the MSR double Hubba NX 2 weighs in at 3 pounds 8 ounces. This makes its packed weight on the heavy end of the scales for ultralight, but the livability and comfort, as well as weather resistance and durability, will outperform most ultralight tents, especially within the same price range. Also, for the dedicated ultralight backpacker, there's the option of using only the fly and exoskeleton, which weigh in at 2 pounds and 4 ounces. Remember that this configuration does not come with its own footprint, however.
Whichever configuration you choose to go with, it's recommended that you include some extra guylines and stakes to properly support the tent and secure it against the wind. Removing the tent pole from the stuff sack will give you more room to pack the stakes and guylines, or simply allow you to compress the pocket to take up less room inside your pack. Keeping the tent pole strapped to the outside of your pack also helps save time in the event of bad weather, so it's something to consider.
https://www.instagram.com/p/6jsiE7tb_L/?utm_source=ig_embed
Limitations
The main limitation of the MSR double Hubba NX 2 is that it's not better designed for windier conditions. It could have included more guy points, or even just higher guy points so that backpackers can properly anchor the tent if severe conditions arise. Sure, it performs well in low to moderate winds, but for higher wind speeds the tent might begin to tear. That's why it's important to only use this tent in regions and seasons where high winds are rare. Even with extra guy lines and tent stakes, the double Hubba simply doesn't have the guy points to support it to withstand more severe wind conditions.
Best Applications
As the name implies, the Hubba Hubba is meant for comfort and livability as much as portability, and that's why this tent is best for backpackers who either like to or expect to spend time inside their tent. Also, as every ounce matters when it comes to your back, this tent is best carried for two people, rather than one. Even backpackers used to carrying 50-pound packs know that weight takes its toll, and a lighter option would be better for a lone backpacker.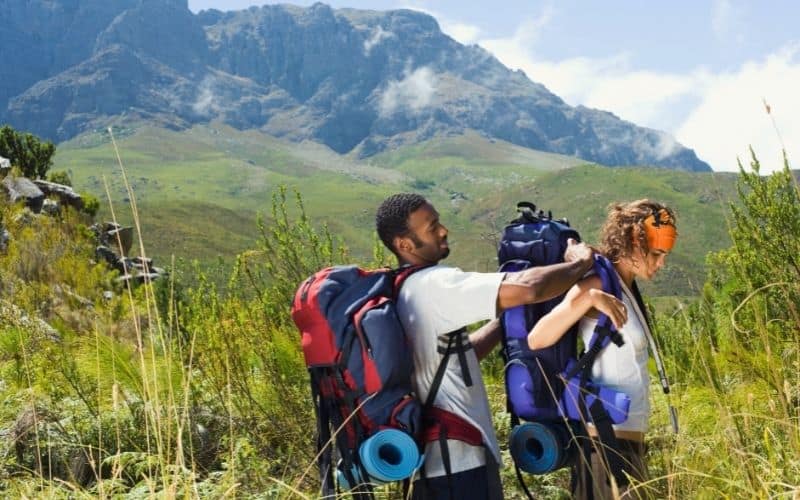 Also, as discussed above, the double Hubba is excellent against wet weather but not so much against high winds, so is best used for backpacking trips in regions or seasons without severe windy weather conditions. Furthermore, since this tent requires the proper guy lines to secure it, it's not recommended to be used in terrain where stakes are impossible, or where the footprint is too large, such as on ridges or mountainsides that are mostly scree or rock.
Value
The MSR Hubba Hubba NX 2 performs excellently alongside other tents within the same price range. It is light enough to be taken backpacking, and more durable than lighter tents, it also is better equipped to handle moisture and rain. It's great value for the price, though there are newer models on the market, such as the Big Agnes Copper Spur HV UL2, which outperforms in some areas (more on this below).
Nevertheless, the comparison between the MSR Hubba Hubba NX 2 and newer models of tents are so close, with the double Hubba outperforming in some areas, and the newer models in others, that it's still an excellent tent choice for any backpacker looking to invest in a piece of equipment as expensive as this.
Technical Specifications
| | |
| --- | --- |
| Best Use | Backpacking |
| Seasons | 3-season |
| Sleeping Capacity | 2-person |
| Minimum Trail Weight | 3 lbs. 8 oz. |
| Packaged Weight | 3 lbs. 14 oz. |
| Packed Size | 6 x 18 inches |
| Floor Dimensions | 84 x 50 inches |
| Floor Area | 29 square feet |
| Vestibule Area | 17.5 square feet |
| Peak Height | 39 inches |
| Number of Doors | 2 doors |
| Number of Poles | 1 hubbed poleset |
| Pole Material | Easton Syclone |
| Pole Diameter | 9.3 millimeters |
| Canopy Fabric | 20-denier ripstop nylon / 15-denier nylon mesh |
| Floor Fabric | 30-denier ripstop nylon with Xtreme Shield coating |
| Rainfly Fabric | 20-denier ripstop nylon with Xtreme Shield/Silicon coating |
| Ultralight | Yes |
| Design Type | Freestanding |
Other Versions & Accessories
For any campers and backpackers intrigued by the MSR Hubba Hubba NX 2, but perhaps looking for a tent that can accommodate more people or a tent that's only for one person, the double Hubba is part of a line of similarly designed tents with equally amusing names. The Hubba NX is the 1-person model with 1 door and 1 vestibule with a weight of 2 pounds, 7 ounces. The Mutha Hubba NX is the 3-person model, has 2 doors and 2 large side-entry vestibules, and weighs 4 lbs 9 ounces, and the Papa Hubba is the 4-person model with a weight of 5 pounds, 15 ounces.
All of these tents feature the same rainfly design, with fast fly options, as well as the same near vertical sidewalls and unified pole system. The larger models have significantly higher weights, but such is the sacrifice for the emphasis upon livability. Backpacking groups might find it more convenient and comfortable to pack a larger model than to pack multiple, smaller tents.
MSR has also designed products so that backpackers can customize their Hubba tents. The MSR Hubba Gear Shed adds even more storage room in the vestibule of the tent, and the MSR Universal 2-Person Tent Footprint Tarp will protect the bottom of the tent from abrasive materials on the ground, or provide a footprint for the vestibules so that your gear stays dry.
Alternatives
Best Backpacking Tent
Big Agnes Copper Spur HV UL2
As mentioned above, the Copper Spur is one of the Hubba Hubba NX's biggest competitors. Both tents offer excellent value within the same price range, but there are some significant differences in their performance. To start with, the minimum trail weight of the Copper Spur is only 2 pounds, 11 ounces, significant weight savings as compared to the Hubba. It also has a better resistance against windy conditions, the Hubba's biggest limitation, and has more interior pockets for storage.
However, the Copper Spur is made from significantly less durable material. Abrasions can shred the Copper Spur when it's pitched, which almost demands a separate footprint, and even brushing against vegetation while backpacking can tear exposed stuff sacks or rainflys.
The double Hubba, on the other hand, is made of sturdier material which makes it a better value for backpackers that need a tent to last longer. In the end, it comes down to whether you desire a lighter weight or a more durable tent. For experienced backpackers, taking care of the Copper Spur's delicate fabric might be well worth the reduction in stress on the back. For a more detailed discussion of the Copper Spur check out our Big Agnes Copper Spur UL2 Review.
Best Solo Tent
Hilleberg Akto
Now, unlike the Copper Spur, the Hilleberg Akto is not a newer model. In fact, it's not even in the same class, as the Akto is a 4 season, 1-person tent, but it's that emphasis upon weather resistance that makes this a worthy comparison for the MSR Hubba Hubba NX 2.
The Akto has excellent wind resistance and is built to withstand winter storms but it is also much harder to set up and is only a one-person tent and at the same weight (3 pounds, 8 ounces) as the Hubba. This makes the Akto an excellent choice for hikers who need a tent that can withstand windy conditions, but for less intensive weather, the Hubba Hubba is the best option for livability, size, and setup.
See here for the full review of the Hilleberg Akto.
Final Verdict
All things considered, the MSR double Hubba NX is a reasonably priced, middle-of-the-road tent that scores pretty well in every metric. The ability to set it up in 2 different ways depending on the weather, as well as the option to carry less weight and bring only the fly and exoskeleton, increase its versatility. However, if you want more in terms of comfort, weight, or weather protection expect to pay a higher price for one of its competitors.
How did you like our review of the MSR Hubba Hubba NX? If you have any questions or comments, please drop them in the comments box below. And if you'd like to share this post with your friends, share away!