Disclosure: The team at My Open Country highlights products we hope you might find interesting. If you buy them, we get a small share of the sale revenue from our partners at no additional cost to you. This never drives our decision as to whether or not a product is featured or recommended.
MSR Windburner Review
Our Rating: 4.3/5
The MSR Windburner is the latest and by far one of the more advanced, lightweight stoves that the team at Mountain Safety Research has yet developed. Using similar technology as the MSR Reactor, it features a radiant burner and a completely enclosed, windproof design so you can expect great performance even in harsh weather conditions.
In our MSR Windburner review, we found it to be ideal for the solitary backpacker with its all-in-one system making cooking and cleaning in the great outdoors a breeze.
Key Features
Pot lid with drinking and straining parts
Insulated pot cozy with handle
1.0 L pot with heat exchanger
Secure stove connection
Radiant burner
Attachable 16 oz. bowl
Category Scores
Fuel Efficiency
Time to Boil
Versatility
Stability
Weight & Packed Size
PROs

The radiant enclosed burner allows for a fast and efficient cooking time, heating up faster than a standard burner
Efficient heat transfer to the lock-on pot is convenient for coffee making
Economical design allows for easy packing and storing

CONs

A little on the heavy side for the ultralight camper
While the radiant heater is not susceptible to the wind, it may tip over if exposed to extreme gusts due to its tall design
Bottom-Line: The MSR Windburner is top of the class for fuel efficiency and boiling time, small enough for backpacking, and great for single-person use.
MSR Windburner Hands-On Review
It didn't take long in reviewing the MSR Windburner to realize it stands apart from the competition with its use of a radiant burner instead of using open flame ignition. The simple and economical design of this wind-resistant stove unit also means that each of the detachable parts has multiple uses. All of its parts can be compacted into the size of the 1.0-liter hard-anodized aluminum pot for easy cleanup and storage for later use. The insulated cozy is also a nice touch and can keep your food or drink warm for hours after taking off the heat.
Fuel Efficiency
When you are out hiking a multi-day trail, a canister stove with good fuel efficiency can be the difference between you and a hot meal on the final day of the trek. With its protective design to keep what's cooking inside safe from the outside world, it is one of the more efficient and robust camping stoves currently on the market.
The cooking vessel of the Windburner fits securely onto the burner which not only further blocks out the wind but enhances the amount of heat transfer. Furthermore, due to the pressure regulator provided this small stove gives out a consistent heat output and is extremely fuel efficient even in lower temperature conditions.
These are great features for campers who are used to harsher conditions or wish to save some money on fuel in the long run. The only feature that could make this stove more efficient would be a built-in ignitor. Having to remove the cooking pot to light the stove exposes it to the elements, thereby making it vulnerable and sometimes irritating to light.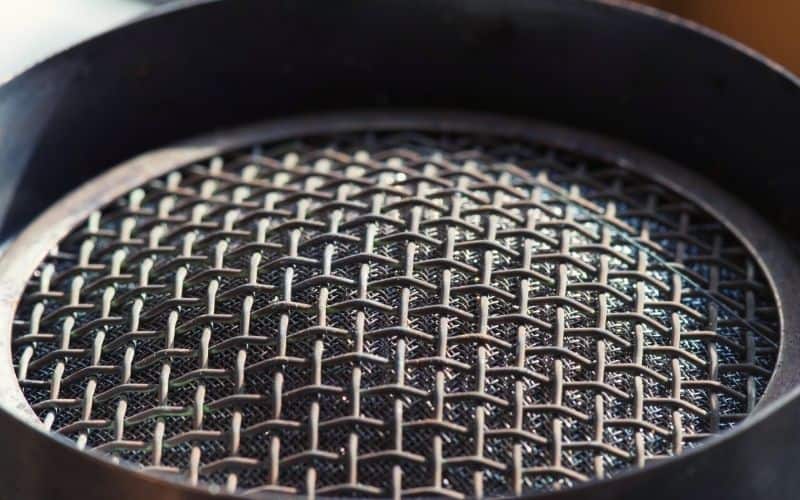 According to MSR's own tests, the Windburner will use about 6g of fuel to boil half a liter of water under calm conditions and in windier conditions (around 12mph), about 8g of fuel. That equates to about 7 – 9 one-liter boilings on just a single small fuel canister (4 ounces / 110g).
While not the most efficient on the market, it certainly beats the majority of the competition. However, due to the lack of an integrated ignitor, you may lose some of those fuel gains while trying to get the stove to light, especially in windy weather.
Time To Boil
It can quickly boil water, with a boiling time of around two and a half minutes for a half-liter of water. While that is comparable to some other stoves, once you have the stove lit and the pot attached it is certainly more wind resilient than most of the competition.
https://www.instagram.com/p/BJf8ZmhAJPE/?utm_source=ig_embed
Versatility
The versatility of a stove can be important for hikers and backpackers of all skill and commitment levels. The more versatile your stove, the less equipment you have to lug around. Maximum versatility of this stove can be achieved by using it along with other attachable parts made by MSR like the 1.0 L accessory pot, hanging kit, and coffee press.
If used strictly by itself, it is still a highly versatile device. The secure locking Windburner pot can double as a personal mug or bowl for eating or drinking, and the included lid can be used for drinking out of or as a straining lid when boiling noodles. These alone are enough to give the Windburner a high score for versatility since cookware and dishes for most standard camping stoves must be bought and used separately.
One downside, however, is that the size of the stove is rather small when compared to that of the MSR Reactor, which can boil nearly twice as much water. In this regard, the Windburner is best suited for the individual camper. Otherwise, you may be stuck taking turns cooking your meals.
Weight & Packed Size
You don't have to be an ultra-lighter for weight and packing size to matter. We all want gear that's as light and as easy to pack as possible. You only have one backpack, after all.
https://www.instagram.com/p/BKGtShrBDsJ/?utm_source=ig_embed
This stove is a tad heavier than similar products, coming in at just over fifteen ounces, but where it shines is in its packing size. It features a smart, compact design in which the 4 oz. fuel canister, folding canister stand, and pack towel can fit inside the 1.0 L pot, with the full-size bowl snapping onto the outside.
In the end, the whole stove takes up as much room as a one-liter thermos. The one downside, however, is the added weight which as we know is a greater issue for camping equipment than for any home appliance. Most products fall somewhere between three and four ounces lighter than the Windburner.
Stability
An unfortunate reality is that sometimes the gear we buy is not as durable as it should be. Many of us purchase products that perform well to start with yet fall apart within months. This is not a problem for this MSR stove.
With its heavier design, you don't have to worry about it breaking if dropped. As far as stability during use goes, however, you may want to keep an eye on it while it is on, especially in windy conditions. The 1.0-liter pot stands tall and makes the canister stand a little top-heavy. Perhaps this was why it was built a little heavier so that it could withstand such teetering over and multiple impacts with the hard ground.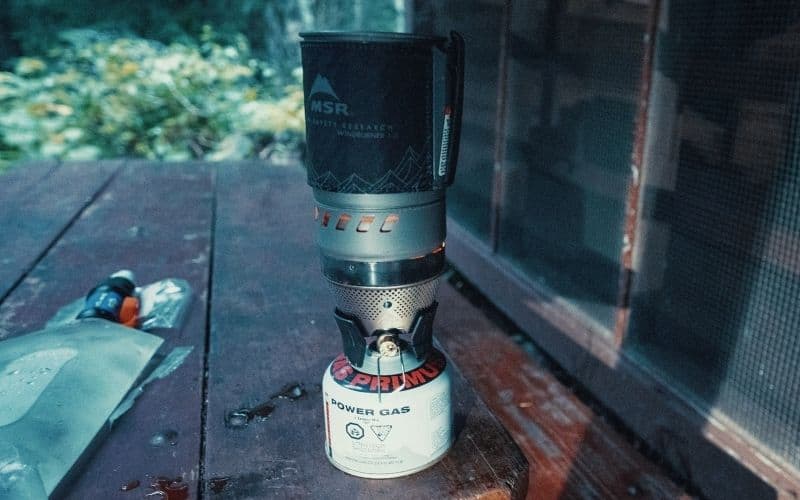 If you're looking for an integrated canister stove system that is a bit more stable, you may have better luck with the Jetboil Flash, Jetboil Sol, or the Reactor stove from MSR which are all built wider and sit lower than the MSR Windburner stove system.
Technical Specifications
| | |
| --- | --- |
| Best Use | Backpacking |
| Fuel Type | Canister |
| Fuel | Isobutane-propane |
| Integrated Pot | Yes |
| Burn Time (Max Flame) | 110g canister: 95 minutes |
| Average Boil Time | 1 liter: 4.5 minutes |
| Dimensions | 8.3 x 4.5 x 4.5 inches |
| Liquid Capacity (L) | 1 liter |
| Liquid Capacity (fl. oz.) | 33.8 fluid ounces |
| Weight | 15.5 ounces |
Limitations
By far, the greatest limitation of this product is that it restricts your diet. Ramen, other noodle-based dishes, and stews are the most filling meals it can readily deliver. There's nothing wrong with this but if you are taking backcountry trips longer than a day or two, it could get old.
Between having to light it and it tipping over from the wind, it would be more useful to have a self-lighting integrated stove. You could get around this if you find a rock or other natural windbreak for wind protection.
Best Applications
Taking all other integrated stove systems into consideration, the Windburner finds its best application as a personal stove for longer solo trips, or as a secondary stove in group backpacking trips used strictly for preparing coffee, soups, or meals like oatmeal, where you only have to add water.
Another area it excels in is the inclusion in the integrated stove system of parts to assemble it into a french press, which makes it perfect for coffee. This is where it shines brightest, in our opinion. Every sleepy and cold camper needs coffee, and it works great as a designated coffee press during larger group camping trips. A good one to stow away for colder and more breezy trips, but not necessarily one you would want to bring out during strong gusts.
Value
The MSR Windburner is a bit more expensive than other integrated stove systems like Jetboil's Flash or Flash Lite. What you get with the Windburner makes up for the extra cost with its radiant burner. Its price tag does fall significantly under that of the MSR Reactor though. This can somewhat be expected though when you factor in the difficulty it has lighting, as well as its proneness to tipping over when hit by the wind. Well worth the price if you light it and watch it with care.
Other Versions & Accessories
MSR offers a modular Windburner group stove system which along with the Personal System reviewed here includes the Windburner Duo and Group System…
Further accessories that can be used with any of these Windburner stoves include a coffee press attachment for making french press style coffee, a hanging kit to keep it secure and stable while in use, and an additional accessory pot, which allows two to use the Windburner system while taking turns, leaving each with their bowl or mug to drink or eat from. Lastly, if you can't go without your morning bacon, then the MSR Windburner Skillet can you help rustle up a couple of rashers in no time.
The most valuable of all these accessories, in my opinion, is the hanging kit, which eliminates one of the Windburner's more annoying downsides by keeping it upright even when hit with blasts of wind.
Another version from MSR is the MSR Reactor with both featuring radiant burners. It weighs one ounce less, is more expensive, and tends to take about one minute longer to bring water to a rolling boil. It is available in 1.0, 1.7, and 2.5-liter pot sizes. Since it comes in larger sizes and is less likely to tip over, the Reactor would be a good choice over the Windburner if you typically camp with family or larger groups. The downsides are of course a longer wait time for boiled water and a larger size that makes packing a bit more cumbersome however not an issue if car camping.
Alternatives
Best Budget
MSR PocketRocket 2
The MSR PocketRocket 2 is by far the best pick for campers on a budget. It is user-friendly and extremely light at 2.6 ounces. Despite these perks, however, it is less fuel-efficient than an integrated stove system like the Windburner, can be unstable, and does not do well in windy conditions.
With all that said, the PocketRocket does outdo the Windburner in some ways. It is lighter, cheaper, and easier to pack, all with most of the same disadvantages. The biggest downside is that you need to purchase pots, lids, and bowls for the PocketRocket, which come included with the Windburner.
Best Value
MSR WhisperLite
The MSR WhisperLite is a longtime favorite of backpackers all over the globe. It is small, simple, durable, versatile, and easy to repair if broken. On the downside, it is a little heavy, although still lighter than the Windburner by three ounces. Like the Windburner, it can also be difficult to get to a true simmer while using. This one would be a toss-up were it not for the price, so I have to give the edge to the WhisperLite.
Best in Class
Jetboil Flash
​​​​Simple, lightweight, and cheaper than the MSR Windburner, the Jetboil Flash does everything the competition doesn't. It has a push-button igniter and uses a real flame, which leaves it susceptible to the wind, but costs less than the MSR stove, weighs 2.4 ounces less, and gives you a liter of boiling water in just under three and a half minutes. The Flash features a larger saucepot but loses some of its functionality with its size since it's more prone to tip than the Windburner stove.
Final Verdict
If you're looking for an all-in-one stove system that performs well in windy conditions, then the MSR WindBurner may well be the stove for you. Thanks to its use of a radiant burner, built-in heat exchanger, and enclosed design it offers excellent fuel efficiency. And with simmer control, you have better control for more precise cooking. An albeit expensive and slightly heavy all-in-one system it atones for its heft and price tag with an effective windshield, versatile pot, great simmer control, and quick boiling time.
How did you like our review of the MSR Windburner? If you have any questions or comments, please drop them in the comments box below. And if you'd like to share this post with your friends, share away!