Munra Point Hiking Trail Guide
Looking for the Best Munra Point Hiking Trail Guide?
You're in the right place! In this guide, we will be covering the following:
An overview of the area
Planning – where to park, directions and permits
Our trail recommendations
What to bring
A short drive along the historic Columbia River Highway is all that separates one of the most photographed waterfalls in the entire Pacific Northwest from a hidden gem of a hike.
Munra Point gives those adventurous enough to tackle its unmaintained trail, steep switchbacks, and exposed summit ridgeline an uninhibited view of the Columbia River Gorge National Scenic Area and its surrounding mountains.
With a trailhead located less than ten miles from the famed Multnomah Falls and Benson Bridge, Munra Point should be on every Columbia River Gorge visitors list of things to do. Engaging sections of trail that put your climbing/scrambling skills to the test, combined with some of the best views of the gorge, make for an unforgettable excursion.
Do
360° views of the Columbia River Gorge and surrounding mountains
Engaging boulder obstacles and chimney scrambles
Views of Elowah Falls (if starting from John Yeon trailhead)
Moderate mileage – only 5 – 6 miles round-trip
Don't
The trail can be overgrown and difficult to follow
Exposed ridgelines and steep scrambles not suitable for families or pets
Exhausting ascent – over 2,000ft of elevation gain
Overview
Munra Point Trail is located on the Oregon side of the Columbia River Gorge, which separates it from the state of Washington to the north. The summit of Munra Point is found at the conversion of three, open-bald ridgelines, providing hikers with incredible views and ample exposure.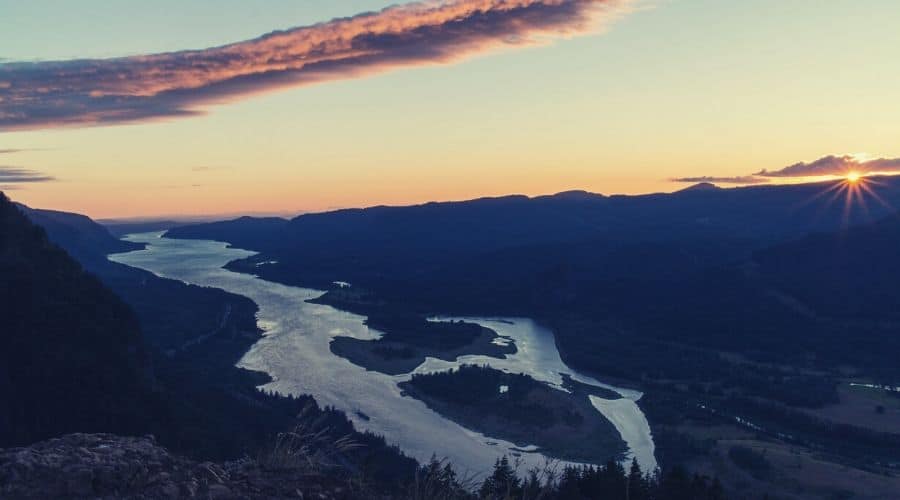 From atop the summit, hikers are able to view Beacon Rock, Table, and Hamilton Mountains, as well as the Bonneville Dam and the Bridge of the Gods. Many have also located Mt. Adams, the second-highest peak in the state of Washington, on a clear day.
RELATED READING: For more outdoor adventure check out our guide to the best hikes in Oregon.
Type of trail
Unlike other trails in the region, access to Munra Point involves following a section of trail that is not maintained by the Forest Service. This can result in heavy overgrowth and narrow, rocky segments that require additional focus to remain on route.
Difficulty
Munra Point is a strenuous out-and-back day hike whose moderate mileage (5 or 6 miles round-trip depending on starting point) is combined with a steep ascent/descent of the summit ridge. The unmaintained nature of the final spur trail and the intimidating drop-offs, where injuries have occurred, add to the overall difficulty. Here are the key stats for a hike to Munra Point summit:
6 miles roundtrip (5 from Wahclella Falls parking area)
2,270 feet of elevation gain
Landscape features: waterfalls, forest, rocky, open slopes
Multiple boulder obstacles
One section of sustained chimney-like scrambling
Planning
Best time to hike Munra Point Trail
Dry conditions are the key factor in determining whether it is a good time for a hike to Munra Point. Due to the steep, rocky, exposed nature of the trail, hiking during wet conditions is not advised.
This mode of thinking, also, applies to winter hikes of the Munra Point Trail, where snow and ice are likely. Regardless of the time of year, hikers should pay extra attention to their footing on the trail. Most hikes here take place between June and September, when conditions are, typically, driest.
Permits/Fees
There are no special permits required for a day hike to Munra Point. The Wahclella Falls trailhead parking area, however, does require a day-use recreation fee, designated to help the forest service with maintenance and upkeep. Visitors who choose to start their hike here will need to pay a $5 parking fee (deposited into a box near the parking lot) or display a valid recreation or interagency pass.
Trailheads
There are two options from which hikers must decide where to begin their journey to Munra Point. Both, the Wahclella Falls trailhead and the John B. Yeon trailhead lead hikers through the notorious scramble section to access the summit ridges.
John B. Yeon Trailhead
Approaches Munra Point from the west
Located off of NE Frontage Rd. (Old Scenic Hwy)
Includes the stunning Elowah Falls waterfall as the trail crosses McCord Creek
No parking fee required
Adds approximately 1 mile (round-trip) compared to Wahclella start
Wahclella Falls Trailhead
Approaches Munra Point from the east
Located off of Star Route, immediately off of route 84 (Vietnam Veterans Memorial Hwy)
$5 parking fee or recreation pass required
Shortest hike option to Munra Point
Trail Descriptions
The final push along the unimproved Munra Point Trail will be the same, regardless of which trailhead you choose to start your hike. The first two descriptions below will help you navigate to the start of this section.
John B. Yeon Trailhead – Munra Point Trail
You will begin your hike along Gorge Trail #400 after parking in the small pull-off next to Frontage Rd. Follow this trail east, continuing straight past the Nesmith Point Trail and again at the Upper Elowah Falls connector.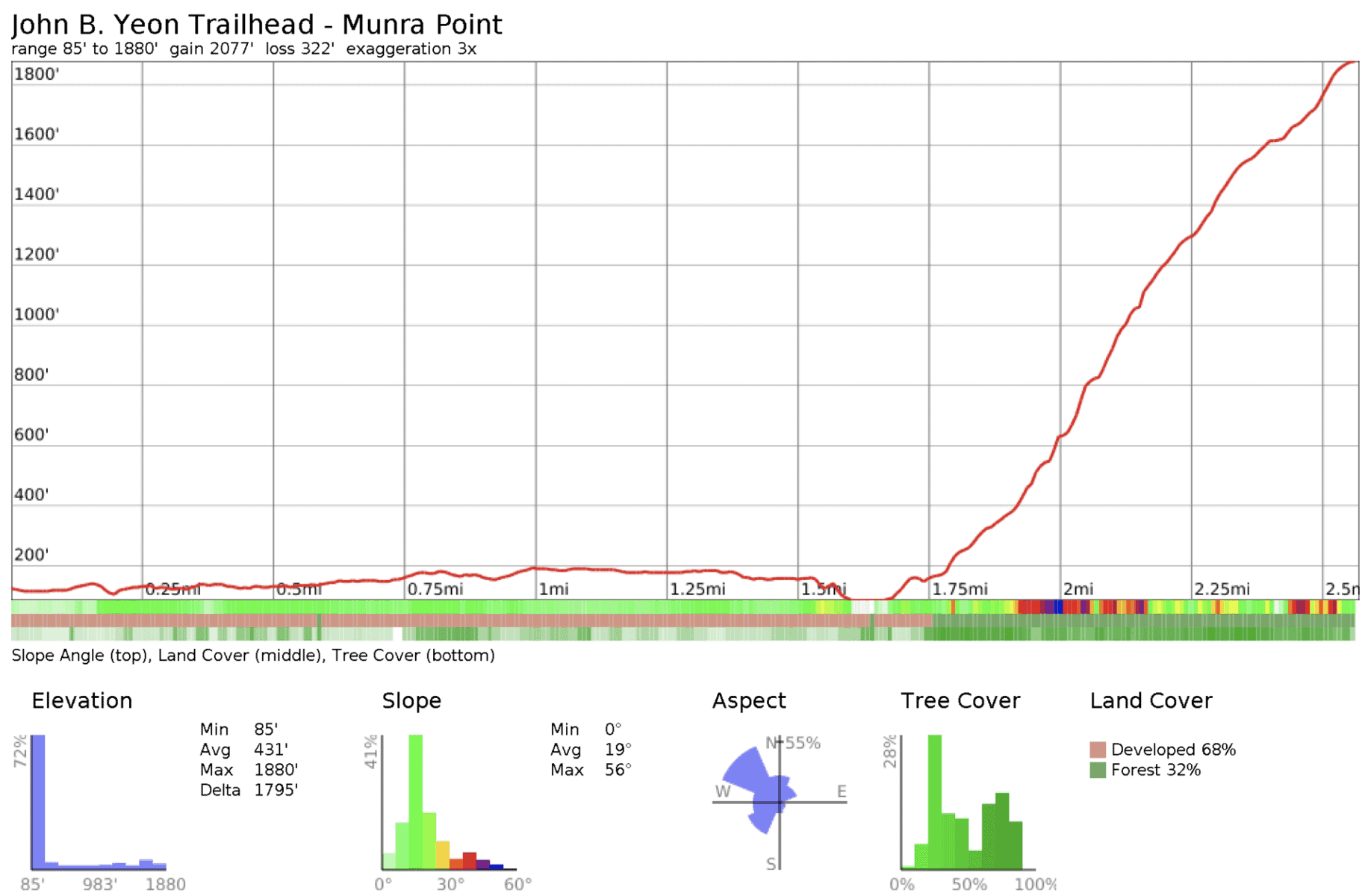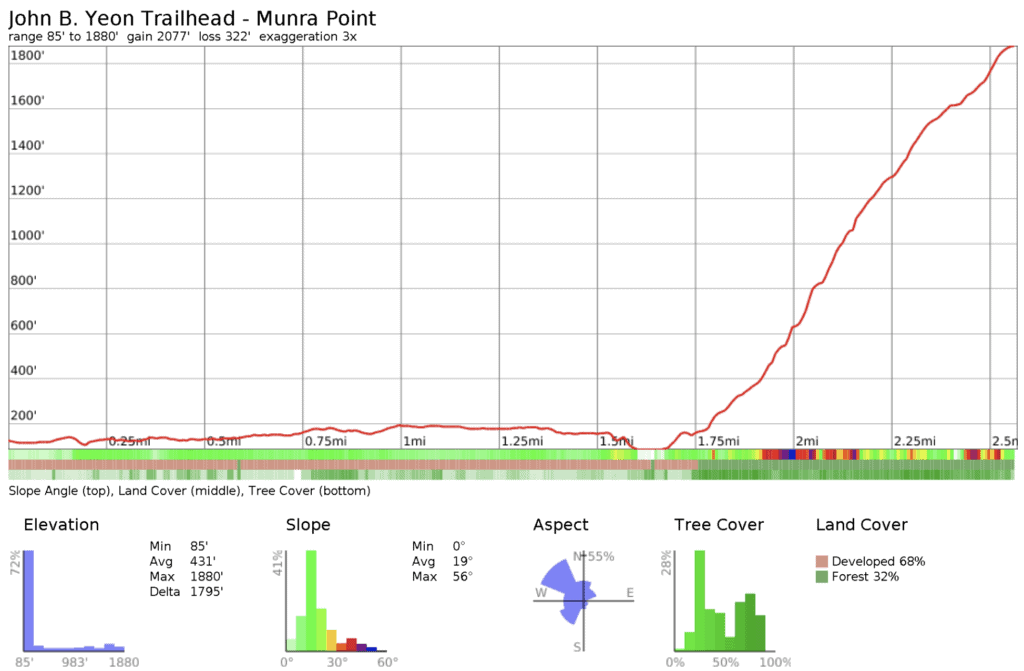 Less than ¾ into your first mile of the hike, you will cross McCord Creek with a view of one of the most spectacular waterfalls within the Columbia River Gorge, Elowah Falls. Take some photos, splash some water on your face, and appreciate the beauty of a 221 ft. waterfall plunging into an amphitheater of volcanic rock and bright-colored lichen.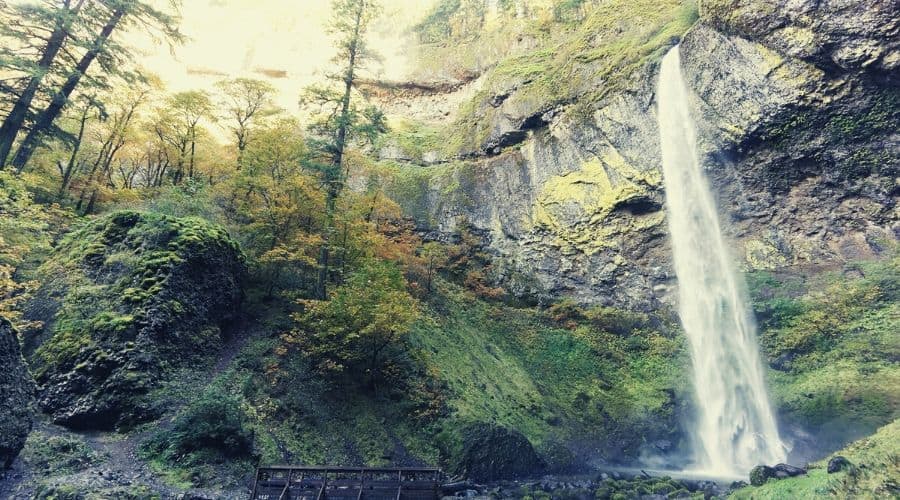 Continuing along Gorge Path #400 will lead you to a couple of short shared-trail sections with the paved Historic Columbia River Hwy State Trail (miles 1.1 and 1.9). Once you cross Moffett Creek, be on the lookout for a faint trail that extends up the hill on your right.
Wahclella Falls Parking Area – Munra Point Trail
From the tear-drop shaped parking area, located next to Tanner Creek, hike back along the entrance road until you can turn left onto the paved Historic Columbia River Trail. Upon crossing the creek be sure to take another left onto Gorge Trail #400. This narrow trail will soon turn right and follow the highway until you reach the unimproved Munra Point Trail on your left (mile 1.5). Be sure to look for wild berries in the summertime.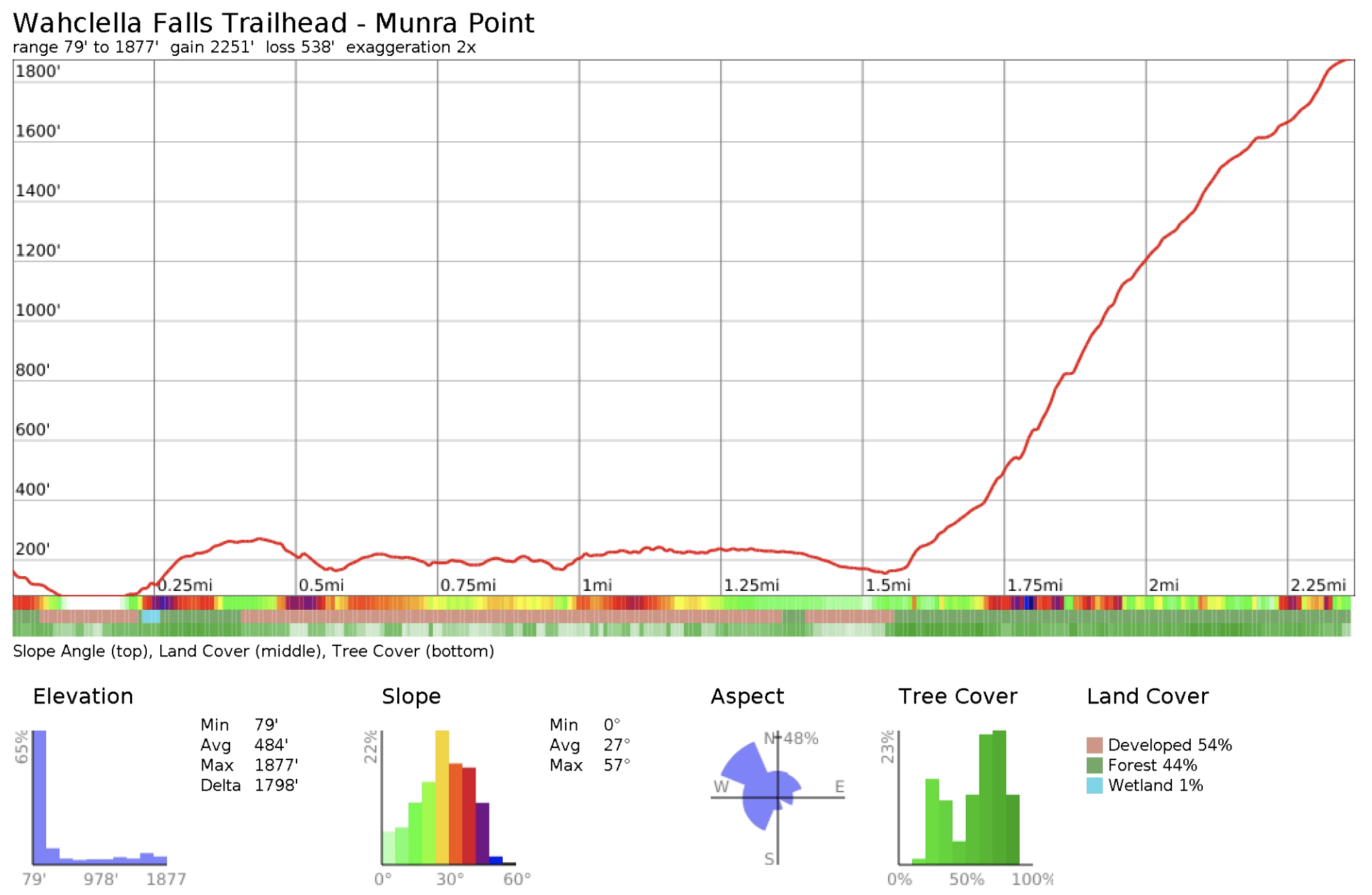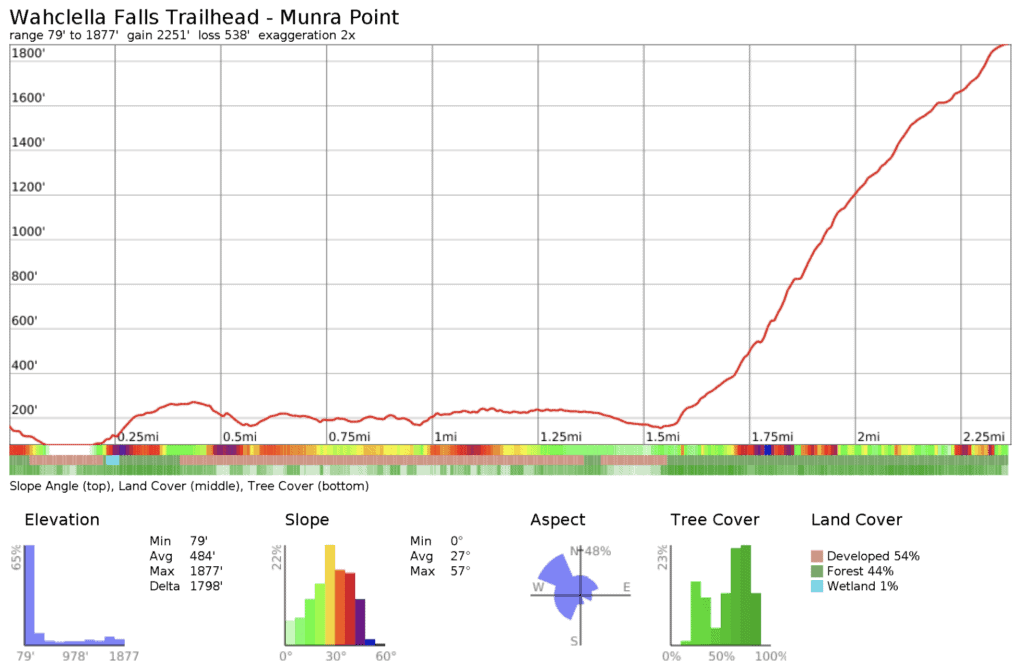 If you find yourself descending towards the crossing of Moffett Creek, you have missed the Munra Point access trail.
Munra Point Trail – Summit (same for both approaches)
A sign stating that the above path is not maintained found 30-40ft. after starting up the trail, confirms that you are on the right track. Now that you are on the unofficial Munra Point Trail, the real work begins.
A steep, forested section will eventually lead to some switchbacks that carry you onto the ridge above. Once you emerge from the forest, those who wish to access the true summit of the ridge will need to climb/scramble up a wide chimney. This is accessible to anyone of moderate fitness, however, it will require solid hands and feet throughout the scramble.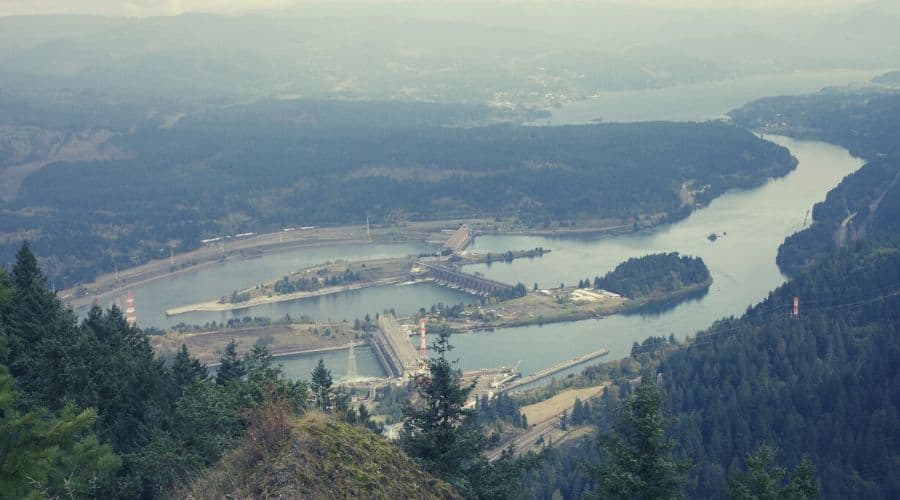 After the chimney, enjoy a scenic walk along an obvious path, which follows the ridge over to the summit block/pyramid. Exactly 3 miles from the start (2.5 from Wahclella) and after an elevation gain of more than 2,000ft., you'll discover your reward: 360° views of the entire Columbia River Gorge.
Good to Know
Trail Navigation
Once you are on the Munra Point Trail, you will notice several spots where the trail seems to split into multiple options. Each of these paths, caused by the lack of maintenance and thousands of hikers choosing differently, will lead hikers to the summit ridge. Most, however, choose to stay right for the easiest route to the top.
Hiking Munra Point With a Dog
There are no forest service restrictions preventing you from bringing your favorite, four-legged friend along with you on this hike. Be aware, though, that doing so may limit your ability to make the final chimney scramble and access the summit. These sections present challenges for dogs or dog owners trying to carry them. There are high consequences of a fall in many spots along the last quarter mile of this hike.
Eagle Creek Fire Damage
In late 2017, a wildfire, which was started by a teenager throwing fireworks, destroyed almost 50,000 acres of the Columbia River Gorge National Scenic Area, including areas surrounding the Munra Point Trail. Significant expanses of wilderness were lost, trails were closed, and charred forests were left throughout what was once an idyllic, lush landscape. Please be aware that numerous trail closures may still be in effect and that the characteristics of the Munra Point hike, described above, may be different upon its opening.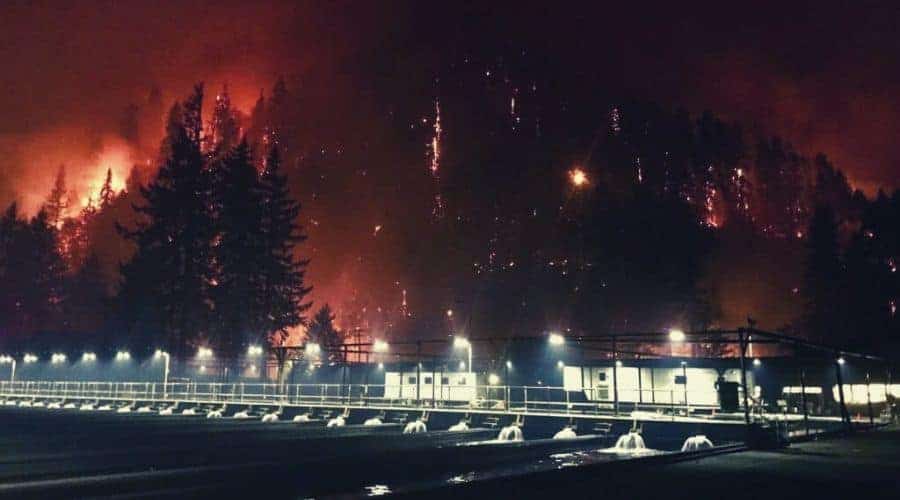 Leave No Trace
It breaks our hearts to relay the news presented in the above paragraph, and it's hard to find a more glaring example of why practicing leave no trace is vital for all outdoor travelers. Here are a couple of ways to ensure minimal impact while hiking Munra Point:
Prevent unnecessary trail erosion – Do not cut off any switchbacks
Stay on rock as much as possible, even if it requires extra effort – Taking wide berths around rock obstacles on the trail creates new paths and increases vegetation impact
Practice responsible ways of using the bathroom if you need to go outside
Pack everything out – never leave behind food packaging, band-aids, or even food itself such as nuts, seeds, apple cores, or bananas
Suggested Gear List
A standard day-hiking kit is sufficient for an enjoyable day exploring the gorge and Munra Point. Remember, regardless of the weather or time of year, there are certain essentials that you should always have with you. Below is a sample checklist of gear we might bring for a summertime hike of the Munra Point Trail.
Gear:
Daypack
Map & compass
Headlamp (even if we plan to be done before dark)
Camera
Folding sheath knife
Firestarter materials (emergency use only)
Clothing:
Lightweight wind shell – great for breaks or along summit ridges (we love the Patagonia Houdini which is light & packable)
Hiking pants – nylon and/or spandex are best (we prefer long pants over shorts on trails that are not maintained)
*Lightweight trail runners or hiking shoes
Quick-dry short or long-sleeved shirt (no cotton!)
*Do not attempt this hike in sandals, flip-flops, casual, or poor-fitting shoes. Scrambling over rock, especially along steep gradients, requires good sole traction found on most hiking or outdoor-specific shoes.
Food & Water:
Several 200-400 calorie snacks to eat throughout the day – look for foods that are suited to hiking and backpacking
3L hydration reservoir w/ hose and mouthpiece – convenient drinking throughout the hike
Related reading: If you're looking for more Oregon outings then check out our guide to the best hiking trails in Crater Lake National Park
Additional Resources