Outdoor Footwear
No gear item impacts more upon our comfort and enjoyment of our time on the trails than what we put on our feet. Protecting your feet starts with the very first layer: your socks. An appropriate pair of socks brings many benefits. Not only will they reduce the risk of blisters and cold feet, but also help to ensure your hiking shoes/boots aren't soaked in sweat just a few miles down the trail. 
On tougher trails and rougher terrain, wearing the right hiking boots will also ensure you have the protection, stability, support, and grip you need to progress safely and in comfort. They'll also last longer, keep your feet dry, and help you avoid trip-ending ailments like athlete's foot, blisters, and stubbed toes.
Everyday gym shoes might suffice on short, mellow hikes on well-maintained trails. But wearing them anywhere else in the wilds is like bringing a knife to a gunfight, i.e. inadvisable.
Luckily, hiking boots are far more adaptable than people are apt to give them credit for. In some cases, all it takes to turn them from instruments of torture to slipper-like is a little tweak in the way you tie your laces. Acquiring this skill takes in the region of five minutes. The benefits of doing so, however, are likely to serve you well for the remainder of your hiking career.
Popular Hiking Footwear Posts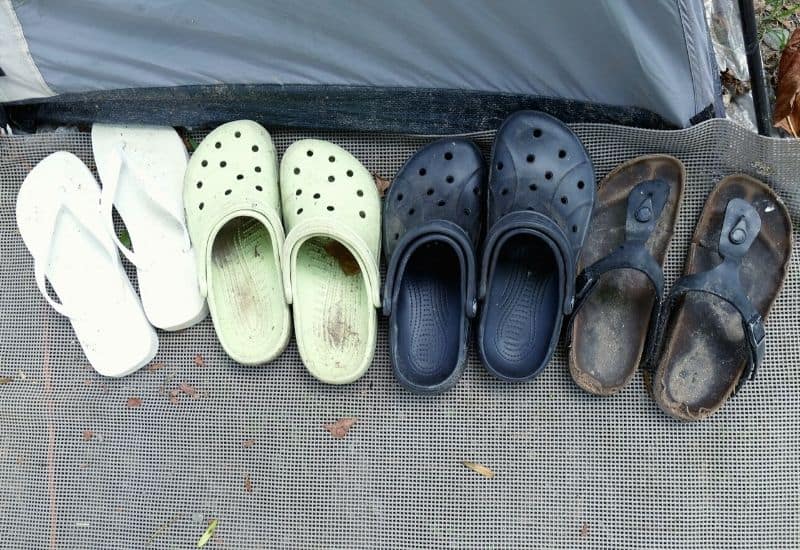 Do your trail-wearied feet a favor with a pair of these super-comfy camp shoes for post-hike R&R and lazy days around the campsite.
Wanting more Footwear Related Articles?
Check out our full list of outdoors footwear-related articles here.