Are you ready to venture into another world?
Good.
That's exactly what you'll be doing when setting out on an overnight adventure through one of the longest slot canyons in the world. The 38 miles of towering Navajo sandstone walls, claustrophobia-inducing passageways, unique geological formations, and feelings of isolation will confirm your entrance into a place unlike any other.
Continue below to discover key planning details, necessary for creating your own, memorable, experience. We'll discuss popular routes, campsite locations, and how to obtain a permit for overnight camping if you plan on backpacking in Paria Canyon.
Additionally, we'll provide specific information regarding water access during your hike, properly disposing of waste, and helpful resources, like suggested gear lists and maps.
Ultimately, you'll find everything you need to turn your dream of heading into reality!
Key Takeaways
Paria Canyon is one of the world's longest, deepest slot canyons

You'll see incredible geologic patterns and colors

Permits are required

Numerous, comfortable campsite options

There is significant flash flood danger during rain events

Limited access to clear, drinkable water – you will be carrying a large portion of your daily hydration needs
Paria Canyon, Vermilion Cliffs National Monument, Utah
Paria Canyon and Buckskin Gulch are, both, located within the Paria Canyon/Vermilion Cliffs Wilderness area, near the southern border of Utah and Arizona. Buckskin Gulch is, actually, a tributary to the wider Paria Canyon, where the Paria river carves its way toward the famed Colorado River.
The canyons provide stunning scenery, unique geology, and an isolating environment for one to appreciate the power of water-fueled erosion. Numerous multi-day backpack and day-hike options exist along the 38-mile canyon and the 15.9-mile Gulch.
Additionally, Zion National Park is located a mere two-hour drive away, giving ample opportunity for further hiking adventures – check out our guide to the top hiking trails in Utah for more info.
History & Geology
The wilderness area encompassing these two canyons was created in 1984, contains over 112,000 acres of protected land, and is managed by the United States Department of the Interior's Bureau of Land Management. The walls within, which rise upward of 400 feet in the steepest sections, are the result of floodwaters flowing through them for thousands of years. The erosion from these events, each different than the last, creates a beautiful symmetry of lines, patterns, and colors throughout the soft sandstone.
Humans have enjoyed these cliffs and canyons long before they were protected by a wilderness act, however. In fact, one of the highlights of any trip is spotting ancient petroglyphs and pictographs, found in numerous places, forever etched into the walls by ancestral Puebloan people.
Type Of 'Trail'
The use of the word 'trail' when describing a hike here is, rather, generous.
In reality, there is no trail at all.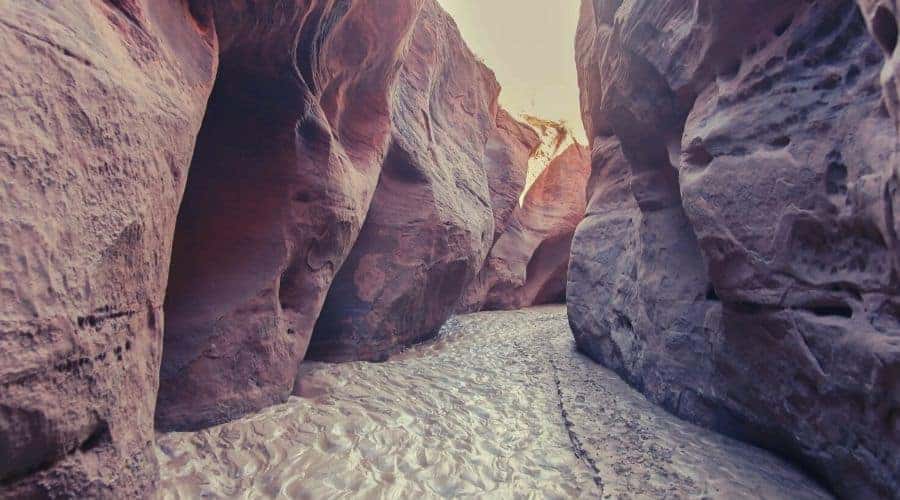 Hikers entering the gulch will be canyoneering, wherein explorers follow dry watersheds, or riverbeds, for many miles, often with no opportunity to escape. The hallway nature of these canyons, typically, leaves you with one option upon entering their fiercely guarded corridors…forward.
Traveling through will involve long sections of sand, rocks, and debris-filled terrain, sometimes requiring a bit of scrambling. Depending on recent flash floods, there may also be small, pooled, sections of water through which travelers will need to wade.
Difficulty
While hiking through the canyons won't require significant changes in elevation, there are still challenges to be had. Backpackers will have to hike over 13 miles through the gulch, before reaching the first campsites. Additionally, hikers should expect to get wet, encounter multiple scrambling sections, and deal with long sections of uneven, sandy footing, which can make travel slow. Those who are moderately, or exceptionally, fit will have the best chance of a pleasant experience.
Planning
Best Time To Hike Or go Backpacking in Paria Canyon
Spring and Fall are the clear choices for first-time experiences, providing comfortable temperatures and lower flood risk. Attempting this hike during summer months would require heavy loads in high heat (not a good combination) and increased flash flood warnings due to, common, afternoon thunderstorms. The wet nature of this hike, where you will be wading through pools of water on numerous occasions, means a winter backpack trip through Buckskin or Paria is not recommended for anyone without significant canyoneering experience or specialized gear.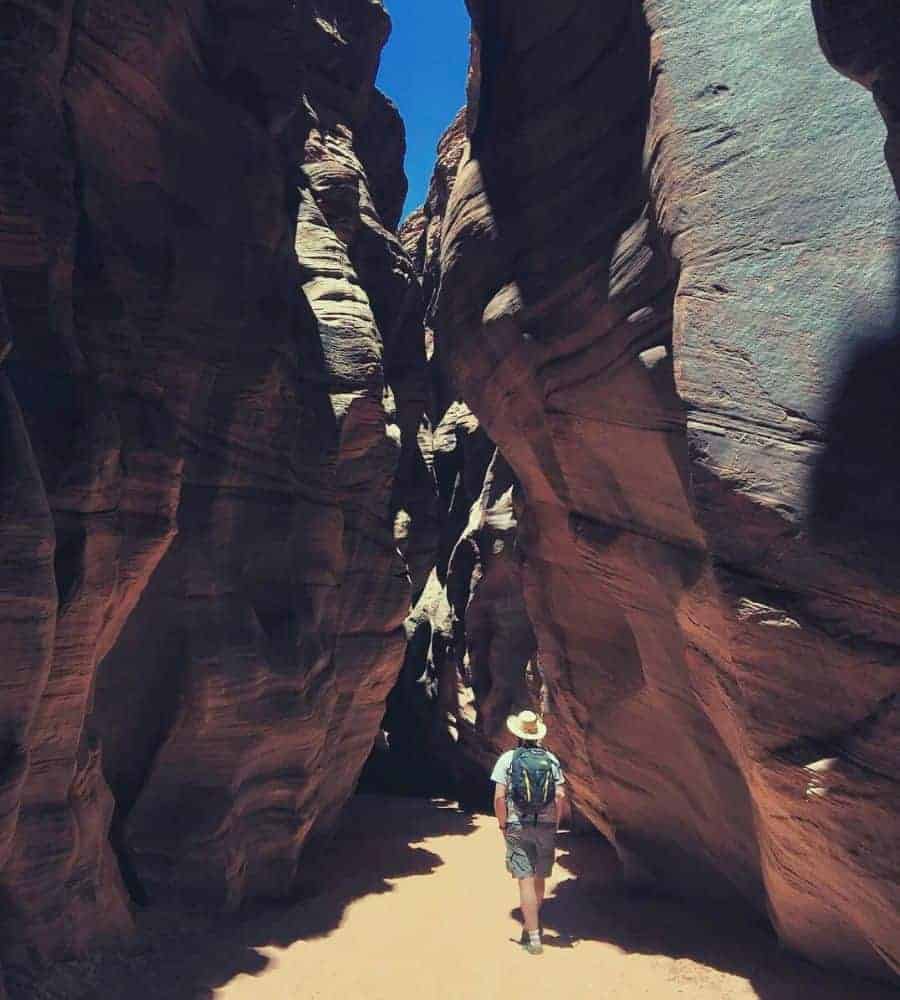 Paria Canyon Permit
The sensitive environment found within these canyons, although beautiful, creates necessary restrictions for recreational use. The Bureau of Land Management, strictly, enforces 20 people per day, for overnight hikers within the canyon.
These Paria Canyon overnight permits are reserved on the BLM website, where they become available on the first day of the month, four months prior to your expected time of travel. Popular times will often sell out within hours of becoming available. For the best chance of receiving your preferred permit dates, be at your computer, ready to apply, the moment they become available.
Trailheads
There are four main access points:
White House – Northern terminus
Buckskin Gulch – For those wanting to hike the entirety of Buckskin Gulch
Wire Pass – Popular entrance into the gulch, eliminating 4.5 miles from the above
Lee's Ferry – Southern terminus, where the Paria River meets the Colorado River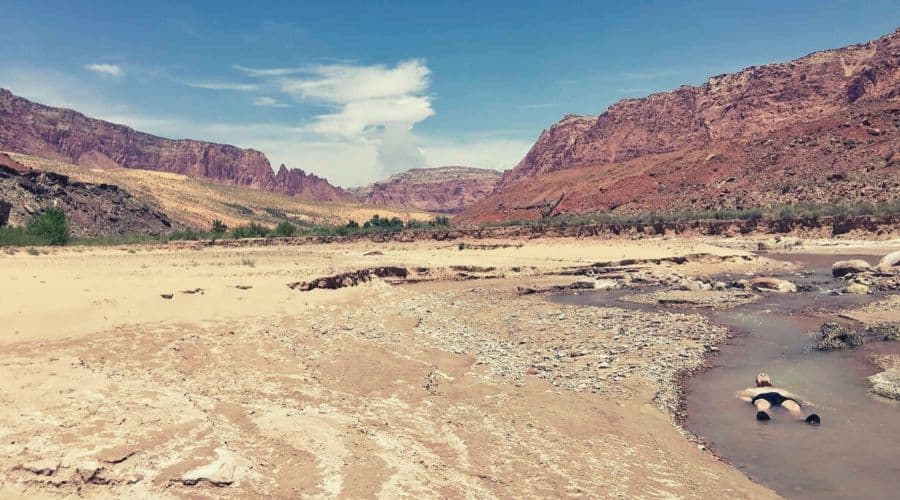 Shuttle Considerations
Remember to arrange for a shuttle when planning your overnight hike through, necessary due to its linear routing. With access to two cars, you and a friend can arrange this shuttle on your own, by leaving a car at the starting and finishing trailheads. This will require an additional driving time of at least 2-4 hours (depending on from which direction you are arriving in the area), both to drop off, and subsequently pick up, your vehicles at the conclusion of your hike.
For those who will just have one car, you can arrange for a shuttle with an area outfitter, such as Grand Staircase Discovery Tours or Seeking Treasure Adventures. We recommend scheduling your shuttle for the beginning of your trip, leaving the car at your exit trailhead. This eliminates the inconvenience of trying to estimate what time you will be exiting several days later.
Paria Canyon Hiking Routes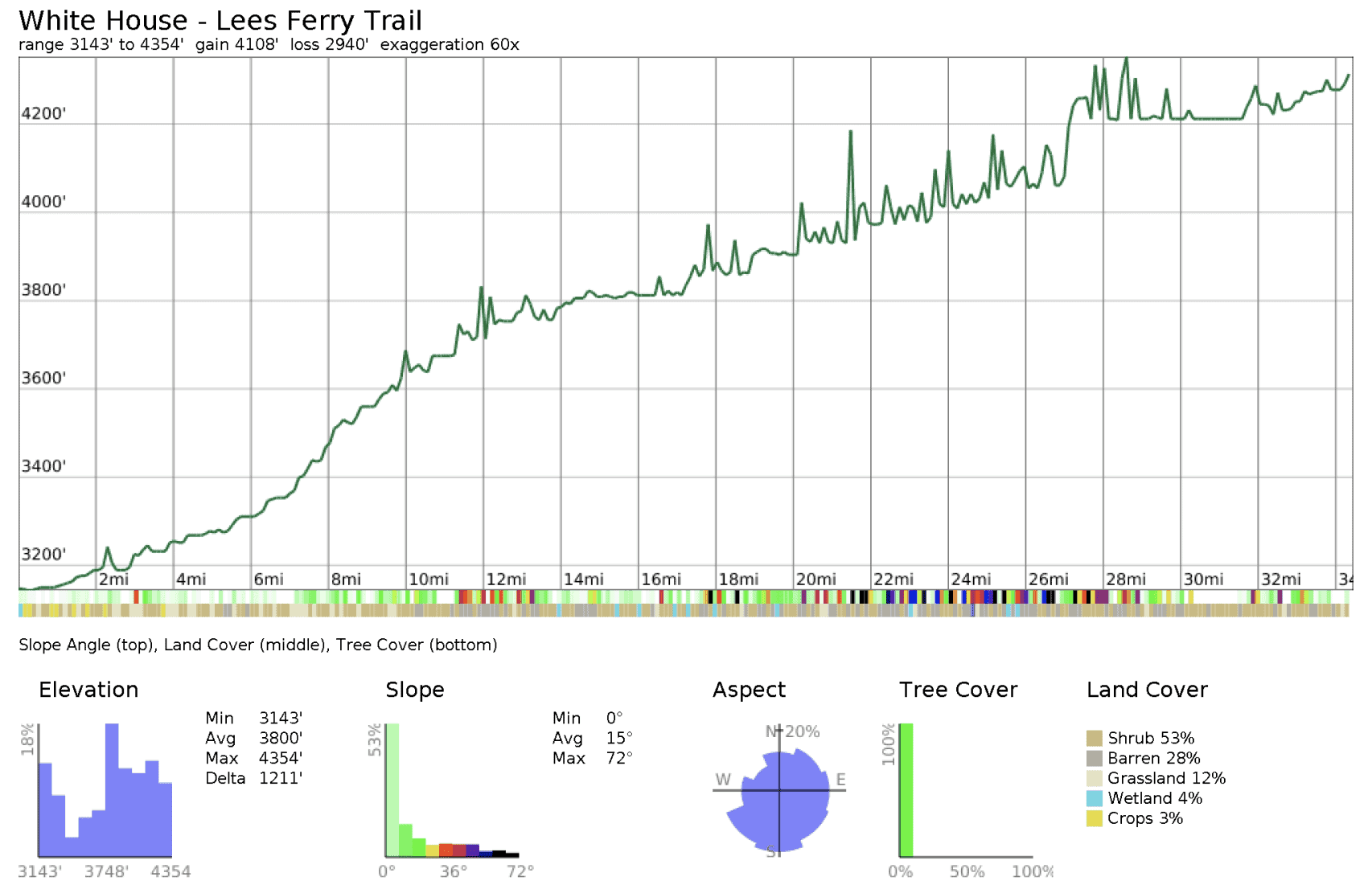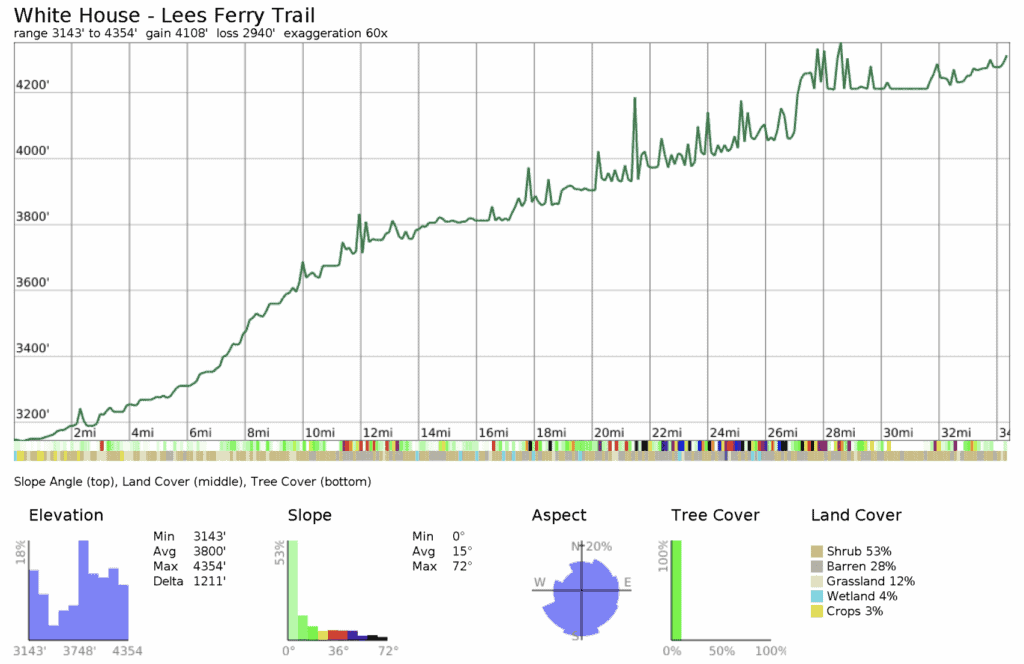 Paria Canyon Hiking – Wire Pass & Back
For those wanting to experience the wonder of Buckskin Gulch without the full commitment, or gear, required for an overnight excursion, sections of the gulch can be accessed for a pleasant day hike. Park and enter the canyon at the Wire Pass trailhead will leave you just 1.7 miles to reach the famous canyon. You can then explore as far as you desire, in either direction, until you are ready to return the way you came. The narrowest sections will be found heading east for those wanting the most authentic slot canyon experience.
The BLM does not limit Paria Canyon day hiking access for visitors, which makes this a great option for those who were unable to obtain an overnight permit in advance. Please be advised, however, that you will still need to display a day-use permit on your vehicle's windshield. These can be accessed via self-serve envelope stations at the trailhead, and they are vital for wilderness ranger use in the event of an emergency.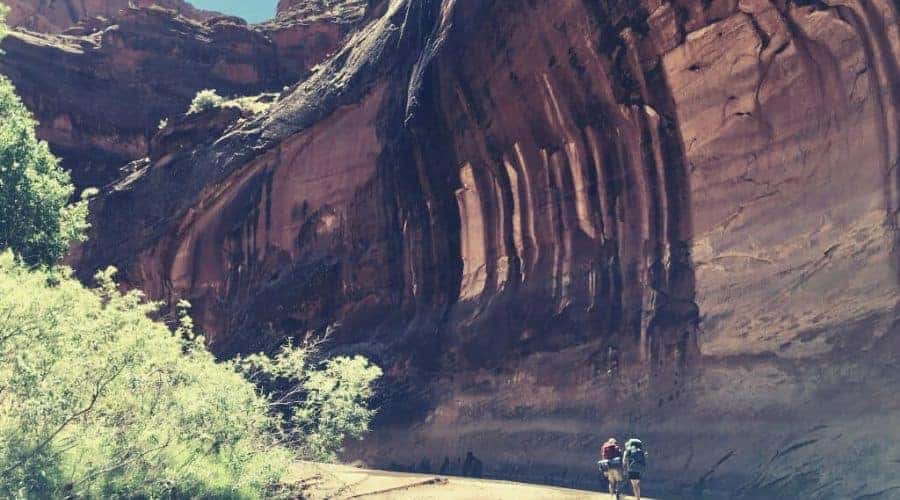 Overnight Trips – Wire Pass To White House
If you're ready for the awe, and the adventure, involved with full immersion, then an overnight trip will maximize your experience. This popular route features big mileage days but allows you to cover over 20 miles in only two days.
The only logical campsites for this hike are located closest to the confluence, where the Gulch meets the wider Paria Canyon. On day two, you will continue north, ultimately arriving at the White House trailhead. Adding a second night to this itinerary can result in a more relaxed experience and more chances to explore further south in Paria.
Backpacking Overnight Trips – White House To Lee's Ferry
A third option exists for backpackers wanting to explore the entirety of the trail or, simply, those who prefer a slower pace, with more time to explore. Starting at the White House trailhead, hikers can travel 36 miles alongside the Paria River until it reaches the Colorado at Lee's Ferry.
This route is, usually, experienced over the course of three or four nights, and provides many campsite options to suit your desired mileage each day. This is, also, a great route for those wanting to explore Wrather Canyon. Its entrance is located over 12 miles south of the confluence and, therefore, not an option for those heading north to White House.
Paria Canyon Campsites
As mentioned above, all campsite locations are within Paria Canyon, and there are plenty from which to choose. They are typically next to the river, or on sandy shelves located on the sides of the canyon.
The sandy nature of the terrain allows extreme 'ultralighters' the option of foregoing their sleeping pads, although some form of insulation will still be prudent on the cold sand. Be sure to check your route with the maps below, as not all campsites are located near springs, an important determinant of how much water you will need to carry.
Water Availability
The lack of clean, drinkable water is, likely, the biggest challenge for hikers and backpackers exploring the canyons, particularly those who are not used to carrying the extra weight of 3+ liters. The first reliable spring, located 5 miles south of the Buckskin-Paria confluence, is 17.4 miles from the Wire Pass trailhead or 12.2 from White House.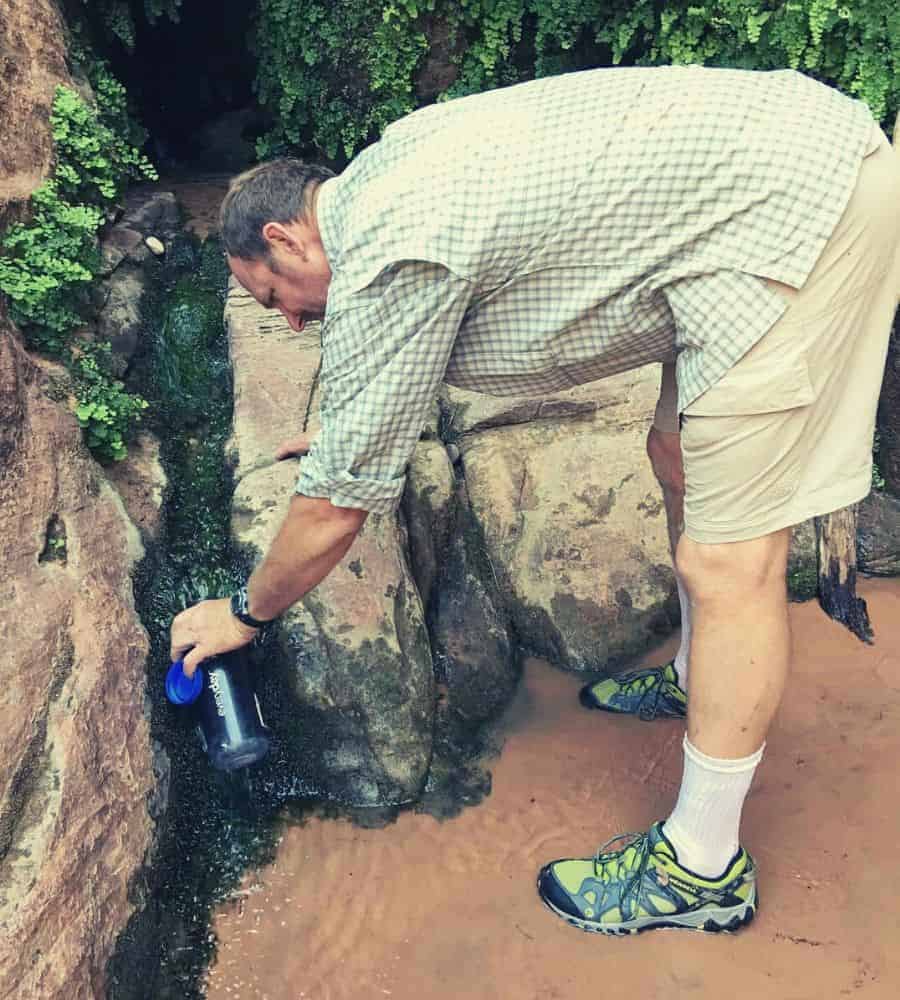 That's a long way to go without water.
Water is typically flowing down the Paria River, however, its high silt content and downstream location from livestock fields contribute to its reputation as a poorly trusted water source. If water weight is a concern, and you're willing to risk the chance of bacteria, you'd be best to filter AND purify water pulled from the river. Otherwise, backpackers must be prepared to carry 3-5 liters of water per person/day if setting out on this itinerary.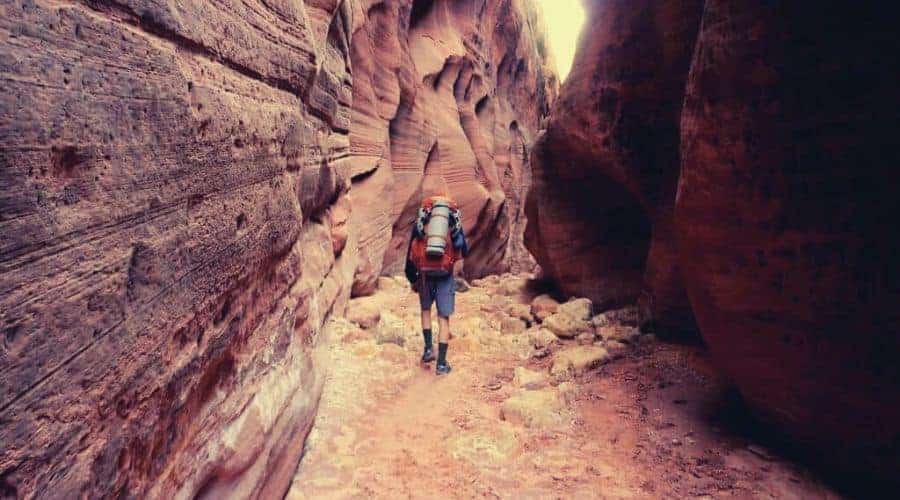 Reliable Spring Locations (Miles From Confluence)
Big Spring (5.2)
Shower Spring (15)
Last Reliable Spring (18)
Good To Know
Check The Weather
On most hikes, an afternoon shower can provide a welcome relief from a day spent burning calories and sweating hard, a minor inconvenience at worst. In a slot canyon deep within the desert southwest, however, it can leave you fighting for your life amongst an angry wall of water, mud, and debris.
Check the weather and flash flood warnings, for the entire surrounding watershed region. If there's any chance of rain, don't go. Or, at least, make sure you'll be out of the gulch before it arrives. It's that simple.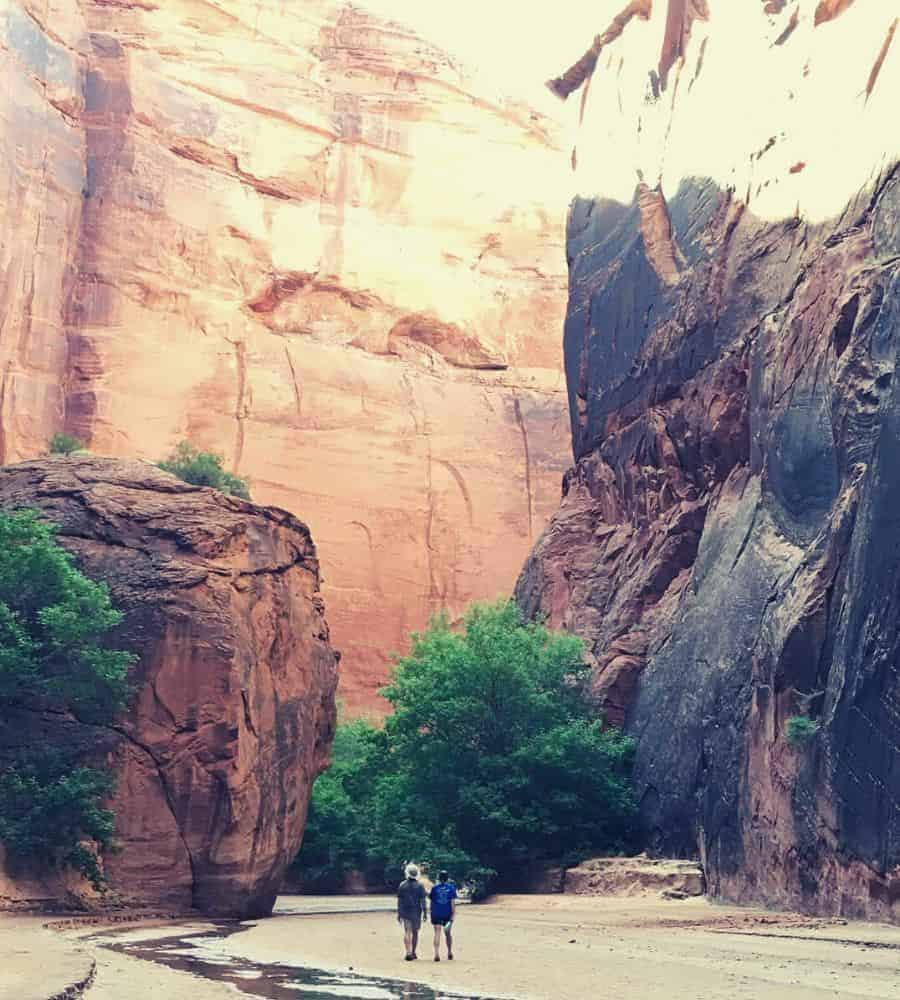 Pack It In, Pack It Out
Yes, that means your poop. Human waste bags are a mandatory requirement for hikers and backpackers in both canyons. Be sure to pick up the provided 'wag bags' at the Paria Contact Station, the Kanab Field Office, or the Arizona Strip District Office when retrieving your permit. This practice is necessary to protect the wildness of these delicate canyons, which see lots of traffic, provide few options that don't contaminate water sources, and, typically, lack the rich organic soils needed for decomposition. Just remember, you're not a serious backpacker until you've carried your own poop in your pack, so you'll have that going for ya!
Watch For Wildlife
Hiking here can lull you into a sense of isolation and protection from animal encounters. Remember to protect your food supply each night from mice, squirrels, and other critters. Also, be aware of rattlesnakes, which are common on this trek. Extra caution should be taken whenever sitting down, or stepping over, a rock or log.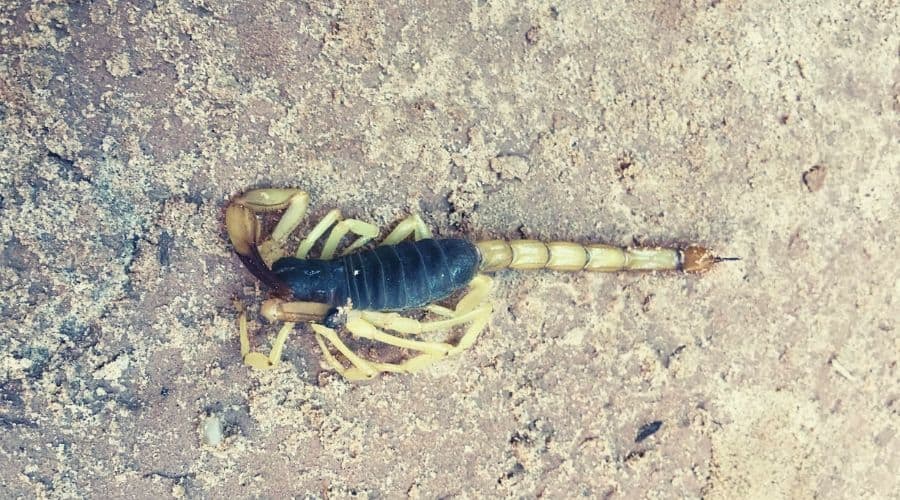 Boulder Constrictions
While the character of Buckskin Gulch changes with the flash floods, there are two known boulder obstacles that have remained for many years. Be prepared for scrambling up/down 8-12 foot boulder sections. A short length of rope, or cord, can be handy for use, either as a hand line, or lowering packs.
The Middle Escape Route
What makes Buckskin famous (long, continuous, deep, walls) is also what makes it dangerous. The only exit from this 11.5-mile section of the canyon is just over halfway (from Wire Pass), known as the middle escape route. If someone is injured, or if you experience unexpected rain, know where you are in relation to this break. It may be your only chance to get up and out.
Suggested Gear List
Please note that this is not a comprehensive list. We have, simply, highlighted some of the key items to take with you into Paria Canyon.
Clothing
Dry base layer to sleep in, separate from hiking clothes
Insulation layer, as canyons can be surprisingly cool at night
In Your Pack
Hydration reservoirs for carrying water, like this one from Camelbak, or these from Platypus – be sure you can haul at least 4 liters to be safe
Tent
Dry bags to protect your gear during any wading sections (Check out some of our favorites from Sea to Summit's eVac series)
Water filter AND Purifier if you plan to drink from Paria River
Cook set – remember, there are no fires permitted in the canyon
Footwear
Lightweight, closed-toed, hiking shoes, or trail runners, that will dry quickly after getting wet
Consider neoprene socks to keep your feet warm while wet, and provide additional protection while walking along a riverbed
General Gear Notes
Going ultralight will help make up for the heavy water weight you will have to carry
A small section of Tyvek, found in most hardware stores, can be a great way to keep your gear out of the sand when unpacking in camp each night
We find hiking poles to be a crucial item on any backpacking trip, but especially one through a canyon, where the 'trail' is mostly an uneven riverbed
Resources
Paria Canyon Map
National Geographic – Trails Illustrated
Paria Canyon-Vermilion Cliffs Wilderness Area
Permit Chart
| | |
| --- | --- |
| Applications accepted after 12 pm on the 1st of the month | for a permit during |
| January 1 | April |
| February 1 | May |
| March 1 | June |
| April 1 | July |
| May 1 | August |
| June 1 | September |
| July 1 | October |
| August 1 | November |
| September 1 | December |
| October 1 | January |
| November 1 | February |
| December 1 | March |