Browsing the product descriptions of hiking boots can be a disorienting business. Thankfully, the guys and gals at My Open Country are well versed in "bootspeak," and to help you make sense of the mystifying world of hiking boot anatomy, we've drawn up a short, straight-talking guide.
Hiking Boot Terminology: A Glossary
Backpacking boots
These boots are typically more rugged and offer more arch support, ankle support, and weather resistance than day-hiking boots. Designed for carrying heavier loads, they usually have stiffer midsoles, more aggressive tread patterns, and a high cut above the ankle.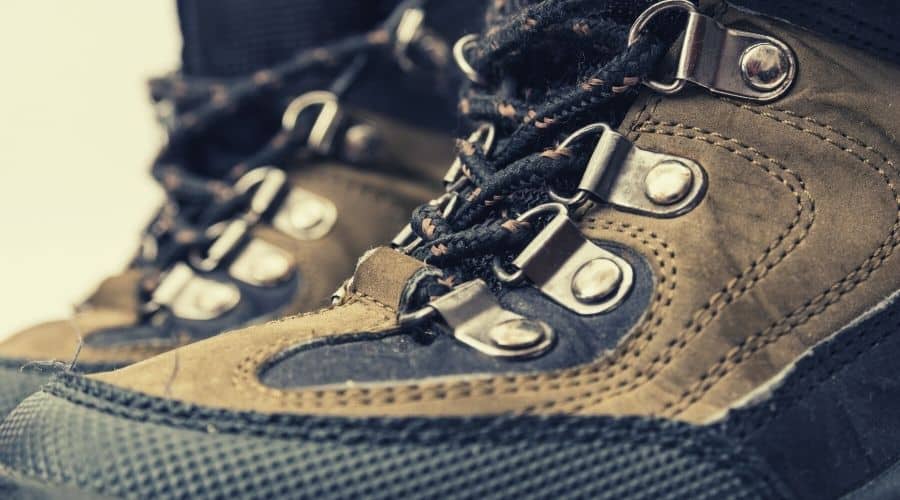 Collar
The rim around the top of the boot.
Crampon Compatibility
Boots are graded according to their compatibility with different types of crampon:
B1: Compatible with C1 crampons, which are non-technical models that can be strapped onto any boot to provide added traction and grip on moderate ice and snow.
B2: Compatible with C2 crampons, which are used for hiking on glaciers and general mountaineering. These semi-rigid boots have toe and heel "bails" that are locked onto by heel and toe clips on the crampons.
B3: Compatible with C3 crampons, which are used for highly technical mountaineering and ice climbing. These boots are fully rigid and have the same heel-and-toe bail system as B2 boots.
D-Rings
An alternative to standard lacing eyelets or hooks. Shaped like the letter, these are usually very robust but can rip out of the boot's upper with over-exuberant tying.
Day-hiking boots
This umbrella term covers a wide variety of boots. The characteristics most common to day-hiking boots are lighter weight, a more flexible sole, and either fully or semi-synthetic uppers.
Intended for day hikes or shorter backpacking outings with lighter loads, these boots usually offer less ankle support, ruggedness, and durability than out-and-out backpacking boots. On the plus side, they typically take less time to break in, offer more comfort, and are cheaper.
Eyelets
The ring-shaped holes in the boot's upper through which the laces are threaded.
Heel brake
An aggressive, usually lateral lug pattern used in the outsole to provide additional grip and traction, particularly in descent.
Lining
Hiking boots can come with two types of lining: waterproof membranes and/or insulation.
Waterproof membranes
"Waterproof" hiking boots typically use a waterproof/breathable membrane attached to or sandwiched inside the upper material. While this helps to keep your feet dry in wet conditions, they reduce breathability and add a hefty whack to the price tag.
Insulation
Many 4-season hiking boots use synthetic insulating lining to add warmth to their boots.
Midsoles
The midsole is part of the boot located between the outsole and insole. This component provides added cushioning and acts as a buffer against shock and impact trauma to the sole of your foot.
The type of midsole used also influences the boot's degree of stiffness.
Stiffer midsoles make life more comfortable in steep, rocky, and uneven terrain by remaining relatively flat irrespective of how level the hiking surface is. On the downside, stiffer midsoles can cause foot fatigue and cramping on flatter trails.
The most common midsole materials are EVA (ethylene vinyl acetate) and polyurethane.
EVA is usually found in cheaper boots and hiking shoes but is often lighter, bouncier, and more pillow-like than polyurethane. EVA is used in different densities to vary the degree of firmness the midsole offers.
Polyurethane is usually stiffer and firmer than EVA, which makes it both more durable and more commonly found in mountaineering or backpacking boots.
Outsoles
The 'outsole' of your hiking boot is the bit you do the walking on. Different brands use different types of rubber in outsoles. Some of the most common are Vibram (multiple), Contagrip (Salomon), and Skywalk (Scarpa).
As a general rule, harder outsoles offer better durability but are less "sticky" on rocky surfaces. Softer rubbers, conversely, wear down quickly but usually adhere well on slicker surfaces.
Lug pattern
This is the patterned tread on the outsole of your boot. Deeper lugs provide better traction and grip.
Plates
These are thin inserts sandwiched between the midsole and the outsole (and below the shank, if there is one) that provide an added buffer against impact in rocky terrain.
Rand
The strip of rubber that either surrounds the entire boot or just the toe area (in which case it may be referred to as a "toe guard.") This feature protects against abrasion and bumps or bangs to the base of your foot and toes.
Shank
Thin (2–5mm) inserts are placed between a boot's midsole and outsole to increase rigidity and support, which can help when carrying heavier loads or hiking in steeper terrain.
Uppers
The "upper" of a hiking boot is all of the material above the sole. Because it encompasses such a large part of the boot, this component influences a boot's weight, water resistance, breathability, ruggedness, and overall performance more than any other.
The most common materials used in uppers include:
Full-grain leather
This type of upper is typically tough, durable, and highly water-resistant. It is most commonly found on backpacking boots and models intended for use in more rugged terrain.
On the downside, full-grain leather is heavy, restricts breathability, takes a long time to break in, and takes far longer than synthetic materials to dry out once wet.
Split-grain Leather/Suede
Found in both day-hiking and backpacking models, split-grain leather is typically combined with synthetic fabrics to save weight and enhance breathability. While cheaper, lighter, more supple, and more breathable than full-grain leather, split-grain is less water- and abrasion-resistant.
Nubuck leather
Like suede, nubuck has a velvety and soft, napped finish. This fabric represents a sort of happy medium between full- and split-grain leathers, offering good water and abrasion resistance, lighter weight, and more suppleness.
Synthetic fabrics
The types of synthetics most commonly used on hiking shoes and boots are nylon, polyester, poly-nylon blends, and synthetic leather. Each of these materials is typically lighter, more breathable, quicker drying, and cheaper than leather but also lacks leather's durability, abrasion resistance, and water resistance.
Parts of a Hiking Boot 101
Knowing your hiking shoe/boot terminology won't make you a better hiker or your boots more comfortable, granted. However, awareness of the jargon can come in very handy when buying new boots and earn you some serious kudos amongst your hiking buddies!
If you have any comments or questions about the parts of a hiking boot or shoe, please drop them in the comments box below. And if you liked this post, please go ahead and share it with your friends!