Backcountry camping is an opportunity to get deep into nature and away from the crowds. Although this means giving up luxuries like electricity and running water, it's worth it for the tranquility and simplicity the primitive camp experience offers. However, it can be hard to know what to bring.
That's where we come in! This complete checklist of kit includes everything you need for a successful trip, information about preparing for your first trip, and recommendations for our favorite lightweight gear.
Key Takeaways
Be Ready to Rough It – There will be no amenities such as electricity, running water, or a toilet.
Sweet Dreams – A complete sleep system is necessary for a good night's sleep.
Must-haves – The right clothing, toiletries, and other gear can make or break your trip.
Off-Grid Camping 101: A Necessary Explainer
Also known as backcountry camping, primitive camping involves getting away from campgrounds and other people and into the wilder portions of the great outdoors. This means heading out to places without amenities like electricity, running water, toilet, or WiFi.
Backcountry camping is different from car camping. Even if you car camp down a Bureau of Land Management road far from others, you still have the luxury of your car for sleeping and storing and transporting gear. Primitive campers hike, boat, or backpack to their camp spot.
Hiking or backpacking to your primitive campsite means supplies are limited to what you can carry. This affects the gear you can bring; you have to focus on lightweight, multi-use equipment. We'll take a deep dive into the backcountry camping checklist next.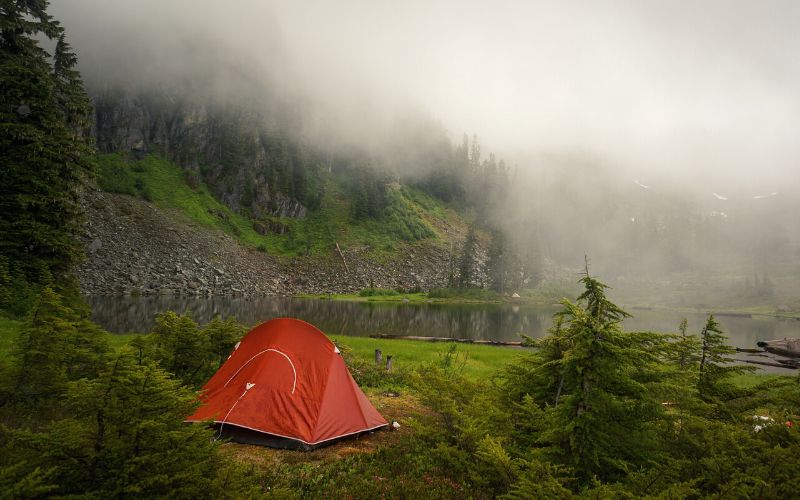 Primitive Camping Gear Checklist
Use the following as a checklist for your next backcountry adventure.
Shelter
Sleeping System
Sleeping Bag
Sleeping Pad
Pillow
Pajamas
Cooking Gear
Food
Camp stove
Pot and Utensils
Lighter or matches
Clothing
Base, mid, and outer layers
Rain gear
Hat and gloves
Warm jacket
Extra socks
Toiletries
Toothbrush
Toothpaste
Hand sanitizer
Moist wipes
Biodegradable soap
Other Gear
Water filtration system
Trowel
Multi-tool
Headlamp
Firestarter
First aid kit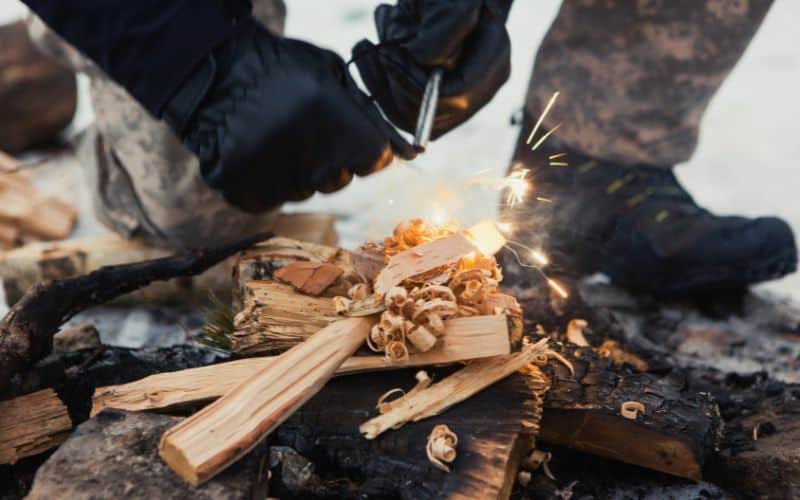 Tips and Recommendations for Kit
Let's look at the gear you need for backcountry adventures, including expert tips and recommendations.
Shelter
A shelter is an important part of your primitive camping gear. Bring some sort of shelter unless you're going to an area with structures you can reserve in advance. There are a few options:
Tent – A tent is a good go-to for backcountry trips. It will keep you dry and protected from the elements in all conditions. Before you head out, double-check that you have all the necessary parts, including tent stakes, poles, rain fly, and footprint.
Need help choosing one for your trips? If so, check out our guides to 4-person, 6-person, and backpacking tents.
Tarp – Tarps are a good alternative to carrying a heavy tent. Certain tarps like the Tarptent Notch can be set up with your trekking poles. You can use a tarp as your primary shelter or in addition to a tent. You can put a tarp over your kitchen area to protect yourself from the rain or the sun.
Hammock – Camping hammocks are lightweight and save space in your pack. However, they only work, of course, in forested areas.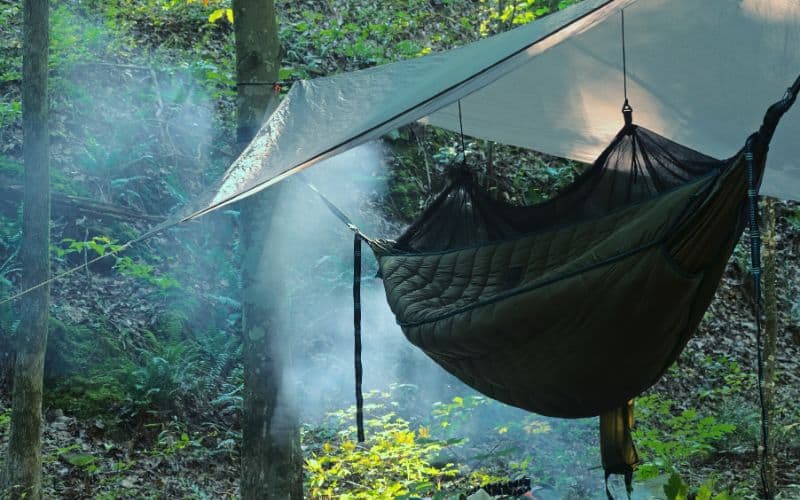 Sleeping System
A sleeping system consists of your sleeping bag, pad, and pillow. Each component complements the others to provide a good night's sleep.
Sleeping Bag
Sleeping bags are a vital component of the sleep system. There are many different factors to consider when choosing a sleeping bag, for example, down versus synthetic, temperature rating, and seasonality.
If you have no idea where to start, three-season sleeping bags with a lower limit of -5°C/23°F will keep most people warm from late spring through early fall. Our favorite is the REI Co-op Magma 30.
Sleeping Pad
A sleeping pad is essential. Besides adding comfort to your night, a sleeping pad provides insulation between your body and the ground. Even in summer, the ground can quickly steal your body heat and make you cold. What's more, sleeping bag temperature rating depends on sleeping pad use.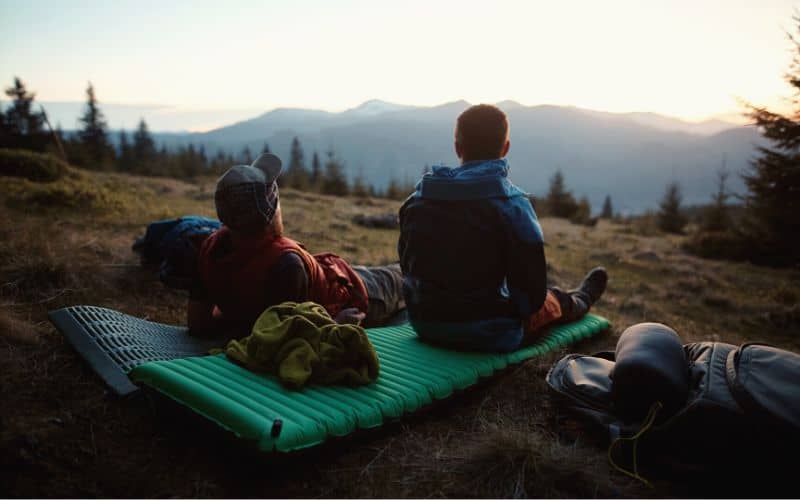 Pillow
Camp pillows take up virtually no room in your pack but add significant comfort to your sleep system. Inflatable camp pillows are superior for weight-to-comfort ratio and packability. If you refuse to bring a pillow, you can always rest your head on a pile of clothes or your warm jacket.
Cooking Gear & Supplies
While backcountry camping, you have to forgo elaborate camp meals for lighter, more transportable options. However, you can still enjoy a good meal with the right food and cooking equipment.
Food – Most primitive campers prefer freeze-dried and dehydrated foods for their meals. This is a lightweight option that only requires boiling water. To make hot water, you will need a stove. Unfortunately, freeze-dried camp meals can be on the expensive side. You can dehydrate meals at home to save on expenses.
Camp stove – Camp stoves come in all sorts of sizes, shapes, and fuel types. For backcountry trips, opt for a backpacker's stove like the MSR PocketRocket 2.
Pot and utensils – You will need at least one pot and one utensil. Think multi-use, for example, a pot that can be a cup and a spoon/fork combo.
Lighter or matches – For starting fires and for lighting your stove, bring some sort of fire starter. For example, a lighter, strike anywhere matches, or waterproof matches.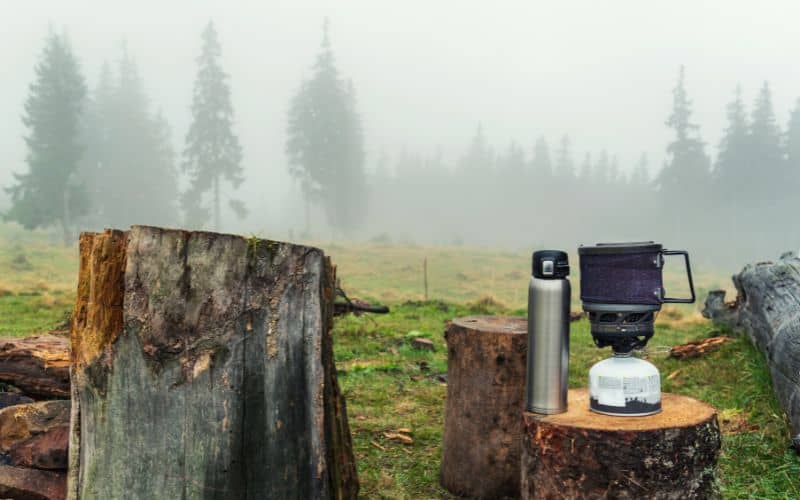 Clothing
Clothing can make or break your camp experience. Make sure to pack the following to stay safe and comfortable.
Base, mid, and outer layers – Layers are a must-have. A good base layer will wick sweat and moisture away from your skin. A base layer helps you retain warmth, and an outer layer will protect you from the elements. Bring one of each in all conditions.
Rain gear – Being wet can quickly ruin your trip. Bring rain gear, or at least a rain jacket, if there is even the slightest chance of rain in the forecast.
Hat and gloves – A warm hat and gloves are helpful for cold mornings and evenings. Hats and gloves are also a lifesaver for spring and fall trips.
Warm jacket – Even in summer, a warm jacket is necessary. In the backcountry, temperatures can drop in a matter of minutes.
Extra socks – Good hiking socks feel like the height of luxury on primitive camp trips. With extra socks, you can wash a pair and wear a pair and always have clean socks.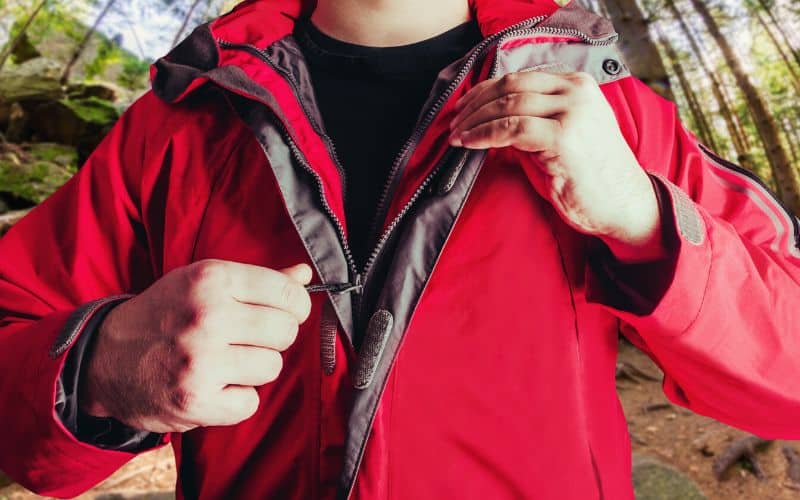 Toiletries
Backcountry camping is not an excuse to forgo basic hygiene. Besides toilet paper, here are a few more things to put in your toiletry kit:
Toothbrush – Dental health is important, even in the woods; Bring a toothbrush. Experienced campers will cut the handle down or carry a child's toothbrush when weight is a concern.
Toothpaste – Toothpaste is a topic of controversy in the backcountry camping community. Some opt for no toothpaste at all, while others advocate using small amounts and swallowing it to reduce the impact on the environment. Either option works.
You can also use baking soda or disperse your used toothpaste by blowing instead of spitting it. This disperses the toothpaste, lessening the impact.
Hand sanitizer – Bring a small bottle of hand sanitizer to use after going to the bathroom and before meal prep.
Moist wipes – Moist wipes have many uses. Remember to pack them out, along with your toilet paper.
Biodegradable soap – Keep biodegradable soap in your toiletries. It won't damage the surrounding environment and is useful for handwashing and dishes at your campsite.
Other Supplies & Equipment
Other things you'll need to bring include:
Water filtration system – No running water means you will need a water filtration system. Some long-time backcountry experts claim they don't filter their water. This is a bad idea and likely to turn your outdoor adventure into a misadventure. Drinking unfiltered water in the backcountry is a leading cause of giardia.
There are many varieties, including gravity or squeeze filters, and UV pens that can eliminate protozoa, bacteria, and viruses when stirred in your water bottles. If you're keen to pack light, purification tablets are the best option.
Trowel – Primitive campsites don't have toilets, meaning you have to bury human waste. (Or pack it out depending on the environment). In places that require you to bury your waste, you should bring a backpacking trowel for easy cathole digging.
In desert environments or state and national parks where burying waste is not allowed, ensure you have the appropriate removal system.
Headlamp – Remember, there's no electricity in the backcountry. When the sun goes down, you will need a good headlamp or some other light source. We prefer a headlamp that has a red light setting as well as white. The red light setting won't affect your night vision and makes stargazing easier.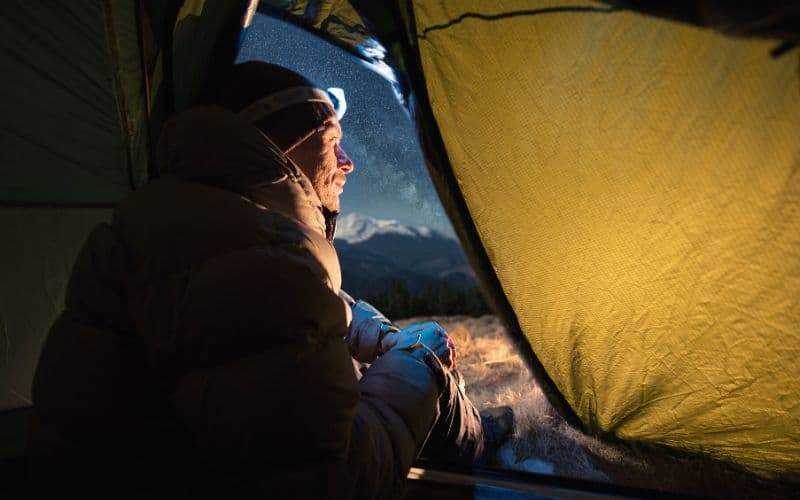 Multi-tool – Whether you need to cut a guideline, open a can, or whittle a marshmallow stick, a good multi-tool can do all the above and more. They're well worth the extra weight!
Firestarter – Besides a lighter or matches, a firestarter can help get a fire going, even in wet conditions.
Emergency blanket – Mylar emergency blankets are designed to reflect heat back toward you, and they can be a lifesaver in emergency situations.
First aid kit – No camping checklist is complete without a first aid kit. You can buy a pre-made kit or make your own. A basic first aid kit should include adhesive bandages in a variety of sizes, gauze, gloves, antiseptic wipes, safety pins, an instant cold compress, aspirin, antibiotic ointment, and a roller bandage. 
Buying a kit is fine as long as you know what is in it before heading out, or you could assemble your own and store it in a stuff sack. 
Bear spray – If you're heading into bear country, don't leave home without it!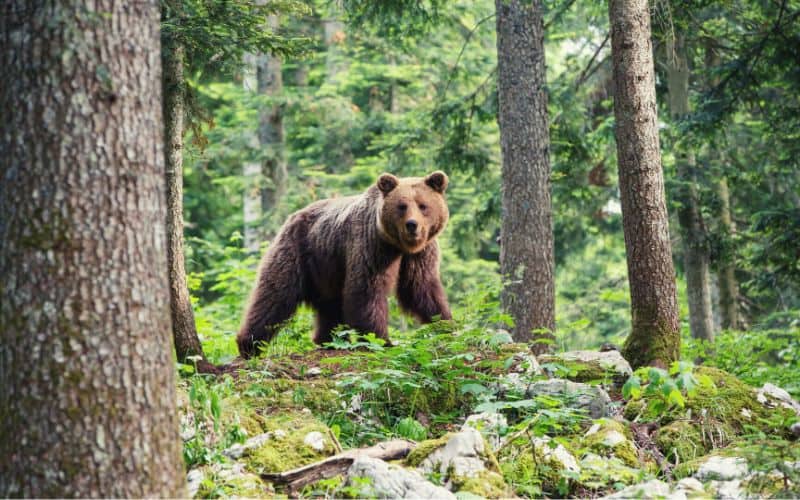 Happy Camping!
Walking into the wilderness with everything you need in a backpack is extremely rewarding. It can also be challenging, especially if you don't have everything you need.
We hope this checklist makes packing a breeze and that you never forget an important item again!
If you have any questions, drop them in the comments below, and don't forget to share this with your buddies.