The Three Sisters waterfalls are one of those tricky destinations that is easy enough to get down to, but getting back up is an entirely different matter.
It's a short drive from San Diego, but this 4.5 mile hike is no joke. People die here and hikers are regularly evacuated for dehydration, exhaustion, and sun exposure. The rewards at the bottom of the trail are great, but if you aren't prepared, it can be a dreadful experience.
Our goal is to get you primed and ready so that you'll know what to expect and how to prepare yourself. Knowing is half the battle, as they say, so we're gonna make sure you know your way into this canyon destination before you find yourself in a predicament.
Key Takeaways
Rewarding challenge near a major city

Excellent waterfalls to enjoy

A real adventure accomplishing the hike

Guaranteed to meet interesting people on a busy day

If you aren't prepared, this trail will eat you up!

Waterfalls are dependant on weather and rain (can dry up in drought/hot weather)

The hike is best limited to cooler temperatures
Overview
The falls are just over an hour outside of San Diego and are technically a part of the Cleveland National Forest, although the waterfalls and the trails leading to them are not officially designated or maintained.
That makes maintenance of this out-and-back trail a labor of love for the hikers who tread there. It's so unofficial that there are no real, hard rules on what the trail length is. There are numerous shortcuts, and alternate paths hikers take. For the sake of "better safe than sorry", we're sticking with the higher length of the trail which clocks in at 4.5 miles.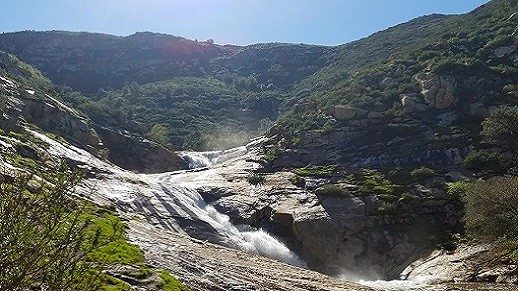 ​Although sections of the trail are in good enough condition, the sketchier portions are in hazardous condition. For experienced hikers, it's a challenge and similar in difficulty to pushing your own way trail of a steep canyon. Novice hikers or those not in great shape, however, can find portions of this hike incredibly taxing and downright dangerous.
Danger Ahead
This is no boilerplate warning on the seriousness of the risks of hiking this trail. Visitors at the gate will be greeted with a collection of signs urging hikers to stop and turn around if they aren't prepared.
Every year people on this trail call in for emergency assistance to be evacuated via helicopter. These folks cave to dehydration, heat exhaustion, and a nice assortment of broken, twisted, and sprained ankles.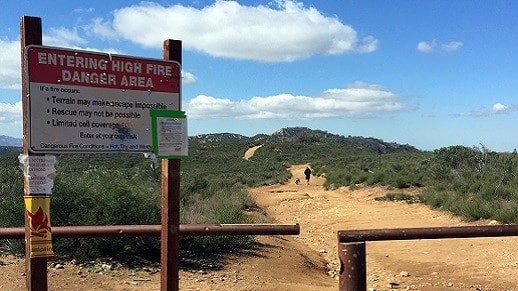 ​Part of the reason for the high casualty rate the falls keep tallying up is the number of visitors the trail receives. The trail can be heavily traveled during the peak season with a nice crowd of eccentric folks hanging out at the falls.
A number of these folks tend to bring different intoxicants with them in place of water and sun protection. I enjoy a cold beer as much as anyone else, or maybe a bit of whiskey at the peak of a good hike, but there's a time and place for everything. Save yourself a headache and leave the booze and other things behind when you tackle the Three Sisters trail.
Tough as the Day is Long
The Three Sisters trail has a moderate distance, somewhere between four and five miles; that by itself isn't too strenuous. It's the terrain that'll get you.
Expect full sun exposure in this southern California hike. This demands sun protection in the form of a hat, sunscreen, ample water, and an honest assessment of your condition.
Portions of the Three Sisters trail are flat and easy enough, but the major downhill portion requires careful and attentive footing. The falls at the bottom are equally hazardous and prone to snapping ankles; don't forget that wet rocks are slippery as hell!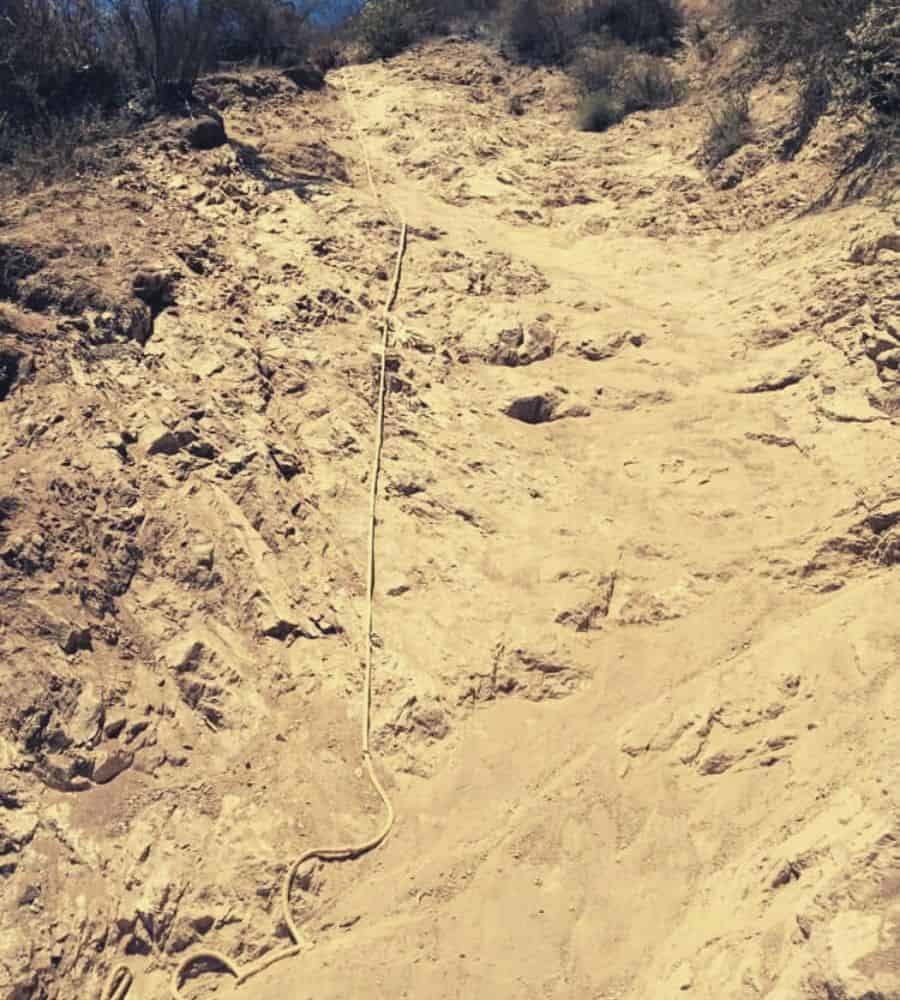 ​The ascent up and out of the waterfalls is what gets people. It's a steep ascent that requires hand-over-hand scrabbling, rock climbing, and a week's worth of swearing as you climb your way out.
Planning Your Trip to Three Sisters Falls
Getting there is easy enough, but you're going to need a car to reach the falls. Keep a close eye on the weather on the days leading up to the hike, and make sure to let people know where you're going and when.
Getting There
The best way to reach the falls is to start out in the town of Julian. Do yourself a favor and grab something to eat from Julian Pie while you're there, and by "something" I mean pie.
Head west on Highway 79 (Julian Road) and hang a left on Pine Hills Road. From here, hang a right on Eagle Peak and then left on Boulder Creek.
Boulder Creek transitions into a dirt road (most cars should be able to drive on it fine, but be mindful if it's been raining); five miles after this point you'll find the trailhead. If the other cars parked on the side of the road don't give it away, you'll spot a large barrier preventing people from driving onto the trail itself.
Ensure you follow all parking rules and regulations when leaving your car here. People are regularly ticketed for parking in the wrong direction (against traffic) among other offenses.
The Weather
It goes without saying that SoCal gets hot as hell in the summer. The only time to safely travel to the the falls is during the winter, typically October through April with March being the sweet spot.
It is highly recommended to avoid hiking here in the summer months; in fact, the rangers will close the road and trail during excessive heat conditions.
Watch out for unusually warm days or periods of heavy rain. These trails are not maintained by anybody but the hikers themselves, so a single downpour can spell disaster. Hot days are basically a no-go. The air in the canyon becomes suffocating when the mercury climbs.
All Warnings Aside…
… this is a fun hike with a great set of waterfalls at the bottom. If you're smart, prepared, and in reasonable shape, you'll be fine getting there. It's when people get cocky, go in unprepared, or don't plan ahead that tragedies occur.
And, I wouldn't be doing my job if I didn't insist that you leave your dogs and children at home. A terribly high number of dead dogs are fished out of the creek every year, and the heat and strenuous trails are not at all a place for a child to spend their day.
Leave your dogs at home, even the healthy and adventurous ones; they're going to suffer and are far more likely to die during this encounter than they are elsewhere.
Show Me the Way to the Falls
There is primarily one trail to reach the bottom of the falls, but slip-ups occur and hikers have a bad habit of making their own trails through the delicate ecosystem.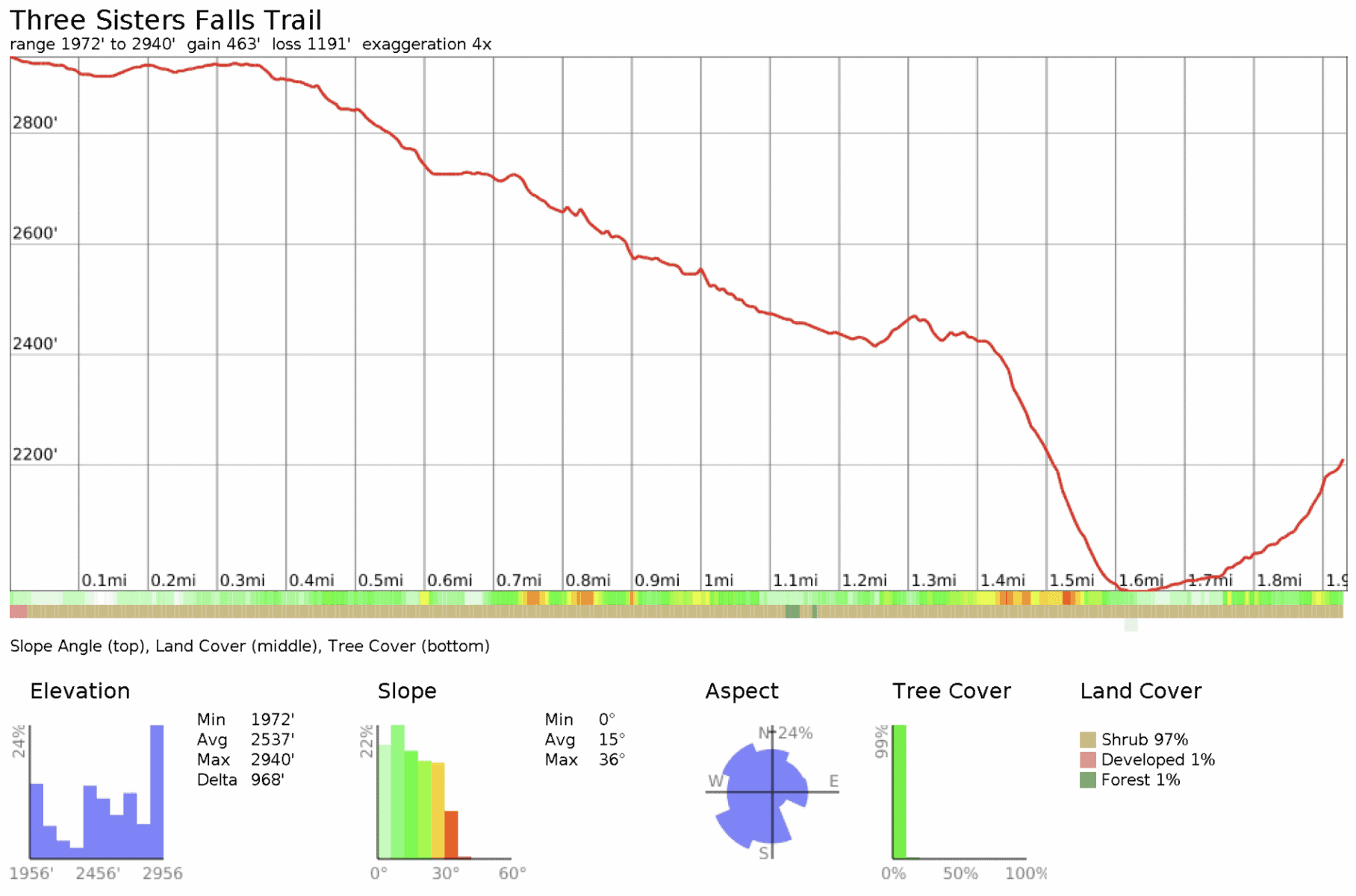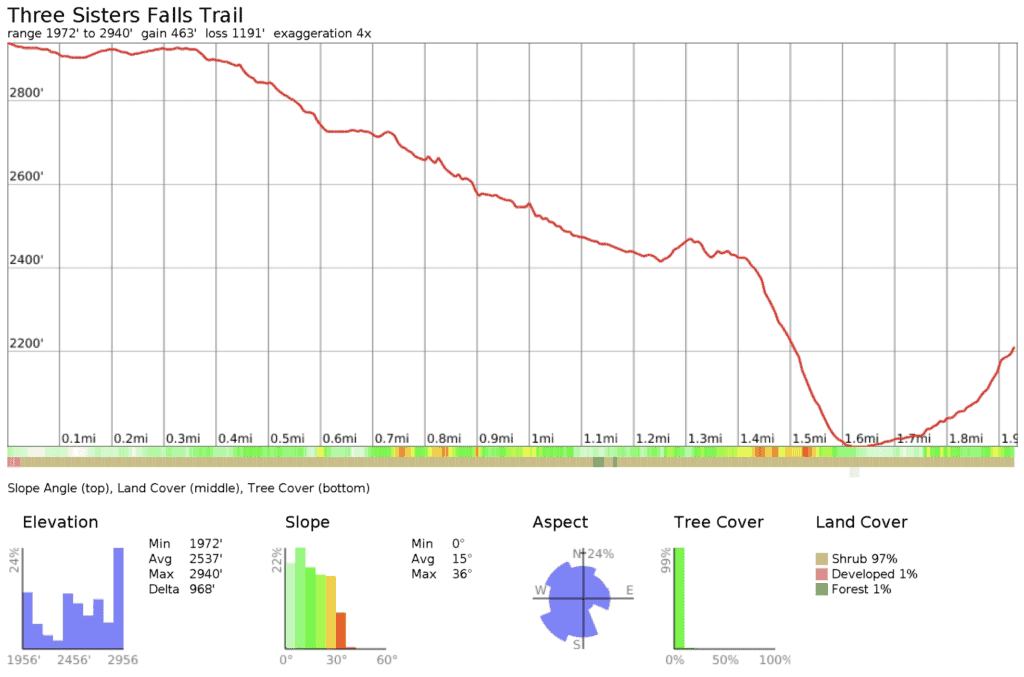 Start your hike towards the falls by hopping over that rusted barrier between the road and the trail and give each one of those warning signs a nice, thorough review.
The trail follows this dirt road to a copse of trees offering just about the only shade you're going to get. Soon the trail forks and the hiker will need to choose left or right; turn left to head towards the falls.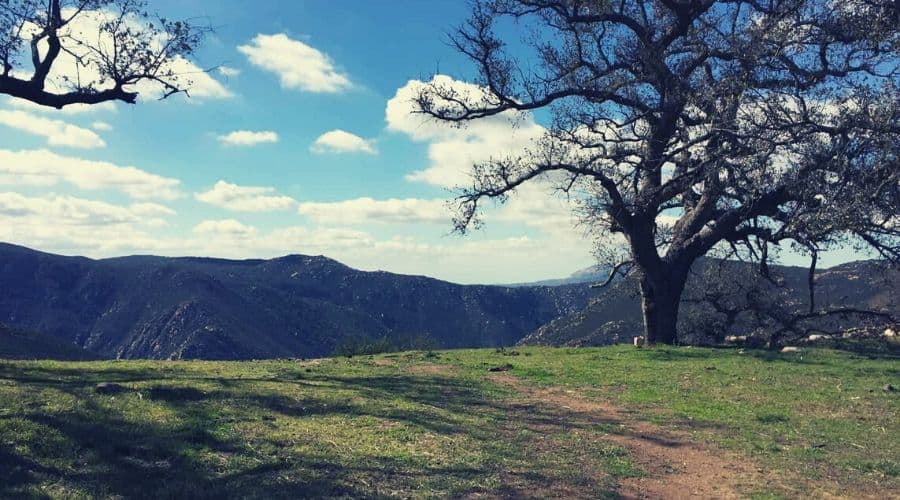 ​Continue on your merry way and take a gander for some badass wildlife that calls the area home. Attentive, lucky hikers might spot anything from a gray fox to a mountain lion, while the plantophiles like myself will keep their eyes peeled for yarrow, mule's ear, and false monkeyflower.
Watch out for the poison oak thickets; it's an easy plant to miss. Remember one of the cardinal rules for plant identification, "Leaves of three, let it be". It's a good catchall for spotting and avoiding all manner of problematic plant encounters.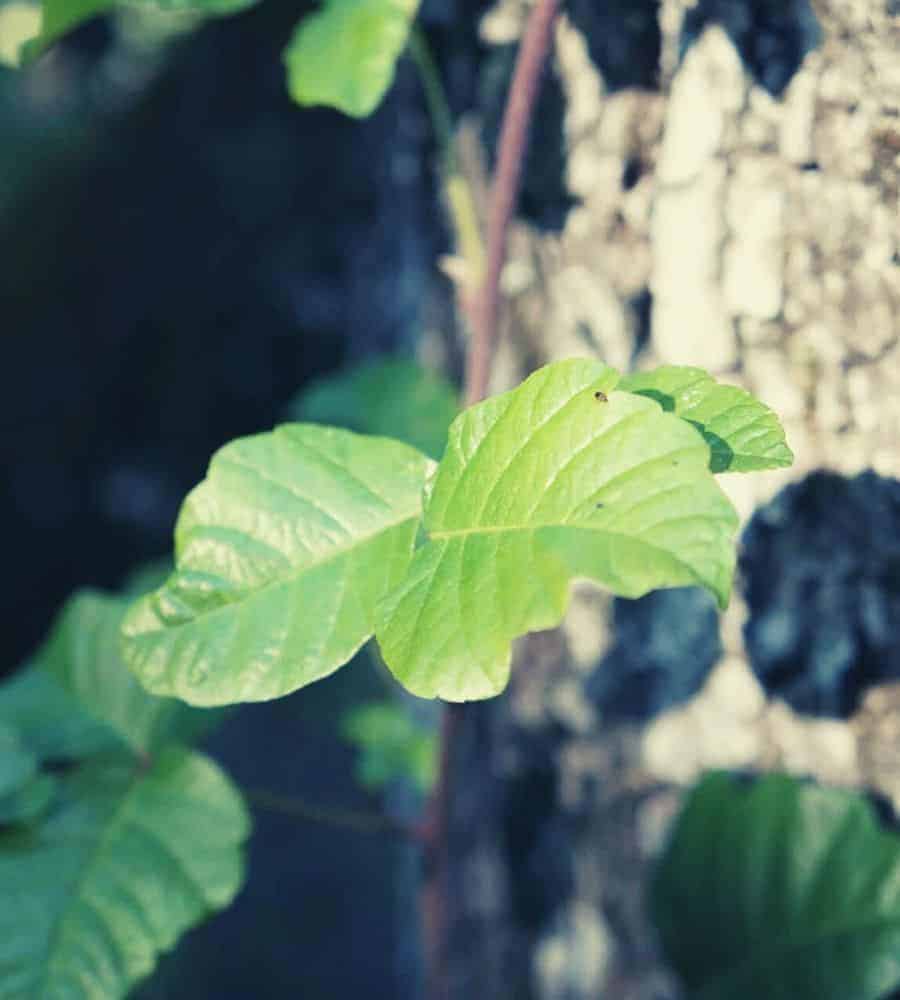 ​Around this point, the trail turns left and you can take in a nice gander at the mountains around you and the Three Sisters in the distance before, suddenly, the trail seems to fall out from underneath you. You'll likely spot ropes tied in various knots to tree stumps, sturdy boulders, and anything else that looks sturdy.
We do not recommend grabbing hold of ropes you aren't familiar with, especially when you're putting your full weight on it above a steep descent. Check out the Recommended Gear section for a few suggestions we offer on getting down this tricky descent, and a special note about rope use on this trail.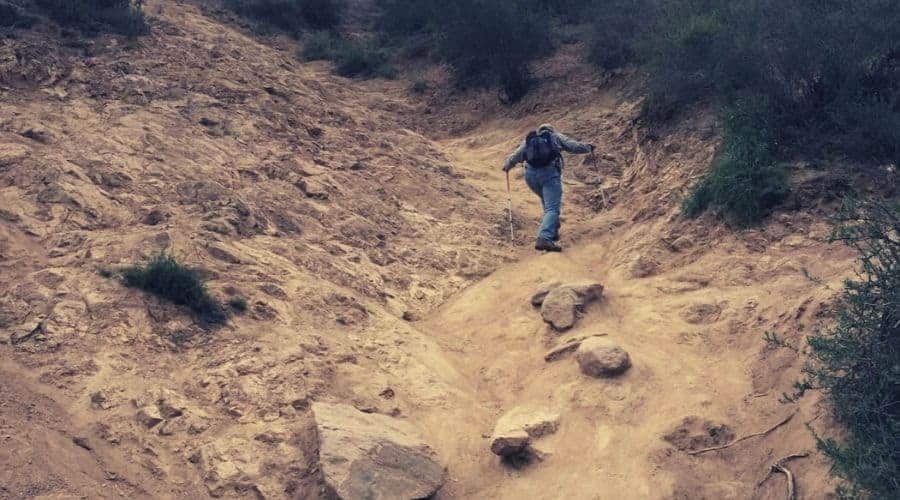 ​Make notes on the way down of firm footholds and trusty areas to dig your feet into. Climbing up this portion of the falls on your return journey is the most challenging aspect of the hike, and it's where most people are injured or give up and call for a medevac.
Once you reach the canyon floor you can follow the stream of water. You'll find plenty of trails with various colors of spray-painted arrows. Pick the trail you're most comfortable with.
Eventually, you're going to come across the falls themselves. Marvel at their majesty but watch your footing. Maybe it's because people are in such an arid area, but folks seem to forget that wet rocks can be extremely slippery.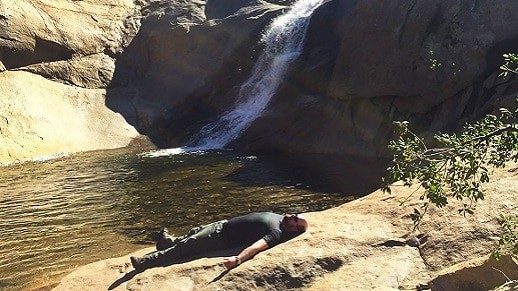 ​At this point you're free to explore the falls as you see fit, keeping in mind your own safety and that of others around you. Be extremely careful when climbing to the top of the second and third falls. Climbers report loose rocks, slippery conditions, and unreliable footing.
Follow those wonderful guidelines of Leaving No Trace during your trip, get some rest and cool off, and prep yourself for that return journey.
Suggested Gear
Good footwear is important. The steep and sketchy portions of the trail are genuinely dangerous for the unprepared, and a good pair of footwear goes a long way.
Some folks prefer a mid or high-ankle shoe/boot for hiking. I've never been able to get into this style of footwear and have always preferred low-cut varieties instead, and the lighter the better on top of that. I would rather have mobility and good ground feel coupled with great traction, but I've also got strong ankles.
Maybe that's because I've lived a lifetime without the use of boots? Who knows. In any regard, I'll recommend the Helios by La Sportiva; it's the only shoe still in production that I will recommend.
You're going to want to bring plenty of water. Most hikers recommend four liters per person. That might seem overkill for such a short trail, but it's a strenuous journey and one in a very hot climate. Bring the extra water because even if you don't use it, you might pass somebody who needs it desperately from their journey on the trail.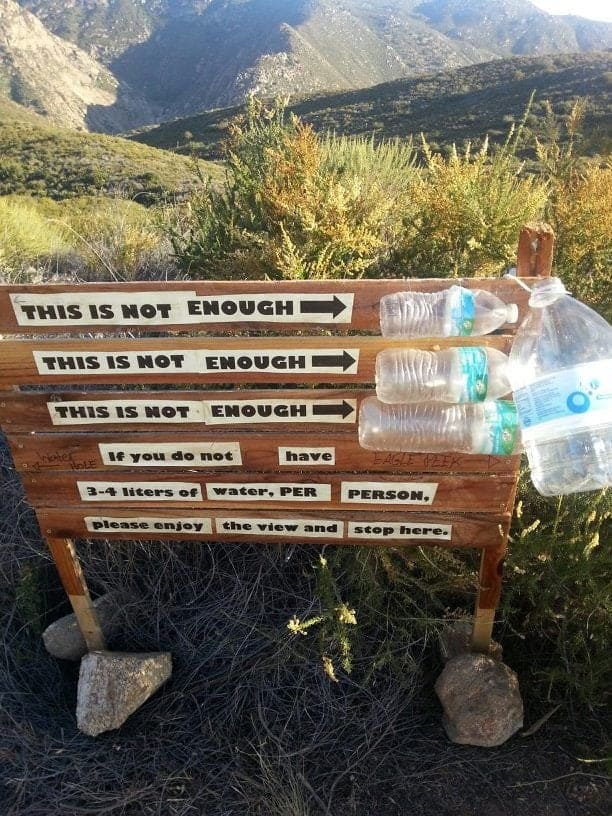 ​Many hikers suggest bringing hiking poles for this trail. The dramatic descent and steep ascent make hiking poles an important tool for hikers of this trail. I'm not proficient in using hiking poles, but my close friend (an avid explorer, hiker, and mountaineer) suggests using this ultralight option by Hiker Hunger.
Bring some sun protection! A wide-brimmed hat should be standard in every hiker's collection of gear. Not only do they look cool, they're incredibly useful for limiting sun exposure and regulating your temperature. Sunscreen works well in this environment.
Portions of the Three Sisters trail tear through patches of poison oak. Even if you can identify the plant easily, limit your exposure by wearing light, long sleeve shirts and full-length pants (or convertible pants). Simply packing an extra long-sleeved shirt in your pack can solve this problem.
On Rope
The steep descent can be quite challenging for even experienced hikers and climbers. Some hikers report that using rope is the only way down!
I can't recommend trusting a random rope you find, so why not bring your own? Aonokey makes a good product that's sure to hold up to your demands. Tie off to a strong, sturdy landmark if you're going to use rope on your descent, and practice extra safety and caution.
RELATED READING: For more hiking adventures in the San Diego area check out our guide to the best Torrey Pines hikes.
Resources
You don't need one, but an Adventure Pass is an excellent purchase if you live in Southern California or intend to explore here often. It helps to eliminate the risk of parking tickets, but it also helps fund the parks we love and share.
The Palomar Ranger District runs and operates the area. Add their phone number to your phone and give them a call (760-788-0250) if you have questions or need help.
The USDA is always an excellent source of information for hikers, explorers, and visitors to our shared natural heritage.
Here We Are at the End
This hike is an excellent outing for the folks who are prepared for it, but those who balk at safety measures and practical concerns should avoid this dangerous hike. Hikers are rewarded with splashing waterfalls, or during dry periods some algae-covered pools cooling the large stone basins.
Give her a shot, and let us know it goes!