Disclosure: The team at My Open Country highlights products we hope you might find interesting. If you buy them, we get a small share of the sale revenue from our partners at no additional cost to you. This never drives our decision as to whether or not a product is featured or recommended.
ULA Circuit Review
Our Rating: 3.9/5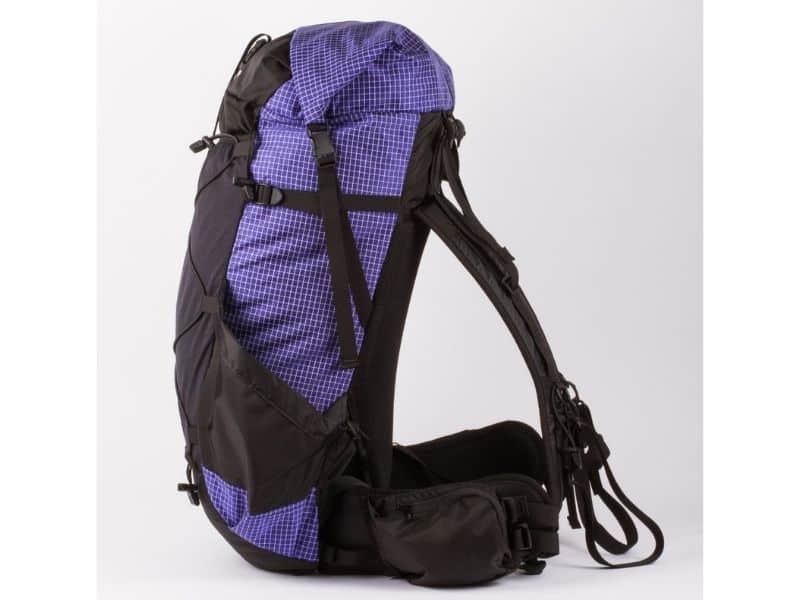 What we found in our ULA Circuit review was a versatile and lightweight backpack that can be used for all types of treks or explorations. Whether you're a hiking hobbyist or a mountain climbing enthusiast, this ULA backpack can endure all four seasons and is sturdy enough to last you for years.
Its rear mesh pocket and open side water bottle pockets, resilient fabric material, dual ice axe loops, webbing straps, and spacious interior make this backpack a quality solution when looking for a pack that will both hold enough gear as well as keep its integrity for the long haul on daily adventures and outdoor activities.
Key Features
68 Liter total capacity
Large extension collar for extra storage & many external attachment points for bulkier items
Two side pockets, one large back mesh pocket, and hip belt with two zippered exterior pockets
Internal frame and suspension system
One hydration pocket and one small pocket for valuables in the interior
Category Scores
Comfort
Weight to Volume
Ease of Use
Durability
Features
PROs

Sturdy hip belt pockets make for excellent durability
Both men and women can wear it thanks to multiple strap options
Extension collar provides extra space when necessary, rolls up when not needed
Replaceable waist belt with varied hip belt size options for a comfortable custom fit

CONs

Water bottle side pockets are too far to reach back
Overloading bottom compartment can lead to the pack panel pushing into your back
Spacer mesh can pick up small leaves and pine needles for annoying cleanup
Small objects not recommended in the side pockets, can fall out through the front pocket opening
Bottom-Line: The ULA Circuit backpack is simple, organized, and durable, making it ideal to use throughout the year.
ULA Circuit Hands-On Review
The ULA Circuit is a 2 lbs 9 oz backpack that can carry up to 68 liters of gear. These features are ideal for those who seek a quality high-volume lightweight pack that comfortably fits your body and are willing to hold a lot of weight. It's a practical size for winter hikes or holiday backpacking trips and its multiple external attachments make it a flexible pack for all your tools and gear.
Comfort
What stood out in our ULA Circuit backpack review were the many features to keep you comfortable during your outdoor activities. The Circuit's squared top, curved bottom, and internal foam frame help distribute heavier weight to the lumbar area of the waist for a less strenuous carrying effort. Particularly helpful for heavy pack loaders.
The Circuit's hip belt comes with two webbing straps so you can customize the pack's fit based on your body's shape. Along with the hip belt, the back panel and shoulder straps are covered in a padded spacer mesh foam pad material. A cushiony material that's firm enough to avoid tears but soft enough to prevent getting a sore back and shoulders.
Weight & Volume
With about 68 liters (or 4,200 cu. in.) in total capacity, the ULA Circuit has an excellent lightweight suspension with three components to aid in carrying your gear. Its aluminum center, open fiberglass loop, and thin plastic frame sheet allow you to comfortably carry a max load of up to 35 pounds yet is still gentle enough for an incredibly comfortable grasp around the body.
The total pack weight of the Circuit itself is only around two pounds making it a great pack for the ultralight hiker taking on the Appalachian Trail. Even if you're not a heavy-pack loader, you can still enjoy the features of the Circuit for those casual countryside walks or morning trips to the farmer's market.
Adjustability
There are lots of attachment points on the shoulder straps to hang gear from, along with front load lifter adjustments that slide down in front of the shoulder pad to adjust the angle of your load lifters (a feature usually found on more high-end or custom packs). The hip belts come in varied sizes and are also adjustable to snugly fit your waist to avoid uncomfortable shifting and slipping. Hip belt sizes are from 26″ to 42″ and all are adjustable by a four-inch limit.
The Circuit backpack is generally for unisex wear, but the shoulder strap comes in two styles, which are J-straps (original strap) or S-curve shoulder straps to accommodate women and some barrel-chested men. These ULA packs have an adjustable torso length ranging from an adjustable harness system made especially for kids from 12″ up to regular adult sizes at 24″.
Ease Of Use
The whole pack's interior is mostly comprised of a large main compartment with roll-top closure for easy packing and access, and it's neatly organized, so you don't have to waste precious hiking time digging through your pack to find something.
https://www.instagram.com/p/BF__50rwk1j/?utm_source=ig_embed
In the interior, there are two accessory pockets; one hydration pocket and a hand-sized pocket for storing your valuables. The external storage pockets, including hip pockets, allow you to stow all the snacks and tools you need during the day on the outside, so you don't have to stop and look through your pack. These external attachments are key to increasing hiking time and distance on any thru-hike.
The Circuit's side pockets are big enough to store multiple standard-sized bottles and deep enough for 1.5-liter bottles. However, their positioning makes it a little difficult to reach back and pull a bottle out while walking or climbing. Otherwise, the Circuit's interior and exterior storage options let you carry a little more than 30 pounds, and its well-built frame allows for easier load-bearing and excellent weight transfer, which is something to think about if you're one to carry lots of equipment (or food).
Versatility
The ULA Circuit's durable material and numerous external attachments make it a flexible pack for your daily ventures. There are two dual ice axe and shaft holders that can be used to carry walking or climbing axes if you like to climb steep hills. The side compression straps are made of webbing, which is convenient for stowing long items like umbrellas, trekking, or tent poles.
The Circuit's large mesh pocket on the front of the pack with accompanying shock cord allows you to store any wet rain gear and so keeps your pack inside dry. There's also a top compression strap that loops over the top roll closure, handy for keeping rope or even a rain shell secured at the top of the pack. Lastly, the Circuit has yellow elastic bands, each with a cord lock, on the outside of the shoulder straps which are an easy way to fasten and unfasten smaller-sized water bottles to the backpack.
https://www.instagram.com/p/BA9om0Vihr9/?utm_source=ig_embed
Durability
The ULA Circuit backpack is made of durable fabrics that include Dyneema gridstop, coated ripstop nylon, and nylon mesh. The Dyneema and pocket mesh are stiff materials for resistance against wear and tear while the nylon mesh is wire-like. It will stand up to off-trail adventures without easily tearing.
It's webbing, attachment cords, buckles, and zippers are light and slim compared to other typical hiking backpacks. All of the interior seams are bias-taped since this pack is intended mainly for medium to heavy loads, although if you're out on a casual stroll through the woods, the Circuit can also be used as a lightweight day pack.
Technical Specifications
| | |
| --- | --- |
| Best Use | Backpacking |
| Frame Type | Internal Frame |
| Gear Capacity (L) | 68 liters |
| Gear Capacity (cu. in.) | 4,200 cubic inches |
| Weight | 2 lbs. 9 oz. |
| Weight – Metric | 1.16 kilograms |
| Adjustable Torso | Yes |
| Fits Torso | S:15 – 18 inches, M: 18 – 21 inches, L: 21 – 24 inches |
| Fits Waist/Hips | XS: 26 – 30 inches, S: 30-34 inches, M: 34 – 38 inches, L: 38 – 42 inches |
| Material(s) | 210D Robic Nylon |
| Frame Material | 1.2 oz carbon fiber and Delrin |
| Number of Stays | 1 aluminium |
| Suspended Mesh Back Panel | No |
| Pack Access | Top |
| Number of Exterior Pockets | 4 |
| Sleeping Bag Compartment | No |
| Gender | Unisex |
Limitations
While the ULA Circuit is indeed an amazing pack for the everyday hiker or climber, there are a few small things to mention. Because of the tough mesh used to line the pack's pockets, it "can be abrasive to the contents" they hold. For instance, if you put a leather-bound notebook in one of the pockets, it may end up looking worn and scratched up when taken out. Also, the side pockets of the backpack – as mentioned before – are a bit out of reach if you're not a particularly flexible person, so you might have to stop entirely and turn your pack around to reach a water bottle.
It's advised not to overload this pack since the bottom compartment "can bulge into your back," and mind that the mesh back pocket tends to pick up residue and debris such as pine needles or tree sap, which can be a tedious clean-up job later.
The Circuit pack doesn't have a million pockets, which can be resolved somewhat as ULA Equipment offers a variety of add-ons that were once available as standard such as a shoulder strap pocket, internal stash pocket, and hand loops. The hydration sleeve is also now available as an add-on rather than as standard.
Best Applications
While the ULA Circuit can be used casually as well as for more serious treks, its design is primarily made for harsher conditions such as on steep and rocky trails or freezing winter hills. Due to its weight (or lack thereof), it's best used for trips of up to several days or longer, and tiring hikes from point A to point B. These are the kinds of conditions that will put the ULA Circuit backpack to the full test with little to no disappointment.
Value
The ULA Circuit backpack is not necessarily for those with a tight budget. If you're willing to part with your money for a quality lightweight backpack that's highly durable and designed to hold heavy loads this may be the one for you. This hardy, lightweight pack is definitely worth its price particularly when other lightweight packs cost more and have fewer features.
Alternatives
Most Comfortable Backpack
Osprey Atmos 65 AG
Made for the experienced and savvy hiking enthusiast, the Osprey Men's Atmos backpack is top-of-the-line in material, storage, comfort, and durability. While it may be pricier than the ULA Circuit, it carries more weight and has a unique anti-gravity suspension structure made from lightweight meshing that extends from the top of the back panel to the hip belt for comfort and ventilation.
This comfortable pack also comes with a removable floating top lid for oversized loads, and the dual zippered front panel pockets add additional space for items you wish to access easily.
Budget Overnight Backpack
Venture Pal Hiking Backpack
When you're tight on cash but need a lightweight backpacking pack for carrying smaller loads on your outdoor ventures, the Venture Pal pack is an ideal option. It's more compact and lighter than the ULA Circuit pack and is made for the more simplistic explorer.
If you're looking for lighter packs this 35-liter option has one main zipped compartment, two zipped front pockets, and two pockets at the side for keeping your things organized. It's not the most practical pack if you're planning on spending several days in harsh conditions, but it's flexible enough to come with you on many other adventures.
Best Mountaineering Backpack
Mountaintop Water-Resistant Hiking Backpack
If you're made for steep mountain angles and challenging climbing feats, this expedition backpack from Mountaintop has up to 60L in space and a super carry-CR adjustable weight decomposition system that can be altered to three different sizes.
It has slightly less total storage space than the ULA Circuit, but makes up for this with its many attachment points and pockets. It also has a separate compartment for your sleeping pad and bag. The pack's fabric is made of a weather-resistant material for those unpredictable rainstorms and has a padded and breathable mesh on the S-straps and back panel to keep you cool and dry.
Final Verdict
We absolutely love the ULA Circuit from its exceptional volume to weight ratio, its durability, and its even comfortable to boot! Due to its 2 lbs 9 oz. of weight and multiple features to aid with comfort and fit it's perfect for longer treks over challenging terrain. The plethora of storage pockets and attachment points further add to the usability and practicality of this pack. The ULA Circuit is a versatile lightweight backpack sturdy enough to last for years, really what is there not to love?
How did you like our review of the ULA Circuit? If you have any questions or comments, please drop them in the comments box below. And if you'd like to share this post with your friends, share away!