November, bleak and dreary. The leaves have all fallen, it is cold and wet, and it's easy to assume that our camping adventures are on hold until spring.
If this is how you feel, then this article is for you!
Hanging a hammock for some winter wonderland camping might seem like a terrible idea; but, in fact, it's one of the greatest ways to enjoy the great outdoors at this time of year! And, if you want to know a secret, it's better to sleep in a hammock than in your tent since you're not sleeping on cold snow!
A good hammock setup with sufficient insulation will keep you warmer than ever – guaranteed.
Hammocking in Wintertime?
Hammocking in the cold can be hard to sell to someone who's used to their insulated tent, but there are a few reasons why hammocks can be better.
A hammock keeps you elevated from the cold ground, which helps especially on a snowy or rainy night by reducing conductive heat loss, i.e. body heat lost to the cold ground. While hammocks will have cold air circulating underneath, proper insulation (with a pad and quilt) and setup will ensure yours is warm and comfy.
Hammocks and their related supplies are much lighter than tent gear. A tent setup in the frigid weather requires you to carry more insulation gear.
Convenience. If you know what you're doing, the hammock and rain fly can be set up in minutes and will take way less time to insulate than a tent.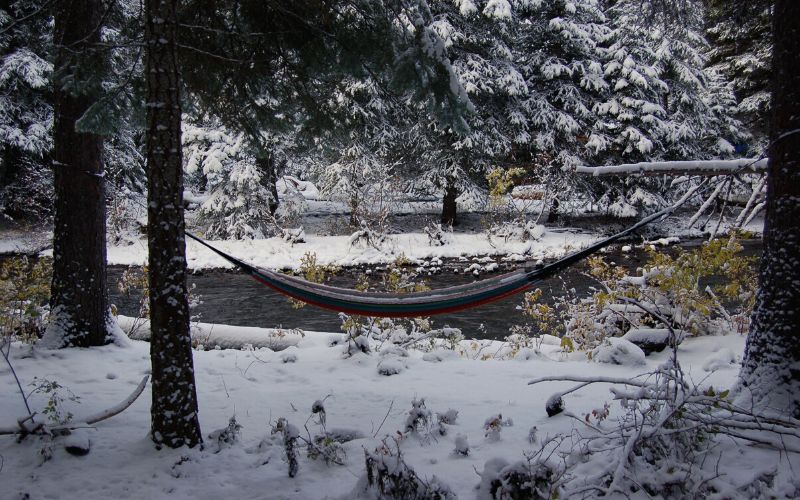 Hammock Camping in Winter: How It's Done
Get the Right Gear
Hammocks
Like all products, there are many hammocks to choose from. But, for winter, it's essential you get one that is accessory-compatible: rain fly, sleeping pad, and under quilt.
Many summer and backpacking hammocks will work, but if you can't set up a hammock tarp or ensure your insulation won't slip out of your hammock, then it's no good. Before buying your hammock, ensure it is compatible with these…you don't want to find out in freezing temperatures!
Check out our guide to the best hammocks for tips and tricks on selecting the best option for you!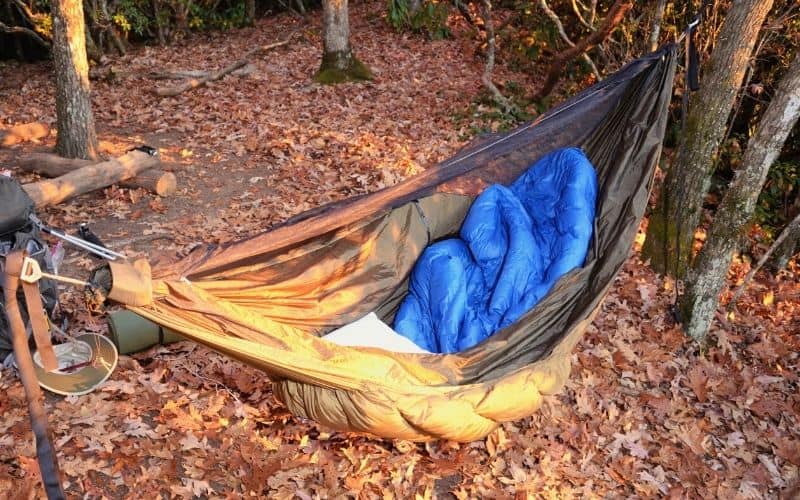 Hammock Straps
Setting up a hammock in the summer is quite easy: it's warm, there's a gentle breeze, and both hands are free to help you – in short, you can lollygag. In the winter, however, when the cold wind is threatening and the darkness is quickly settling in, you don't want to be fiddling with ropes and taking off your mittens.
Good hammock straps are essential pieces of winter gear and the best ones will facilitate setting up hammocks rather than leave you feeling like you're dealing with flatpack IKEA furniture.
While hammock straps are your attachment points between the hammock and the sturdy trees, they're also designed to reduce the likelihood of damaging trees in the process. Nowadays, straps are required in many national parks and state parks to prevent erosion!
Not sure how to use your straps? Check out our article on hammock setup!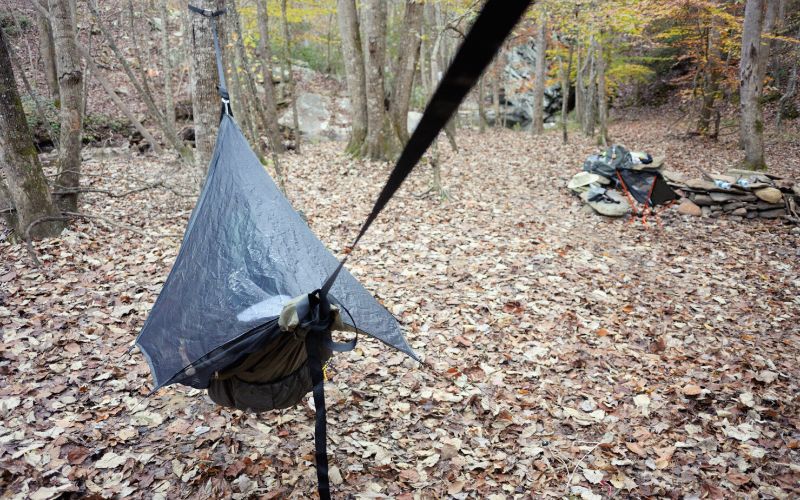 Four-Season Sleeping Bag
No piece of gear is more important on a winter-camping trip than your sleeping bag. But what kind of bag do you need? In most parts of the world, three-season sleeping bags won't cut it in winter conditions. They don't have a high-enough temperature rating. For extreme temperatures, you need a seriously good sleeping bag to stay warm – period.
What does that mean? A four-season rating. Mummy-shaped bags are the gold standard; however, if you want extra wiggle room, we recommend a sleeping bag pod.
Now, there is one caveat worth mentioning. Staying in a sleeping bag inside of a hammock doesn't always provide maximum warmth because the pressure between your body and the hammock compresses the insulation in the bag to the extent that its insulative properties are virtually nil. As such, you'll need a good hammock underquilt or sleeping pad.
For more, check out our guide to the best cold-weather sleeping bags.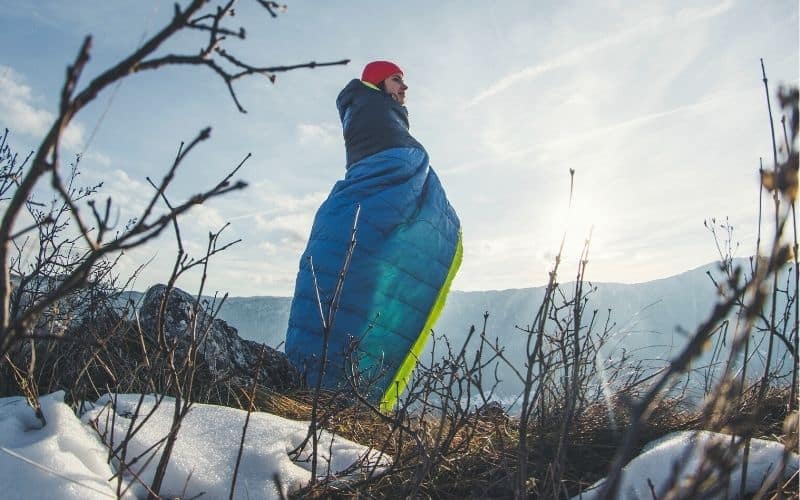 Rain Fly
Setting up a rain fly – aka 'tarp' – is a make or break between a cozy hammocking experience, or a dreadful, wet nightmare . . . we'll let you choose which you're after!
Hammock tarps are designed to provide you extra shelter by blocking the rain, snow, and wind, as well as to trap heat. We recommend setting up your tarp not too high above your hammock – enough so that you can crawl in and out, but that's it. Setting it up is very simple and is similar to setting up a tent fly.
We've got a step-by-step guide to help you set up your rain fly.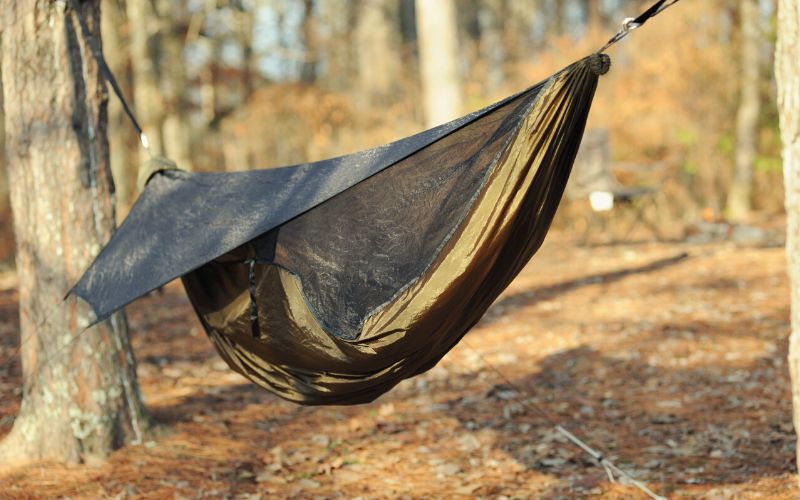 Underquilt or Sleeping Pad?
There are a few things to consider when making this decision.
A hammock underquilt is much lighter and more compact than sleeping pads, making it a good choice for ultralight backpackers. They also provide better insulation because they completely surround the sleeper (almost like a sleeping bag), preventing heat loss through conduction and trapping warm air.
Lastly, under quilts are easier to set up than sleeping pads, since they can be hung directly from the hammock without any additional straps or supports.
What about the traditional sleeping pad? Unlike the under quilt, which wraps around your body, sleeping pads are placed beneath you in your hammock. Sleeping pads are either inflatable or foam.
Do be aware that not every hammock can properly support a sleeping pad. Some have a compartment or strap to hold them down, but in many, the pad shifts as you move around. Let's just say, you wouldn't want a sleeping pad to slide out from your hammock whilst winter camping!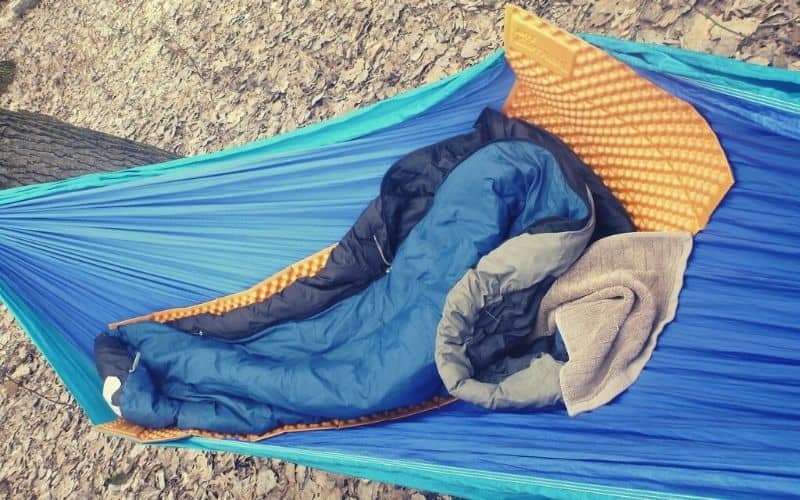 Sleeping pads are also cheaper than under quilts and are multifunctional: they can also be used as sit pads or emergency shelters. In addition, some hammockers find that sleeping pads are more comfortable than under quilts because they provide a softer surface to sleep on.
Not sure which one to choose? Check out our favorite sleeping pads.
Top Quilts
Top quilts are often viewed as a better alternative to a normal sleeping bag, or a good addition when temps are particularly low. A top quilt is lighter, often cheaper, and easier to get into when inside your hammock.
Many hammockers claim that top quilts are every bit as warm as sleeping bags because our bodies tend to squish the insulation on the underside of the sleeping bag to uselessness anyway. While this may be true for some top quilt users, sleeping bags tend to trap heat better than top quilts due to their closed design.
Still undecided, check out our post on quilts vs. sleeping bags!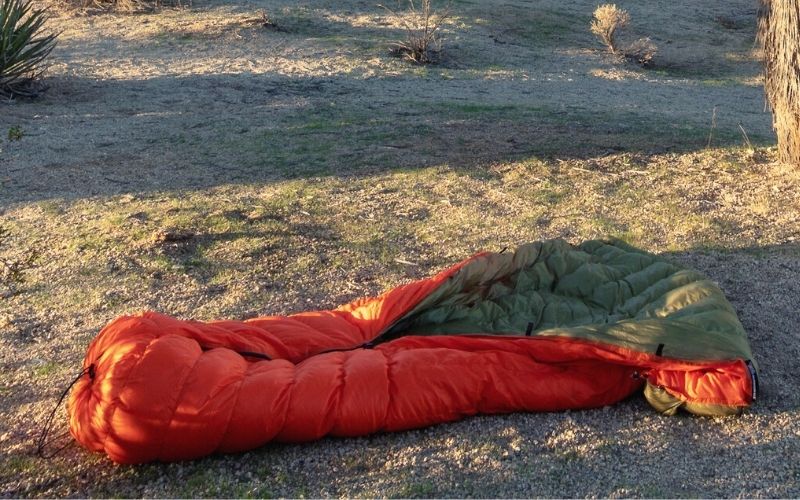 Warm Clothing
No matter how good your sleeping bag is, you're gonna want to have some toasty winter clothing to stay warm – especially in freezing temperatures! It's been said before, but people seem to always forget it: to best regulate body heat through the night – i.e. neither cold nor hot – whole-body layering is key!
Your best bet is a good puffy jacket, a base layer shirt and pants, and a warm hat. Whatever it is, no cotton! We also recommend a pair of "tent slippers", ideally those with a waterproof sole so you can answer nature's calls without having to put your hiking boots on.
Unfortunately, your winter camping backpack will be heavier than that in summer. However, since hammock gear is much lighter than a tent and you're already saving weight, we recommend bringing an extra layer, a pair of socks, beanie, and hand warmers. Always keep these inside your hammock to keep them warm and dry.
Also, never bring snow into your hammock. Wet clothes are guaranteed to keep you cold.
For help, check out our guide on what to wear hiking in the winter.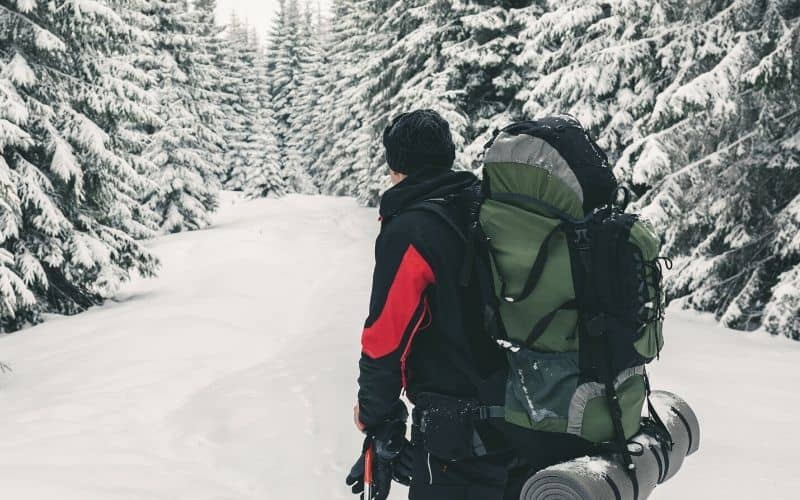 Extras
Staying warm in a hammock while winter camping – all night long – is about nailing the basics, but are there other things you can do for more warmth? Do you need any hammock accessories?
For one, after boiling water for your pre-sleep brew, we recommend filling up a hot water bottle. If you use one at home already, like all things in the wild, you'll appreciate the hot water bottle much more when hammock camping in winter.
Whether you're hammocking in extreme or low temperatures, always have dry clothes tucked away in your bag and stay hydrated. We tend to drink much less water in the winter, but dehydration is dangerous. Water is necessary for our bodies to regulate inner temperature.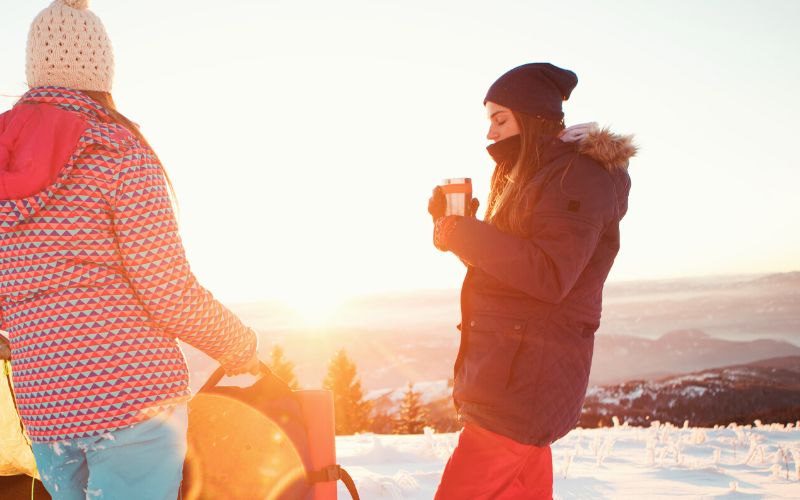 Set Up Tips for Hammock Camping in Winter
Location, Location, Location
When it comes to hanging hammocks, there are a few things to consider to avoid being cold all night long. You want to choose your spot carefully.
Consider the wind. Like water, it'll get into any tiny crack and crevice and quickly make you cold. Look for a natural windbreaker: rocks, hills, or inside a dense forest.
Next, your altitude: cold settles like dew at low elevation levels – 'cold spots' – whereas up high, the winds are much stronger. Choose somewhere in between.
Once you've got your sheltered area, you'll need two trees that are a good distance apart and not under any dead, overhanging branches (aka "widowmakers" – these are all the more likely to make a widow/widower of your spouse if weighted with heavy snow).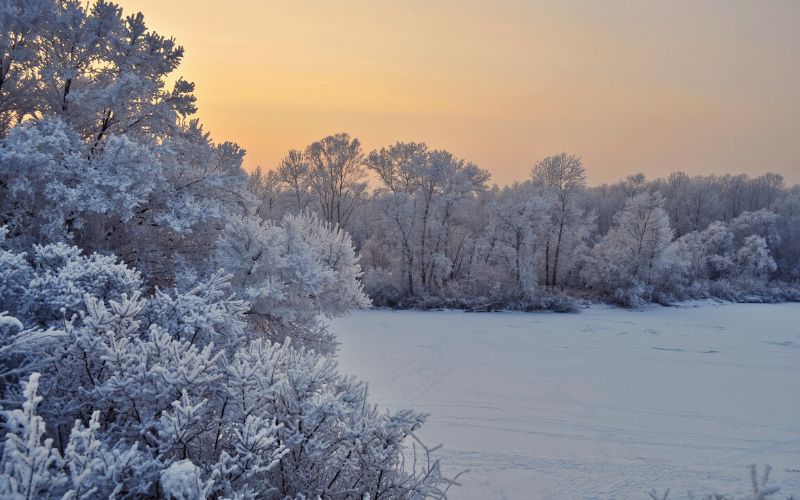 Make sure the trees are strong enough to support the weight of both the hammock and any people who might use it. Once you've found the perfect spot, wrap your straps around the tree trunks and you're good to go!
Just be sure to double-check that everything is secure before settling in for a nap.
Hang Your Hammock
Hanging a hammock in winter isn't any different to hanging one at any other time of year – with a few minor exceptions.
For starters, it's wise to set your ridgeline a little lower so your tarp will block out more of any breeze that's blowing. We also recommend making your winter tarp extra tight so it won't sag as much if snow falls while you sleep.
For more general tips, check out our guide on how to hang a hammock.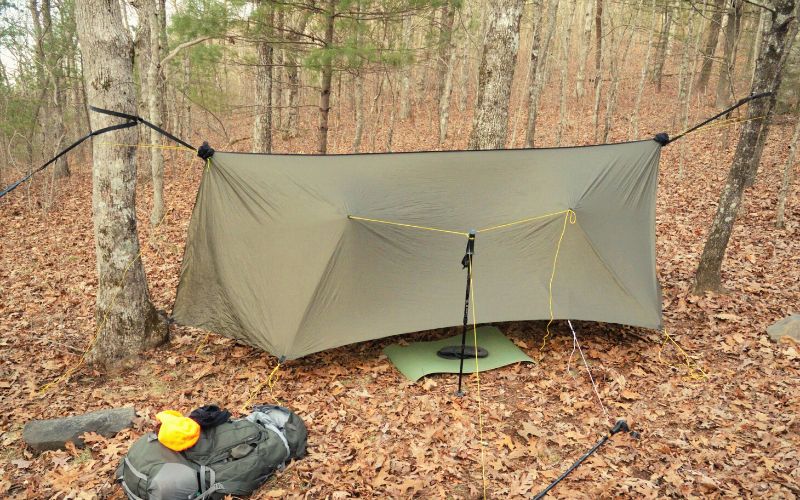 Pre-Sleep Essentials
Winter hammocking isn't all that different from the summer . . . with two exceptions: it's freezing, and there's snow! You don't want to wake up in the middle of the night freezing, having to answer nature's call, or realizing your setup has completely broken down!
First things first: make sure your setup is okay while there's still light outside. Once that's confirmed, go for a walk and do light exercise. This will help your body generate heat. Once you're back at camp, get a fire going before starting your meal prep.
Now, fire blazing, boil water. Use some for your meal, for a brew, and to fill up your water bottle to keep you warm overnight!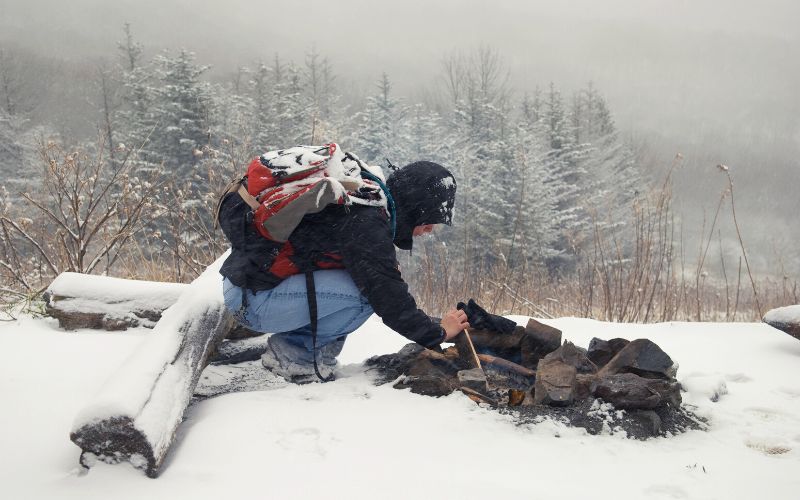 We recommend this time to go for a pee, putting everything you need inside your hammock so you don't have to get up during the night, and stashing all your extra gear on your ridgeline.
Ready for bed? Before getting into your nook, maybe go for one last pee!
For more cold-beating hacks, check out our guide to winter camping.
Winter Hammock? Not as mad as it seems!
Hammock camping is one of the best ways to enjoy the great outdoors. Whether its the lightweight trekking, easy setups, to wonderful stargazing, sleeping in a hammock provides so many benefits. Let's not forget, too, how comfortable it is to be cocooned and all bundled up!
If you liked this post, feel free to share these tips with your friends! Drop us a line in the box below if you have any questions or comments.