Our Beginnings
My Open Country started out as a hobby website, but it quickly became a fast-growing campaign to try and get more people excited about the outdoors and wilderness.
We believe life wasn't meant to be lived behind a computer screen so we've pulled together as much information as we can into one site, so you can spend less time planning and more time doing.
Since its earliest days in 2017 the site has grown tremendously, with our writing team having covered hundreds of topics to date. So, boot up, and improve your wilderness adventures with our in-depth articles on hiking and backpacking skills, inspirational guides, and awesome gear reviews.
Our mission is to help you improve the safety and enjoyment of your outdoor adventures!
Our Process
Every single article on this site has either been written or edited by Kieran or myself to ensure the highest quality standards. We do sometimes post content written by outside authors but rest assured that nothing is published without the "a-ok" from the head editor. This is done to ensure that any information we publish is accurate and safe, so you can trust it.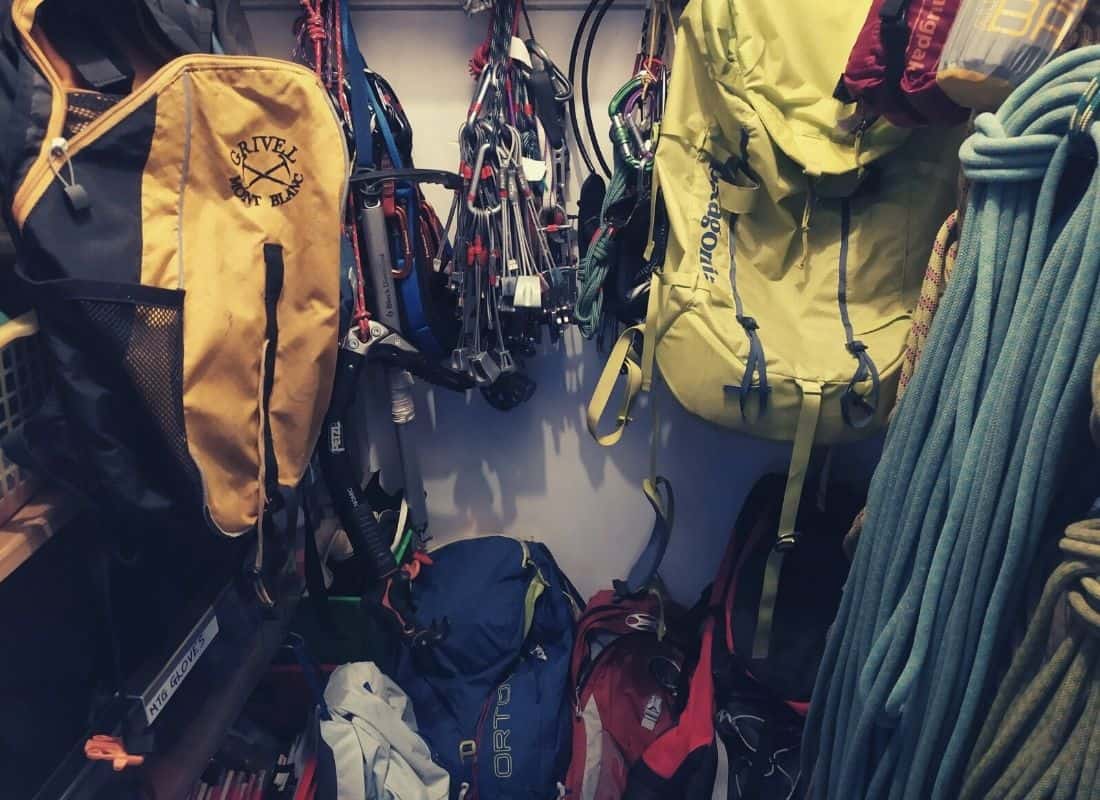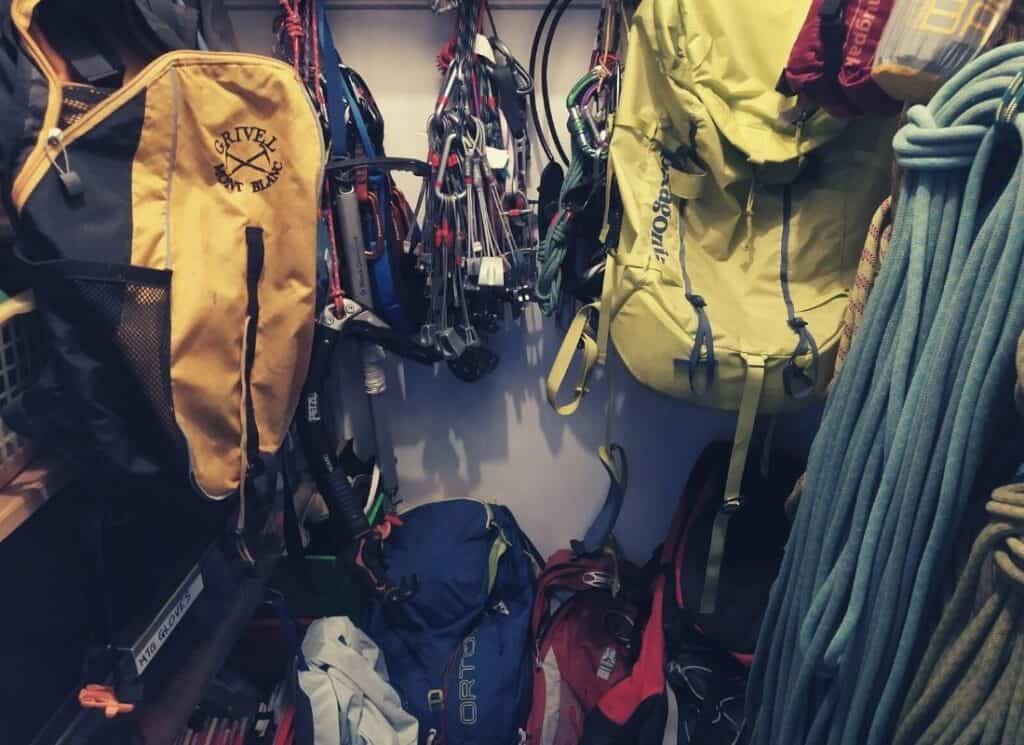 Our reviews rely on a mixture of hands-on real-life experience with the product and extensive online feedback from verified customers of these items. In addition, our team has thousands of hours of combined outdoors experience and between us, we've gone through enough gear over the years to stock a complete store. If we are honest, there are almost as many hours of nerdy gear chat between us on various messaging platforms.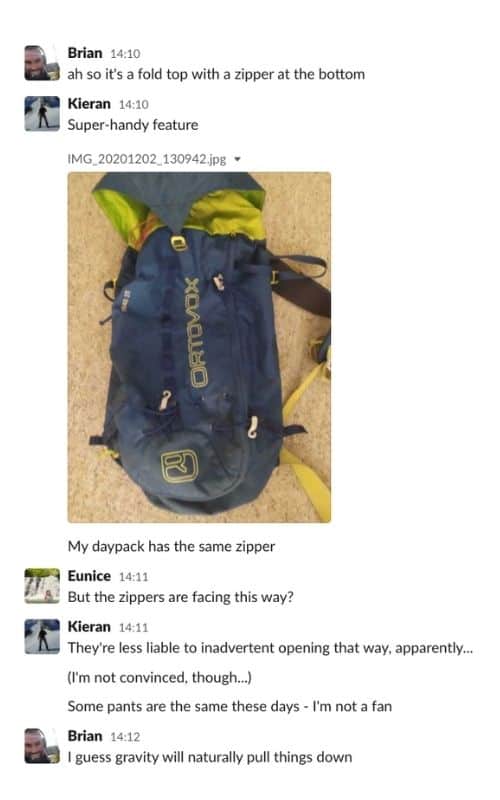 Our product reviews try and focus on which particular situations or users is each item best suited for. As such we find this combined approach the best method as what may work well for my needs, may not necessarily work for yours.
Why MyOpC Matters
So why should you read My Open Country? I would say the main reason you would want to check us out is because you want to dramatically improve your outdoors adventures in a safe & responsible way.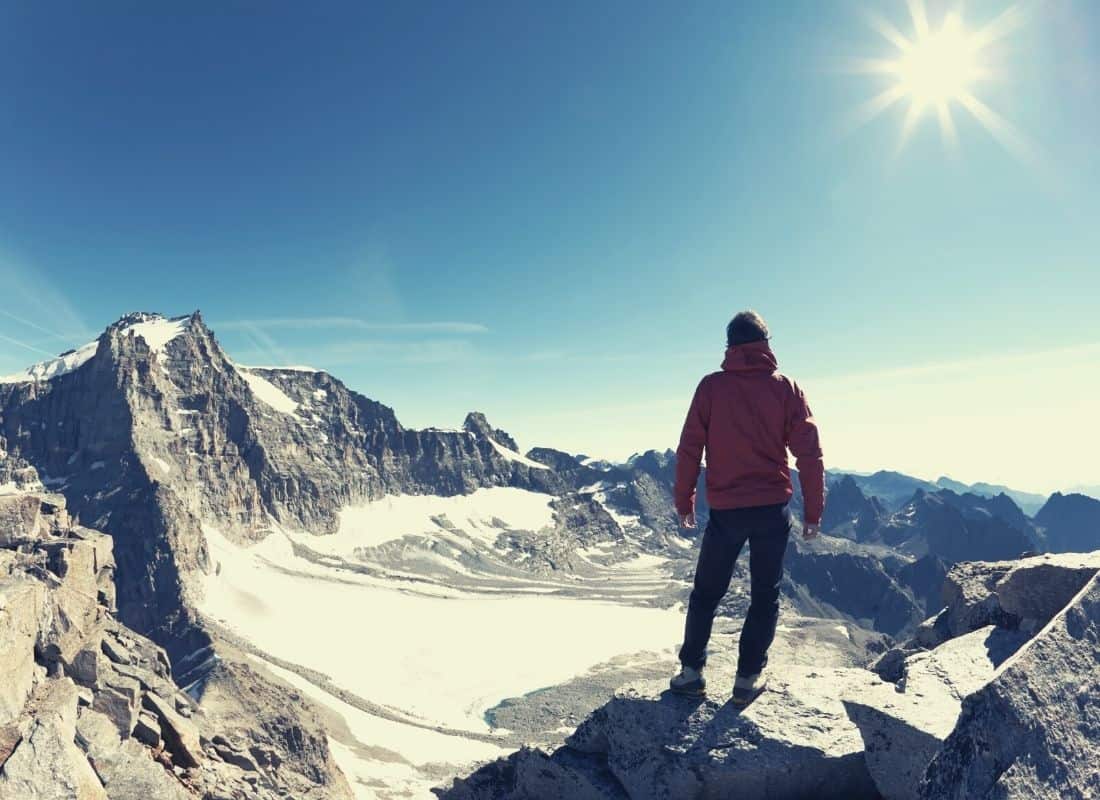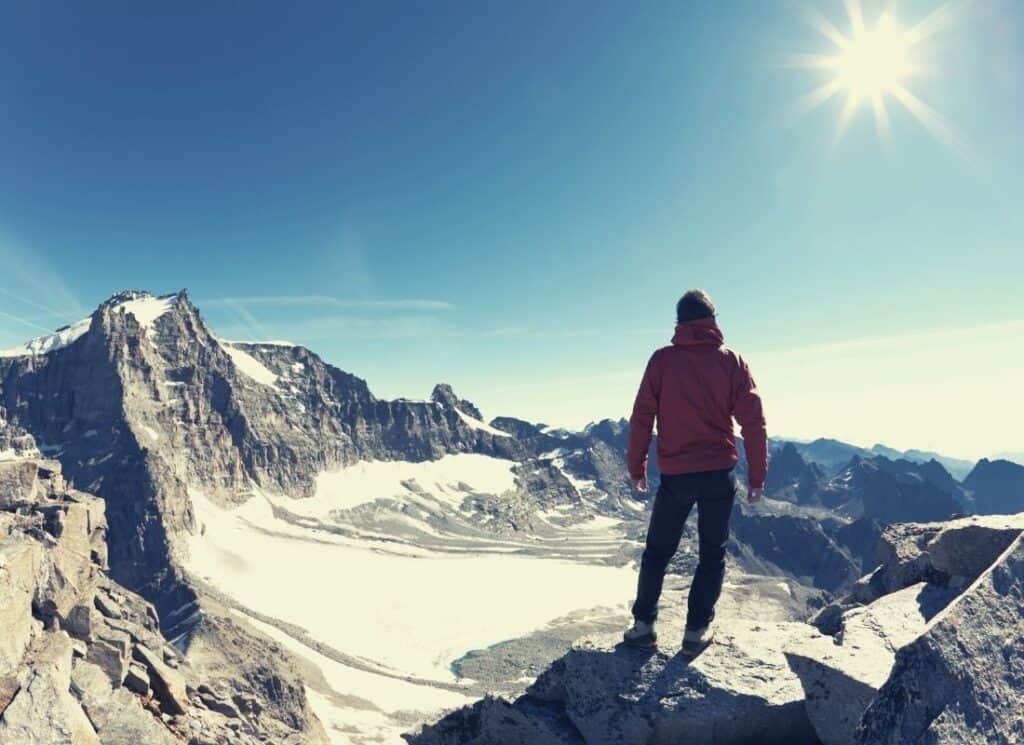 If you resonate with the following statements, you will enjoy the content you find on this site:
You want to improve your outdoor skill set to make your trips safer and more enjoyable.
You want to feel comfortable enough to focus on moments and people you are sharing them with over the technicalities of backpacking.
You want gear advice based on customer experience and not commercial sales pages.
You are environmentally conscious and want to give your children a shot at having the same experiences you are having by protecting nature.
Our Team
Our team of writers has clocked in thousands of hours hiking, climbing, mountaineering, backpacking, camping across all 6 continents as well as training or leading others. You can be sure that the information we provide is accurate and up to date.
Click on a persons image to jump to their bio!
Team Member bios
Kieran James Cunningham is a climber, mountaineer, and author who divides his time between the Italian Alps, the US, and his native Scotland.
He has climbed a handful of 6000ers in the Himalayas, 4000ers in the Alps, 14ers in the US, and loves nothing more than a good long-distance wander in the wilderness. He climbs when he should be writing, writes when he should be sleeping, has fun always.
Kieran has taught mountaineering, ice climbing, and single-pitch and multi-pitch rock climbing in a variety of contexts over the years and has led trekking and mountaineering expeditions in the Alps, Rockies, and UK. He is currently working towards qualifying as a Mountaineering and Climbing Instructor and International Mountain Leader.
Kieran's book Climbing the Walls—an exploration of the mental health benefits of climbing, mountaineering, and the great outdoors—is scheduled for release by Simon & Schuster in April 2021.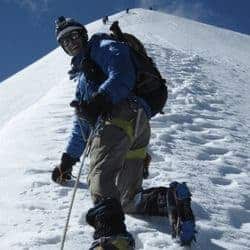 Kieran James Cunningham
Editor
Emily is an adventure travel professional, writer, and former educator. Growing up in northeastern Pennsylvania, Emily's wanderlust and love for the outdoors took hold early—she was a total summer camp kid, and spent four semesters studying abroad in college.
After moving to Wyoming to earn her MFA, she spent the next few years backpacking, hiking, and rock climbing throughout the western United States while working as an English teacher, outdoor educator, and trip leader.
Now based in Vermont with her wife and three dogs, Emily has combined her passion for travel and the outdoors into a career – she scouts and develops hiking trips around the world, including the Camino de Santiago, Peru's Sacred Valley, and throughout the Alps. She also loves food, wine, literature, and open water swimming, and will always say yes to hot springs, saunas, and bluegrass music.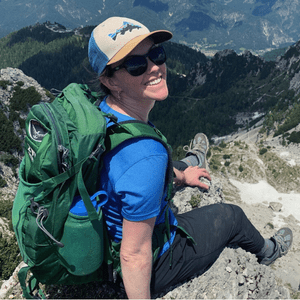 Emily Trostel
Contributing Writer
Monica is a freelance writer, ski patroller, and raft guide based out of Colorado, and is passionate about mountain biking, rock climbing, and playing Irish music on her fiddle in her spare time. Growing up in rural Minnesota, she learned how to brave the cold in the pursuit of adventure from an early age.
In the winter you'll find Monica skiing at her home resort of Wolf Creek, near Pagosa Springs, which she now calls home. In the summer, you'll find her guiding the Class III-IV whitewater of the Arkansas River nearby. She's also taught skiing, environmental education, kayaking, and canoeing.
Her favorite adventures have involved backpacking the Rockies with her best friends and mountain biking the slick rock of the deserts of Utah. Even better are long meanders through the woods and mountains on her backcountry skis. She's also done irresponsible things internationally like sledding down a volcano in Nicaragua and surfing off the northwest coast of Ireland.
She holds certifications in avalanche rescue, professional ski instruction, and wilderness medicine. She enjoys reading and writing about all of the above.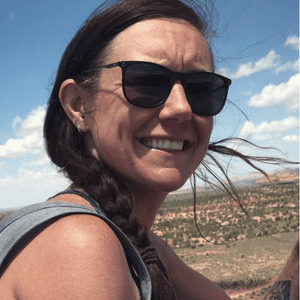 Monica Nigon
Contributing Writer
I'm an avid backpacker, hiker, skier and climber currently living in Summit County, Colorado. All of my days off are spent skiing in the backcountry or on the resort – and when there's no snow I'm always looking for new peaks to climb and new trails to explore.
I moved to the Rocky Mountains from the East Coast to have the opportunity to do even more in the outdoors. One of my most memorable hikes was completing 3 peaks in 2 days – Crystal Peak, Fletcher Mountain, and Pacific Peak which all sit at above 13,800 feet! I ended up spending the night in a little gully that was well protected by the wind and had perfect blue skies the next morning.
Whether I'm gearing up for a snowshoe hike or throwing on some climbing shoes for a new route – I'm always excited and passionate to be in the outdoors doing what I love.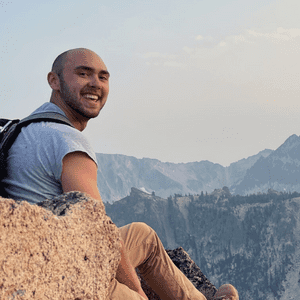 Gavin Michael
Contributing Writer
Gaby is a professional polar guide, wilderness medicine instructor, and freelance writer with a master's degree in outdoor education. She splits her time between the northern and southern hemispheres, chasing the midnight sun and helping others get outside to experience some of the world's most beautiful places.
As an outdoor educator, Gaby is passionate about making the outdoors as accessible as possible for anyone looking to get into the mountains or out on the water. She is a certified Polar Guide, an AMGA Climbing Wall Instructor Course Provider, a NOLS instructor, and an accomplished climbing guide with a penchant for telemark skiing.
When she's not hanging out with penguins in Antarctica or scouting for polar bears in the Arctic, you can find Gaby backpacking in Wyoming's Wind River Range or drinking debatably excessive amounts of espresso and reading French existentialism in a quirky café.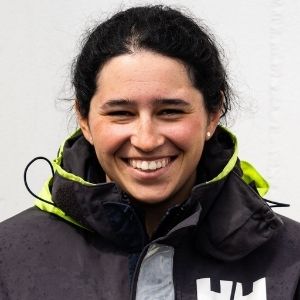 Gaby Pilson
Contributing Writer
Amanda Williams is a hiker, climber, writer, and forager. No matter where she is, she never stops longing for the Colorado Rockies, feeling the Muir-esque call of the mountains.
Amanda lives to explore and has done incredible hikes and adventures in Asia, Central America, the European continent, and all across America. She believes that there is nothing better for the soul than spending nights out in the wilderness. In between adventuring, Amanda found time to obtain a Bachelor's degree in horticulture with a focus on sustainability. She has used this education to learn how to forage safely on her backpacking adventures and the ways that outdoor enthusiasts can protect our planet.
Amanda uses her writing and outdoor skills to help teach those with whom she adventures and a larger online audience. Currently living in the UK has given her the opportunity to learn a new plant-scape and discover magical new trails and mountains. She now works with a local university to teach others how to grow and thrive in the outdoors in between writing while continuing her never-ending quest of learning.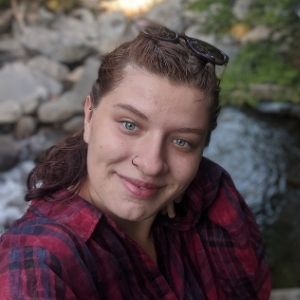 Amanda Joyce Williams
Contributing Writer
Juliette Constantine grew up camping with her family and snowboarding in Colorado and Southern California. Her love for literature aided by her father's appreciation for knowledge led her to become passionate about writing.
After receiving a BA in Literature and Sociology from the University of California, Santa Cruz, her love for the outdoors and gear soared when she began working for REI, Inc. Trained by professionals, she learned how outdoor gear is designed and constructed, and how to best outfit adventurers for all their travels.
Juliette is a trained professional ski boot fitter and Alpine Ski Patroller in the Southern California Division of National Ski Patrol.
When Juliette isn't writing, she can be found at the beach trying to ride some waves, traveling throughout the US to find first tracks or hiking/ backpacking in the backcountry.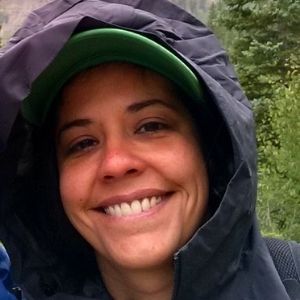 Juliette Constantine
Contributing Writer
Brian has been an avid hiker and backpacker since he was a small kid, often being taken out into the wilderness on trips with his father. His dad knew everything about nature and the wilderness (or at least that's how it seemed to a ten year old Brian).
After high school, he went to university to read for both a BS and MS in Geology (primarily so he could spend his time outside rather than in a classroom). He's now hiked, camped, skied, backpacked or mapped on five continents (still need to bag Antartica) & 30 of the US states.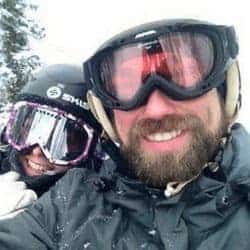 Brian Conghalie
Editor
Sam Schild spends most of his time outside. On any given day he's either backpacking, bikepacking, trail running, or thinking about the next time he'll get out there.
He has hiked the Pacific Crest Trail, Continental Divide Trail, and the Colorado Trail, among countless other shorter trips. He has logged over 10,000 miles bike touring all over the United States, too.
When he's not out on a trail somewhere, you can find him cruising on his bike or drinking coffee on a patio in Denver, Colorado.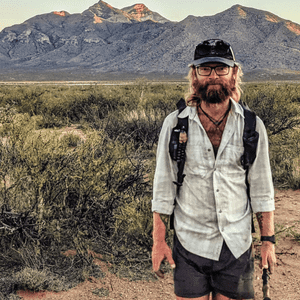 Sam Schilds
Contributing Writer
Jolanda is a full-time writer and life-long outdoor enthusiast. Growing up on a small island off the Eastern Canadian coast, she spent most of her childhood hiking, swimming and fishing in the Atlantic ocean.
After a short stint in the corporate world, Jolanda quit her day job to write full-time and check out what lies beyond the Canadian shores. Ever since, she's been hiking, biking and kayaking her way across 11 European countries and counting.
Jolanda currently lives in the beautiful, Tuscan countryside. When she isn't hanging out in the woods or at the beach, you'll catch her foraging for mushrooms and truffles with her truffle-dog, Red.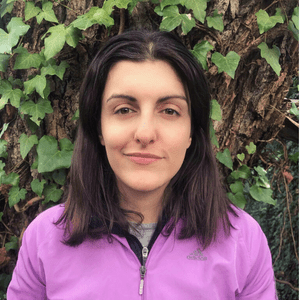 Jolanda Lapegna
Contributing Writer
Sara Hall is a journalist, photographer, and freelance writer in her professional life, and is passionate about camping, hiking, and backpacking in her personal life. Growing up in the rural mountains of Northern California, a love of the outdoors was instilled in her at an early age.
Her favorite adventures are often solo backpacking treks out in the wilderness. Or hiking most weekends on local trails. Or with friends and family discovering new campsites. As long as she's exploring, that's her new favorite trip.
For Sara, one of the best moments of every journey is turning a corner or climbing above a ridge and an epic view reveals itself. That moment is one-of-a-kind and no two people experience it the same way. That's yours and yours alone.
She also loves to travel and take local and long-distance road trips.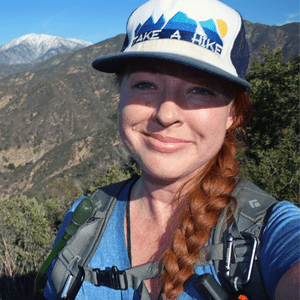 Sara Hall
Contributing Writer
Dan Roh is a guide and writer working and living in Iceland. He's worked as an instructor at Northwest Outward Bound Schools and NYC Outward Bound Schools. After graduating with an English degree from Virginia Commonwealth University, he's glad to finally be putting his expensive diploma to some good use.
As a Person of Color working outdoors, he is passionate about working for Diversity, Equity, and Inclusion (DEI) in the outdoor space. He has led workshops and is a member of committees and organizations focused on DEI. Dan is an avid rock-climber, backpacker, and bikepacker. He's just beginning to learn ski mountaineering and ice climbing on and around the glaciers of Iceland.
Dan lives in southwestern Iceland near Langjökull, Iceland´s second-largest glacier. He currently attends Fjallamennskunám FAS, a Mountaineering School in Iceland and is a member of the Icelandic Alpine Club.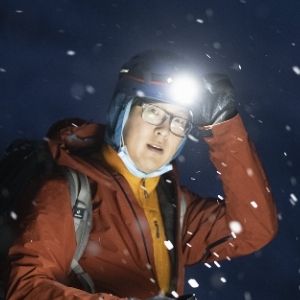 Daniel Roh
Contributing Writer
Eunice Kryna Verula is a writer by trade and a mountaineer by heart. Experienced with copywriting, design and mountaineering, she's all about pursuing the highest peaks in the best outdoor gear.
In her quest to bag the 10 highest mountains in the country and Asia, she spends most of her days trekking and learning from seasoned mountain guides deep in the one of the most mountainous regions of the Philippines.
Before heeding the call of the mountains, she graduated Cum laude in Bukidnon State University and taught English & writing. While not in the backcountry she is striving to launch community programs to support local mountain guides and to equip them with proper mountaineering gear.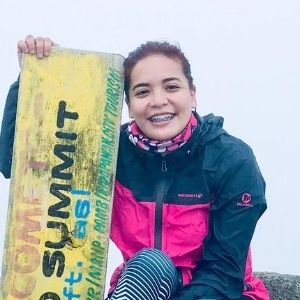 Eunice Kryna Verula
Contributing Writer
In addition to his role as an outdoor adventure guide, Chris Olson seeks to share his passion for, and experience in, the great outdoors through writing and photography. He has backpacked, hiked, climbed, kayaked, biked, and skied throughout much of the eastern United States, as well as iconic locations such as Zion National Park, Newfoundland, and Puerto Rico.
His passion for fresh air, and beautiful places, reminds us all of the simple joys to be had from spending time outside!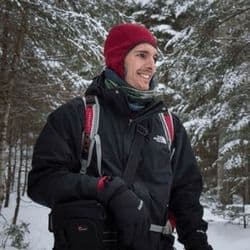 Chris Olsen
Contributing Writer
Matt was reared by the bear and the bobcat and the coyote of rural Pennsylvania. For the moment he lives in Philadelphia and is a gardener and freelance writer by trade. Matt's free time is devoted to traipsing through forests, angling in creeks, and hunting for rare plants and mushrooms.
He's got a soft spot for reading Steinbeck while in the outdoors and is quickly becoming a die-hard hammock camper.
Matt is fueled almost entirely by beer and hot sauce.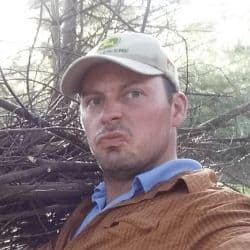 Matt Suwak
Contributing Writer
Knowing from experience how difficult it can be to try and start something new, we set up My Open Country as a means for anyone to quickly and easily garner the information they need to make quality informed decisions and choices.
We hope you enjoy My Open Country and feel free to contact us.