Before you set off on a hike, there are a few things you need to know. This includes the different types of hiking, what footwear you need, how to dress, what to pack, what skills you need, how to stay hydrated and feed yourself, where you can learn other necessary skills and find partners, how to administer first aid, how to stay safe, how to plan a hiking trip, and how to find trails.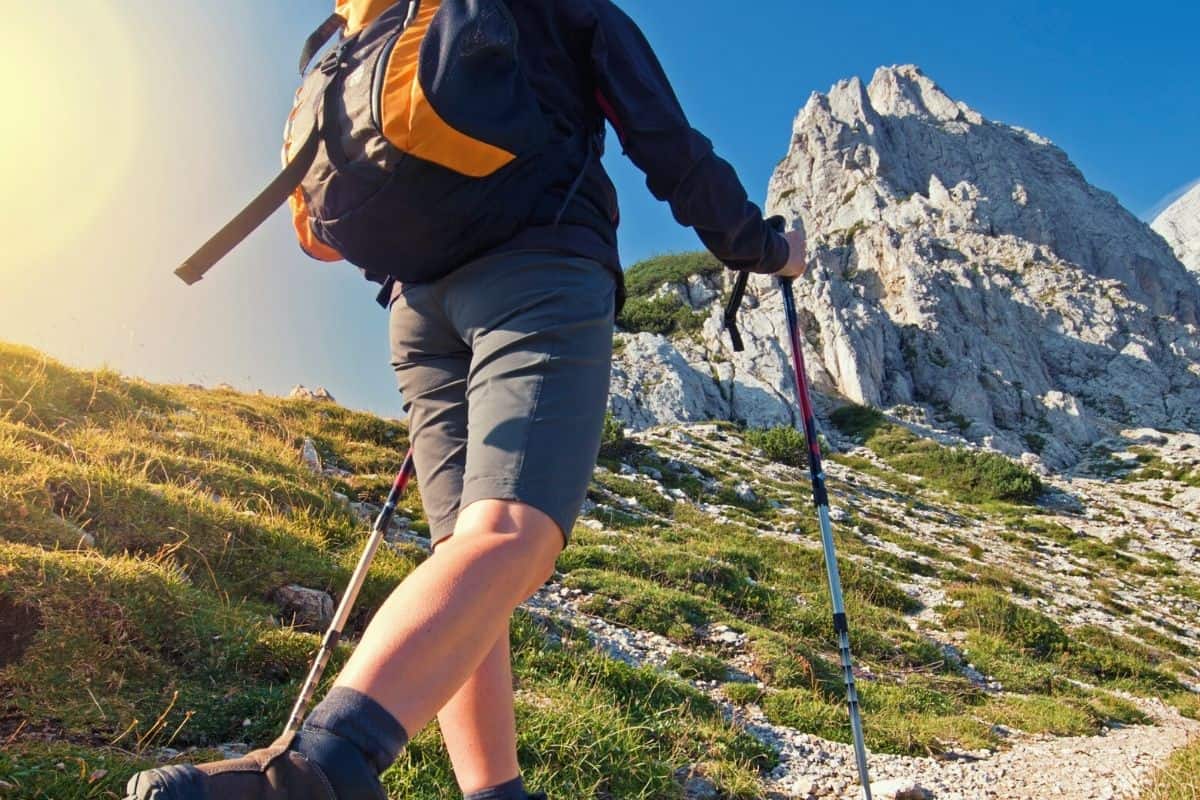 Unsure what hiking outfit will work best for you? Learn how to dress for success in any season of the year in this simple, straight-talking guide.
What is hiking?
Hiking is the act of walking in backcountry terrain for recreation.
Why do hikers like hiking?
Hikers enjoy hiking for the fitness, community, the scenery, the endorphin hit, and the ability to connect with nature and disconnect from stressors like work and social media.
Is hiking a sport?
Hiking is not a sport. Sports are activities in which an individual or team competes against other individuals or teams for prizes and to entertain spectators. In hiking, there are no spectators, there's no competition, and the activity is undertaken purely for personal reward and enjoyment.
Is hiking a hobby?
The definition of a hobby is an activity done regularly for pleasure. As such, hiking is better defined as a hobby than as a sport.
What are the different types of hiking?
There are many different types of hiking. These are included in the list below.
Day hiking
Backpacking
Thru-hiking
Section hiking
Trekking
Scrambling
Night hiking
Nude hiking
Peak bagging
Bushwhacking
What is a day hike?
A day hike is any hike that you can complete within a 24-hour period.
What is the meaning of mountain hiking?
Mountain hiking can be distinguished from regular hiking by terrain: regular hiking can be in coastal, desert, forest, or hilly terrain whereas mountain hiking is done exclusively in the mountains.
What is an alpine hike?
Alpine hiking refers to hiking in the "alpine zone", which is generally above the tree line and at altitudes of over 10,000 feet (3,000 meters). Traditionally, "alpine" hiking referred to hiking long-distance in the European Alps, often without following an established trail.
What is night hiking?
Night hiking is hiking in the dark, using either a headlamp or moonlight to guide the way.
What is speed hiking called?
Speed hiking is hiking that places an emphasis on moving fast. It is a relatively new form of hiking and is also known as "fastpacking".
What is the main difference between hiking and camping?
Hiking involves walking on a backcountry trail, while camping involves staying in a tent in either the frontcountry or backcountry.
What is the difference between hiking and trekking?
The two terms are now often used interchangeably. Historically, the term "trekking" was more commonly used to refer to long-distance hiking, usually on multi-day trips with stopovers at either campsites or mountain huts.
What is the difference between backpacking and hiking?
The difference between hiking and backpacking is the duration of the trip – hikes are completed in a day while backpacking trips are multi-day hikes with overnight stays.
What is the difference between hiking and walking?
The difference between hiking and walking is the terrain. While you can walk anywhere, hiking is always done on some form of backcountry trail. As such, it requires navigational skills, specialized gear, and suitable footwear.
What type of footwear is best for hiking?
The best hiking footwear is either a pair of lightweight hiking shoes or hiking boots. Choosing between the two comes down to personal preference and the type of terrain you'll be hiking in.
What are the best hiking boots?
The best hiking boots are the Salomon Quest 4 GTX. These boots are among the most versatile on the market, performing well in all conditions and terrain.
How to choose hiking boots?
The easiest way to choose hiking boots is to determine when and what type of trails you'll be hiking. For summer hiking on easier, well-maintained trails, you can wear a lightweight summer hiking boot. If you plan on hiking in spring, fall, and winter, however, and on more rugged trails, you'll need burlier boots that offer waterproofing and more support.
How should hiking boots fit?
Hiking shoots should be snug but not tight, and should always leave just enough room to wiggle your toes.
How to tie hiking boots?
The best way to tie hiking boots for most hikers is with a surgeon's knot, which prevents the laces coming undone and keeps your heel securely in place, which helps to prevent blisters.
Other lacing styles include window lacking, which reduces pressure on the forefoot, and toe-relief lacking, which gives you more room in the toe box.
How to clean hiking boots?
To clean your hiking boots, remove the laces and insoles, scrub off dirt with a brush, wipe them down with a damp cloth or sponge, then leave them to air dry out of direct sunlight.
How to waterproof hiking boots?
To waterproof your boots, remove the laces, clean off any dirt, and apply a suitable waterproofing treatment, such as Nikwax Leather & Fabric Proof.
How long does it take to break in hiking boots?
Breaking in hiking boots usually takes one to four weeks. With synthetic boots, the break-in period is usually shorter than with leather boots.
What are the best hiking shoes?
The best hiking shoes are the Salomon X Ultra 3 GTX, which provide the perfect blend of comfort and performance.
What kind of shoes to wear for hiking?
Hiking shoes should ideally provide ample traction and grip courtesy of an outsole made with grippy rubber, an aggressive tread pattern, and deep lugs. They should also be breathable, waterproof or water resistant, and made with rugged, durable materials.
Is it better to wear boots or shoes?
This depends on the conditions and the type of trail you're hiking. Shoes are a good option in warmer weather and on well-maintained trails, while boots are a better choice on rugged trails, off trail, and in cooler or wetter conditions.
What is the difference between hiking boots and hiking shoes?
The two main differences between hiking boots and shoes are the level of support and the weight: hiking shoes are the lighter of the two but also provide less support. Boots are also warmer and provide better protection.
What are the best hiking sandals?
The best hiking sandals are the Chaco Classic Z/1. These hiking-specific sandals are comfortable, adjustable, durable, and provide outstanding traction in all types of terrain.
Is it OK to wear sandals hiking?
Sandals are a good option for hiking in warm weather if you'll be hiking well-maintained trails. Because they offer less support and protection, however, shoes or boots are a better choice if the trail is more rugged or you're hiking with a heavy pack.
Why do hikers wear sandals?
Some hikers prefer wearing sandals because they're lighter, keep your feet cool, and allow you to cross rivers or streams without taking off your footwear.
Do you wear socks with hiking sandals?
It's okay to wear socks with hiking sandals, but doing so will negate some of the main benefits sandals offer, such as airflow and the ability to cross streams or rivers without removing your footwear.
What clothes should you wear on a hike?
In summer, you should wear light, loose-fitting layers such as a pair of shorts, lightweight pants, a short-sleeved t-shirt or hiking shirt, and high-wicking underwear. In cooler conditions, wear a breathable, high-wicking baselayer beneath an insulating layer (a down jacket or fleece).
When deciding what to wear hiking, you need to take weather conditions into account. However, it's always a good idea to carry rain pants and a rain jacket just in case.
Can I wear gym clothes to hike?
Yes, gym clothes are a suitable, comfortable choice for hiking as long as you avoid any made of cotton.
Is it OK to hike in leggings?
Leggings are a good choice of legwear for hiking on well-maintained trails because they're mobile, comfortable, and breathable. However, if you're hiking off-trail or in more technical terrain, it's best to wear a pair of more rugged hiking pants.
Is it better to hike in pants or shorts?
Pants are generally a better option for hiking because they provide better all-round protection. That said, both shorts and pants have advantages and disadvantages. Shorts help to keep your cool and offer better mobility but don't provide protection for the lower legs. Pants are heavier and may restrict movement, but offer more protection from brush, rocks, and the elements.
Should I wear light or dark clothes for hiking?
Light-colored clothing is better for hiking because light colors reflect, rather than absorb, the sun's rays, which helps to keep you cool.
What not to wear hiking?
The clothing and footwear you should avoid wearing while hiking are listed below.
Anything made of cotton
Denim
Unsuitable footwear (flip-flops, tennis shoes)
Shoes or boots that haven't been broken in
Dark-colored clothing
Tight-fitting pants or tops
Regular bras
Jewelry
Can I hike in jeans?
Hiking in jeans is not recommended. Jeans are made with cotton, which is breathable but doesn't wick moisture and isn't quick drying.
What are the best socks to wear hiking?
The best hiking socks should be breathable, high wicking, quick drying and provide ample cushioning. In most cases, this means socks made with a merino-synthetic blend of fabric and hiking-specific design, such as the Darn Tough Light Hiker Micro Crew.
Why are wool socks good for hiking?
Wool is breathable, high wicking, quick-drying, and naturally antimicrobial, so it will help keep your feet smelling fresh for longer.
How to wash wool hiking socks?
To wash wool hiking socks, turn the socks inside out and wash them in the machine on a warm or cold cycle.
Can I wear cotton socks hiking?
Cotton socks are not a good choice for hiking. Cotton soaks up sweat and isn't quick drying, so you'll be more likely to get blisters wearing cotton socks than if you wear a pair made with a breathable fabric like merino wool.
Should you wear 2 pairs of socks when hiking?
Yes, wearing two pairs of socks while hiking can help to prevent blisters, wick moisture away from your skin, and keep your feet warm in cool conditions.
What is the 3-layer rule in hiking?
The layering system comprises three layers: a base layer, mid-layer, and an outer layer.
The base layer is a thin layer worn against the skin and is all about wicking sweat away from your body. The mid-layer is the insulating layer, and usually takes the form of a fleece or down sweater or jacket, or a windstopper. The outer layer is all about protection from the elements, i.e. rain pants and a rain jacket.
What to wear hiking in summer?
When hiking in summer months, you should wear lightweight, light-colored, loose-fitting clothing. It's also a good idea to wear clothing with a high UPF rating and a sunhat.
What to wear hiking in fall?
In fall, your hiking outfit should include a breathable baselayer and, depending on conditions, a good midlayer like a down or fleece hoodie. We also recommend carrying gloves, a beanie, and rain gear.
What to wear hiking in spring?
For spring hiking, wear a breathable baselayer and carry a down or fleece hoodie for insulation. We also recommend carrying gloves, a beanie, and rain gear.
What to wear hiking in winter?
For cold-weather hiking, we recommend wearing a long-sleeved baselayer, thick socks, and a mid- to heavyweight midlayer (fleece or down hoodie). Also be sure to carry a heavier insulating layer, insulated gloves, a beanie, and rain gear.
What gear do you need for hiking?
The most essential items newbie hikers should add to their hiking gear list are hiking boots or shoes, a backpack, breathable clothing, a rain jacket and rain pants, a first aid kit, a compass, and trekking poles.
"What are the 10 hiking gear essentials?
The hiking ten essentials are navigation, illumination, first aid, sun protection, fire, knife, shelter, food, water, and clothing.
How much does hiking gear cost?
The cost of hiking gear varies widely depending on whether you're buying big-name brands or more generic gear.
Where to buy hiking gear?
Some of our favorite places to buy hiking gear are REI Co-op, Backcountry.com, Amazon.com, Moosejaw.com, The Clymb, Steep & Cheap, Evo.com, Sierra Trading Post, and Decathlon.
Where to buy used hiking gear?
Some of our favorite places to buy used hiking gear are Patagonia Worn Wear, REI Used Gear, GearTrade, Outdoor Gear Exchange, The Gear Room, and Facebook Marketplace.
Who makes the best hiking gear?
Some of the brands renowned for making the best hiking gear are La Sportiva, Scarpa, Patagonia, The North Face, Arc'teryx, Cotopaxi, Black Diamond, REI, Mountain Hardwear, Outdoor Research, Mountain Equipment, and Rab.
What not to pack for hiking?
Some things you should avoid taking hiking include jewelry and valuables, bulky items, cotton clothing, books, too much spare clothing, too much cookware, makeup, tech and gadgets, and survival tools.
How to pack hiking gear?
When packing your backpack, your bulkiest items should be at the bottom, the heaviest items against the back panel, and the lightest items at the top. Ideally, the things you'll need to use most frequently should be most accessible and close to a zipper or in a stash pocket.
How to repair hiking gear?
First, check the manufacturer's warranty to determine whether you'll have to carry out the repair yourself or if they'll do it for you. If it's on you, then you may want to use a gear repair shop like Rugged Thread if the damage is extensive.
If attempting a DIY fix, the kit you'll need depends on the damage. To be prepared, we recommend always keeping spare laces, duct tape, tent and fabric repair patches, seam sealant, and a few spare buckles and straps at home.
How to wash hiking gear?
When washing your hiking gear, there's a different process for different gear, as summarized below.
Backpack: Empty the backpack, open all zippers, spot treat stains, turn the pack inside out, machine wash on a gentle cycle, leave to air dry.
Boots or shoes: Remove dirt or sap with a soft brush. Remove the laces and wipe down the fabric with a wet sponge. With synthetic boots, apply a waterproofing product. With leather boots, apply a waterproofing wax or spray. Leave to air dry out of direct sunlight.
Merino clothing: By hand or in a laundry machine with a mild detergent and on a low heat and gentle cycle
Rain gear: Remove any dirt with a soft brush and wet cloth, then wash in the laundry machine with lukewarm or warm water and a mild detergent or a technical cleaner like Nikwax TX Direct. Leave to air dry out of direct sunlight.
What are the Best Outdoor Brands for Hiking Clothing & Gear?
Some of the best hiking brands include Arc'teryx, Asolo, Black Diamond, Columbia, Danner, Deuter, Gregory, Hoka, Keen, Kelty, La Sportiva, Lowe Alpine, Mammut, Marmot, Merrell, Montane, Mountain Hardwear, North Face, Oboz, Osprey, Outdoor Research, Patagonia, REI,
Salomon, Scarpa, Sea to Summit, Timberland, Vasque, and Zamberlan.
Which season is best for hiking?
The best weather and seasonal hiking conditions are in late summer or early fall. In most areas, at this time of year you'll enjoy moderate or less extreme temperatures, less risk of thunderstorms, no snow on the trails, fewer crowds, fewer bugs, and plenty of daylight.
What weather conditions are best for hiking?
The best conditions for hiking are moderate ones. This means not too hot and not too cold, and neither too windy nor entirely windless. A light breeze helps keep bugs away and minimizes sweat, while moderate temperatures mean you can hike without overheating or worrying about sun exposure.
How to start hiking?
To get started hiking, we recommend you take a course in hiking for beginners, learn basic first aid, learn how to navigate with a map and compass, buy or borrow gear, find a partner or join a group, choose a trail, and then gradually build up experience and confidence.
What are some common hiking terms a beginner should know?
The following list summarizes the most common hiking terms.
Base weight. Your backpack's total weight without consumables like food, water and stove fuel.
Blaze. Color-coded markings on trees or rocks trees that act as waymarkers on a trail.
Cairn. A stack of rocks used to waymark trails.
Cat hole. A hole hikers dig to bury feces.
"Camel up". To drink plenty of water when you reach a water source on the trail.
Col. A gap in a ridgeline between two peaks.
Declination. Short for "magnetic declination", which is the difference in angle between Magnetic North and True North.
Glissade. To descend on snow using your boots or butt as skis.
Loop. A trail that circles back round to the starting point without requiring you to repeat sections on the return leg.
Out-and-back. A hiking trail on which you return the same way that you came.
Saddle. The same as a "col".
Scree. A field or slope of smaller loose rocks.
Section hiking. Hiking part, or a section of, a longer thru-hike.
Switchbacks. A zig-zagging section of trail up (or down) steep terrain.
Talus. A field or slope of large loose rocks or boulders.
Thru-hiking. A long distance trail hiked from end to end, such as the PCT, CDT, or AT.
Topo. A topographical map.
Trailhead. The place where a trail starts and/or ends.
What are some essential hiking tips for beginners?
The following list outlines our top tips for beginner hikers.
Go with an experience friend on your first few hikes
Learn how to navigate with a map and compass
Don't overpack
Carry the Ten Essentials
Learn and use the layering system
Invest in good gear
Plan and pack well ahead
Take a first aid course
What skills do you need to hike?
The most important hiking skills to learn are how to use a map and compass, how to follow a trail, how to administer first aid, how to pack a backpack, how to cross a river, pacing, planning,
wildlife safety, how to purify water, how to abide by Leave No Trace principles, how to use the layering system, and how to use crampons and an ice axe (winter hiking only).
How to use a map and compass?
To use a map and compass, the basic skills you should master are triangulation, taking a bearing, following a bearing, how to adjust for magnetic declination, and understanding the symbols and legends on a topographical map.
What is scrambling in hiking?
Scrambling refers to the act of using your hands, as well as your feet, to progress on steeper terrain while hiking.
What is the best food to take hiking?
The best hiking foods are calorie dense and nutritious. Some examples include energy bars, protein bars, flapjacks, trail mix, fruit, energy gummies, nuts and seeds, nut butter, dried fruit, and fruit cake.
What are good snacks for hiking?
Some good hiking snacks include trail mix, flapjacks, dried fruit, jerky, fruit, protein bars, and nuts and seeds.
What is a good lunch for hiking?
Any hiking meal should ideally provide a healthy balance of protein (15-20%), carbs (35-50%), and fats (35-50%). Some examples of hiking lunch ideas include peanut butter and jelly sandwiches, packaroons, pasta salad, wraps, dehydrated meals, and chicken, tuna, or SPAM packets.
How much water should I take hiking?
When hiking you should aim to drink one to two cups (250-500 ml) of water per hour. How much water you take hiking, however, also depends on the temperature, altitude, your personal metabolism and absorption rates, and how much you are exerting yourself.
What is the best way to carry water on a hike?
You can choose between a water bottle like a Nalgene, an insulated bottle like a Hydro Flask, or a water bladder and hydration pack if you'd prefer to hydrate without having to stop and open your backpack.
How can I get involved in the hiking community?
There are various ways to get more involved in hiking culture and community. These include joining a club, taking a course, asking colleagues and friends, joining Meetup or Facebook hiking groups, asking at your local outdoor store, or joining  nationwide organizations like REI, NOLS, The American Alpine Institute, The Sierra Club, Women Who Hike, and Outward Bound or regional groups like the Appalachian Mountain Club.
What are some popular hiking quotes?
The following list contains some of the most popular hiking quotes.
"My father considered a walk among the mountains as the equivalent of churchgoing." Aldous Huxley
"And into the forest I go, to lose my mind and find my soul." John Muir
"Mountains are not stadiums where I satisfy my ambition to achieve, they are the cathedrals where I practice my religion." Anatoli Boukreev
"Walking: the most ancient exercise and still the best modern exercise." Carrie Latet
"Thousands of tired, nerve-shaken, over-civilized people are beginning to find out that going to the mountains is going home; that wildness is a necessity." John Muir
"Because in the end, you won't remember the time you spent working in an office or mowing the lawn. Climb that goddamn mountain." Jack Kerouac
Who is the most famous hiker?
Two of the most famous hikers are Andrew Skurka and Emma "Grandma" Gatewood. Other contenders include Heather "Anish" Anderson, author Bill Bryson, Jennifer Pharr Davis, and Cheryl Strayed.
Are there any movies about hiking?
Yes, there are dozens of great hiking movies. Some of the best include Wild, A Walk in the Woods, Into the Wild, The Way, Tracks, Appalachian Impressions, and Edie.
What are the best hiking books?
Some of the best books about hiking include A Walk in the Woods by Bill Bryson, Thru-Hiking Will Break Your Heart by Carrot Quinn, Wild by Cheryl Strayed, Ten Million Steps by MJ Eberhart, and Grandma Gatewood's Walk by Ben Montgomery.
What is hiking etiquette?
The series of unwritten rules that hikers try to live by on the trail are collectively referred to as "hiking etiquette". These rules include staying on the trail, respecting wildlife and plantlife, yielding the right of way to uphill hikers, horses, and pack stock, keep the noise down, never littering, never feeding wildlife, taking nothing and leaving nothing, keeping your dog on a leash, and greeting other hikers.
How should I interact with other hikers on the trail?
Treat other hikers with respect and courtesy. Greet them and yield right of way if they are hiking uphill.
Can I take my dog hiking?
Yes, hiking with dogs is feasible and fun, but dog owners should be aware that many hiking areas – most U.S. national parks, for example – do not allow even leashed dogs on trails.
What type of dog is best for hiking?
The best dog breeds for hiking include the Siberian Huskies, Dalmatians, Bernese Mountain Dogs, English Springer Spaniels, and Rhodesian Ridgebacks.
What is the best age to start hiking with children?
There is no perfect age to start hiking with kids. Once your child starts walking, you can expect them to hike around 0.5 to 1 mile per year of age. Just expect plenty of rest stops and bring a child-carrier backpack in case they down tools or can't continue.
What is the best age to hike with a baby?
You can start taking your baby hiking when he or she is 3-6 months old. At this age, they'll be easier to carry in a child-carrier backpack and will be more aware of their surroundings.
Are there any women-focused hiking groups or communities?
The most notable groups and communities for women hikers are Women Who Hike, AdventureWomen, Backcountry Babes, Black Girls Trekkin, PNW Outdoor Women Group, Hike Clerb, SheJumps, REI Women's Adventures, and Iris Alpine.
What considerations should women take when hiking during their period?
When hiking on your period, bring a menstrual cup or ample tampons/pads, and a Ziploc bag so you can carry out your waste. It's also a good idea to bring some antibacterial hand wipes and pain-relief medicine.
What are some tips for pregnant women who want to hike?
You need to take a few extra precautions if hiking while pregnant. First, speak to your doctor to check how much weight you can carry on your back and ensure your specific circumstances make it safe to be hiking and carrying loads.
When choosing a trail, opt for an easier, well-maintained trail and expect to cover less distance.
When out on the trail, bring a cell phone or two-way messaging GPS device if you'll be out of signal range, use trekking poles to improve your balance, ditch the hipbelt on your pack to avoid discomfort, and do not purify water with iodine as this can lead to health complications.
What are some safety tips for women who enjoy hiking?
The following list itemizes some of the most important safety tips for women hikers.
Trust your instincts – if you come across any suspect characters on the trail, steer clear of them and head to safety if need be
Consider carrying pepper spray
Hike with a friend if possible
Leave an itinerary with a friend at home if hiking alone
Carry a cell phone or two-may messaging GPS device
Is hiking safe?
Hiking is generally a safe activity, but hikers should learn how to take care of themselves in the backcountry nonetheless.
Some skills and hiking safety smarts new hikers need to acquire include how to navigate, how to signal in case of an emergency, how to follow a trail, how to administer first aid, and how to deal with wildlife encounters.
What risks are associated with hiking?
The main dangers of hiking are getting lost, falling, dehydration, poisonous plants, snake bites, insect bites, hypothermia, heatstroke, sprains, and getting caught in a thunderstorm.
How do you stay safe while hiking?
Learn how to use a map and compass.
Research your route.
Stick to the trail and learn how to read trail signage.
Pack all of the ten essentials.
Bring a well-stocked first-aid kit.
Don't underestimate your trail.
Give yourself plenty of time to finish the trail in daylight.
Carry bear spray in bear country.
Leave a note and route description with someone at home.
Bring adequate clothing.
Carry a phone or two-way messaging GPS.
Turn back if you run into trouble.
Is it safe to hike alone?
Yes, it is perfectly okay to go hiking alone, as long as you are prepared and fully aware that you are solely responsible for your own safety. You should also carry a cell phone or two-way messaging device and leave a route itinerary with someone at home.
Do you need a first aid kit for hiking?
Hikers should be prepared to be entirely self-sufficient. As such, carrying a well-stocked hiking first aid kit is essential.
What should a hiker's first aid kit contain?
The most essential items include antibacterial ointment, antihistamine, antiseptic wipes or cream, assorted band-aids, butterfly bandages, gauze pads, insect sting treatment, medical tape, moleskin (or other blister treatment, non-stick pads, pain-relief medication, safety pins, scissors, and tweezers.
What are the most common injuries in hiking?
The most common hiking injuries and first aid issues are blisters, cuts and scrapes, ankle sprains, chafing, hypothermia, hyperthermia, sunburn, dehydration.
What is hiker knee?
"Hikers knee" is a dull pain in the area around the knee cap that arises while hiking and is exacerbated by hiking downhill.
How to prevent blisters when hiking?
To prevent blisters when hiking, wear proper-fitting and broken-in shoes or boots, breathable socks, and stop to treat any hot spots as soon as they develop.
How to prevent chafing while hiking?
To prevent chafing, wear well-fitting clothing made with breathable, high-wicking, and quick-drying fabric. Keep the area prone to chafing clean and apply lubricant such as petroleum jelly before you begin your hike and again if you start to feel a hot spot.
What are the benefits of hiking?
The main physical and mental health benefits of hiking include stronger muscles and bones, improved heart health, improved respiratory health, a stronger immune system, lower blood pressure, weight loss, reduced anxiety and depression, better sleep, and improved memory and brain function.
Is hiking good exercise?
Hiking is a great cardiovascular exercise. It helps to reduce your risk of high blood pressure, heart disease, high cholesterol, and even strokes. It also provides a great workout for your legs, strengthens your core, and improves your stamina.
How to train for hiking?
The best way to train for hiking is by hitting the trails. If that isn't possible, the best gym or at-home hiking training exercises you can do include mountain climbers, jump squats, weighted step-ups, kettleBell deadlifts, squats, lunges, calf raises, running, walking or jogging in sand, and stair running/walking.
How long does it take to get fit for hiking?
It should take the average, moderately fit adult three to six months to get into good trail shape. This estimation, however, of course depends on how hard the trails are you aim to tackle at the end of the training period.
How to plan a hiking trip?
When you're all set to go hiking, planning your hiking route should begin with researching and choosing a trail. After that, buy a map and get familiar with the "lay of the land", identifying any hazards on the route (wildlife, river crossings, snow, etc.) and estimating the time required to complete the trail.
Before you hit the trail, check the trail conditions and weather forecast, choose appropriate footwear and clothing, pack the Ten Essentials. Finally, share your plans with a friend or family member, then get your hike on!
How long should a daily hike be?
For general fitness, most adults can benefit from hiking as little as 30 minutes or 1–1.5 miles per day.
What's the average hiking speed?
The average hiking speed is around 2 to 2.5 miles per hour.
What does "hike your own hike" mean?
"Hike Your Own Hike" is an expression meaning "do your own thing" or "each to their own".
How to find hiking trails near you?
The best way to find hiking trails is through local outdoor forums and national or state park websites. You can also ask local hiking groups or in outdoor stores for tips, or simply search online for hikes in your state.
Which are the best hiking trail in Colorado?
Some of the best hikes in Colorado include the Blue Lakes Trail, Emerald Lake Trail, Sky Pond via Glacier Gorge Trail, Upper Fish Creek Falls, Royal Arch Trail, Crater Lake, The Colorado Trail, High and Star Dune Loop, Longs Peak Keyhole Route, Palmer Trail Loop, and Hanging Lake Trail.
Where is the best hiking in Washington?
Most of the best hikes in Washington state are found in Mount Rainier National Park, Olympic National Park, and the North Cascades.
Some of our favorites include Diablo Lake Trail, Wallace Falls Trail, Hoh Rainforest Trail, Skyline Trail, Cascade Pass Trail, Enchantments Traverse, Tolmie Peak, Ape Cave Trail, Lake Ann Trail, Twin Falls, Rattlesnake Ledge, Mount Pilchuck Trail, and Steamboat Rock Trail.