If you're just getting into hiking, there are a few things worth knowing about the hiking community. This includes the reasons why people like hiking, the history of hiking as a recreational activity, where to find sources of inspiration for future hikes, how to get more involved with the hiking community, where to find fellow hikers, what resources are available to learn about hiking, and what rules you should follow.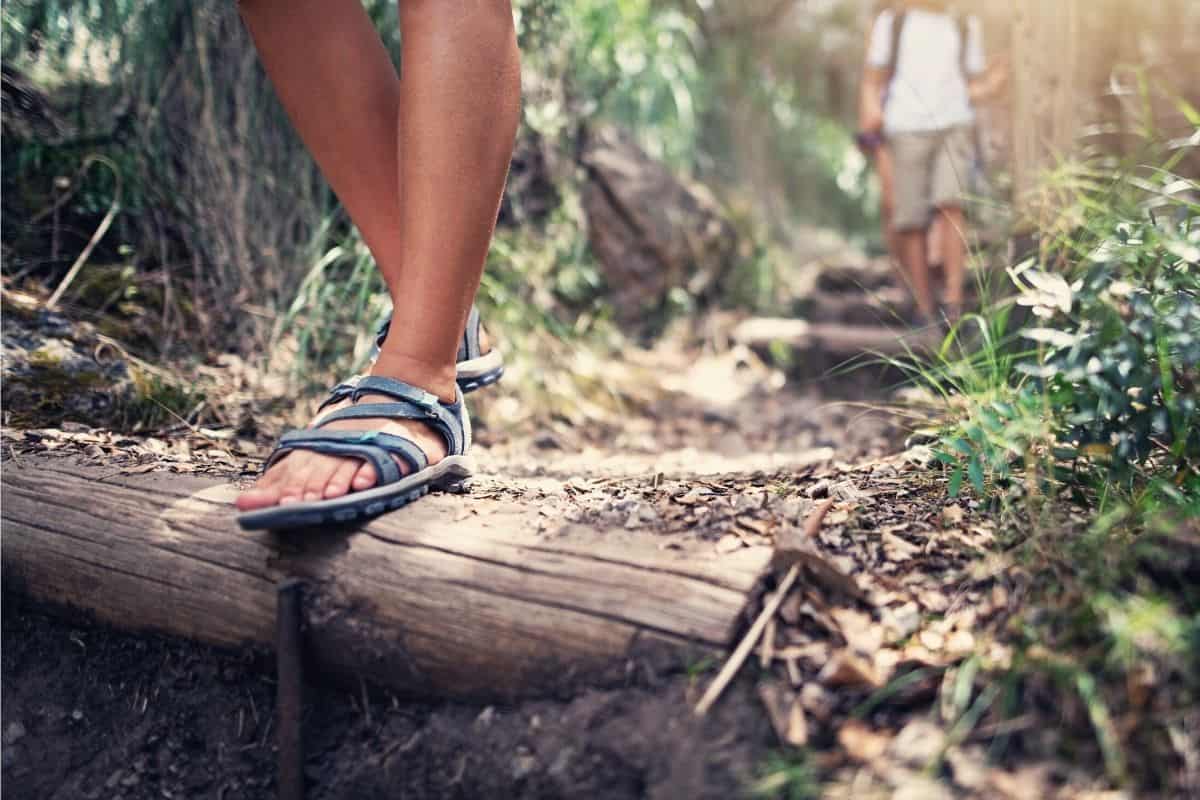 Our list of this year's top hiking sandals has something for everyone, from minimalist open-toe sandals to closed-toe models that perform just like scaled-down trail shoes.
What inspires people to go hiking?
People are most often inspired to go hiking by images or accounts of stunning locations or experiences enjoyed by others on certain trails. Other sources of inspiration might be books or movies about hiking, a desire to connect with nature, or a desire to get fit in a healthy and sustainable way.
What do people like about hiking?
Hikers enjoy going hiking for the reasons noted in the list below.
It's great exercise.
You get to spend time in beautiful natural environments while doing it.
It's a great way to make new friends.
It's a great way to see the world.
It's a destresser.
The sense of accomplishment.
The adrenaline rush.
It gets you away from those screens.
The challenge.
The wildlife.
The mental health benefits.
When did hiking become popular?
In the US, several hiking clubs were established in the late 1800s, after the Civil War, but hiking really only became a popular recreational activity in the mid-1900s.
In Europe, hiking, mountaineering, and hillwalking were popularized in the early-to-mid 1800s. This is often attributed to the Romantic Movement and literary figures such as Wordsworth and Keats.
How does hiking benefit physical health?
The main physical health benefits of hiking include stronger muscles and bones, improved heart health, improved respiratory health, a stronger immune system, lower blood pressure, and weight loss.
How does hiking benefit your relationships?
The following list summarizes how hiking with friends or family members can help strengthen your relationships.
It teaches you to enjoy the little things
It lets you – or forces you – to unplug from your workday life
You get to spend quality time together
You have to problem-solve together and communicate
It teaches you to be patient with each other
You share beautiful, challenging, and enriching experiences together.
Can you get addicted to hiking?
Yes, hiking brings many benefits and positive experiences, all of which can make it addictive for some. Some of the reasons hiking is so addictive are highlighted in the list below.
It releases endorphins, which make you feel happy
It gets you in good shape
It can be goal-oriented (and you get to define 'success')
It removes you from stressors (work, technology, and even home)
Can hiking get boring?
No! One of the beauties of hiking is that there are millions of trails, so you'll never see the same things twice unless you choose to. And even if you do hike the same trail again, it's sure to be a little different due to seasonal changes.
How do you know if hiking is for you?
The only way to know if hiking is for you is to give it a try! We recommend starting small by hiking a short trail near your home, then branching out into something a little more challenging with an experienced friend.
What media sources spark the hiking spirit?
The media sources mainly responsible for sparking the hiking spirit are social media (TikTok, Instagram, Facebook, Twitter, YouTube), digital press media, film, and old-school print media (magazines).
Why does hiking inspire so many quotes?
There are a few reasons why there are so many hiking quotes, most notably because hiking takes us to magical places, connects us with nature, brings us joy, and challenges us in new ways, many of which are relatable to challenges we face in everyday life.
Who has coined the most famous hiking quotes?
There are various contenders, but the most obvious is John Muir, who bequeathed the hiking community several gems. Below is a list of our favorite quotes from Muir.
"The mountains are calling and I must go."
"Oh, these vast, calm, measureless mountain days, days in whose light everything seems equally divine, opening a thousand windows to show us God."
"In every walk with nature one receives far more than he seeks."
"Climb the mountains and get their good tidings."
"Keep close to Nature's heart… and break clear away, once in a while, and climb a mountain or spend a week in the woods. Wash your spirit clean."
What trail has evoked the most hiking quotes?
The hiking trail that has inspired the most hiking quotes is probably the Camino de Santiago. Some of our favorites are included on the following list.
"Those who come to the Camino with a heavy heart leave with a lighter load." Jane V. Blanchard
"'Life always teaches us more than the road to Santiago does', he answered. 'But we don't have much faith in what life teaches us'." Paulo Coelho
"Don't come to the Camino looking for answers. Instead, come with an open heart and you may be surprised by what you find." Jane V. Blanchard
"Many have trod on the Camino – but none have done it in your shoes." Jane V. Blanchard
What are some popular hiking quotes?
Some of the most popular hiking quotes are included on the list below.
"My father considered a walk among the mountains as the equivalent of churchgoing." Aldous Huxley
"And into the forest I go, to lose my mind and find my soul." John Muir
"Mountains are not stadiums where I satisfy my ambition to achieve, they are the cathedrals where I practice my religion." Anatoli Boukreev
"Walking: the most ancient exercise and still the best modern exercise." Carrie Latet
"Thousands of tired, nerve-shaken, over-civilized people are beginning to find out that going to the mountains is going home; that wildness is a necessity." John Muir
"Because in the end, you won't remember the time you spent working in an office or mowing the lawn. Climb that goddamn mountain." Jack Kerouac
What are some popular hiking movies?
Some of the best hiking movies include Wild, A Walk in the Woods, Into the Wild, The Way, Tracks, Appalachian Impressions, and Edie.
What are the best documentary-style movies?
Our favorite documentaries about hiking are Mile…Mile and a Half, It Is the People, and Do More With Less.
What hiking movies are based on true stories?
Some popular hiking movies based on true stories include Wild, A Walk in the Woods, Tracks, Into the Wild, and The Way.
What are the most family-friendly hiking movies?
Mile…Mile and a Half, A Walk in the Woods, and National Parks Adventure are great movies about hiking and the great outdoors to watch with your kids.
What are some popular hiking books?
Some of the best hiking books include A Walk in the Woods by Bill Bryson, Thru-Hiking Will Break Your Heart by Carrot Quinn, Wild by Cheryl Strayed, Ten Million Steps by MJ Eberhart, and Grandma Gatewood's Walk by Ben Montgomery.
What are some recommended hiking trail guides?
Below is a list of some of the best hiking trail guides for the USA.
Classic Hikes of North America
The Hidden Tracks
100 Hikes of a Lifetime
Backpacker Hidden Gems
America's Best Day Hikes
For hikes in Europe, we recommend the country-specific guides from Cicerone Press.
What are some recommended reference books for hiking?
Below we've added a list of the best reference books for hiking.
The Backpacker's Field Manual: A Comprehensive Guide to Mastering Backcountry Skills
Medicine for the Outdoors
Wilderness Navigation
Mountaineering: The Freedom of the Hills
The Ultimate Hiker's Gear Guide
What are some popular hiking blogs?
Below are some of the most popular hiking blogs.
Young Adventuress
Bald Hiker
Hiking Dude
Roar Loud
Hike Like a Woman
Nerd Nomads
PMags
Alastair Humphreys
Mark Horrell
Girl on a Hike
Do any hiking blogs focus on overcoming adversity?
The most notable is the Disabled Hikers Blog and Hike for Mental Health.
What are some popular hiking podcasts?
The list below includes some of the top hiking podcasts.
The Dirtbag Diaries
Training for Trekking
Backpacker Radio
Wanderwoman
The Backpacking Podcast
Wild Ideas Worth Living
Hike 'n' Pod
Hike by Lori Prima
Outside Podcast
Outside Voices Podcast
Hiking Thru
The Firn Line
She Explores
Trail Tales: A Thru-Hiking and Backpacking Podcast
The Trail Show
Which podcasts interview hiking experts?
Wild Ideas Worth Living by outdoor retailer REI and the Outside Podcast both feature interviews with hiking and backpacking experts.
Who are some famous hikers?
The list below contains some of the most famous hikers.
Andrew Skurka (guide and adventurer)
John Muir (explorer and "Father of the national parks")
Emma "Grandma" Gatewood (pioneering thru-hiker)
Bill Bryson (author)
Cheryl Strayed (author)
Mildred Ryder (first female thru-hiker)
Who are some lesser-known famous hikers?
Some lesser-known famous hikers include Heather "Anish" Anderson, Buddy Backpacker, Jennifer Pharr Davis, and Earl Shaffer.
How do you get involved with hiking?
The best way to get involved in hiking is to join a group or club, but you can also start your own club, take a course, attend events, take part in hiking challenges, volunteer for trail maintenance, or check for extracurricular programs at your school or college.
Why join a hiking club?
The following list highlights the main reasons for joining a hiking club.
Make new friends.
Meet like-minded people.
Helps you hike regularly and safely.
Motivation and inspiration.
Ridesharing.
Learn from others.
What are the benefits of joining a hiking club?
Below, we've included a list of the main benefits of joining a hiking club.
Socializing at monthly meetings
Regularly scheduled trips
Camaraderie
Safety
Knowledge and skill sharing
Carpooling
Potential discounts on gear and accommodation
What are the top hiking clubs in the USA?
The following list contains the top hiking clubs and groups in the USA.
The AmericanAlpineClub
The Sierra Club
InterMountain Alpine Club.
Women Who Hike
Black Girls Trekkin
Latino Outdoors
Unlikely Hikers
LGBT+ Outdoors
Disabled Hikers
What is a hiking tour?
Hiking tour is a guided hiking trip with a group and a group leader or guide. In most cases, the group will follow a pre-planned schedule and transport and accommodation will be arranged.
Why join a hiking tour?
Below, we've listed the main reasons to join a hiking tour.
Less planning and stress.
You can rent gear.
Make new friends.
Safety.
Learn new skills from your guide.
What are some recommended hiking tour operators in the USA?
Some of the top hiking tour operators in the USA are featured on the following list.
Intrepid
Macs Adventure
Wildland Trekking
G Adventures
Exodus Travel
Active Adventures
Bucket List Group Travel LLC
Why have hiking companions?
There are several reasons why it's good to have hiking buddies. These include safety in numbers, trail inspiration, shared psyche and motivation, sharing equipment (and the weight burden of heavy items), companionship, better photos, and to build strong relationships.
Where can you find hiking buddies online?
The best places to find hiking buddies online are Meetup (there are thousands of location-specific groups), Facebook hiking groups, or the "Hikers & Backpackers" Slack channel.
Where can you find hiking buddies in person?
To find hiking buddies in person you can hit the trail and meet them on the way, take a course, or put out the word in local outdoor stores. If that fails, you can join nationwide organizations like REI, NOLS, The American Alpine Institute, The Sierra Club, Women Who Hike, and Outward Bound or regional groups like the Appalachian Mountain Club.
What are hiking events?
Hiking events range from hiking club meets or organized hikes (Fjallraven US Classic) to book readings or outdoor festivals (like Kendal Mountain Festival or Banff Mountain Festival). Other hiking events include challenges like the 52 Hike Challenge and the Six-Pack of Peaks Challenge.
Where to find out about hiking events?
The best places to find out about hiking events are given in the list below.
REI Co-Op
52 Hike Challenge
Sierra Club
Fjallraven US Classic
Eventbrite
Local hiking groups
Women Who Hike
American Hiking Society
What types of hiking jobs are there?
Some of the most popular hiking jobs include working as a guide, trip leader on hiking & backpacking trips, NOLS instructor, park ranger in state or national parks,wildland firefighter, tree planter, social media blogger or influencer, hiking blogger, article writer, outdoor photographer, cabin caretaker, and wilderness therapist.
How to know if you are cut out for a hiking job?
This depends on the type of hiking job in question, as some involve a bit of screen time and admin/office work. Generally speaking, however, if you love being outdoors in all kinds of weather and enjoy putting miles in on the trails day after day, you'll be perfectly suited to most hiking jobs.
Can anyone take up hiking?
To go hiking, you only have to be able to walk (with or without assistance) and navigate in backcountry terrain.
How can you hike with mobility issues?
Plenty of people with mobility issues get into hiking using either simple or specialized equipment and aides. These include custom crutches or trekking poles, off-road wheelchairs, rollators, and ankle-foot orthotics.
What adaptive hiking equipment is available for people with disabilities?
You'll find some examples of hiking equipment for people with disabilities on the list below.
SideStix All-Terrain Crutches
Trionic Veloped
Terra Trek Chair
Custom shoes
Renegade Wheelchair
Freedom Chair
Are there any rules to follow when hiking?
There are some basic rules all hikers should follow. These include staying on the trail, respecting wildlife and plant life, yielding the right of way to uphill hikers, horses, and pack stock, keeping the noise down, never littering, never feeding wildlife, taking nothing and leaving nothing, keeping your dog on a leash, greeting and respecting other hikers, adhering to Leave No Trace principles.
What does 'leave no trace' mean when hiking?
Leave No Trace (LNT) is a set of best practices hikers, campers, and backpackers are encouraged to abide by in order to protect and preserve natural environments and wildlife populations.
What mistakes are made when practicing leave no trace?
The following is a list of the main mistakes people make when attempting to practice leave no trace.
Straying from the trail – Hikers often do this if inadequately dressed and attempting to avoid muddy sections on the trail, but doing so can widen the trail, causing soil erosion and impacting nearby flora.
Moving rocks – making an unofficial cairn or stacking rocks could lead other hikers astray, or harm insects who are using the rocks for shelter.
Hiking with scented items in your pack –
Peeing near a water source – take the time to make sure you are at least 200 ft. from any lake, pond, river, or stream before you 'go'.
Burning toilet paper or trash – this may save you from having to carry it out, but it could also start a wildfire, pollutes the air, and a few melted scraps of whatever you burn will probably be left over and attract wildlife.
Not storing scented items properly – make sure your food and any other scented items (toothpaste, beauty products, medicine) are stored in scent-proof bags or containers to avoid attracting wildlife.