Load lifters? Daisy chains? Lumbar support? There are an overwhelming number of different elements on a backpack, we know! If you don't know what all of them are or what purpose they serve, never fear! In this guide, we'll take you through all of the basics so that you're fluent in the lingo of backpack anatomy.
But not for the sake of it alone…Knowing the ins and outs of backpack anatomy will, we hope, help you choose the right one, pack better, get the perfect fit, and make your pack more comfortable to wear on your hikes.
Once you've learned all about how backpacks work, check out our guide on how to pack your backpack. And if you need help choosing a pack, check out our buyer's guide to find the best backpacking backpack.
Hiking Backpack Disection
Upper Compartment/Hood
The upper compartment is commonly referred to as the "brain" or hood. This part is great for storing small items you want to access quickly.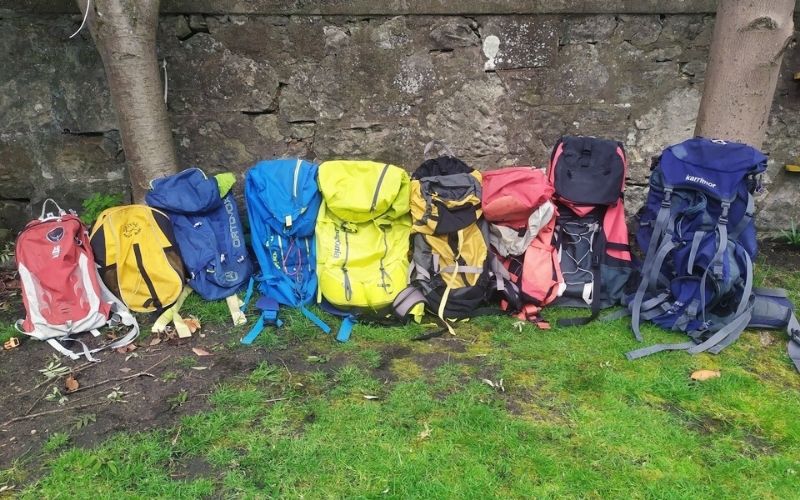 Top Pocket
The top pocket of the brain is accessible from the outside without undoing any buckles. This zippered pocket is great for small or delicate items as nothing will be piled on top of them here.
Inner Top Pocket
The inner hood pocket is accessible from the underside of the brain. You'll have to unclip it to access this pocket. This pocket is good for small stuff you want to keep dry and safe, like a wallet, permit, or map, but isn't quite as easy to access.
Lid
"Lid" is often used interchangeably with the upper compartment/hood of a pack. But while most lids have pockets, some roll-top backpacks have only a pocket-free lid to cover the top access closure.
Main Compartment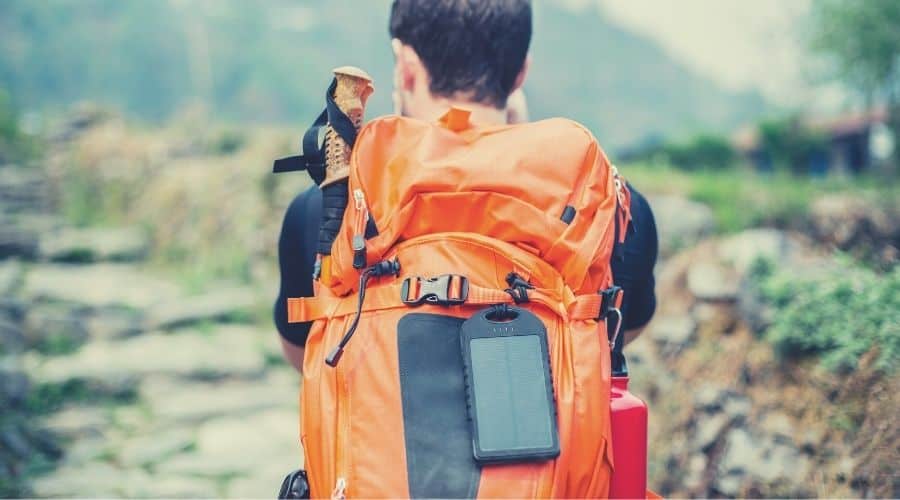 Haul Loop
This is the handle-like webbing loop located at the top of the pack and used to pick up your pack when you aren't wearing it. Grabbing your pack by the haul loop is better than grabbing it by a single shoulder strap, which places unnecessary lateral stress on the seams.
Load Lifters
Load lifters are adjustable straps that attach the shoulder straps to the top section of the pack. They are used to pull the weight of the top half of your pack toward your torso. This helps to stabilize the load and center it over your hips.
You can adjust the load-lifter straps throughout the day to shift how the weight is dispersed onto your body. Loosening these straps will cause the pack to fall back and load more onto your hips, which will give your shoulders a break if they're getting sore. By tightening the straps, you do the opposite, shifting more weight onto your shoulders instead of your hips.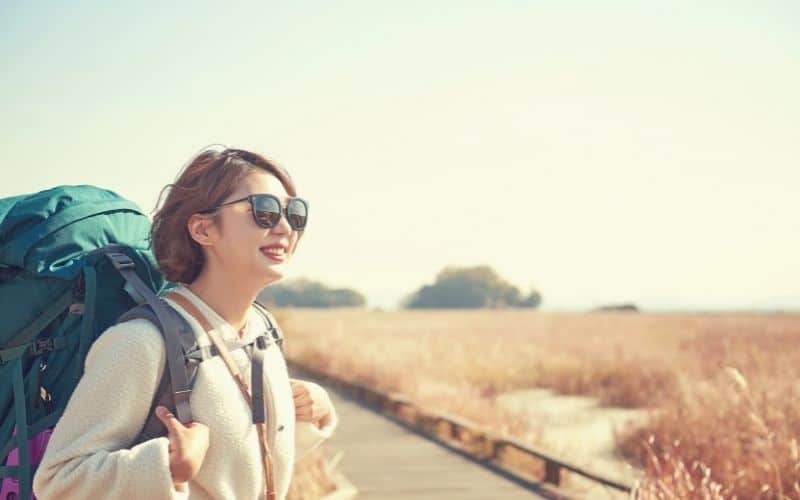 Shoulder Straps
These loop around your shoulders and support, in a well-fitted pack, around 20-25% of the weight. The most comfortable shoulder straps are wide and well-padded. Thin shoulder straps will dig into your skin and be uncomfortable, so look for straps that are 2.5-3" wide with plenty of padding.
Shoulder Strap Adjuster
The shoulder strap adjuster is found in the shoulder harness portion. An adjuster is not found on all backpacks but is helpful for fitting your pack to your individual torso size.
Compression Straps
Compression straps are used to lash gear to the outside of your bag. This is usually the best option for packing bigger items, such as a sleeping pad/mat, or hiking poles when not in use. They're also used for compressing the load of your pack. This is helpful when your pack isn't completely full as it helps to center the load, which improves your balance.
Sternum Strap
The sternum strap clips across your chest. It is used to adjust where your shoulder straps sit on your shoulders and helps keep the load secured. Sternum straps should be fully adjustable, meaning they can be tightened laterally and moved up and down along your shoulder straps. This adjustability is essential for women's backpacks.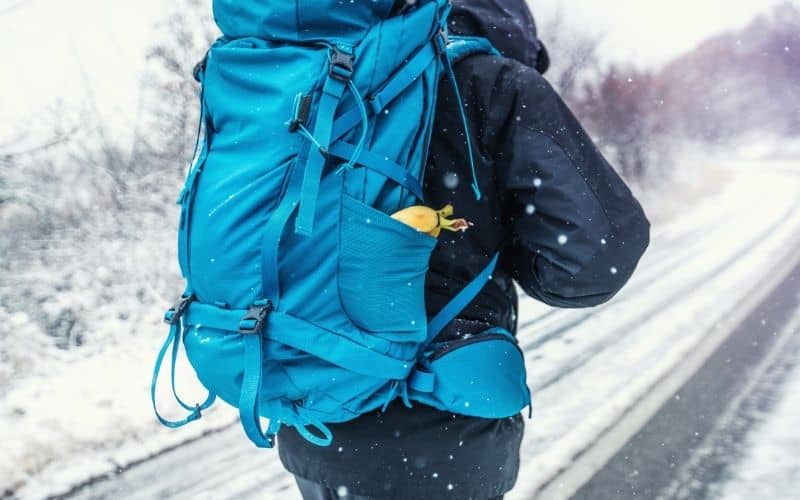 Side Pockets
Side pockets are great for stashing your water bottles or other items you want quick access to while on the move. Ideally, you should be able to reach side access pockets without taking the rucksack off. These are usually made of mesh fabric or have some elasticity built in to keep your water bottle secure.
Hip Belt
This wraps around your hips and attaches just below your belly button. Hip belts load the weight of your pack onto your hips, which should ideally be supporting around 80% of the load. Be sure you select a backpack with a wide, cushioned hip belt so it doesn't dig into your hip bones.
Hip Belt Pockets
Zippered hip belt pockets are awesome for stashing snacks and other small items you want to grab while on the go.
Stabilizer Strap
The stabilizer strap is found on some hipbelts, but not all backpacks have them. They run from the back panel to your hipbelt, and function much like a load lifter for your hipbelt. Stabilizer straps work to minimize lateral movement of your bag while you walk.
Stash/Kangaroo Pocket
A large, unzippered, stretch pocket on the pack's exterior that is great for storing your rain jacket, extra layers, gloves, or other large items you want easy access to.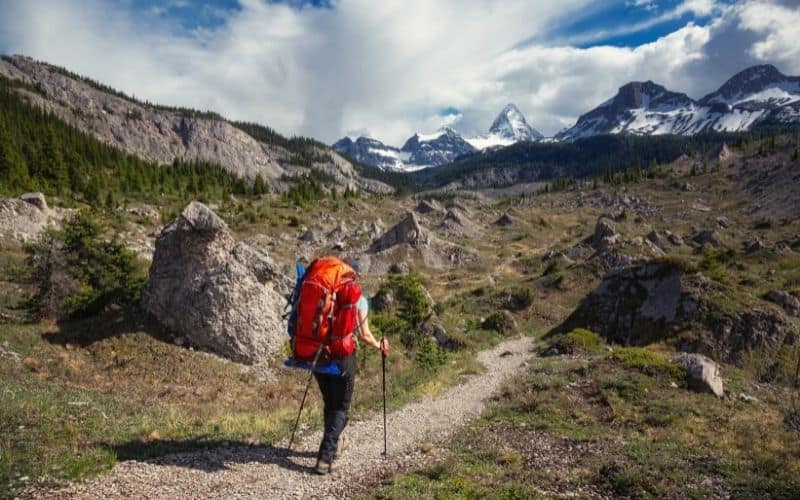 Frame
The frame is a solid piece of material that transfers the weight of your pack down to your hips. Most modern backpacks have an internal frame made of aluminum or plastic. This helps to transfer the weight of the pack onto your hips, maintains the pack's structural integrity, and prevents gear inside the pack poking you in the back.
External frames are uncommon nowadays, but they're still around.
Ventilation System
Back panels that rest directly on your back get hot and sweaty. To counter this, many backpacking backpacks have a curved back panel with a mesh overlay or contoured foam panels that create airflow between you and the backpack. This allows your back to breathe and helps prevent chafing by reducing the amount of sweat (and, thus, salt) on your skin.
Lumbar Pad
The lumbar pad is often an extension of the padded hip straps. It's a padded section on the bottom of the back panel that provides extra cushioning right where all that weight from the bag loads onto your lower back.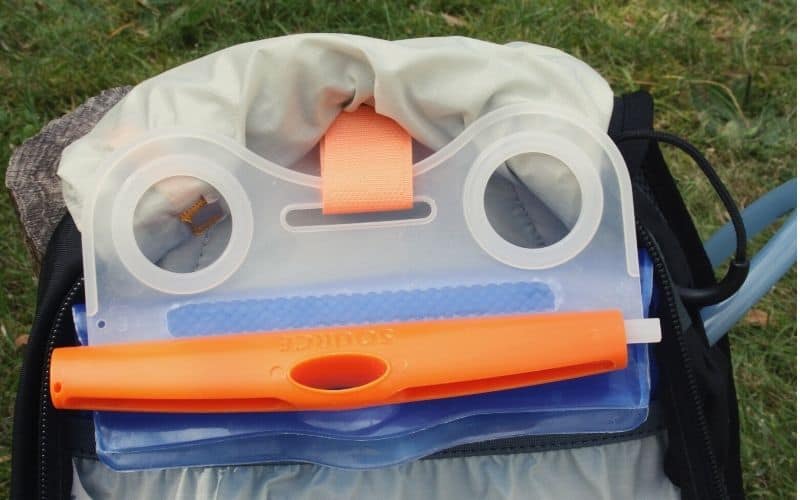 Hydration Pouch
Don't like drinking out of a water bottle while hiking? If not, make sure your new backpack has a hydration pouch. Be warned, however, that in order to refill your hydration bladder, you'll probably have to unpack the main compartment to remove that water pouch. When it's in there, though, you won't have to stop to hydrate.
Daisy Chains
Daisy chains are pieces of webbing sewn onto the exterior of a backpack that allow you to secure gear to the pack using carabiners or cord. But if you have too much extra gear, you might want to consider getting a bigger pack so it all fits inside. Items lashed to attachment points on the outside will sway as you walk, making the load feel very unstable.
If you have too much dangling from those daisies, check out our guide to ultralight backpacking!
Accessories Pouch
Accessory pouches are a useful organizational tool that help you keep your gear neat and tidy. Located on the inside walls of the main compartment, these pouches come in various sizes and can be used to store things like power banks, first aid kits, or toiletries.
Lower/Sleeping Bag Compartment
Sleeping bag compartments are a nice feature because they allow sleeping bags to stay lofted while packed. If you compress down feathers for a long time, they take a while to regain the loft they require to provide insulation. This compartment can also come in handy for separating your wet gear from your dry gear.
Ice Axe Loops
These loops allow you to secure ice axes or trekking poles to the outside of your backpack when you aren't using them.
Rain Cover
While most backpacks have some water resistance, a good rain cover is essential for keeping your camp clothing and sleep system dry while hiking in the rain. Some backpacks come with an integrated cover, but with most you'll have to make a separate purchase.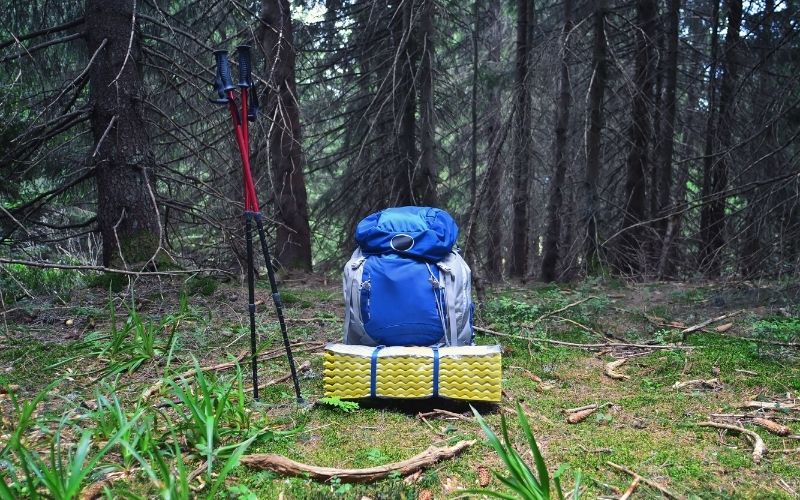 Accessory Straps
Located at the base of the sleeping bag compartment, these adjustable loops are handy for lashing large items like sleeping mats to packs' exteriors.
Parts of a Backpack: Happy Hiking!
We hope you found this guide on the parts of a backpack helpful. Leave us a comment below if we missed something or if you have any questions. And feel free to share this with a friend if you liked it!