Hydration packs were a game-changer when they first hit the market a few decades ago. And to this day, bladders remain the go-to hydration solution for hikers and backpackers everywhere – and with good reason. They're lightweight, packable, and allow you to get your fill of H2O while on the move and without removing your pack.
These days, however, there are countless options on the market, all claiming to be the best in the biz. Rather than take the marketers' claims at face value, we decided to put them to the test, putting dozens of bladders through their paces on the trail in a bid to find the cream of the crop.
In our review, we'll show you the results of our 11 favorites. And to help you choose the perfect one for your needs, we'll take a detailed look at what goes into the making of a great hydration bag and which types are better suited to different types of adventure.
Top Choices by Category
Budget: Aquatic Way, Platypus Hoser Reservoir
Screw-Top: Aquatic Way, Platypus Hoser, Gregory 3D Hydro, Camelback Crux, MSR Dromlite
Zip-Top: Osprey Hydraulics Reservoir, Deuter Streamer, Salomon Soft, Platypus Big Zip, Hydrapak Shape-Shift Bladder
Editors Choice
Gregory 3D Hydro
Scooping our award as this year's top hydration bladder for hiking is the Gregory 3D Hydro. This bladder has a few minor shortcomings but scores well above the competition in almost every important metric and, all told, offers great value for money.
The Hydro 3D's main selling points are its durability and reliability. It's made with an extra-thick, malleable polymer that's puncture-resistant but soft enough to conform to the hydration sleeve in your backpack. The screw-top lid is also burly, easy to operate with cold hands, and provides an ultra-tight, solid seal.
The Hydro 3D is also easy to use. It has a full-length handle that makes it easy to fill from any water source, a drying hanger, a magnet that keeps it in place on your backpack's chest strap and is a cinch to disassemble for cleaning. The flow rate also hits the sweet spot and the dry-lock bite valve isn't at all prone to drips.
What about those shortcomings? At 7 ounces, this isn't the lightest option out there, and that long, rigid handle also means it isn't the most packable, which makes it suboptimal for ounce counters or long-distance thru-hikes.
Bottom Line: An easy-to-use, tough, reliable bladder that's a little heavy and bulky but otherwise ideal for hiking and backpacking.
At a Glance: Quick Recommendations
Best Hydration Reservoirs for Hiking and Backpacking: Our Top 11 Picks
Gregory 3D Hydro Reservoir
Editor's Choice
The Gregory 3D Hydro isn't the lightest or most packable bladder on our list by a long way, but it ticks every other important box emphatically. For this reason, it's our standout winner for Best Hydration Bladder.
The Hydro 3D is made with an extra-burly, puncture-resistant polymer thick and tough enough to deal with regular use and abuse on the trail. While this material makes it heavier (7 oz.) than many competitors, it makes it a highly durable bladder less prone to punctures.
The pliability of the polymer also means the bag has plenty of flex, so it will fit into tight spaces in your pack and won't poke you in the back while you're hiking.
We love the 3D Hydro's oversized, robust screw-top lid. After multiple days on the trail, it didn't leak a single drop and inspired confidence in us that it would remain leak-free for the long term. The size of the lid also makes it easy to open and close with cold hands which means refilling is a cinch.
The Hydro 3D's flow rate is second only to the Platypus Big Zip Evo. Of the two, however, the Hydro wins greater approval on account of its more reliable closure and valve locking mechanism, and a few next-level features, like its full-length handle and handy bite valve magnet.
PROs

Tough
Reliable
Great handle
Effective bite valve lock mechanism
High-flow bite valve
Less prone to freezing in cold weather

CONs
Bottom-Line: An easy-to-use, tough, reliable bladder that's a little heavy and bulky but otherwise ideal for hiking and backpacking.
Platypus Big Zip EVO
Runner Up
The Platypus Big Zip is one of the priciest water reservoirs on our list, but its awesome features, fantastic flow rate, and burly design make it well worth the added expense.
The Big Zip EVO has a large opening at the top with a secure slide-lock closure that makes it easy to fill, clean, and empty. The hydration hose has a quick-connect mechanism along with a shutoff valve that helps stop leaks and drips from the mouthpiece. It also features a larger holder along the top of the bladder that allows you to carry it or hang it up easily.
The Big Zip's thick materials make it one of the more durable bladders out there. While there are plenty of burly models available, one standout feature in the Big Zip is the use of embedded silver ions, which help to prevent mold and bacteria.
Despite using thicker materials, the Big Zip's low-profile design allows it to fit inside most backpacks and keeps it flat when you're on the move.
PROs

Lightweight
Flat, low-profile design
Bite valve seals tightly between uses
Embedded with silver ion to prevent mold and bacteria growth
Great handle
Available in 3 sizes

CONs

May be too wide for many carrying sleeves
Difficult to fill full
Bottom-Line: Practical, easy to use, and blessed with silver ions that may save you some work with the cleaning kit!
Hydrapak Shape-Shift Bladder
Best for Portability
For those who prioritize convenience and portability, there are few hydration bladders out there that can lay a glove on the Hydrapak Shape-Shift.
With many bladders, once you've supped the contents halfway down, the remaining contents are apt to slush around. This not only feels kinda weird but could, in some cases, also throw you off balance, especially when moving fast.
Not so with the Hydrapak Shape-Shift! This tidy little reservoir uses an adjustable baffle that helps ensure it maintains a low profile when filled with less than the full 3 liters and also increases stability during high-impact activities.
Other endearing features on the Shape-Shift include a printed fluid-ounce count on the side that helps you make sure you're drinking enough water, a slim profile that lets it fit snugly inside even smaller packs, and freeze-resistant materials that prevent blockages in cool temps.
This hydration bladder also boasts a wide-mouth, flip-top opening that makes it easy to clean and dry, has an auto shut-off valve to prevent leaks, and uses a "plug-n-play" system that simplifies refilling and in-line filtering.
Although a fraction more difficult to use due to the lack of a handle, otherwise it's a winner!
PROs

Easy to clean
Lightweight
Large mouth for easy filling
Dishwasher safe
Can freeze or hold warm liquids
Locking mechanism on the bite valve

CONs

Difficult to fill in a shallow pool/creek
Attachment piece comes off easily
Bottom-Line: A simple but highly practical, well-designed, medium-sized hydration bladder. Short on bells and whistles but a perfect choice for trail-running or hiking daypacks nonetheless.
Camelbak Crux Reservoir
Best Value
The CamelBak Crux is not only one of the least expensive hydration reservoirs on our list, but it's also one of the easiest to fill, most reliable, and least likely to leak as a result of punctures or tears.
As with all things CamelBak, the Crux oozes quality in every component. From the fast-flow, "big bite" valve and twist-open closure cap to the burly, confidence-inspiring materials, CamelBak has gone the extra mile to make this hydration bladder a truly high-performing, trail-ready piece of kit.
This system also uses an intelligent, lumbar-style design. Unlike rectangular hydration pack bladders, this design means the weight of the water is shifted to your lower back, thereby giving you more stability on the trail and helping to improve balance.
Other lovable features included in the Crux are a large haul handle that makes it easy to refill, a self-sealing, drip-resistant valve, and a mightily handy on/off lever that lets you seal the drinking tube with one hand.
While the Crux can't, like other hydration bladders in our review, be folded inside out for easy cleaning, it uses HydroGuard technology that prevents the growth of bacteria in both the reservoir and tube. So, even if you're a little lax with post-hike cleaning, you won't have to worry about your H20 becoming a breeding place for tummy-troubling microbes.
PROs

Affordable
Durable materials
Large handle
Good flow rate

CONs
Bottom-Line: This Camelbak hydration bladder is an intelligently designed, robust, and hardwearing hydration system that performs just as well, if not better, than most of its far pricier peers.
MSR Dromlite
Best for Backpacking
MSR's Dromlite bags have been around for a while now, and in that time they've earned a stellar rep with many an ultralight backpacker. The reason for this is simple: they're lightweight, highly packable, ultra-reliable, and tough as nails (almost…).
The Dromlite is one of the most compact bladders on our list, folding down to the size of the cap when not in use. But that doesn't mean it doesn't have room for a few fancy features.
These bags have a unique, 3-in-1 cap that allows you to choose between a wide mouth, a smaller flip-open spout, or a medium spout. They also have a nicely sized, durable plastic handle that makes it very easy to refill.
The main downsides to the Dromlite are that the tubing is sold separately and the opening is smaller than average, meaning you'll need to get your toothbrush out to get the corners clean.
While these drawbacks make the Dromlite less convenient than other options on our list, it's still a good pick if you're short on pack space and/or are happy to pay extra for a hose.
PROs

Loop makes it easy to hang and carry
Food-grade materials with no aftertaste
Has a 3-in-1 lid
Lightweight and compact design
Versatile design
Can handle freezing temperatures
Available in 3 sizes (2L, 4L, 6L)

CONs

Tubing sold separately
Opening is on the smaller side
Bottom-Line: This light bladder is one of the best for hauling water on extended backpacking trips.
Osprey Hydraulics Reservoir
Best Zip-Top
If zip-top closures are your "bag," the Osprey Hydraulics Reservoir is a great option.
The Osprey Hydraulics is one of the lightest reservoirs on our list but packs a wealth of features that also make it among the most convenient and user-friendly.
It has a handy carry handle for easy refilling, built-in hose guides to prevent tangles, a HydroStatic backer plate that lets you shove it easily into a full pack whilst keeping the reservoir flat, and a slide-seal closure for easy refilling.
With the reservoir, you'll also get an easy, quick-disconnect tube, and a sternum strap with a magnet that attaches to the bite valve to prevent it from swinging around while you hike.
The wide opening makes this model easier to clean and fill. The hose and bite valve also come apart, which makes cleaning and drying a piece of cake.
The Hydraulics is available in two or three-liter sizes.
PROs

Lightweight
Magnetic clip-on bite valve
Durable and puncture-resistant material
Backer plate lets you squeeze it easily into a full backpack
Magnetic bite valve comes with a magnetic sternum attachment
BPA and PVC-free
Wide mouth opening for easy filling

CONs
Bottom-Line: One of the most inexpensive and versatile hydration bladders available.
Deuter Streamer
Honorable Mention
The Deuter Streamer is one of the most popular water reservoirs on the market – and it's easy to see why.
The Streamer is very fairly priced, lightweight, not bulky, and well-designed. It's made with thinner materials than the Gregory 3D Hydro and the Platypus Big Zip EVO, but it's tough enough to deal with regular use and abuse.
The Streamer uses a push-fit cap and twist-activated water-stop lock that keeps the mouthpiece drip-free. The wide-mouth clip-top opening makes it easy to refill, though the bag can't be turned inside out for thorough cleaning and drying.
One feature, in particular, makes the Steamer worth a place on our list, namely a layer of "Grunge Guard" material inside that inhibits the growth of bacteria inside the bladder and helps to keep your water funky-flavor-free.
PROs

Affordable
Easy to clean
Grunge-Guard technology boosts hygiene

CONs
Bottom-Line: A simple, nicely priced bladder with a good flow rate and an effective antibacterial treatment that keeps the bag hygienic and your water tasting fresh.
Geigerrig Pressurized Hydration Engine And Bladder
Best Pressurized
Here you have a tidy, versatile little piece of kit that does it all. It's lightweight, packable, leakproof, and uses dual chambers that allow you to use it as either a pressurized or unpressurized system.
(If you've never heard of them before, pressurized hydration systems save you the hassle of sucking your H2O through the tube by feeding it down there using air pressure.)
Many factors have earned the Geigerrig a place on our list. The most notable, however, are its sleek, space-saving design and overall versatility.
The streamlined design allows you to carry this hydration reservoir in hiking, backpacking, and running packs with ease, while the dual-chamber, pressurized system makes it easier to drink from both while you're on the move and around camp.
The Geigerrig also boasts a wide-mouthed opening that makes refilling a cinch. And the slide-top closure also makes it less prone to leakage than the screw-top varieties used in many other models.
We also liked that you can flip this bladder inside out for easy cleaning, can disassemble and reassemble it in seconds, and its dishwasher-safe design. All of these features might seem like trifles, but they go a long way in boosting the bag's overall convenience.
This one's a little heavier than some of the other products we've reviewed, granted. But those extra few ounces translate to added ruggedness, puncture resistance, and durability, all of which combine to make this one of the most trail-worthy H20 carriers out there.
The Geigerrig comes in 1.5-liter, 2-liter, and 3-liter sizes, has a lifetime guarantee, and can be transformed into a filtration system by using an Aquamira Frontier Filter system.
PROs

Comes in several sizes
You get a lifetime warranty
The pressure stream makes it easier to drink

CONs

May leak around the mouthpiece bite valve
Pressure can make the bladder inflate to uncomfortable levels
Bottom-Line: Reliable, versatile, convenient, and as practical as they come, this is an outstanding choice for outdoor activities like trail-running, mountain biking, hiking, and camping alike.
Platypus Hoser Reservoir
Best Budget
The Platypus Hoser hydration pouch is a lightweight and compact option that offers outstanding value for money.
This backpack water bladder is available in four sizes (1-3liters) and uses a simple, frill-free design that makes it a little more user-friendly than some of its peers.
We loved the Platypus' high flow rate and streamlined build, and the fact that it fits snugly into 4 different-sized backpacks comfortably. We weren't so impressed by the locking mechanism on the bite valve, however, and found a few dribbles on our shirt when we were hiking rougher sections of the trail.
All told, this is a good option if you're looking for a low-cost H20 transporter and tend to hike mellower trails. If you're a trail runner or hike testier trails that will shake the bladder around, however, there are better options out there.
PROs

Good flow rate
Affordable
Durable

CONs

Tricky to clean
Not the most reliable on our list
Bottom-Line: Durable, lightweight, and nicely priced, but harder to clean than other bladders and may leak in a tightly stuffed backpack.
Aquatic Way Bladder
Bargain Buy
Aquatic Way might not be a big-name brand, but in this offering they've put out a product that performs very nearly as well as those from the market's more recognizable names.
The Aquatic Way is made with durable thermoplastic polyurethane (TPU) material, features a very large screw top opening with a twist cover for a secure fit, and has a soft, antimicrobial silicone bite valve. It also has an easy-to-operate shutoff valve to help prevent leaks. The hydration tube detaches via a quick lock for quick and easy refilling, cleaning, and drying.
The large opening allows you to quickly and easily clean this bladder with a brush, and you can leave it open to air dry once you've finished cleaning. You can also disconnect and reconnect the tubing with one click when it's time to clean the entire system.
PROs

Insulated drink tube
Quick-click connect/disconnect feature
Insulated tube
Large opening makes cleanup a breeze
Food-grade and BPA-free materials
Comes in three sizes (1.5 liters, 2-liters, and 3-liters)

CONs

Slight plastic aftertaste
Bottom-Line: A great hydration bladder for those on a tight budget.
Salomon Soft Reservoir
Easiest To Clean
The Salomon Soft hydration pack bladder is a great pick if convenience tops your list of priorities.
The Salomon Soft is lightweight, has a very slim profile, and as the name suggests, is very pliable, so it won't dig into your back when using a lightweight pack.
This is a simple bag, but it boasts a lot of nice features. You can quickly and easily monitor your water volume using the printed fill scale along the side. A wide mouth with a zip-lock seal provides an easy and secure fit, and it comes with an easy one-handed lock and unlock feature to help prevent drips and leaks. The bite valve is also soft and provides a steady water flow.
The tubing features a quick-connect mechanism so you can take it apart to clean it quickly and easily, while you can flip the bag itself inside out to scrub it and allow it to air dry
The Soft fits into all Salomon Skin packs and is available in 1.5-liter and 2-liter sizes.
PROs

Reservoir fits any Salomon Skin pack
Fill scale helps you monitor water levels
One-handed locking
Slim and lightweight design
Available in two sizes

CONs

Tubing can be difficult to attach/detach
Bottom-Line: hen it comes to easy-to-clean hydration bladders, the Salomon Soft is the best of the bunch.
Things to Consider When Buying a Hydration Bladder
Bladder Capacity
The first thing you should consider before you buy is size and whether or not any particular bladder will fit in your backpack's hydration compartment. Although most hydration bladders are roughly the same shape, it's the size that sets them apart. You'll typically find models ranging from one liter to three liters, though four and six-liter models are available (see the MSR Dromlite).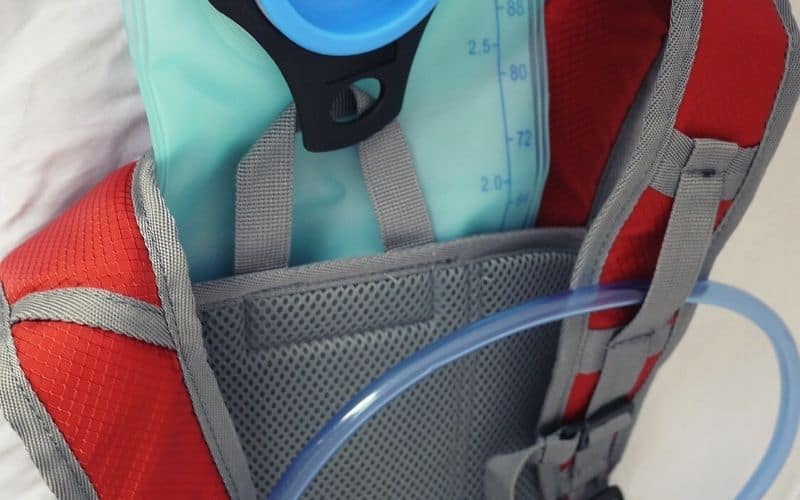 Unsure which size you need? Check out the summary below, which should help to give you a better idea.
1 or 1.5 Liter – This size is perfect for commuters, kids, and short hikes or runs because you won't need much aqua and it's lighter to carry around. It's also a good choice if you know you can refill it often while you're out and about.
2 Liter – If you do a lot of day trips, skiing, snowboarding, or hiking, consider a two-liter model. This will give you a decent amount of H20 to sustain you throughout the day, and it's a great option if you're not a fan of frequent refilling.
​3 Liter – If you don't plan to fill up on your trip unless you can't avoid it, this may be the perfect size for you. It gives you the option to carry smaller amounts of water, or to fill it completely. This is perfect for long trips, camping, or hiking in areas where water is scarce.
Before deciding on the size of your water reservoir, always check that it will fit in your backpack's hydration sleeve.
Ease of Use
Bladder Closing Mechanism
Both zip-top and fold-top closures use a mechanism that slides into place over the hydration bladder opening to provide a water-tight seal. The main benefits of this closure style are that the wide opening makes the bladder easy to refill and clean, while the closure itself is hard to open inadvertently. These closures are low-profile, so are usually more packable than screw-tops.
Screw-top closures take slightly longer to open/close, but they're one of the easiest types to fill in shallow water. Unlike zip or fold-top reservoirs, which require you to leave a little space to close them properly, you can fill screw-tops to the top, meaning you make the most of the reservoir's capacity. For most, screw-tops are also easier to use with cold hands.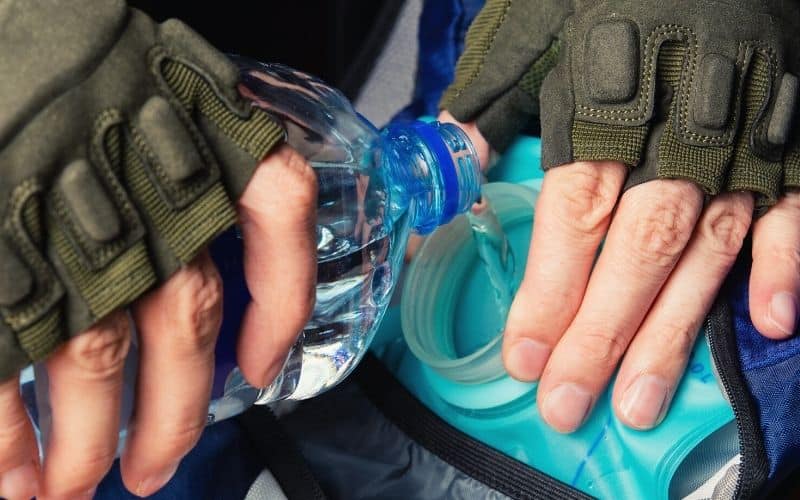 The downside to screw-tops is that they're harder to clean because they have smaller openings and you can't turn them inside out.
Bite Valve
Your bite valve's size directly affects how difficult or how easy it is to get water by sucking from the tube. Generally speaking, larger bite valves are more difficult to suck water through if you don't have a pressurized hydration bladder. Smaller valves are easier to suck through, but they usually don't give you the fast flow you'd get from a medium-sized bite valve or large valve.
Water Flow Rate
This refers to how much H2O passes through the suction valve on the mouthpiece with each suck, and how quickly. The ideal flow rate varies from person to person but, for most, a relatively quick rate is preferable, especially if you're trying to stay hydrated on hot-day hikes.
Of the products on our list, we found the Gregory 3D Hydro, Camelbak Crux, Platypus Big Zip Evo, and Geigerrig Hydration Engine to have the quickest flow rate.
A pressurized bladder like the Geigerrig will always trump non-pressurized systems when it comes to providing sufficient water flow. These systems have two separate chambers – one for water and one for air. The pressure exerted on the water chamber by the air chamber forces the water through the tube, which means you can drink without having to suck on the mouthpiece.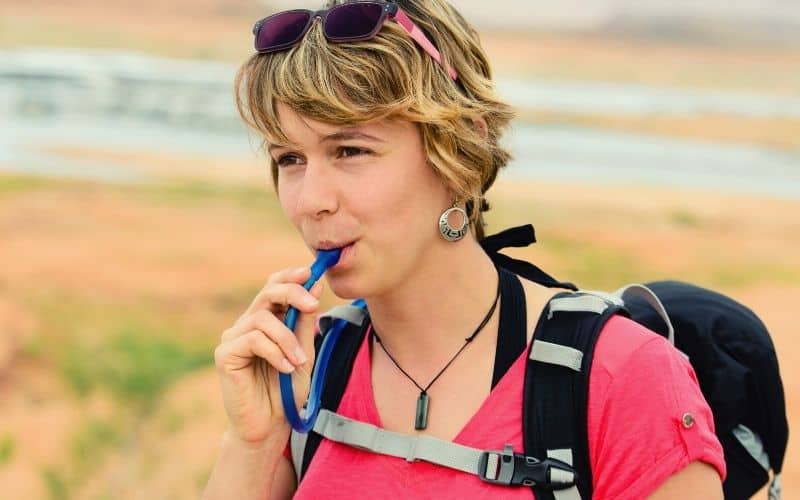 Cleaning and Drying
Almost all hydration bladders have some small area that is very difficult to clean and dry properly, and this can be the perfect place for bacteria to grow.
If you intend to use one solely for H20, you won't have to clean it as much because there isn't any residue left behind. But, if you use liquid with sugar in it, you'll want to clean your hydration system out after each use because the residue will build up and become a breeding ground for bacteria. 
In addition to being a health hazard, this can also affect how your drink tastes the next time you use it.
Look for a model that has a wide mouth so you can easily fit a brush inside to reach everything, or you can flip it inside out to clean and dry it. Also, make sure it's easy to take the hose and mouthpiece apart so you can clean each component individually.
A quick-release hose is great because it lets you disconnect the tube from the hydration bladder quickly and easily to clean it or swap parts out. If your model doesn't have a quick-connect mechanism, it'll be more difficult to clean the hose thoroughly. Generally, a flip-top model that you can turn inside out and put in the dishwasher is the easiest to clean completely.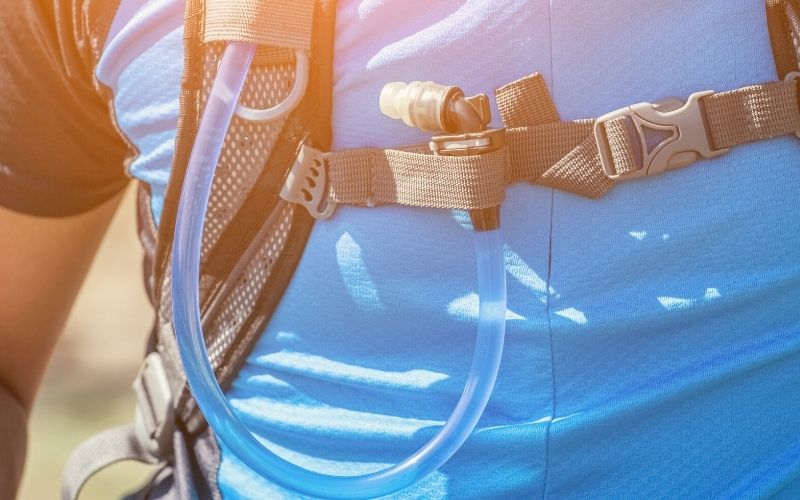 Quality & Durability
As with most outdoor gear, heavier and larger hydration bladders like the Gregory 3D Hydro and Camelback Crux are typically more durable than more lightweight and packable ones. Given that these bladders weigh 7 and 8 ounces respectively, however, the difference is only likely to be an issue if you're especially keen to cut down on pack weight.
In return for those few added ounces, moreover, you get extra peace of mind in knowing our water reservoir is less likely to puncture or spring a leak.
Other Features
A few features can make a big difference to your bladder's convenience and practicality. The two most important are a storage hook and a carry handle.
A large carry handle like the one on the Gregory 3D and Osprey Hydraulics makes refilling, cleaning, and emptying much easier. In short, the bigger the handle, the better.
A storage hook is another handy feature, allowing you to hang the bladder out to dry between uses, and letting you suspend it in your backpack so it doesn't slip to the bottom while you hike.
Insulated tubes are useful if you plan on hiking in cold weather. Regular tubes tend to freeze up if especially frigid conditions, thus depriving you of your bladder's contents.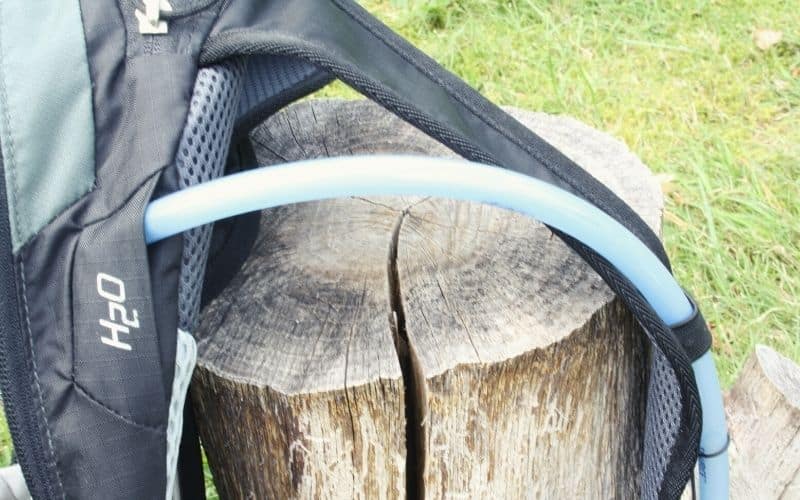 Best Hydration Bladder: The Verdict
Let's have a quick recap:
If you want the most reliable, user-friendly, and practical water bladder out there, we recommend the Gregory 3D Hydro. This reservoir is a little on the heavy side but is a stellar performer in every other metric.
If you need a lighter and more packable hydration system, then the MSR Dromlite is well worth considering. The Dromlite has a large capacity, but weighs next to nothing and packs down so small you could carry it in your pocket.
If you liked this article, let us know in the comments box below. And please feel free to share it with your friends!