Camping with friends and family is an enjoyable and rewarding experience for any lover of the great outdoors. It allows you to forget the stresses of home and enjoy each other's company in peaceful settings, all while enjoying all the many benefits nature has to offer.
However, without the right tent, a less than rosy forecast for your leisure time is sure to be on the cards….To help you find the right kind of tent for you, we're here to help. In this guide, we'll introduce you to seven of the best on the market and provide all the info you need to pick the right 4-person model for your specific needs.
Top Picks by Category:
Budget: Coleman Sundome 4 and Kelty Wireless 4
Dome: Coleman Sundome 4 and REI Co-Op Trail Hut 4
Tunnel: REI Wonderland 4
Cabin: NEMO Wagontop 4 and Eureka Copper Canyon LX 4
Editor's Choice
REI Wonderland 4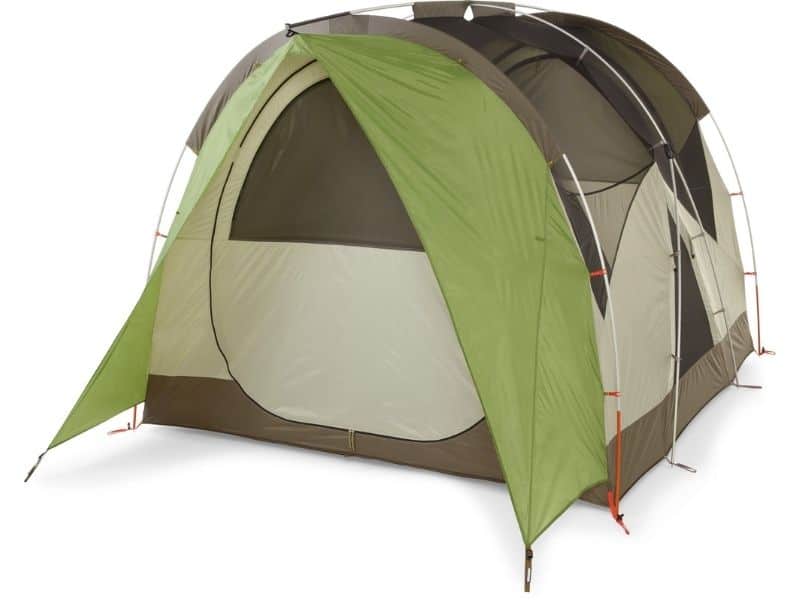 The REI Wonderland 4 scoops the award as the top 4-person tent in our review thanks to its great specs across the board, particularly its roomy interior, great ventilation, and ample gear storage options. All told, it's the perfect family camping tent.
The Wonderland 4 offers one of the largest interiors of any of the 4-person tents in our review, with a whopping 69.4 square feet and enough room to fit two double air mattresses side by side without cramping anyone's style. The tunnel-style design uses a unique pole structure that stretches the mesh roof outward, giving a peak height of 6' 3" and a roomy feel.
While there's no vestibule per se, a large awning extends over the front entrance, giving you enough sheltered space to store all your gear. If you'd prefer more enclosed space, you can make a separate purchase of REI's 56 sq ft Wonderland Mud Room. Inside, you also get multiple storage pockets and gear loops that let you keep the floor clutter-free.
The wonderland is also one of the toughest tents on our list, using burly aluminum poles, a 75-denier, coated fly, and a 150-denier floor. All of the above makes it a standout performer in wet and windy conditions, while its use of multiple vents ensures stuffiness and condensation are not issues you'll have to contend with.
Bottom line: For overall livability and performance, it's hard to look past the REI Wonderland 4.
At a Glance: Quick Recommendations
Best 4-Person Tent: Our Top 7 Picks
REI Co-op Wonderland 4
Editor's Choice
Type: Tunnel ⸱ Floor: 69.4 sq. ft. ⸱ Height: 6' 3" ⸱ Rainfly: 1500 mm ⸱ Weight: 21 lbs. 11 oz.
The REI Wonderland 4 wins our top award this year thanks to its great specs across the board, particularly its spacious interior, great ventilation, and wealth of storage options. In short, it's packing everything you'd want in a fantastic 4-man tent for family camping trips.
The REI Wonderland ties for the most spacious interior of any four-person tent in our review at 69.4 sq. ft., making it large enough to fit two double air mattresses with room to spare. The tunnel design, which features a "scalloped" design to help pull the ventilated mesh roof outwards, creates near-vertical walls and makes the 6' 3" peak height almost uniform from end to end.
The 1500mm 75D rainfly and 150D bathtub floor are among the most durable we came across in our review (only the Wagontop had a more durable floor at 300D) and have sufficient waterproofing to see you through all but the worst of storms.
The dark mesh body and roof vents allow great air circulation, and if the weather allows, the rain fly can easily be rolled back for a spot of stargazing.
The one major drawback to the Wonderland is the lack of an enclosed vestibule. However, there are plenty of interior pockets, a large front awning, and enough interior space for gear storage. This problem can also be rectified by adding the REI Mud Room (sold separately), which adds a further 56 sq. ft. for extra gear storage or a little more living space.
The Wonderland is an expensive tent. If you want a cheaper option, we would recommend the Eureka Copper Canyon, which is a step down in quality but has all the essentials at a lower price.
PROs

Roomy interior
Large awning
Color-coded poles
Great peak height
Great ventilation

CONs

Higher price point
Heavy and large packed size
No vestibule
Bottom-Line: Spacious, easy to pitch, waterproof, well-ventilated, and, all in all, a great family tent for car camping adventures.
Coleman Sundome 4
Best Budget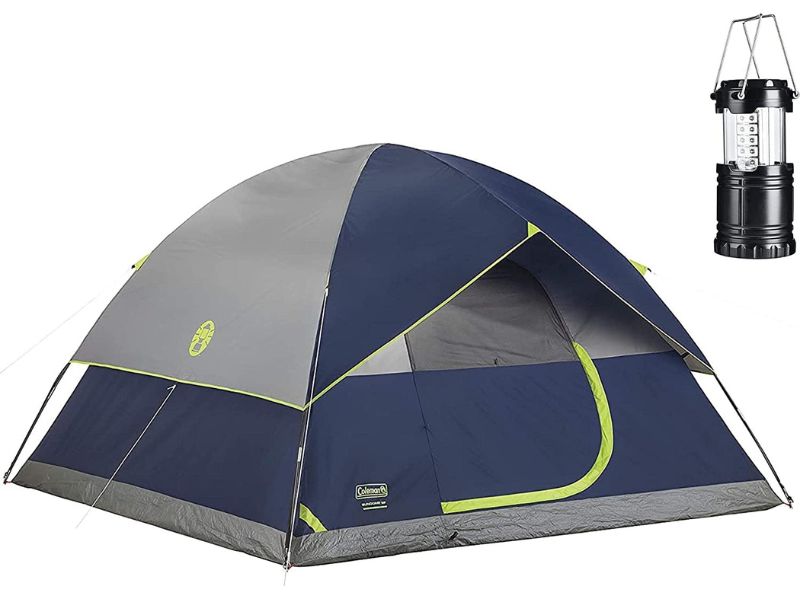 Type: Dome ⸱ Floor: 63 sq. ft. ⸱ Height: 4' 11" ⸱ Rainfly: 600 mm ⸱ Weight: 9 lbs. 13 oz. ⸱
If you're looking for a cheap 4-person tent for the occasional camping trip in fair weather then the Coleman Sundome is well worth considering. It is, simply put, the best 4-person car-camping tent at this price point.
Weighing in at just under 10 pounds (9.13 lbs.), the Sundome is one of the lightest tents we reviewed and could be used for backpacking if you were to distribute the weight amongst your camping companions. Only the REI Trail Hut 4 is lighter (8.16 lbs.).
The Sundome offers a generous 63 square feet of floor space, but the dome-style design, and a low peak height of 4' 11" do mean that head and shoulder space is limited. If you want more headroom you'll need to pay a little more for a cabin tent like the Eureka Copper Canyon, which offers 64 square feet of floor space and 7 feet of headspace.
While Coleman claims that the Sundome is a 4-person 3-season tent, we are a little pessimistic about its chances of being used in the early spring or late autumn. It has a partial-coverage rainfly with a lowly 600 mm rating, making it suitable only for light, short-lived showers.
All in all, then, the Coleman Sundome tent is a great option for its price and a good shout for fair-weather camping, but it is limited in terms of performance compared to other tents in our review.
PROs

Affordable
Lightweight
Roomy
Easy to pitch

CONs

Not very waterproof
Lack of storage (no vestibule)
Single entry point
Bottom-Line: Short on waterproofing and storage, but a great option for summer camping.
Thule Tepui Explorer Autana 4
Best Rooftop Model
Type: Rooftop ⸱ Floor: 48 sq. ft. ⸱ Height: 4' 8" ⸱ Weight: 180 lbs.
An interesting option for car camping is to attach a tent to your van or truck's roof, and in our opinion, the best rooftop tent for 4 is the Thule Tepui Explorer Autana. This sturdy shelter is easy to set up and is as mobile as your truck is.
Made from a 600D ripstop cotton/polyester blend and welded aluminum poles, this is more durable than the other 4-person tents we reviewed.
It comes with a high-density foam mattress, removing the need for bringing separate sleeping pads. However, this does mean it weighs a whopping 180 lbs. and will take a couple of folks to get it attached to your truck. Once attached to the roof, however, it can single-handedly be taken down again in just a few minutes.
At only 48 square feet, the Autana is a tight squeeze for four, and four large wall pockets are your only options for storing extra gear. To compensate, a skirt can be wrapped around the overhang to create an awning/vestibule for getting dressed and, of course, you always have the inside of your vehicle for gear storage.
PROs

Easy to set up (once installed)
Extremely durable
As mobile as your van
Waterproof

CONs

Expensive
Very tight squeeze for four
Bottom-Line: If you plan on boondocking or dry camping with your truck or SUV then the Thule Tepui Explorer Autana rooftop is a great option.
REI Trail Hut 4
Best 4-Person Backpacking Tent
Type: Dome ⸱ Floor: 55 sq. ft. ⸱ Height: 48" ⸱ Rain fly: N/A ⸱ Weight: 8 lbs. 1.6 oz.
For families that like to adventure together, a family backpacking trip needs a lightweight tent. And if you're looking for a 4-person model then they don't come much better than the REI Trail Hut 4, a versatile tent suitable for car camping or backpacking.
The headline spec of the Trail Hut is its weight – at just over eight pounds, it is the lightest option on our list. Despite this, it uses burly materials, featuring a 66-denier floor and canopy walls, and a 68-denier rain fly.
While the peak height (48") is nothing to write home about, this is at the taller end of the scale for backpacking tents. The pole structure also does a good job of pulling the tent body outward, helping to create a roomier feel inside.
When it comes to floor area, the Trail Hut's 55 sq. ft. make it a touch on the cozy side, leaving just enough space for your sleeping pads with a little left over for backpacks. There are, however, nicely sized interior pockets and a 15.5 sq. ft. vestibule for gear storage.
PROs

Lightweight
Good weather resistance
Good storage for a backpacking tent
Tough materials

CONs
Bottom-Line: Affordable, lightweight, and built to last. Ideal for backpacking families.
Nemo Wagontop 4P
Runner-up
Type: Cabin ⸱ Floor: 69 sq. ft. ⸱ Height: 6' 6" ⸱ Rain fly: 1500 mm ⸱ Weight: 20 lbs. 1 oz.
The NEMO Wagontop was a close runner-up to our overall winner, the Wonderland 4. This cabin-style model has a superb amount of liveable space, good waterproofing, sturdy build, and plenty of storage space.
With 69.4 sq. ft. of floor space, it ties for the top spot for largest sleeping area, and its 6' 6" peak height makes it second only to the Eureka Copper Canyon for headroom. Combined with NEMOs unique pole structure, which helps to create vertical cabin walls, the Wagontop 4P just nudges past the Wonderland in total liveable space.
It also uses more durable 300D polyester fabric for the floor and is easier to set up than the Wonderland due to its single-wall design.
Where it loses out to the Wonderland is ventilation. As a single-wall tent, the ventilation is limited to two large screen windows. So if you want privacy, or it's raining heavily, these will be closed, restricting airflow (and inviting condensation). The double-wall Wonderland not only has multiple vents, but it's easy to roll back the waterproof rain fly for stargazing during warmer weather.
Overall, it's a close call for the top prize, and taller campers who want a premium model may prefer the vertical walls and higher peak height that the NEMO Wagontop offers.
PROs

Roomy interior
Great storage
Quality materials
Nice center height

CONs

Expensive
Single-wall design restricts ventilation
Doesn't handle wind well
Bottom-Line: The NEMO Wagontop has the most liveable sleeping area of any model we reviewed and narrowly missed out on our top prize.
Kelty Wireless 4
Best Value
Type: Dome ⸱ Floor: 59 sq. ft. ⸱ Height: 4' 9" ⸱ Rain fly: 1200 mm ⸱ Weight: 11 lbs. 14 oz.
This Kelty 4-person tent offers a decent option at an affordable price. While it doesn't bring the quality of the higher-end 4-person tents, such as the REI Wonderland or NEMO Wagontop, it is a significant upgrade from our bargain basement pick the Coleman Sundome.
The Wireless successfully straddles the bridge between the other two dome tents on our list, the Coleman Sundome and the REI Trail Hut.
The Wireless may have a little less living space than the Sundome, but makes up for it by adding 23.7 sq. ft. of vestibule space, thus giving you more room for your gear. The Wireless is also more waterproof than the Sundome, making it capable of handling longer and heavier rainstorms and pushing its usability deeper into the shoulder seasons.
Compared to the Trail Hut, the Wireless weighs over 3.5 pounds more, making it better suited for car camping than backpacking trips. The other drawbacks are the lower quality materials, such as the fiberglass poles, and the poor ventilation offered by the limited use of mesh on this family tent.
PROs

3-season waterproofing
Affordable price
Plenty of vestibule space for gear

CONs

Lower quality fiberglass poles and fabrics
Air circulation is poorer than in high-end tents
Bottom-Line: If you're looking for a reasonably priced 4-person waterproof tent that has adequate sleeping space and enough room for your gear in the outside vestibule, then the Kelty Wireless is a good pick.
Eureka Copper Canyon LX 4
Best Tent for Tall People
Type: Cabin ⸱ Floor: 64 sq. ft. ⸱ Height: 7 feet ⸱ Rain fly: 1200 mm ⸱ Weight: 20 lbs. 4 oz.
With a towering peak height of 7 feet, the Eureka Copper Canyon can be classed as a tall 4-person tent. It beats out its nearest competitor the NEMO Wagontop by nearly 6 inches, making it the best camping tent out there for tall campers. Combine that peak height with 64 sq. ft. of living space and you have one very large and roomy interior.
Most tents at the budget end of the market make a few compromises, and with the Copper Canyon these take the form of slightly subpar weather resistance and ventilation. The rain-fly is partial-coverage and acts almost like a hat, covering just the very upper portion of the structure.
As a result, the walls are solid (not mesh) and have been coated with a waterproofing treatment that restricts airflow. There is a mesh roof and screened mesh windows, but these don't perform as well as a two-wall model like the REI Wonderland.
PROs

Tallest we reviewed
Large liveable space
Affordable price
2 x gear loft

CONs

Partial coverage rainfly
Poorer ventilation
Bottom-Line: The Eureka Copper Canyon is a great option for taller campers who want to move around inside their tent without hunching.
How To Choose A Good Four-Person Car-Camping Or Backpacking Tent
Comfort: Floor Space & Peak Height
The livability of a tent is influenced by the floor area, expected number of occupants, peak height, and shape of the pole structure. A backpacking tent will sacrifice some livability to keep the overall weight and packed size down. As a result, a car camping tent will have more floor space, overall higher peak height, and more vertical walls.
While all tents give a capacity (i.e. the number of intended occupants), the marketing departments of these companies tend to be overly optimistic as to how many folks they can cram inside one of their products.
Instead of relying on this, take a look at the given floor space, and divide it by the number of occupants to work out how much sleeping space each camper would have.
At an absolute minimum, you'll need around 13 square feet of floor space per sleeper. This assumes you're happy being tightly packed in and there'll be minimal gear with you inside. Car campers who plan to use air mattresses, cots or just want a more spacious, comfortable camping trip should look for something around 15-16 square feet (or higher) per person.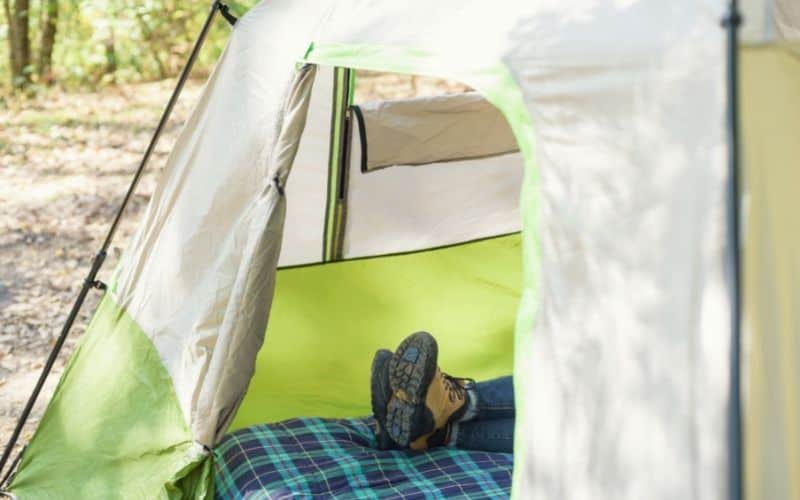 The REI Wonderland 4 and the NEMO Wagontop are the roomiest 4-person tents on our list. Both offer 69.4 sq. ft. of living space, which is big enough to fit in two double air mattresses with a few square feet left over.
The Thule Tepui Explorer Autana is the smallest at 48 square feet (12 sq. ft./person), although it does get some leeway – because it's a rooftop model, you can store most of your gear in your SUV or truck.
For taller campers, peak height is one specification you'll want to pay attention to. The peak height is the distance between the floor and the highest point of the tent. This will affect your ability to sit up straight in dome tents such as the Coleman Sundome (4' 11") and your ability to stand up inside in tunnel or cabin-style tents such as the Eureka Copper Canyon (7').
Peak height doesn't tell the full story though, as the overall shape will also affect the liveability. The structure of cabin tents is designed to create vertical or near-vertical walls which give more head and shoulder space. Dome-shaped tents will arch towards the floor, meaning a rapid reduction in the height away from the apex.
The number of doors also impacts livability — if there is only a single door, then this could mean you need to clamber over your sleeping mates to exit for the bathroom. Multiple doors will allow you to get in and out of the shelter with greater ease.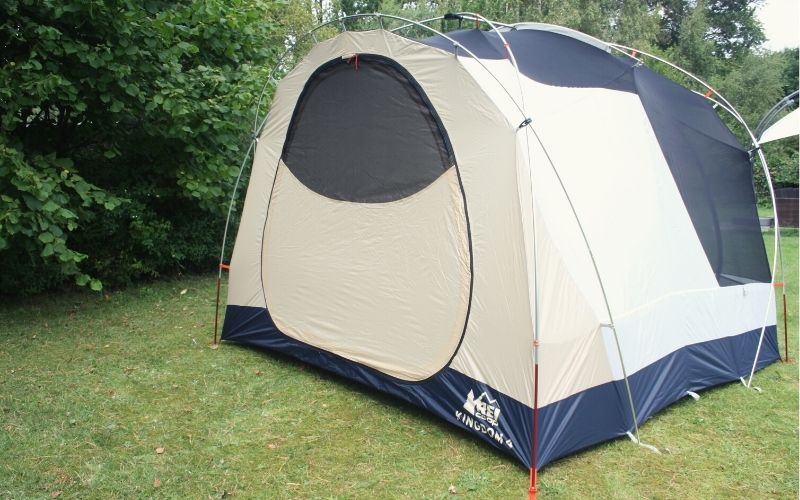 Weather Protection
How weatherproof you need your shelter to be will depend on the locations and the time of year in which you expect to do the majority of your camping. For your own safety, always use a structure that is made for the prevailing weather conditions i.e. don't use a two-season option like the Coleman Sundome for cold-weather camping.
Weather protection is determined by the tent's shape, the strength of the poles, and its waterproofing. More expensive tents have better weather resistance because they are made of more advanced materials, have a full-coverage rainfly, and stronger poles. Be extremely wary of the weather protection offered by cheap tents unless you plan on fair-weather camping.
To determine how waterproof a tent is, take a look at the hydrostatic head (HH) of the rain fly and on the floor. Hydrostatic head is recorded in millimeters and is a measurement of the amount of water pressure a fabric can hold before it begins to seep through.
We'd recommend a rainfly with a HH value of 1000mm or above if you plan on camping in inclement weather during shoulder seasons, but many car-camping tents with a lower HH rating like the Coleman Sundome (600mm) or CORE Instant Dome (600mm) will be fine in short summer showers.
The shape of the shelter, the number of guy out points, and the strength of the poles will all determine how wind resistant it is. Cabin tents with straight vertical walls are the most vulnerable to the wind and their roofs can also gather water in heavy rain. The lower profile and rounded tent walls of dome tents make them more aerodynamic and better performers in high winds.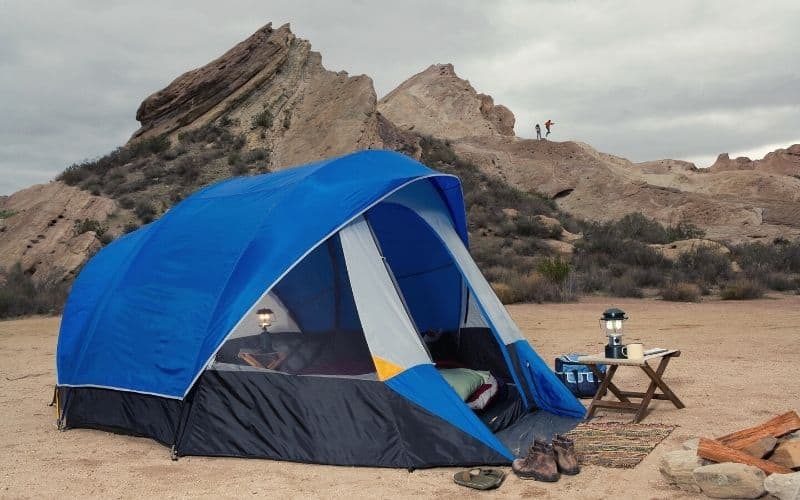 Warm Weather Ventilation
How well your tent breathes will depend on whether it's a single-wall or a double-wall model, along with the fabrics used and the number and placement of vents in the rain fly. Waterproof coatings applied to a rainfly will significantly decrease the breathability of the fabric by trapping warm and humid air inside.
Single-wall tents, such as the NEMO Wagontop, have a single layer of fabric that separates the interior from the outer environment. If there is a significant temperature difference between the two, and a lack of ventilation, a build-up of condensation can occur inside. The Wagontop gets around this by having large screened windows, although this reduces its weather resistance.
Many 4-person tents are built with a double-wall body consisting of the inner tent and the rain fly. This design helps to prevent a humid interior and condensation build-up by improving the airflow throughout.
The inner part is partially made of mesh, which allows humid air to escape and fresh air to enter. – the more mesh there is, the better the structure will breathe. In some models, added air vents in the rain fly allow warm and moist air to escape more quickly.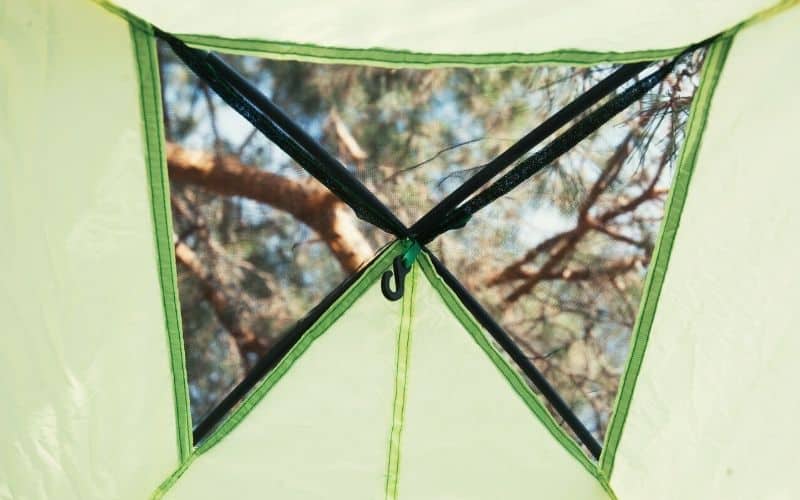 Some tents, like the REI Wonderland 4, have rainfly designs that can be easily rolled back in better weather conditions allowing for even better airflow.
Quality and Durability
The thickness of a tent's fabric is measured in denier (D), which is proportional to durability. The denier rating of the fabric is a measurement of yarn weight and is often given by the manufacturer. The denier information of the tent floor, rainfly, and canopy is often listed as 10-300 denier (sometimes referred to as 10D-300D) and is typical for car camping tents.
Tent floors are most susceptible to punctures and tears, especially without a footprint, and are normally made with thicker materials than the rainfly.
In addition to the fabrics, take a look at the tent poles. A budget tent will use fiberglass poles, which are more prone to breaking than the lighter and more expensive aluminum poles used for manufacturing more premium tents.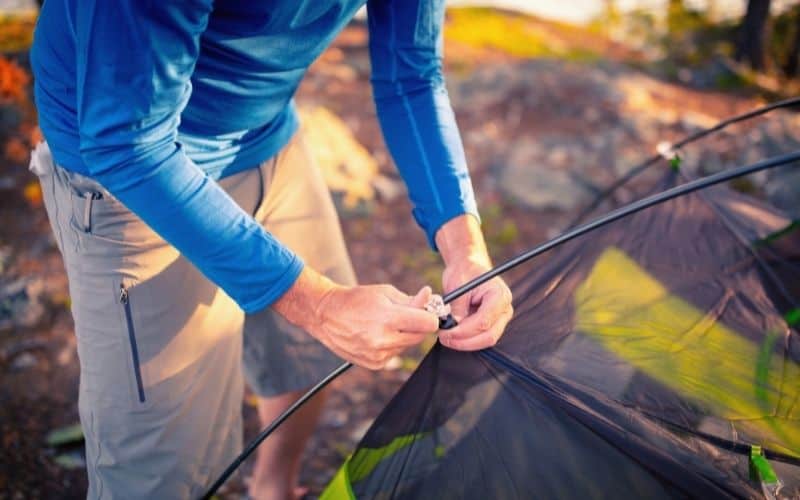 The level of durability you require comes down to how often you'll use it, and in what conditions. However, if you have kids, then your family tent will likely need a little extra toughness. For this, we recommend the NEMO Wagontop and the REI Wonderland, which are the most rip-resistant 4-person tents we tested.
Setting Up & Taking Down
Due to their larger size, setting up and taking down a 4-man tent can be tricky. However, thanks to color-coded or pre-attached poles, clip-on mesh roof, and other design features, the majority of 4-person tents can be quickly pitched. While not the most important consideration, if you'd rather have a structure that was easy to assemble you should opt for an instant tent.
Instant tents such as the Coleman Cabin Tent are designed so that they can be set up by one person with relative ease in just a minute or two. They're the easiest to pitch because they have pre-attached poles connected directly to the fabric. These tents, however, can be heavier and are harder to repair should a component break.
We haven't included any instant tents on our list, but the closest thing is the Eureka Copper Canyon, which goes from packed to pitched in 2/3 minutes thanks to color-coded poles and corner pole hubs.
At the other end of the spectrum, the NEMO Wagontop is the largest, and most difficult, to assemble in our test but, with a few practice attempts, it could be assembled by our reviewer on their own in around 8-10 minutes.
Weight and Packed Size
Weight considerations are more important when hiking since backpackers have to carry the tent in their pack. Therefore the best tents for backpackers will be the ones with lower weight and packed size.
Weight can be affected by factors such as the size and capacity, materials used, and the type and shape of the shelter (freestanding vs non-freestanding, A-frame vs Dome).
If you're planning on backpacking then a lightweight option such as the REI Trail Hut (8 lbs. 1.6 oz.) is a good option. If you can split the components amongst the occupants, then the Kelty Wireless (11 lbs. 14 oz.) is also a solid pick.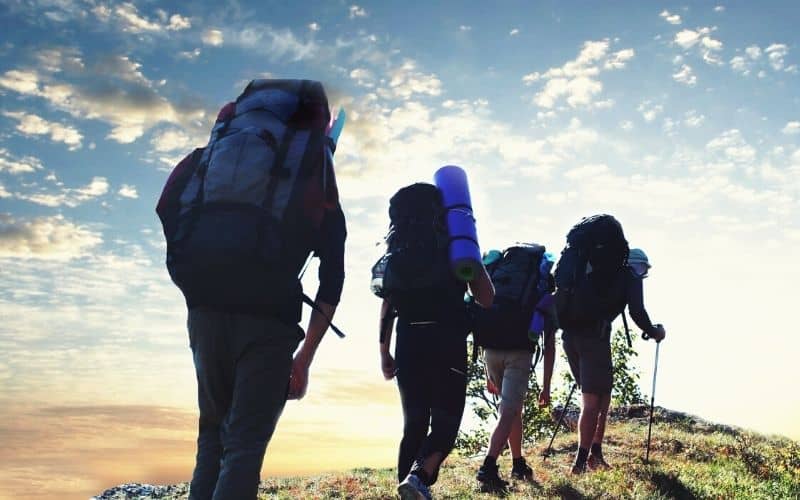 Car campers usually use larger, more durable, and therefore heavier 4-person tents. However, this extra weight is not much of an issue since you are unlikely to be carrying your gear far from your car to the pitch.
Most of the more comfortable tents such as the REI Wonderland 4 or the NEMO Wagontop are closer to 20 lbs. and have a packed size similar to a day hiking rucksack.
Storage Space: Pockets, Vestibules, and Gear Loft
Most tents (but not all) allow for outer storage in vestibules that are extensions of the rainfly. These will be for storing shoes, bags, cooking equipment, and other gear that can be stacked outside the inner tent. Depending on their size they can also be useful for sitting in, cooking, etc when it's raining.
If you need more space, then 4-person tents like the REI Wonderland have separate aftermarket add-on vestibules to extend the amount of storage and living space.
Interior storage options such as a gear loft and mesh pockets are useful for storing items such as headlamps, phones, maps, or spare clothing so they're handy when we need them.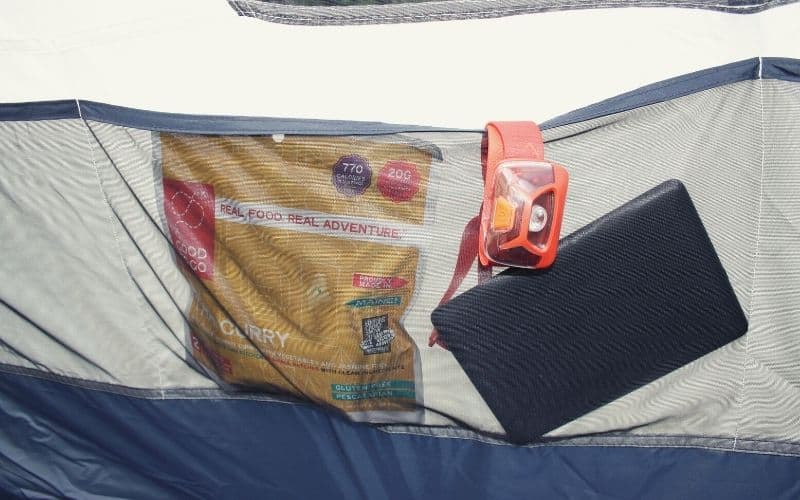 If you're the type of camper who brings along a lot of gear then, the NEMO Wagontop is a great choice. This cabin tent has plenty of vestibule space and multiple interior pockets. At the other end of the scale is the Coleman Sundome, which only has a couple of pockets and no vestibules.
Best 4-Person Camping Tent: The Verdict
Just in case you're still undecided, let's have a little recap to help you out.
After much testing and deliberation, our standout favorite four-person camping tent is the wonderful REI Wonderland 4. The Wonderland is the new, updated, and improved version of the hugely popular REI Kingdom 4 and does everything its predecessor did – and a little bit more. It's extra-roomy, waterproof, sturdy, easy to pitch, and as well-ventilated as tents come.
If the Wonderland's a little too pricey for you, we recommend the Coleman Sundome or the Kelty Wireless 4. Both of these tents can't match the overall quality of the Wonderland but have all the essentials at a lower price.
So, how did you like our article? If we missed anything or you have any questions, let us know! And if you'd like to share this post with your friends, please do!