Best Camp Knife
Gerber Strongarm
Out of all the camping knives on our list, we've decided to award the Gerber Strongarm with our pick for the best knife for camping.
A major reason for this decision has to do with the Gerber Strongarm's powerful 420 high carbon blade, which is ideal for chopping and slicing work. While the knife feels lightweight in your hands, it can tackle challenging tasks due to the blade's high quality and full tang fixed blade knife support. The Gerber Strongarm boasts a diamond-textured grip handle that prevents slippage.
Thanks to its well-designed high carbon blade, grip handle, and affordable price, the Gerber Strongarm earns our pick for the best camping knife.
Runner Up
Fallkniven A1
Our pick for the camping survival knife goes to the Fallkniven A1 Survival Knife Fixed Blade.
Fallkniven uses the finest quality Japanese VG-10 and 420 stainless steel in its knife's construction. While it won't have the same degree of strength as a high carbon blade, this blade will take a longer time to rust and won't break down on you while using it. Campers who need a sharp point to do detailed work will enjoy working with the Fallkniven A1's blade.
While this isn't a value product, you get what you paid for in the Fallkniven A1 Survival Knife Fixed Blade. This well-designed product was built to last a lifetime.
Value Buy Camping Knife
KA-BAR BECKER BK2
People in the market for a value play should take a look at the KA-BAR BECKER BK2. This blade offers a good balance of strength and price.
Designed by legendary knife expert Ethan Becker, the KA-BAR BECKER BK2 has a thick 1095 cro-van steel blade. The best three words to describe this blade are wide, thick, and heavy. You'll get good use out of this blade if you do a lot of heavy-duty chopping tasks.
The KA-BAR BECKER BK2 is a full tang fixed blade knife, which adds to its superior support. At 0.25-inches thick, the BECKER BK2 is indestructible. Another nice feature on this blade is a choil by the handle which can help you with blade sharpening and striking rods.
The KA-BAR BECKER BK2 is a good option for people who want a heavy-duty blade at a fair price.
The 9 Best Camping Knives for Outdoor Activities [2022 Edition]
Looking for the Best Knives for Camping?
You're in the right place! In this guide, we will be covering the following:
Why you need a camping knife
What you should consider when buying.
Reviews of the top camping knives on the market
Our unbiased recommendation on the best knife for camping
A good camping knife can be a hiker's best friend. While you won't use your knife for fending off lions, you will need a stable knife to complete many tasks around your campsite. From cutting wood, skinning game to preparing food, you'll be amazed at the many uses you can put your camping knife to.
In this article, we'll go over the things every camper needs to know before purchasing a camping knife. We'll share a few of our top camping knives to help you on your quest for the perfect blade.
Benefits and Features of Camping Knives
What Are Camping Knives Used For?
Anyone who has watched too many survivor TV shows might have the false impression that knives are necessary for ridiculous tasks like warding off bears and felling trees. In the real world, your camping knife will be used for more banal, but important, purposes. 
Further Backpacking & Camping Reading
The primary use of a camping knife is cutting and shaving wood to build campfires. You can light sparks by striking a steel or ferrocerium rod across your blade's edge.  
The second common use is as a camp cooking knife for preparing meals. If you're going out into the wilderness for hunting or fishing, you'll need a knife to field dress deer or slice up fish.
Don't Get "Rambo Fever"
Even experienced hikers aren't immune to the allure of a huge camping knife that serves no other purpose than looking cool. In the world of the best hiking knives, bigger doesn't mean better. 
Please keep durability and portability at the forefront of your mind when looking for a good knife.
Don't Settle For Lightweight Knives
Avoiding a huge Rambo-style knife doesn't mean you should pick up a tiny pocket knife for camping. Don't try to cut corners in your survival kit with a lightweight camping knife. It's important that your camping knife has a moderate amount of weight to provide it with better stability while you're splicing wood. 
The greater weight and thickness your blade has, the higher chance it will be able to handle challenging tasks in the wild. Have a clear idea whether you'll need your knife for less intense tasks like trimming kindling or larger tasks like hacking larger pieces of wood. Looking over your needs, you should get a better sense what blade is right for you. 
Helpful hint: remember the number four while hunting for your perfect camping knife. Most pro hikers agree a decent length for a camping blade is four inches and the ideal weight should be a minimum of four ounces. 
A Few Terms To Learn
As with any other trade, there are specific terms used in the world of camping knives. Knowing a bit of the lingo will go a long way to helping you make an informed purchase. 
Drop/Clip/Spear Point
One phrase you'll come across a few times in this article is drop point. Drop point blades, which have a convex curve that slopes to the blade's point, are a common design style used in camping. If you've seen a Swiss army knife, you've seen a drop point blade. 
Although they aren't as popular, you might run across clip-point and spear-point blades in your search for camping knives. As the name suggests, clip-point blades are "clipped" in the back, which makes them useful for piercing or picking.
Spear-point blades, on the other hand, have the blade point in center with the edges symmetrically leading towards the point. Daggers often use spear-point blades, which is the main reason they have such a powerful penetration strength.  
Choil
One handy feature you'll find on a few camping knives is called a "choil." Choils are tiny cutouts or indentations on the blade located near the handle. Choils can be used for helping to sharpen your blade's edge and light sparks with a ferro rod. 
Full Tang
Another key term to be familiar with is "full tang." Blades that are full tang run all the way from the tip to the bottom of the handle, which gives superior stability.
What Type Of Steel Is The Best?
While there are a few exceptions to this rule, stainless steel is the preferred choice for a camping knife. It's easy to sharpen stainless steel blades and, unless you do a great deal of arduous cutting, it'll take a long time for stainless steel to corrode. 
Any campers reading this article who are looking for strength in their blade should look for high carbon steel. These blades are known for being tough and easier to get an edge. Carbon steel blades require more maintenance and rust faster than stainless steel if improperly cared for.  
Serrated Versus Straight Edge
You'll find dozens of articles arguing the pros and cons of serrated versus straight edge blades. Although there's no "right or wrong" blade, experienced campers tend to side with straight edge blades.
Since there are no indentations in straight-edge blades, it's simpler to get a more precise cut. Hikers find that it's easier to handle a straight-edge knife when doing more detailed work with the knife's tip. It's easier to clean and sharpen straight-edge blades compared to serrated knives.
Of course, this doesn't mean that serrated knives don't have any benefits. Serrated knives are praised for their ability to make slice cuts into rope and tough food items.
All of the blades on our list are straight edge, but don't let that stop you from exploring the benefits of serrated knives. In fact, there are many half-serrated knives available today, giving you the benefits of both blades in one! 
Avoid Multi-Tool Knives
It's a good rule of thumb to avoid multi-tool camping knives. Manufacturers who try to cram a ton of do-dads into one product sacrifice on the quality of the actual blade and/or end up with a ungainly device that performs poorly across the board. 
If you're a casual camper going out with friends to a maintained campground, a multi-tool knife might be useful. On the other hand, if you're a serious camper going out into the wild, you should invest in a professional camping knife.
Advantages Of Fixed Blades vs Folding Camping Knives
For experienced campers, fixed blade camping knives are a better option than folding knives. Fixed knives are sturdier than folding knives. Since a fixed knife has no moving parts, they perform better on difficult tasks like cutting wood. 
Inexperienced campers believe folding knives are safer than a fixed blade knife. The truth is that more campers get cut by opening folding knives than by a fixed blade knife. 
What are folding knives good for? Well, folding knives have the convenience factor. You can fit a good folding camping knife in your pocket without discomfort. Since folding blades are made more for convenience than durability, they're cheaper than fixed blades.
Best Camping Knife Reviews
KA-BAR BECKER BK2
The KA-BAR's BECKER BK2 is a fine-edge survival blade manufactured in New York.
"Becker" refers to the popular American chef Ethan Becker. Becker, who graduated from the prestigious Cordon Bleu, is behind all the designs at KA-BAR Knives. Suffice it to say that the KA-BAR brand is a big deal in the camping world. This KA-BAR won't break the bank.
KA-BAR's BECKER BK2 is full tang, measures a total of 10.5 inches, and weighs 1 pound. The 1095 cro-van steel blade has a 20-degree angle and measures 5.5 inches long and 0.25-inches thick. While it's not an official high carbon blade, the KA-BAR BECKER BK2 added chromium and vanadium to the blade to achieve comparable strength. There's a choil on this blade.
One slight con with this blade is that it tends to rust without frequent maintenance. To alleviate this problem, manufacturers have included a black coating which you can place over the blade. Of course, this black coating makes it difficult to work with the BECKER BK2 at night.
One nylon sheath is included with this product. Note, this sheath's retention strap is thin and doesn't offer as reliable protection as some of the other products on this list. The plastic material in the sheath's container can dull your knife over time. If you wish, you can purchase a higher-grade sheath from KA-BAR for extra.
Anyone who wants a name brand thick blade for heavy-duty work at an affordable price should check out this KA-BAR product.
PROs

Thick and strong cro-van steel blade.
Designed by celebrity chef Ethan Becker.
Convenient choil for sharpening and lighting fires.
Blade coating and handle can be switched out for other KA-BAR products.

CONs

Nylon sheath can dull knife over time.
Blade will need to be cared for to prevent rusting.
Fallkniven A1
Another renowned stainless steel camping knife on our list is the A1 put out by Fallkniven. This fixed blade camping knife is made with VG-10 stainless steel and a layer of 420 steel on the sides for added support. All of the steel used in this blade is manufactured in Japan.
The A1's blade measures 6.3 inches and the total length is 11 inches. The A1 weighs 14 ounces and the blade's thickness is 0.24 inches. This makes the A1 one of the thickest and heaviest knives on our list, not suited for beginning campers.
As you could see, the A1 has one of the longest blades on our list. This means it's exceptional for heavier tasks like chopping or cutting. Anyone looking for a product that's suited for precise work like finer carving should look elsewhere.
The kraton handle was designed for durability. Kraton, which is a kind of synthetic rubber, is known for its non-slip surface and ability to handle extreme temperatures with minimal wear. You won't have any problems gripping this handle.
Fallkniven's A1 Survival Fixed Blade Camping Knife is a great option for experienced hikers who are in the market for a long, strong, stainless steel blade.
PROs

Strong laminated VG-10 steel blade made in Japan.
Long blade well suited for chopping and splitting wood.
Kraton rubber handle helps you keep your grip

CONs

May be difficult to use for detailed tasks.
Spyderco Endura 4
Best Camping Folding Knife
Every Spyderco Endura 4 measures 5 inches closed and weighs less than 4 ounces, so you should have no issues fitting this knife in your pocket. When you open up your Endura 4 it will measure 8.75 inches. Spyderco Endura 4's flat saber-ground blade is made of Japanese VG-10 stainless steel that measures 3.75 inches long and 0.125 inches thick.
For safety, manufacturers have placed a 0.5-inch diameter hole on the blade and a pocket clip on the handle. You can put your finger through the smooth spider hole to aid in pushing the blade.
There's a nice thumb ramp in between the blade and handle for additional safety. If you prefer, you can switch the tip up or down to suit your preference.
As for the handle, it's made out of fiberglass-reinforced nylon and measures 5 inches. There are traction scales on this handle to help you get a firm grip.
This product won't be able to complete heavy-duty tasks with as great speed and efficiency of a full tang product. The Spyderco Endura 4 is perfect for campers who go on occasional trips to maintained areas with family and friends and want a small folding knife for camping.
PROs

One of the lightest and most discreet razors on our list.
Impressive weight considering the blade's length and thickness.
"Spider hole" helps safely push in blade.
High-quality Japanese steel.

CONs

Less stability than a full tang knife.
Short blade length not well suited for heavy-duty tasks.
Gerber Strongarm
Thanks to an endorsement from survival expert Bear Grylls, Oregon's Gerber Legendary Blades has become a household name in recent years. Anyone interested in exploring this company's extensive catalogue should start their search with a knife known as the Strongarm.
With a name like Strongarm, you'd believe this blade is…well, strong! Designers used durable 420 high carbon steel in this blade's construction. This makes the blade an ideal choice for people who expect to do a lot of chopping and sawing while in the wild.
The Strongarm's drop point blade alone measures 4.75 inches, which makes it able to easily handle many arduous chopping tasks. Including the handle, the total length of the Strongarm is 9.8 inches. For weight, the Gerber Strongarm comes in at 10 ounces, which is lightweight for a heavy-duty high carbon model.
One nice detail of the Gerber Strongarm's design is a curve on the handle that separates your finger from the blade. This safety holder will protect your hand from slipping while in use.
Another positive in the Gerber Strongarm's favor is that it's one of the easiest to customize. You could choose either a half-serrated or a fine edge blade design. If you think you'll be doing a lot of sawing work, the half-serrated edge is a good option.
Besides choosing your blade's style, the Gerber Strongarm comes in a wide array of color designs. For those who want their knife to be discreet, you could order an all black model. There's a black blade/brown handle and a grey design available.
Every Gerber Strongarm comes with a MOLLE strap in which you can lock your knife. Gerber's designers say you'll have no issues carrying this blade.
People used to handling a lightweight camping blade who are interested in transitioning to a high carbon product should consider giving the Gerber Strongarm a try. This product has a lighter feel than other high carbon products, but it has the weight necessary to perform all the tasks you'd expect of these blades.
PROs

Strong high carbon blade.
Ergonomic handle design.
Mid-range 10oz. weight makes it easy to transition into.
Wide variety of blade designs and color schemes to choose from.

CONs

Of all the designs, no bright colors or glow-in-the-dark options.
Lightweight feel not ideal for a ton of heavy work.
Morakniv Companion
The Morakniv Companion is one of the smaller blades on our list measuring 4.1-inch long and 0.125 inch. In total, this blade measures 8.8 inches and weighs only 4.8 ounces. Manufacturers tried to make up for this blade's smaller size and lighter weight with the strength of a high carbon blade. Every one of these knives is manufactured in Sweden.
The rubber handle is large and offers a ton of grip support. As you feel this handle you'll notice that you're not getting full tang stability.
Another drawback for the Morakniv Companion is that the spine isn't designed for striking a ferro rod. You will have to make a few modifications and sharpen the back edge if you want to get sparks going in the wild.
There are two main designs of Morakniv Companion Knives to choose from: discreet camouflage style or bright orange. Whatever knife you choose, you'll get a lifetime warranty. In addition to the lifetime warranty, customers get a plastic sheath with a belt clip.
While there are obvious drawbacks to the Morakniv Companion, this blade can handle basic tasks and is suited for people who go on occasional hiking treks. The powerful high carbon blade is durable, and the blade's lightness makes it easy to carry.
Campers who are looking for a bargain and don't mind sacrificing the stability of a full tang product might want to give Morakniv's knife a try. Our pick for the best backpacking knife.
PROs

High carbon steel blade designed in Sweden.
A large handle with good grip support.
Discreet or bright color designs to choose from.
Conveniently lightweight and small.
Lifetime warranty.

CONs

This blade is smaller than most others on this list.
Doesn't offer support of a full tang blade.
Spine needs modifications for ferro rod lighting.
ESEE-6
The whole length of the ESEE-6 is 11.75 inches, 6.5 of which make up this 0.188 thick blade. The drop point blade is made of 1095 high carbon steel and has full tang support with two red cushions on both sides of the blade. The ESEE-6 is one of the heaviest on our list at 12 ounces. Every ESEE-6 is made in the USA.
One unique feature of the ESEE-6 is that the handle has luxurious micarta scales. Micarta scales help to enhance your grip, a great choice if you're working in a wet environment.
In addition to the micarta scales, the handle's design has a number of nice ergonomic features. For instance, there are clear indentations on the handle that conform to your hand. There's a convenient choil on the blade near the handle to add a bit of support while doing finer work.
Every ESEE-6 comes with a polymer sheath that has a belt dangler. Your ESEE-6 will lock into place. We don't recommend to carry this knife inverted while it's locked into the sheath.
The ESEE-6 deserves its reputation as one of the famous high carbon blades in the industry. Hikers in the market for a strong blade that can handle a lot of heavy work are best suited for the ESEE-6.
PROs

Thick and sharp high carbon full tang blade.
Longest blade on our list.
Two ergonomic curves for increased dexterity.
Micarta scales help with grip in rainy weather.

CONs

Blade can rust easily without proper care.
Not ideal for detailed work.
Buck Compadre Camp Knife
The Buck Compadre is a USA-made drop point knife with a 4.5-inch 5160 spring steel blade. This blade is full tang and the entire knife measures 9.5 inches. Each of these knives weighs 10.4 ounces, so it's in the mid-range weight department.
The Buck Compadre is one of the most balanced knives on our list. It falls in a mid-range weight and has a full tang, both of which help with difficult chores. On the flipside, this blade has a smaller blade that helps with finer tasks.
For the handle, manufacturers chose a subdued walnut with two visible screws. Note, there are no special ergonomic features on this wooden handle to help with grip support. Campers who want a more "traditional" feeling knife might like the walnut texture.
One interesting feature of this blade is found at the top near the handle. You'll notice a slight serration by the handle. This thumb-sized serration was created to help you get a good grip while working on point work.
A black leather sheath with one tight button strap is included with every Buck Compadre. You can attach this sheath to a belt loop, which is provided in this package.
Every Buck Compadre blade comes in a red powder-coat finish designed to preserve the blade from rusting. If you have more conservative design tastes, you won't like this bold red color.
Bottom line, if you're looking for knife that doesn't go to extremes in either the heavy-duty or lightweight categories and offers the "best of both worlds," you'll enjoy the classic-feeling Buck Compadre.
PROs

Well-balanced blade can handle heavy-duty and precise work.
Red powder-coat finish prevents corrosion.
Full tang 5160 spring steel blade is very versatile.
Small serration on top of blade for thumb grip.

CONs

Handle has no textured grip support.
Red powder-coat might not suit conservative tastes.
StatGear 99416 Surviv-All Outdoor Knife
The StatGear 99416 Surviv-All Outdoor comes with a 440 stainless steel drop point blade that measures 4.25 inches. This product is full tang and the blade has a stylish black finish. With the handle, this knife measures 9.5 inches.
As for weight, the StatGear 99416 will add 7.5 ounces to your travel sack out of the sheath. In the sheath, look to carry 15 ounces.
Speaking of the sheath, it's one of the highlights. In addition to protecting your knife, this nylon sheath includes a ferro rod, blade sharpener, and strap cutter. All of these included features make the Surviv-All Outdoor a superb package for novice campers who don't have a ton of hiking materials.
The Surviv-All Outdoor locks into its sheath, meaning you don't have to worry about it falling. If you want to be cautious, you could strap the tight paracord around the knife handle while it's in the sheath.
Designers put a few green glow-in-the-dark strips on the top and bottom of the handle to help you find it at night. You'll notice ergonomic curves near the blade to help you get a firm grip.
Novice campers will enjoy the Surviv-All Outdoor package thanks in large part to its handy, although a little bulky, sheath.
PROs

Ideal for beginner hikers.
Includes blade sharpener, ferro rod, sheath, and pommel.
440 stainless steel blade.
Glow-in-the-dark markers help you find this blade at night.

CONs

Large sheath is a little inconvenient
Made in China.
Benchmade Bushcrafter 162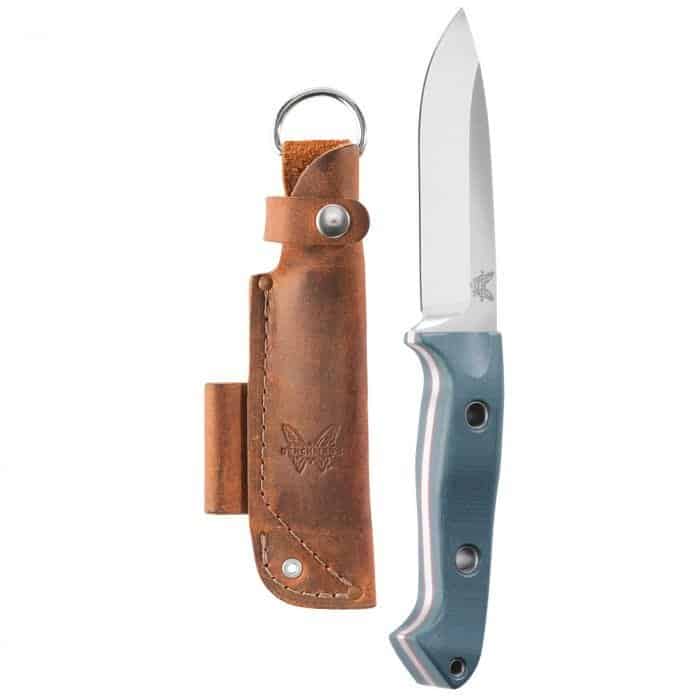 The Benchmade Bushcrafter 162 is another full tang, drop point blade, this time made out of CPM-S30V stainless steel.
Bushcrafter 162's blade length comes in at 4.4 inches and the whole blade measures 9.15 inches. The blade thickness is 4.4 millimeters. One of these knives will add 7.7 ounces to your travel gear. Manufacturers included two layers of red paddings along the sides of the blade as it runs down the handle for added stability.
Green G10 handle scales ensure you won't slip or drop it while in use. For more support as you hold your Bushcrafter, there are two thumb indentations where the blade meets the handle. These thumb scallops help with detailed work.
The buckskin leather sheath included with this product has a belt loop attachment. To ensure your knife is safe and secure as you're hiking through the woods, manufacturers have provided a D-ring and a tight retention strap. There's also a convenient loop for a ferro rod, however a ferro rod isn't included with the Bushcrafter.
As you might guess from this description, the Benchmade Bushcrafter 162 is a luxury purchase intended for serious hikers. It's recommended you have a few years of hiking experience under your belt before you invest in this product.
Any experienced campers willing to splurge on a luxury camping blade made of superior stainless steel should consider investing in the Benchmade Bushcrafter 162.
PROs

Extremely durable and versatile stainless steel blade.
Ergonomic "coke bottle" handle design.
Comfortable sheath and D-ring included.
Lifetime warranty.

CONs

Ferro rod not included.
Not intended for beginners.
Last update on 2022-01-25 / Affiliate links / Images from Amazon Product Advertising API