Sleeping on the ground on a mat isn't one of the most pleasurable camping experiences. No matter how you adjust in your sleeping bag it's not uncommon for campers to wake up in the morning with sore backs, bumps and bruises, a stiff neck, and/or nasty chills.
An easy solution to this common dilemma; invest in a sleeping pad, air mattress, or a camping cot. While sleeping pads and air mattresses are a good lightweight solution, they don't offer the same home comfort as a cot, the surest way to a good night's sleep out in the wilderness.
Here, we'll go over a few of the major features in cots that every car camping or backpacking enthusiast should be aware of. We'll also share a handful of recommendations to help you on your shopping quest.
Top Choices by Category
Comfort: REI Kingdom 3 and Coleman Comforsmart Deluxe
Active Sleepers: REI Kingdom 3, Coleman Pack-Away, Kamp-Rite Oversize Kwik, or Teton sports Outfitter XXL
Tall Sleepers: REI Kingdom 3, Kamp-Rite Oversize Kwik, Teton sports Outfitter XXL or Kamp-Rite Double Kwik-Cot
Editor's Choice
REI Kingdom 3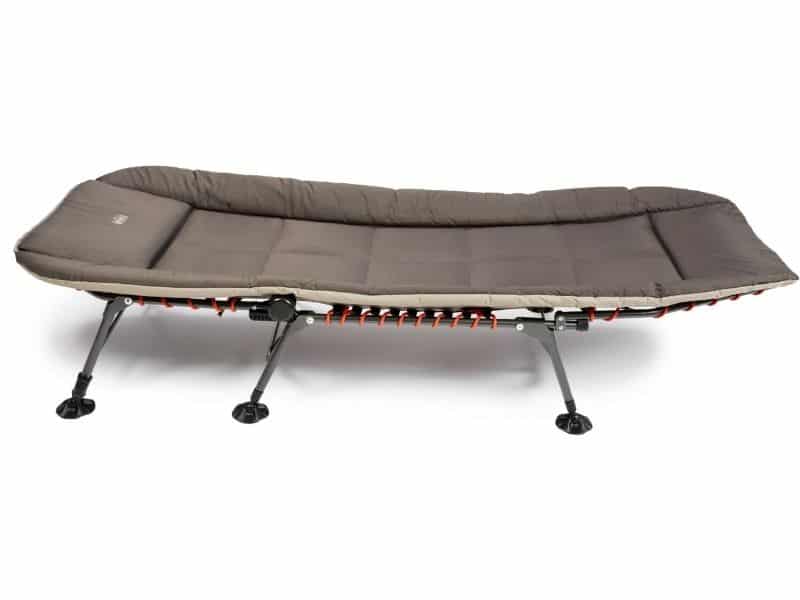 The REI Kingdom 3 is one of the easiest to use and most comfortable camping cots we have reviewed. Combine that with a large sleeping area and we would recommend it for those of you looking for an excellent night's sleep.
The Kingdom adds soft, plush padding around the steel and aluminum frame to help protect you from any bumps during restless moments. The ability to raise the head of the bed to give your back support in a seated position is a unique feature that showcases the thought that REI have put into this cot.
When it comes to size and capacity, the Kingdom is not the largest or the strongest — but at 6' 10" tall, over 30" wide, and with a 300 lb capacity it will more than meet the needs of most campers.
The REI Kingdom 3 is a trifold camping cot, both a positive and a negative. It makes it simple to set up, however, the large amount of cushioning and the trifold design means it is a bulky piece of gear even when packed.
Bottom line: The REI Kingdom 3 is the most comfortable camping cot we've come across. Combined with its large size and ease of use it beats out the competition to take top prize.
At a Glance: Quick Recommendations
Best Camping Cots Reviewed
REI Co-op Kingdom 3
Editor's Choice
Dimensions: 82" x 31.5" x 14" ⸱ Capacity: 300 lbs. ⸱ Weight: 20 lb.
If you're looking for a comfortable night's sleep, the REI Kingdom 3 is the standout camping cot in our review. Thanks to its outstanding levels of comfort and its ease of use the REI Kingdom 3 walks away as our top pick.
REI has a reputation for understanding exactly what is needed in an outdoor product, and they don't miss the mark with the Kingdom 3. Plush padding surrounds the steel and aluminum frame to give you a great night's sleep. No more banging your funny bone off of the frame when you roll over. Another great feature is the ability to raise the head end of the cot enabling you to sit up and read in comfort.
The Kingdom 3 is 6' 10" long and 31.5" wide making it one of the larger cots on our list. This extra width/length and the plush padding make it a great choice for tall campers or side sleepers who need that little bit more room to sleep comfortably. With a weight capacity of 300 lbs, it should provide ample support to most campers.
The Kingdom is a trifold model making it easy to set up in less than a minute and its oversized articulated feet should make finding a flat lie simple, even on uneven ground.
The main drawback to this portable folding cot is its packed size — at 33" x 32" x 8.5" it is still a very large piece of gear. If you want a similarly sized option that takes up less space when packed, then the Outfitter XXL at 42" x 12" x 7" will take up less room in your trunk.
The Kingdom 3 is far from the most expensive cot we reviewed, but if you are looking for more of a budget option then the Coleman Comfortsmart is as its name suggests a comfortable alternative.
PROs

One of the most comfortable cots available
Large dimensions make it a good choice for tall and side sleepers
Quick to set up
Durable

CONs

One of the most comfortable cots available
Large dimensions make it a good choice for tall and side sleepers
Quick to set up
Durable
Bottom-Line: The REI Kingdom 3 is aptly named. This is an incredibly comfortable padded fold-up cot that takes home our overall crown for the best option for campers and sleepers of all ilks.
Coleman Pack-Away
Best Value
Dimensions: 80" x 32" x 17" ⸱ Capacity: 300 lbs. ⸱ Weight: 21lbs.
Proof that the best camping cots don't need to cost an arm and a leg can be found with the Pack-Away Coleman camping cot. The Pack-Away doesn't steal the show in any one category but is a cheap option that still performs well across the board.
This Coleman Pack-away has a spacious 80" x 32" sleeping area and can accommodate campers up to 6' 6" and weighing 300 lbs. While not as large as the Outfitter XXL or as comfortable as the Kingdom, the Pack-Away gets the basics right at a much lower price.
While it is built with a strong steel frame, one annoying issue is the inability to "lock" the frame once it's unfolded. This can be a source of irritation if you need to move the cot slightly and it decides to half collapse on you.
PROs

Price
Strong folding frame
Detachable table with cup holder

CONs

Can't "Lock" the unfolded position
Cot's durability is not the greatest
Bottom-Line: If you're looking for a quality option at an affordable price for car camping, or just for your guest room, then the Coleman Pack-Away is an excellent choice.
Helinox Lite
Best Lightweight Cot
Dimensions: 73" x 23.5" x 5" ⸱ Capacity: 265 lbs. ⸱ Weight: 2.13 lbs.
Whether you're nursing a back injury or just prefer a little more comfort on your trips into the backcountry, then it's hard to look beyond the Helinox Lite.
Thanks to the advanced high-tech aluminum alloy frame this Helinox cot weighs an incredible 2 lbs. and 13 oz. This is around a pound heavier than typical sleeping pads, but the extra weight in your pack is worth it if you find sleeping on pads and air mattresses difficult.
It is an easy cot to assemble and the disabled cot folds down into a carrying bag that is 20.5 x 5 x 5 inches in size (roughly 8L).
The Helinox Lite does cut some corners to save weight, and that comes at the cost of the size of the sleeping area, and the overall capacity. At 6 feet and 1 inch long and 23.5 inches wide, it has a pretty trim profile, but one that is similar overall to its nearest competitor, the Therm-a-Rest Ultralite. At 300 lbs. the Therm-a-Rest Ultralite beats the 265 lbs. capacity of the Helinox, but overall the lighter and more comfortable Helinox wins in our opinion.
PROs

Lightweight
Compact carry bag packed size
Easy to set up

CONs
Bottom-Line: If you are heading on a backpacking trip and prefer camping cots over a sleeping pad then we'd recommend the Helinox Lite cot as the winner in the battle of the lightweight cots.
Teton Sports Outfitter XXL
Biggest Capacity
Dimensions: 85" x 41" x 19" ⸱ Capacity: 600 lbs. ⸱ Weight: 26 lbs.
If you are looking for a large load capacity then this Teton Sports cot delivers and then some. The Outfitter XXL is the largest dimension single cot on our list (and is wide enough to be a trim double-cot) and has the biggest weight capacity.
If you need a lot of sleeping space then the 7' 1" long and 3' 3" offered by the Outfitter XXL should give ample room for campers with a larger build. Considering its width, it could also be used as a narrow double-wide cot, and with its sturdy steel legs and aluminum frame it has an incredible weight capacity of up to 600 lbs.
While this portable cot does disassemble into a reasonably sized, 42 x 12 x 7 inches, storage bag with shoulder strap it does weigh a heavy 26 lbs. Assembly is not the most straightforward and requires a little practice.
PROs

Large weight capacity
Large dimensions
Lifetime warranty
Mesh storage hammock underneath

CONs

Not the quickest to set up
Heavy weight
Bottom-Line: If you're looking for a large camping cot with a weight capacity above the typical 300lbs. then the Outfitter XXL is our recommended choice.
Disc-O-Bed Bunk Bed
Best Bunk Bed Cot
Dimensions: 79" x 28" x 11" ⸱ Capacity: 500 lbs. (per cot) ⸱ Weight: 60 lbs.
When floor space in your tent is at a premium, the Disc-O-Bed Bunk has a unique solution – a bunk bed cot. It provides a decent amount of sleeping space on its two bunk cots, which can also be set up as a camp chair or as two separate cots if desired.
Each cot is 79" by 28" in size, which is reasonably spacious and enough for most campers. With its steel legs, steel frame, and 600D PVC coated polyester fabric it is one of the most durable and strongest products we have seen with a combined weight capacity of 1000 lbs.
The main drawback to the Disco-O-Bed Bunk is the sheer weight of the steel frame. At 60lbs. it is by far the heaviest option on our list and only suitable for car camping. Even halving the load for a single cot would still make it heavier than all but the Kamp-Rite Double Kwik. Surprisingly, despite its weight, it packs down into a reasonable 32.5" x 15" x 5" carry bag.
PROs

Double bunks
Versatility – can be used as two single cots, bunks, or bench
Large weight capacity

CONs

Heavy
More involved assembly than most camping cots
Bottom-Line: If you head out into the great outdoors with a buddy, then the Disc-O-Bed Bunk offers a novel camping experience with its bunk bed design.
Kamp-Rite Double Kwik-Cot
Best Double-Wide
Dimensions: 85" x 55" x 19" ⸱ Capacity: 500 lbs. ⸱ Weight: 33 lbs.
Camping with your significant other? The Kamp-Rite Double Kwik is a very wide and spacious solution allowing you to sleep side-by-side on your next camping trip.
At 55 inches wide the Double Kwik is about as wide as you can find for a double cot and will allow you to cover the entire cot with a double size air mattress for extra comfort if wanted. If you don't plan on using an air mattress then the Kamp-Rite makes things more comfortable by including extra padding around the head area.
The steel frame and 600D polyester fabric make for a highly durable, but heavy cot. Once packed down into its carry bag it is not the most portable, weighing 33 lbs. and measuring 42 x 11 x 11 inches. The Outfitter XXL is a narrower but lighter option if you want to reduce weight.
PROs

Super wide
Padded head section for extra comfort
Durable fabric and steel frame

CONs

Very Heavy
Large packed size
Bottom-Line: If you and your partner need a double-wide cot then the Kamp-Rite Double Kwik offers a 55" wide sleeping platform giving both of you plenty of space.
Coleman ComfortSmart Deluxe
Most Comfortable
Dimensions: 80" x 30" x 15" ⸱ Capacity: 300 lbs. ⸱ Weight: 19.5 lbs.
The Coleman ComfortSmart offers luxury camping in a foldable camp bed thanks to the inclusion of a thick foam mattress. Providing more comfort than most camp cots with a simple top fabric, the ComfortSmart is available in two sizes.
The larger ComfortSmart Deluxe can fit campers up to 6 feet 6 inches, and the smaller standard size, campers up to 5 feet and 7" long. Despite its small size when unfolded, this bifold camping cot is still a bulky 40" x 30" x 6" when packed up.
If comfort is your most important criteria, then it's pretty much a straight out head-to-head battle between the ComfortSmart and the REI Kingdom 3. In our opinion, the ComfortSmart is moderately more comfortable than the Kingdom but the Kingdom's overall features ultimately win it the top prize overall.
PROs

Thick foam mattress is extremely comfortable
Easy to set up

CONs
Bottom-Line: For campers who like the comfort of a foam mattress then the Coleman Comfortsmart is a great option.
Kamp-Rite Oversize Kwik
Best for Extra Room
Dimensions: 84" x 33" x 22" ⸱ Capacity: 350 lbs. ⸱ Weight: 23 lbs.
If you're looking for a large camping cot at an affordable price then the Kamp-Rite Oversize Kwik is easy to assemble, cheap, and comfortable that can fit even the tallest of campers.
Made with larger campers in mind, the Oversize Kwik is 7 feet long and is wider than most at 33" across. It is also one of the taller cots we've come across just being shy of two feet high and making it easier to get into and out of.
The top fabric is 600D canvas and has added padding around the head area to improve comfort, although, if you're looking for an extremely comfortable camping experience then depending on your height you should look to either the Coleman ComfortSmart or the Kingdom 3.
Due to the all-steel frame and legs, the Oversize Kwik is pretty heavy at 23 lbs., making it one of the more heavy cots we've reviewed.
PROs

Large
Padded head section
Easy to assemble
Durable polyester fabric and steel frame

CONs
Bottom-Line: Active, side sleepers and larger campers wanting a little more room may like the size, comfort, and price that the Kamp-Rite Oversize Kwik offers.
Camping Cot Features to Look For
Anatomy of a Camping Cot
Cots are usually made up of three main parts: the legs which support and balance the frame; the frame which provides tension to the top fabric; and the top fabric which provides the sleeping surface.
Some cots come with a storage pouch or organizer attached to the frame for your convenience. For example, the Tough Outdoors Camp Cot has velcro side pockets that snap easily onto the side whilst the Coleman Pack-Away has a detachable table with drink holder.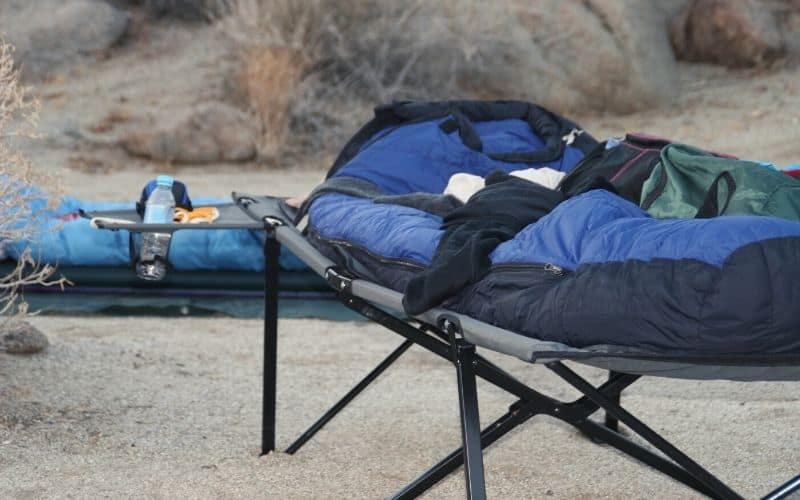 Strength & Durability
Frame and Legs
For the frame and legs, there are two main types of frame materials to choose from: aluminum and steel.
Aluminum cots are strong and lightweight, but not as durable as steel. Due to this combination, aluminum cots are the more common type these days and found in ultralight cots such as the Helinox Lite all the way up to the oversized Teton Sports Outfitter XXL.
Steel cots tend to be more heavy-duty and can take more punishment than their aluminum counterparts. The downside is that steel is heavier than aluminum, somewhat restricting the cot's portability.
There are two common leg designs: U-shaped and X-shaped legs.
U-shaped models such as the Coleman SmartComfort are a simpler design that help distribute the weight load more evenly across the tent floor. As such, U-shaped models are better suited to uneven ground as they're less likely to rock.
X-shaped legs are mostly found on heavy-duty, high-weight capacity models such as the Mountain Summit Gear Horizon or the Teton Sports Outfitter XXL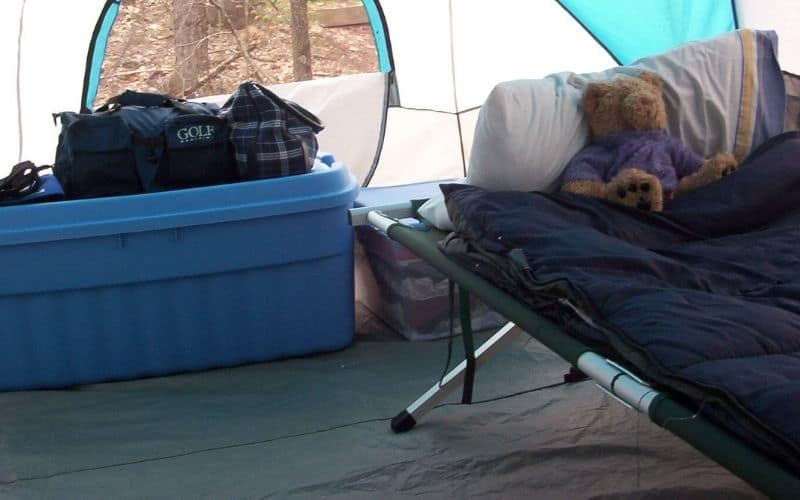 Top Fabrics
When it comes to the top fabric, there are two things that matter, the type of material and the denier rating.
Manufacturers use a denier rating to measure the thickness which directly correlates to the durability. The higher the number the more durable and thicker the fabric will be. This is presented as D and the products we reviewed range from around 400-600D, with the majority being close to the upper end of this range.
Camping cots use canvas, ripstop polyester or nylon for the top fabric. Canvas cots such as the Kamp-Rite Oversize Kwik are very durable but are harder to clean. Synthetic nylon or polyester is less durable but easy to clean, quick to dry and are very resistant to tears.
The majority of cots such as the Helinox Lite, Disc-O-Bunk Bed, and the ALPS Mountaineering Ready Lite use rip-stop polyester as a top fabric.
Ease of Setup
When it comes to assembly, there are two main types of camping cot — folding cots and collapsible cots.
Folding camp cots such as the Coleman ComfortSmart are the easiest to set up as the frame is not assembled/disassembled with each use, and often the top fabric is pre-attached to the pole structure. These cots either fold in half (bi-fold) or thirds (tri-fold) and to set them up you just need to unfold and lock the legs in place and it's ready to use. The downside to foldable camping cots is that they are bulky and awkward to transport even when packed down.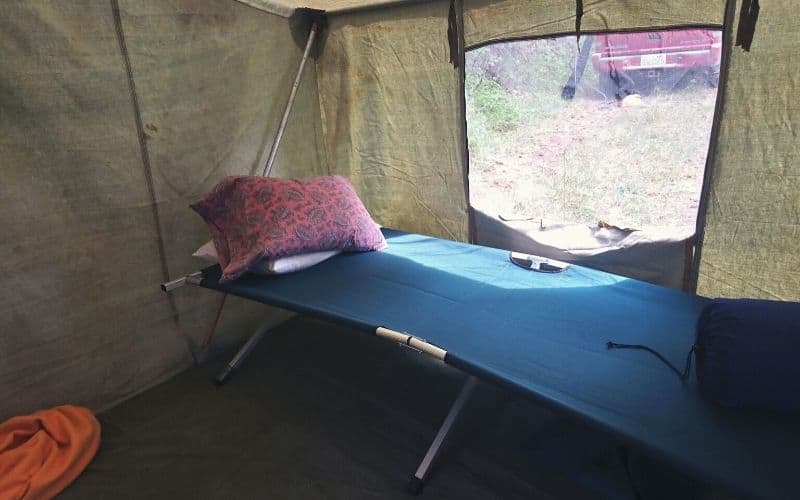 A collapsible cot requires a little more assembly, and this can vary from just a few seconds of setup like the Kamp-Rite Double-Kwik, to significantly more involved cots such as the Disc-O-Bed Bunk.
Lightweight camping cots suitable for backpacking trips, such as the Therm-a-Rest Ultralite and the Helinox Lite, are collapsible to help decrease the overall packed size.
Comfort
Getting a good night's sleep requires a comfortable sleeping surface. The majority of camping cots have a simple thin top fabric cover tensioned across the frame. This will provide a degree of additional comfort over a sleeping pad or the ground.
More comfortable camping cots come with "comfort upgrades" that can take the form of adding a top mattress such as the Coleman Comfort, padding around the frame on the REI Kingdom 3, and the ability to tension up or down the firmness of the top fabric.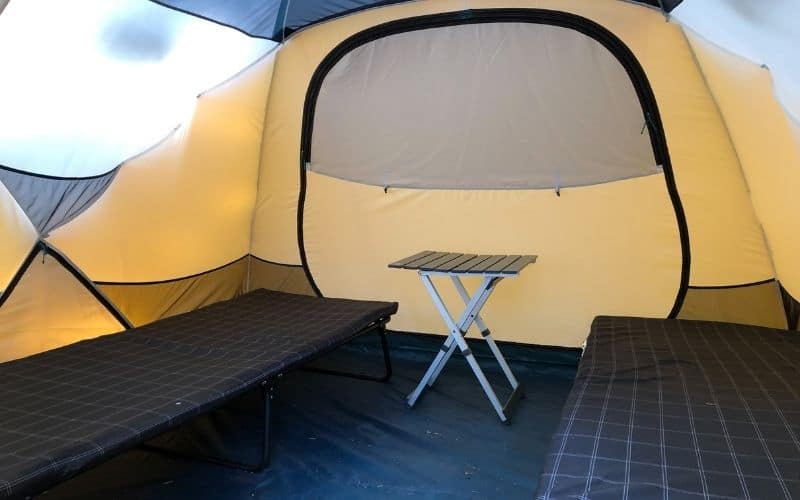 If you're getting to the age where stiffness and lack of flexibility hinder your movement then the height of the cot above ground level can be an important consideration. Look for a comfortable cot that sits a couple of feet off the ground, as this will put you at a more natural sitting height when getting up/down.
Pro-Tip: If you want to up the comfort levels of your cot try adding a similar sized air mattress on top.
Sleeping Space
Really a sub-point of comfort, the size of the sleeping area will have a profound effect on the quality of sleep you get on your camping trip – more so if you choose a camping cot that is too small for your needs.
There is no real standard size for camping cots, but the products we reviewed ranged from 69″ – 85″ in length and 23.5″ – 55″ in width.
The easiest thing to ascertain is what length you need based on your height. Campers who are 6 feet and above should avoid cots such as the Helinox Lite which at 73″ long may leave your feet dangling off the end.
The vast majority of cots are 6 feet or longer, but if you are a tall camper, then pay particular attention to this one.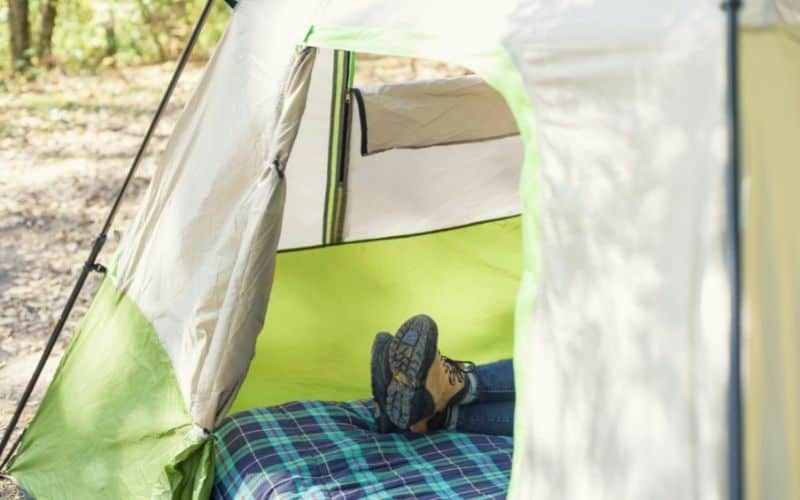 The width of the cot will depend on whether you are an active/side sleeper or you have a larger frame, with these two groups needing more room.
At around two feet across, these groups will find cheaper cots like the Tough Outdoors, plus the ultralight backpacking cots such as the Helinox Lite restrictively narrow.
If you're pretty active in your sleep or have a big build, then look to wider cots such as the REI Kingdom (31.5″), Coleman Pack-Away (32"), Kamp-Rite Oversize Kwik (33″), or the massive Outfitter XXL (41″) by Teton Sports. If you're a backpacker, then you're better off opting for a wide sleeping pad rather than balancing yourself precariously on a narrow backpacking cot like the Therm-a-rest Ultralite or the Helinox Lite.
Lastly, if you intend to sleep with your partner, then look for a double-wide option like the Kamp-Rite Double Kwik. At 55″ wide, this will comfortably sleep two.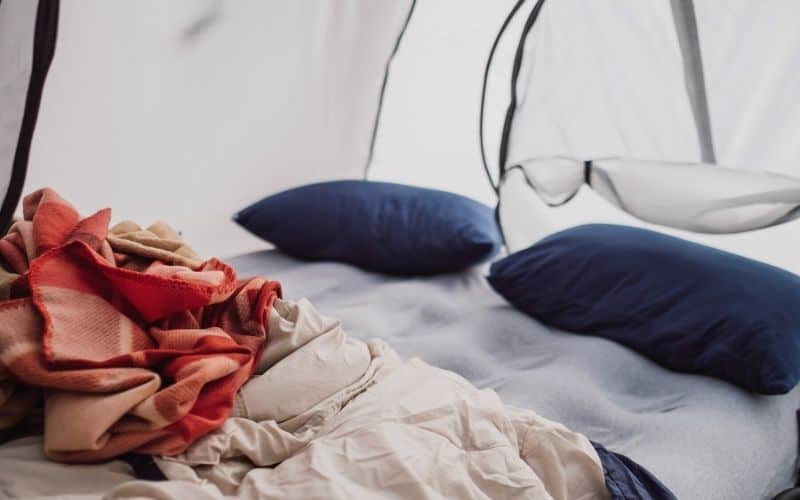 Weight & Packed Size
The importance of weight and packed size in your decision depends mostly on the type of camping you partake in, and the storage space in your transportation.
If you are car camping and own a large SUV or truck with ample space then neither may be important at all. At the other end of the scale, it's a crucial decision for backpackers who need to haul all their gear from campsite to campsite in their backpack.
A backpacking cot is designed to be significantly lighter and more portable and will weigh around 3-5 lbs. The Helinox Lite is the lightest we reviewed at 2 lbs. 13 oz. and packs down to 5″ x 21″.
These lightweight backpacking cots cut weight and packed size by compromising on comfort, weight capacity, ease of set up, and overall durability. However, this is necessary if you plan to carry your gear for multiple days on your back.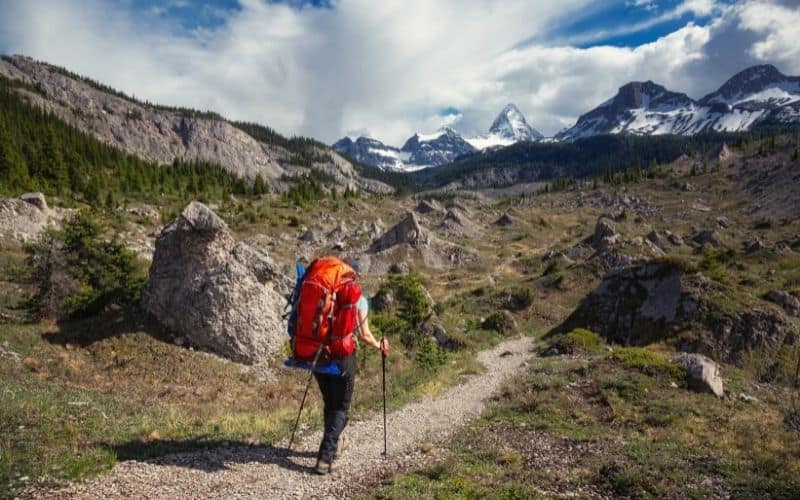 The weight is a function of the materials used, the size and overall features of the cot. Larger cots that have steel frames such as the Kamp-rite Oversize Kwik (23 lbs.) or ones with additional padding such as the REI Kingdom 3 (20 lbs.) will inevitably weigh more. Smaller, simpler cots like the Tough Outdoors Camp (15 lbs.) will weigh less.
The camping cots we've reviewed range in weight from 15 lbs. up to the 60 lbs. Disc-O-Bed camping bunk bed.
When it comes to packed size, the overall "collapsed" dimensions will depend on whether it's a folding or collapsible cot. If trunk space is at a premium on your camping trips, then you probably want to look for a collapsible cot. Collapsible carry cots also come with a carrying bag that makes them easier to transport from your car to your pitch.
Final Verdict
Just in case you're still undecided, let's have a quick recap.
Our favorite camping cot overall is the REI Kindom 3 boasting comfort in both its padding and with a good amount of sleeping space. It's also easy to set up and our sure-fire winner for car camping.
If you need something a little lighter, or a whole 17 lbs. lighter, then the Helinox Lite is the way to go. For backpackers that have trouble sleeping on the hard ground, this option is a great addition to your kit.
If you prefer a little more wriggle room widthwise, we recommend the REI Kindom 3, the Coleman Pack-Away, or the Tetons Outfitter XXL. All of these also have a bit more length to them for taller campers.
How did you like our article? If you have any comments or questions, drop us a line in the box below. And if you'd like to share this post with your friends, share away!