Editors Choice
Kamp-Rite Oversize Kwik
Surging ahead of the competition, the Kamp-Rite Oversize Kwik easily earned the top spot as the best camping cot. Made with 190T nylon fabric and steel tubing, the Kwik Cot is a strong and sturdy product that's able to handle 350 pounds. You won't be disturbed by rickety noises at night thanks to the Oversize Kwik's sturdy construction and double support leg system.
In addition to the strong back support you'll get the Kwik Cot's frame, campers with neck issues will appreciate the Oversize Kwik ergonomic headrest. When opened, this cot measures a spacious 84 x 33 inches and doubles as a lounge chair.
Of course, one of the main selling points of the Kamp-Rite Oversize Kwik is…well, how "quick" you can set it up and collapse it. It only takes about 2 minutes to open up the legs, secure them, and flip it over for use.
Campers who want a one-person cot for tent camping that's convenient to set up, made with high-quality steel and an ergonomic design should check out the Oversize Kwik Cot for a great night's sleep. Overall, our top pick as the best camping cot on the market.
The 7 Best Portable Camping Cots Of 2021
Looking for the Best Camping Cot for Your Next Trip?
You're in the right place! In this guide, we will be covering the following:
The benefits of owning a portable camping bed
What considerations should you weigh up when purchasing folding camp beds
Reviews of the best camping cots on the market
Our overall top pick for the best cot
Let's face it, sleeping on the ground isn't one of the most pleasurable camping experiences. Even with the best quality sleeping bag, it's not uncommon for campers to wake up in the morning with sore backs, bumps & bruises, a stiff neck, and/or nasty chills. Thankfully, there is an easy solution to this common dilemma, invest in a camping cot.
Below, we'll go over a few of the major features in foldable camping cots that every car camper should be aware of. We'll also share a few of the major names in the camping industry to help you on your shopping quest.
Why You Need A Foldable Camp Bed
The most prominent feature of all sleeping cots for camping is that they are elevated from the ground. This slight elevation provides you with a reliable flat surface to sleep on no matter how rocky or uneven the ground might be. Any campers who hate sleeping on rocky surfaces or have physical problems like low back pain will appreciate the comfort and stability of folding cots.
Not only will the camping cot's design help you avoid uncomfortable nights sleeping on the ground, but it also helps keep you warmer. Cool air settles on the ground at night; so, if you choose to sleep against the ground, most of your body heat will be lost through the process of conduction. In a camping cot, however, you won't have to worry about losing your body heat to the cool ground since you're already well above the ground.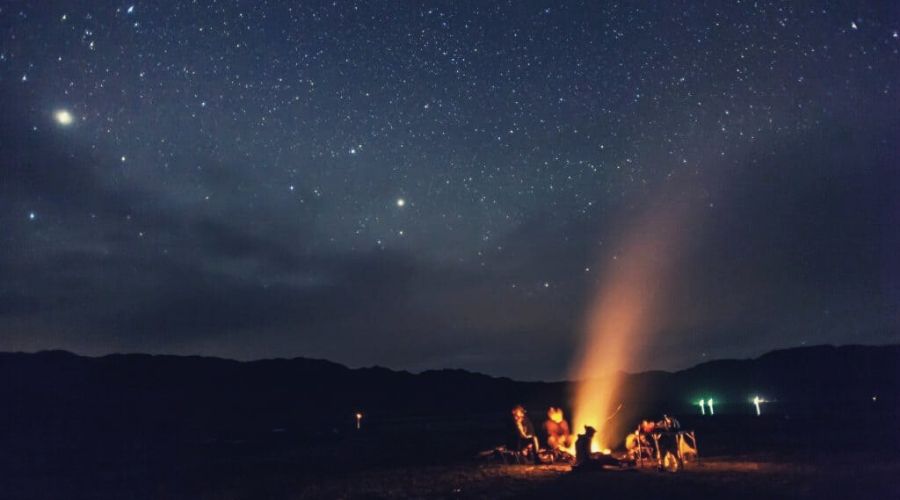 On the flipside, camping cots can also help campers in warmer climates cool off. Remember, camping cots are elevated from the ground, which helps air to circulate both above and below your body. If you're someone who travels to warm regions often, just be sure your camping cot has a breathable fabric.
What To Look For In A Camper Cot
People interested in a folding camp cot tend to place a high priority on the comfort of their camping trip. While other features like portability and weight come into play when making a purchase, it's important to remember that folding camp cots are primarily designed to provide users with comfort and stability.
Below, we'll take a look at some of the key features every camper should keep in mind when looking into a camping cot.
Invest In Comfortable Camping Beds
When it comes to folding camping cots, comfort is king. The main point of bringing a cot with you on a car camping trip is to enhance the quality of your sleep.
You'll soon notice that the major kinds of support offered in camping cots are fabric tension and spring construction. As the name suggests, fabric tension construction usually involves a thin synthetic fabric that's stretched out and held together with either in aluminum or steel frames. It's best to use a traditional sleeping bag on top of most fabric tension frames to get extra warmth.
Spring mattresses, on the other hand, have a bit more give thanks to the use of coils and an insulator. Campers who want more of a traditional bed feel will prefer spring construction beds. Just keep in mind that these cots tend to be heavier and more difficult to pack.
Note, not all tension and spring-designed products are adjustable. Be sure to check your cot's design specifications before purchasing if this is an issue for you.
If you're someone who needs extra padding while you sleep, you'll have no issues finding luxurious padded cots for sale. You will, of course, have to pay a premium for these products. Also, most padded cots are more cumbersome than non-padded cots.
Further reading: For an extra comfortable night, then check out our guide to the best backpacking pillows.
Stability: Feel Secure Through The Night
One of the most important features of any camping bed is stability. When you sleep on your cot, you shouldn't hear creaking noises or feel at all unbalanced.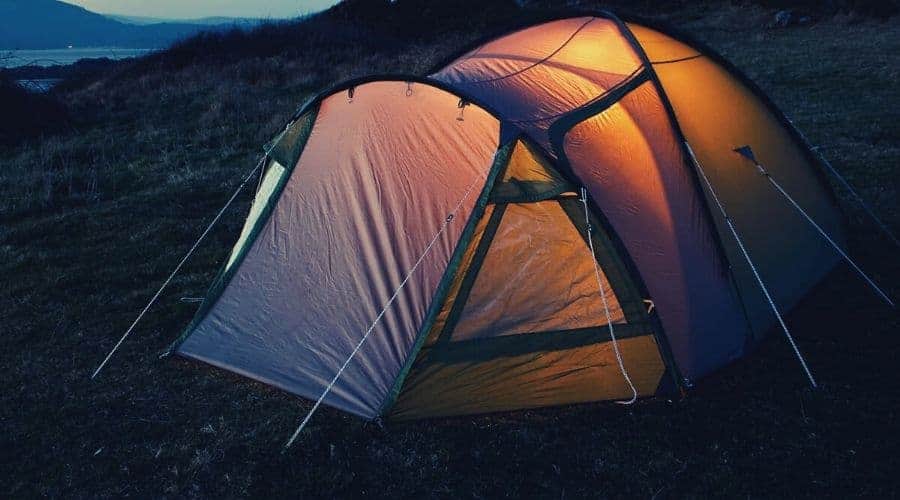 One of the best ways to figure out a cot's stability is to look at the leg design. The three best styles of leg design in the camping cot industry include vertical, X-shaped, and C-shaped with a horizontal bar. Of these three styles, most campers don't recommend C-shaped because it tends to be the weakest.
Pro Tip: Protect Your Tent
Anyone wanting to use their cot inside a tent should be sure the legs have rubber caps. These rubber caps will prevent the cot legs from tearing through the tent's floor/footprint.
Strength: How Much Can Your Sleeping Cot Hold?
Related to stability is the issue of strength. You have to be sure the material your cot is made out of can safely hold your body weight. Manufacturers always list the amount of weight their cot can withstand in the product description.
Take a good look at the frames used in your cot's design. You'll find that most companies like to use aluminum because it offers a good balance of lightweight construction and durability. Stronger (and heavier) camping cots, however, tend to be made out of steel or tin.
The Ideal Size And Weight For A Folding Camping Cot
The standard size is typically 75 inches long and 25 inches wide. Models that go beyond these dimensions tend to be bulkier and made of stronger materials that can hold more weight.
There are also specialty products on the market including models for two people and bunk-bed style cots. For campers with children, there are kid-size cots available.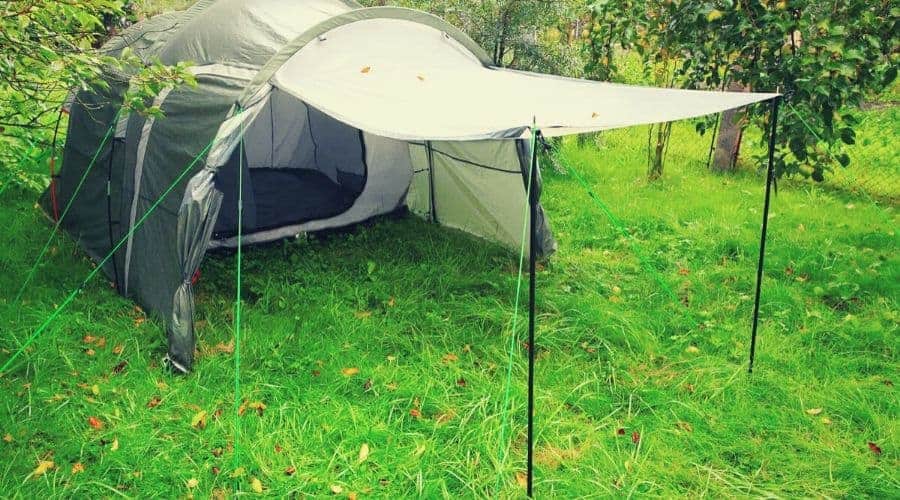 That being said, the lightest models are those made with aluminum frames and legs. Aluminum-constructed cots tend to average between 15 and 20 pounds. Since steel cots are sturdier, they usually weigh over 20 pounds. The heaviest cots, however, tend to be those with extra padding.
Common Camping Cot Fabrics
The fabrics you want are nylon, polyester, or some combination of the two. Thankfully, both of these synthetic fabrics are the most commonly used in camping cot manufacturing. A few reasons campers prefer these fabrics are that they are naturally antimicrobial, lightweight, and durable.
While not as common, there are a few mesh camping cots on the market. Mesh fabric is a good idea if you frequently travel to humid areas because it is highly breathable.
How Easy Is It To Put A Cot Together?
Another issue that's crucial to consider is how easy it is to set up and pack away your camping cot. New campers should look at standard aluminum frame cots to save time and aggravation. Usually, aluminum cots have an easy design with joints that unfold and lock in place when they're fully opened.
While not all camping cots are as simple as these aluminum cots, most don't require more skill than is required to put up a tent. If you feel comfortable putting together a standard tent already, then you shouldn't have issues putting together a camping cot.
Best Cots For Camping Reviewed
Kamp-Rite Oversize Kwik
Best Camping Cot
The Kamp-Rite Oversize Kwik is a heavy-duty fold-up cot made with a 190T nylon fabric and a powder-coated tension frame and steel tubing. Manufacturers claim this cot has a weight capacity of 350 pounds.
To help the Oversize Kwik stay firmly on the ground, there are two double support legs on the sides. This Kwik model has a multi-function hinge design so you could convert your cot into a lounge chair if you so desire.
Kamp-Rite didn't use the traditional cross-bar design because the company felt it wasn't ideal for back comfort and support. For neck comfort, Kamp-Rite included a layer of padding in the head area.
When unfolded, the Kamp-Rite Kwik provides you with at 84 x 33 inches of sleeping surface. In it's in its folded position, the Kamp-Rite Kwik will take up 42.3 x 8.2 x 7.8 inches of space in the provided waterproof 600D carry bag. The total weight of the Oversize Kwik is 23.3 pounds.
As a bonus feature, Kamp-Rite includes clips under the frame you can attach to store a few essential items.
PROs

Spacious 84 x 33 inches frame.
Heavy duty steel tubing has a weight limit of 350 pounds.
Ergonomic back and neck support perfect for people with physical issues.
Waterproof carry bag included to make it easier to pack.

CONs

Requires a bit of patience to setup properly.
Bottom-Line: Taller campers in the market for a sturdy and portable folding camping cot able to comfortably handle one person should look into the Kamp-Rite Oversize Kwik Cot.
Teton Sports Outfitter XXL Camping Cot
Although the Teton Sports Outfitter Cot's frame is made with aluminum, it can handle up to 600 pounds. Without a doubt, this model is a great consideration for people who need a product able to withstand a great deal of weight. It's also ideal for couples thanks to its size, which is larger than a double air mattress.
When it's unfolded, the Teton Sports Outfitter XXL Camp cot measures 85 x 40 x 19 inches and folds down to 42 x 12 x 7 inches. And will add 26 pounds of weight to your car.
The company's patented S-shape steel legs provide great stability. There are also rubber feet to help with shock absorption and prevent tears in your tent. The fabric used in the frame's canvass is 600D polyester.
To unfold, you first have to lay it flat on the ground, swing the legs around, and then open the legs up. You'll then have to apply two safety end bars to the top and bottom for increased stability.
Anyone who's a fan of Teton Sports' product line will appreciate that this model can accommodate many other items offered by the company. For instance, you can hang Teton's camp pad, organizer, and/or under storage on the Teton Sports Outfitter XXL. You will, of course, have to purchase these products separately.
PROs

Has one of the highest weight limits in the industry
85 x 40 x 19 inches frame provides plenty of space.
S-shaped steel leg design with aluminum frame provides good stability.

CONs

Under storage pouches are sold separately.
Difficult to pull in and out of car quickly at 26 pounds.
Bottom-Line: The Teton Sports Outfitter XXL Camping Cot is perfect for couples who are looking for a good night´s sleep.
Coleman ComfortSmart Cot
Best Value
Coleman's ComfortSmart Deluxe Cot is a heavy-duty foldable cot made with a unique coil suspension system. The Comfortsmart Deluxe is perfect for campers looking for a durable cot at an affordable price.
When the Coleman Comfortsmart Deluxe is unfolded it measures 80 x 30 x 15 inches and has a polyester fabric on which to sleep. Coleman manufacturers say this model is ideal for campers who are under 6 feet 6 inches. The max weight it can support up to 300 lbs.
A nice feature about this model is that it comes with a comfortable thick foam mattress layer you can put on the top of the polyester frame. When you want to pack way your Comfortsmart, you can place this foam mattress below the legs for safe storage.
The Coleman Comfortsmart weighs 21.5 pounds. When the cot is closed, it's held together by a Velcro strap. All you have to do to get your cot on the ground is open the Velcro strap and let it gently fall.
PROs

Easy assembly for beginners; simply open Velcro strap.
Sturdy steel frame construction for an affordable price.
Weight capacity up to 300 pounds.
Comfortable coil suspension and mattress layer included.

CONs

Can't fit in smaller car trunks when folded up.
Bottom-Line: Campers looking for a sturdy product at an affordable price will enjoy the Coleman Comfortsmart Deluxe.
Disc-O-Bed Bunk
Anyone who often goes camping with a friend or significant other should look into the Disc-O-Bed Bunk. Instead of a single frame, this unique product folds out into a standard bunk bed. Each bunk can handle at least 500 pounds each, so there's no need to worry the person sleeping on the top bunk will come crashing down.
The reason the Disc-O-Bed Bunk is able to hold so much weight owes to its steel rail construction. There's also powder coating on these legs to help prevent rust damage.
When you unfold this product you'll find that it gets 11 inches off the ground. The person on the bottom bunk will have 21 inches above him/her for breathing room. Each frame has a contoured polyester fabric for enhanced comfort. The total dimensions of an unfolded Disc-O-Bed Bunk is 79 x 27.75 x 32 inches and the weight is 60 pounds.
Disc-O-Bed used a unique modular disc system to help you assemble and disassemble this product with ease. Manufacturers say you don't need any additional tools to set up this bunk bed on the spot.
Everyone who purchases the Disc-O-Bed Bunk gets two side organizers free of charge. You'll also get stack adapters and a travel bag.
PROs

Bunk-bed style ideal for pairs of campers.
Steel frame has 500 lb weight limit.
Patented disc design allows users to unfold and fold without tools.
Contoured polyester fabric for optimal comfort.

CONs

Very cumbersome to pack at 60 pounds.
Pointless if you're traveling alone.
Bottom-Line: Campers who often travel in pairs will love the Disc-O-Bed Bunk's sturdy design and unique construction.
Kamp-Rite Double Kwik-Cot
Best Large Camping Cot
Kamp-Rite's Double is designed for two people to sleep on side-by-side. With a sleeping area of 85 x 55 inches and a weight threshold of 550 pounds, you can easily share your Kwik-Cot with a significant other.
Kamp-Rite only takes about two minutes to fold or unfold the Double Kwik thanks to the company's patented folding technology. All you have to do is pull out the middle layer of legs, put the product on its side, and open upwards. The two side layers of legs will spring open automatically.
When you're ready to leave your campsite, simply fold up the Double Kwik-Cot into its zippered 46 x 13 x 13 inches carrying case. This case weighs approximately 33 pounds.
For stability and comfort, Kamp-Rite designers decided to use a combination of aluminum and nickel in their leg design. The fabric used is 600D polyester with a mesh storage area underneath. For added comfort, the headrests are padded.
PROs

Can comfortably fit two campers with 550-pound threshold.
Patented construction makes set-up a breeze.
Specially designed headrests for ergonomic neck support.

CONs

A bit cumbersome to pack at 30 pounds.
Bottom-Line: The Kamp Rite Double is perfect for couples who love to go on camping adventures together. Not just sturdy, it's also one of the most comfortable cots to sleep on thanks to its mixture of mesh and polyester fabrics.
Therm-A-Rest Ultralite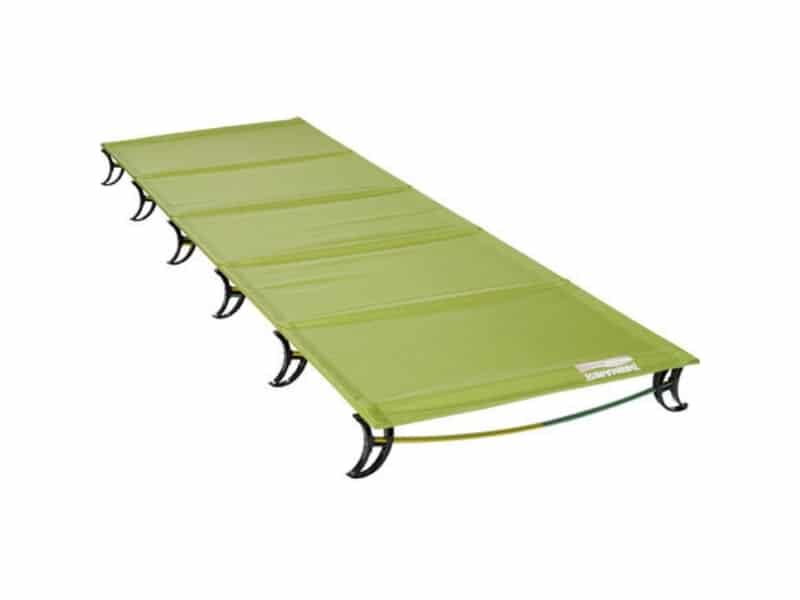 The Therm-A-Rest Ultralite certainly lives up to its "ultralite" name weighing only 2 pound 12 ounces in the regular size. The main reason the Ultralite is so light has to do with its aluminum-based construction.
All Ultralite Cots are made with a specially designed BowFrame technology, so you won't have to worry about noisy joints or annoying crossbars while sleeping. The nylon fabric used on this frame has been laminated with a waterproof coating.
When it's unfolded, the regular Therm-A-Rest Ultralite measures 72 x 24 x 4.5 inches. The size of the regular Ultralite measures 6 x 15 inches when folded up. You will receive a carrying bag with your purchase of the Ultralite Cot to help you bring it with you in the backcountry. If these measurements don't meet your needs, Therm-A-Rest also sells an Ultralite in a long format.
Although aluminum isn't as strong as steel, Therm-A-Rest anodized all of their aluminum poles to increase their durability. Manufacturers claim these legs can hold up to 325 pounds.
One con with these feet is that they tend to stain or tear the bottom layer of the tent. It's a good idea to put a protective layer between these feet and the tent bottom if you're using the Ultralite inside.
PROs

At only 2 pound 12 ounces, suitable for backpacking trips.
BowFrame technology has heavy duty 325 pounds weight capacity.
Folds up to a portable 6 x 15 inches.
Waterproof nylon fabric good for camping in damp areas.

CONs

The cot's feet can damage bottom floor of tent over time.
Bottom-Line: Campers who prioritize lightweight construction and portability in their camping bed need look no further than the Therm-A-Rest Ultralite.
Forfar Portable Folding Cot
The Forfar Portable folding cot is a good choice for thin campers who are looking for an easy-to-pack lightweight option for one person.
Forfar's model is made out of a special aluminum alloy and a PVC coated Oxford cloth. The cloth used on this frame has thousands of tiny holes that help enhance the fabric's breathability. When fully opened, it measures 75 x 25.6 inches at 15 inches above the ground. Forfar claims this camping bed has a weight capacity up to 260 pounds.
One of the nice features about the Forfar's product is that it's easy to set up and pack away. All you have to do is unfold it and the legs instantly straighten out.
You can fold the Forfar Camping Cot into 35.8 x 6.3 x 6.3 into the provided carrying bag. You'll only add 16.6 pounds to your travel gear with the Forfar Portable Camping Cot.
PROs

Ideal for short camping trips and occasional campers.
Very easy to pack at only 16.6 pounds
Collapsed size is a convenient 35.8 x 6.3 x 6.3 inches.

CONs

Can only handle 260 pounds
Bottom-Line: The Forfar Camping Cot is ideal for campers who want an easy-to-assemble, lightweight, and breathable camping cot.
Last update on 2021-06-16 / Affiliate links / Images from Amazon Product Advertising API