Since Iowa's gentle, rolling hills lend themselves so well to farmland, Iowa gets this rep of being all corn, tractors, and prairies. We're here to change your mind about that!
With its temperate climate, diverse landscapes, and numerous state parks, Iowa's natural beauty makes it the perfect camping destination. The best part is that Iowa experiences four distinct seasons. This gives you the opportunity to try everything from cozy, winter camping to lakeside camping under the stars in the spring.
You can explore the beauty of Iowa for yourself at any one of these 17 extraordinary campgrounds. Get ready to see a whole lot more than cornfields as we give you the scoop on the best camping hideaways in the Hawkeye State!
1. Backbone State Park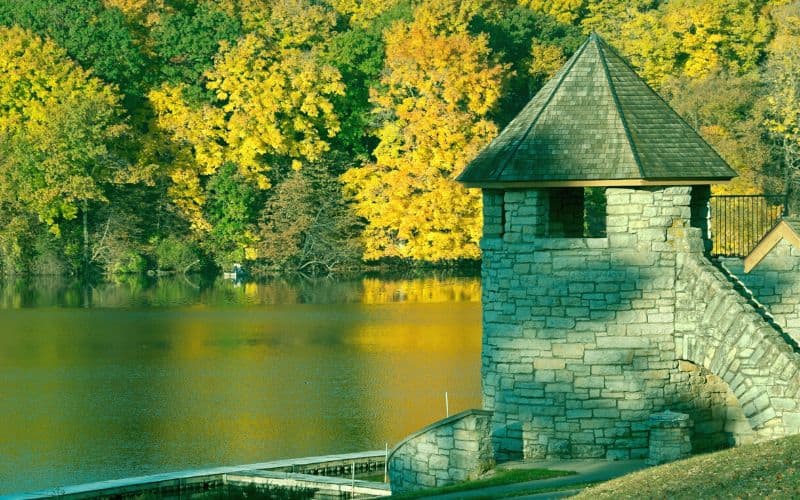 The adventure-lovers haven that is Backbone State Park kicks off our list in style. The park features all sorts of outdoor fun from fishing and swimming at the lake to hiking or rock climbing along the heavily wooded trails, where you'll find over 21 miles of hiking trails to explore
History buffs will enjoy checking out the unique masonry work of the Civilian Conservation Corps (CCC) on the Maquoketa River along with the local CCC museum located just inside the park.
There are two campgrounds available in the park: South Lake Campground and Six Pine Campground. Both feature full-hookup RV spots, tent camping, hot showers, restrooms, and playgrounds. Modern cabins are also available.
RELATED READING: Check out our main page for more Iowa outdoors adventures.
2. Coralville Lake Campgrounds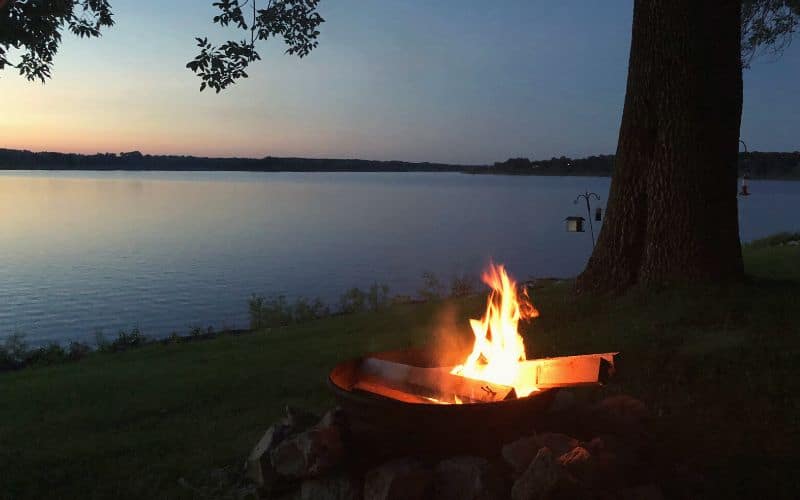 Spend the weekend at the beautiful and scenic Coralville Lake, where you can walk in a gorge filled with thousands of ancient fossils! A flood once washed away a large part of the soil and trees from this area and in doing so exposed the 375-million-year-old ocean floor. Walk the gorge and hunt for fossils or spend the day swimming and boating on the lake.
At Coralville Lake, you'll find over 500 campsites. There are three campgrounds to choose from: Dam Complex, Sugar Bottom, and the Corps Lake Getaway Campgrounds. Each offers all the basic amenities you'll need to enjoy your stay, but they book fast so check for availability before planning your next trip.
3. Pikes Peak State Park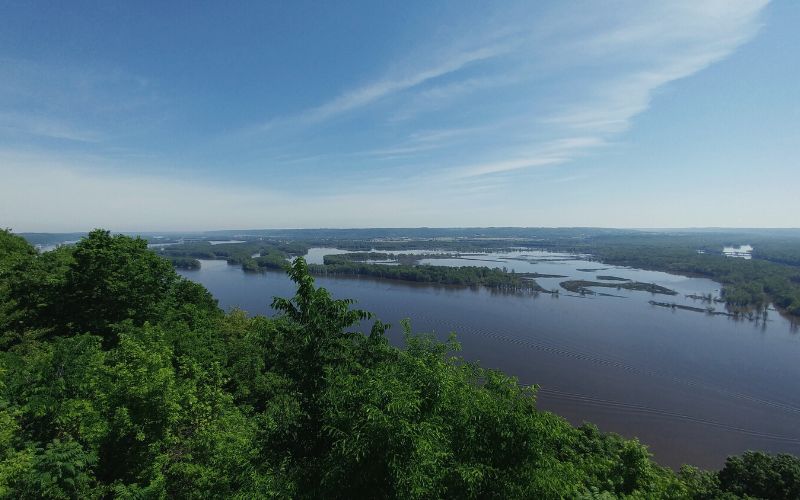 Featuring breathtaking views of the Mississippi River roaring below, there's no better place to set up camp than Pikes Peak State Park. The park itself is part of the Effigy Mounds National Monument, where you'll find 200 man-made mounds considered sacred to the local Native American tribes.
The Pikes Peak State Park Campground features all the most modern state park amenities. These include full electric hookups, restrooms, hot showers, fire rings, picnic tables, and a dump station. The campground is pet-friendly and surrounded by miles and miles of hiking and biking trails
4. Maquoketa Caves State Park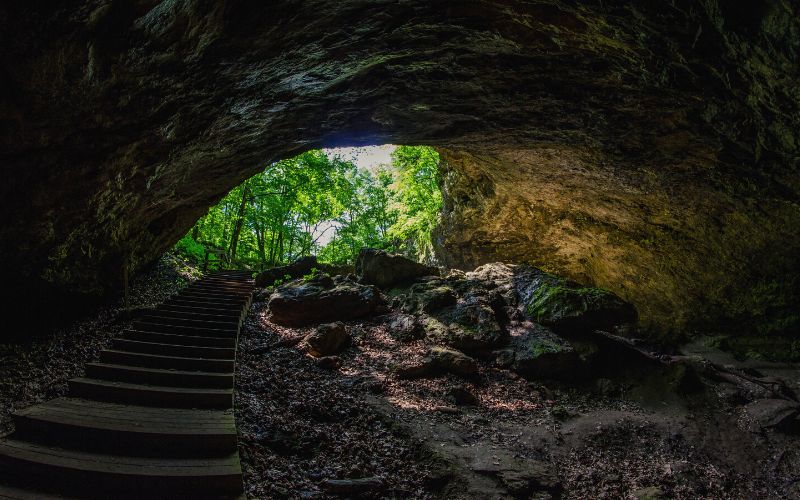 Maquoketa Caves State Park offers a truly unique experience that will have you begging for just one more day! The park features over 340 acres of mesmerizing bluffs, caves, and trails to explore. If after some caving you're hungry for more adventure, the Maquoketa River is just a short distance away for some tubing or boating.
Maquoketa Caves State Park is steeped in fascinating American history, too. The park features some of the best intact examples of Depression-Era buildings created by the Civilian Conservation Corps in the 1930s. Learn more about the geology and history of the park at the local interpretive center.
The Maquoketa Caves State Park Campground offers a down-to-earth experience with just 29 RV and tent camping sites available. Despite its rustic feel, you'll be able to enjoy a nice hot shower, modern restrooms, and picnic areas.
5. Des Moines KOA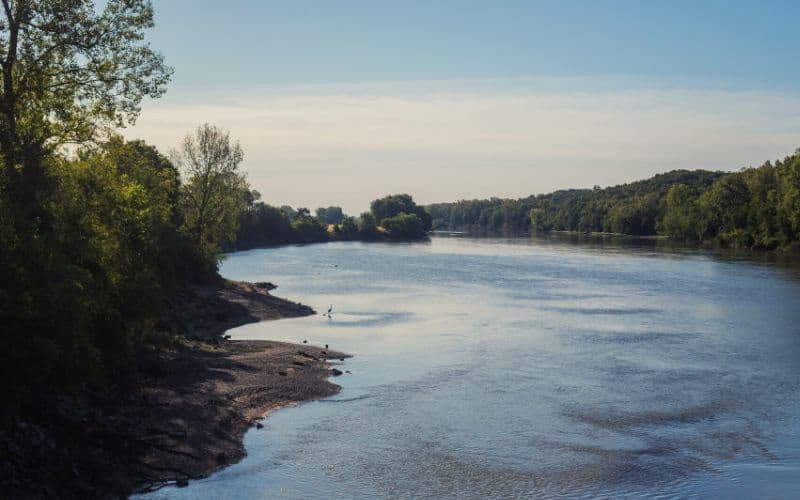 Looking to bring the whole family in tow? Then head on down to the KOA campground in Des Moines, located in the peaceful farm country of central Iowa.
The Des Moines KOA is absolutely jam-packed with fun, family-friendly activities. These include paddle ball, a huge jumping pillow, two dog parks, a jump shot, a heated swimming pool, and so much more. Adults can enjoy a little R&R at any of the available RV and tent sites or cabin rentals, while the kids go all out on camp activities.
6. Harvest Farm Iowa Campground Resort
What began as three Amish-built cabins available for rent has blossomed into this massive, family-friendly campground resort.
Located in northeast Iowa, just a hop, skip and jump away from the town of Cresco, Harvest Farm Campground offers an amazing variety of activities to enjoy for both kids and adults. Visit a local winery, take an Amish tour, explore the many miles of hiking trails nearby, or just relax along the river.
There are a variety of campsites available to suit every taste, from tent camping sites to glam loft cabins. By the way, those Amish-built cabins are still available for rent too, but they go fast!
7. Stone State Park Campground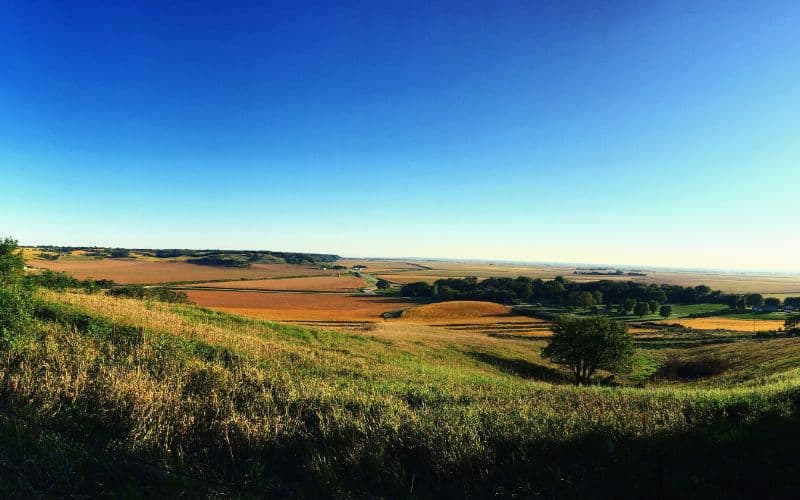 Nature-lovers you're in for a real treat. Stone State Park is an urban wildlife sanctuary located in Loess Hills. The park has over 21 miles of trails for hiking, horseback riding, and mountain biking. In the winter, rent one of the local camping cabins and check out the popular snowmobiling and cross-country skiing trails.
Be sure to visit the Dorothy Pecaut Nature Center as well. The center is filled with fun, interactive displays like a "walk-under" prairie, aquarium, a bird viewing area, and displays of furs and local artifacts.
Stone State Park Campground is open year-round and has 38 RV and tent sites along with modern cabins. Amenities include all the usual state park facilities like showers, restrooms, and picnic areas.
8. Ledges State Park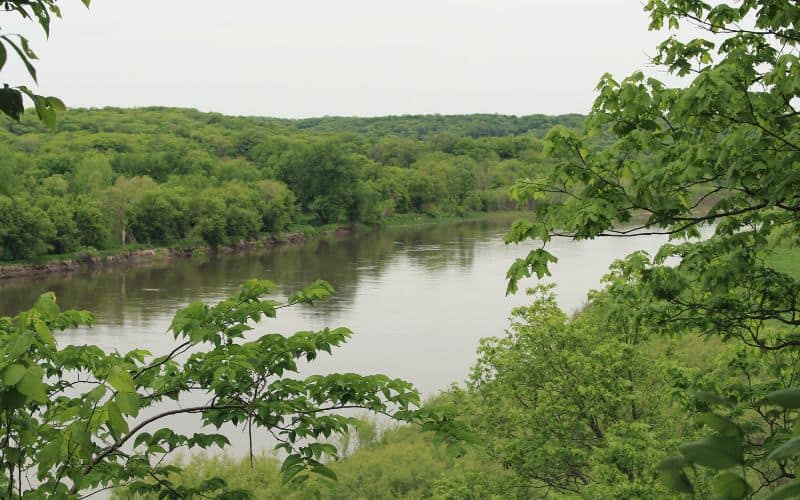 Ledges State Park is well-known for its fascinating geography. Take in the natural wonder of the 100-foot bluffs and sandstone "ledges" or go for a dip in one of the many streams that lie hidden amongst the oak and pine trees. The western edge of the park reaches the Des Moines River, granting access to all its fishing and canoeing opportunities.
Ledges State Park Campground is a large and modern campground that boasts everything you need to enjoy your stay. Both non-electric and electric campsites are available, along with amenities such as restrooms, modern showers, and picnic areas. In the peak season, Ledges State Park fills up fast, so book early!
9. Mill Creek State Park
Mill Creek is one of the best county parks in all of O'Brian county for tent and RV camping. The park features a number of fun outdoor activities, all year round. A large lake offers anglers the chance to catch the largemouth bass, crappie, sunfish, or yellow perch that inhabit the lake. Nature-lovers, on the other hand, can go wildlife spotting on any of the many local hiking trails.
There are 48 standard sites and 6 rental cabins up for grabs. Each site at this modern campground has full water and electrical hookups. You'll also have internet and cable connections, a picnic table, and a fire ring. If you're looking for a relaxing and quiet trip, Mill Creek has some of the best camping in Iowa.
10. Lacey Keosauqua State Park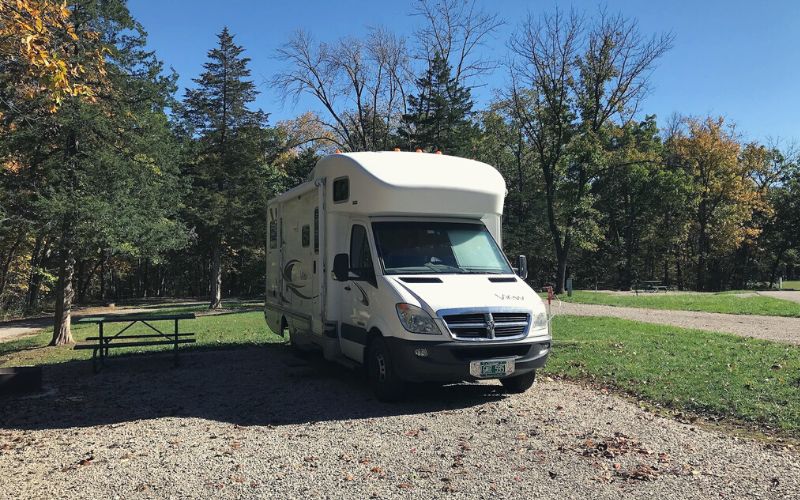 Nestled in the forested backcountry of southeast Iowa lies the sparklingly gem that is Lacey Keosauqua State Park. There is no better place for history buffs to get their fill of outdoorsy history. The area is home to many sacred Native American burial mounds and part of the historic Mormon Pioneer Trail used to pass through the area.
Whether you're planning to fish, hike, or just relax, you'll find a number of beautiful and shaded campsites waiting for you. The Lacey Keosauqua Campground has a number of RV and tent campsites and offers amenities like showers, restrooms, and a trailer dump station.
11. Squaw Creek Park
Hoping to tee off during your next camping trip? Then head to Squaw Creek Park, where the campground borders the 18-hole Gardner Golf Course. If golfing isn't your thing, you can still check out the bubbling Squaw Creek the park is named after or enjoy the four-mile Squaw Creek hiking trail.
The campground offers 69 full hookup sites and a wide range of practical amenities like showers, restrooms, and a dump station. There are also two lodges available for rent.
12. Sugar Bottom Campground & Recreational Area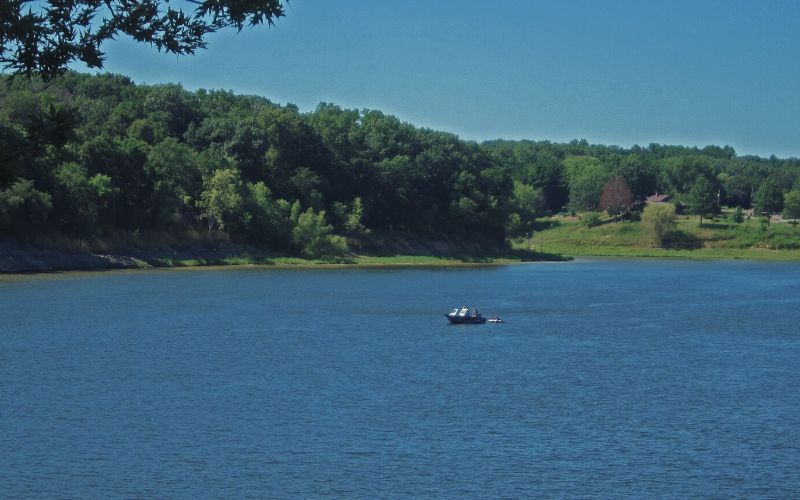 With a whopping 232 campsites available, you'll be in good company at the Sugar Bottom Campground. The campground's popularity is due to nearby Coralville Lake, an outdoor recreational paradise for fishing, swimming, tubing, and boating. For land lovers, there's a whole load of other activities to enjoy, like disc golf, horseback riding, and mountain biking.
At Sugar Bottom, both full hookup sites and non-electric campsites are available. You'll also have access to modern restrooms, shower facilities, potable water, a dump station, and an entrance station.
13. Cherry Glen Campground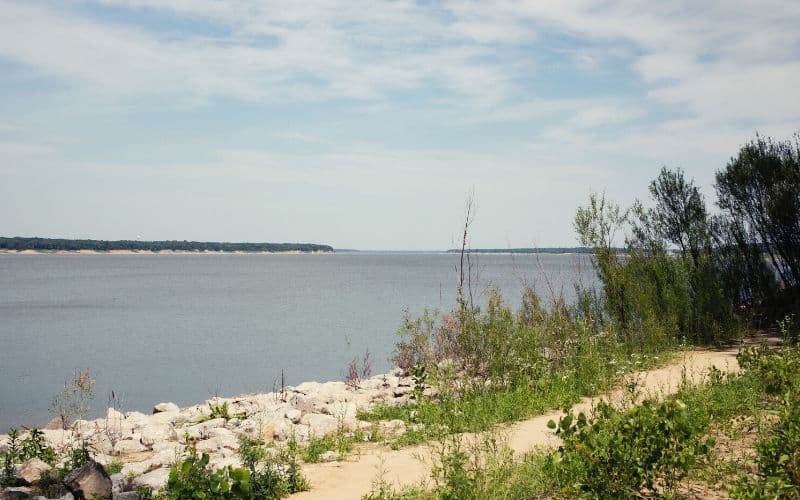 The best jumping-off point to explore the majestic, 26,000-acre Saylorville Lake is Cherry Glen Campground. Saylorville Lake is smack in the middle of the Des Moines River Valley, an area teeming with wildlife. If you keep your eyes open, you might just spot some white-tail deer, grey and red foxes, coyotes, or even the elusive bald eagle.
The campground offers 125 family campsites with all the usual amenities like potable water, restrooms, showers, and sheltered picnic tables. Other nearby amenities include a visitor center, boat ramp, disc golf course, and boat rentals.
14. Lake Macbride State Park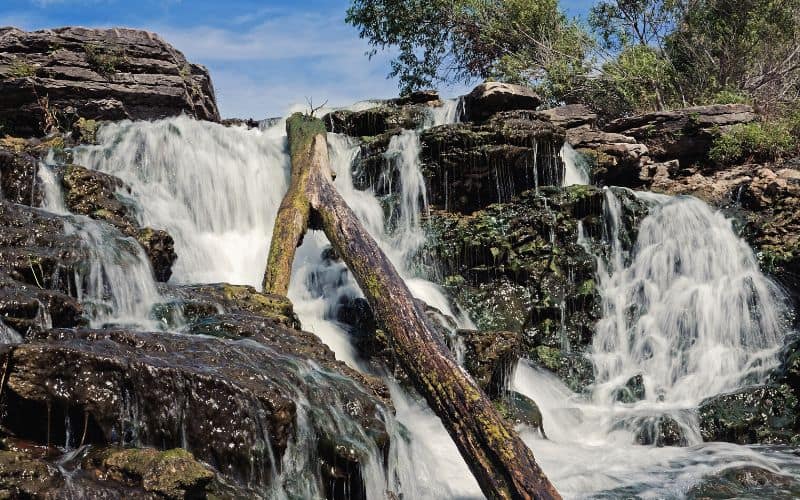 Lake Macbride State Park is the biggest state park in all of Iowa, boasting more than 2,000 acres of land bursting with wildlife. The area is a birdwatcher's paradise where it's easy to spot songbirds, turkeys, waterfowl, and other small game animals.
In winter, Lake Macbride is one of few Iowa state parks with fun outdoor activities to enjoy, including winter camping, snowshoeing, and cross-country skiing.
At the Lake Macbride Campground, you'll find two different campgrounds and both suit a different style of camping. For rugged campers looking for a rustic experience, head to the southern area of the park for a beautiful, but basic campground with no electric hookups.
If you're more into modern camping, the northern unit of the park offers electric and full hook-up sites along with showers, restrooms, and a dump station.
15. Pulpit Rock Campground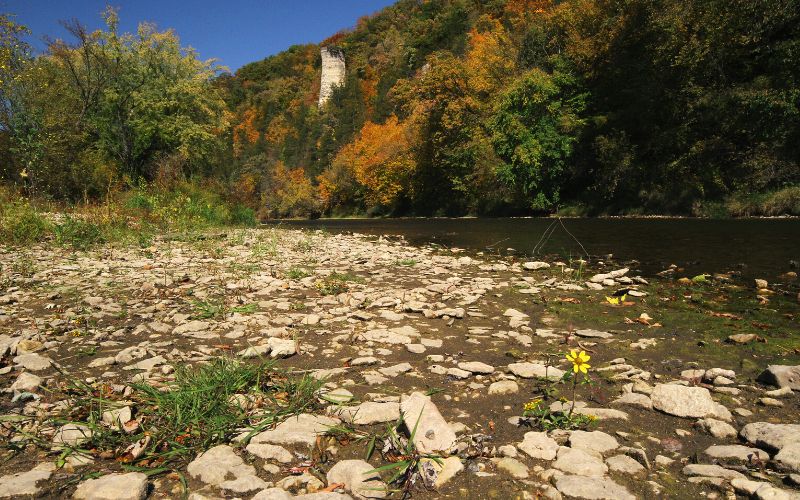 Located just two miles away from the small town of Decorah, Pulpit Rock Campground offers you the opportunity to camp under the stars with all the comforts of modern life just a short distance away.
The campground itself lies along the charming Upper Iowa River, so bring your bathing suit. Rent a canoe or kayak and head down river or take a stroll along one of the many local hiking trails.
The Pulpit Rock Campground offers both pull-in and back-out RV sites and tent sites. You'll be camping in style thanks to its full complement of amenities, which include drinking water, restrooms, showers, and a picnic shelter.
16. Bellevue State Park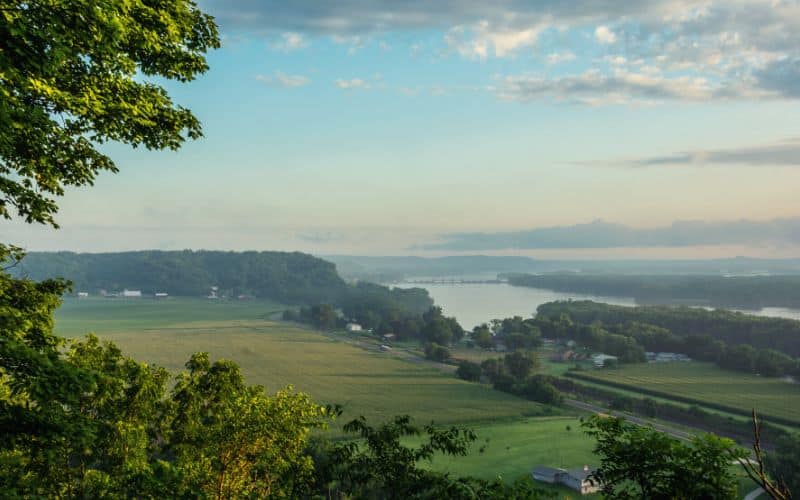 With breathtaking views of the Mississippi River, Bellevue State Park in western Iowa should be at the top of your Iowa camping destination list. As if the most scenic outlooks in Jackson County weren't enough, the park is also rich in geographical, natural, and archeological history.
Once you're done taking in the views, there's much more to explore, including an old limestone quarry, a butterfly garden, and the South Bluff Nature Center.
The Bellevue Campground is open year-round and features 51 standard sites. You'll enjoy all the usual state park amenities, from showers and restrooms to fire rings and picnic areas.
17. Lake Red Rock Recreation Area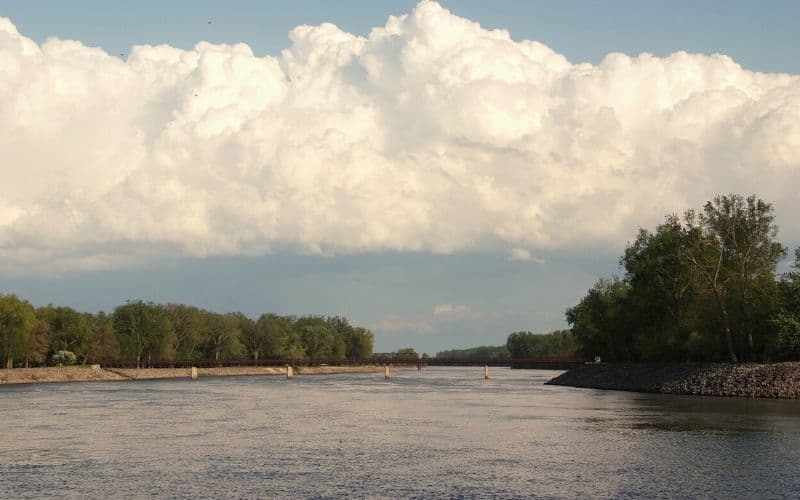 How does camping near Iowa's biggest lake sound? Anglers will love the shoreline fishing while nature enthusiasts can check out the 13 miles of hiking and biking trails around the lake. During the spring, keep an eye out for the white pelicans that migrate through the area. And in the winter, you'll want to scan the skies for the elusive bald eagle.
There are many campgrounds available all around the lake for RVs and tent camping. Four camping cabins are also available. Make sure to check the Lake Red Rock recreation.gov website to check availability before you plan your trip.
Iowa Camping FAQs
Newcomer to camping in the Hawkeye State? If so, here are a few answers to some questions you might have:
Where can I camp for free in Iowa?
Since there are no national forests or BLM land in the state, there aren't that many free camping areas available. The Eagle Lake State Game Management Area and the Eldon Wildlife Management Area offer some RV-friendly spots. Loess Hills, Yellow River State Forest, and David Bates Memorial Park are perfect for primitive tent or car camping.
Where can I camp in the winter in Iowa?
Iowa offers many winter cabin camping spots. Lake of Three Fires State Park, Pine Lake State Park, Backbone State Park, and Waubonsie State Park all offer winter cabin rentals. You'll find private cabins for rent all around the state including Chariton, Big Woods Lake, Dundee, Harpers Ferry, and Granger.
Is Iowa good for camping?
Iowa offers many beautiful and diverse campgrounds. You'll find plenty of opportunities for tent or RV camping, and cabin rentals, too. The state's warm and temperate climate (most of the time!), along with its natural beauty, makes it the ideal spot for nature-loving campers. 
Best Camping in Iowa!
Bet you didn't know Iowa was such a dream destination for campers!
If you're ready to head back to nature and have a whole lot of fun along the way, there's no better place than Iowa!
We hope our list has helped you choose your next camping destination in the Hawkeye State. If you have any questions about planning your next camping trip to Iowa, be sure to let us know below. Feel free to share this article with your friends to get ready for your next adventure!