If you're heading on a dry camping trip, your regular water bottle isn't going to cut it. Whether you're traveling in a group or away for a multi-day stay, ensuring you have enough water for hydration, cooking, and personal hygiene requires a container with a more convenient format and a far greater capacity.
We've been busy trying and testing dozens of H2O-holders that fit the bill and in this guide review 7 of the best on the market. Below our reviews, you'll also find all the info you need to help you pick the best product for you.
Water Carriers by Category
Budget: Reliance Fold-a-Carrier
High-capacity: Reliance Aqua-Tainer and Reliance Jumbo-Tainer
Collapsible: MSR Dromedary and WaterStorageCube Collapsible
Hard-sided: Scepter Military Grade Water Jug and Reliance Aqua-Tainer
Editor's Choice
Reliance Products Aqua-Tainer
After much deliberation, the RP Aqua-Tainer won our vote as the best water storage container for camping.
The Aqua-Tainer might be a little bulky for some, but otherwise, it does everything you need a water carrier to do. It's made with tough materials, is leakproof, FDA-approved, BPA-free, high-capacity, and has a handy level indicator to let you know how much of the wet stuff you still have in reserve.
The fact that it's more affordable than competitors of a similar size doesn't hurt either!
Check out the review below for a more in-depth look at why we love the Aqua-Tainer.
Bottom Line: A solid, reliable, durable container that will serve you well for at least a lifetime.
At a Glance: Quick Recommendations
Our Top Water Carrying Picks
Reliance Products Aqua-Tainer
Editor's Choice
The Reliance Products Aqua-Tainer is as much of an ever-present around campsites across North America as laptops are in households. And there are several good reasons why this portable water container is so popular.
The Aqua-Tainer is made from rigid and ultra-durable polyethylene (PE plastic) that's BPA-free and adds no scent or taste to your drinking water. Its 7-gallon capacity is large enough for long weekends at dry campsites, yet its unique design makes it more convenient to store than other plastic containers of similar size.
The AT's spigot is reversible, so can be stored inside the container when not in use to prevent damage. The flow rate can also be tweaked so you have a lighter flow when refilling your bottles with fresh drinking water and a faster flow when washing your hands or cleaning dishes.
PROs

Big! (It's more of a tank than a mere 'container')
Ideal for long-stay camping trips
Stackable design lets you save more storage space for other things
Tough enough for rugged outdoor camping
Molded contour grip
BPA-free plastic

CONs

Takes up more space than collapsible models
Bottom-Line: Tough as nails and one of the most reliable and convenient options out there.
WaterStorageCube Collapsible Water Container
Best Value
The main benefit of collapsible containers – their portability– is often overshadowed by their lack of robustness and poor durability as compared to their hard-sided cousins. If you want a model that bridges the gap between the two, look no further than the WaterStorageCube.
The WSC can hold 5.3 gallons (20 liters) of water but takes up far less space when empty owing to its collapsible design. Unlike other collapsible water storage containers, it has no seams (the most common point of leakage) and is made with BPA-free, food-grade LDPE plastic that is tough enough to withstand frequent use and moderate abuse.
The WSC is pretty user-friendly, too. There's a wide opening for refilling, a handy, easy-to-use on/off spigot that makes filling bottles a cinch, and a comfortable, integrated carry handle. The WSC also collapses as the water level declines, so it's kind of a "smart" container and far more convenient storage-wise than the competition.
PROs

Collapses as water level declines
Easy on-off spigot
One-piece, seamless construction prevents leakage
BPA-free

CONs

Spigot feels a little lightweight and not the most durable
Bottom-Line: Convenient, high-capacity, and one of the toughest collapsible water containers available.
Reliance Products Jumbo-Tainer
Best High-Capacity
The RP Jumbo-Tainer is, essentially, a jerry-can version of the RP Aqua-Tainer. While the difference between the two might appear negligible, there are a few reasons why this difference in design might make one or the other more suitable for your needs.
Firstly, as mentioned the Jumbo-Tainer is made in the jerry-can style. This gives it more structural stability and makes it more slender than the more cuboid Aqua-Tainer, and thus can more easily fit into a smaller space in your vehicle. On the downside, the narrower base does mean it's very easy to topple over – worth noting if you're prone to forget to close the spigot!
Secondly, the Jumbo has a duo of paw-friendly, molded carry handles that make transportation a little easier – you can use two hands instead of one or enlist the help of a camping cohort when necessary.
PROs

Jerry-can format
Two robust, molded handles
Highly durable, rigid materials
Convenient spigot provides a fast water flow rate
More streamlined than the Aqua-Tainer (easier to store water at camp and in your vehicle)

CONs

Not as "freestanding" as the Aqua-Tainer (topples over easily)
Pricey
Bottom-Line: A pricier, slightly more robust, jerry-can version of the RP Aqua-Tainer.
Scepter Military Grade Water Jug
Most Durable
If you want a water container that's built to survive the apocalypse, never mind a little bit of rough treatment at camp, the Scepter Military-Grade Jug is the container for you!
The Scepter jug is the priciest on our list, but its extra-burly construction will, for some, make it well worth the added expense. It's made with rugged, puncture-resistant, military-specification, food-grade, BPA-free LDPE and HDPE plastic that adds no scent or taste to your water.
The Scepter's jerry-can style and molded plastic handle make it easy to transport for such a large and rugged container.
But its main selling point, durability aside, is the versatility of the opening. The no-nonsense screw-lock cap is ultra-secure, and when refilling or pouring, you have the option of using the large opening or a smaller spout that's ideal for filling narrow-mouth bottles.
PROs

Durable
Easy to carry for such a large jug
Adds no taste or scent to your water
Two openings – one small, one large enough for ice cubes

CONs

Pricey!
Overkill for many applications
Bottom-Line: Easy to use, convenient to carry for such a large unit, and tough as nails.
Reliance Products Fold-a-Carrier
Best Budget
If you're looking for a lightweight, low-cost, high-capacity, collapsible water container, it's hard to go wrong with the RP Fold-a-Carrier.
The Fold-a-Carrier is the collapsible version of our recommended favorite, the RP Aqua-Tainer. Despite its large, 19-liter (5-gallon) capacity, it weighs just over 13 ounces and collapses to a tiny size.
The Fold-a-Carrier is made with food-grade, BPA-free polyethylene plastic. The downside is that the plastic is far less robust than that used in models like the Aqua-Tainer or Scepter water container, both of which are far better options if you prioritize puncture resistance and durability.
PROs

Fairly priced

Portable

Convenient on/off spigot

CONs

Less durable than others

Slightly plasticky taste and smell 
Bottom-Line: The perfect option if you want a low-cost, high-capacity foldable water container and are short on storage space.
MSR Dromedary
Best Ultralight
The MSR Dromedary is the most versatile option on our list, with its soft-side design and light weight making it an equally great choice for car camping and backpacking.
The Dromedary is made with extra-rugged, puncture-resistant, 1,000D, polyurethane-laminated fabric. While not as tough as the hard plastics used on most of the hard-sided options we reviewed, this makes it more than hardy enough for the rough and tumble of camp life. It also has a BPA-free, food-grade lining and won't freeze over in sub-zero temperatures.
The best part is that the Dromedary weighs a mere 10 ounces, which makes it the lightest option on our list. While its carrying capacity is a fairly meager 10 liters, this should be plenty for most campers as long as there's a water supply or source nearby.
Two other features earn the Dromedary further brownie points. The first is a multi-functional cap that allows you to pour water at three different flow rates and the second is the assortment of straps that allow you to hang it wherever suits.
PROs

More durable than most collapsible alternatives
Lightweight
Small packed size lets you save space
3 spout options
High-quality material

CONs

Lower capacity
Quite pricey
Bottom-Line: The best choice for buyers who want a water container suitable for both backpacking and car camping.
Igloo Corporation 6-Gallon Blue Water Container
Honorable Mention
If you're looking for a simple, no-nonsense, large-capacity water container that's easy to use, the Igloo Blue is worth a second look.
All told, the Igloo Blue is a smaller, two-handled version of the RP Aqua-Tainer. It's made with very similar, robust, rigid materials, but has two molded handles instead of one. This small add-on makes the Igloo Blue a fraction more expensive, but also makes life a little easier when pouring water into other containers.
The Igloo Blue comes with a screw-on cap and a pouring spout that stows away inside the opening when not in use, thus reducing the risk of accidentally damaging it and making it more portable. The only real downside is that the lack of a spigot makes it difficult to wash your hands one-handed.
PROs

Spout stores inside the container
Adds no scent or taste to drinking water
Large capacity
Two handles

CONs

No spigot
Tricky to clean
Bottom-Line: A reliable, high-capacity jug that's a little easier to handle than other competitors of its size.
How to Choose a Water Carrier for Camping
Capacity
How much water do you need? If you are camping in a large group or plan on heading somewhere far from a reliable water source, we recommend opting for a high-capacity container like the Reliance Jumbo-Tainer (26.5 liters).
It's also worth mentioning that smaller, collapsible containers like the MSR Dromedary are easier to carry and more likely to fit into small spaces in your vehicle.
The US National Park Service recommends that campers drink at least 2 liters per day. Bear this in mind when choosing, and also take into account variables like high temperatures, exertion (if you'll be hiking, for example), and the regular water intake of members in your group.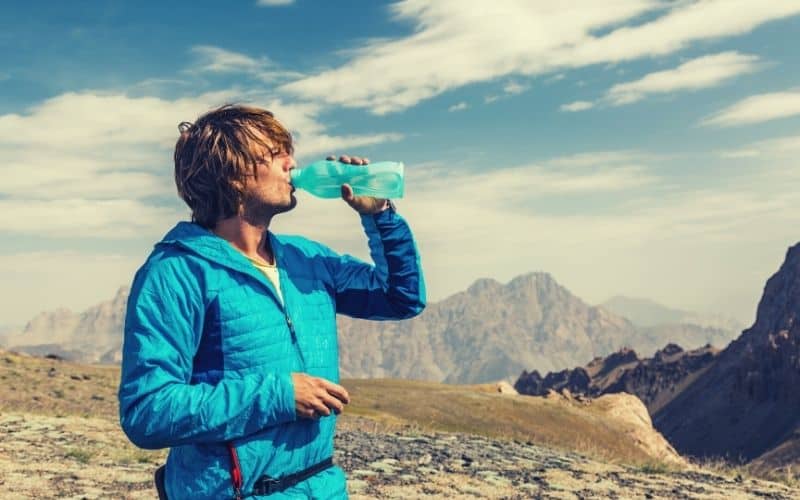 Portability
With hard-sided models, portability is determined by the bulkiness of the container and the design of the handle. Heavy and bulky models like the Scepter Military-Grade Jug and RP Aqua-Tainer will take up a lot of space in your vehicle and, of course, your tent. Their weight when full will also make them tough to carry any distance.
While the carry handle on the RP Aqua-Tainer is a little small for big hands, the handles on the RP Jumbo-Tainer and Scepter Jug are far more conducive to comfortable carrying.
Collapsible models are the more portable of the two. The reason for this is they can be squeezed into smaller spaces when empty and some collapse as the water level declines, making them more space-efficient.
Leakproof?
All brands market their containers as "leakproof", but not all live up to the billing. When drawing up our list of options, we chose only models that are genuinely leakproof. That said, there are a few general observations worth making.
As a general rule, screw-cap closures are more leakproof than spigots, which have moving parts that can erode with time and use. Spigots are also more likely to break.
Collapsible vs. Hard-Sided
Hard-sided bottles are typically the most durable of the two but, as mentioned above, are also less portable and harder to store. Some collapsible water containers, like the MSR Dromedary, are also made with burly materials that are highly puncture-resistant and otherwise tough enough to last you a lifetime with proper care.
In short, the right choice for you will depend on where and how you plan on using them. If you're a car camper with plenty of room in your vehicle, then hard-siders are a safe bet. If you have less space or will need to transport the container to a campsite before filling it up, then collapsible models may be a better choice.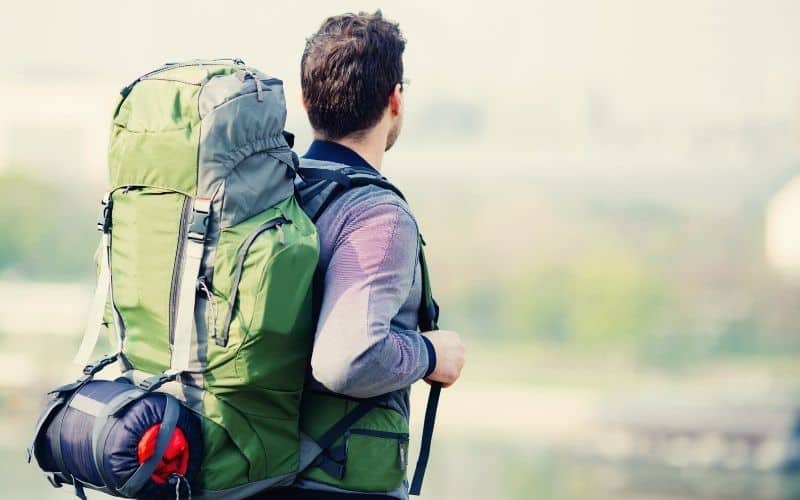 Spigot or Cap?
As mentioned above, screw-on caps are the more reliable and durable of the two. Spigots, however, make it far easier to pour water from your container, so is the more convenient option.
Our list has a selection of containers with spigots, caps, and proprietary closures/seals that combine the two.
Spigot: Reliance Jumbo-Tainer, Reliance Aqua-Tainer, WaterStorageCube Container
Cap: Scepter Military Grade Jug and MSR Dromedary
The Igloo Blue Water Container is the outlier, using a long-pour spout that screws off and stows away inside the container when not in use.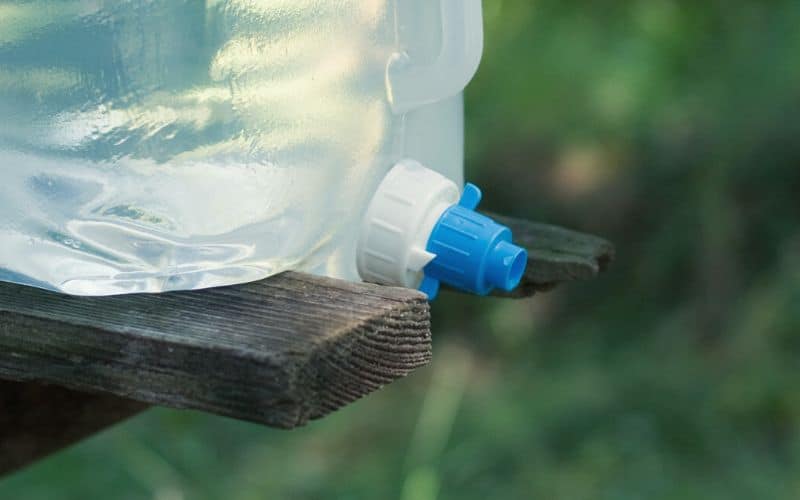 Material
There are two things worth looking out for as regards the material your portable water container is made with.
First, make sure it has no harmful chemicals like BPA, DEHP, or PVC, and is made with food-grade material – all of the models on our list meet this criterion.
Secondly, it has to be tough enough to survive a little rough treatment around camp and during transportation. Again, we chose only containers made with heavy-duty materials for this list.
The toughest of the bunch is the Scepter Military-Grade Jug, which is made with a combo of low-density polyethylene (LDPE) and high-density polyethylene (HDPE) for added puncture resistance and durability.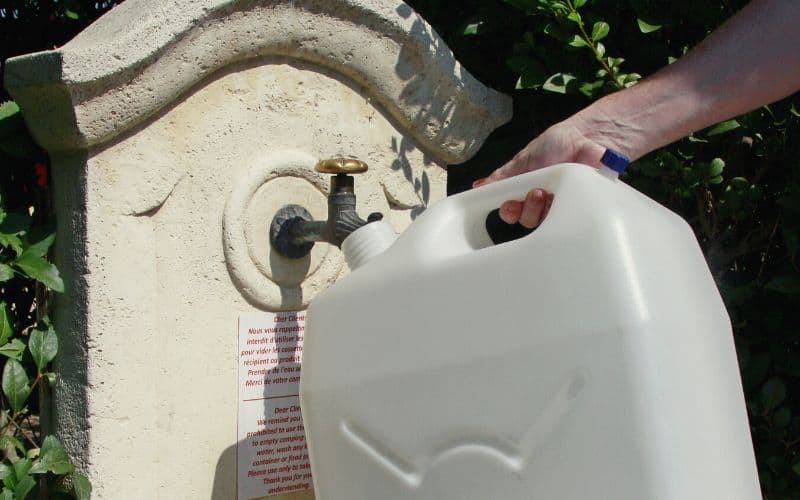 Best Camping Water Container: The Verdict
Still undecided? If so, here's a little recap of our top picks to help you out.
Our standout favorite water container for camping is the Reliance Aqua-Tainer. The Aqua-Tainer ticks every box for campers heading to dry campsites – it's durable, leakproof, user-friendly, high-capacity, and affordable to boot.
If you'd prefer a collapsible model, we recommend the WaterStorageCube. This fairly priced container has a large capacity, is more durable than most other collapsible models, and collapses as you empty it, thereby saving you precious storage space. It's also easy to use and very reliable.
How did you like our article? If you have any questions or comments on the best camping water container, drop us a line in the box below. And if you'd like to share this post with your friends, please do!