People say Kansas is "flatter than a pancake." But that doesn't mean there aren't any exciting outdoor opportunities in the Sunflower State! Plenty of locations are worthy of a weekend excursion (or two) in the Great Plains.
Camping here offers lakes and rivers for kayaking, fishing, and other water sports. You'll also find a nice variety of hiking trails, including several equestrian routes.
Whether you want something primitive or all the luxuries of home, our guide is sure to include something to meet your needs.
1. Cedar Bluff State Park & Reservoir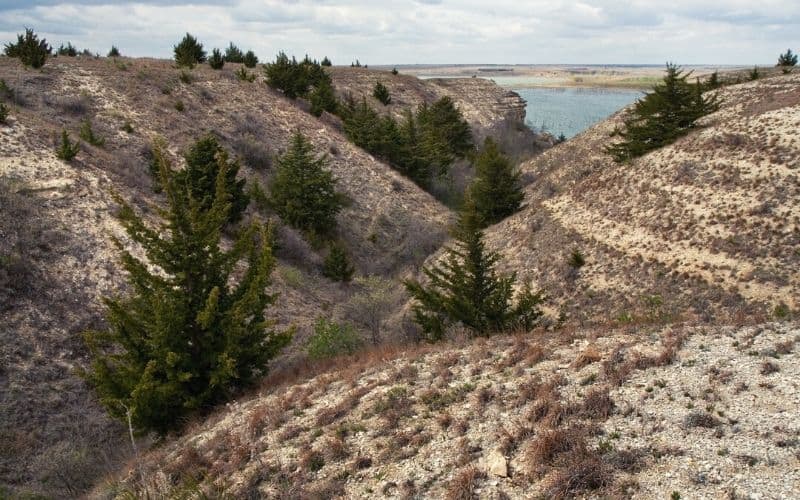 Type: RV, tent, cabins
Electric: Yes
Nearest town(s): Dodge City, about 88 miles
Cedar Park State Park is made up of two unique areas along the Cedar Bluff reservoir shoreline: Bluffton and Page Creek. Both feature a mixture of primitive and utility campsites, picnic areas, showers, and dump stations. Bluffton also has a handful of rental cabins and community shelters.
The park has several boat ramps to help you kick off your water-based activities, like fishing, boating, and swimming. Continue the fun on land at the campground's sand volleyball or basketball courts, or the horseshoe pits. There are also motocross and bike tracks for fun on two wheels.
For a fun day trip, head south to explore the unique Cimarron National Grassland. 
2. El Dorado State Park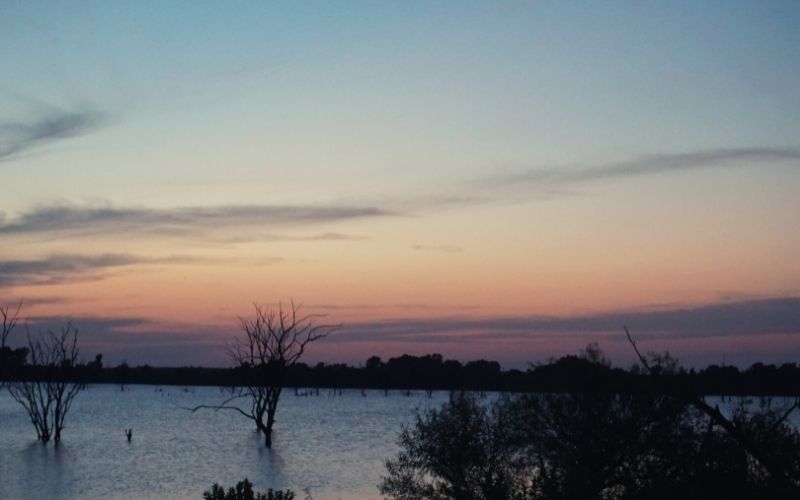 Type: RV, tent, equestrian
Electric: Yes
Nearest town(s): Wichita, about 37 miles
With more than 1,000 campsites to choose from, you'll be sure to find the perfect camping spot to settle down at El Dorado State Park. You can even bring your horse.
El Dorado State Park is located on the edge of the Flint Hills and boasts 8,000 acres of water with 98 miles of shoreline. As the largest camping facility in the state, this 2,000-acre park and 4,000-acre wildlife area includes trails for hikers, bike riders, and equestrians. On the water, anglers will be busy catching a variety of sportfish.
3. Eisenhower State Park & Campground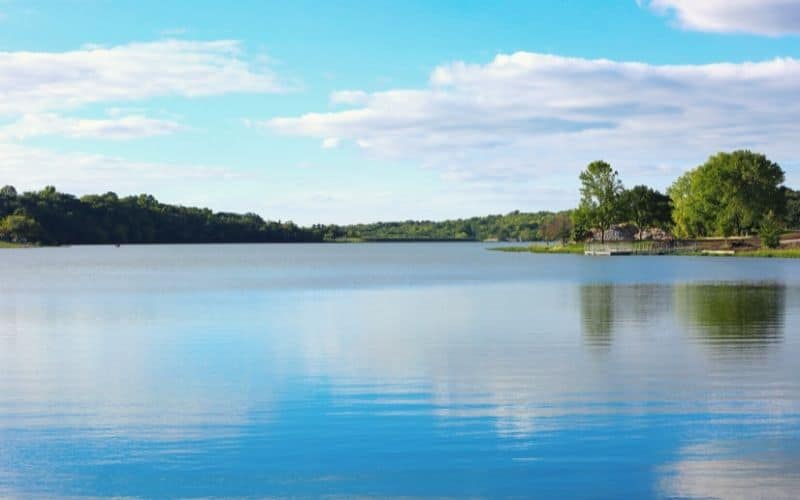 Type: RV, tent, cabins, yurts, equestrian
Electric: Yes
Nearest town(s): Topeka, about 40 miles, and Kansas City, about 90 miles
No matter what you're searching for in a campsite, Eisenhower State Park has it. You can choose from more than 100 campsites, some with sewer, water, and electric hookups. There are also equestrian sites, cabins, and yurts to rent.
Located at Malvern Lake, there are nearly 7,000 acres of water to explore, along with 1,000 acres of tallgrass prairie and 440 acres of woodland. Eisenhower State Park is also home to a network of trails for horseback riding, biking, and hiking. A variety of wildlife and fish will entice nature lovers and anglers alike.
Recreational highlights include a playground, basketball court, horseshoe pits, sand volleyball court, picnic shelters, an 18-hole disc golf course, a 19-target walk-through archery trail, kids' fishing pond and a fly-fishing pond, swimming beach, and kayak or canoe rentals.
Amenities include boat slips, laundry, shower facilities, and free WiFi.
4. Wilson State Park
Type: RV, tent, cabins
Electric: Yes
Nearest town(s): Salina, about 57 miles
In the heart of the Smoky Hills, Wilson State Park offers a beautiful camping location on the edge of Wilson Reservoir. The campgrounds offer both utility and primitive camping, cabins, and RV sites.
The rugged shoreline and rocky outcrops of Wilson Lake and the surrounding area are home to a variety of deer, pheasant, waterfowl, songbirds, and furbearers. In the water, anglers can look for white and striped bass.
There are a number of hiking, biking, and nature trails for all abilities and experience levels within the 9,000-acre Wilson Reservoir. Other recreational opportunities at Wilson State Park include horseshoe pitching, a small playground, and two designated swimming beaches.
5. Tuttle Creek State Park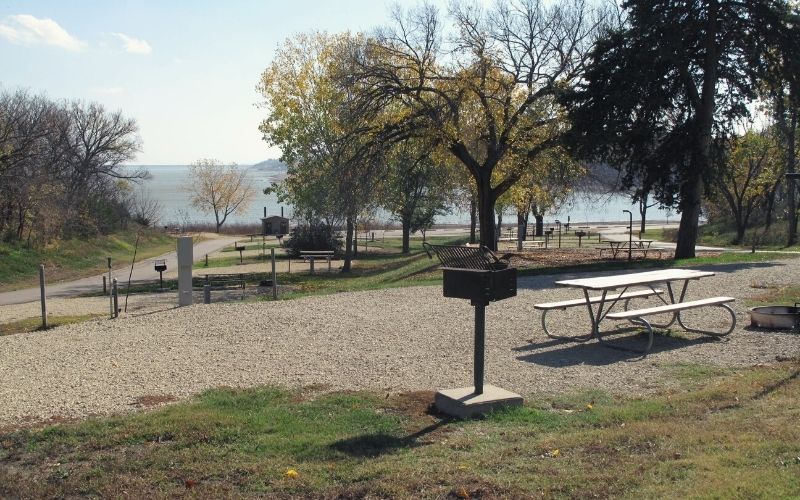 Type: RV, tent, cabins, equestrian
Electric: Yes
Nearest town(s): Manhattan, about 7 miles, and Junction City, about 27 miles
Tuttle Creek State Park encompasses 1,200 acres and features the second-largest reservoir in the state. You can explore 12,500 acres of water and about 100 miles of shoreline. Nature lovers will enjoy wildlife watching at the adjacent 12,000-acre wilderness area. Anglers can catch catfish, crappie, and bass. Trout are stocked in Willow Lake during the fall and winter.
With several great campgrounds and more than 600 sites, you'll find what you need at Tuttle Creek. Choose from cabins, RV park sites, and tent sites that have electric/water/sewer options, equestrian accommodations, and primitive campsites. Some campgrounds also have showers, dump sites, and full hookups for RVs.
Campers can also check out a few picnic areas, an 18-hole disc golf course, volleyball courts, horseshoe pits, an archery range, and a shooting range.
6. Lake Scott State Park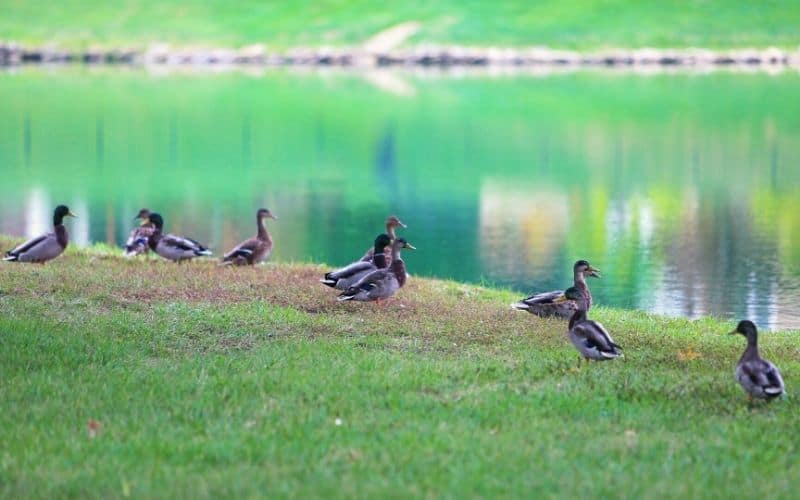 Type: RV, tent, cabins, equestrian
Electric: Yes
Nearest town(s): Garden City, about 50 miles
Hidden in the hills on the western side of the state is Lake Scott State Park, an awesome, secluded oasis that offers some of the best camping in Kansas for lovers of peace and quiet.
Find utility and primitive campsites, cabins, equestrian sites, and spaces for RVs here. Enjoy the swimming beach, rent a canoe or paddleboat, or hit the trail. You might even catch a glimpse of a bobcat, wild turkey, beaver, or deer.
The 100-acre spring-fed lake, created by a dam in 1930, is the centerpiece of Scott State Park, but the history sets it apart. You can see a century-old home from the area's original settlers, explore America's northernmost pueblo, El Cuartelejo, or roam the site of the last Kansas battle between the U.S. Cavalry and Native Americans.
7. Crawford State Park
Type: RV, tent, cabins
Electric: Yes
Nearest town(s): Pittsburg (25 miles), Kansas City (100 miles)
Some of the best camping in the state is on the edge of the Ozarks at the 500-acre Crawford State Park.
There are more than 100 sites in the park's six campgrounds, all with fantastic views of Lake Crawford. It's a mixture of primitive, electrical hookups, and electric/water camping sites. You can also enjoy the comforts of home and rent one of the five lakefront cabins year-round.
Enjoy hiking, swimming, and boating while visiting the park. Or try your luck fishing for channel catfish, crappie, and striped bass. Nature lovers will also enjoy the lush landscape, particularly in spring when wildflowers, birds, and butterflies abound.
8. Glen Elder State Park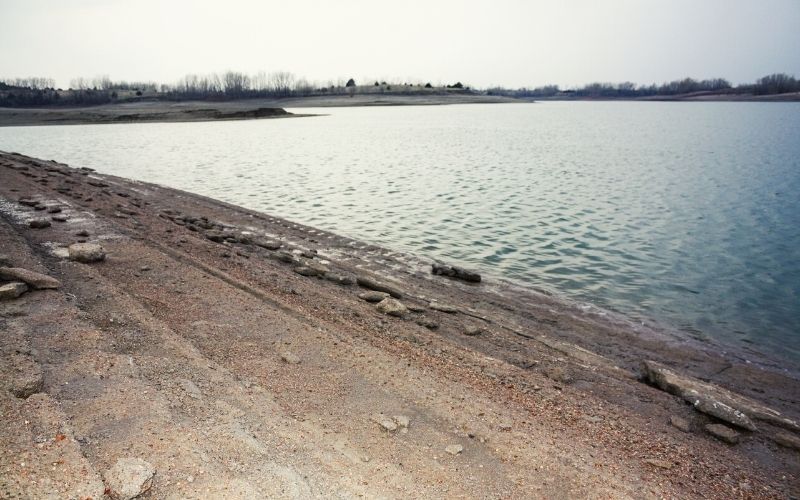 Type: RV, tent
Electric: Yes
Nearest town(s): Salina, about 78 miles
Glen Elder State Park is situated on the north shore of Waconda Lake. With 12,500 acres of water and almost 13,200 acres of land, there's plenty of space to roam.
The park has three campgrounds with RV camping spots, utility campsites, and primitive camping spots. Amenities include shower houses, dump stations, picnic tables, and free WiFi.
At the park, you'll learn that the reservoir covers what was once a mineral spring sacred to local Native American tribes. In 1964, this massive dam was built for flood control. The resulting lake covered Waconda Springs, which had a pool reportedly 50 feet in diameter and 15 feet deep.
9. Cross Timbers State Park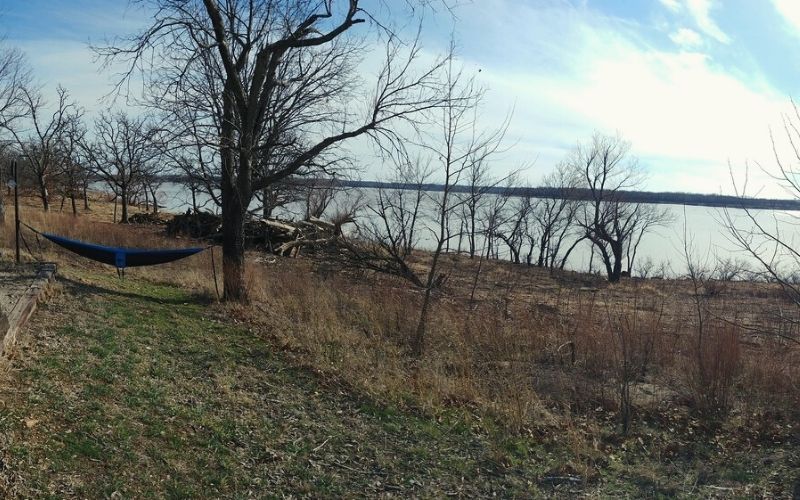 Type: RV, tent, cabins
Electric: Yes
Nearest town(s): Wichita, about 86 miles
At Cross Timbers State Park, you can camp within easy walking distance of lake and river access. The park's campgrounds offer full hookups for RV campers and a mixture of utility and primitive campsites for tents. The park also has a basketball court, beaches, picnic tables, and a playground. 
Enjoy multi-use trails or go further in the great outdoors, with backcountry camping (allowed with a permit in designated areas).
Some of the most diverse flora and fauna in Kansas can be found in the Cross Timbers region thanks to the dense oak, forested floodplains, rolling meadows, and hills of hickory woodlands.
10. Kanopolis State Park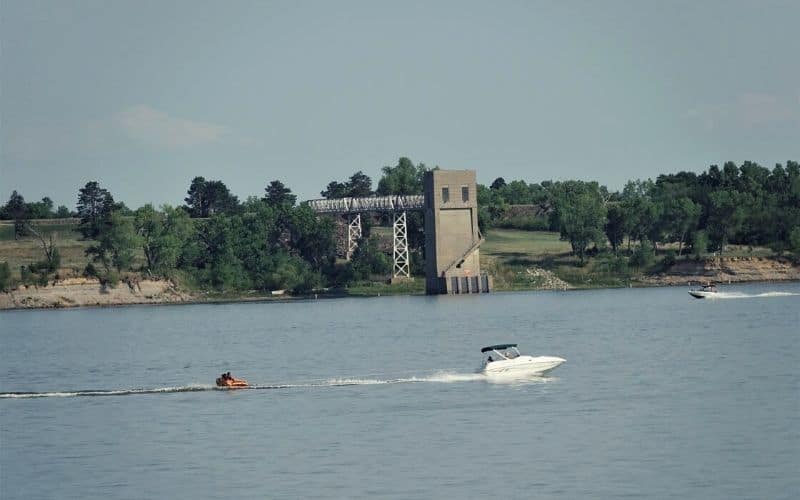 Type: RV, tent, cabins
Electric: Yes
Nearest town(s): Salina, about 30 miles
The park is located on the Prairie Trail Scenic Byway in the Smoky Hills region. Kanopolis State Park campgrounds offer a mixture of RV and tent sites, primitive and utility camping sites, as well as a handful of cabins.
As the first of the state parks in Kansas, Kanopolis' stunning vistas and rugged landscape has drawn visitors since 1955. A network of hiking, equestrian, and mountain biking trails offers a great way to get out and see the best of it.
Outdoor lovers will enjoy the towering Dakota sandstone bluffs and canyon caves, while anglers and hunters can find abundant fish and game in the 3,500-acre lake and 12,500-acre wildlife area.
11. Clinton Lake State Park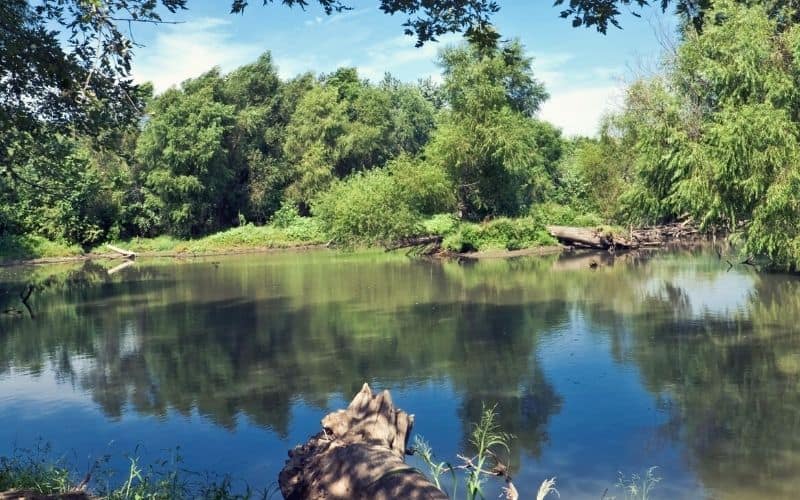 Type: RV, tent, cabins
Electric: Yes
Nearest town(s): Lawrence, about 7 miles
Clinton Lake State Park offers some of the best lakeside camping in all of Kansas. Located just 7 miles from Lawrence and around 45 miles from Kansas City, this 1,500-acre state park offers the ideal getaway for nature-loving families.
The main draw of this park is the lake itself, where you can enjoy multiple watersports or try to land yourself a few catfish, walleye, and crappie. That said, there's plenty more to enjoy. The park is home to a few great hiking trails, equestrian trails, and is a great spot for wildlife viewing despite its popularity (it receives over half a million visitors per year!).
Best Camping in Kansas!
Hopefully, our guide inspired you to get out and explore these great campgrounds in the Sunflower State!
Let us know your favorite Kansas RV parks or tent-camping spots in the comment section below. And feel free to bookmark this article for your next outdoor adventure or share it with your friends!