New Jersey State lies in the northeast of the U.S. The State capital, Trenton, lies midway between Philadelphia and NYC, straddling the banks of the Delaware River. As well as having easy access to iconic visitor attractions, New Jersey has some beautiful camping locations.
Whether you want to enjoy a truly rustic, wilderness camping experience under canvas, take an RV road trip with your family, or spend a few nights relaxing in a cozy, luxury cabin, the Garden State has something for you! So settle down for our guide to some of the best camping in New Jersey.
Top 10 Campgrounds in New Jersey
A camping trip in New Jersey is a location that you must surely add to your list of must-visit vacation destinations. To help you plan your trip, we've picked out ten of the most beautiful camping sites around the Garden State, including wilderness, coastal, lakeside, and more.
So, whatever your preference, New Jersey has something special to offer you.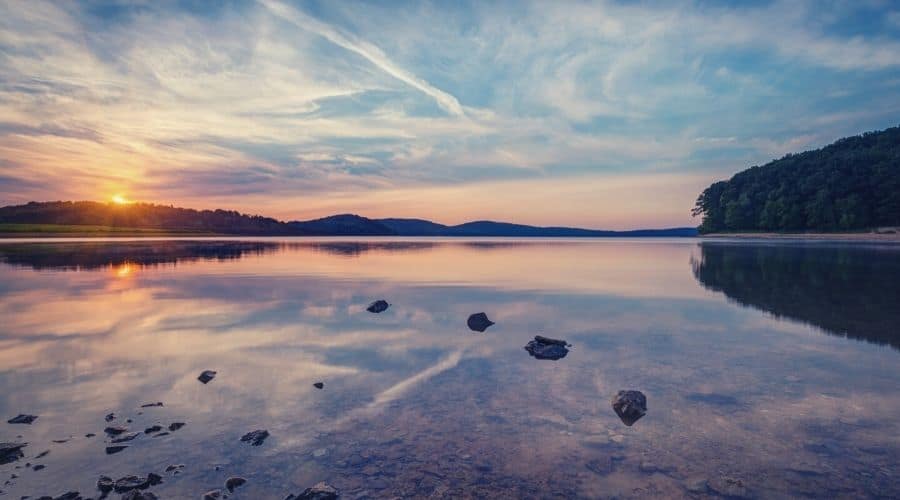 Round Valley Recreation Area, Lebanon
Round Valley Recreation Area is located in the borough of Lebanon in Hunterdon County.
If you're looking for a genuinely rustic wilderness camping experience, you have to check out Round Valley Recreation Area. The campsites are situated on the eastern side of the 2,000-acre reservoir at least three miles from the parking lot and are only accessible via backpacking or boating.
The wilderness campgrounds have 85 tent sites with fire rings. Note that drinking water and pit toilets are available within walking distance of the camping area. Vehicular access is not possible. From the parking lot, it's a three to six-mile hike to the campsites, which are also reachable by boat or canoe. Note that the trail is steep and rugged, so you will need to be reasonably fit, and you will need to bring appropriate clothing and footwear with you too.
The campsites are open from April 1 to October 31.
Starting at $17 per night for New Jersey residents and at a rate of $22 per night for non-residents, you can enjoy scenic views across the reservoir. The campsites offer plenty of activities for visitors, including swimming, fishing, picnicking, and boating.
No alcohol is permitted on-site.
The campsite is pet-friendly, and you will need to bring your dog's license and vaccination paperwork with you before Fido will be permitted on-site.
RELATED READING: Fore more outdoor adventures check out our main page to find the best hiking trails in New Jersey!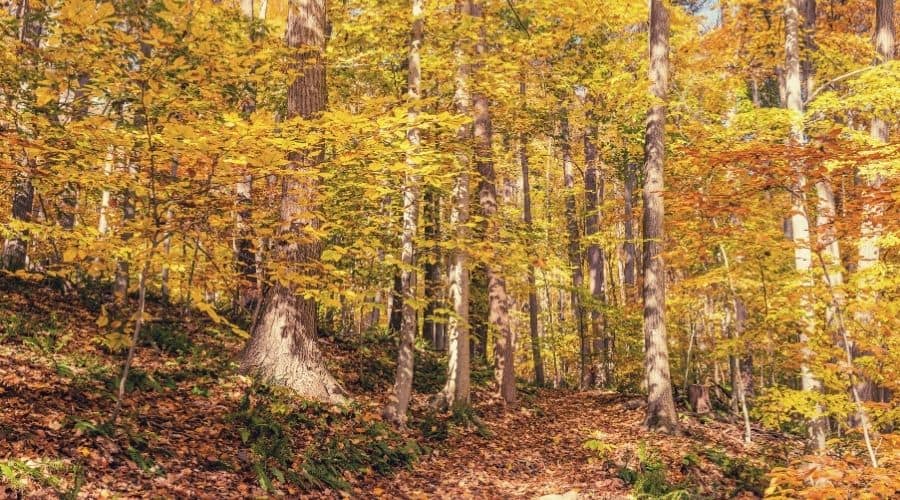 Wharton State Forest, Hammonton
The idyllic location of Wharton State Forest is located right in the heart of the Pinelands to the northeast of Hammonton, and it's New Jersey's largest state park.
The forest covers around 122,880 acres, and there's so much to do! You can spend hours exploring historic villages and enjoying the tranquility of several ponds, rivers, and beautiful lakes.
You and your family will love canoeing, hiking along a significant section of the Batona Trail, horseback riding, mountain biking down miles of unpaved tracks, and wildlife watching. Also, why not check out the historic Batsto Village Historic Site and the abandoned Harrisville Village?
The forest has several campsites, including tent, cabin, RV, and primitive, several of which are pet-friendly, so there's something for everyone. Prices are very reasonable, starting at just $3 per person, per night. An eight-person cabin is only $100 per night for New Jersey residents.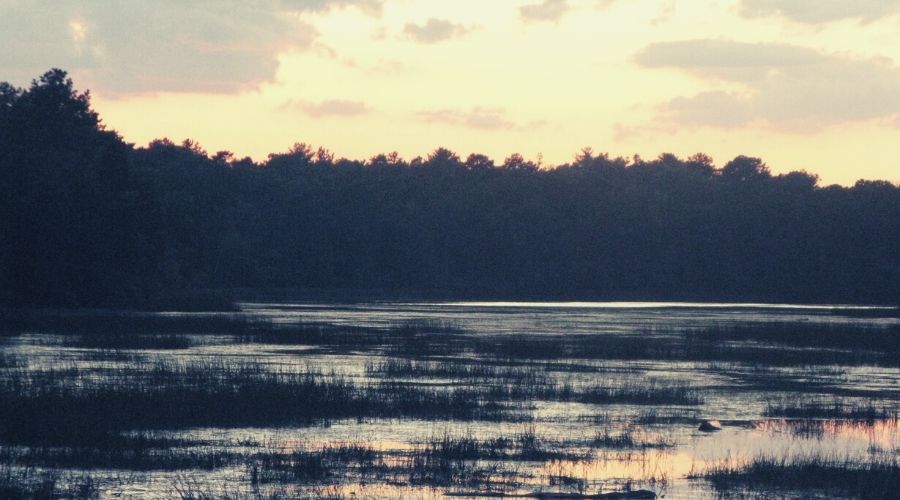 Bass River State Forest, Bass River
You'll find beautiful Bass River State Forest in Ocean County.
Bass River State Forest has a variety of options available for campers, including tents, lean-tos, cabins, and shelters in different locations around the park.
Bass River features one of the most extensive pygmy forests on the planet! You simply have to check out this unusual natural phenomenon where the forest canopy reaches the dizzy heights of under four feet!
The whole area is crisscrossed by many easy hiking trails, enabling you to explore the forest, including taking in the historic Civilian Conservation Corps camp and its 67-acre lake. Here you can enjoy boating, fishing, and swimming, as well as wildlife watching.
There are a few camping spots to choose from, but the most comfortable and scenic of these are the lakefront cabins located along the lake's north shore. The cabins are well-equipped with full kitchens, enclosed porches overlooking the lake, and private baths. If you prefer a more rustic experience, check out the lakeside shelters. These have shower facilities within walking distance.
Cabins cost $75 per night for New Jersey residents, and shelters are priced at $48.
Ocean View Resort Camping, New Jersey
Ocean View Resort Campground is found and is the largest privately-owned campground in New Jersey.
The spacious, well-maintained campground features seven trailer sites located on the beach, and there are many more that boast lake views or enjoy the shade of 180-acres of woodland. The family friendly resort offers a wide variety of activities, including shuffleboard, swimming, mini-golf, and beach volleyball, and there's a playground, arcades, and paddleboat rentals too.
The site is within easy reach of the safest and most beautiful beaches on the New Jersey shore. Close by are championship golf courses, kayaking, fine-dining restaurants, crabbing, saltwater fishing, whale watching, cruises, water parks, lighthouses, and the casinos and glittering shows of Atlantic City.
The campsites are shaded for your comfort during hot summer weather. They are all equipped with modern camping conveniences, including 20/30-amp electricity, sewer, water, cable TV, picnic tables, and fire pits. There are also some 50-amp sites, as well as 40 pull-throughs, which can take large RVs.
Trailer sites cost from $52 to $95 per night, depending on when you go. The campsites are open from mid-April through mid-October.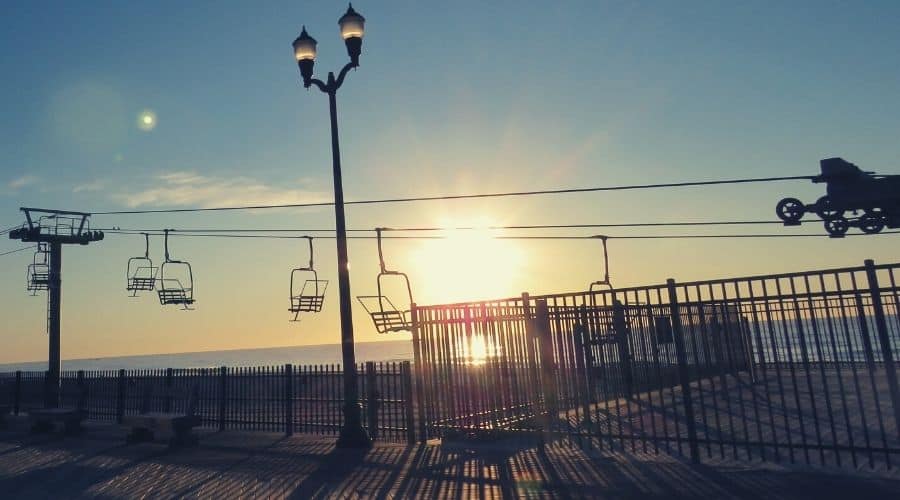 Hiering Avenue Beach, Seaside Heights
Hiering Avenue Beach is located in the bustling town of Seaside Heights.
Each year, Seaside Heights offers all-ages oceanfront camping on specific dates during the summer months. Most of these dates are free, but you will have to pay for the final night that's usually at the end of August. You can buy tickets online, priced at around $6.27 per person, including all fees.
Camping is strictly by tent (up to 10' x 10'). A night of beach games, picnicking, and fun is guaranteed, with check-in from 7 pm to 9:30 pm and re-entry ending at 1 am. Although no alcohol is permitted, the town usually puts on a bonfire on the beach for everyone to enjoy.
You can find more information about this year's events at this link, including how to book.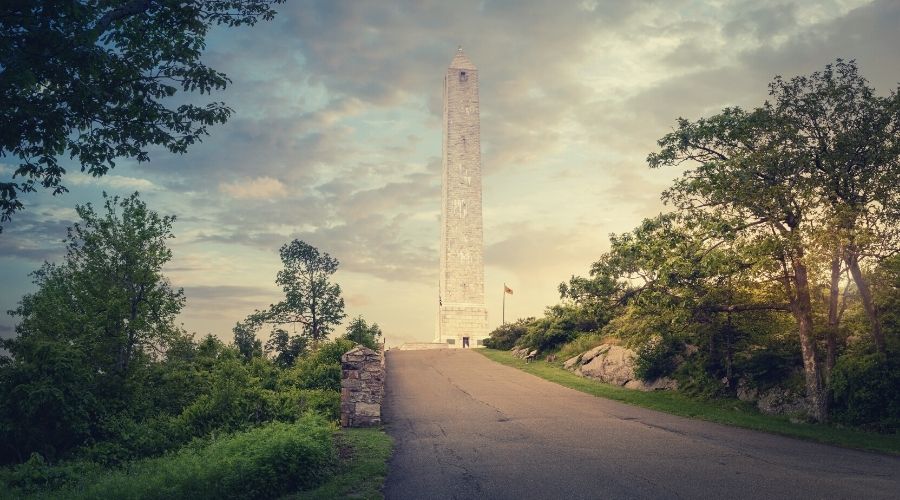 High Point State Park, Sussex
High Point State Park in Sussex is located across the borders of Montague Township and Wantage Township in Sussex County.
High Point State Park extends for 15,413 acres and offers visitors some of the most stunning panoramic views found in the Garden State. Camping here consists primarily of tent sites, although there are a few cabins available that can take up to six people, as well as a group cabin that accommodates up to 28 people. Picnic tables and fire pits are provided at all the camping areas.
All the cabins at High Point State Park have private baths and kitchens and start at $75 per night. Note that pets are not permitted at this camping location.
There's plenty to do in High Point Park and its lakes. You can hike for miles through stunning scenery, and there's boating, swimming, and fishing available too. During the winter months, the Park is a Mecca for winter sports fans with cross-country skiing, ice skating, ice fishing, and snowmobiling. Mountain biking and horseback riding are also popular pastimes here.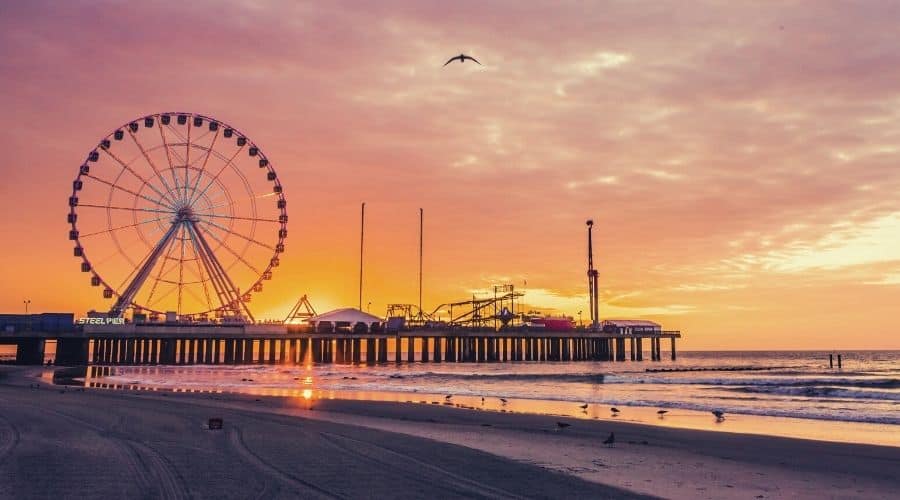 Buena Vista Campgrounds, New Jersey
Buena Vista Campground is located in Buena, close to Atlantic City. This a brilliant purpose-built campground that offers something for everyone, no matter what your budget.
There are over 675 campsites here, including deluxe cabins that sleep up to six people, RV hookups, tent sites, and rustic log cabins. Rates for water and electric sites start at $30 per night during the season, and deluxe cabins are available for a rental fee of $110 per night.
The pet-friendly campground has a large pool and a kiddie pool, an arcade, and beautiful lakes where you can fish for bass, take to the water in a kayak, or ride a hydro bike.
For a change of scenery, venture into Atlantic City to check out the shops, beaches, or casinos. There's something for everyone here!
Pleasant Acres Farm Campgrounds, New Jersey
Pleasant Acres Farm Campground offers you unforgettable and spectacular panoramic views directly from the hot tub or from the beautiful poolside where you can enjoy the scenery while catching a few rays.
There's plenty to do here on this working farm for the whole family, including basketball, mini-golf, volleyball, fishing, farm animal petting opportunities, and horse-drawn hayrides. And if you want to get away from it all, you can while away the hours by exploring the 100 acres of natural countryside that the campground offers.
The luxury cabins aren't cheap here, being priced at $189 per night on weekends, but the accommodation and facilities are well worth the expense. Also, there are shaded, sunny, or semi-shaded RV sites available with full hookups on every site. Seasonal campsites are also available. There are pet-friendly cottages, and there's even a dog park so that Fido can have fun and make a few new friends too! Remember that you'll need your dog's vaccination certificates and tags.
All the campsites are equipped with picnic tables and firepits, and you'll find free Wi-fi throughout the campgrounds. There are a laundromat and shower building, as well as a snack bar and convenience store.
Triplebrook RV and Camping Resort, Blairstown
Triplebrook RV and Camping Resort is located in Blairstown.
This is a family-friendly resort that offers a beautiful pool, tennis courts, themed weekends, and a pond. If you fancy a spot of fishing or a round of golf, there are plenty of great locations where you can indulge in your favorite pastime.
The campsite sits in the Skylands Region where you can relax amid the glorious scenery of the famous Kittatinny Mountains while enjoying all the conveniences of home. If you want shopping, check out the towns of Blairstown, Hope, Columbia, and Stroudsburg.
Many of the 200 campgrounds and deluxe cabins are pet-friendly, and the hookup sites can take even the biggest of rigs. There are also some heavily wooded sites that give you more privacy if you want that. If you like to go camping for a season with friends and family, there are field camping areas here where multiple sites can be joined to accommodate groups of up to 150 people.
All the sites have drinkable water, fire rings, picnic tables, and electricity.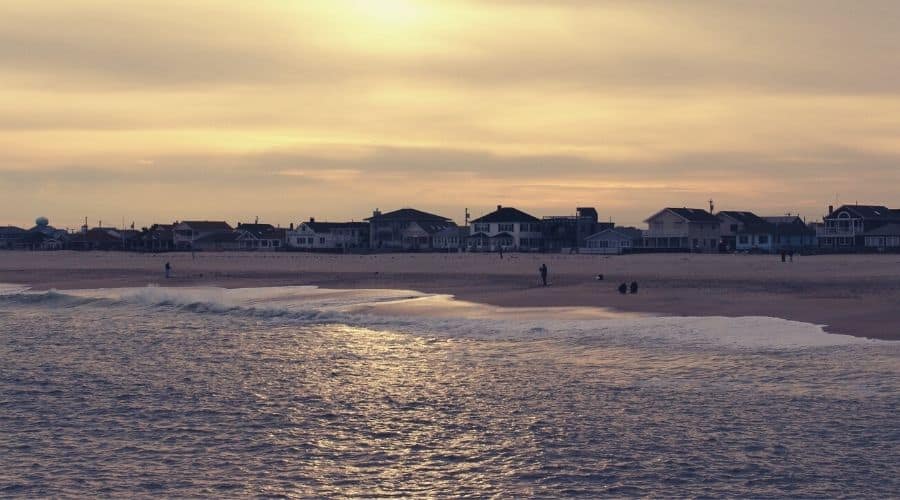 Pine Haven Camping Resort, Ocean View
Pine Haven Camping Resort is a premier family vacation destination on the South Jersey Shore.
The resort nestles within acres of shady oak and fragrant pine woods and is superbly equipped for the perfect family holiday with lots to do, well-appointed sites, and prices to suit most budgets.
You can rent a comfy luxury cabin or cottage, check into a deluxe loft, choose something a little more rustic, or bring your own RV if you prefer. The rental price of $129 to $299 in-season may seem a tad high, but that's what it costs to rent a gorgeous, home-from-home, lakefront loft that will comfortably accommodate up to nine people. It also includes a TV, Wi-fi, private bath, fully equipped kitchen, and a massive deck from which you can enjoy views of the surrounding countryside. You can even bring Fido, as the lofts are pet-friendly.
Within the park, you'll find plenty to do. There's a swimming pool, lake beach, pinball, basketball, volleyball, billiards, and even ceramic classes on certain days. The kids will love the fishing lake, while you might fancy taking a dip in the other lake that's explicitly designated for swimming.
Why not include a few days out during your stay? The campsite is located just a few miles from the mighty Atlantic Ocean, with Cape May, Atlantic City, and New Jersey also right on the doorstep.
The Best Camping in New Jersey: Wrapping it up
Camping in New Jersey has so much to offer the outdoor enthusiast!
Whether you want to take to the road in your RV for a lively, fun-packed family vacation or get right away from it all at beautiful wilderness campgrounds, or take in peaceful lakeside views from your luxury cabin window, you'll find what you're looking for in the Garden State.