From the Blue Ridge Parkway and the Cumberland Gap to Shenandoah National Park and over 500 miles of the Appalachian Trail, the state of Virginia has an absolutely gobsmacking array of terrain waiting to be explored. Dotted in and around all of that epic hiking, biking, and backpacking terrain, moreover, there are literally hundreds of campgrounds catering to visitors of all tastes.
Whether you're looking for a truly wild experience or something offering a little more in the way of creature comforts, the 'Old Dominion' has a backcountry billet you're sure to love. In this article, we introduce you to the very best of them with our selection of the twelve best places to go camping in Virginia.
15 of the Best Places to Camp in Virginia
1. False Cape State Park
For those of a more adventurous spirit, who wish to do some tent camping in Virginia, then False Cape State Park on Virginia's Atlantic coast offers one of the most idyllic destinations in Virginia, if not the Eastern seaboard in its entirety.
The 4,321-acre park is located on the Currituck Banks Peninsula, a slender barrier spit between the Back Bay of Currituck Sound and the Atlantic Ocean, and just north of Mackay Island National Wildlife Refuge.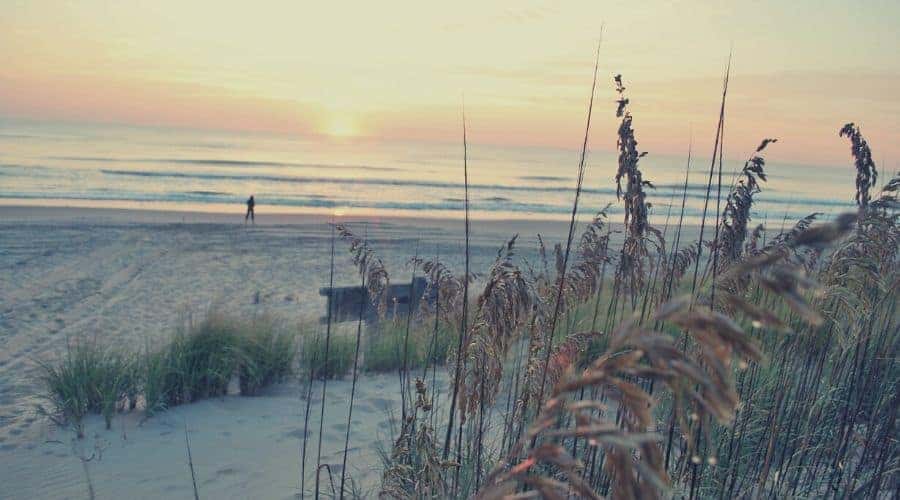 Reachable only on foot, by bike, or by boat, this sumptuous little six-mile slither of coastline is perfectly preserved, wild, almost entirely undeveloped, and is one of few campgrounds in the state with no vehicular access, all of which makes for a coastal camping experience that's among the best in the US as a whole.
The campsites in the park are primitive, with no showers, electricity, or bathrooms, but if you can deal with roughing it for a few days, this location has a whole lot to offer, including kayaking trips, biking trails, and six miles of untouched beachfront for swimming and sunbathing. Oh, and peace…lots of it.
Camping reservations must be made in advance (not on the same day or upon arrival)
Camping is primitive
Groups of 10 or more are required to obtain a special-use permit from Back Bay Wildlife Refuge two weeks in advance
Parking is available at Back Bay National Wildlife Refuge Visitor Center parking lot
Back Bay has two trails—East Dike and West Dike—that lead to False Cape State Park but only one trail is open at any time: pay attention to signs indicating which trail is open
The park operates a tram/shuttle bus that leaves from the Back Bay National Wildlife Refuge (4005 S. Sandpiper Road in Virginia Beach) and travels through the refuge to the campsites
*Because the access trails that travel through Back Bay National Wildlife Refuge don't permit pets, the only way to bring your pet is to arrive by boat
2. New River Trail State Park
New River Trail State Park is a highly popular location that swells with hikers, bikers, fishermen, swimmers, canoeists, and horseback riding enthusiasts from the late spring through early fall.
The park offers three primitive campgrounds: Cliffview, Millrace, and Double Shoals. None of the campgrounds have vehicular access, showers, or washing facilities, so this is another one for those who are happy to spend a few days short of luxuries and creature comforts if it means getting a little more seclusion and peace in return.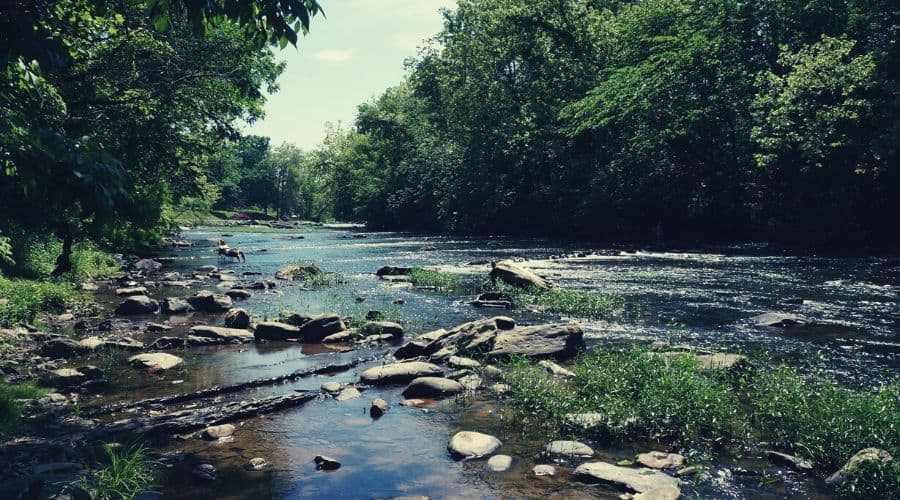 Both Cliffview and Millrace sites have fire pits, lantern posts, picnic tables, drinking water, non-flush toilets, and also offer canoe and bike rentals. The Double Shoals site, however, is entirely frill-free, remote, and the only amenities you'll enjoy are those you're able to carry in with you!
Access points include Allisonia, Chestnut Yard, Cliffview, Dannelly Park (near Galax), Draper, Dora Junction (near Pulaski), Foster Falls, Fries, Galax, Gambetta, Hiwassee, and Ivanhoe
Those camping at Millrace should be aware that the New River's current is unpredictable and potentially dangerous
Campers must bring their own water to Double Shoals Campground
Reservations are required and same-day reservations are permitted at Millrace and Cliffview campgrounds
Double Shoals is an honor-system campground with a self-pay system onsite for first-come, first-served use for its two primitive sites
3. Grayson Highlands State Park
Grayson Highlands State Park is famed for being the gateway to two of Virginia's most popular hiking destinations, namely the state's highest peak, Mount Rogers, and Whitetop Mountain.
Camping in Virginia mountains is a cinch as the park is home to a grand total of 89 camping sites (half of which have RV hookups) in addition to a handful of mildly lavish yurts and a bunkhouse at Hickory Ridge Campground. Stable area campsites with stalls for horses and primitive tent-camping sites are also available.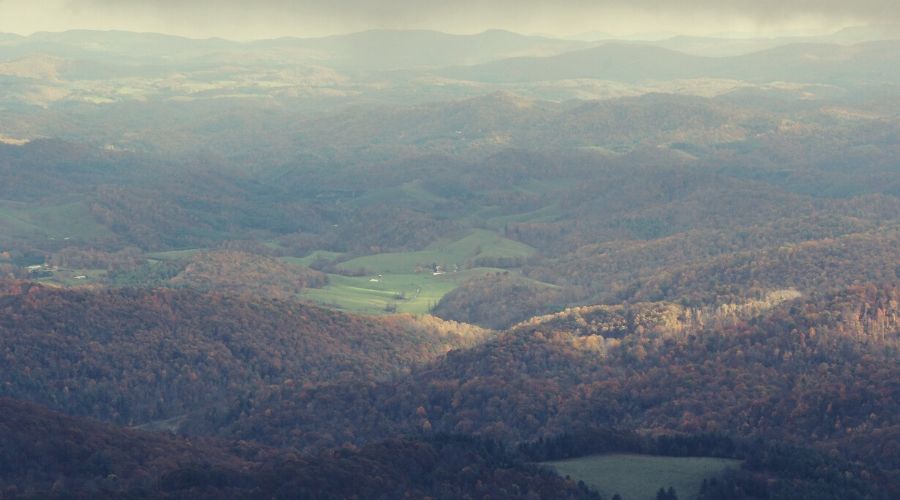 The main appeal of camping in Grayson are the views and hiking opportunities, with many sites looking out onto 5,000-feet mountains and offering easy access to the Appalachian Trail, Mount Rogers, and dozens of shorter hikes of which the best include the Wilburn Ridge Loop, Cabin Creek Trail, and Listening Rock Trail.
Overnight backpackers must have a reservation to park in the overnight backpackers' parking lot
Reservations can be made by calling 1-800-933-PARK or at https://www.reserveamerica.com.
No water from March-November
Only the Chestnut Hollow Horse Campground offers primitive camping, with power but no water, during March, April, and November
Full-service camping is available from the first Friday in May through the first Monday in November
The park is on U.S. 58 midway between Independence and Damascus and is reached from I-81 at Exit 45 in Marion
4. Shenandoah National Park—Backcountry Camping On The Appalachian Trail
For those keen to enjoy the very wildest camping Virginia has to offer, there's no better place to do it than along the Appalachian Trail in Shenandoah National Park. While we cover a handful of Shenandoah's established campsites below, there are almost limitless other opportunities for truly wild backcountry camping in the park's 200,000 acres of land.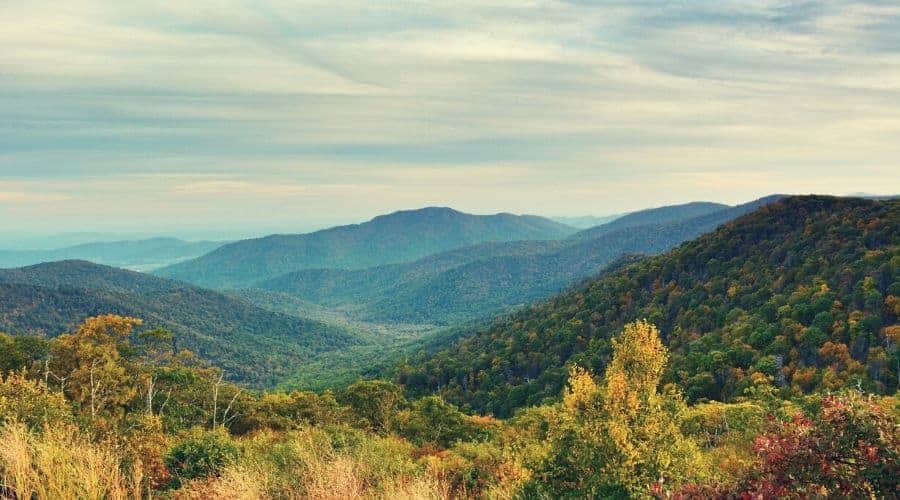 Very few areas in the park are off-limits to overnight stays, and while backcountry camping in Shenandoah requires experience, survival skills, and carrying all your own kit and supplies, the rewards are huge—think silence, raw, unadulterated nature, and a last-human-on-earth kinda feel with a touch of Hunger Games and Blair Witch Project eeriness thrown in for good measure.
Over 500 miles of trails to explore
Backcountry camping permit required
Bear-resistant food containers are obligatory
You can enter Shenandoah National Park via four access points: Front Royal at U.S. 340 near I-66, Thornton Gap at U.S. 211, Swift Run Gap at U.S. 33, Rockfish Gap at I-64 and U.S. 250
5. Lewis Mountain Campground
Situated just off the Blue Mountains' Skyline Drive at mile 57.5, Lewis Mountain Campground is the smallest campground in Shenandoah National Park and a wonderfully peaceful option for visitors looking to avoid the crowds that can accumulate elsewhere in the park.
The campground operates on a first-come, first-served basis and has only 31 campsites, but those who make the effort to arrive early and book their spot are rewarded with a truly idyllic location that boasts a far more remote, rustic feel than other camping locations in the area.
The campground is located just a short distance from some of Virginia's best hiking trails and natural attractions, including hikes to Bearfence Mountain, Dark Hollow Falls, and the 8.9-mile (and very testy!) Old Rag Loop. Those with more time and energy to burn can also easily extend the hikes in the camp's vicinity with dozens of loop hikes on the park's 500+ miles of trails, and visitors who prefer a bit more in the way of verticality can use the campground as a "basecamp" to explore the area's plethora of rock climbing crags.
Lewis Mountain has limited sites for RVs (all without hookups) and tent campers make up the vast majority of the campground's occupants, which usually means this spot's sure to offer a little more serenity than campgrounds with full facilities and easier access.
Located on Skyline Drive South near Swift Run Entrance Station
Open April through fall
Pets welcome
Strictly enforced quiet hours
Operates on a self-registration first-come, first-served basis
Facilities include a store, coin-operated showers, laundry facilities, picnic grounds, water and utility sinks, restrooms, and drinking fountains
6. Big Meadows
Big Meadows is perhaps the most popular campground in Shenandoah National Park—and not without good reason. The campground is situated in a secluded, shaded wood near Shenandoah's main facilities and is something of a hub for hikers setting off on any of the numerous trails in the vicinity, including the Appalachian Trail.
Three waterfalls (Dark Hollow, Rose River, and Lewis Falls) are located within easy walking distance of the campgrounds and offer more moderate, laid-back hikes for those not looking to put in serious mileage.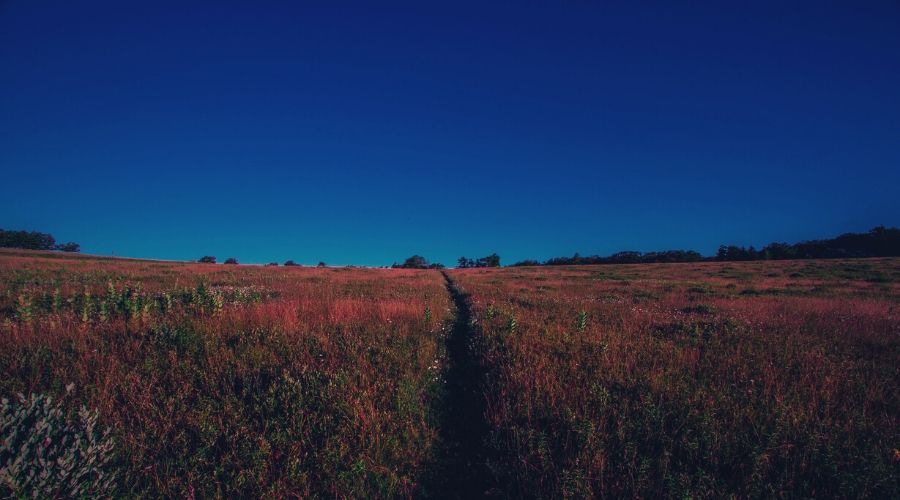 The scenery at Big Meadows is worth the visit in itself, even for those not venturing further afield, with every season offering abundant wildlife and mountain views within a short stroll of the campsites or, in most cases, just the other side of your tent or RV door!
Facilities include bathhouses with hot showers and toilets, fire grates and picnic tables at each campsite, laundry machines, and a camp store. Also, just a five-minute walk from the campground visitors can enjoy entertainment and cooked grub at Big Meadows Lodge and Restaurant.
Campground can be accessed by Skyline Drive Thornton Gap Entrance or Swift Run Gap Entrance
Pets allowed
There is a $30 fee per vehicle to enter the park (the pass issued is valid for one week)
No electric or water hookups at the individual campsites
Located near Shenandoah Valley Wine Trail
Other nearby wineries and breweries include DuCard Vineyards, Sharp Rock Vineyards, Hopkins Ordinary Ale Works, and Little Washington Winery and Vineyards
7. Christopher Run
Located on Lake Anna in Louisa County, Christopher Run Campground is a family-oriented campground with over 200 sites in a leafy, laid-back setting less than an hour from many notable historic sites, including the James Madison Museum, Michie Tavern, Montpelier, Monticello, Ash Lawn, and several Civil War battlefields.
The campground also has plenty going on in the way of outdoor activities, too, with canoes, rowboats, and paddleboats available for tent, six boat ramps for those who bring their own boats, and on-land activities including volleyball, basketball, mini-golf, and shuffleboard.
Water and RV hookups are available at most of the sites and the campground's other facilities include flush toilets, hot showers, a store, a laundromat, and a kids' playground.
Located in central Virginia, one hour away from Richmond, Charlottesville, and Fredericksburg
Over 200 sites, most with water and RV hookups
Family campground with abundant amenities and facilities, including showers, flush toilets, a laundromat, a store, and guided activities
8. Douthat State Park
The Alleghany Mountains' Douthat State Park is one of Virginia's oldest state parks and offers visitors a wealth of attractions and things to do, ranging from tours of sites of historical interest to fishing, boating, hiking, mountain biking, and other outdoor activities.
The park is home to a 50-acre lake and also has over 45 miles of hiking and mountain-biking trails and 6 miles of bridle trails. Douthat is something of a historical attraction in itself, having been listed on the National Register of Historic Places for the role its design played in the development of other state parks nationwide. Just a short drive away, moreover, history buffs will find plenty of other attractions, including the USA's oldest spa in Jefferson Pools, the historic town of Lexington, a railroad museum in Clifton Forge, and Humpback Bridge, Virginia's oldest standing covered bridge.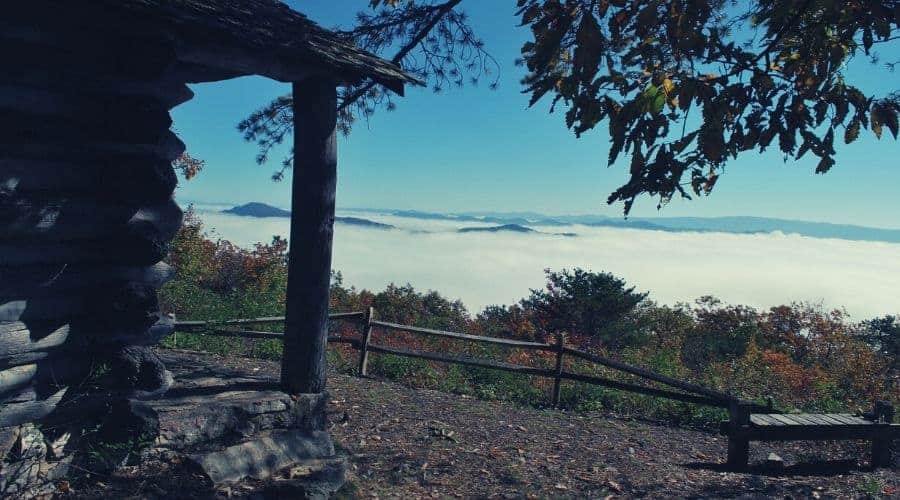 The park has four campground locations, all of which are pet-friendly and have RV hookups, bathhouses with showers and toilets, fire pits, and picnic tables.
Four campground locations: Lakeside, Whispering Pines, White Oak, and Beaver Dam with 89 sites
All campgrounds have dump stations, showers, and flush toilets
The park also has 32 cabins and three lodges that accommodate 15, 16, and 18 guests each
Accessed by I-64's Exit 27 near Clifton Forge
9. North Bend Park
North Bend Park & Campground is located on the John H. Kerr Reservoir, a 50,000-acre lake with more than 800 miles of shoreline. The surrounding area boasts no fewer than 26 wildlife management areas, dozens of quaint coves, and an abundance of hiking trails that you could spend the best part of a season exploring.
The campground itself has 249 primitive and electric/water hookup sites, many with lakefront locations and all within a short stroll of the shore. The campground's facilities include bathhouses with hot showers and toilets, flush toilets, a dump station, and public picnic areas with grills. In terms of recreation, there's biking, water activities galore, fishing, swimming, hiking, canoeing, and kayaking.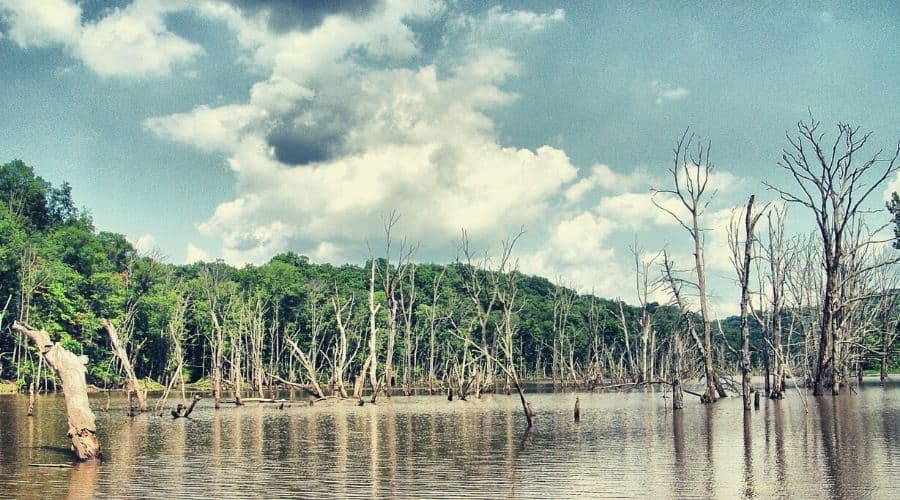 The main attraction at North Bend, however, is the abundant and diverse wildlife on or near the lake. Some of the critters you might come across include bald eagles, whitetail deer, wild turkey, bobwhite quails, mourning doves, gray squirrels, cottontail rabbits, foxes, raccoons, wood ducks, black ducks, mallards, Canadian geese, osprey, gulls, great blue herons, and river otters.
Park is located approximately 20 miles west of South Hill
Group camping areas can be booked by calling the Visitor Assistance Center (434-738-6143)
Alcoholic beverages are not allowed in the park
The 1.5-mile Liberty Nature Trail and 5.5-mile Robert Munford Trail are both within a short drive of the campground
Fishing for large-mouth bass, striped bass, crappie, and flathead catfish fishing available with a permit
10. Sky Meadows State Park
Sky Meadows is one for those who like to mix a little bit of culture and history in with their wanders in the wilderness.
Located deep in the notoriously gorgeous, leafy, atmospheric Blue Ridge Mountains, Sky Meadows is a 1,860-acre park with lakes, rolling pastures, mile upon mile of old-growth woodland, and a historic farmhouse at Mount Bleak that showcases the farming practices that formed the area's unique pastoral landscape and the lifestyle of its residents from the colonial through post-Civil War periods.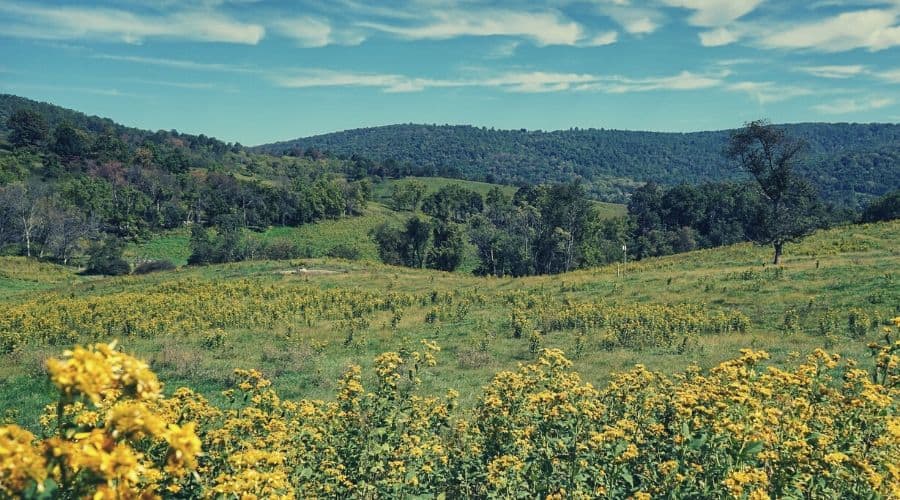 The park offers year-round primitive camping in sites that are almost guaranteed to be peaceful owing to their lack of vehicular access and location one mile from the overnight parking area. It boasts 22 miles of hiking trails, 10.5 miles of bridle trails, 9 miles of biking trails, and also offers access to the Appalachian Trail, 3 miles of which run through the park.
Campground open year-round
Reservations required (www.reserveamerica.com or call 540-592-3556)
There are nearly a dozen wineries within 15 minutes of the park
The park has no cabins or drive-to campsites
Nature and history programs are offered year-round
All 18 campsites are situated 1 mile from the overnight parking area
11. Deer Island (Blue Ridge)
For those looking for a remote, car-free getaway in a truly one-of-a-kind location, they don't come much better than Deer Island on Blue Mountain's Philpott Lake. Accessible only by boat, this is one campground where noisy neighbors are unlikely to be an issue and you're more likely to find yourself alone with the wild, four-footed residents the island's named after.
Of all the locations on our list, this location is a true sanctuary of serenity, with the island's isolation, the lake's crystalline waters, and the views of forested mountainsides all around contributing to an utterly idyllic, wild, and pristine environment and "Castaway" kinda vibe.
Surprisingly, the campground offers none-too-shabby facilities, with potable drinking water available, toilets, and well-maintained, lakeside campsites for tent camping.
The island can be accessed by boat from anywhere on the lake, but most easily from either the Goose Point or Twin Ridge Recreation Area.
Located in Philpott Lake in Franklin County
Campers must obtain a permit from the gatehouse at Salthouse Branch or Bowens Creek
During the off-season (November 1st to March 31st) permits can be obtained at honor vaults located at Ramp 1 and Goose Point Entrance
Camp regulations can be found here
Campground is family-, pet-, and LGBTQ-friendly
12. Pocahontas State Park
Pocahontas State Park is conveniently located just a 20-mile drive from Richmond and offers a wealth of activities suitable for adventure lovers and backcountry loungers alike.
The park's campground offers a nice range of accommodation options, with rustic cabins and yurts for those looking for a slightly pampered experience and also 129 campsites for tent and RV campers, all with electric and water hookups, grills, picnic tables, and lantern holders, and within a short walk of restrooms with hot showers.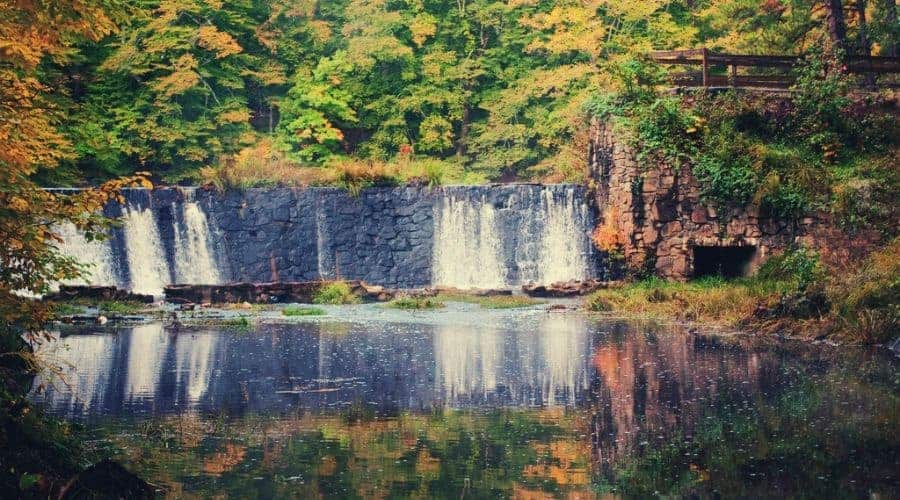 While ultimately geared towards families, Pocahontas State Park provides plenty to do for every kind of visitor, with 80 miles of trails for hiking and biking, horse riding, hunting, fishing, boat rental, a Nature Center and Heritage Center, and local history programs. For those bringing along the kids, the park also boasts a water park-style Aquatic Center with a kiddie pool, fountain, two leisure pools, a swimming pool, and two tube slides.
Located in Chesterfield, just 20 miles from Richmond
Rustic cabins, recreational yurts, and campsites with RV hookups are available
Restrooms with hot showers
13. First Landing State Park Camping—Virginia Beach
Located minutes from the site of the first landing of settlers to Virginia, First Landing State Park is Virginia's most popular state park, attracting more than a million visitors annually. Despite its popularity, however, this campground never feels too overcrowded and is ideally situated for forays into quieter natural surroundings should you happen to get landed with any noisy neighbors near your campsite.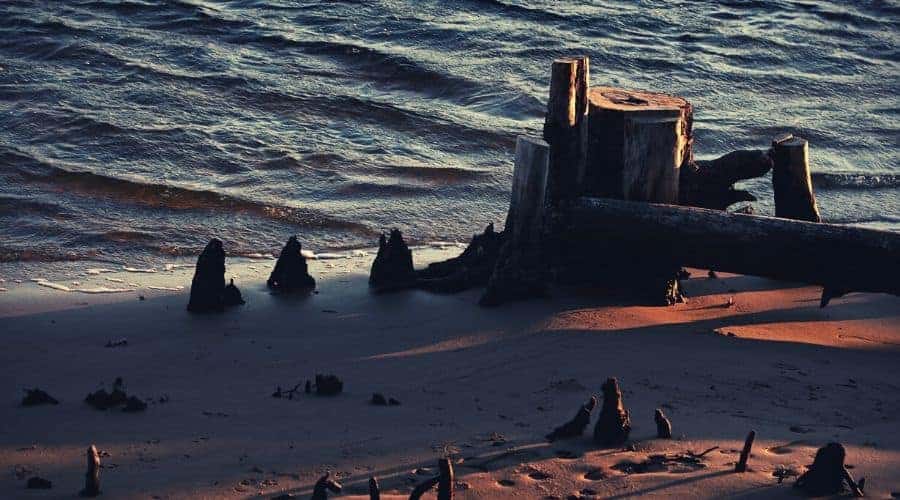 The most attractive of these are found on the 19 miles of hiking and biking trails that wend their way through and around the park's 3,000 acres of land, and on the Chesapeake Bay's 1.5-mile stretch of sandy coastline, which can be reached in just a few minutes from the campground.
Other activities in the area include boating, swimming, birdwatching, and educational programs that allow visitors to learn about the nature and history of the Chesapeake Bay/Virginia Beach.
Reservations must be made one day ahead of arrival and can be made up to 11 months in advance
Campsites have water and electric hookups
Amenities include restrooms and showers, a convenience store, a gift shop, a boat launch, drinking water, bicycle rentals, and a laundry
14. Loft Mountain Campground
Located in the heart of Shenandoah National Park, Loft Mountain Campground is a great choice for low-maintenance campers looking for an unequivocally wild, back-to-basics experience.
This primitive campground is situated on top of Big Flat Mountain and offers exceptional views over the Shenandoah forest in all directions. These views are best enjoyed at sunset and ideally in fall when the vibrant colors of the forest canopy produce a spectacle sure to remain ingrained in your memory for quite some time.
In terms of hiking opportunities, Loft Mountain is blessed with plenty of options for both the casual hiker and those looking to test their mettle with something a touch more challenging. For the former, the best of the bunch is the easy-going, 7-mile Double Falls Loop and, for the latter, the 12.5-mile Furnace Mountain-Austin Mountain Loop, a rough trail featuring almost 3,000 feet of ascent, several steep sections, and few tricky, rocky traverses.
Open early May to late October
Sites are reservable
Amenities include pay showers, drinking water, and flush toilets
15. Misty Mountain Camp Resort
Located just west of historic Charlottesville in the foothills of the Blue Ridge Mountains, Misty Mountain Camp Resort is the ideal spot for a primitive getaway or to enjoy a bit of quality nature time with the kids.
Set in a 50-acre park, this campground is one of the best in the state for family camping vacations, offering a pool, splash pool, stocked fishing pond, basketball and volleyball courts, playground, and hayrides to keep the little ones occupied and entertained, as well as a handful of easy-going nature trails and hop and vine tours for the adults.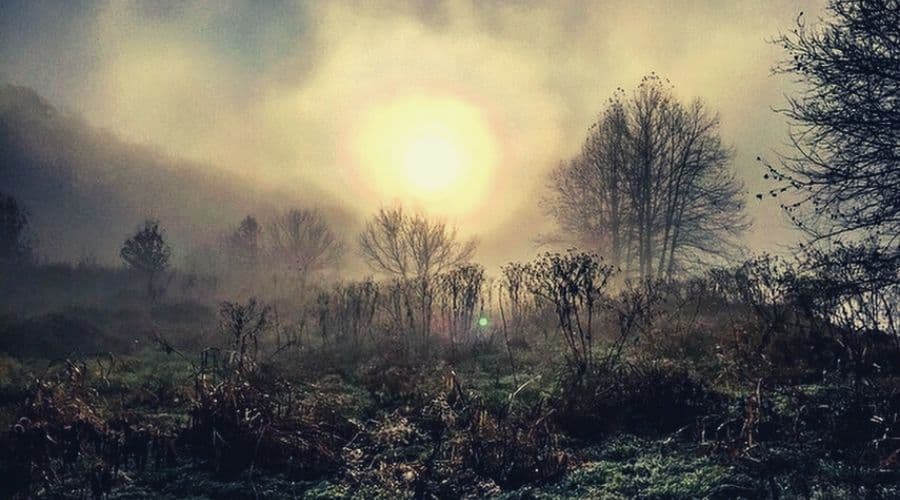 Backcountry, creekside, and meadow campsites available for tent camping
RV sites with electrical and water hookups
Amenities include a general store, fire rings, picnic tables, and a bathhouse with showers, toilets, and drinking water
Final Thoughts
It may lack the raw, rough wildness and rugged, rocky skylines found in many other states across the US, but for those with an eye for subtler and gentler natural beauty, the state of Virginia has a whole lot to offer. By opting to pitch or park up for a few days at any of the best Virginia campgrounds above, moreover, you'll be placing yourself slap bang in the middle of it all, with countless trails, lakes, rivers, and crags to be explored and at least a small handful of the area's rich historical and cultural highlights no more than a short drive from your Virginia camping digs.