From majestic mountains to exceptional coastlines, California has some of the most beautiful scenery in the country.
This varied landscape makes California one of the most popular camping destinations in the US. You can spend the night in ancient redwood forests or stargazing within the desert wilderness, or enjoying sumptuous views over glittering alpine lakes or the expansive Pacific Ocean. Few other locations boast such a bounty of diverse and delightful backdrops.
With 110 state parks and 19 National Forests, all filled with natural wonders, you'll be spoiled for choice in the Golden State.
Whether you are looking for high-end glamping or a more rustic camping experience, our guide has something for everyone.
It's time to start packing…
1. Yosemite National Park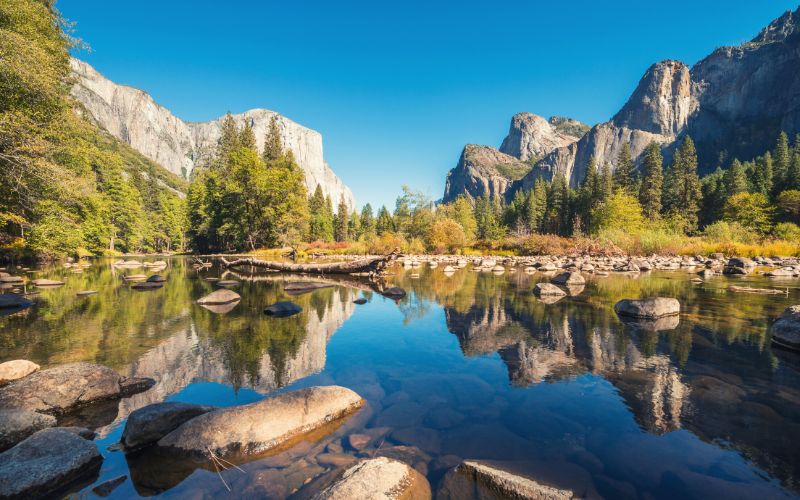 Type: Tent & RV
RV hook-up: No
Yosemite National Park offers some of the most coveted camping spots in the state.
Well known for its Giant Sequoia trees, towering monoliths, and breathtaking waterfalls, this park offers an adventure for everyone. You can hike through the stunning Yosemite Valley, explore the varied and accessible walks around Hetch Hetchy reservoir (look out for peregrines), or wander through the scenic Tuolumne Meadows.
Due to its popular attractions, getting a camping reservation in Yosemite can be a challenge. Luckily, there are numerous campgrounds to choose from.
Wawona campground is located at the southern end of the park, 27 miles from Yosemite Valley. This is a relatively small campground and offers the opportunity to explore the nearby historic town of Wawona and Mariposa Grove, which has over 500 giant sequoia trees to admire.
Larger campground options include Upper Pines and Tuolumne Meadows. If you are a keen backpacker, you may want to explore the five High Sierra camps, which offer the perfect opportunity to explore the wild backcountry.
2. Joshua Tree National Park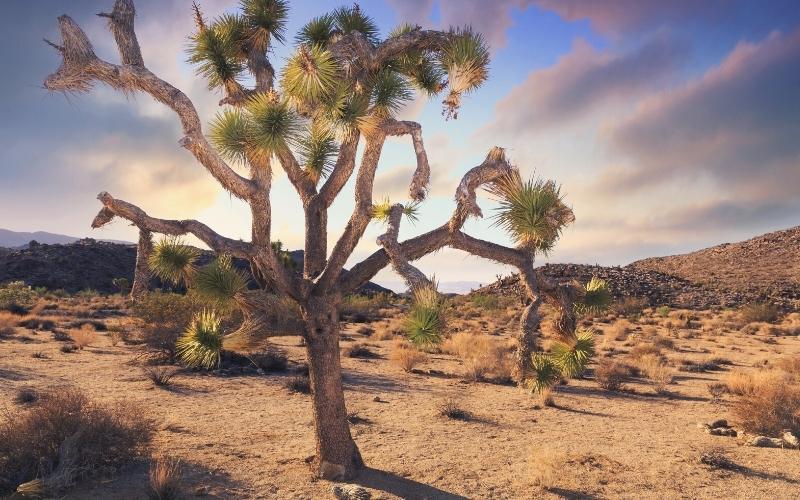 Type: Tent & RV
RV hook-up: No
Joshua Tree National Park spans two deserts and has 800,000 acres of diverse desert wilderness to explore.
Jumbo Rocks is the largest campground within Joshua Tree. Popular with families, this campground offers 124 campsites that are surrounded by impressively huge rock formations. A rock climber's paradise.
This campground is ideally positioned to explore numerous exciting hikes, including the popular Skull Rock hike.
This 1.7-mile hike leads you through the desert landscape until you reach the iconic 'skull rock', which provides fantastic photo opportunities. Look out for desert wildlife along the way, including lizards, rattlesnakes, desert tarantulas, and the rarer bobcat and mountain lions.
For a quieter camping experience, you can visit White Tank Campground, which is the smallest campground in the park with 15 campsites. It offers a peaceful way to enjoy stargazing with the incredible desert dark skies.
3. Channel Islands National Park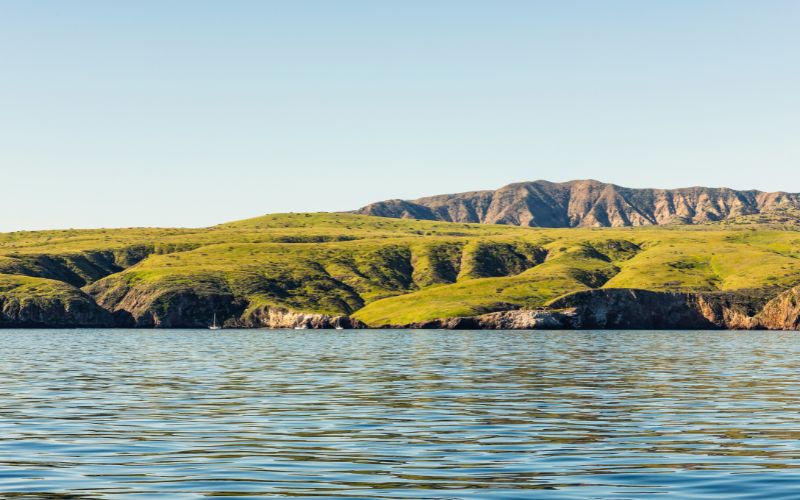 Santa Cruz is the largest of the 5 islands that make up Channel Islands National Park. At 96 square miles, this is the largest island in California and offers a varied terrain of canyons, cliffs, and stunning beaches to explore. It is often likened to 'California in miniature'.
This island is rich in both cultural history and wildlife diversity. It was occupied by Native Americans for over 100,000 years and you can still view relics of their ancient culture today. It has 600 plant species, 140 birds, and 11 land mammals. The scrub jay and island fox are particularly special as they aren't found anywhere else.
Scorpion Canyon campground is a ½-mile walk from the Santa Cruz pier. This beautiful campground is located in a valley overlooking the Santa Barbara Channel, close to the mountain peaks, and within easy walking distance of the beach.
You can enjoy numerous recreational activities on this island, including hiking, swimming, scuba diving, snorkeling, and kayaking between the islands.
Hiking trails include the 2-mile Cavern Point loop, which offers views of the island's peaks and coast, or the 7.5-mile hike to the idyllic Smugglers Cove.
4. Lake Tahoe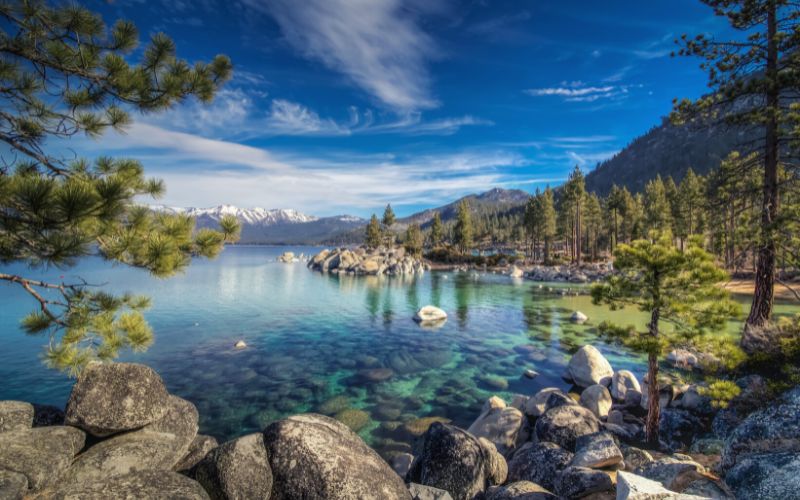 Type: Tent & RV
RV hook-up: Yes
Lake Tahoe has been named one of the best adventure locations in the US (US news and world report). Nestled within the Sierra Nevada range in Tahoe National Forest, this is the largest alpine lake in North America. It offers numerous outdoor recreational activities, in addition to a variety of culturally rich lakeside towns to explore.
Hiking trails include the 2.5-mile Spooner Lake loop and the more adventurous 9.5-mile Mount Rose trek, which climbs 2,444ft and offers panoramic views of Lake Tahoe.
One of the most popular camping destinations in this area is Camp Richardson, which is located on the lakeshore and is close to plenty of amenities. This historic campground offers several camping sites, with tent camping options at Eagle's Nest and Badger's Den and an entire RV village!
If you want to escape the busyness of the lake, you could opt for the tranquil Fallen Leaf campground. This campground is nestled within the forest near Fallen Leaf Lake and is close to lots of hiking options, including the trailhead for Mt Tallac.
5. Big Bear Lake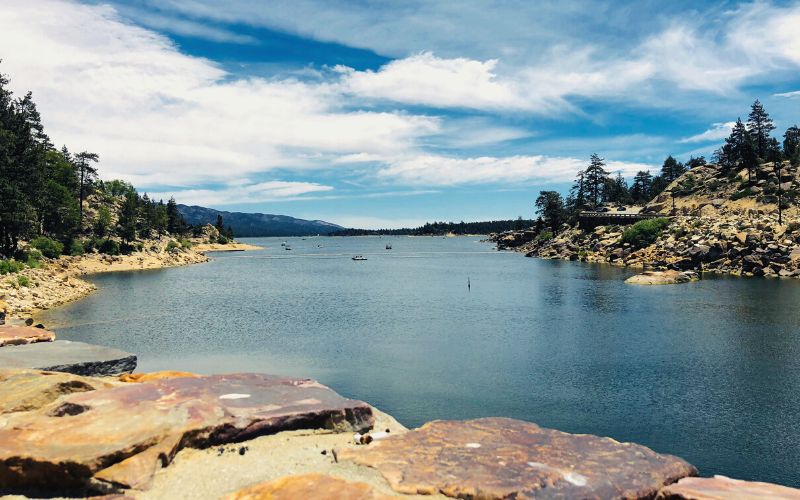 Type: Tent & RV
RV hook-up: Yes
Located within the San Bernardino National Forest, 100 miles northeast of LA, Big Bear Lake offers an idyllic camping location.
Big Bear is a manmade lake, which spans 7 miles long and ½ mile wide. Surrounded by an alpine forest, this area offers an excellent range of recreational options, with hiking, fishing, and water sports being favorites.
For a gentle walk, you could explore the wildlife-rich Stanfield Marsh Boardwalk or the 1.5-mile Woodland Interpretive Trail loop. The iconic 15-mile Skyline Trail also cuts through the mountains on the south side of Big Bear and offers incredible views over the lake and Mt San Gorgonio.
There are 7 campgrounds available in the Big Bear area. One of the largest is Serrano Campground, which has over 100 campsites and is close to the Big Bear Discovery Center with easy access to the lake.
Pineknot campground is popular with families, with 48 tent and RV sites nestled within a pine and oak forest. Holcomb Valley is a much smaller and more rustic campground, with 19 tent sites available, located 5 miles north of the lake.
6. Ventana Campground, Big Sur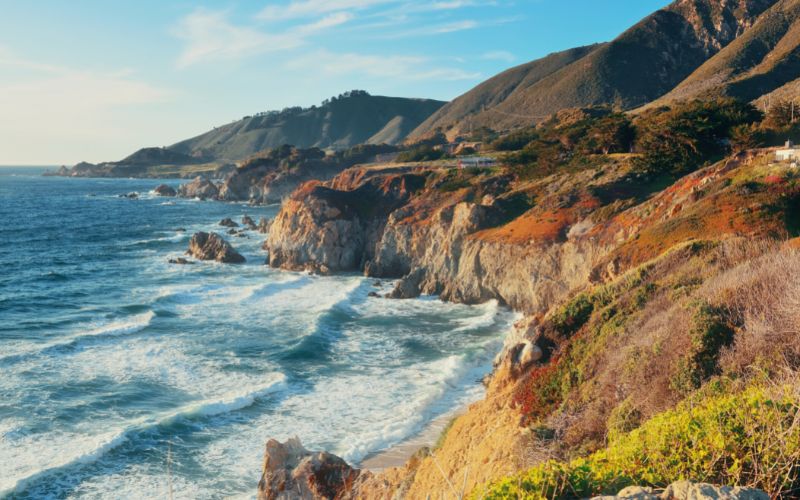 Type: Tent only
Nearest town: Carmel-by-the-Sea (30 miles)
Pfeiffer Big Sur State Park is one of the most popular parks to visit in California and has so many amazing places to explore.
A breathtaking location, the peaks of the Santa Lucia Mountains rise above the Big Sur River Gorge to dramatic effect. The coastal woodland habitat within Big Sur contains some of the tallest sequoia trees in the world, which grow as tall as 379ft!
This park is crisscrossed by numerous well-marked hiking trails. You can explore the Pfeiffer Falls Trail, an easy 1.3-mile route through a picturesque redwood gorge, to reach a beautiful waterfall with views over the Big Sur River valley.
Ventana campground is one of the most popular camping locations in this area. Located within a 40-acre redwood canyon, you can revel in this glamping experience which includes hotel-worthy restrooms and hot showers. There is even an air-stream bar to offer refreshments to be enjoyed around a luxurious fire pit.
7. Saddlebag Lake Campground, Inyo National Forest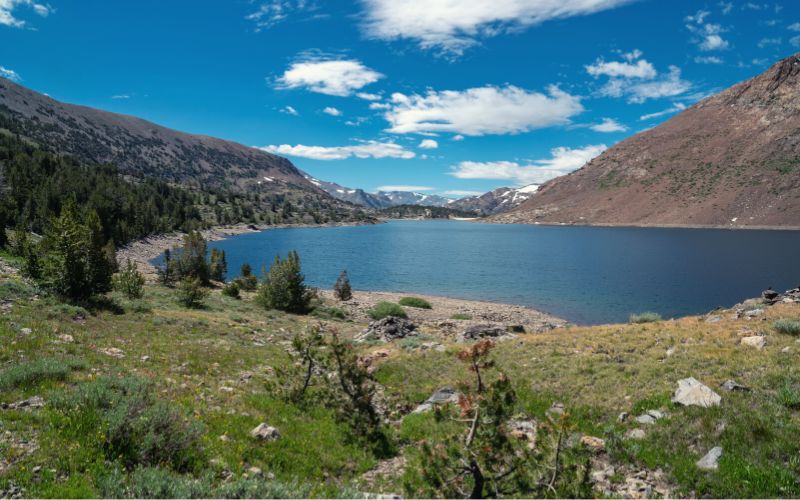 Type: Tent & RV
RV hook-up: No
Nearest town: Lee Vining (13.1 miles)
At over 10,000 feet, Saddlebag Lake is the highest drive-to campground in the state of California.
This campground is located within the Inyo National Forest, which covers 2 million acres, complete with mountains, ancient trees, and alpine lakes. Altitudes range from 4,000ft to the 14,494 ft peak of Mt Whitney, which is the highest peak in the US. This national forest is also home to Mono Lake, which is one of the country's oldest lakes at 700,000 years old.
Saddlebag Lake Campground offers 20 campsites and is located within easy walking distance of Saddlebag Lake. This lake is a popular spot for hikers and links with the 20 Lake Basin Trail.
This 8-mile loop allows the opportunity to explore the Hoover Wilderness and includes outstanding views of alpine lakes and the nearby peaks of Mt Conness and North peak.
8. Los Padres National Forest
Type: Tent & RV
RV hook-up: No
At almost 2 million acres, the Los Padres National Forest is the third largest forest in California.
This area has a wide range of landscapes to enjoy. The natural wonders range from semi-desert to coastline and include beautiful sub-alpine and riparian forests. This forest has over 468 species of fish and wildlife, including the reintroduced California condor.
Kirk Creek Campground is conveniently located close to Pfeiffer Big Sur State Park, which offers opportunities to explore this area as well as the National Forest.
Campsites are located on a bluff overlooking the glorious Pacific Ocean. An incredibly scenic location, you may even be lucky enough to spot migrating whales between November and May.
This campground is close to numerous trails that lead into the National Forest. The Vicente Flats trailhead is located opposite this campground, which provides an opportunity to explore the Ventana wilderness. Sand Dollar Beach, which is the largest in Big Sur, is only 5 miles away and offers excellent swimming, surfing, and fishing opportunities.
9. Lassen Volcanic National Park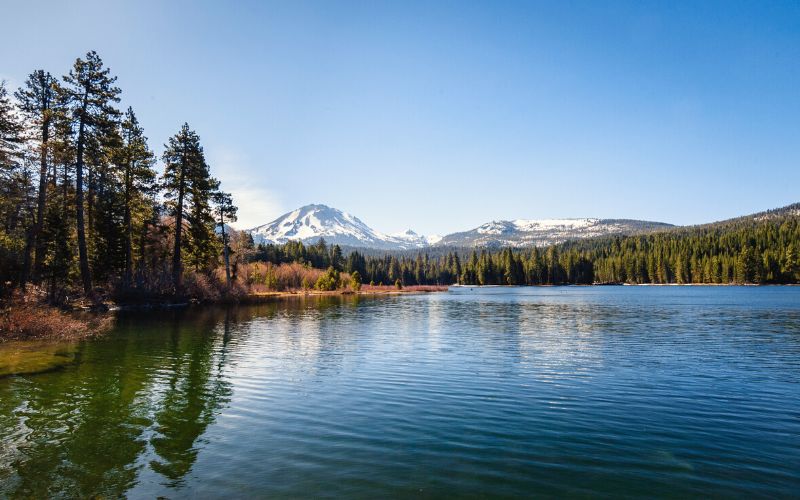 There are 300 active volcanoes in the Lassen Volcanic National Park. With over 160,400 acres, you can expect to enjoy mountain lakes, waterfalls, and beautiful meadows strewn throughout this volcanic landscape.
There are 7 campgrounds available in this park. Summit Lake South Campground is positioned centrally in the park, at the southern edge of Summit Lake. This tent-only campground is perfectly placed to explore and enjoy the 150 miles of hiking trails in this park and only 8 miles from the 10,457ft Lassen Peak, which is the largest volcano in the area.
Kings Creek Falls is a popular 2.3-mile hike to this majestic waterfall. Cluster Lakes Loop, which starts from this campground, is a 10.8-mile loop around several alpine lakes and is popular with birders.
Other camping options include the popular Manzanita Lake Campground, which also offers cabins, and the more secluded Butte Lake Campground.
10. Bothe-Napa Valley State Park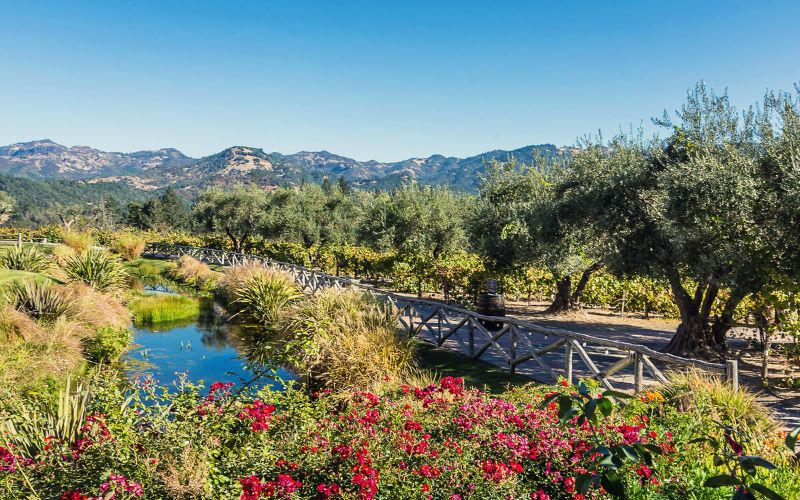 Type: Tent & RV
RV hook-up: Yes
Bothe-Napa Valley State Park is the perfect getaway for families looking to enjoy daytime outdoor adventure whilst having easy access to the famous fermented offerings of the area.
This 1,990-acre park contains some of the furthest inland coastal redwoods in California, with some over 100 years old. Wildlife highlights include six different species of woodpeckers, coyotes, raccoons, and mountain lions.
This park has more than 10 miles of trails that cover a variety of terrains, many of which start from the Bothe-Napa Valley Campground.
The short but rewarding 1.5-mile Coyote Peak Trail climbs to 1,170ft and provides expansive views over the forest and hills, including Mount Saint Helena and Upper Ritchy Canyon.
For a tranquil walk, follow the 2.9-mile Redwood Trail, which curves around the south side of Ritcey Creek. The 1.1-mile History Trail visits the Pioneer Cemetery, where some of the original settlers are buried. This trail ends at the Bale Grist Mill State Park, where you can watch the fascinating process of grain being milled by a 19th-century water wheel.
11. Russian Gulch State Park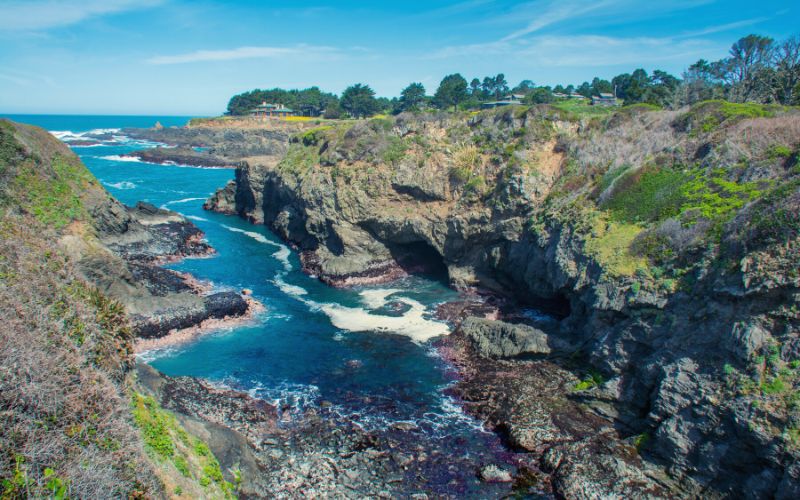 Type: Tent & RV
RV hook-up: No
The Russian Gulch State Park is located in Northern California, just 2.9 miles north of Mendocino. This park has a richly varied landscape to enjoy, including coastal headlines, stunning beaches, and the scenic, forested Fern Canyon.
You can check out the dramatic Devil's Punch Bowl, a sinkhole formed by a collapsed sea cave, which is over 68 ft deep and 98 ft in diameter. For a refreshing dip, you can visit the popular swimming spot at the sandy cove beneath the bridge.
Another highlight is the Russian Gulch 6-mile waterfall loop, which leads through coastal woodland before reaching the 35 ft waterfall. The Redwoods Learning Center is worth a visit if you want to learn about these fascinating trees' history and the ongoing work to protect them.
There are 26 tent camping sites and 1 RV site available along Russian Gulf Creek, all of them a mere stone's throw from the beach.
12. El Capitan State Beach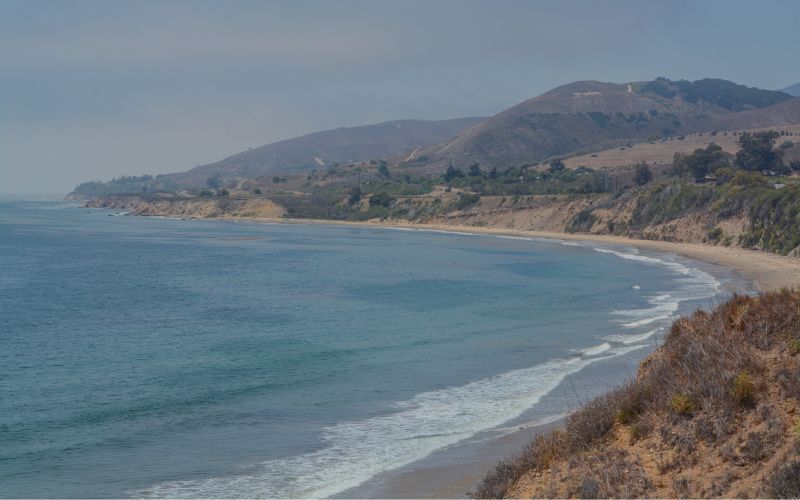 Type: Tent & RV
RV hook-up: Yes
El Capitan State Beach is located 20 miles from Santa Barbara, just off Highway 101, and 12 miles west along the coast from Goleta.
In addition to enjoying the numerous water sports available, it's worth exploring the stunning tidepools at the northern end of this beach. Look out for abundant marine wildlife, including elephant seals, sea lions, and dolphins.
Hike along the cliffside for exceptional ocean views. You can follow El Capitan Creek for a peaceful hike, with the option to join the Bill Wallace Trail for a longer 10-mile hike with excellent viewpoints.
El Capitan Campground offers 199 campsites located along a scenic coastal bluff, all of which have easy access to the beach. Shaded by large sycamore trees, these sites remain relatively cool even in the hot summer months.
You can check out the nearby Goleta Butterfly Groveto appreciate the amazing views of migratory monarch butterflies and the Nojoqui Falls Park is also worth a visit.
13. Crystal Cove State Park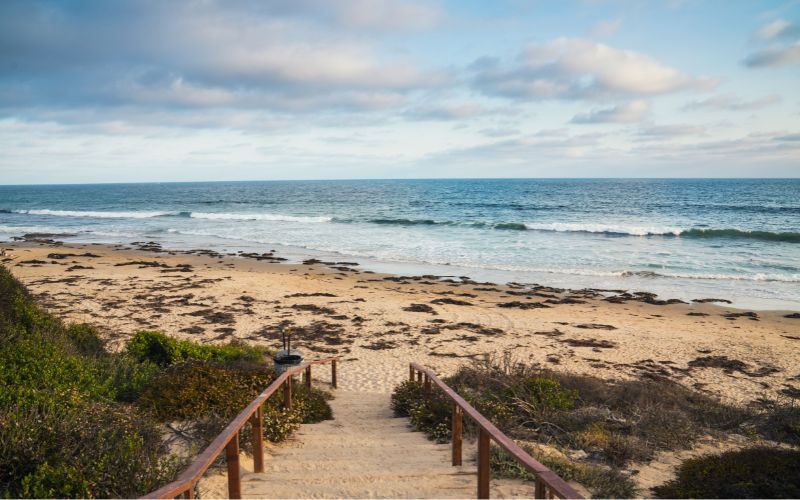 Type: Tent & RV
RV hook-up: Yes
Located close to the Pacific Coast Highway and just over an hour's drive from San Diego, Crystal Cove State Park is the ideal weekend getaway for anyone based in Orange or San Diego County.
The park comprises 2,500 acres, including 3.5 miles of coastline with 80 ft coastal bluffs.
A popular Southern California destination for water-based recreational activities, there is a plethora of swimming, surfing, and kayaking options available along this beautiful sandy coast.
If you are keen to explore further inland, you can follow a myriad of wooded canyon trails, including the Moro Canyon, Moro Ridge, and Red Tail Ridge trails. There is the option to explore further into the adjacent Laguna Coast Wilderness Park.
Moro Campground has 57 tent and RV sites strewn across a scenic coastal bluff overlooking the Pacific Ocean.
Keep your eyes peeled for a range of wildlife, including cottontail rabbits, sea hares, fence lizards, and the California kingsnake.
14. Cold Springs Campground, Sequoia National Park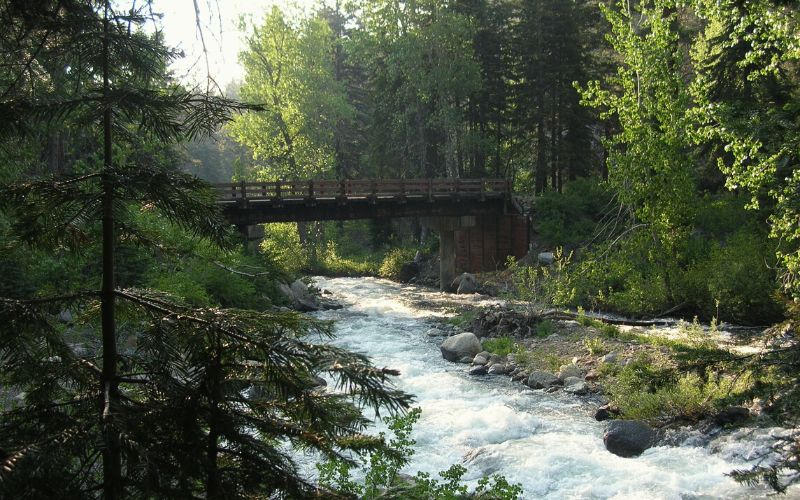 Type: Tent only
Nearest town: Three Rivers (27.2 miles)
Located in the heart of the Sierra Nevada Mountains, Sequoia National Park is any outdoor lover and hiker's dream. With over 800 miles of hiking trails to explore, you could tackle a new trail each day for a month and still have plenty left for your next visit!
This National Park has over 40 groves of redwood forest. You can visit the famous Giant Forest, which has the world's largest tree, a 275-ft high and 36-ft wide sequoia tree named 'General Sherman.'
Cold Springs Campground is located an hour and a half away from the park's entrance. This is a beautiful, forested, high-altitude campground with 40 campsites available near the Kaweah River.
We recommend taking a hike in the subalpine Mineral King Valley. The trailheads for the valley's 2.4-mile Cold Springs Nature Trail and more adventurous, 18.5-mile Tar Gap are located a short distance from the campground.
15. Emerald Bay State Park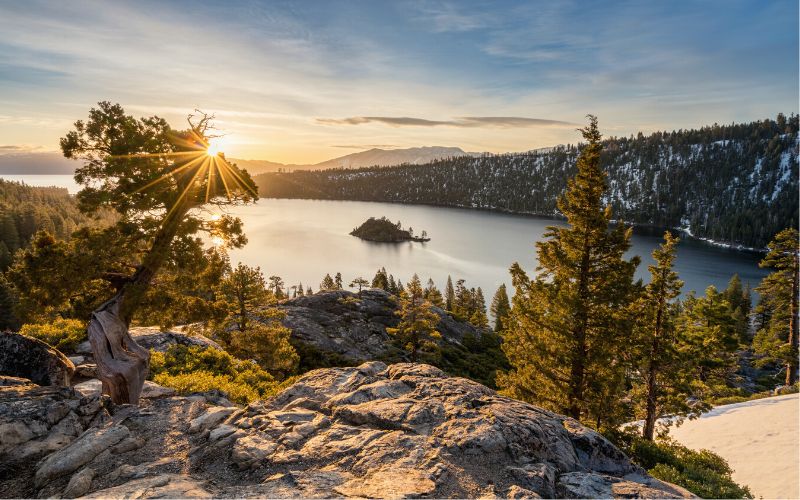 Type: Tent & RV
RV hook-ups: Yes
Located on Lake Tahoe's west shore, this shallower bay is named after the lake's sparkling green-colored water.
Fannette Island, which is the only island in Lake Tahoe, can be accessed from here by kayak. Also well worth a visit is Vickingsholm, an 11th-century, 38-room castle located on the lake's shore.
This park has numerous hiking options. The popular and hugely scenic 4-mile Rubicon Trail is the pick of the bunch. For something a little easier, hop on the 1-mile Eagle Falls Trail to climb to a dramatic 90-ft waterfall that provides incredible views over the bay and Lake Tahoe.
Eagle Point Campground is situated on a forested ridge overlooking Emerald Bay. This campground has over 100 sites and is within convenient walking distance of Lake Tahoe. Boat-in sites are also available.
16. Big Basin Redwoods State Park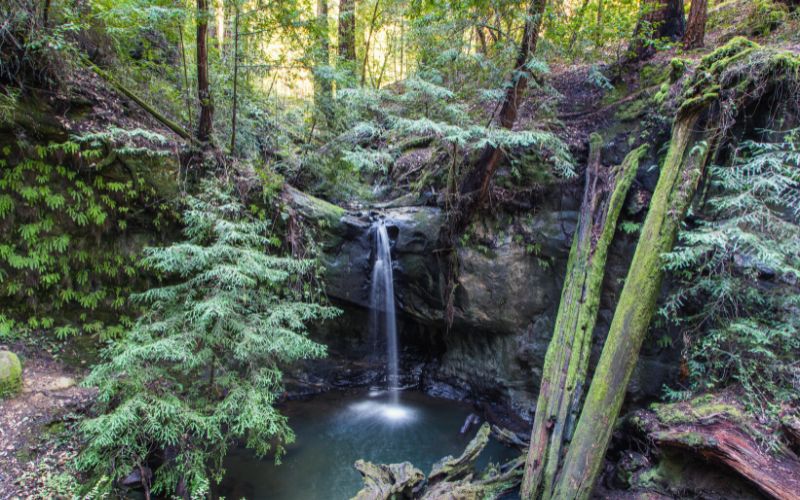 Type: Tent & RV
RV hook-up: No
Big Basin Redwoods State Park, located in the Santa Cruz Mountains, is the oldest state park in California. This state park is rich in natural beauty, with the highlights being its majestic redwood forests and breathtaking waterfalls.
Popular with families, there are numerous accessible hiking options available with plenty of interpretive information. Follow the ½-mile Redwood Trail to view some of the largest redwood trees.
Alternatively, explore the 4-mile Sequoia Trail, which connects with the Skyline to the Sea Trail, with memorable trail markers including the Sempervirens Falls, Founders Monument, and Slippery Rock.
Blooms Creek is a popular campground that is conveniently located close to many of the park's main attractions. For a quieter camping experience, you can try Huckleberry Campground or Wastahi walk-in campground.
17. Minaret Falls Campground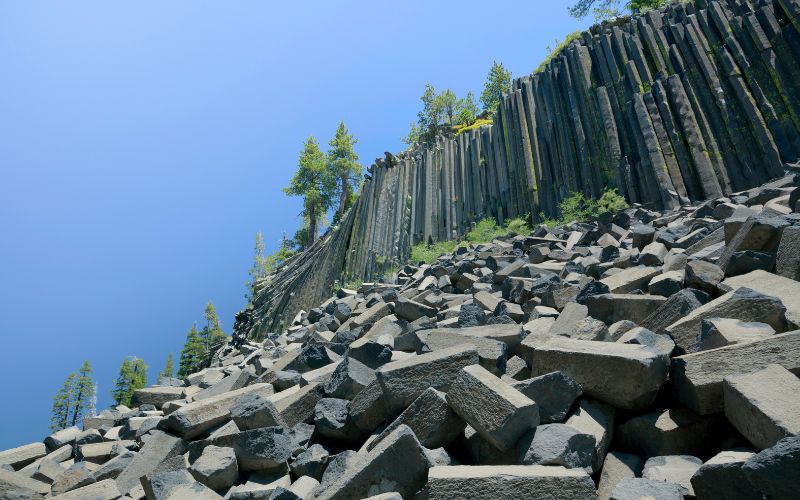 Type: Tent only
Nearest town: Mammoth Lake (12.7 miles)
The majestic Mammoth Lakes is found within the heart of the Sierra Nevada Mountains. Perched on the edge of the Long Valley Caldera, a 20-mile-wide extinct supervolcano, this region is filled with awe-inspiring landforms.
A popular ski destination, there are fantastic recreational opportunities all year round.
You can enjoy the hiking trails around the famous Devils Postpile National Monument, a weird and wonderful cliff formed of columnar basalt. Another highlight is the 5-mile hike to the astounding 101ft Rainbow Falls. It's best to visit this at midday, when the sun is at its highest, to appreciate the colorful 'rainbow' created by the waterfall's mist.
Minaret Falls Campground is situated on the eastern side of the Sierra Mountains within Reds Meadow Valley. Just 12.7 miles from Mammoth Lakes town, this popular campground is in prime position to enjoy this region's best hikes and mountain biking trails.
The 27 campsites are situated alongside Minaret Creek, providing a peaceful camping experience.
Best Camping in California: Pack Your Bags!
Camping in the Golden State is a unique experience. Its diverse landscape means there really is something for everyone. We hope our list has helped you find the perfect "something" for you!
Feel free to ask any questions about the best camping in California in the comments below. If you enjoyed this post and would like to share it with your friends, go ahead!