There's nothing wrong with wanting to enjoy the finer things in life, even while camping! Spending time in the great outdoors is relaxing and rewarding, waking up with cramped muscles and an aching back from your sleeping bag isn't.
Don't let bad sleep ruin your next camping trip. In this guide, we'll be listing all our favorite super comfortable camping cots for two, including crowning our winner. We'll also take you through all the considerations you should make before you start shopping to ensure a good night's sleep when on your camping adventures.
Editor's Choice
Coleman Queen Airbed Cot
Prefer to sleep like royalty rather than slum it on any old camping cot? If so, the Coleman Queen cot is what you are looking for!
Having tested a wide array of models, we found this double camping cot the best out there thanks to its amazing home-like comfort, durable construction, and easy assembly.
Thanks to its clever engineering and patented features like a double-lock valve and Coleman's AirTight® system, you won't have to worry about any air leakage.
Its robust steel frame brings this double cot's maximum weight capacity to an impressive 600lbs. And because the mattress separates from the cot frame, you can double your sleeping space with ease, too.
Useful features like two side tables with cup holders, a padded cover, and a well-designed carrying case seal the deal!
Bottom line: If you want the best, home-like sleeping experience on your next camping trip, you need the Coleman Queen.
At a Glance: Quick Recommendations
Further Reading: Are you looking for the best camping cot for one person?
Best Double Camping Cot: Our Top 7 Picks
Coleman Queen-Sized Airbed
Editor's Choice
The Coleman Queen offers all the convenience of an air mattress with the comfort and support of regular double camping cots. As its name suggests, the Coleman Queen is actually a separate queen-size air mattress that rests on a traditional metal frame.
Air mattresses are infamous for their air leakage. The Coleman Queen, however, uses Coleman's AirTight® system and they aren't kidding when they say it's airtight! An additional double lock valve on the mattress's seal guards against air escaping.
Setting up the Coleman Queen is ridiculously easy too. Don't let the somewhat complicated-looking manual folding system scare you, this bed easily folds into shape. Thanks to the powerful 4D air pump that's included, you can inflate the mattress to your desired firmness in just 2-4 minutes.
Looking for the same comfort but short on space? The Coleman Airbed Cot is available in a twin size too!
Specs:
Dimensions: 78″ x 59″ x 22″
Capacity: 600 lbs.
Weight: 45 lbs.
PROs

Amazing bed-like cushioning and support
Strong, powder-coated frame
Easy assembly
Large weight capacity

CONs

Heavy and bulky
Actually slightly smaller than a queen-size
Bottom-Line: While it is a bit heavy and bulky, no camp bed for couples comes close to matching the Coleman Queen's home-like comfort and quality.
Disc-O-Bed Large with Organizers
Best Bunk
The Disc-O-Bed is a versatile multi-sleep solution for couples, families or friends that like to camp. Thanks to its patented lock-in system, the Disc-O-Bed transforms into bunk beds, two separate cots, or even a sitting bench!
Right out of the package, it's obvious a lot of thought has gone into creating this bunk bed. The powder-coated steel frame is robust and durable and even the two carrying bags are made of heavy-duty, rip-resistant fabric.
The sleeping deck is made from high-grade polyester, making it both stain-resistant and easy to clean. Included with each bunk bed is a handy side organizer perfect for storing personal items.
One small issue with the Disc-O-Bed Large is that the assembly process isn't as straightforward as the manufacturers would have you believe, so you might need to recruit a friend to help you set it up!
While the Disco-O-Bed is one of the pricer cots on our list, we think it's well worth the money spent.
Specs:
Dimensions: 81″ x 32″ x 36″
Capacity: 500lbs.
Weight: 60lbs.
PROs

Versatile design
Durable frame and fabric
Small and compact when packed up
Huge weight capacity

CONs

Long assembly time
Weight
Bottom-Line: The perfect family-friendly cot for kids, friends, or people who prefer privacy when they sleep.
Ivation EZ Bed Two-Person Camp Cot
Best Luxury
The Ivation EZ offers a luxurious camping experience while on the road. Two adults can comfortably sleep on this queen-size air bed that rests on a sturdy, self-deploying frame.
Similarly to the Insta-Bed EZ, this is a self-inflating bed. You just turn on the built-in pump and the bed automatically inflates and deflates within 4 minutes. While it's hard to beat that level of convenience, remember that it does require electric power to work.
Where the Ivation stands apart from other collapsible cot and air bed combos is its superior support. Despite standing at 24″, about the height of a regular mattress, 22 steel legs and a sturdy frame guarantee stability and support as you sleep.
The major drawback here is that you're still dealing with an air mattress that is subject to punctures and tears. But that's the sacrifice you make for the extra comfort and support an air bed offers compared to a simple tent cot.
Specs:
Dimensions: 79″ x 61″ x 24″
Capacity: 450 lbs.
Weight: 49 lbs.
PROs

Self-deploying
Spacious and comfortable
Stability
Included carry bag

CONs

Price
Requires electric power to inflate
Bottom-Line: You'll be hard-pressed to find a more spacious or user-friendly self-inflating camp bed!
Disc-O-Bed Youth Kid-O-Bunk with Organizers
Best for Kids
Looking for a double cot for camping with your kids? If so, then the Disc-O-Bed Youth Kid-O-Bunk with Organizers deserves a place very near the top of your shortlist.
It may be hard for some of us to remember our younger years, but those of us who do will recall that personal space was a big deal! Your kids, therefore, probably aren't going to be too enthused by the idea of sharing a twin cot, queen camping cot, or even a double-wide cot with their sibling or pals. The solution? A nifty bunk like the Disc-O-Bed Youth!
This uber-comfortable cot is easy to set up for one person, and uses a steel-frame and 600D polyester materials for added strength. It also has a pair of handy organizers for each "bed", so it will – maybe – help to ensure your kids keep their things neat and tidy.
Specs:
Dimensions: 65 x 32.5 x 32 in
Capacity: 400 lbs
Weight: 45 lbs
PROs

Two 32.5"-wide bunk beds
Easy assembly
Integrated organizers
Functional carry bag

CONs
Bottom-Line: A neat, easy-to-use bunk that's ideal for younger campers.
Insta-Bed EZ Queen Raised Air Mattress with NeverFlat Pump
Best Budget
The Insta-bed EZ might just be the closest thing to actually dragging your mattress with you while on the road. This incredibly soft airbed mattress includes a built-in pump that regulates the mattress pressure as you sleep.
Since the bed self-inflates and deflates, setup is a breeze. Just unpack it, choose your desired firmness, and let the built-in pump do all the work. No more worrying about pesky air leakage during the night!
Despite the pump running all night, the Insta-Bed Ez is remarkably quiet. And if the noise worries you, this feature can be switched off.
One small drawback is that, unlike the Coleman Queen, the air mattress can't be detached from the frame to create two camping beds. Its folding design means the entire bed is one single piece, including the carry bag. While this makes for easy packing, it does render the bed's packed size quite large.
Specs:
Dimensions: 78″ x 60″ x 9.5″
Capacity: 500 lbs
Weight: 49 lbs
PROs

Soft and comfortable
Self-inflating and deflating
Easy setup

CONs

Large packed size
Pump requires electricity
Bottom-Line: For camping couples looking for at-home comfort, it's hard to beat the self-inflating convenience of the Insta-Bed EZ.
Kamp-Rite Double Kwik
Best Value
The Kamp-Rite is a spacious yet lightweight double cot with lots of room for families or couples. At just 33 lbs, it's the lightest camping cot for two featured on our list, and at 85″ tall, it's one of the longest too.
Its stand-out feature is just how heavy duty this bed is. Thanks to its sturdy steel frame, 9 U-shaped legs, and extra length, it's the perfect queen-size camping cot for larger campers. You won't feel any of the bars digging into you during the night, either, because flaps cover all the joints and bars, and there are no end bars.
What separates this bed from some of the other cots on our list is its collapsible design. Setting up is quick and easy – the bed just folds out and snaps into place. And when it's set up, there's a convenient mesh storage hammock underneath for stashing gear.
One issue with this bed is the dividing middle bar. It's a bit on the big and bulky size and will, for better or worse, separate you from your bunkmate. Despite this, the Kamp-Rite remains a great option for any camping trip.
Specs:
Dimensions: 85″ x 55″ x 19″
Capacity: 500 lbs
Weight: 33 lbs
PROs

Affordable price
Durable, rust-resistant steel frame
No end bars
Extra-long
Practical carry bag

CONs

Large central bar
May need sleeping pad
Bottom-Line: Restless sleepers and tall campers will appreciate the Kamp-Rite's sturdy construction and extra height, while everybody will love the affordable price!
KingCamp Double Camping Cot
Honorable Mention
The KingCamp Double Cot is very similar to the Kamp-Rite and shares many of its benefits. It's a lightweight, spacious sleeping cot that's extremely easy to set up.
While the Kamp-Rite sort of folds out, the KingCamp literally opens up like an umbrella. This user-friendly design is impressively well-thought-out and requires no assembly. Packing it up is just as easy too – when you fold it down the middle, the frame collapses into itself.
If the former Kamp-Rite stands out for its durability, then the KingCamp is the champion of packability. It's kind of amazing to see how such a large bed collapses into such a small carrying case! In its packed form, it measures only 45.3″ x 11.8″, making it the smallest packed size on our list.
Even its carrying bag is well–designed and features a tube-like shape, wheels for transport, and convenient carrying handles.
Specs:
Dimensions: 84.6″ x 55″ x 18.9″
Capacity: 550 lbs
Weight: 35 lbs
PROs

Easy assembly
Small packed size
Convenient carry bag

CONs

Heavier than similar cots
Somewhat annoying central bar
Bottom-Line: It's hard to get more packable than this double cot. An insanely easy setup and convenient price makes this the perfect option for couples or families.
How to Choose a Comfortable Camping Cot for Two
In this section, we break down some of the most common features of camping cots for two sleepers. Read on to learn everything you should consider before making your next purchase.
Types: Air Mattress or Foldable?
Air mattresses, or air beds, are a form of PVC or rubber mattress inflated by either a hand pump or portable air compressor. On top of being lightweight and highly portable, air beds offer more comfort than simple cots.
The major drawback of air beds is that they are prone to air leakage and bursting. This fragility can be a major concern for campers, but investing in an air mattress made from thick, rip-resistant PVC can mitigate the problem.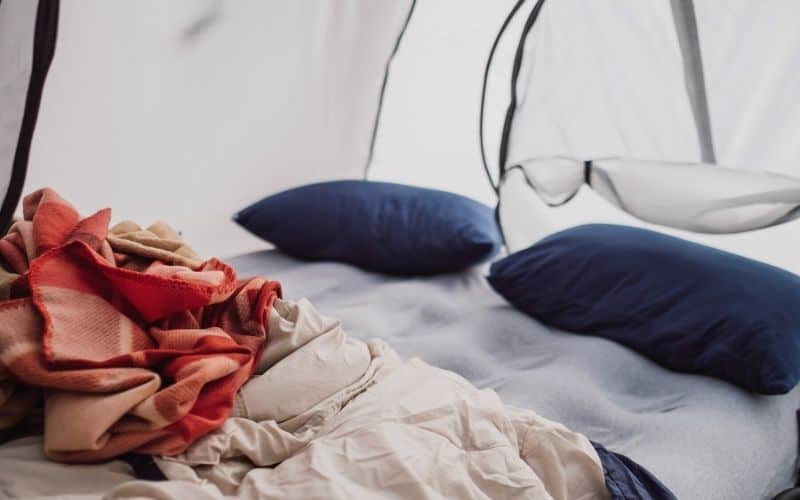 A camping cot is a type of portable bed made with padded nylon, linen, or polyester canvas stretched over a wooden or metal frame. While cots are usually lightweight and easy to transport, they don't offer the same at-home comfort as an air mattress. 
Maximum Weight Capacity
Don't just hop onto any old cot before checking its weight capacity. Even though modern cots are made from heavy-duty materials designed to withstand pressure, you still want to make sure the cot you choose can bear your weight. This is especially true for a double cot that needs to support two people.
The bottom line? Check the manufacturer's weight limit to make sure it can bear your desired weight before you purchase.
Portability
To some degree, all camping cots fold or collapse to simplify transportation. Nevertheless, you'll likely need a large vehicle to transport double camping cots due to their heavy weight. That said, some features can make transport easier, like well-designed carrying cases with wheels and handles.
Dimensions
If you don't want to end up with your feet dangling over the edge of your bed or fighting your partner for legroom, you'll need to carefully consider the size of your camping bed. While there are no standard sizes, the average double-wide camping cot is around 75 inches long and 55 inches wide. Cots specifically designed for tall people are also available.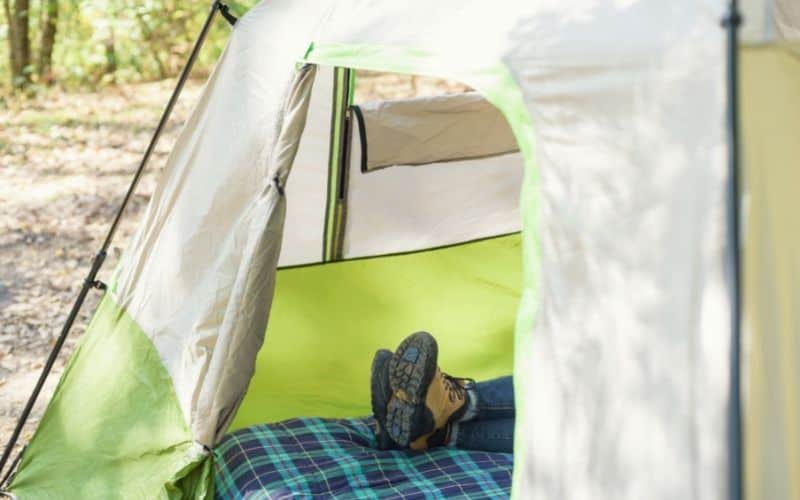 Also, be sure to measure your tent floor to ensure it can accommodate your new bed!
Materials (Fabric & Frame)
One of the major things to consider when purchasing a two-person cot for camping is the materials used for the fabric and frame.
The most resistant frames are made from steel, but they'll add considerable weight to the bed. Aluminum is another common choice due to its light-weight, but it lacks the same resistance as steel.
The fabric used for cots is usually durable nylon, polyester, or canvas. While you can find some canvases made from natural materials like cotton, they are much harder to clean and should be avoided by campers.
Ease of Assembly
There are two types of camping cots: foldable and collapsible.
Folding cots speak for themselves – you just fold them open or closed, usually with no other assembly. As a result, foldable cots tend to be far more bulky and heavy than their collapsable counterparts. It's rare to see a foldable double camp bed due to its sheer size.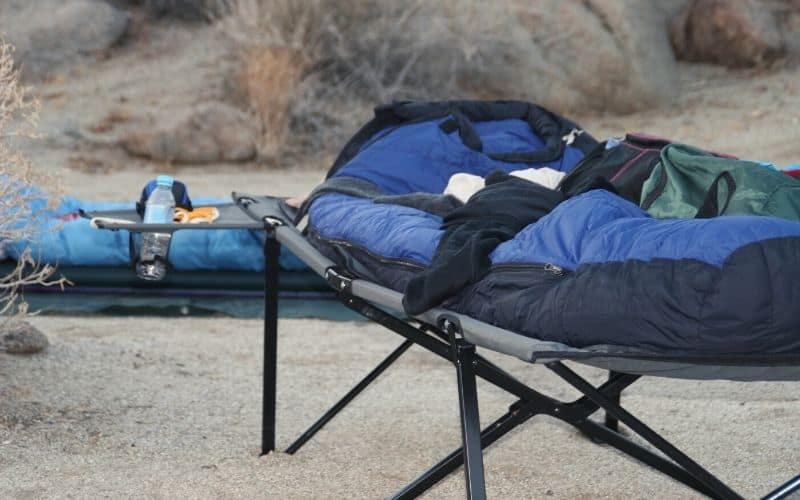 A collapsible model usually disassembles or "collapses" into a carrying bag for transport. They might require no assembly, like the KingCamp, or an elaborate assembly process like the Disc-O-Bar.
Best Two-Person Camping Cot: The Verdict
Research suggests that spending time in the great outdoors can improve your sleep. But that all depends, of course, on finding the sleep system that works for you. If slumming it on the floor atop a slim and lumpy sleeping pad isn't working for you and your tentmate, a 2-person camping cot may well be the solution you're looking for.
Our favorite two-person model is the super-comfortable, sturdy and user-friendly Coleman Queen. If you're on a tighter budget, however, the Kamp-Rite Double Quick is a great alternative. And if you're buying for the kids or are short on floor space, it's hard to go wrong with a bunk like the Disc-O-Bed Youth.
Happy camping!
How did you like our article? If we missed any of your favorite cots or you have any questions, let us know in the comments box below!