Best Womens Hiking Leggings
Hereafter Sweatflow
While Hereafter make some big bold claims with their marketing, and they live up to them making them our top pick for best leggings for hiking. They dry fast, feature great breathability, and are not prone to smelly bacteria meaning you can hike in them for longer.
Testing them out on some pretty muggy hikes this summer, their bold claims stood up. The Sweatflow leggings were the top performing comfortable model for women on our list and outperformed the rest of the pack on breathability/drying and style.
After multiple workouts down the gym, we can attest that whatever tech they've used in their legging does keep the 'pong' level to a minimum. Great for trekking, these are a comfortable product that you can wear non-stop on a multi-day hiking adventure.
Best Mens Trekking Tights
Under Armour Men's HeatGear Compression
Many men wouldn't have been caught dead wearing tights out on the mountain in years past. Today they've become popular male hiking attire for a number of reasons.
From warmth and weather-resistance to compression and breathability, there are several things to look for in a great pair of hiking leggings. While few provide the perfect combination of all of these attributes, Under Armour Men's HeatGear Armour Tights hit the mark in every category.
In addition to providing superior compression and support, the moisture-wicking fabric is soft, lightweight, breathable, and comfortable as can be. While more and more men's hiking leggings are hitting the shelves these days, we're confident these will allow you to get the most from trail running to a multi-day trek!
The 9 Best Leggings for Hiking in 2021
Looking For A Great Pair Of Outdoor Leggings For The Trail?
You're in the right place! In this guide, we will be covering the following:
Why you need hiking leggings for day hikes
What you should consider when buying.
Reviews of the best hiking leggings for women & men
Our unbiased recommendation on the best leggings for hiking
Ever trek up a mountain in inferior pants, or even worse, in shorts or blue jeans? It was miserable, right? If your legs weren't sweating from lack of airflow or all cut up from lack of protection, the waist band was riding up to your chest, or you suffered chafing in all the wrong places.
There are some terrific hiking leggings on the market that solve these issues and more. Keep reading to learn more about the differences between them, and how to choose the best hiking leggings to suit your body, climate, and outdoor pursuits!
We researched over 40 pairs of hiking leggings and narrowed down our list to nine pairs – 5 for the ladies and 4 for the gents.
Hiking Leggings for Women
Outdoor Research Radiant Hybrid
Merrell Women's Soto Redux
Adidas Outdoor Women's Hike
Duofold Women's Mid Weight Fleece Lined Thermal Legging
Everbrand Sweatflow
Hiking Leggings for Men
Under Armour Men's HeatGear Armour Compression
Mens Cool Weather by X31 Sports
2XU Men's Compression
Baleaf Men's Outdoor Thermal Cycling Running
What To Look For In Leggings for Hiking
From material to fit and everything in between, there are a number of things to look for in a pair of leggings that are great for hiking and backpacking. Let us unwrap some key considerations to keep in mind before you click the "Buy" button and hit the trail.
Comfort And Fit
When shopping for a pair of hiking leggings, comfort and fit is paramount. They can feature the best breathable fabric or the warmest fleece lining, but if the fit is wrong and they're not comfortable, all of the other attributes go out the window.Despite their form-fitting designs, different hiking tights will fit your body shape for good or bad. Some are ideal for long skinny legs and small bums, and others are ideal for shorter legs and a prominent caboose. Don't want to try on a gazillion different pairs? Keep reading to learn more about the cut and comfort of some of today's top hiking leggings.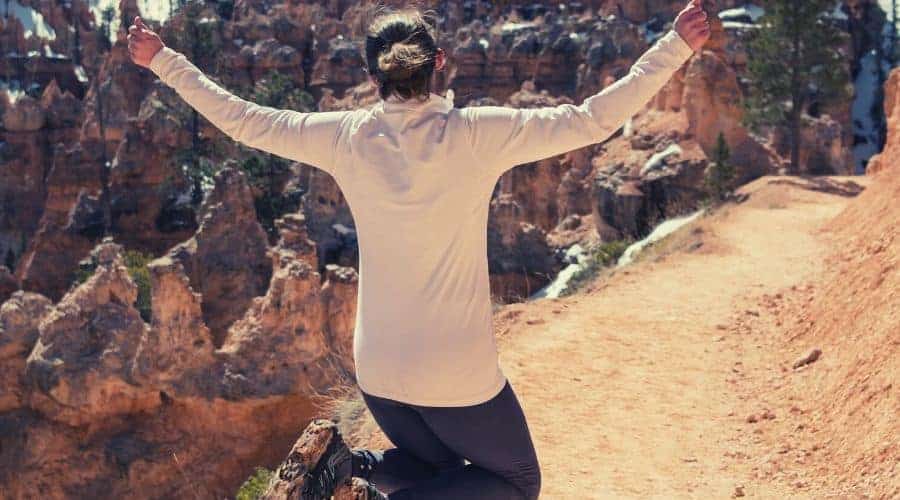 Stretch
The best legging should stretch to conform to your physique for ultimate comfort and freedom of movement. Unlike traditional hiking pants, which provide protection for serious bushwhacking but tend to fit loose and flop with each step, stretch leggings should be form fitting. Keep in mind that some cheaper products can become see-thru if stretched. If you aren't shy, that isn't a problem, but we would suggest spending a touch more money on quality leggings to keep your privates private.
Breathability
One of the biggest bands of the avid hiker is chafing in all the wrong areas, with moisture AKA sweat being the main culprit. The best hiking tights should be designed with fabric that are moisture-wicking – drawing the sweat from the skin.
Gusseted Crotch
A gusseted crotch features an added piece of sewn-in material to prevent all four seams from converging in one spot, providing you with less restriction and greater comfort. Since the seams are located in different areas, the stress is also dispersed allowing for more durability.
Flat Sewn Seams
Flat sewn seams are another critical feature of a great quality pair of hiking tights. Unlike traditional seams, they're sewn flat against the legging fabric to minimize chafing and skin irritation around the ankles, waist and up the legs. Most models feature this type of seam construction, but it's best to double-check before hitting the trail in an inferior product.
Articulated Knees
Leggings and pants should mimic the shape of your legs to hike varied terrain, traverse boulders, and kneel at camp with complete comfort. The cut should allow free movement, while not riding up or trying to twist while you walk.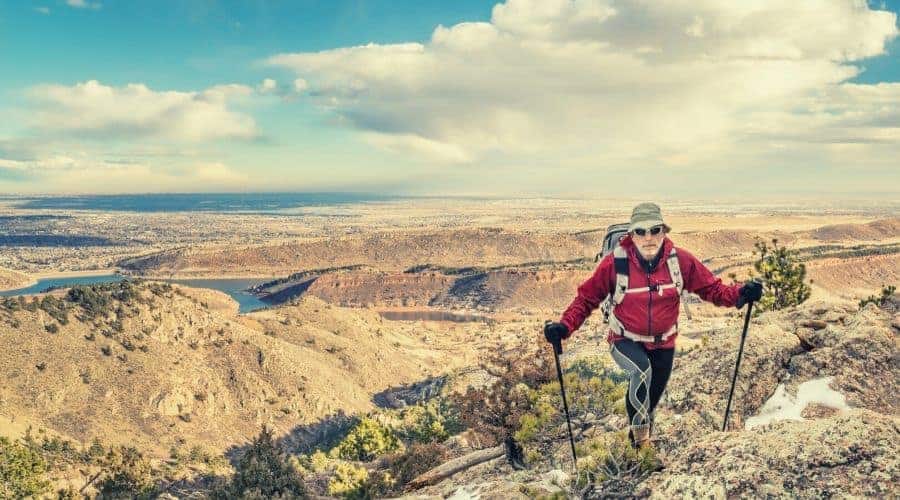 Compression
Compression tights are all the rage these days and for a good reason. Compression tights are designed to reduce fatigue and improve your performance out on the trail. If you want to hike great distances with minimal fatigue, compression tights will help you do that.
Weather-Resistance
Many of the brands featured are breathable and not water-resistant, but there are a few brands that make waterproof leggings for hiking. Unless they feature a special water-resistant coating, chances are you may have to choose between breathability and water and wind-resistance.
Pockets
Pockets are a personal preference. You either like them for their utility or consider them a nuisance. If you want to have a space to store your keys, ID, and other essentials on the trail, you'll be happy to know you'll find plenty of products on our list with a side or thigh pocket to allow you to do that.
Zipper Cuffs
Some models have zippers down at the cuffs to make them easier to put on and take off. This is more of a convenience feature, which you may or may not appreciate.
What Are The Benefits Of Trekking Tights?
Hiking trousers are great for bushwhacking and blazing trails through dense brush, but modern tights provide a number of unique benefits other types of pants just can't match. For starters, many hiking leggings provide compression.
Models with compression help increase endurance and minimize fatigue. Not all tights are designed for compression, but the ones that have a distinct advantage over traditional pants concerning performance.
Unlike traditional trousers, leggings stretch to conform to your body and fit like a glove for ultimate comfort and freedom of movement. They're slim, trim, and not baggy.
There's the breathability factor. Many models are designed to provide plenty of airflow to keep your legs and bottom cool, dry, and sweat-free. The majority of these products are made of moisture-wicking stretch fabric to keep you comfortable and dry.
Some, on the other hand, are fleece-lined and designed for warmth. In fact, they'll keep you warm in temps low as 40 degrees, and lower as a base layer for colder weather.
What Are The Downsides?
As you can see, there's a lot to like about hiking leggings. There are a few downsides to trekking in these types of pants. For instance, they're not great for bushwhacking and are likely to tear or get ripped if going off the beaten path.
Since many models are designed for sweat-wicking breathability, the material is not ideal for wet adventures and environments. On the flip side, due to their slim nature, they make an excellent base layer when paired with rain pants.
99 percent of hiking leggings are black (ok this may be a bit of an exaggeration), so they get hot darn fast on a hot sunny day. Despite the increased interest from men, legging options are slimmer than women. In fact, women have hundreds of more options, sizes, and prices to choose from.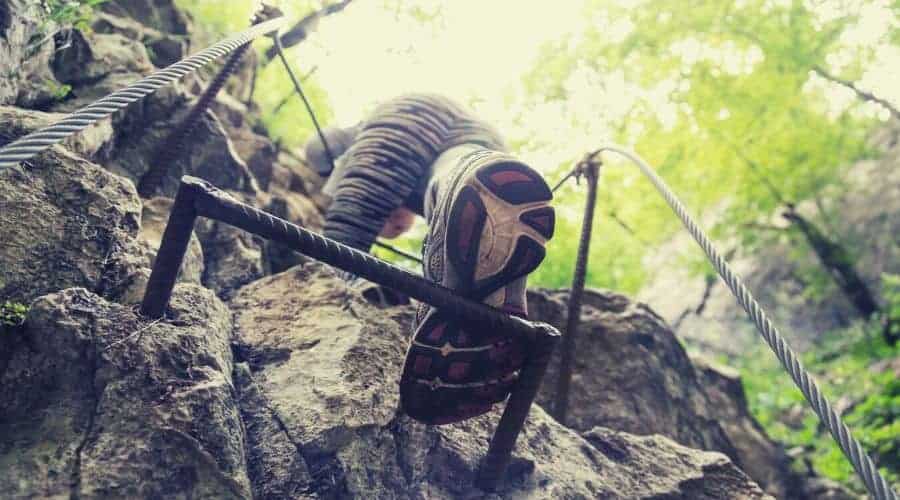 Why You Should NEVER Wear Cotton Leggings For Hiking
Cotton clothing is one of the worst things you could wear on the trail. This is due to cottons ability to absorb moisture. Sweat is inevitable when hiking. If you're wearing cotton, then moisture from your sweat will make them damp or wet.
The air pockets within the cotton fabric lose their insulating ability once filled with water. If you wear cotton when hiking in the cold rain or snow, your clothing will get wet and stay wet, increasing your chances of hypothermia.
The Top Hiking & Trekking Leggings Reviewed: The Results
Hereafter Sweatflow
Best Hiking Leggings
Everbrand makes some bold claims about their signature Sweatflow model. Lab testing shows their EvDry fabric is 71% quicker drying than their sweat-wicking peers and after several humid hikes we can believe this claim. In addition, their tech folks have embedded silver into the fabric to battle against odor-causing bacteria enabling you to wear them several days without washing – perfect for those longer backpacking and hiking adventures.
Whether you are hitting the trails, working out or cleaning the house the Sweatflow leggings are comfortable. The flexibility in the fabric makes these feel like second skin. There are no seams or pocket zippers to annoy your backside, or hips, as the pockets sit invisibly on the outer side of both thighs. Perfect for your phone or a bottle of water.
Wonderful as they are, if we are to pick on them a little bit, the inside-out style of seaming which makes them comfy can be prone to a little bit of bobbling after multiple washes.
PROs

Moisture-wicking fabric dries super fast.
Anti-odor tech stops them from smelling like a forgotten gym bag.
Amazing and comfortable fit with a high waist. No pinching & they are not see-through!
Portion of their profits goes to helping developing communities
Stash pocket for your phone

CONs

Seams can get a little 'bobbly' after multiple washes.
Bottom-Line: If you're looking for a comfortable pair of lettings that can bear the brunt of several days of wear, then it's difficult to see past Everbrand's Sweatflow. Definitely our pick for lightweight leggings for summer and taking the overall title of best leggings for women.
Merrell Women's Soto Redux
If you live in a warm climate or want a great pair of summer day hike leggings, it's hard to go wrong with the Merrell's Women's Soto Redux. The breathable stretch fabric is made of 100 percent polyester M Select WICK for a superior breathable & moisture-wicking fabric.
With flatlock stitching and a wide waistband, they're comfortable and designed to minimize chafing. Plus, they come in adorable bold print, making you look good and feel good out on the trail.
On the downside, Merrell Women's Soto Redux don't provide compression, and they're not ideal for women with larger bottoms. That being said, they're perfect for working out, running, or trekking with friends.
PROs

Look great with adorable print
Very lightweight, soft, and comfortable
Super stretchy and moisture-wicking
Wide waistband for comfortable fit

CONs

Not ideal for women with larger bottoms
No compression
Duofold Women's Mid Weight Fleece Lined
These thermal Duofold tights are another excellent option for frigid weather conditions. The inside of these Duofold's are fleece-lined and feature Varitherm technology, which is a brushed thermal layer of insulation designed to trap body heat and keep you warm.
Like any good product should be, they evaporate moisture and are fast-drying, so you can hike for miles on end in the Pacific Northwest and feel like you're in the Arizona desert. Factoring in the Duofold's excellent stretch polyester and Spandex construction, pull-on closure, and soft chafe-resistant stitching, there are plenty of reasons to add them to your collection of backpacking gear.
That being said, not all hiking pants are great for everyone, and these Duofold Women's Mid-Weight Fleece-Lined Thermal Leggings are no exception. Being a tad thick and warm for use in hot temps, they have a longer crotch area, so they're best suited for women with longer torsos.
PROs

Really warm and comfortable for cool weather hiking and camping
Very stretchy for more exceptional comfort, fit, and movement

CONs

Not ideal for hot weather or women with short torsos
Adidas Outdoor Women's Hike Tights
The Adidas Outdoor Women's Hike Tights are some of the best cold-weather tights in the business. These stretchy and supple hike tights are fleece-lined and feature Adidas's ClimaWarm fabric to maintain warmth and regulate the temperature in cold climates. In warmer weather, you'll be burning up, so check the weather report before heading out to the trailhead.
Worried about keeping dry? Weather resistance is at the forefront of their design as this model is designed with front overlays to repel cold, wind, and rain to keep you warm and dry.
Adidas Outdoor Women's Hike Tights have a great fit and feel awesome on your skin. With stretch polyester and jersey fabric, they're soft and provide excellent freedom of movement for traversing any terrain.
PROs

Excellent thermal insulation and warm fleece lining
Water resistant thanks to overlays
Stretch fabric for freedom of movement

CONs

Only suited for cold climates
Outdoor Research Radiant Hybrid
Best Winter Hiking Leggings
Outdoor Research Radiant Hybrid Tights are a rare breed. Designed for mobility and breathability, but also made to keep you warm and comfortable on snow days. In this respect, they're the ultimate hiking legging.
Midweight radiant fleece panels trap heat and keep your muscles warm and primed for peak performance in cooler weather. The lightweight, breathable radiant fleece panels in the waist and inseam allow heat to escape in all of the right places.
If you're hoping to find a pair of tights to wear as a base layer underneath your pants, trousers, or jeans, these Outdoor Research Radiant Hybrid Tights aren't for you. If you're searching for the comfiest and warmest product for winter use, chances are they won't disappoint. In our opinion, the best warm leggings for winter.
PROs

Very comfortable and keeps legs super warm
Breathable, quick-drying & moisture-wicking fabric
Great stretch and movement

CONs

A little thicker than many hiking tights
Not ideal for hot weather hikes
Under Armour Men's HeatGear Armour Compression
Best Hiking Tights (Men's)
Whether you live in the Sonoran Desert or like making the most of the summertime with grueling summer backpacking in the heat of July, Under Armour Men's HeatGear Amour Tights have your back.
These trekking tights fit tight for superior compression and support, but their soft, lightweight construction makes them super comfortable. They're breathable to provide ample airflow at high noon and 90 degrees on the trail.
Despite not being designed for colder weather, they provide plenty of warmth the temp's dip, so they're great for overnight camping trips
PROs

Great for hot weather
Very breathable
Excellent compression

CONs

Not ideal for freezing conditions
2XU Men's Compression Tights
If you're a fan of compression leggings, the 2XU Men's Compression Tights might be what you need. Featuring 70 Denier fabric constructed via a medical circular knit, it provides powerful and consistent pressure for 360-degree calf, hamstring, quad, abductor, glute, and IT band support.
2XU's are breathable and lightweight, making them ideal for a variety outdoor activities and sports. From cycling and aerobics to hiking, climbing, and watersports, they are are good for it all.
That being said, they do lack fleece lining or any form of thermal layer, which means you'll have to use them as a base layer in the winter months. They're thin and fit like a glove so that you can wear them underneath winter-friendly hiking pants with ease.
All in all, the 2XU Men's Compression Tights an excellent option for anyone in search of compression support any time of year.
PROs

Excellent graduated compression support
Increases circulation
Great for keeping cool and dry on hot days

CONs
Baleaf Men's Outdoor Tights
Looking for quality mens winter leggings? The Baleaf Men's Outdoor Thermal Tights may be worth a look. Made of a stretchy, breathable Lycra spandex material and featuring a soft and warm fleece-lined interior, they provide lasting comfort and warmth trekking, skiing, running or doing any winter outdoor sports.
These quality thermals come with several reflective elements for low-light visibility, gel padding in the crotch for cycling, a zippered rear pocket, and zippers on the legs that make putting them on and taking them off a breeze.
The fit of the Baleaf Men's Outdoor Thermals is suited more for tall and lanky body types. If you're short and stocky, be forewarned. Other than that, they knock it out of the park.
PROs

Warm and great for the winter
Wide-variety of features and excellent design details

CONs

Fit is designed for tall and lanky body types
If you're looking for more info, check out our other guides on hiking clothes.
X31 Sports Mens Cold Weather Tights
On the opposite end of the spectrum, the X31 Sports Men's Cold-Weather is designed to keep your legs nice and warm for sufficient blood flow and improved performance during wintertime treks.
The nifty cold-weather tights are made of a superior spandex and polyester blend for stretch and breathability and feature ankles zippers, an internal drawstring, and a unique silicone beading along the hem, making them easy to put on and take off.
To top it all off, a rear zipper stash pocket and reflective details are included. These features are a lovely finishing touch, considering X31's are on the lower end of the price scale. If you want a great pair of winter leggings, these may be the right fit for you. Our pick for the mens best leggings for colder weather.
PROs

Very warm for winter hikes and workouts
Wide-variety of thoughtful design features
Fit and feel great

CONs

Reflective strip would be better served on the back of the calves, not the front

Last update on 2021-09-17 / Affiliate links / Images from Amazon Product Advertising API