A reliable waterproof or water-resistant jacket is essential for any hiking adventure.
Even if you've never been caught out in a crazy storm while on a hike, your luck will run out at some point.
If you're ready for rain, a day hiking under some clouds can be fun. The most essential piece of gear to be wet-weather-ready is a waterproof jacket. But what makes one model a better option than another?
In this guide, we'll explain everything you need to know to help you find the best model for your needs, budget, and adventure type. Before that, we'll introduce you to our 12 favorites on the market today.
From mobile and durable hardshells to ultralight options for high-alpine adventurers, our list has something for everyone!
Top Choices by Category
Most waterproof: Montbell Versalite, Montbell Storm Cruiser, and Ultimate Direction Ultra
Best for breathability: Enlightened Equipment Visp, Montbell Versalite, and Montbell Storm Cruiser
Lightest: Patagonia Houdini Air, Enlightened Equipment Visp, Outdoor Research Helium, Montbell Versalite, and Ultimate Direction Ultra
Montbell Versalite
Editor's Choice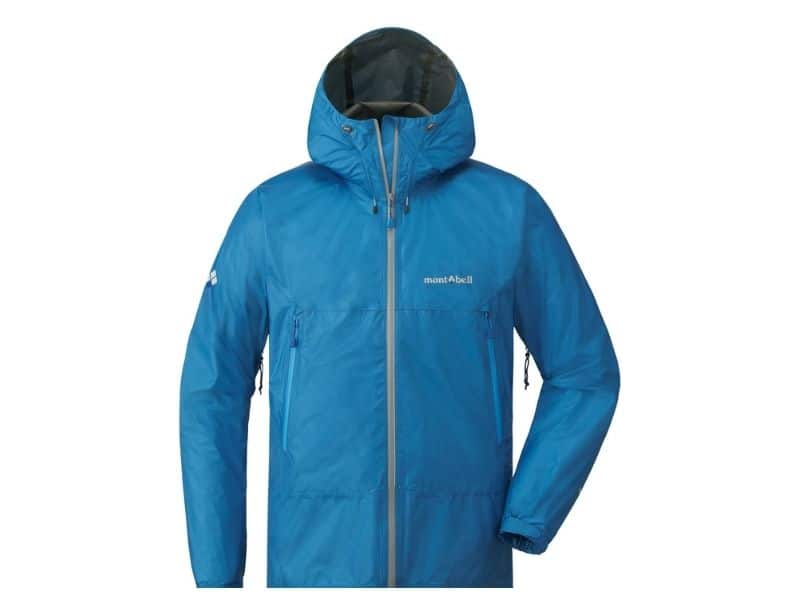 The Montbell Versalite is, to our mind, the best lightweight rain jacket for backpacking and hiking out there. For this reason, we've given this ultralight rain jacket our Editor's Choice award on this list. It's light as a feather, as packable as they come, and ultra-breathable.
You'll be able to press on in cold, wet conditions without overheating in this one. The Versatile is among the most breathable out there, and it also has pit zips for added ventilation when things heat up.
Despite weighing under 7 ounces, the Versatile is loaded with features: hook and loop wrist cuffs, hip-belt compatible chest pockets, and an internal hem adjuster.
It also has a three-way adjustable hood, so you'll be able to see your surroundings while your head stays dry. One of the hood adjusters doubles as a way to roll up and secure the hood when you don't need it. This way you won't overheat in a small drizzle. And, the hood won't be collecting water to dump on you later when it starts pouring.
Bottom Line: With outstanding weather resistance and all these features packed into less than half a pound, Montbell hit the nail on the head.
At a Glance: Quick Recommendations
Best Lightweight Rain Jacket for Hiking: Our Top 12 Picks
Montbell Versalite
Editor's Choice
Weight: 6.4 oz. ⸱ Waterproofing: GORE-TEX INFINIUM™ WINDSTOPPER® waterproof-breathable membrane ⸱ HH: 30,000 mm ⸱ MVTR: 43,000 g/m²/24hr
The Montbell Versalite is one of the very best rain jackets for backpacking and hiking available. This is why it has earned our Editor's Choice award for lightweight rain jackets. The Gore-Tex Infinium fabric is ultralight, packable, and ultra-breathable. The Versatile also comes loaded with features, including pit zips, and still weighs less than 7 ounces!
With a four-way adjustable hood, you'll stay cozy and warm while still being able to see your surroundings. The hook-and-loop tab that adjusts hood brim height doubles as a way to roll up and secure the hood, too. This helps when you're hiking in light rain – you won't overheat and the hood also won't collect water for a total bummer of a surprise when you put it on again.
With an MVTR of 43,000, this waterproof jacket is seriously breathable, so you won't overheat when hiking hard. It also comes with all the right features: hook and loop wrist cuffs, hip-belt compatible chest pockets, and an internal hem adjuster.
With all these features for less than 7 ounces, Montbell hit the bull's eye with this one.
PROs

Very breathable
Very waterproof
Surprisingly competitive price
Pit zips
Comes with a stuff sack
Has 2 chest pockets

CONs

Not the most durable
Doesn't pack into its own pocket
Bottom-Line: Weighing less than 7 ounces and full of features, this is our favorite lightweight and breathable rain jacket.
REI Groundbreaker 2.0
Bargain Buy
Weight: 14.5 oz. ⸱ Waterproofing: 2-layer waterproof breathable laminate ⸱ HH: N/A ⸱ MVTR: N/A
The REI Groundbreaker 2.0 is a great pick for buyers who aren't fussed with fancy bells and whistles, and who don't need "bombproof" waterproofing.
The Groundbreaker's 2-layer construction combines a soft polyester shell with a breathable mesh lining. This design makes it less breathable and less waterproof than other jackets on our list (to be expected at this price point, of course), but it performed well enough in heavy rain to earn its spot.
Unlike many budget jackets, which all too often feel like flappy trash bags with arms, the Groundbreaker has a trim tailored-feeling and athletic fit that leaves very little fabric to flail in the wind. There's also a drawcord hood and drawcord hem that let you quickly fine-tune the fit when you're on the move.
The Groundbreaker wouldn't be our top pick for heavy rain or when hiking hard and fast – its 2-layer design means it's always likely to leave you damp either from precipitation or sweat in either of these conditions. However, its light weight, packability, and low cost make the ideal 'just in case' jacket to carry on iffy weather days.
PROs

Cheap
Decent waterproofing for the price
Trim fit
Drawstring hood and hem
bluesign-approved materials

CONs

2-layer design means it lacks breathability
No pit zips
Bottom-Line: Less waterproof and breathable than other options on our list, but perfect for buyers keen to keep costs to a minimum.
Arc'teryx Zeta SL
Most Versatile
Weight: 10.9 oz. ⸱ Waterproofing: Gore-Tex New PacLite Plus ⸱ HH: 28,000 mm ⸱ MVTR: 15,000 g/m²/24hr
The Zeta SL (click here for women's version) performed very well across every category we tested, so we had to give it the award for most versatile rain jacket.
This jacket stands out in durability, waterproofing, and fit.
It's made with 40d ripstop nylon face fabric, that's the thickest face fabric used in any of the jackets we reviewed. Even though the fabric is so thick, it is still reasonably light.
The Zeta SL has a trim fit, yet it doesn't sacrifice mobility. You'll be looking good on a windy summit and it won't be flapping in the wind since it's snug against your skin. With an articulated fit, it has just enough room to ensure maximum mobility. The gusseted underarms also help to ensure ease of movement no matter what we got into.
The Zeta SL has a great non-helmet-compatible hood, too. It can be adjusted at multiple points, has a stout brim, and doesn't block our peripheral vision when we snug it up around our heads. The soft chin guard also prevents chafing.
Yes, this jacket is pretty pricey. In fact, it's the most expensive on this list. But we think it's worth the price. With the Zeta SL, you'll get great performance across all categories and you'll look good into the bargain.
PROs

Highly waterproof
Articulated design
Durable 40d face fabric
Adjustable cuffs and hood

CONs

Expensive
No pit zips
No chest pocket
Bottom-Line: A durable, highly waterproof, and great-fitting jacket. It performs well enough all-around to justify its high price.
Outdoor Research Helium Rain Jacket
Best Value Ultralight Jacket
Weight: 6.3 oz. ⸱ Waterproofing: Pertex® Shield Diamond Fuse 2.5 layer ⸱ HH: 20,000 mm ⸱ MVTR: 20,000 g/m²/24hr
The Outdoor Research Helium (click here for women's version) is an ultralight rain jacket without a huge price tag. This is one of the lightest rain jackets we tested and the least expensive in the sub-7-ounce category.
It holds up well in storms and breathes surprisingly well. We wouldn't necessarily recommend using this as a wind-blocker, but you could in a pinch. The Helium excels in packability, packing away into its own chest pocket ready when not in use. And when it's packed up like this, it will take up hardly any room in your backpack.
The Helium isn't as durable as some, or as breathable. And, it only has one pocket. But, this is a minimalist model made for ultralight hikers, backpackers, trail runners, and climbers. And when you're counting grams while trying to save cash for ramen noodles, who cares about pockets?
PROs

Lightweight
Packable
Affordable
Lots of color choices

CONs

Not very breathable
Only 1 pocket
Non-adjustable cuffs
Bottom-Line: Affordable ultralight rain jackets are few and far between: this is the least-expensive sub-7-ounce waterproof rain jacket you're going to find that's still reasonably durable.
Patagonia Houdini Air
Best for Summer Day Trips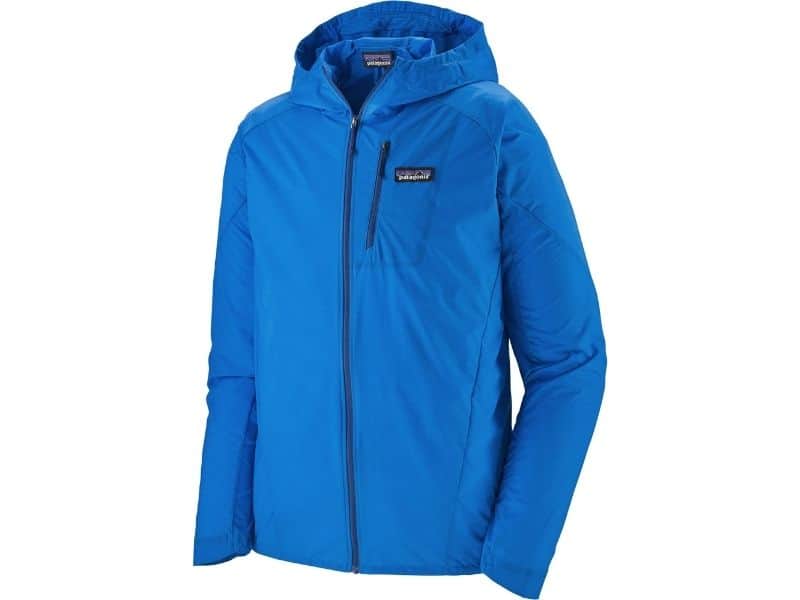 Weight: 4.1 oz. ⸱ Waterproofing: DWR coated ⸱ HH: N/A ⸱ MVTR: N/A
Okay, the Houdini Air is not quite a waterproof shell. But, it is on the more weather-resistant end of the wind jacket spectrum. There are certainly more outright weather-resistant options in this review, but we decided to include this one since it's so darn light and offers reasonable rain protection.
The Houdini Air does a good job in light rain and is the perfect jacket to throw in your pack on a nice summer day just in case. It packs down so small you'll have more of an issue finding it in your pack than feeling the weight on your back.
The thin nylon shell fabric with durable water repellent coating will be just enough to protect you from quick showers. And, the inside of that fabric is textured, so if you're working hard it won't give you that clammy next-to-skin feel.
PROs

Ultralight

Packable

Comfortable

Stylish

CONs
Bottom-Line: This isn't a backpacking rain jacket per se, but will give you a surprising amount of protection from an unforeseen shower or two. Being so light, you have no reason not to throw it in your pack.
Mountain Hardwear Exposure/2 Stretch
Best Mobility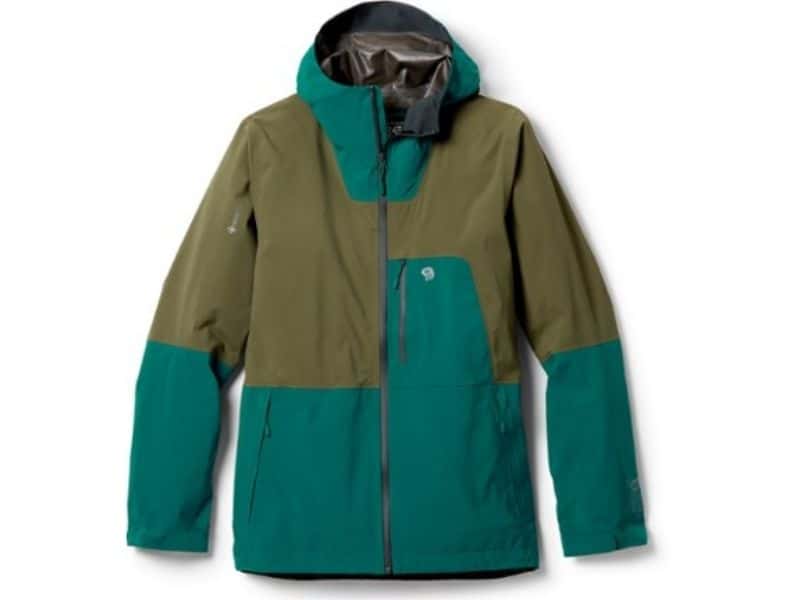 Weight: 13.7 oz. ⸱ Waterproofing: GORE-TEX Paclite stretch fabric ⸱ HH: 28,000 mm ⸱ MVTR: 15,000 g/m²/24hr
The Mountain Hardwear Exposure/2 Stretch sits somewhere between a standard rain jacket and a technical hardshell. It's as light as a rain shell, though slightly heavier than most backpacking rain jackets on this list. But since it won't hinder your mobility, you probably won't be so inclined to take it off.
Sure, it could be more breathable, but the 2.5-layer GORE-TEX Paclite material does a decent job regulating heat. It doesn't have pit zips either, but those would increase the weight. While not as durable as a true hardshell, the Exposure/2 is leaps and bounds ahead of some of even the best ultralight rain jackets on this list.
The Exposure/2 is a solid hiking rain jacket. For activities like backcountry skiing or winter mountaineering, you'd be better off with a true three-layer hardshell. But for those who want one quality rain jacket to do it all, this is a great option.
PROs

One of the most comfortable rain jackets out there
Great fit
Hip belt compatible pockets
Doubles as a technical hardshell
Adjustable cuffs

CONs

Heavier than most ultralight rain jackets
Hood could be better
Bottom-Line: Half technical hardshell and half lightweight rain jacket – what's not to love?
Enlightened Equipment Visp Rain Jacket
Most Breathable
Weight: 5.4 oz.  ⸱ Waterproofing: 3-layer 7D ripstop nylon ⸱ HH: 20,000 mm ⸱ MVTR: 75,000 g/m²/24hr
The Enlightened Equipment Visp is an ultralight 3-layer waterproof-breathable rain shell. It's breathable enough that it can be used as a wind shell and is the lightest model on our list that comes with pit zips.
It uses a 20,000mm waterproof and breathable membrane with 7d nylon ripstop face fabric. It comes with an adjustable hood, velcro wrist cuffs, and a waterproof zipper. Though it is very breathable, we don't think it's necessarily twice as breathable as any other item on this list. That 75,000 g/m²/24hr breathability rating is certainly a result of extremely controlled laboratory settings.
This rain shell could be more waterproof, though, and you'll want to reapply a DWR coating regularly to keep it from wetting out. There's also no chest pocket. But for under six ounces with pit zips, this seems like a small price to pay.
PROs

Really light
One of the most breathable jackets out there
Comes with pit zips
Doubles as a wind-stopper
Surprisingly affordable

CONs

7d ripstop nylon face fabric isn't the most durable
Could be more stormproof
No chest pocket
Bottom-Line: This is one of the lightest, most breathable jackets available and is surprisingly affordable.
Ultimate Direction Ultra
Best for Alpine Hikes
Weight: 6.6 oz. ⸱Waterproofing: 2.5-layer waterproof/breathable laminate ⸱ HH: 30,000mm ⸱MVTR: 30,000 g/m²/24hr
Speaking of ultra waterproof-breathable rain jackets, the Ultimate Direction Ultra is just that. This ultralight, ultra-packable backpacking rain jacket comes full of features that make it well-suited for those high-alpine pursuits when you don't know what the weather will do next.
The Ultra is very breathable and waterproof, but what makes it stand out is its array of well-designed features. Firstly, it has peristaltic underarm vents. This is most certainly over-fancy marketing jargon, but in real-world testing, we can assure you these permanently open-pit vents work.
This ultralight shell also has stowable waterproof mitts. When it gets cold, wet, or both, pull these mitts out and pull them over your hands. They'll keep your hands just warm enough without causing you to overheat. More importantly, though, you won't need to pack other gloves and store them in an accessible place.
PROs

Peristaltic pit vents
Stowable waterproof mitts
Very breathable
Packable
Lightweight

CONs

Ultralight materials need to be babied
Bottom-Line: With stowable flip mitts, peristaltic pit vents, and loads of other features, it's no wonder this ultralight and ultra-breathable jacket is so popular with ultrarunners.
REI Co-op Drypoint GTX
Best Value GORE-TEX Jacket
Weight: 10.5 oz. ⸱ Waterproofing: Gore-Tex Active ⸱ HH: 28,000 mm ⸱ MVTR: 25,000 g/m²/24hr
The REI Drypoint GTX is a lightweight, highly functional, and cozy shell. With a 3-layer Gore-Tex construction, this is a hardshell, technically, but is light enough to be considered in the rain jacket class.
The weather protection you'll get with this one is impressive. It will keep you dry in even the heaviest downpours without even a hint of clamminess. Gore-Tex Active is the most breathable fabric made by the company, so you'll be able to wear the Drypoint while hiking with a fully loaded pack without overheating.
This doesn't come with pit zips, but the front hip-belt-compatible pockets double as vents. Complete with a solid, fully adjustable hood, the Drypoint comes with just the right amount of features to be functional. And, it does this while keeping the price affordable.
PROs

Breathable
Stormproof waterproof membrane
Affordable for Gore-Tex

CONs

No pit zips
No packable features
Bottom-Line: You're not going to find a more capable hardshell in this price range.
REI Co-op XeroDry
Best Budget Rain Jacket
Weight: 12.5 oz. ⸱ Waterproofing: 2-layer GORE-TEX  ⸱ HH: 28,000 mm ⸱ MVTR: 15,000 g/m²/24hr
The XeroDry GTX is one of the best value Gore-Tex shells you'll find anywhere. This shell provides exceptional waterproofing and breathability at a steep discount compared to other Gore-Tex Paclite offerings available. While you can find a lighter or more breathable shell, it would be difficult to buy a more versatile one for even close to this price.
The XeroDry comes with 3 pockets, and the handwarmer pockets double as vents. It has a fully adjustable hood, and the adjustability allows you to maintain your peripheral vision while hiking.
It does have some downsides, though. We would've liked to see pit zips, but at least there is some ventilation via the chest pocket and hand pockets. We also found, however, that the interior can get a little clammy and it tends to wet out faster than more expensive 3-layer Gore-Tex models.
Given the price, however, it's hard to quibble with these small shortcomings.
PROs

Incredible price for Gore-Tex
Good weather protection
Waterproof-breathable fabric
Well designed hood
Weight
Packability

CONs

Breathability
No pit zips
Bottom-Line: One of the best budget rain jackets out there. Has the same features as many more expensive shells. 
Marmot Precip Eco Jacket
Best Value Rain Jacket
Weight: 10.6 oz. ⸱ Waterproofing: NanoPro™ Eco 100% Recycled Nylon Ripstop ⸱ HH: 10,000 mm ⸱ MVTR: 17,500 g/m²/24hr
The Precip Eco is an inexpensive rain jacket to stash in your pack when there is a chance of showers. Weighing in at 10.6 ounces and packable into its own pocket, the Precip is a lightweight and highly portable jacket. Marmot has made the Precip for close to 20 years, but they've updated it to include 100% recycled ripstop nylon in the construction.
This is the perfect jacket for travel or moderate day hikes when you don't expect a biblical downpour. It's not the most breathable, but it does have pit zips. It also comes in many color choices.
While there are certainly more functional waterproof jackets out there, for the price this is a force to be reckoned with.
PROs

Pit zips
Lots of color choices
Lightweight
Packable
Great Value

CONs

Not very breathable
Baggy fit
Bottom-Line: A far more functional and protective option than most jackets in this price range.
Montbell Storm Cruiser Jacket
Best for Winter Hiking
Weight: 10 oz. ⸱ Waterproofing: 3-layer GORE® C-KNIT Backer Technology, 20-denier Ballistic ripstop nylon with DWR finish ⸱ HH: 50,000 mm ⸱ MVTR: 35,000 g/m²/24hr
The Montbell Storm Cruiser is lightweight, has great storm resistance, and is full of features. Using Gore-Tex with a C-knit backer, this is one of the most breathable and waterproof jackets on this list.
The SC's textured backing doesn't feel clammy against your bare skin and the pit zips come in handy when you crank up the pace, too. And if the sun is shining, this jacket packs down into the tiny included stuff sack. If you want to keep it on for some extra warmth, you can roll down the hood and keep it out of the way with the hook-and-loop tab.
Unlike other lightweight shells, this one can take the abuse of constant use, too. It uses 20d outer fabric, which is much thicker than some lightweight jackets.
This is one of the more expensive options you'll find on this list. But, we think it's worth the price if you're looking for a reliable and durable shell for winter hiking.
PROs

Stormproof
Ultra-breathable
Pit zips
Packable
Lightweight

CONs

Expensive
Crinkly fabric can be loud
No chest pocket
Bottom-Line: Though this jacket is expensive, we think it's worth the price for a dependable shell designed for active pursuits. 
How to Choose Lightweight Hiking & Backpacking Rain Jackets
When searching for the perfect rain jacket, there's a lot to consider. In truth, however, you just have to figure out what you want your jacket to do for you, then find the jacket that does all those things within your budget.
We've broken down some considerations below. This should help you find the perfect balance of features and attributes you need.
If you're going backpacking on the Appalachian Trail during the rainy season you'll probably want a more durable rain jacket with high levels of waterproofing. On the other hand, if you're going out in the California desert you can probably get away with a more lightweight, minimalist shell since you likely won't be needing it much.
Weight
Lightweight wet weather clothing is important since you'll be carrying it on your back when it isn't raining. We tested products ranging from 4 to 13 ounces in this roundup. So while nothing in this review is particularly heavy, there is still a wide range in weight represented here.
If you're backpacking, alpine climbing, or riding your bike across the country, weight should be one of your primary concerns.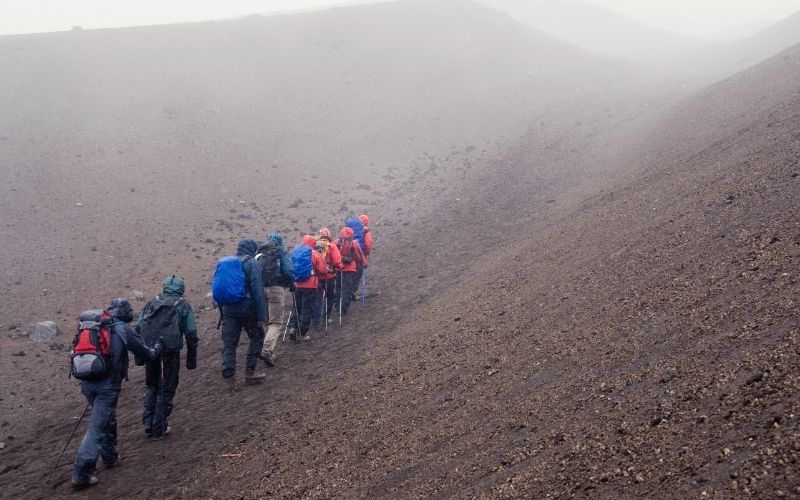 While weight savings are important, you shouldn't skimp on protection. What's the point of carrying waterproof gear all that time if it doesn't do what you need it to do when needed?
The lightest model in our review is the Patagonia Houdini Air (4.1 oz.), which relies on a DWR coating for weather resistance. The lightest of the rain shells is the Outdoor Research Helium, which weighs 6.3 oz and offers good enough waterproofing for 3-season hiking.
Packability
Packability could be considered a subcategory of weight. Look for a very packable rain jacket, ideally one that packs into its own pocket. If it's packable, after all, you'll not only save space but also be more likely to bring it with you.
If something is extremely packable you can just leave it in your bag and forget about it. For multi-day backpacking trips packed size is even more important. The smaller your jacket, the more room you'll have for other goodies!
Waterproofing
A rain jacket's most important job is to keep you dry. No matter what the activity, that's why you wear it. You can have the most breathable or lightest rain jacket in the world, but if it doesn't keep you dry then what's the point?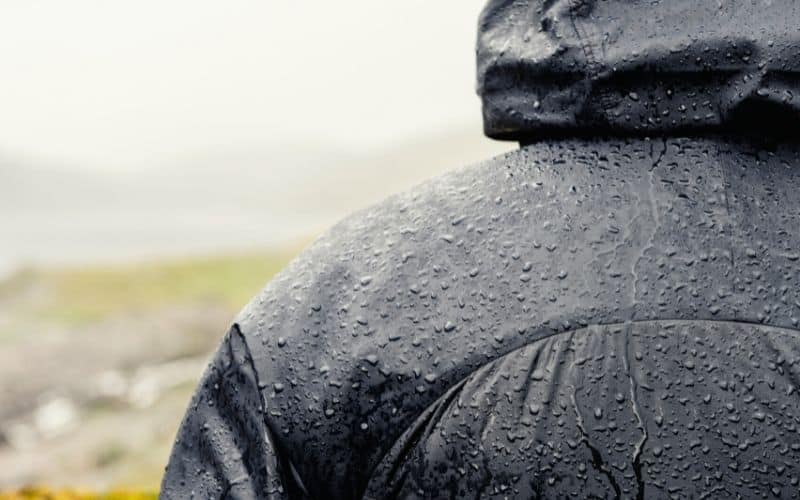 There are many different waterproof fabrics and treatments used in rain jacket construction, and we'll go through some of the most common below. But first, we want to touch on the method used to rate the waterproofing qualities of a fabric, Hydrostatic Head.
Hydrostatic Head
Hydrostatic head is the standard way of measuring how waterproof a fabric is. The measurement is given in millimeters and measures how high a column of water on the fabric can be before the water starts to penetrate the fabric. This is pretty technical, I know. Think of it this way: the higher the number, the more waterproof the fabric will be.
Generally, fabrics in the range of 16,000-20,000 mm (EE Visp, Marmot Precip Eco, OR Helium) tend to be adequate for all but the most torrential downpours. Above 20,000 mm (Montbell Storm Cruiser, Arc'teryx Zata SL, Montbell Versatile, REI Drypoint, REI XeroDry, MH Exposure/2, Ultimate Direction Ultra) is only necessary for extremely heavy rain – think extended monsoons with strong winds.
DWR-Coated Fabrics
DWR (durable water repellent) is a treatment applied to the outside of rain gear during manufacturing. This makes the water bead up when rain lands on your jacket and thus allows it to shed that moisture.
The treatment keeps the fabric from saturating with water. If your garment doesn't shed moisture adequately, it will feel colder, heavier, and won't be as waterproof until it dries. Both nylon and polyester are hydrophobic, but if they aren't DWR-treated the jacket will eventually "wet out".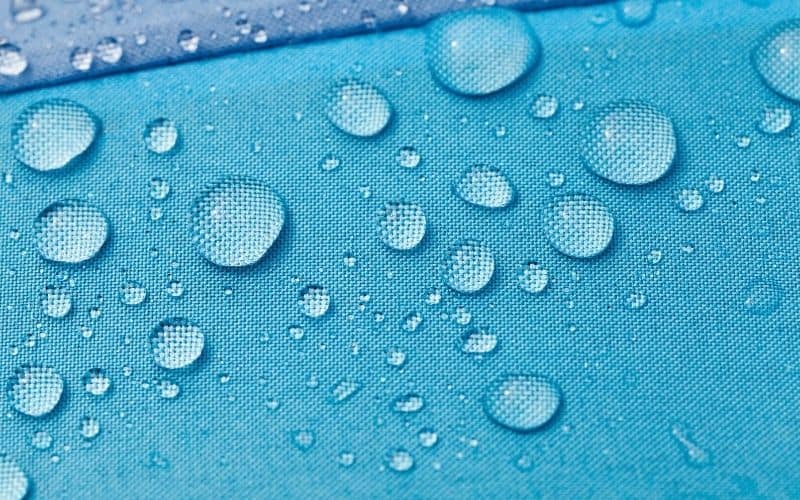 DWR-coated fabrics do require some maintenance. They need regular cleaning with tech wash to help refresh the DWR coating. You'll also want to apply a new DWR coating to your breathable rain jacket when it starts to saturate with water. DWR sprays are best for this because they only deposit the waterproof coating on the outside of the jacket.
Laminate Fabrics
Laminated fabrics are multiple layers of fabric that are laminated together. These fabrics are usually three layers, with the middle layer being the most waterproof. The outer layer is often the most durable and is treated with DWR, while the inner layer wicks moisture and provides a softer next-to-skin feel.
Gore-Tex is the most well-known laminated waterproof fabric, but not the only one. All laminates tend to work in the same way and these fabrics are traditionally the most breathable.
Laminate fabrics also require regular cleaning and reapplication of DWR coatings.
Breathability
Breathability is important when working hard in stormy weather. The more active you'll be, the more you'll need breathability. What's the point in keeping you dry from wet conditions only to make you soaked in your own sweat? Breathability allows your jacket to "dump heat" as your body warms up during exercise. It's as simple as that.
Breathability ratings are often determined by material manufacturers. These ratings, called moisture vapor transmission rates (MVTR), are measured in grams per square meter over 24 hours (g/m²/24hr). Basically, MVTR attempts to measure how much moisture can pass through a fabric.
What really matters here is real-world application, so it's best to read these numbers skeptically. They will give you a general sense of how breathable a fabric is, though. The higher the number, the more breathable a fabric will likely be. There are some extremely high MVTR ratings on some of these jackets. You'll see ratings ranging from 15,000 (Zeta SL, REI XeroDry) to 75,000 (Enlightened Equipment Visp) here. But what is most important are real-world results, not lab tests.
For high-output activities, look for breathability from 20,000 to 30,000+ g/m²/24hr. For general hiking, 12,500 to 20,000 g/m²/24 hr should be sufficient.
Ventilation
Ventilation is often considered in conjunction with breathability. Because, when your body builds up heat, you can open your jacket for mechanical venting. This is a 100% reliable way to cool off when you're working hard.
Ventilation comes in the form of armpit zips, side zippers, core vents, mesh pockets, the main zipper, or other various ventilation holes built into a jacket. They're all useful to increase airflow and cool you down. And they allow some moisture to escape so that the breathable membrane won't have to work as hard.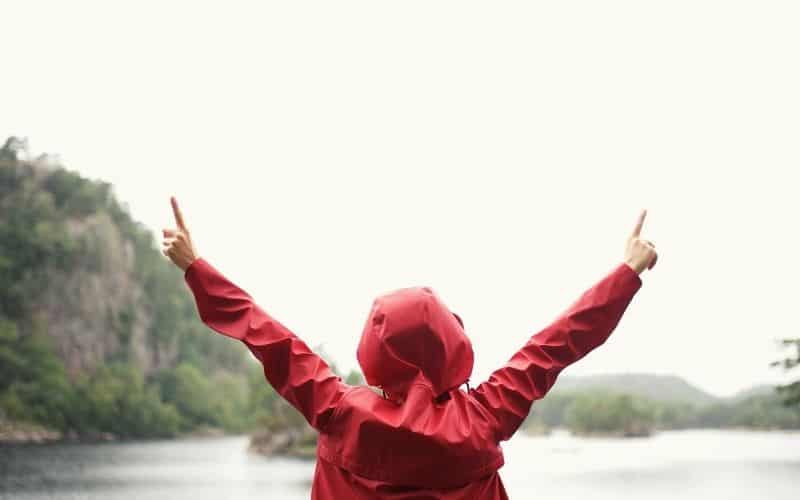 Pit-zips will allow more moisture and heat to escape than any other type of ventilation. And with pit-zips, you can generally use them even when it's raining.
Mobility
You don't want something that inhibits movement unless you're just going to be standing around in it. You want a jacket that moves as comfortably as you move. When hiking, mobility isn't as important of a consideration as it is for climbing, but it's still very important for general comfort.
Look for rain jackets that aren't too tight. Articulated arms are great as well, while stretch fabric like that used in the MH Exposure/2 is the crème de la crème. If you're in between sizes we recommend sizing up, then you'll have room to move and options for layering underneath your outer shell.
Durability
A rain jacket with a hole won't keep water out, so durability is especially important for hikes with a lot of bushwhacking or scrambling, or for other high-abrasion activities. So, if you're going to be putting your jacket through a lot of abuse, get a durable one. Generally, this means jackets made with 20d or thicker ripstop outer fabric.
Wearing a rain jacket with a backpack often will cause the outer fabric to wear out faster on top of your shoulders. And the DWR will wear off quickest where the backpack rubs, too.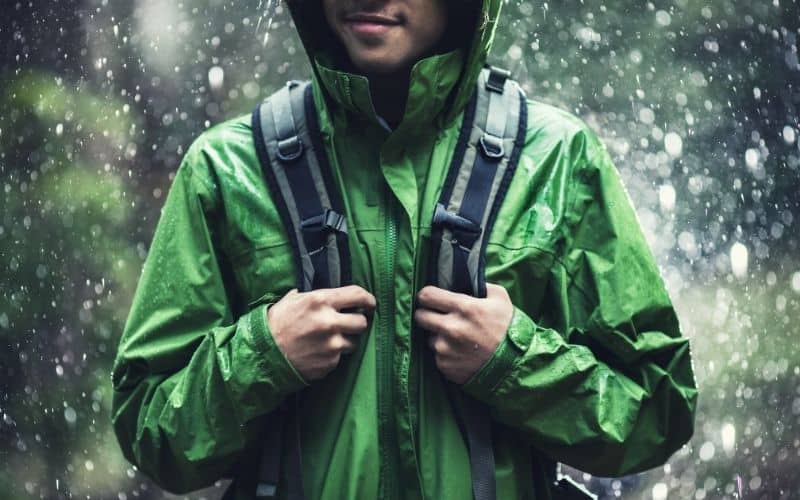 Most rain jackets are frankly not that durable, especially if they are breathable too. You're likely better off going with a lighter-weight rain jacket and only wearing it in when it's actively raining. Using it less often will increase the lifespan of your investment.
But don't fear, even if you do tear your rain jacket you shouldn't have been bushwacking with, you can always repair it with one of these stick-on patches.
Features
Last but not least is features: a catch-all category of everything you'll want to look for in a rain jacket.
Pockets
Zippered hand pockets have a high utility, but many of the best ultralight rain jackets don't have them. They do add weight, after all. Consider if you use the pockets on a rain jacket while hiking. If you don't, you can go without them and save some weight. If you do, look for water-resistant zippers to ensure no rain sneaks in when you're not using them.
Often, hand pockets aren't accessible if using a backpack with a hip belt. Even worse, the zipper pull might dig into your hips under your hip belt. Many of the ultralight jackets on this list are hip-belt compatible, but not all of them.
Hood Adjustability
Make sure your hood has a cinch cord that wraps around the crown of the head. Ideally, it will have at least 2 adjustment points, but 3 is better. You want a hood that's fully adjustable to ensure it doesn't block your peripheral vision.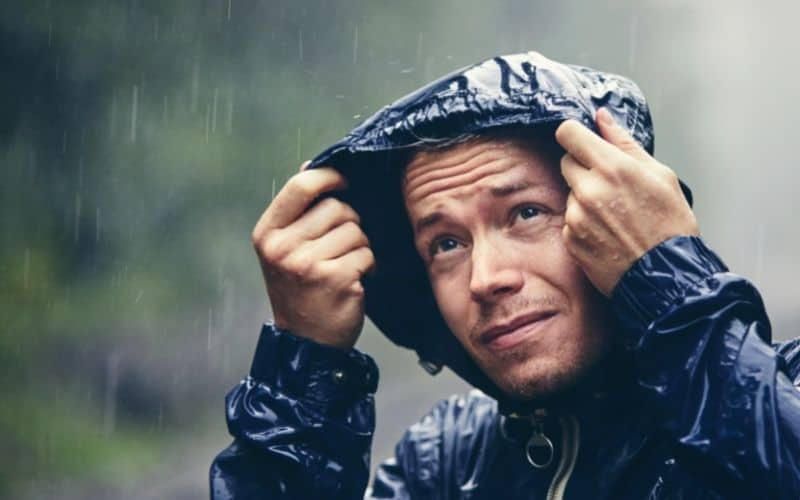 Look for a good bill (aka 'wired peak'), too. It will keep water from dripping onto your face.
Closures (Cuffs, Waist, Neck)
Closures will ultimately dictate how well you can batten down the hatches with a jacket. Because when it's pouring down, you'll want to tighten your sleeves, hood, and waist hem to stay as dry as possible. And when things warm-up, you can release those hatches to let in a little air. For this reason, adjustable closures (adjustable hem, neck, and cuffs) are the way to go.
Chin protector
Finally, does the jacket you're considering have a chin protector and wicking fabric? Because if it doesn't you might end up with some chafing on your chin!
Best Lightweight and Ultralight Rain Jackets: The Verdict
Looking for a true all-rounder that won't weigh down your pack when not in use? If so, the ultralight Montbell Versatile's our top pick.
Need a reliable rain-blocker that won't break the bank? The tried-and-true REI Co-op XeroDry and Groundbreaker are solid options if breathability isn't a high priority.
Using your jackets for high-output hiking, trail running, or ski-touring? If so, the ultra-breathable Enlightened Equipment Visp is the shell for you!
We hope you enjoyed our guide to the best lightweight jackets for hiking and backpacking.
What did you think of our recommendations? Leave a comment below if you have any questions or if we missed your favorite! As always feel free to share this article with friends and family looking to upgrade their hiking wardrobe.