Disclosure: My Open Country highlights products we hope you might find interesting. If you buy them, we get a small share of the sale revenue from our partners at no additional cost to you. This never drives our decision as to whether or not a product is featured or recommended.
The greatest feature of Cocoon's Silk MummyLiner is its versatility. The liner's durable silk will serve you well whether you're traveling to cool forests or humid jungles. Believe it or not, this silk mummy liner can add an impressive 9.5°F to your sleeping bag. Given the liner's incredible breathability, however, it can be used by itself to stay cool and comfortable.
Since this product is made of silk, it's lightweight and easy to pack into its stuff sack. Indeed, you'll only add 4 ounces to your travel bag with this liner. Although it feels elegant and delicate, this MummyLiner is durable and will last you a lifetime with proper care.
Cocoon's sleeping bag liner strikes a great balance between value and quality. People who want a well-made silk liner at a reasonable price should try out this product on their next camping adventure. Our top pick as the best sleeping bag liner.
As you might've already heard, Sea to Summit is one of the big names in the camping gear world. While this company gets a lot of press for its specialized liners (some of which are featured below), Sea to Summit made this product versatile enough to handle both hot and cold temperatures.
The type of silk used in the Sea to Summit Silk Liner is AA Grade ripstop silk, one of the strongest in the industry. Manufacturers have even included polyester and lycra side panels to make the liner even more flexible. These side panels are great news for people out there who tend to move around a lot at night.
Another great feature about this Sea to Summit product is that it's available in a wide variety of sizes, shapes, and colors. No matter what you're looking for, you should be able to find the perfect liner for your needs.
Campers willing to splurge on a high-quality silk liner can't go wrong with taking a look at Sea to Summit's premium product.
If you're looking for a value play in the sleeping bag liner world, look no further than Dimples Excel Liner.
The Dimples Excel is made out of polyester satin. Although it's not as fine as silk, Dimples Excel's liner can be used in both warm and cold weather, is very breathable, and is quite stretchy. Despite the polyester fabric, the Dimples excel won't break your back, adding only 8 ounces to your pack.
One commendable thing about this liner is that it's made of recycled fabrics. If you're at all into helping the environment, this should be a big pro on your list.
While it's not as light or compact as silk sleeping bag liners, the Dimples Excel Liner will get the job done for people who put a higher priority on value rather than comfort.
Sleeping Bag Liners: Providing Extra Warmth to your Sleeping System
Looking for the Best Sleeping Bag Liner?
You're in the right place! In this guide, we will be covering the following:
What is a sleeping bag liner?
Why you need a sleeping bag liner
What you should consider when buying.
Reviews of the top 5 best sleeping bag liners on the market
Our unbiased recommendation on the #1 sleeping bag liner
A common challenge campers face on outdoor expeditions is getting a good night's sleep. While it's almost impossible to get the same quality of sleep as on your home mattress, there are a few hacks hikers have come up with to stay warm and toasty even in a frosty forest. One excellent suggestion to both improve your sleep and extend the lifespan of your sleeping bag is to invest in a sleeping bag liner.
In this article, we'll explain what a sleeping bag liner is and go over why you should consider buying one. We'll also share a few of our favorite names in the industry to help you on your search.
Benefits & Features of Sleeping Bag Liners
Why Use A Sleeping Bag Liner?
The primary reason to use a liner is to prevent sweat, body oils, and dirt from accumulating in your sleeping bag. Not only does this keep your expensive sleeping bag far more sanitary while you're sleeping, it significantly increases your sleeping bag's lifespan. You'll also have a much easier time cleaning out your sleeping bag at the end of your trip.
Another nice feature sleeping bag liners offer is that they are easy to air out after you wake up. This will save you precious moments in the morning so you could enjoy more time camping.
One obvious reason for including a liner in your travel pack is to keep you warm when camping in snow. The added insulation of a travel liner can dramatically cut your risks of developing hypothermia. Plus, since you'll feel all warm and toasty in your sleeping bag, you'll have a far easier time falling asleep.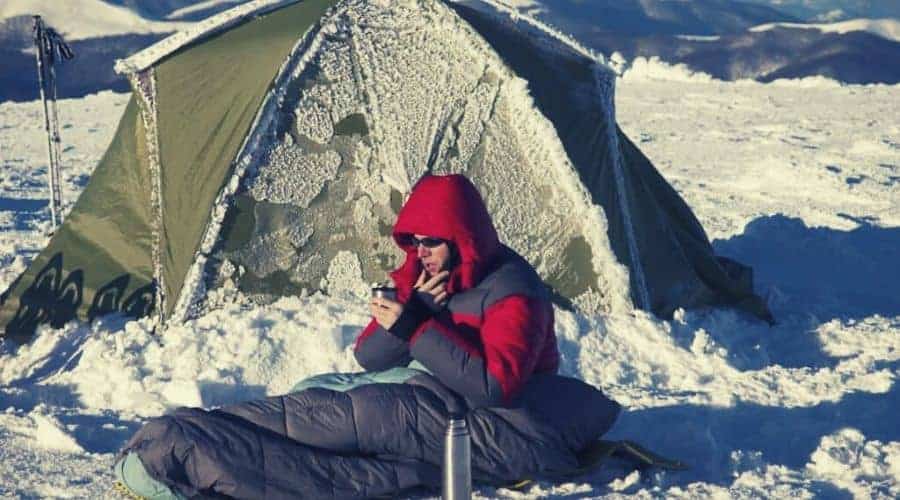 The last reason you should use a sleeping bag liner is to take advantage of antimicrobial properties that some manufacturers add. Think of these liners as a natural form of bug repellant. With the added layer of your sleeping bag liner, you'll dramatically reduce your risk of getting bitten by dangerous ticks and mosquitos. Indeed, many savvy budget travelers buy the best sleeping bag liners to protect themselves from bedbugs in hostels. Bugs should be a concern for all outdoor campers, and using a sleeping bag liner is an easy way to protect yourself.
Set Your Priorities Before Shopping For Liners
Before we get into the advantages and disadvantages of different fabrics, it's important to come up with your own priorities list. Do you travel exclusively to humid areas and want a fabric that offers enhanced breathability? Or perhaps you're going to a cold forest and want your sleeping bag liner to provide a lot of heat? Maybe you want a product that can handle both extremes? Knowing your personal needs will help you decide on the ideal fabric.
What's The Best Fabric?
Firstly, here's a simple rule all new campers must heed: never buy a cotton liner or wear cotton clothing in the wild. We can't stress this enough. While cotton liners are usually the most affordable, don't be tempted. Cotton products aren't worth the hassles you'll have to put up with.
The main reasons campers don't like cotton are that they are difficult to compress and very heavy. Also, cotton takes a very long time to dry. If you're wearing cotton clothes in a rainy environment, you'll dramatically increase your risk of hypothermia.
In contrast to cotton, silk liners are the most lauded in the industry. Silk products are far easier to compress into stuff sacks, very lightweight, and pleasant to touch. Liners made out of silk also have the best anti-microbial and anti-parasitic properties. You can use silk liners in hot or cool regions with great results. While they might not offer the same degree of heat as an insulated product, silk products remain the most durable and reliable in the industry.
A step up from silk in the heat department is a fleece sleeping bag liner. Most liners made out of this fabric can add at least 10°F to your sleeping bag. In contrast to silk, however, fleece sleeping bag liners tend to be heavier and more difficult to pack. They are also nowhere as near as breathable as silk. If you love the texture of fleece but don't want to buy a liner, expert campers recommend bringing fleece clothing with you to keep warm rather than investing in a fleece sleeping bag liner.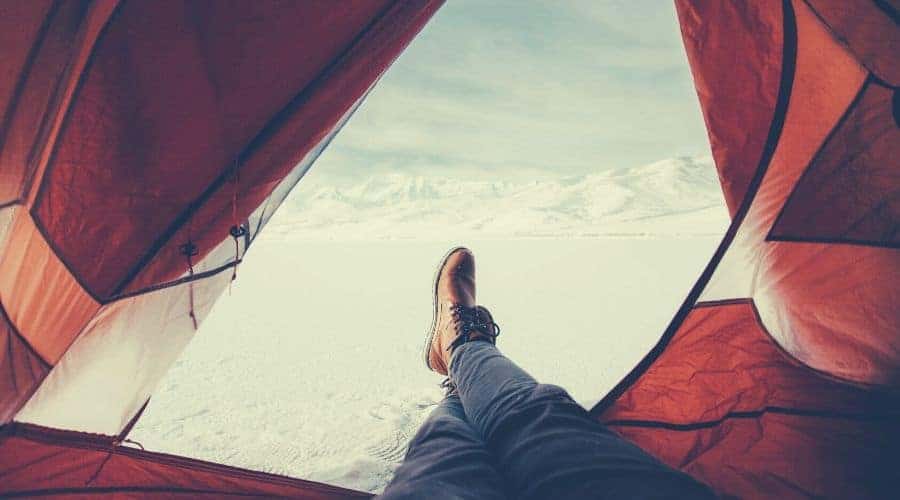 For the ultimate warmth at night, you have to look into insulated liners. Many of the companies that make these liners say they can increase your sleeping bag temperature by as much as 25°F. Insulated liners are also able to dry off quickly thanks to their fiber insulation system. Because of all the additional padding, however, these liners can be a bit tricky to pack and weigh more than silk liners.
Lastly, people traveling to hot and humid areas should look into synthetic products. These liners were designed to repel moisture and keep you cool with enhanced breathability. Since most synthetic liners focus on reducing moisture retention rather than insulation, they obviously aren't the best option for hikers going into colder regions.
Sleeping Bag Liner Design
Sleeping bag liners are thin sheets of fabric that can either be placed inside your sleeping bag or used on their own. Almost every sleeping bag liner today is machine washable.
The most common of sleeping bag liner shapes is the mummy design with a hood on top. Mummy designs are common because they best fit into most sleeping bags and provide extra cushioning for your head. Most of these liners also have strings attached to them so you could tie the hood around your head for extra heating.
After mummy designs, the most common camping bag liners are in a rectangular shape without a hood. It's possible to place these rectangular liners in your sleeping bags as well, but most people like using these designs on their own. Rectangular liners are especially good to use by themselves in humid weather.
There's no standardized way of entering a sleeping bag liner. Some have openings on the side with Velcro or zippers, but most have an opening on the top which you have to crawl or jump into. Because the side and bottom seams are sowed on liners with only a head opening, these products tend to provide better insulation.
Lastly, for those who prefer to double-up with their partner, then you have the option of buying two separate liners or being on the look-out for a double sleeping bag liner.
The Best Sleeping Bag Liners Reviewed
Dimples Excel
The Dimples Excel measures a respectable 86 inches in length by 41 inches in width, which makes them a great option for taller campers or people who roll around a lot at night. When it's compressed into its stuff sack, the Dimples Excel measures 6.3 inches by 2.7 inches and weighs 8.35 ounces.
The product is very thin and made out of recycled polyester satin. More experienced campers might be able to tell the difference between this synthetic fabric and silk, but the texture is quite similar. You can use your Dimples Excel with great success in both hot and cool areas.
To get in, you'll have to open up a few Velcro straps along the side of the product. As you open them up, you can enter the 23-inch opening and simply close the Velcro straps when you're inside. The advantage of this design is that it's easier to get in and out. The downside is that you might lose a bit of insulation you would have otherwise had with a model that's tied together on the bottom and sides.
There is a hood that fits nicely in any mummy bag. You could also easily place a pillow in this top layer. As for color design, the Dimples Excel is available in either blue or grey.
PROs

Very roomy size is great for restless sleepers.
Made out of eco-friendly recycled materials.
Side entrance makes it easy to get in and out.

CONs

Polyester material not as durable as silk.
Velcro straps on the side could weaken insulation.
Bottom-Line: People who are willing to sacrifice the quality of a fine silk product for the affordability of this polyester model won't be disappointed with the Dimples Excel.
Sea to Summit Premium Silk
Let's begin with the number one selling point of this luxury item: it's made out of AA Grade ripstop silk. In case you didn't know, ripstop refers to a special kind of weaving technique that reinforces numerous threads to make fabrics more durable. This ripstop pattern makes it virtually impossible for tear Sea to Summit's products.
Although it's strong, this silk fabric feels very soft against the skin. If you want to, feel free to roll this product up and use it as a pillow on long car or plane voyages. Plenty of campers have already done so with great success!
In addition to high-quality silk, manufacturers have included a few layers of polyester and lycra (aka spandex) seams on the sides. These fabrics help the liner stretch even further so you can toss and turn all night without worrying about tearing this sheet.
This product is available in several different styles. Whether you want a longer rectangular, one with pillow inserts, or just a mummy-shaped model, so you should find an ideal choice for your needs.
The regular-sized rectangular model measures 73 inches high by 36 inches wide and weighs 4.6 ounces. You'll only add 4.6 ounces to your travel pack with Sea to Silk's regular version.
Not only do Sea to Summit liners come in a wide variety of sizes, they are also available in different colors. The four subdued colors you can choose from include two shades of blue, green, and dark pink.
Due to its premium status, the Sea to Silk is intended for people who do a lot of camping in different environments. Casual campers looking for a value play could find better options on this list.
PROs

Fine AA grade ripstop silk is very durable.
Stretch panels on seams to help restless sleepers.
Wide variety of colors and designs to choose from.

CONs

Designed with intermediate and advanced hikers in mind.
One of the shortest heights on our list
Bottom-Line: Serious campers looking for a higher-quality silk product should check out the Sea to Silk Premium Silk.
ALPS Mountaineering Microfiber Mummy
The ALPS Mountaineering Microfiber Mummy is made out of microfiber (a synthetic fabric). This product measures 86 inches in length and 32 inches in width and weighs 11 ounces. ALPS Mountaineering also makes a version in polyester-cotton.
At 11 ounces, ALPS's model is one of the heavier products on this list. It's also a bit more difficult to pack up due to its microfiber fabric.
There's a Velcro strap on the top that you can use to open and close this product. You'll also find two drawstrings here which you could use to tighten the hood around your head at night.
A minor setback of this ALPS product is that it doesn't have any special stretchable material. There is a good deal of room, but if you're bigger and tend to roll around a lot at night you might have issues.
While it's not as luxurious as silk, the ALPS Mountaineering Microfiber Mummy is an affordable and well-designed product that has a great deal of insulation and moisture protection.
PROs

Comfortable microfiber fabric provides good insulation.
Very long product great for tall hikers.
Limited lifetime warranty

CONs

A bit heavier at 11 ounces.
Not ideal for people who toss and turn at night.
Bottom-Line: Tall, thin travellers who often travel to cool or wet forests will get the best use.
Sea to Summit CoolMax Adaptor Insect Shield
Anyone worried about insect infestations should take a look at Sea to Summit's Coolmax Adaptor Insect Shield.
As you might've guessed from the name, its ideal for campers voyaging to humid locales. The CoolMax Adaptor is made out of special polyester with Sea to Summit's CoolMax technology. In addition to enhanced breathability, manufacturers say the CoolMax technology can wick off moisture quickly in humid areas.
The key feature of the CoolMax Adaptor is that its includes a layer of odorless insect repellant to ward off common bugs like mosquitoes and flies. The insect repellant used in this product has been recognized by the EPA and will last at least six months or 25 washing cycles.
As for it's dimensions, it measures 82 inches in height and 35 inches in width. In the stuff sack it weighs just less than 10 ounces. By the way, manufacturers did include a few stretchy layers of fabric in their design to help people who toss and turn at night.
You'll enter from the top and tie yourself in with the drawstrings provided. There are no Velcro straps or zippers, which is both a pro and con for this product. It's a pro because you'll most likely be using the CoolMax Adaptor only in warmer environments and expecting extra breathability. This is a con, however, because you'll have to invest in another better-insulated product if you go to both cold and warm regions.
If you're interested in this product, hopefully you like the color green. The only color the Coolmax Adaptor Insect Shield is made in today.
PROs

Excellent for keeping travelers in humid regions cool and dry.
Insect repellant included in fabric.
9.3 ounces in stuff sack.
A few stretchable fabrics used to help restless sleepers.

CONs

Only available in one color and one size.
Not ideal for people who travel to both hot and cold regions.
Insect repellant wears away over time.
Bottom-Line: Sea to Summit's CoolMax Adaptor is ideal for people traveling to hot, tropical regions that have a ton of bugs. While it keeps the pests away, the CoolMax Adaptor will keep you cool and dry thanks to its patented CoolMax technology.
Sea to Summit Reactor Thermolite
Another specialty, the Sea to Summit insulated sleeping bag liner is the Reactor Thermolite. In contrast to the CoolMax Adaptor, the Reactor Thermolite lining is designed to keep your sleep system toasty. This feature makes the Reactor Thermolite an ideal pick for people who frequently travel to frigid areas.
Sea to Summit designers claim the Reactor Thermolite can help you increase your sleeping bag's temperature rating by as much as 25°F. The reason it's able to get this hot is thanks to the manufacturers' trademarked Thermolite synthetic insulator.
The Reactor Thermolite is the heaviest on our list at 14 ounces Of course, all of this added weight comes from insulated fabric. The dimensions of this mummy liner are 84 inches in length by 36 inches in width. You'll enter into this product through the top and you can tie the hood around your head with the drawstrings. As you compress this stuff sack down into its container it will only measure 4 x 6 inches.
PROs

110g/m2 Thermolite fabric can add up to 25°F to your sleep system.
Roomy design good for restless sleepers.
Drawstrings and hood help increase impressive insulation.

CONs

Not as breathable as others.
The heaviest model on our list.
Bottom-Line: People who are primarily concerned with maximizing the amount of heat in their sleeping bag and don't mind packing a few extra ounces in their travel gear should check out the Reactor Thermolite, the warmest thermal sleeping bag liner to make our final list.
Cocoon Silk MummyLiner
Cocoon's liner is made of standard silk in the mummy-shape design. Manufacturers have included one draw cord you can use to bring the hood over your face while sleeping.
This all-silk liner is 95 inches long by 35 inches wide and it only weighs about 4 ounces. This makes it both the tallest and one of the lightest on our list. In cooler areas, this liner could increase the temperature of your sleep system by as much as 9.5°F. If you're traveling to warmer areas, the Cocoon will keep you cool thanks to its breathability.
One nice feature about the Cocoon Silk MummyLiner is that it's available in many different colors. In fact, this is the only product on our list that has vibrant color schemes to choose from. Whether you want a plain understated color of a more flamboyant design, you should find a Cocoon to suit your fancy.
PROs

Fine silk fabric.
Less than 5 ounces including stuff sack.
Can increase sleeping bags temperature by 9.5°F.
Tallest model on our list.

CONs

No added fabrics to increase ability to stretch.
Bottom-Line: People who aren't restless sleepers looking for a quality all-silk product that offers protection in all weather conditions will most likely enjoy this ultralight sleeping bag liner.
Rab Silk Sleeping Bag Liner
There are four sizes of the Rab bag liner available for purchase, all of which have slightly different measurements. You can choose from the following designs: long, mummy-shaped, standard rectangular, and traveler.
As a reference point, the standard Rab liner measures 73 inches long and 36 inches wide. In the stuff sack, the Rab Silk Liner will only weigh 5.5 ounces. While it's fairly light, you'll also notice that the standard Rab is one of the shortest on our list.
Although the product we detailed above is the standard silk product, Rab also makes this product in either poly-cotton or cotton. Both of these products are significantly heavier than the silk liner.
Due to the standard Rab's diminished height, it might not be a good option for taller campers. Of course, if the standard 73 inches doesn't work for you and you're still interested in this product, you could always take a peek at other Rab designs before deciding against purchasing one.
The smaller size could be a positive if you prefer your liner to be snug rather than roomy. However, you should know that Rab didn't use any special fabrics to help stretch out further than the silk already goes.
PROs

Wide assortment of fabrics and sizes available.
Fine silk is durable and versatile.
Weighs 5.5 ounces in stuff sack.

CONs

Standard size is one of the shortest on our list.
No special materials to help restless sleepers.
Bottom-Line: People looking for a decent lightweight, albeit short, silk product might enjoy the Rab.
Last update on 2021-03-07 / Affiliate links / Images from Amazon Product Advertising API