We all have those hardy camping friends who continue their outdoor adventures even in the dead of winter. You might think you don't have some special inclination or unique toughness to camp in temperatures below 30 degrees, but in truth, all you need is a high-quality winter sleeping bag.
We tested and reviewed the top winter sleeping bags available and found the Western Mountaineering Kodiak MF to be our favorite. Other highly recommended models are the Mountain Hardwear Phantom 0, Western Mountaineering Versalite 10, NEMO Sonic 0, Marmot CWM, Marmot Trestles Elite Ecco 0, Kelty Cosmic 0, and the Feathered Friends Snowbunting EX 0.
To determine the right option for you, we have included expert buying advice on choosing a good winter camping sleeping bag. Key features to consider include the insulation type (down or synthetic), fill power and weight, comfort and fit, temperature rating, size, weight, water resistance, as well as features and accessories.
At a Glance: Quick Recommendations
Top Choices by Category
Budget: Marmot Trestles and Kelty Cosmic 0
Under 3 lbs.: Western Mountaineering Versalite 10, Western Mountaineering Kodiak MF, Nemo Sonic 0, and Feathered Friends Snowbunting EX 0
Fill Power/Fill Weight Ratio: Western Mountaineering Kodiak MF and Mountain Hardwear Phantom 0
What is the best sleeping bag for cold weather?
Our recommendations for the best cold-weather sleeping bags, topped by the Western Mountaineering Kodiak MF, are in the list below.
Western Mountaineering Kodiak MF
Mountain Hardwear Phantom 0
Western Mountaineering Versalite 10
NEMO Sonic 0
Marmot CWM
Marmot Trestles Elite Ecco 0
Kelty Cosmic 0 Sleeping Bag
Feathered Friends Snowbunting EX 0 Sleeping Bag
Western Mountaineering Kodiak MF
Editor's Choice
Weight: 2.85 lbs. ⸱ Fill Weight: 30 oz. ⸱ Fill Power: 850
The Western Mountaineering Kodiak MF meets all our criteria to win the editor's choice award – it's lightweight, offers an exceptional warmth-to-weight ratio, and features a patented Microlight XP shell fabric that repels water.
The Kodiak is made with 30 ounces of 850-fill goose down. While this means you get a whopping 7 inches of down insulation swaddling of your body, it remains compressible due to the high fill power of the down.
The Kodiak is also one of the roomiest bags on our list. It's 200cm long, 170cm at the shoulder, and 147cm at the hips. It's a mummy bag, yet still has a generous, 41-inch foot box. These dimensions make it super-comfortable for side, front, and back sleepers alike. All that extra room also allows you to wear extra layers for staying warm in especially cold winter weather.
Other nice touches include 3D draft tubes to keep your body heat in and cold air out, snag-free zippers, and a full-down neck and shoulder collar that feels extra-soft against the skin.
PROs

Warm and lightweight
Highly packable
Water-resistant
Enough room for extra layers on extra-chilly nights

CONs
Bottom-Line: The Kodiak MF is our favorite winter sleeping bag due to its superb insulation, roominess, and patented water-repellent shell.
Mountain Hardwear Phantom 0
Runner-up
Weight: 2.68 lbs. ⸱ Fill Weight: 29.6 oz. ⸱ Fill Power: 850
The Mountain Hardwear Phantom 0 has been around for years consistently ranking as one of the top winter camping sleeping bags around and bagging our runner-up award this year.
The Phantom 0 boasts similar specs to the Kodiak MF. It weighs just a few ounces less and uses 29.6 oz. of 850-fill down. It also has waterproof-breathable shell fabric and a durable water-repellent finish.
While not as weather-resistant as the Kodiak, the Phantom's lighter weight and smaller packed size make it a better option for backpacking trips. This is also one of the more sustainable models on our list as it contains recycled materials, namely a 10D nylon shell.
This mummy sleeping bag has a few other things going for it too. In addition to a contoured footbox that allows for a natural foot position and downdraft collar, it has both left and right-hand zippers. These allow both easy entry/exit and let you zip your bag together with your partner's.
PROs

Warm
Lightweight
10D recycled nylon shell
Glow-in-the-dark zipper pulls
Internal stash pocket
Awesome stuff sack

CONs

Down is not hydrophobic
Hood doesn't cinch down
Bottom-Line: A great option for those looking for a lightweight cold weather sleeping bag with a snugger fit.
Western Mountaineering Versalite 10
Best Lightweight
Weight: 2 lbs. ⸱ Fill Weight: 20 oz. ⸱ Fill Power: 850+
Winning best lightweight winter sleeping bag is the impossibly light Western Mountaineering Versalite 10. At just 2 pounds, it beats the weight of other models we tested by a large margin.
You'll still get 850+ premium goose-down fill power, meaning it will keep you plenty warm on nights 10 degrees or above. That being said, it has a lesser fill weight than the Kodiak and the Phantom, making it more of a three-season bag (depending, of course, on where you are in the world).
The Versalite has a plethora of value-adding features. The most notable are a handy "Super" Full Collar to seal in extra warmth, extra foot girth for those of us who like to kick around a bit in our sleep, and continuous baffles along its length for superior heat retention.
PROs

Lightweight
Highly packable
High fill power
Down collar seals in warmth
Extra foot girth

CONs

Not as warm as heftier models
Shell isn't water-resistant
Bottom-Line: The Versalite lacks the warmth of other models on our list, but its light weight and small packed size make it an excellent choice for three-season, ultralight adventurers.
NEMO Sonic 0
Most Comfortable
Weight: 2.95 lbs. ⸱ Fill Weight: 20 oz. ⸱ Fill Power: 800
We found the Nemo Sonic 0 to be the most comfortable cold-weather sleeping bag available. Stuffed with comfort and warmth inducing features you'll get a great night's sleep on chilly, zero-degree nights.
The Sonic 0 has a contoured hood with a drawstring cord to prevent heat loss from the neck up. Its Toester™ footbox includes an extra layer of synthetic insulation to prevent freezing toes.
But what really makes the Sonic comfortable are the stretch baffles at the knees, which allow for uninhibited movement, and the side vents that permit temperature control. For side sleepers, it doesn't get much better than this.
The 800-fill goose down used in the Sonic is sustainably sourced and Responsibly Down Standard (RDS) certified. It's also hydrophobic, so it performs better in damp conditions.
The downsides? In testing, we found the Sonic 0 significantly less warm than other zero-degree-rated bags owing to its lower fill weight and roomier dimensions.
PROs

Comfortable,
Excellent for side sleepers
Sustainably made
Hydrophobic down
Vents for temperature control

CONs

Not as warm as other models
Bottom-Line: The Sonic 0's roominess, vents, and stretch construction make it ideal for buyers who value comfort above all else.
Marmot CWM
Best for Extreme Cold
Weight: 4 lbs. 15.5 oz. ⸱ Fill Weight: 47 oz. ⸱ Fill Power: 800+
The Marmot CWM, with a temperature rating of -40°F, is our top choice for extreme cold weather sleeping bags, suitable for most frigid environments except the highest elevations of Everest or the coldest regions of Siberia. It features 47 oz. of 800+ fill goose down, making it heavier and bulkier compared to other bags on our list, yet its warmth-to-weight ratio is still mightily impressive.
The CWM features a cross-baffle construction and baffled hood to eliminate cold spots and keep out drafts. There's also a down-filled tube along the zipper to keep warmth from leaking out and a 360-degree foot box.
This beast of a bag also uses a waterproof-breathable Pertex Shield outer shell that makes it ideal for wet weather and extreme alpine environments.
PROs

Incredibly warm
Highly water-resistant shell fabrics
360-degree foot box
Temperature rating of -40°F

CONs
Bottom-Line: Overkill for most people doing their winter camping in most of the lower 48, but ideal if you're a cold sleeper or anticipate truly frigid nighttime temperatures. The warmest sleeping bag of all we reviewed.
Marmot Trestles Elite Ecco 0
Best Budget
Weight: 3 lbs. 8.3 oz. ⸱ Fill Weight: 41 oz. ⸱ Fill Power: N/A
Thanks to its affordable price and impressive warmth-to-cost ratio, the Marmot Trestles Elite Ecco 0 is our favorite budget sleeping bag for cold-weather adventures.
The only synthetic bag on our list, the  Trestles is made with a tough, ripstop polyester shell and 41 ounces of HL-ElixR Eco Micro recycled synthetic fibers. While this will keep you cozy, it's a bit heavier and less packable than down alternatives, making it a hard sell for ultralight backpackers. On the plus side, the Trestles Elite Ecco performs better than down equivalents in damp conditions.
Other endearing features in this bag include a 3D Footbox that increases the insulation and room for your feet, full-length, anti-snag zippers, and a handy interior stash pocket.
For a bag that costs around the same as your average high-end sleeping pad, that ain't bad…
PROs

Sustainably made from recycled products
Can be unzipped to turn into a quilt
Stays warm when wet
Affordable

CONs

Not as warm as down models
Heavy
Hard to pack into stuff sack
Bottom-Line: As budget-friendly bags go this is a solid option for buyers keen to get as much bang for their buck as possible.
Kelty Cosmic 0 Sleeping Bag
Best Value
Weight: 4 lb. 9 oz. ⸱ Fill Weight: 40 oz. ⸱ Fill Power: 550
For a comfy and cozy cold weather sleeping bag that won't empty out your bank account the Kelty Cosmic 0 is our choice for good value.
While a bit heavier and less compressible than others, the Cosmic 0 does its primary job of keeping you warm. This means it's far from optimal for backcountry forays, but a solid option for car camping.
In testing, the Cosmic felt just as warm as many far pricier bags, though we did notice that the DWR treatment struggled to fend off substantial condensation and we weren't overly impressed with the smaller hood. And while thermally efficient, the bag's tighter fit means there isn't much extra room for your down jacket or other outdoor gear inside.
PROs

Insulative
Internal pocket for packing small items
Affordable
Effective draft collar keeps in body heat
Trapezoidal baffles eliminate cold spots

CONs

Heavier and bulkier than down bags
Lacks water resistance compared to other bags
Bottom-Line: While a little heavier and less compressible than other models, the Cosmic 0 is a solid cold-weather sleeping bag for car campers on a tighter budget.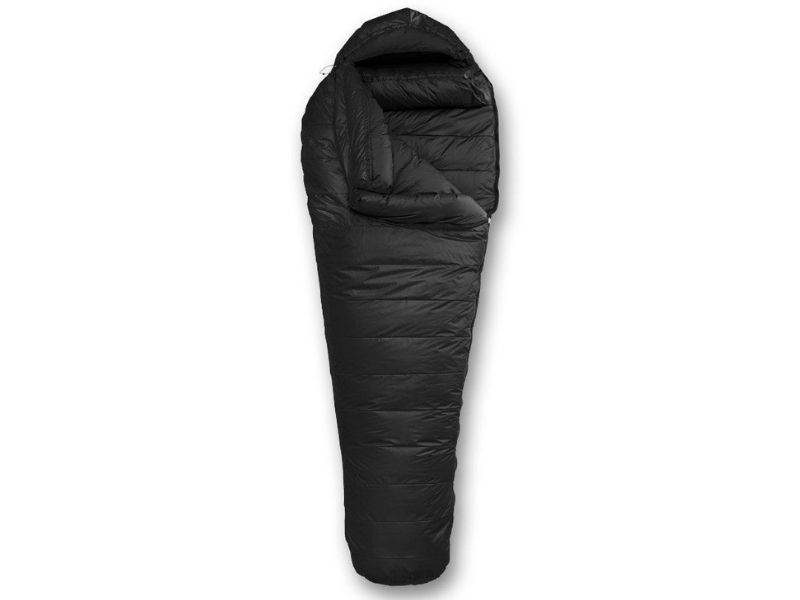 Feathered Friends Snowbunting EX 0 Sleeping Bag
Best for Wet Conditions
Weight: 2 lb. 13 oz. ⸱ Fill Weight: 25.3 oz. ⸱ Fill Power: 900+
If you often camp in rainy conditions or dense wet snow, consider the Feathered Friends Snowbunting EX 0 for its exceptional waterproofing and warmth.
The Snowbunting is equipped with the award-winning Pertex Shield EX, a water-resistant and breathable laminate outer shell treated with DWR. Its collar prevents breath condensation and sweat from dampening your bag, and the contoured hood insulates your head.
The two-way zipper is reinforced with a large draft tube to prevent cold air from seeping in and heat from seeping out.
It compresses well even though there are continuous baffles throughout the bag, which incidentally allows you to puff up the down where you need it.
PROs

Waterproof
Insulative
Lightweight
Highly water-resistant outer shell

CONs

A bit restrictive
Small hood
Bottom-Line: For outstanding waterproof capabilities and warmth in wet conditions, Snowbunting EX 0 Sleeping Bag should be top of your list.
How to choose the Right Cold-Weather sleeping Bag?
When choosing a great cold-weather sleeping it's important to consider the following features.
Insulation: Down Vs Synthetic
Fill Power & Weight
Comfort & Fit
Temperature Rating
Size
Weight
Water Resistance
Features & Accessories
Insulation: Down vs Synthetic
There are two main types of insulation used in sleeping bags: down and synthetic.
Down sleeping bags, usually made from the plumage of geese or ducks, often have a higher price tag than synthetic. They are much more compressible, taking up less coveted space in your backpack. They're also durable. With proper care, a down model could last you decades.
Synthetic bags won't make as big of a dent in your savings, but that comes at a different kind of cost. They'll take up more space in your backpack and add at least a few ounces to your pack weight. On the plus side, synthetic insulation will continue to keep you warm even when damp, so is a better performer in wet conditions than regular (non-hydrophobic) down.
Fill Power & Fill Weight
Fill power relates to the quality of the down, while fill weight indicates the amount used in the bag's construction. Both factors are crucial when selecting a winter down sleeping bag.
A higher fill power (800-900) will indicate the down is loftier; there are more pockets of warm air trapped between the feathers, which equates to more warmth. Higher fill power also translates into superior compressibility.
However, high-quality down won't do you any good if there isn't enough of it. So, be sure to check the fill weight, which will give you a metric of how much down your bag contains.
A high fill power with low fill weight means the sleeping bag is more compressible but lacks warmth, while a lower fill power with a high fill weight will mean the bag might be warm, but is sure to be bulky and heavy. The name of the game, then, is finding a good balance between fill weight and fill power.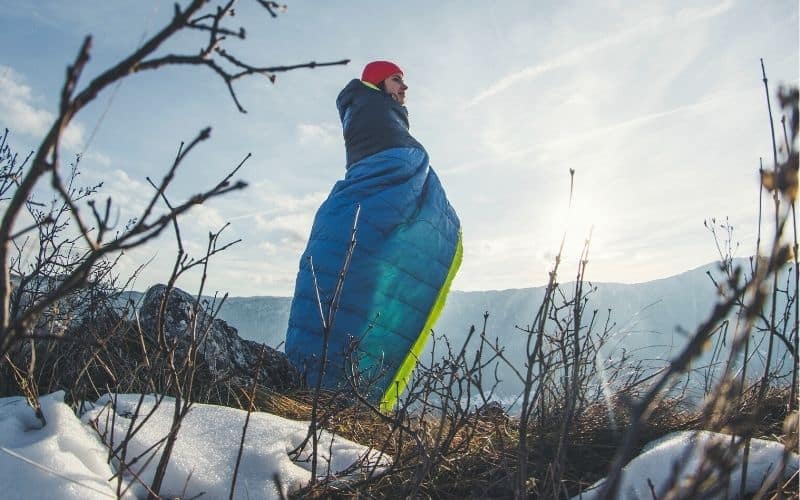 Comfort & Fit
Sleeping bag fit and shape will affect both the comfort and warmth levels you can achieve when sleeping. To ensure a good fit, it's essential to review the manufacturer's width and height measurements, as sleeping bags can vary in size and shape.
Think of a traditional mummy bags that taper at the feet. It may compress down smaller and weigh less, but if you're the kind of person who likes to kick their feet around a bit in their sleep, this bag probably isn't for you.
On the flip side, a bag that allows you a bit more room may be more comfortable but less efficient at trapping air, and thus a bit less warm. It will also, of course, take up more pack space.
No matter what style you choose, keep in mind the zipper. Some of them zip all the way to the bottom and can be unfurled to be used as a blanket, while others only unzip halfway, which may feel overly claustrophobic for some.
Sleeping bags usually come in regular, long, and women's sizes. Women's sleeping bags will generally be shorter, slimmer at the shoulders, and wider near the hips.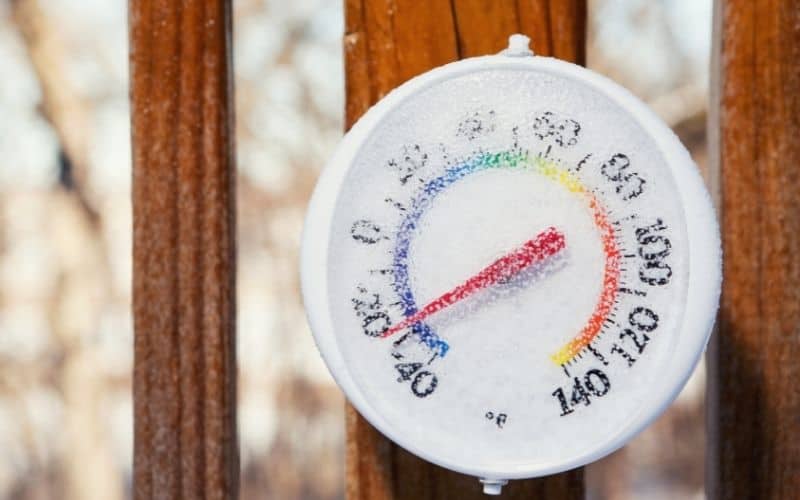 Temperature Rating
The EN Rating System (European Norm) is an objective temperature rating system for sleeping bags composed of four temperature rating categories.
Upper Limit: the highest temp where an average-sized man can sleep comfortably without excessive sweating
Comfort: the ideal temperature an average-sized woman can comfortably sleep
Lower Limit/Comfort Limit: the lowest temperature where an average-sized man can comfortably sleep for up to 8 hours.
Extreme Limit: the lowest temp an average-sized woman or cold sleeper can lay without hypothermia for up to 6 hours.
To ensure you get a good night's sleep on your winter camps, we recommend choosing a new winter bag with a comfort rating of at least 10 degrees below the coldest temps you expect to encounter.
Packed Size
For a multi-day winter backpacking trip, space in your pack will be limited, making the packed size of your sleeping bag a critical consideration. The ideal solution will be choosing a down bag with a high fill power which will be the lightest and most compact option.
If you're not so worried about space or weight savings but are more concerned about the price tag, then synthetic sleeping bags like the Marmot Trestles, or low-fill bags like the Kelty Cosmic 0, are a better option.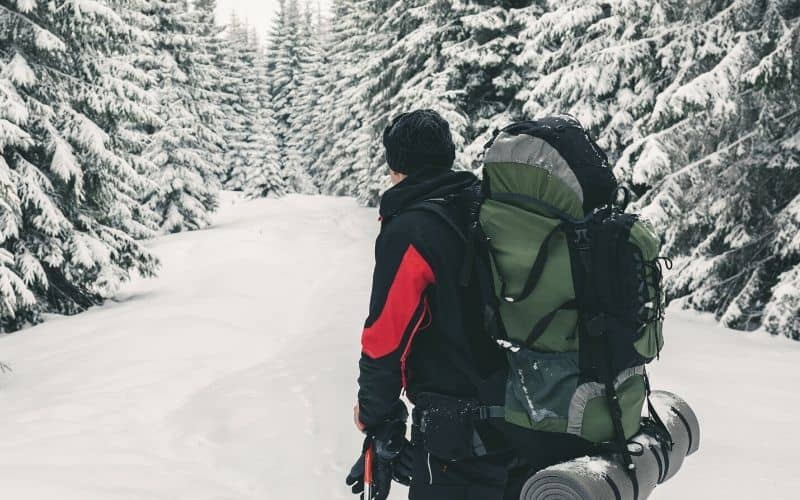 Weight
Cold-weather sleeping bags generally weigh between 2.5 and 3.5 lbs., while sub-zero bags can weigh up to 5 lbs. If you're a casual car camper or engage in short backpacking trips, weight might not be as crucial as it is for a thru-hiker or multi-day adventurer.
For ultralight missions, our top pick is the Western Mountaineering Versatile 10, which weighs a piddly 2 lbs. For car camping, heavier bags like the Kelty Cosmic and Marmot CWM become an option.
Water Resistance
Many bags feature a Durable Water Repellent (DWR) treatment on the outer shell giving the bag a level of water resistance. While this doesn't make it fully waterproof, it will help keep condensation from seeping into the insulation, which can significantly compromise its insulating properties, especially with a down fill.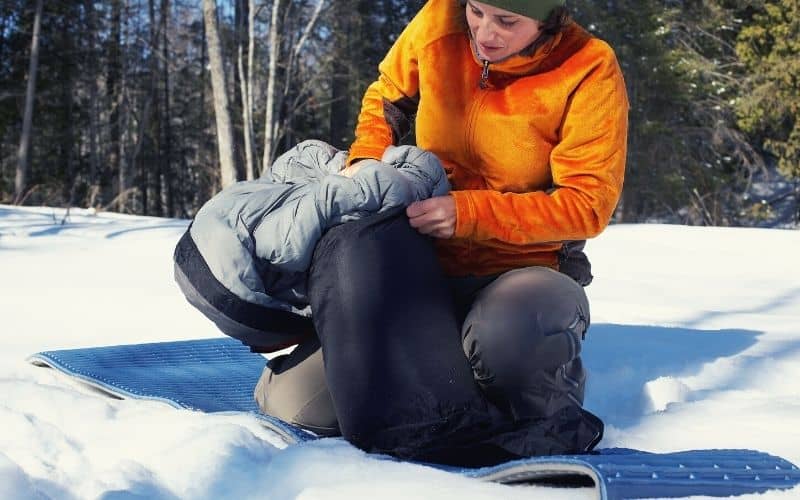 Features & Accessories
Features such as hoods, elasticized baffles, vents, stash pockets, zippers, a foot box, or a stuff or compression sack can significantly enhance a sleeping bag's practicality and convenience. The following list outlines the benefits of each of these features.
Hood: Seals in the heat (together with a draft collar)
Elasticized Baffles: Allow you to sit cross-legged and give you more space for tossing and turning
Vents: These make the bag more versatile by allowing you to use it in warmer conditions
Stash Pocket: Nifty feature that gives you space to store smaller items like a headlamp
Zippers: Full-length, dual-direction zippers are better for venting, while glow-in-the-dark tabs will let you locate the zipper with ease at nighttime
Foot box: Specially designed to keep your feet warm and with a little extra space for turning
Stuff Sack/Compression Sack: All bags come with a stuff storage sack, but those with compression straps will allow you to save more pack space
Cold-Weather Sleeping Bags: The Verdict
The Western Mountaineering Kodiak MF wins our award for the best cold-weather sleeping bag due to its superior warmth, comfort, and water-repelling capabilities.
For a budget option that will keep you warm without the nifty features of the Kodiak, the Kelty Cosmic 0 or the Marmot Trestles 0 are well worth checking out, especially for car campers. And if weight savings and packability are a priority, the Western Mountaineering Versalite 10 is our pick of the bunch.
What did you think of our recommendations? Leave a comment below if you have any questions or if we missed your favorite!