Editors Choice
Enlightened Equipment Revelation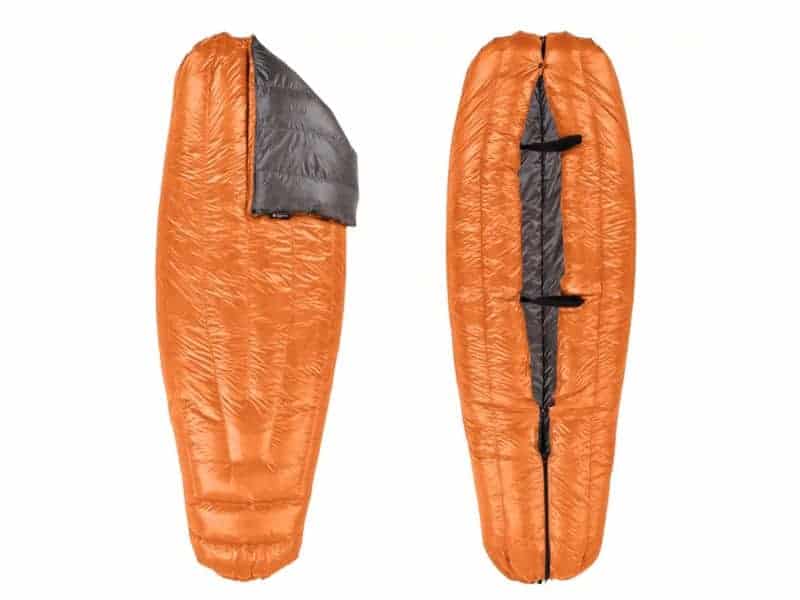 The Enlightened Equipment Revelation wins our vote as the best backpacking sleeping bag out there in 2021.
The Revelation ticks all the boxes that need ticking. It's lightweight, boasts an outstanding warmth-to-weight ratio, is as comfortable as they come, and packs a wealth of intelligent features that make it altogether more practical and convenient than most competitors in its price range.
The Revelation uses vertical baffles on the body and horizontal baffles on the foot box. This system helps to keep the down in the body baffles in place by separating it from the down in the foot baffles, which helps to prevent both from losing their loft (a common problem on bags that use uniform, full-length baffles).
Other nice features include a pad attachment system that lets you strap the quilt to your sleeping pad to prevent it from sliding or shifting when you toss or turn during the night, an adjustable footbox closure for added ventilation when temps are high, and a DWR finish that helps keep you down dry even in humid conditions.
And we haven't gotten to the best bit yet, either…
The Revelation, believe it or not, can be customized to suit your preferences. Makers Enlightened Equipment let you select not only the color and the length, but also the width and the temperature rating of your choice.
While this customizability does mean the product may take a little longer to arrive in the post (2-4 weeks), it's well worth waiting for!
Bottom Line: The Enlightened Equipment Revelation provides the kind of versatility, comfort, and practicality that campers everywhere have been dreaming about since their first nights under the canvas. Game changer.
The Best Sleeping Bags For Backpacking: Our 8 Top Picks Of 2021
Looking for the best sleeping bags for camping and backpacking?
You're in the right place! In this guide, we will be covering the following:
Why you need a backpacking sleeping bag
Sleeping bag ratings explained
What you should consider when choosing a sleeping bag
Reviews of the top backpacking sleeping bags on the market
Our favorite backpacking sleeping bags of 2021
Snuggling up in a nice, cozy sleeping bag at the end of a long day on the trails is one of life's greatest pleasures. But finding a sleeping bag that's capable of delivering "nice" and "cozy" to the desirable degree can be tricky business.
But never fear! We're here to help. Whether you're looking for a summer sleeping bag, cozy down sleeping bag, the best lightweight sleeping bag, or the warmest sleeping bag your money can buy, the following buyer's guide has you covered.
Marmot Hydrogen
Enlightened Equipment Revelation
Western Mountaineering SummerLite
REI Igneo
REI Lumen
Kelty Cosmic Down
Sierra Designs Backcountry Bed
Klymit KSB 20 Down

The Different Types Of Sleeping Bags
Hood Vs Hoodless
While the vast majority of sleeping bags on the market these days come with an integrated hood, hoodless designs are favored by some campers for a handful of reasons.
First up, hood-free bags are usually more comfortable for front and side sleepers, who can easily get tangled up in hoods or, worse, feel slightly suffocated by having a faceful of fabric in the way when they put their heads down.
Hoodless sleeping bags also let you choose between warmth and coolness. If it's cold, pull a hat on. If it's not, don't. Simple! Hooded models, on the other hand, provide plenty of warmth for your dome when temps are low, but leave you with a cumbersome, uncomfortable clump of down and nylon in the neck area when temps are high and the hood's insulation isn't required.
Finally, hoodless bags also usually weigh a fraction less than their hooded cousins. It might only be an ounce or two, but if you're the kind of camper who likes to keep weight to a minimum, this might make a difference when weighing up the various options.
Quilt
The camp quilt is essentially an insulated blanket with a few camping-specific design features that make it better suited to backcountry adventures. Quilts provide a lot more freedom of movement and are usually lighter standard sleeping bags. However, their versatility is their main selling point.
Quilts can be tucked around you or zipped up in the cold weather and also they draped loosely over your body in the warmer temperatures. This means that they are more suitable for a far wider range of temperatures than regular sleeping bags.
However, camp quilts don't offer quite the same draft protection in sleeping bags and rarely boast comfort ratings any lower than 35 degrees Fahrenheit. If you plan on three-season camping, then, a camping quilt is a good option. If cold-weather camping is your thing, however, a sleeping bag is always going to be a more suitable choice.
Mummy Vs Rectangular or Semi-Rectangular
Mummy-style bags are form-fitting affairs that are wide at the shoulders and then taper off toward the foot box, as per the Egyptian sarcophogi after which they are named.
All mummy bags also have a hood that encircles your head to keep it warm and are the warmest type of sleeping bags on the market, with some models boasting temperature ratings as low as 0 degrees Fahrenheit.
However, mummy bags are generally the most expensive type of sleeping bags on the market. Also, some people find the tapered design of this style constricting and sometimes even claustrophobic.
Hoodless bags come in two variants, rectangular and semi-rectangular. Both offer the sleeper more room to move around at night compared to mummies and are usually less expensive. However, the rectangular design leaves more "dead" space that your body has to warm up, thus making them not quite so warm.
On the other hand, semi-rectangular bags, with tapering at the foot box and head, are a good hybrid solution if you need something lighter and warmer than a rectangular model can offer, but require more room for changing sleeping position during the night.
Bed-Style
Bed-style sleeping bags are fairly rare breeds that boast a very broad, oval-shaped opening from shoulder to waist and feature no zippers. This style of bag is ideal for people who want a combination of freer movement inside the bag and aren't fussed about the convenience of full-length zippers.
The main benefit of bed-style bags is that you can be as comfortable as you are at home with a regular sheet and comforter. Unfortunately, if you shift around much, you will get cold because the comforter shifts with you, leaving openings into the bag.
What To Consider In A Sleeping Bag
Insulation
This is the single most important consideration when it comes to purchasing a sleeping bag for backpacking. Simply put, insulation equates to warmth, so the more insulation your sleeping bag packs, the better equipped it will be to keep you warm and provide you with a comfortable night's sleep.
There are two measurements that matter as regards insulation – fill power and fill weight.
Fill power is a measurement of the fluffiness of the insulating material used in both down and synthetic bags. The higher the fill power, the greater the number of insulating air pockets the material (the "fill") will create. And the greater the number of air pockets, the more warmth it will provide.
Further reading: If you're heading out into the wilds in mid-winter and expect some seriously chilly weather, then check out our guide to the best cold weather sleeping bags.
Fill power typically ranges from 550 to 900+. Good insulation ranges from 650 to 750, while the best insulation has a fill power of 800 or more.
The other measurement to keep in mind is the fill weight, which is the weight of the down in ounces. The higher the fill weight, the heavier the insulation will be.
Keep in mind, though, that heavy does not equate to warm. If you consider two sleeping bags, one with 15 ounces of 700 fill down and one with 11 ounces of 850 fill power down, the former will be heavier, but the latter will be warmer.
ProTip: Whichever fill power and fill weight you choose, be sure to opt for a bag with a sleeping bag temperature rating (comfort rating, not a lower-limit rating) at least 10 degrees lower than the coolest temps you expect to encounter.
There are also two types of insulation, natural down, and synthetic down. Which you choose will have an impact on your comfort level and overall warmth. For an introduction to the differences, check out this YouTube video on natural down versus synthetic down.
Natural down
Natural down has been used in sleeping bags for generations. Made from the soft plumage under the feathers of a duck or goose, it insulates by trapping air in tiny packets between each plume.
Natural down is light, compressible, durable, and breathable, making it just about ideal for the needs of the outdoor adventurer. It also has an outstanding warmth-to-weight ratio and packs down to a very small size. On the downside, however, it offers virtually zero insulation when wet.
Given all of the above, this type of insulation is a great choice for cold, dry backpacking adventures or any trip that requires something lightweight and with a small pack size.
Is Your Down Certified Ethical?
Ethical down is collected from a source that does not harm the birds whose plumage goes into the making of the product.
The most ethical way to source down is to collect it from the nests of ducks or geese. However, because this is time-consuming, it is not feasible for the production on the scale of most companies. Another way to ethically retrieve down is as a bi-product of the food industry, collecting plumage from birds that have already been slaughtered on factory farms.
All of the down sleeping bags reviewed in this article have been made with certified ethically obtained down, so you needn't be concerned about indirectly condoning unethical practices.
Furthermore, natural down is a much better choice than synthetic material from an environmental perspective. This is because natural down is biodegradable and longer-lasting, which leads to less products ending up in landfills in the longer term.
Synthetic Down
Synthetic down, which is typically made from polyester fibers, is prized for its exceptional overall performance and budget-friendly price tag. Though it is hypo-allergenic and continues to insulate if you get it wet, synthetic down is less compact and heavier than natural down.
Short-staple or Continuous Filament
Two styles of synthetic down exist: short stable and continuous filament.
Short-staple consists of short strands of low-denier fibers closely packed together for minimal heat loss. Short-staple synthetic down can make a sleeping bag feel softer and more flexible, and is also much easier to compress, making pack size smaller. On the downside, it's also less durable than continuous filament and can create cold spots as it moves around inside baffles.
On the other hand, continuous filament insulation uses a thicker gauge of filament that is strong and durable. Though less compressible than natural down or short-staple synthetic down, this style of synthetic down stays in place much better, thus preventing cold spots.
Face Fabric
Whether polyester or nylon or something else entirely, there are a few things you should consider about the material of the shell and lining of your bag:
Denier
When browsing the specifications of outdoor products, you've probably come across the term "denier" or its abbreviated form, 'D'.
Fabric denier is a term that essentially denotes the weight of the fabric. For example, if a polyester fabric has a 20-denier weight, it means that 9,000 meters of the strands that make up the polyester weighs 20 grams. A lower number, then, represents a lighter but less durable fabric, while a higher number represents a heavier fabric that is more durable.
If shedding every ounce you can matters, looking for a low-denier fabric is the best solution. Since the sleeping bag is not likely to come into contact with rocks, bushes, or other abrasive surfaces, you can get away with a 20-denier fabric in the shell.
That said, if you plan on "cowboy" camping – that is, camping on a sleeping pad alone, without a tent – then a 30D-40D face fabric will be a much safer option.
Water Resistance
The idea of a water-resistant shell is attractive to many campers. With a water-resistant (or water-repellent) shell, you won't have to worry about drying if it touches the side of a damp tent wall.
However, you will likely sacrifice breathability as a trade-off. This can make a bag sticky on humid nights, and can even impair the insulation if your sweat soaks through the interior fabric into the insulation.
Water-resistant sleeping bags are also heavier and more expensive, so it's wise to decide if this feature is really needed for your adventure type before buying.
A good alternative to a water-resistant shell is to carry a bivy sack and put it over your sleeping bag at night. These sacks are more versatile since you can leave them behind in dry conditions, and can simply toss them to the side if things get clammy inside your sleeping bag during the night.
Weight
Depending on multiple different factors such as the time of year, temperature, weather conditions, and your own style of backpacking, weight may also play a factor in the selection process.
If you are looking to keep your pack weight down, then choosing an ultralight sleeping bag may seem like the obvious course of action. However, we wouldn't recommend cutting down on weight if it means compromising on warmth and comfort.
Features
There are many features to ponder when looking at a sleeping bag. Which ones do you really need? Which ones can you do without? Here are four features to keep an eye out for. While they will not make or break your decision, they can provide a little something extra that you may consider worth having.
Zipper Compatibility
Some bags can be zipped together so two people can share warmth and comfort. If one bag has a left-handed zipper (common on women's specific models) and the other has a right-handed zipper, and they use similar size zippers, then they are said to be "zipper compatible".
Perfect for couples, this feature does not add any extra cost or weight to the bag.
Hood
Are you camping in winter? Without a hood, you will lose much of your warmth through your head. Draw the cord on a mummy or semi-rectangular bag's hood, and you will retain the heat you would otherwise lose. Some hoods even provide a pocket where you can place a small camp pillow or some clothing for your head to rest on.
Stash Pocket
A stash pocket is a small pocket on the interior that allows you to keep essential items close to hand so you can retrieve them without exiting the bag.
Certainly not a make-or-break feature, the pocket can come in handy when you are snuggled inside your bag and want to change the song on your MP3 player, check your phone, or do some bedtime reading without leaving your cozy cocoon.
Hang Loops
On the foot of many sleeping bags are two hang loops that come in handy if your sleeping bag needs to be washed or dried out. Simply hang the bag on a clothesline from the loops and let the sun dry it out.
Hang loops are also useful for storing the bag in a closet, which is the preferred storage method because hanging the bag up is much healthier for the loft of the down than leaving it squeezed up inside the stuff sack.
The Best Backpacking Sleeping Bags Reviewed
Marmot Hydrogen
Best All-Rounder
A mummy bag with a 20-denier shell and 30-denier lining, the Marmot Hydrogen is second only to the Western Mountaineering SummerLite in weight and pack size. Rated down to temperatures down to 30F.
Able to fit up to a 6'9" frame, it has a full-length two-way zipper on the left side and a thirteen-inch zipper on the right side. These zippers make the Hydrogen ideal for warmer nights since they allow for ventilation both at the top and the bottom of the bag. It has all the extra features mentioned earlier, including the stash pocket and hang loops. Compatible with most right-hand zippers, you can mate the bags together for a comfortable night's sleep.
PROs

Nautilus hood can shrink down to a small hole around the mouth for heat retention
Small pack size to save space
1.5 pounds weight makes the bag great for minimalist and ultralight backpackers

CONs

Not as warm as the temperature rating implies
Heat retention decreases over an eight-hour time frame
Bottom-Line: The Marmot Hydrogen, lightweight and compressible, is an excellent choice if you are a minimalist or ultralight backpacker who is counting every ounce of gear you put in your backpack and every inch of space you have available.
Enlightened Equipment Revelation
Best Backpacking Sleeping Bag Overall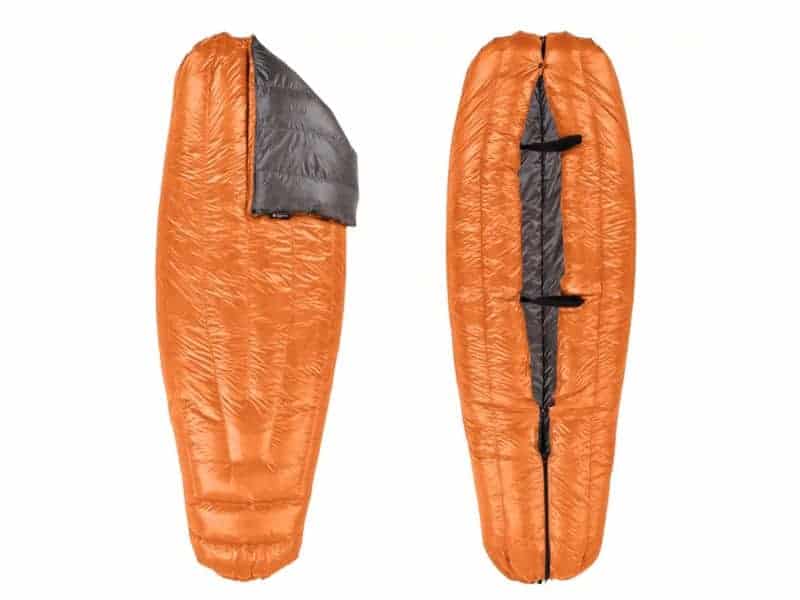 Extremely versatile, the Enlighten Equipment Revelation is a backpacking quilt that can be used in many different ways. Use it with the zippered foot box to stay warm enough on cold nights, lay it flat for warmer nights, or drape it over your shoulders around camp or during break time.
When you set it up for the night, attach the sides of the quilt to your mattress pad with the included straps, and you will have an amazingly warm sleeping system. This camp quilt is also great as a hammock topper. Available in different temperature ratings, lengths and widths, colors, and fill powers, the Revelation is amazingly customizable without the added price of a custom bag. Since it is customized to your needs, the current shipping time is five to six weeks. A long time to wait, it will be worth it when you receive your Revelation camp quilt!
PROs

Partially zippered foot box that traps warmth in when you need it most
Customizable to fit your particular needs
Best warmth to weight ratio
All EE sleeping bags come with a limited lifetime warranty

CONs

No hood, so you lose warmth where it matters most
Large pack size if you use the included compression sack
Bottom-Line: The Enlightened Equipment Revelation is best used by people who feel confined or claustrophobic by other sleeping bags. Its design provides a loose, roomy feel. If you are willing to wait on the delivery time, the most customizable bag to fit your needs. Overall, one our favorite sleeping bags ever and our top pick for the best sleeping bag for backpacking!
Western Mountaineering SummerLite
Best Featherweight Bag
An ultralight model that is super compact, the Western Mountaineering SummerLite is a traditional mummy bag with all the features: a full-length zipper with a draft tube behind it, a toasty warm hood, 360-degree continuous horizontal baffling, and a "Made in USA" tag that doubles as a hang loop. Consumers found that, if you are not thin, the SummerLite is quite constricting and indeed too tight to add layers of clothing for the coldest nights, but for someone of the right size, this bag can keep you cozy all night long.
PROs

Extremely light weight at one pound, two ounces
Durable materials
No noticeable loss in loft after many unpackings
Anti-snag zippers
Weight: 2 lbs 4 oz.

CONs

Too constricting for anyone but the thinnest of people
Bottom-Line: The Western Mountaineering SummerLite is the best ultralight sleeping bag, but suitable for only for warmer nights.
REI Igneo
Best Budget Bag for Cold Conditions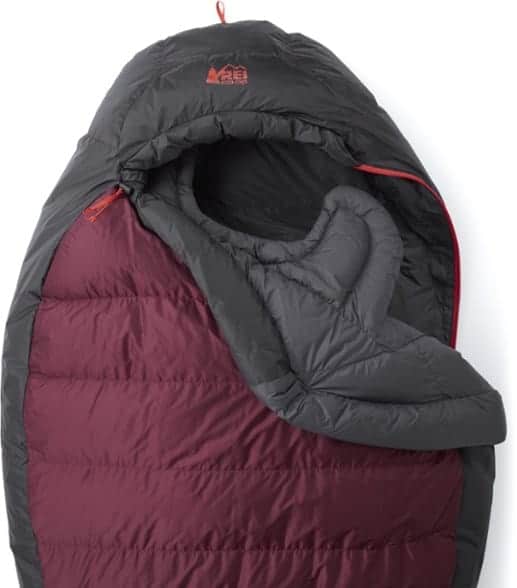 The REI Co-Op Igneo is a mid-priced model with the quality of a high-end product. With 700 fill duck down treated for water-resistance, this bag is rated for 20-degree weather conditions. Surprisingly enough, the rating holds true, making the Igneo one of the warmer models of those reviewed. For the temperature rating it offers, the Igneo offers a great warmth to weight ratio, as it is decently lightweight at one pound, 13 ounces. Not able to pack down quite as small as the Marmot Hydrogen, it does beat out the slightly warmer bags like the Kelty Cosmic Down.
As far as space for moving around, the Igneo is a little tight, but not too constricting. It does, however, have a smaller foot box than that of the Marmot Hydrogen, leaving little room for you to shift your legs.
PROs

Comparable to the Marmot Hydrogen, but rated for lower temperatures
Relatively lightweight
Great price

CONs

Smaller foot box restricts leg movement
No way to secure pad to the bag
Bottom-Line: Ideal for three-season camping, the REI Igneo will keep you warm in temperatures down to 20 degrees. The Igneo is best for the person who sleeps and stays on their back, since shifting around will likely cause you to come off the mattress pad, and the foot box does not have enough room for leg movement.
REI Lumen
Best Car-Camping Sleeping Bag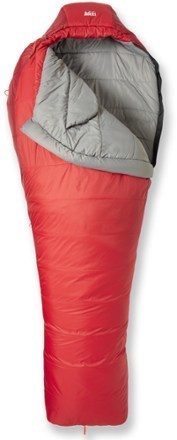 At two pounds, 11 ounces, the REI Lumen is one of the heavier hiking sleeping bags reviewed, but it does have some great features. First, it is a traditional mummy bag with a few differences. With synthetic insulation, made from durable polyester that is highly compressible and maintains insulating factors even when it becomes wet.
This synthetic down is evenly distributed around the bag rather than being mostly on the top and sides, accommodating the multi-position sleeper, while the relaxed fit in the shoulders and hips gives you the ability to move during the night.
Another great feature is the contoured hood, which has an insulated face muffler for regulating warmth in that area and differential pull cords- one round and one square. The differentiated pull cords are great because you can quickly adjust the neck or head fit without struggling to figure out which cord belongs to the draft collar and which to the hood.
While it provides excellent comfort in most weather, it shines in cool, damp conditions because of the synthetic down. There is a small stash pocket near the neckline that is easy to reach and can hold a small flashlight, headlamp, or any other small item. The shell, made of a ripstop nylon, is durable and holds up well against many abrasive surfaces.
PROs

Comfortable fit
Inexpensive
Durable fabric

CONs

A heavy option
Foot box is too roomy and gets cold
Bottom-Line: The REI Lumen synthetic sleeping bag is best used by people going into cool, damp environments and those who like to sleep in different positions during the night.
Kelty Cosmic Down
Best Budget Sleeping Bag
While there are other options reviewed in this article that are lighter, more compact, and warmer, the Kelty Cosmic Down is the best budget-friendly product on the market. It is one of the lightest bags at its price point, but cannot be considered "lightweight" at two pounds, 12 ounces. It contains 21 ounces of 600 fill down, which is quite obviously where a lot of the weight comes from. However, because of the low quality of the down, you may be better off using it for 25-30 degree weather, rather than the 20-degree conditions it is rated for. If it did not have the draft collar, it could easily be expected that this bag would be even less warm.
As far as comfort, consumers found this bag plenty roomy and loved the ability to bring their knees up high if they slept on their side to add to the comfort and warmth. This roominess may be a great option for someone who does not usually like mummy bags. Though it is comfortable and relatively warm, it lacks the weight, pack size, and extra warmth to be considered a 3-season sleeping bag. If you're looking for an inexpensive three-season model, try the REI Igneo. However, none of the other bags, including the REI Igneo, will beat the low price of the Kelty Cosmic 20 Down.
PROs

Very comfortable fit
Differentiating draw cords
Inexpensive

CONs

Lower warmth than temperature rating states
Heavy and bulky
Bottom-Line: With its extra room, the Kelty Cosmic Down's best use is for someone who gets claustrophobic in a traditional mummy bag. As the best budget-friendly product, the Cosmic Down is also great for anyone watching their finances.
Sierra Designs Backcountry Bed
Most Comfortable
An innovative new product, the Sierra Designs Backcountry Bed, is designed for ultimate comfort and versatility in your sleep system. Created with a ripstop nylon shell and taffeta lining, the Backcountry Bed comes with 600 fill duck down, which is a little low quality compared to other models reviewed in this article. Thankfully, it also comes in an 800 fill down, so quality is available if you have the desire for it.
The innovation comes in when you consider the design of the bag. It has a large, oval opening dipping from the shoulders to the waist. Covering this is a down comforter, so you can have more of a feeling of being at home in your bed with sheet and comforter. The comfort of this combination is excellent, providing ample space for multi-position sleepers. However, the warmth is a bit lacking in cold temperatures.
The quilt, though it can be tucked into the bag to maintain body heat, comes untucked rather easily, creating drafts. Though it does well in warmer weather, allowing for excellent ventilation, the cold-weather warmth is not consistent. A great feature of this bag is the integrated sleeve for a pad because you will not have to worry about slipping off your pad during the night.
PROs

Extremely comfortable design
Great for side and stomach sleepers
Integrated pad sleeve

CONs

Lacks warmth in very cold temperatures
Heavy and somewhat bulky – not made for ultralight backpacking
Bottom-Line: The Sierra Designs Backcountry Bed is one of the most comfortable we've ever tried, but is best suited to summer camping and mild autumn or spring nights.
Klymit KSB 20 Down
Best Three-Season
Another budget-friendly product, the Klymit KSB 20 Down is filled with 650 fill duck down. Its stretch baffles help keep you warm in very cold climates by conforming to your body to shed the extra unnecessary space. Another feature that adds to the warmth is the half-moon foot box. The shape of the box saves room, so you do not have excess room around your feet.
The stretch baffles and half-moon foot box are great for warmth, but if you do not like close-fitting bags, try a roomier option like the Kelty Cosmic Down, which costs about the same as the KSB Down. A great feature of the KSB Down is its three-quarter zipper, which allows you to easily slide inside. Comfort is not an issue with the KSB Down, which has great loft and soft fabrics.
PROs

Saves space for a warmer sleep
Draft collar is extra soft
Includes a large mesh storage sack

CONs

Too tight-fitting for some individuals
Bottom-Line: A good quality product at an excellent price, the Klymit KSB 20 Down is a must-have for individuals looking for a snug and comfortable fit. It holds up to its 20-degree rating for cold nights, so is also excellent for backpacking in very cold environments.
Last update on 2021-06-16 / Affiliate links / Images from Amazon Product Advertising API