Snuggling up in a nice, cozy sleeping bag at the end of a long day on the trails is one of life's greatest pleasures. But finding a sleeping bag that's capable of delivering "nice" and "cozy" to the desired degree can be tricky business.
But never fear! We're here to help. Whether you're looking for a summer sleeping bag, cozy down sleeping bag, a lightweight sleeping bag, or the warmest sleeping bag your money can buy, the following buyer's guide has you covered.
Editor's Choice
REI Co-Op Magma 30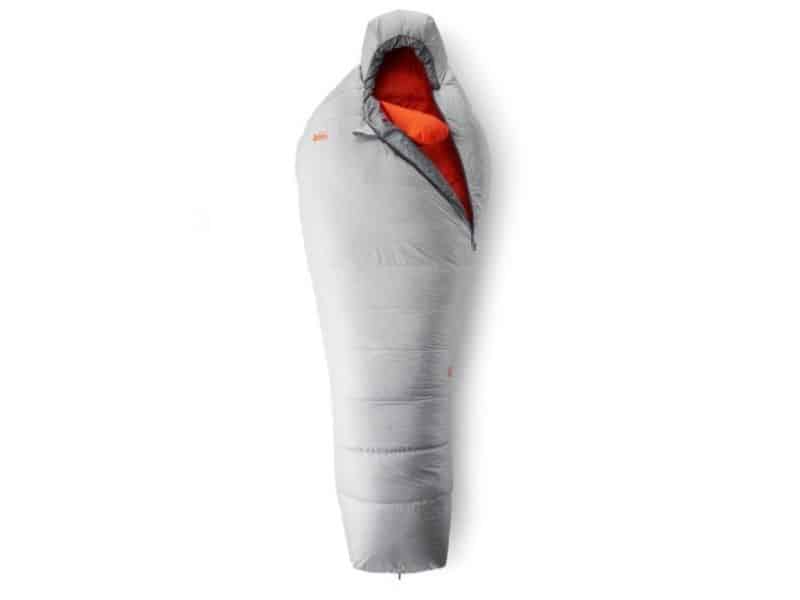 The best lightweight sleeping bag for backpacking is the REI Co-op Magma. This model features a great ratio of warmth to weight, packs down super small, and has an unbeatable price point to boot.
Packed with 850-FP RDS goose down and one of the lightest sleeping bags on our list, weighing only 1 lb. 3.8 oz. As a result, it also has the second-highest warmth-to-weight ratio thanks to its fitted design and variable spaced baffles.
The Magma comes in both standard and long (plus a women's version), and is generous with its shoulder/waist space at 63 inches/57 inches.
The 30℉ version has a comfort rating of 39℉ making it suitable for most shoulder-season backpacking trips. However, If you expect temperatures to dip below freezing, we recommend upgrading to the 15℉ version.
Bottomline: The REI Co-op Magma 30 is our top pick overall, offering premium features for a reasonable price tag.
At a Glance: Sleeping Bag Recommendations
The Best Backpacking Sleeping Bags Reviewed
Down Fill Sleeping Bags
If a down fill sleeping bag is what you're after, we recommend the following:
REI Co-op Magma 15 & 30
Editors Choice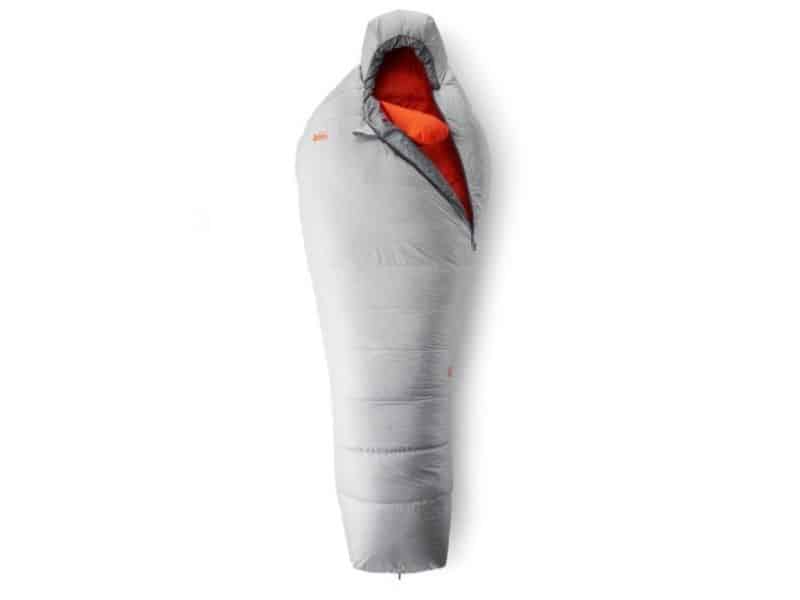 REI has a reputation for quality products at great prices, but they've outdone themselves with the REI Co-op Magma. This model features an awesome warmth-to-weight ratio, a small packed size, and an incredible price point.
The 30℉ version has a comfort rating of 39℉, although we found it to run a little cooler it is still suitable for most shoulder-season backpacking trips. If you expect the mercury to dip close (or below) freezing point then we would opt for the REI Co-op Magma 15℉ version.
Packed with 8.5 oz of 850-FP RDS goose down, tand weighing a lightweight 1 lb 3.8 oz and packs down into a 6.5L stuff sack. Making it one of the lightest and most packable sleeping bags on our list. To top that off, it also packs the second-highest warmth-to-weight ratio thanks to the fitted "silhouette" design and the variable baffle spacing to more efficiently trap heat.
The Magma comes in both regular and long (plus a women's version), and is pretty generous with its shoulder/waist space at 63"/57". This makes it one of the more roomy mummy bags we tested, although side-sleepers looking for more space should consider the NEMO Disco.
If we were to pick holes, then it would literally be picking holes. The Pertex® 15-denier ripstop nylon, while not the thinnest shell/liner fabric we encountered still needs to be treated with care.
Specs
30℉ Lower Limit (39℉ Comfort Limit)
850 fill-power 8.5 oz fill weight goose down
63" / 57" shoulder/waist measurements
1 lb 3.8 oz / 3.8 liter packed
Pertex® 15-denier ripstop nylon fabrics
PROs

Amazing lightweight & packable backpacking sleeping bag
One of the top-performing warmth-to-weights
Great down fill
Very roomy
Excellent price

CONs

Runs a little cooler than advertised
15D material should be treated with care
Bottom-Line: The REI Co-op Magma 30 performs superbly across the board, offering premium features for a reasonable price tag. Our top pick overall.
Enlightened Equipment Revelation Quilt 10°
Best Backpacking Quilt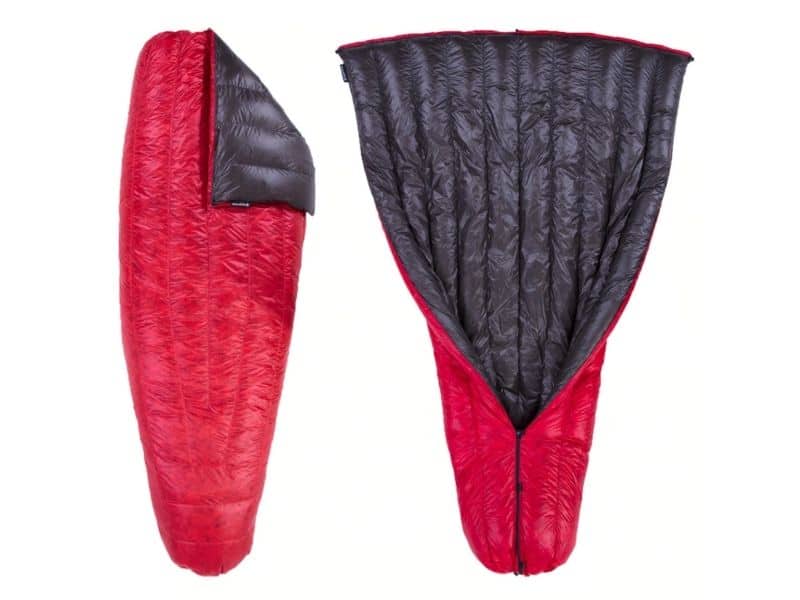 While technically not a backpacking sleeping bag, we felt it would be remiss if we didn't include our favorite lightweight backpacking quilt, the Enlightened Equipment Revelation. The Revelation is a highly customizable quilt that is versatile, handcrafted and is great value.
The Revelation is available in six different temperatures ranging from 0℉ up to 50℉ making it easy to find one to suit the climate you'll be camping in (all specs listed are for the 10℉ version of the quilt). While the Revelation can be cinched closed around the footbox area it will be draughtier than a traditional mummy bag meaning that the comfort rating is closer to 15-25℉ higher than the Lower Limit (dependent on whether you're a hot or cold sleeper).
The benefit of not being tightly restricted is one that side and active sleepers will appreciate. If this is you you'll likely prefer the freedom of the Revelation.
The Revelation is filled with 850 FP goose down and uses 10D shell & inner liner fabrics to keep you toasty while keeping the weight down. This in combination with the lack of full zip, means the Revelation weighs 1 lb 14 oz giving it a great warmth-to-weight ratio.
The off the shelf version of the Revelation is available in four sizes, but if you're willing to pay a little more (and wait a little longer) then you can order a bespoke model to your needs. The custom Revelation allows you to choose the down type, temperature rating, length, width, colors, and the option to add a draft collar.
The biggest downside to the Revelation, like any quilt, is that there's a bigger gap between the Lower Limit advertised and the Comfort Limit. If you're planning on sleeping in winter or above the alpine treeline then you'd be wise to invest in either the 0℉ or -10℉ versions of the quilt along with high R-Value sleeping pads.
Specs
10℉ Lower Limit (~35℉ Comfort Limit)
850 fill-power 17.87 oz fill weight goose down
Weight: 1 lb 14 oz
10-denier shell & liner
PROs

Very versatile
Great value for money
Highly customizable to your needs
Excellent US craftsmanship

CONs

Care needed with the thin materials
Not warm enough above the treeline or for winter use
Custom orders can take some time
Bottom-Line: Active sleepers or those that want a more versatile sleep system will love the lightweight and comfortable Enlightenment Equipment Revelation quilt.
Kelty Cosmic Down 20°
Best Budget Sleeping Bag
For those on a budget, then the Kelty Cosmic Down 20℉ is one of the cheapest down sleeping bags available, but don't let the low price tag fool you. This is still a high-quality mummy bag.
Using 16.37 ounces of 550fp goose down stuffed into trapezoidal baffles, this creates a bag with a Lower Limit of 21℉, with a Comfort Limit of 32℉ — also available in a 0℉ and a 40℉ version. The 32℉ upper limit should easily see you through all but the chilliest of nights in shoulder season in toasty comfort.
Available in three sizes (short, regular and long), with the regular offering a decent 62" around the shoulders and 58" around the waist. It is also available in a women's sleeping bag version.
For the price and the warmth it offers, the compromise you make is with the weight and packed size. Weighing in at 2 lb 13.5 oz it's one of the heaviest down bags on our list, and when compressed into its stuff sack it takes up 10.7L of pack space. However, the compressibility of down means that it's significantly smaller than comparable synthetic bags such as the Marmot Trestles 15.
If you need to knock off a little weight, and your budget can stretch a little further then the Mountain Hardwear Bishop Pass is a slightly more expensive option but shaves nearly a pound off the total weight.
Specs
21℉ Lower Limit (32℉ Comfort Limit)
550 fill-power 16.37 oz fill weight goose down
62" / 58" shoulder/waist measurements
2 lb 13.5 oz / 10.7 liter packed
20-denier ripstop nylon shell
PROs

Amazing price for a down bag
Very warm bag
Zippered stash pocket is great for holding onto important items

CONs

The 550fp down means it's a heavy bag for its temperature rating
Cheaper feel to the shell/liner fabrics compared to the premium competitors
Bottom-Line: If budget is a concern, or you are a novice backpacker then the Kelty Cosmic Down 20 is an excellent warm yet cheap down bag.
NEMO Disco 15°
Best Bag for Side Sleepers
NEMO's products are easy to pick out from a lineup due to their unique design features – particularly their Classic Spoon™ profile and their Thermo Gills™. The spoon shape design gives the Disco significantly more room around the waist and feet compared to most sleeping bags. This makes the NEMO Disco a good option for active or side sleepers who prefer not to be pinned in place by restrictive mummy bags.
It comes in both mens and women's versions and is rated for either 15℉ or 30℉ (lower limit). The men's version is available in either regular or long. The spoon shape results in an extremely roomy 64"/59"/62" shoulder/waist/feet measurement, making it by the far the roomiest model on our list. The nearest competitor is The North Face Eco trail which is about an inch narrower in the shoulders/waist, and a full 20"+ narrower around the feet.
The Disco also has multiple little technical features that just make it stand out even further. It has super cool Thermo Gills that allow you to unzip and vent off excess heat on warm nights without allowing cold draughts to penetrate. Other novel touches include covering the entire footbox area in durable water repellent, which is the area of your bag most likely to come into contact with the tent body and potential condensation. Lastly, a pillow sleeve allows you to slip in a backpacking pillow and for it to stay put for maximum comfort.
The hooded design incorporates 22 ounces of 650fp goose down, giving a lower limit rating of 15℉, with an approximate comfort limit of 25℉. While this does allow for nights of comfort in cooler temperatures, it does impact the overall weight and packability. At 2 lbs 11 ounces overall, and with a stuff sack size of 12.5L it's a hefty and bulky down bag. This high weight is a reflection of the extra width, combined with the midweight fill-power used for the insulation.
Specs
15℉ Lower Limit (~25℉ Comfort Limit)
650 fill-power 22 oz fill weight goose down
64" / 59" / 62" shoulder/waist/foot measurements
2 lb 11 oz / 12.5 liter packed
30D/40D Ripstop nylon w/DWR
PROs

Extremely roomy and comfortable
With 30/40D materials more durable than most bags
Thermo Gills are a very cool (get it?) design feature
Built-in sleeve for a pillow

CONs

Heavy and bulky for a down sleeping bag
Bottom-Line: Active and side sleepers who want more room, but would prefer a bag over a quilt should take a long hard look at the NEMO Disco 15, the most versatile sleeping bag on our list.
Feathered Friends Hummingbird 20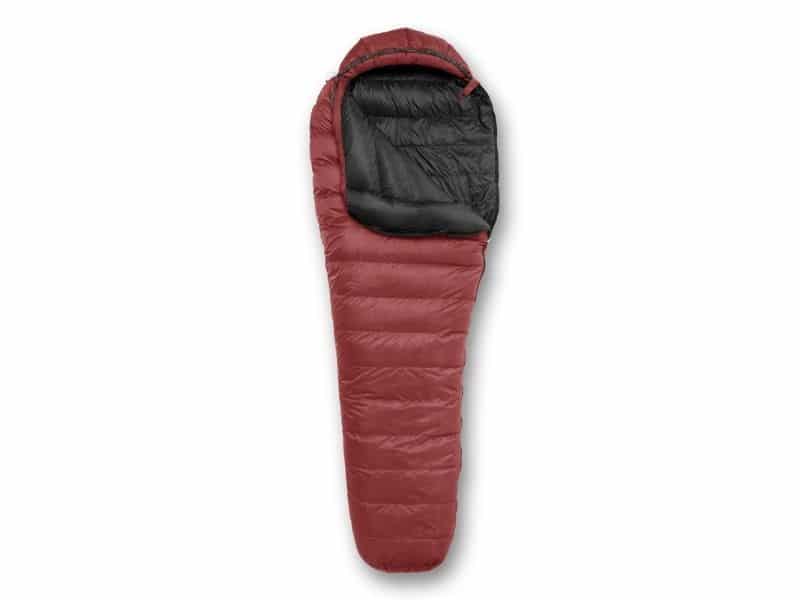 Any list of the best backpacking sleeping bags would be remiss not include a perennial favorite among trail goers – the Feathered Friends Hummingbird 20. The Hummingbird is lightweight and packable and uses high-end down to deliver a super warm and comfortable bag.
At 900+ fp the Hummingbird utilizes one of the highest quality down insulations we've seen (the 950+ Feathered Friends Tanager is the only product with using a higher fill power). The use of premium fill-down results in an ultralight mummy bag that weighs 1 lb 12 oz. The sleeping bag's temperature rating of 20℉ (lower limit), and such a low weight marks this model out as one of the best warmth-to-weight ratios on our list.
The high warmth rating is tied to the slender profile of the Hummingbirds shape, which is both a strength and weakness. The 58"/52" shoulder/waist measurements is one of the narrowest we came across in testing. Larger folks and active or side sleepers may feel a little too claustrophobic in the Hummingbird as a result.
Overall, the Hummingbird is definitely a great option, but in our opinion, it loses out to the REI Magma in terms of comfort and price. Ultimately it depends on your priorities, for a more comfortable sleep at a cheaper price we'd pick the Magma 15 which comes in at a similar overall weight. The Hummingbird does pack down smaller though. So if you need all the backpack room you can get then the Hummingbird may be for you.
Specs
20℉ Lower Limit (~30℉ Comfort Limit) temperature ratings
900+ fill-power 14 oz fill weight goose down
58" / 52" / 38" shoulder/waist/feet measurements
1 lb 12 oz / 9 liter packed
Pertex® 20D mini-ripstop YFuse®
PROs

Premium quality down fill
Lightweight & packable
Cozy and warm bag

CONs

Pricy
Very narrow around the shoulders
Availability
Bottom-Line: The Feathered Friends Hummingbird 20 is a backpacker favorite for all the right reasons – it's lightweight, packable, and warm.
Mountain Hardwear Bishop Pass 30
Best Value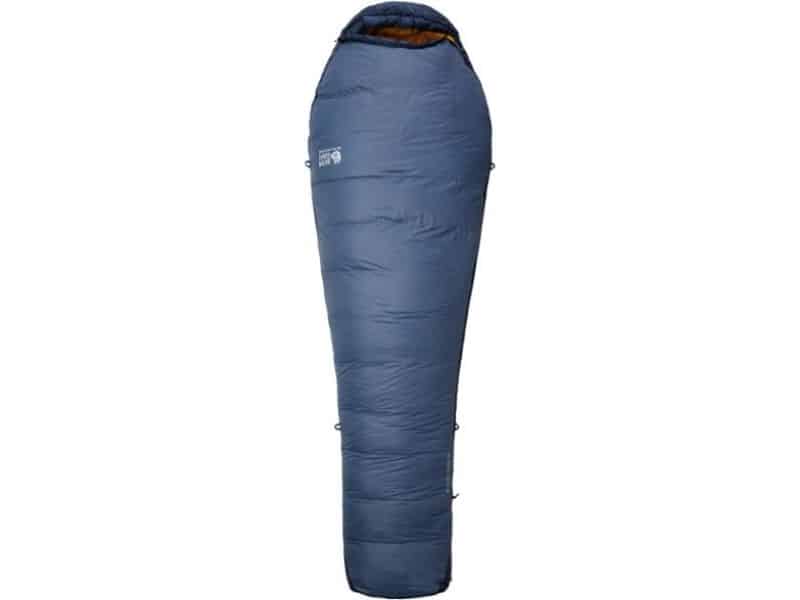 The Mountain Hardwear Bishop Pass 30 is one of the few "mid-range" down bags we came across, and it is a great value buy if your budget can't stretch to one of the higher-end premium bags.
The 30℉ rating uses 650 fp goose down making it suitable for summer camping as well as warmer spring & fall nights. While weighing a lightweight 1 lb 12.6 oz. If you plan to camp deeper into shoulder season there are also 15℉ and 0℉ versions of the bag available (weighing 2 lbs 5.4 oz & 3 lbs 2.1 oz respectively). Whichever version you choose the upgrade in insulation results in a significant weight reduction compared to our budget pick, the Kelty Cosmic Down–knocking between a half to a full pound off the packed weight.
This reduction in weight and cost is felt most noticeably in the trimmer profile around the hips, which may be a little too tight for more active sleepers. The use of average insulation and fabrics, while a step up from the Cosmic Down, just don't have the compressibility of the higher-end premium products so expect the Bishop Pass to take up nearly 10L of backpack space.
Specs
30℉ Lower Limit (~40℉ Comfort Limit) temperature ratings
650 FP 12 oz fill weight goose down
1 lb 12.6 oz / 9.6 liter packed
20D Ripstop Nylon with DWR
PROs

Great low weight
Great price

CONs

Narrow dimensions around the hips
Average insulation & fabrics
Very basic design
Bottom-Line: Overall, the Mountain Hardwear Bishop Pass 30 delivers a strong 2.5 season bag with a reasonable warmth-to-weight ratio at a brilliant price.
Big Agnes Sentinel 30 Double
Best Two Person
One of the best sleeping bags for couples is the Big Agnes Sentinel 30 Double, which is not only a great product but has a great price for a double bag. This 105" doublewide is filled with 20 ounces of 650 fill DownTek™ goose down and is rated (lower limit) to weather conditions as low as 30℉.
The Sentinel has several interesting features such as a pillow barn to stop your pillow from wandering off mid-slumber. The internally cinched hood drawcord is a smart design feature ensuring you're not groping around in the cold. It also has a stretchy sleeping pad sleeve and pad coupler that allows you to easily attach your pad(s) without getting frustrated.
The drawbacks with the Sentinel are common to all doublewide bags — packed size, weight and warmth. Weighing a hefty 3 lb 8 oz and with a packed storage sack size of 20.9L, the Sentinel is going to take up a lot of room in your backpack. Similar to a quilt the Sentinel is not as tight a fit, meaning it's susceptible to cold air creeping in and runs colder than the lower limit plus the 10-degree buffer we'd normally recommend.
Specs
30℉ Lower Limit (~45℉ Comfort Limit)
650 fp 20 oz fill weight goose down
Weight: 1 lb 12.6 oz / 9.6 liter packed
105 / 105 / 84 shoulders/waist/feet measurements
20D Ripstop Polyester Shell
PROs

All the spaciousness you'd expect
Great price
Versatility

CONs

Not the warmest bag especially if using solo
Very bulky and heavy
Bottom-Line: If you are on the hunt for two-person sleeping bags for future backpacking trips with your significant other then our top pick would be the Big Agnes Sentinel Double.
Feathered Friends Tanager 20 CFL
Best Warmth to Weight Ratio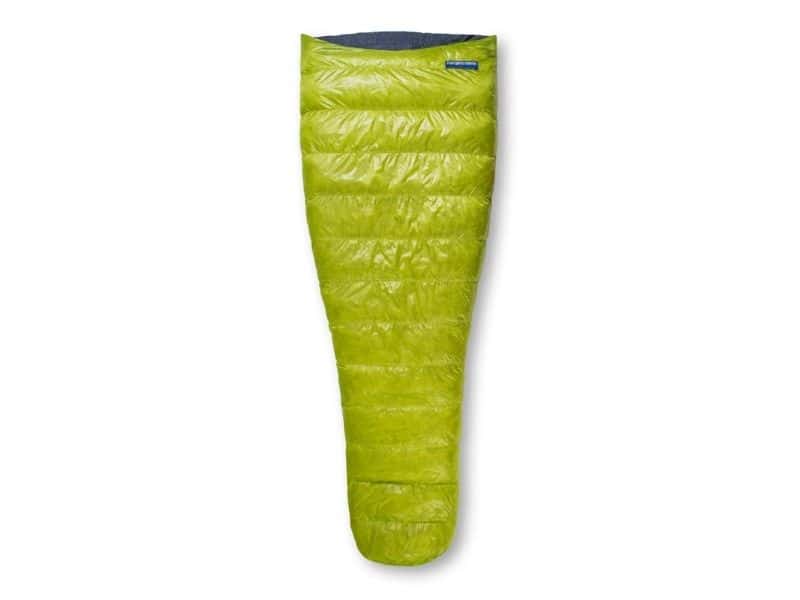 The Feathered Friends Tanager 20 CFL is considered one of the best ultralight sleeping bags on the market. Feathered Friends designed the Tanager based on customer requests and input, and came up with a simple design that removes a lot of features you'd expect. The result is a lightweight backpacking sleeping bag that has an incredible warmth-to-weight ratio.
The 12.6 ounces of 950+ fill goose down helps provide a sleeping bag temperature rating that will see you through most 3-season backpacking trips. Retaining your body heat and keeping you cozy down to a lower limit of 20℉. At just 1 lb 2.6 ounces, the 30℉ comfort limit is the best warmth-to-weight ratio we have seen.
Like many ultralight sleeping bags, one area that the Tanager cuts weight is by using thin materials in the construction. The Pertex® Quantum® 7D fabric is so thin that you can see the internal down when held up to the right light. This is the thinnest material we've seen used, and it does require an extra level of care around the campsite.
To strip back the weight further the Tanager does not feature a hood, and rather than a zipper running the length of the entire bag like most lightweight sleeping bags, FF has done away with it completely. If you don't mind the extra wiggle/dexterity it takes to get in/out of your bag then it's maybe not such a problem.
Overall it's a good sleeping bag and features the highest warmth-to-weight ratio we've seen but is narrowly pipped to the title of best ultralight by the Sea to Summit Spark SPL which weighs a couple of ounces less than the Tanager while still retaining features like a hood and a zipper.
Specs
20℉ Lower Limit (~30℉ Comfort Limit) temperature ratings
950+ FP 12.6 oz fill weight goose down
62″ / 52″ / 38″ shoulder/waist/feet measurements
Weight: 1 lb 4.6 oz
Pertex® Quantum® 7D
PROs

Simple ultralight design
Best in class down insulation
Amazing warmth-to-weight ratio

CONs

Super-thin materials
No zipper or hood
Bottom-Line: The Feathered Friends Tanager 20 CFL is one of the most popular backpacking sleeping bags amongst the ultralight community due to its barebones lightweight design and superb warmth-to-weight ratio.
Sea to Summit Spark SpII 28
Best Ultralight Sleeping Bag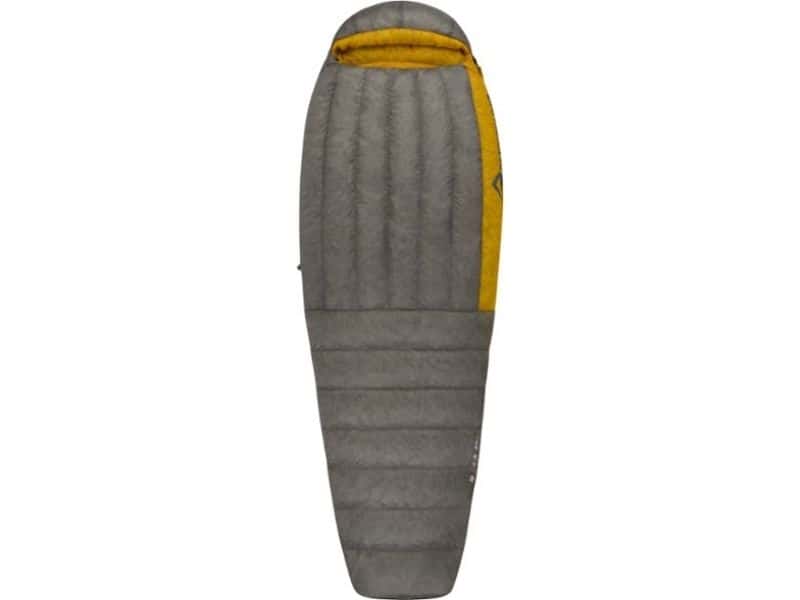 Rounding off the list of the best down sleeping bags is our pick for the best ultralight backpacking bag — the Sea to Summit Spark SPll 28. An amazing lightweight and packable bag that still packs a lot of warmth & it narrowly beat out the Feathered Friends Tanager to win the top spot.
The Spark weighs an incredible 1 lb and 1.3 oz making it the lightest product on our list, beating out the Tanager and the REI Magma by a couple of ounces. The high quality 850+ fill goose down means great compressibility and as a result the smallest packed volume in our testing with a compression sack size of just 6L.
Despite its low weight and packed size, the Spark has a lower limit of 28℉, marking it out as one of the best warmth-to-weight ratios we've seen (although narrowly loses out in this category to the Tanager which is 2 ounces heavier but rated down to 20℉).
When choosing from the best ultralight sleeping bags, you know that sacrifices are going to have to be made. As is typical to this class of bag, the Spark is constructed with a 10D nylon shell and a 7D taffeta liner, so pay attention to any sharp or pointy objects when you're setting up camp.
The other area where corners are cut in the name of weight savings, is literally where the corners of the cloth have been cut. The Spark is the trimmest model on our list with shoulder/hip/feet dimensions of 59"/51"/35" — if you hate being restricted in your bag or are a larger backpacker then the Magma and the Tanager offer more room for only a couple of extra ounces in weight.
PROs

28℉ Lower Limit (~38℉ Comfort Limit)
850+ FP 10.6 oz fill weight goose down
59" / 51" / 35" shoulder/waist/feet measurements
Weight: 1 lb 1.3 oz / 6 liter packed
10D nylon shell

CONs

Lightest & most packable bag
Excellent warmth-to-weight ratio
High-end fill down insulation
Bottom-Line: It was a tight race in the battle of the best ultralight sleeping bags but overall the Sea to Summit Spark SPll 28 does just enough to win the title.
Synthetic Sleeping Bags
If you prefer synthetic sleeping bags then here are our top picks.
Marmot Trestles Elite Eco 20
Best Budget Synthetic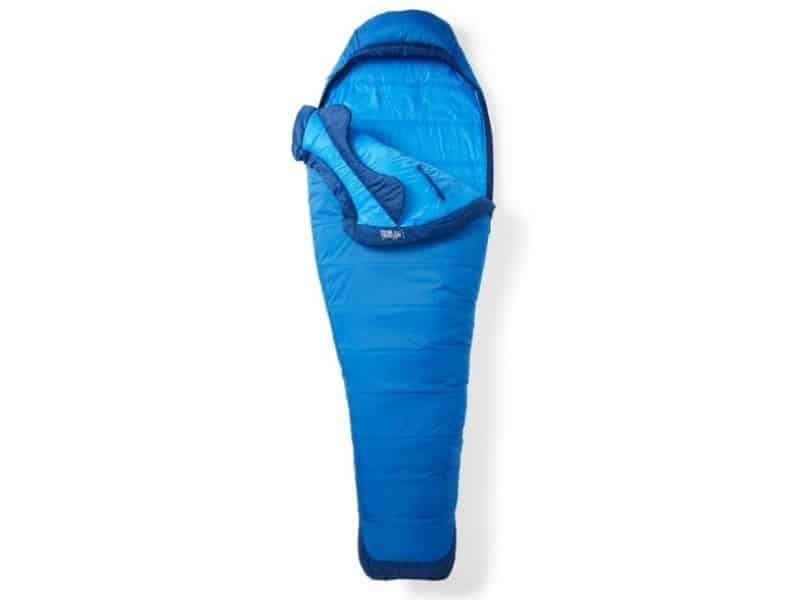 If you're on the market for a synthetic bag and your budget is limited then the Marmot Trestles line of bags may be just the ticket. We tested the 20-degree version which has a great temperature rating and an amazing price.
The Trestles comes in multiple temperature-rated (0℉, 20℉ & 30℉) bags, all of which use HL-ElixR Eco Micro recycled synthetic fibers for insulation. The 20℉ rated bag packs 1 lb 9 oz of insulation that should comfortably see you down to the low 30s without the chill beginning to bite.
The biggest downside to the Marmot Trestles Elite Eco is its packed size and weight. The 20℉ version of the bag weighs 2 lbs 13.5 oz. This doesn't sound terrible when compared to the budget down pick (the Kelty Cosmic Down 20) which has a similar temperature rating and is only 3 ounces lighter. However, the comparison between the two diverges when you compare the packed volume with the Trestles Elite Eco requiring 24L of backpack space (over double the Cosmic Down's 10.7L).
Personally, we'd choose the Kelty Cosmic Down over the Trestles 9 times out of 10, but if you know you're going to be fighting the weather and worry about your outdoor gear getting wet then Marmot Trestles Elite Eco is the best budget synthetic bag to opt for.
Specs
21.6℉ Lower Limit (32.2℉ Comfort Limit) temperature ratings
HL-ElixR ECO" Recycled Fibers
60" / 56" shoulder/waist measurements
2 lb 13.5 oz / 24 liter packed
40d 100% Nylon Ripstop
PROs

Affordable price tag
Internal stash pocket
Good temperature rating for a synthetic
Durable shell & liner fabrics

CONs

At nearly 3 lbs it's heavy
One of the largest packed volumes at 24L
Tight around the footbox
Bottom-Line: If you're looking for a cheap synthetic, then the Marmot Trestles Elite Eco gives some great warmth for a brilliant price.
The North Face Eco Trail Synthetic 20
Most Durable
The North Face Eco Trail is a durable and roomy synthetic sleeping bag that is one of the cheapest we reviewed.
If you are looking for a car camping bag that can engage in the occasional short backpacking trip for a low price, then the North Face Eco Trail could fit the bill. It is filled with 100% recycled polyester insulation which is rated to 20℉ lower limit (29℉ comfort) which should keep you toasty even if the temperature drops below freezing.
The Eco Trail is a roomy 63"/59" across the shoulders and hips, meaning most side and active sleepers won't get frustrated as they roll over during the night. These spacious dimensions are only beaten by our top pick for Side Sleepers, the Nemo Disco 15℉ (the down Disco comes with a heftier price tag).
Using 30/40 Denier fabrics, the Eco Trail is the most hardwearing and durable of all the bags we tested. Great if you need something that can take a more punishment when your out in the wild.
The downsides to TNF Eco Trail are its weight and packed size. At a whopping 3 lbs 14 ounces it's a heavy option that will be a burden on longer backpacking trips. As with all synthetic materials, the compression just can't match that of down and the Eco Trail has a large pack volume of 19L making it about 25% smaller than our other synthetic pick the Marmot Trestle but double the volume (or more) of most down bags.
Unless you really want a synthetic bag or want a more durable bag for a mix of short backpacking trips and car camping then we'd pick the Cosmic Down over the TNF Eco Trail. That said, the Eco Trail is a solid bag at a very cheap price if you don't mind too much about its weight and packed size.
Specs
20℉ Lower Limit (29℉ Comfort Limit)
100% Recycled Polyester
63" / 58" shoulder/waist measurements
3 lbs / 19 liter pack weight
50D 100% Recycled Polyester Ripstop
PROs

Most durable shell/liner fabrics of the bags we reviewed
Pretty roomy

CONs

Very heavy, suitable only for short backpacking trips or car camping
Synthetic insulation isn't easily compressible so bulky packed size.
Bottom-Line: If you want a durable synthetic bag that will see you through car camping trips and the occasional (short) backpacking adventure then we'd pick TNF Eco Trail 20.
Buying Advice: Find the Best Sleeping Bag for Your Needs
The first step in finding the best backpacking sleeping bag is to understand what your needs are and how they'll be met. Below, we have summarized some of the most important considerations and decisions you'll need to make to find a model to suit your needs.
Sleeping Bags vs. Backpacking Quilts
Sleeping bags have been used by generations of backpackers to keep themselves warm. However, in recent years, backpacking quilts have emerged as a popular alternative particularly within the ultralight community. So, which way should you swing in the sleeping bag vs backpacking quilt debate?
The most significant difference is that, while both have insulation to keep you warm in cold weather, only a sleeping bag will enclose your entire body.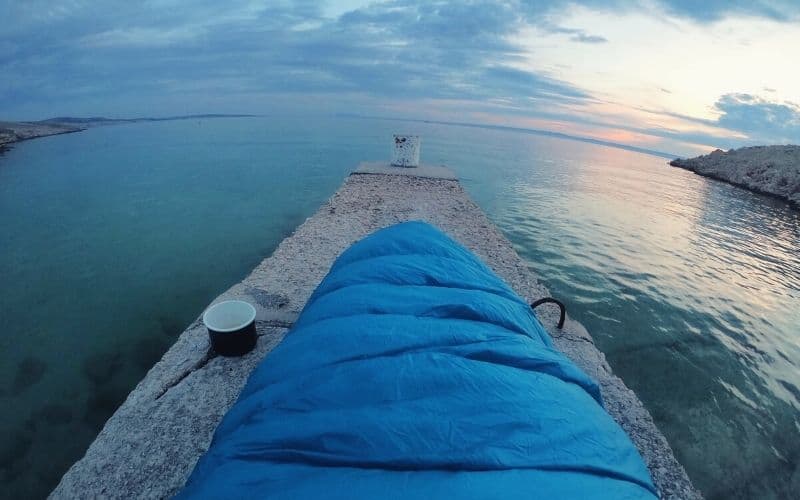 A backpacking quilt is designed with only a top layer of insulation and is intended to be strapped to your sleeping pad. This shaves off weight as it removes the compressed and poorly functioning insulation under your body. As such, quilts have a better warmth-to-weight ratio than sleeping pads. However, it does mean sleeping directly on your pad.
The debate on which is better will come down to personal preference and the expected weather conditions.
Quilts are better suited to warmer conditions where nighttime temperatures don't dip below freezing. They're a favorite among backpackers who wish to shave weight, and for anyone who is an active sleeper or feels claustrophobic tightly wrapped up in a mummy bag.
In cold and windy weather, we'd always opt for mummy bags as they trap body heat more efficiently and are less drafty. A number of folks also prefer the cozy confines of being entirely wrapped up no matter the outside temperature
Temperature Rating (Warmth to Weight Ratio)
A sleeping bag's ability to keep you warm is the most important factor to consider. However, as one of the heaviest items that you will carry (along with your sleeping pad, backpack, and shelter), striking a balance between warmth and weight is important.
Sleeping bags are rated with standardized temperature systems, such as European Norm (EN) or ISO.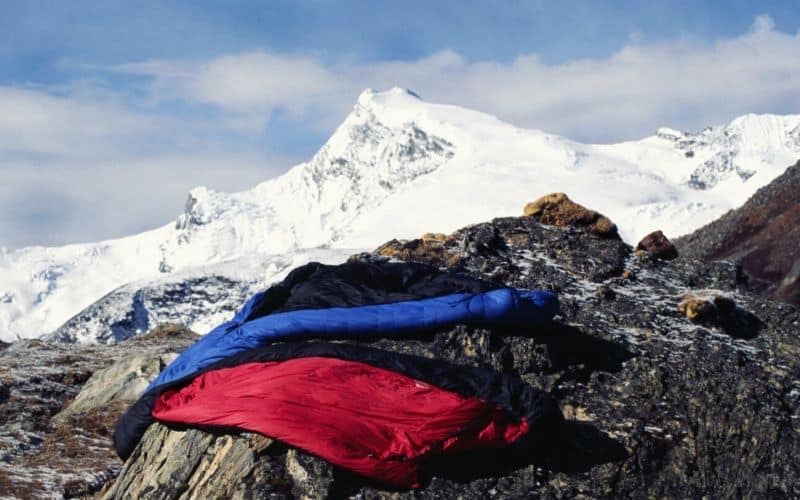 Most bags are labeled using the EN Lower limit e.g. the NEMO Disco 15° has an EN Lower Limit of 15℉. The definition of Lower Limit is the temperature at which an average man can sleep for eight hours without waking. However, in our experience, this "average man" they use in testing is a darn deep sleeper.
Many bags (but bags & 20-25℉ for quilts. The Comfort limit is defined as the temperature at which an average woman can sleep comfortably (women sleep colder than men).
RELATED: Best Cold Weather Sleeping Bags
The comfort rating gives a more realistic idea of how a bag will perform outside of the lab and we prefer to use this number against the lowest temperatures we might encounter.
If you want to choose the right rating, it's a good idea to know the temperature you'll experience overnight. Hop on the internet and check the weather forecasts and average overnight temperatures at the time of year of the areas you plan to visit.
Pro-Tip: It is a good idea to build a buffer of at least 10 degrees above the EN Comfort Rating if you want to avoid getting cold.
Unfortunately, there are many factors that contribute to your overall warmth, meaning picking the right sleeping bag temperature rating is not an exact science. Things like clothing, the altitude of your campsite, whether you are a "cold sleeper", how well hydrated or fed you are along with the ratings of the rest of your sleep system will all play a role.
It's common for frequent backpackers to own multiple sleeping bags rated for different temperatures. To keep costs down, most backpackers start with one that will keep them warm in the lowest temperatures they plan to camp in.
There are, however, multiple ways of increasing the temperature rating of your complete "sleep system" without owning several bags.
The first, and often overlooked is the R-Value of your sleeping pad. The underside insulation gets compressed under your body weight and becomes less effective at trapping heat. Your sleeping pad is there to help provide more insulation between yourself and the cold ground, and feeling cold is a common result of using a sleeping pad that isn't up to the task.
Pro-Tip: Sleeping pad R-Values can literally be "stacked". Place two pads on top of each other and you add their R-Values together, meaning it may be cheaper to buy a second cheap pad to slip underneath your main one, than going to the expense of buying a well-insulated 4-season pad.
Simple and cost-effective methods to stay warm include adding clothing such as wool base layers, a warm hat, gloves, and a down jacket. A sleeping bag liner can be a cheap way to add an extra 3-10℉ of warmth to your existing bag.
Other tricks include:
using a hot water bottle
eating dinner right before bed
keeping well hydrated
Finding natural insulators to place under your pad
As the vast majority of backpackers don't limit themselves solely to summer adventures, we've made sure that most sleeping bags on our list are rated to around 20F (Lower Limit) so they should comfortably see you through chilly spring or fall nights where temperatures may fall to around freezing.
Down vs. Synthetic Insulation
Insulation can be split into two categories: down and synthetic. Down insulation, while more expensive has a better warmth-to-weight ratio and compressibility than synthetics. Meaning you'll get the same level of warmth with a smaller packed volume when opting for down.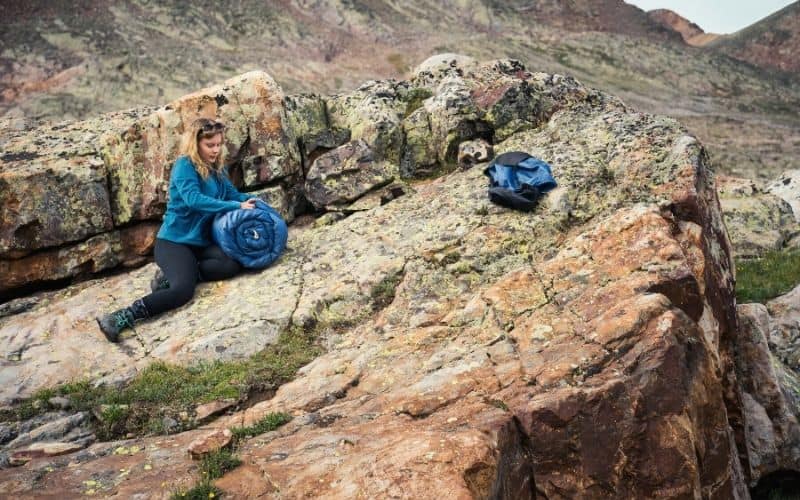 Over the years we've found down bags also last longer if you take care of them properly.
Synthetic bags do have their advantages — they are cheaper than down bags, and are able to retain heat better should your gear get an unfortunate soaking. While a wet sleeping bag is not common, this disparity has reduced in recent years thanks to companies applying water-resistant treatments to their down to make them hydrophobic.
We're of the opinion that if a down bag is in your budget, then in most cases it's going to be the better purchase over a synthetic one.
Fill Power
Down does vary in quality, measured in fill power, and is one of the first things to consider when choosing insulation.
To get specific, fill power is a measure of how much loft or fluffiness the down clusters have, and this correlates to warmth. The less fill power you have, the more the bag will have to weigh to give the same warmth.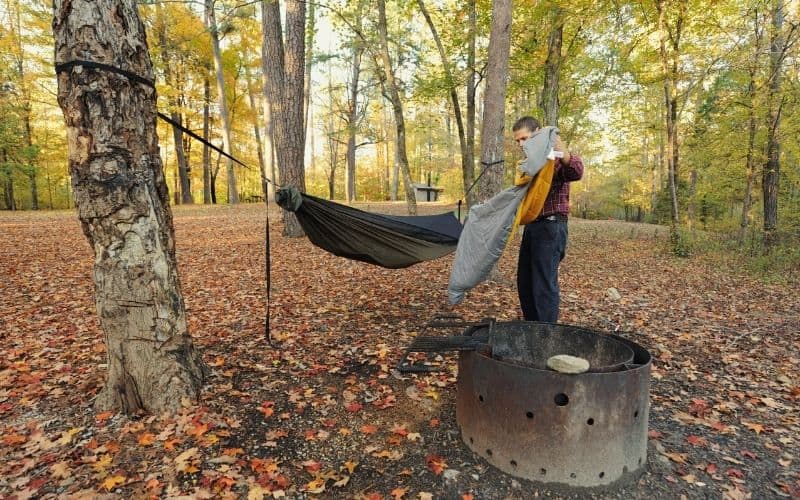 The cheapest down bag to make our shortlist is the Kelty Cosmic Down 20 with a 550 fill power and a 21℉ lower limit. A quick comparison with the 900+ Fill power Feathered Friends Swallow YF (20℉ lower limit) shows the Cosmic Down is nearly a full pound heavier (13.3 ounces to be precise) to achieve the same temperature rating.
Pro-Tip: When not in use don't store your down sleeping bag in a compression sack as it can permanently damage the loft of down.
Second, to fill power is fill weight. Fill weight is the amount of insulation that has been used in the sleeping bag. If you're torn between two with similar insulation, look at the fill weight in order to determine which will be warmer. While this is a reasonable rule of thumb, it's important to remember that a bag with a slender cut may have less insulation than a bag with a roomy cut.
From such a comparison you can see how much more insulation is needed for a synthetic bag to compete with down. The Marmot Trestles which uses synthetic insulation weighs over a pound heavier than similarly rated 20℉ down bags.
Weight and Packed Size
One of the heavier pieces of outdoor gear in your backpack is your sleeping bag and for ultralight hikers, it is where you significantly save weight. Ultralight sleeping bags can range from 1 pound for a premium model, to 3 pounds for a budget synthetic bag.
Weight savings are achieved by using premium fill-power down (800+), thin shell fabrics and zippers, plus trimmer profiles. Ultralight backpacking sleeping bags are typically among the most expensive on the market due to the use of more expensive materials and higher fill-power down.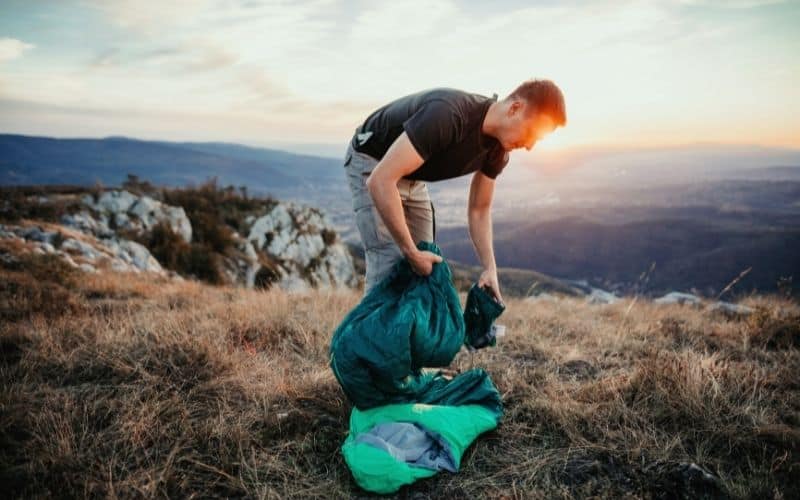 With backpack space at a premium when out on the trail, sleeping bags with a compact packed size is a plus. When it comes to packability, synthetic sleeping bags don't come close to the compression of natural goose and duck down.
The most compressible bags are high fill-power down bags rated for 3-season weather. With more insulation for colder weather or a lower fill-power down, the less compressible the bag will be. At the bulkiest end of the spectrum are synthetic bags.
Pro-Tip: While manufacturers provide their own stuff sack, they tend to be roomy — consider picking up an aftermarket compression sack to compress your sleeping bag further.
Durability and Shell Denier (D)
The denier, or thickness, of the shell fabric, dictates its durability with the higher the number, the more durable the fabric. The range of shell fabric durability for 3 season sleeping bags is usually in the 10-30 D range, although there are some synthetics as high as 70D.
For most backpackers, durability is not one of the foremost concerns when choosing a sleeping bag. Unless you plan to sleep in the open, your sleeping bag will rarely see anywhere except the bottom of your pack and the inside of your tent.
Women's Sleeping Bags
Some backpacking sleeping bags models have a women's version. Women's specific sleeping bags are typically wider at the hips and narrower around the shoulders as compared to men's, unisex, and youth versions. More insulation will be found in the bags in targeted areas. However, the differences are small and as they are commonly designed with more traditionally feminine colors, it's mostly down to taste.