Fed up with mouthfuls of tepid fluids that are supposed to be hot or icy cold? We hear ya…
We've tried many hiking thermoses over the years, and all too many have failed to meet our expectations. After a few hours on the trail, our cool drinks were no longer cool and our hot ones were lukewarm at best. On other occasions, we didn't get to learn how hot or cold our flask had kept them because the sketchy lids had seen fit to set the flask's contents free en route.
To ensure you avoid the above pitfalls and find a reliable, effective, and practical flask for your backcountry adventures, we're here to help. We've tried and tested dozens of bottles to find the crème de la crème of liquid portation devices, ranging from ultralight backpacking bottles to high-capacity beasts for camping trips with your family and friends.
In the following guide, we introduce you to our top 9 picks.
Editors Choice
Klean Kanteen 16oz TKWide
This simple, business-like bottle does everything we need a thermos to do. It keeps our hot drinks hot, cold ones cold, and doesn't throw up any unwelcome surprises by spilling any of them on our gear mid-hike.
The TKWide can keep hot drinks hot for a respectable 10-12 hours and cold ones cold for almost two days. This makes it the ideal choice for your hot-day hydration needs and among the best performers in terms of heat retention, too.
The design of this bottle is another big tick in the "pro" column. It's lightweight, sleek enough to slide into a backpack pocket, powder-coated for easy handling, and has a smooth, rounded lip for comfortable drinking and easy cleaning. It also comes with a leak-proof Café Cap with an integrated, easy-carry swivel loop, and is compatible with various other lids in the KK range.
Bottom Line: A simple but uber-practical insulated bottle that ticks every box that needs ticking for hikers, campers, and urbanites alike.
At a Glance: The Top Thermos Flasks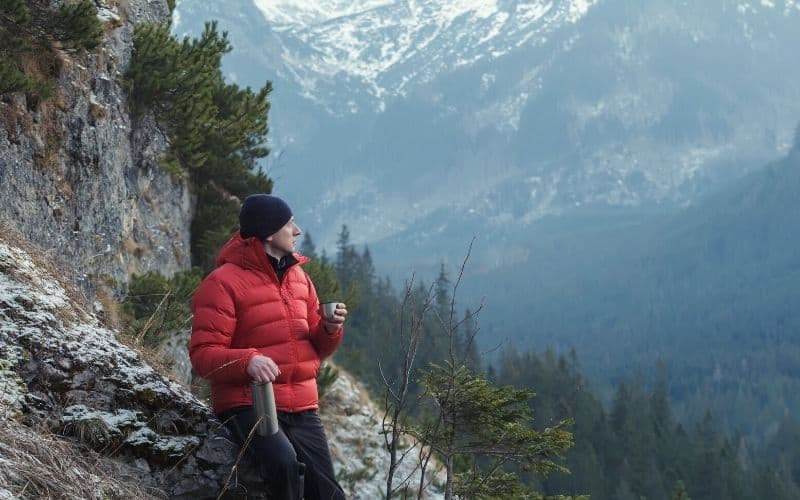 The Best Thermoses and Insulated Water Bottles Reviewed
Klean Kanteen TKWide
Editor's Choice
When choosing our favorite thermos for hiking, we sought a bottle that was relatively lightweight, versatile, tough, and – above all – reliable. In the Klean Kanteen TK Wide, we find an insulated bottle that ticks all those boxes.
Makers KK claim this bottle can keep drinks hot for 14 hours and cold for 47 hours. In practice, we found those figures to be more like 10-12 hours for hot drinks and 35-40 for cold drinks, which is still mightily impressive.
Although we'd opt for an out-and-out coffee thermos like the Stanley Classic for hot beverages, this one wins our best-in-class award for its sleek, sturdy design, convenient lids, and ability to keep water icy cold longer than any other insulated bottle we know of.
This bottle comes with two practical lids. A "Twist Cap" with built-in reusable straw and a leakproof "Café Cap" with a swivel loop for easy transportation. The colored versions of this bottle also have a matte finish that provides a little extra grip for easy handling.
Specs
Volume: 16 oz.
Lid: Screw top or café cap
Weight: 8.1 oz.
PROs

Keeps drink hot for up to 10-12 hours and cold for 35-40 hours
Fits most cup holders
Internal thread design increases thermal performance
Leakproof Café Cap with easy-carry swivel loop
Dishwasher safe
Compatible with Twist Cap, Chug Cap, Straw Cap, Café Cap, TKWide Loop Cap

CONs

A little too heavy for longer hikes
Bottom-Line: A versatile, practical, and durable little bottle that's as reliable as they come and the best out there at keeping drinks cold. Ideal for hot and iced coffee!
Zojirushi Stainless Steel Thermos Mug
Best Value
This bottle is the ideal middle-of-the-road option for buyers who want good, but not necessarily exceptional, heat or cold retention.
Makers Zojirushi don't state how long this bottle keeps drinks hot or cold, but we found it maintained the temperature of soup for a respectable 6-8 hours and kept water icy cold for around 15 hours. These figures hardly place the Zojirushi among the top performers on our list but are more than adequate if you only plan on using your flask for day hikes.
Though it may leave a little desired in terms of insulating capacity, this bottle is a winner as regards to convenience. It's easy to clean, weighs just 8 oz., and has a wide-mouth, flip-open lid with an air vent that allows your beverages to flow out smoothly. This thermos lid can also be dismantled to simplify cleaning.
Specs
Volume: 16 oz.
Lid: Flip-open
Weight: 8 oz.
PROs

Cheap!
Decent cold and heat retention
5-year warranty
BPA-free lid and stainless steel body
Easy to clean

CONs

Less impressive heat/cold retention than competitors
Flip-top lid won't be to everyone's liking
Bottom-Line: An affordable, relatively lightweight flask with superior insulating capacity to many of its pricier competitors.
Primus Trailbreak EX Vacuum Bottle
Best Camping Thermos
What makes one thermos better for camping – as opposed to hiking – than the other?
Well, for starters, you will need awesome insulation capacity so those drinks you poured in the morning are still toasty by the time you reach camp. Secondly, you need enough capacity so that your "tank" won't be empty by the time you get there. Finally, you need an integrated mug to save room in your pack for all the other stuff – tent, sleeping bag, etc – you'll be carrying.
The Primus Trailbreak EX offers all of the above and a little more to boot. It's capable of keeping your coffee hot for around 15 hours, cold fluids cold for over 24 hours, has a mighty 25 fl. oz. capacity, and comes with a screw-on mug that's more bowl-sized in its dimensions.
The Trailbreak is also very well-designed. It has a tapered shape that ensures it fits snugly into side pockets in your backpack, a silicone sleeve to protect your fingers from the cold (often an issue with stainless steel bottles), and comes with a duo of lids, one for easy access, one for maximum temperature retention.
At 20.1 oz., this is the heaviest bottle on our list after the Stanley Classic. However, it's 25 oz. capacity, user-friendly design, and excellent heat retention make it a great option for overnight trips nonetheless.
Specs
Volume: 25 oz.
Lid: Screw-on stopper
Weight: 20.1 oz.
PROs

High capacity
Two lids
Excellent temperature retention (great for hot coffee!)
External silicone base and sleeve
Universal thread fits most water filters

CONs
Bottom-Line: A heavy but highly practical insulated flask that's ideal for overnight trips in the wild.
Stanley Classic Vacuum Bottle
Best for Hot Drinks
The Stanley Classic has been a favorite of campers everywhere for decades, and each update in the design makes this ever-popular bottle just a little bit better than before.
This 20-ounce, stainless-steel thermos is among the top performers on our list as regards both heat and cold retention. It can keep hot liquids hot for 20 hours and cold liquids cold for around 24 hours. This makes it second to none for heat retention and only beaten by the Klean Kanteen TKWide and GSI Outdoors Microlite for cold retention.
This Stanley thermos also scores highly in terms of convenience thanks to its use of a leakproof twist-and-pour stopper, an insulated lid that doubles as a drinking cup, and streamlined dimensions that make it easy to pour one-handed. We would've preferred a grippier powder coating, but the bottle's collapsible handle largely negates the need.
Specs
Volume: 20 oz.
Lid: Twist-and-pour stopper
Weight: 19 oz.
PROs

Awesome insulating capacity
High-volume
Leak-proof sipping lid
Handy carry handle

CONs
Bottom-Line: A no-nonsense beast of a bottle that boasts awesome insulating capabilities, a large capacity, and a few very user-friendly features. 
Thermos Stainless King 16-Ounce Food Jar
Best for Food
If you're heading on a camping trip, or simply prefer a warm lunch over a cold one when out on the trail, the Thermos Food Jar is well worth considering.
Weighing just 4.8 oz., this is the lightest model on our list. While this lightweight design does mean it offers less insulating capacity than some of its competitors, we found it keeps hot food hot for around 7 or 8 hours and cold stuff cold for 10 to 12 hours. Not bad for such a lightweight flask, right?
Also not bad is the inclusion of a built-in serving bowl and full-sized spoon – handy add-ons that can save you serious pack space and/or puncturing your kit with a spork.
The mouth on this bottle is a little too wide to make it easy to drink from, however, so we'd recommend using it for food only.
Specs
Volume: 16 oz.
Lid: Screw-on
Weight: 4.8 oz.
PROs

Ultralight
Built-in serving bowl and spoon
Contoured shape for easy handling
Wide mouth makes it is easy to fill, clean, and eat from

CONs

Lower insulating capacity than competitors
Bottom-Line: An ultralight, uber-practical, and leakproof jar that's ideal for carrying warm eats with you on the trail. 
Hydro Flask 20-Ounce Food Flask
Best for Family Camping
If the Thermos Food Jar is a little light on capacity or insulation for your needs, then the Hydro Food Flask may be the ideal solution.
At 14.8 oz., this flask is a lot heavier than the Thermos Food Jar, but offers an added 4 fl. oz. of capacity and can keep your eats/drinks at the desired temp for significantly longer. While the Hydro Flask doesn't include a built-in serving bowl, the opening is so wide that you can just eat straight from the jar!
Design-wise, this is the simplest model on our list. All you get is a double-walled jar with TempShield insulation, a screw-on lid with a soft grip for easy handling, and a gaping 4.3-inch-diameter space for all your eats.
Specs
Volume: 20 oz.
Lid: Screw-on
Weight: 14.8 oz.
PROs

High capacity
Very good heat retention
Extra-wide mouth allows you to eat directly from the flask
Soft grip lid for easy handling

CONs

Heavy
Not the most suitable for cold beverages
Bottom-Line: A high-capacity, sturdy, and durable option that allows you to eat directly from the flask!
Thermos Stainless King 16oz Compact
Best for Backpacking
Looking for an ultralight, compact thermos to take along on multi-day adventures in the backcountry? If so, many of the models we've looked at so far probably don't fit the bill. In the Thermos Stainless King Compact, however, you may just find the perfect backpacking companion.
This 16-ounce bottle weighs just 4.8 oz., making it the joint-lightest model in our review with the Thermos Food Jar. Like the Food Jar, it doesn't insulate quite as well as the heavyweights on our list but is more than capable of keeping cool drinks cool for the best part of a day. We found it kept hot drinks hot for around 12 hours even when ambient temps were at or below zero.
The design of this bottle is free of frills and sure to appeal to those who like to keep things simple. It has a tough stainless steel double-insulated body, a twist-and-pour stopper, and an insulated serving cup lid. While a handle or powder coating would have made it a little easier to handle, there is an indent in the exterior that allows you to pour your drinks one-handed.
Specs
Volume: 16 oz.
Lid: Twist-and-pour stopper
Weight: 4.8 oz.
PROs

Ultralight
Built-in insulated cup
Leak-proof, twist-and-pour stopper
Compact design
Suitable for hot or cold drinks

CONs
Bottom-Line: A lightweight, tough, and practical stainless steel flask with good heat retention and a more compact, portable design. 
Healthy Human Stein 16oz
Best Budget
The Healthy Human Stein is one of the world's most popular reusable water bottles awarded "Best Bottle" by CNN Underscore in both 2020 and 2021.
But what's behind all the gushing praise and awards going this bottle's way?
Well, for starters, the Stein is one of the most affordable high-quality flasks out there. It costs almost half the price, for example, of the Primus Trailbreak EX Vacuum Bottle and considerably less than many other 16-ounce bottles on the market.
This insulated water bottle also has an incredibly user-friendly design. It's streamlined enough to slide easily into a backpack, has a powder-coated exterior for easy handling, a leakproof lid, and a three-finger carry handle that can be attached to your belt or backpack with the included carabiner.
In terms of insulating capacity, the HH Stein is a solid performer. It can keep hot drinks warm for 10-12 hours and cold drinks cold for 20-24 hours. If it had just been a little lighter and included more than a single screw-on lid, it may well have beaten the KK TKWide to our top spot.
Specs
Volume: 16 oz.
Lid: Steel-lined screw-on
Weight: 10 oz.
PROs

Burly carry handle on lid
Carabiner included
Sweat-free design
Steel-lined lid

CONs

Flip N Sip Lid not included
Bottom-Line: A highly popular, robust stainless steel flask that can keep your water cool for a day, your coffee hot for half a day, and comes with a handy 3-finger carry handle for added convenience. 
GSI Outdoors Microlite 1000 Twist Vacuum Water Bottle
Best High-Capacity
For hikers with a slightly larger appetite – or who tend to guzzle water like elephants – the GSI Outdoors Microlite is well worth a place on your shortlist.
This vacuum-insulated bottle has a whopping 35-ounce capacity and yet weighs a relatively modest 13 ounces thanks to its use of ultra-thin (2mm!), low-footprint steel walls. While the slenderness of these materials makes it a little less resistant to dings, it still boasts impressive insulating capacities, keeping cool fluids cool for 32 hours and hot fluids hot for 18 hours.
As you might expect from a bottle with such a high capacity, the GSI Microlite is a little on the bulky side. As such, it isn't the best option for trips where pack space is at a premium. This is also the only bottle on our list with an integrated leash on the cap. Although this prevents loss, it can make cleaning the lid a little trickier.
Specs
Volume: 1 liter (35 oz.)
Lid: Twist-cap with integrated leash
Weight: 13 oz.
PROs

High capacity
Lightweight for the capacity
Integrated leash on lid
Lifetime warranty

CONs

Overkill for solo hikers
Lid isn't the easiest to clean
Bottom-Line: This huge, 1-liter flask is ideal for hikes with all the family and is amazingly lightweight given its oversized dimensions.
Buyer's Guide: How to Choose a Thermos Flask
A lot more goes into the making of a great camping flask than meets the eye. Here's what to look for when trying to choose the best thermos for you:
Capacity
The capacity of the thermos you need will depend on a number of variables. The most important are your group size, your intake levels, and where you plan on doing your hiking.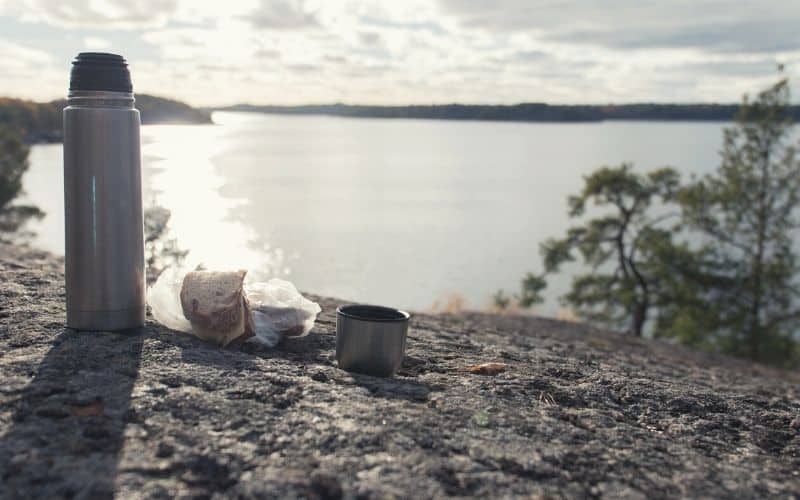 If you're not hiking alone, tend to guzzle fluids rather than sip them, or hiking in areas where water sources are few and far between, we recommend opting for a large-capacity thermos. Ideally something in the 22-35 oz. range.
For personal hydration only, or if you're hiking in an area where you can refill frequently with water from wild sources, then a smaller bottle will do the trick.
The thermoses in our review range from 16 oz. to 35 oz. (1L). The biggest of the bunch is the GSI Outdoors Microlite, which has a 1-liter (35-oz.) capacity. The smallest are the Thermos Food Jar, Thermos Compact, and Zojirushi Stainless Steel Mug, all with a capacity of 16 oz.
The only downside to higher-capacity thermoses is that they are, of course, a little bulkier and heavier than their low-capacity counterparts.
Insulation
The type and quality of insulation used in a thermos determines how long it can keep its contents hot or cold.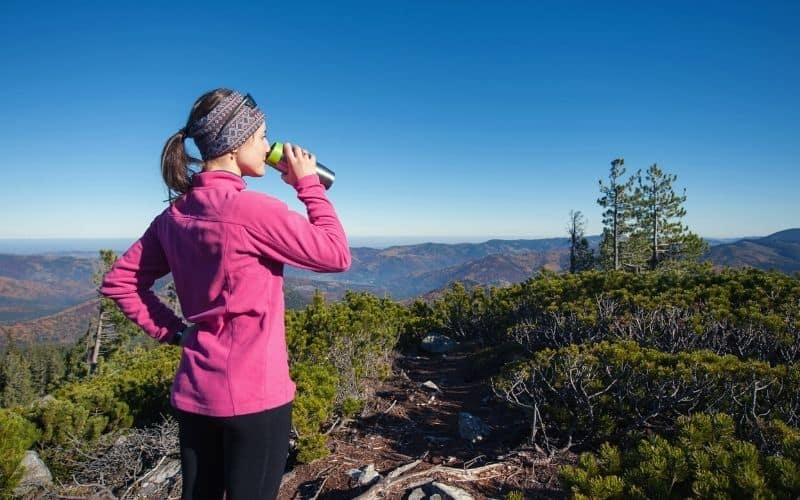 The two main types of insulation used are foam insulation and vacuum insulation. Of the two, vacuum insulation is the most effective.
Models that use vacuum insulation have a double-wall construction that is vacuum-sealed, meaning there's no air between the two layers. This provides a more robust buffer against ambient temperatures and helps keep the flask's contents at the desired temperature.
All of the products we reviewed have double-wall construction, making them highly effective insulators.
Pro-Tip: Whichever type of flask you choose, a little pre-use prep can go a long way. By pre-cooling or pre-heating the flask with ice-cold water or boiling water, you can significantly increase its heat/cold retention.
Durability
If you plan on using your thermos for hiking and camping trips, you need a model that can withstand a little bit of rough treatment. Thermoses will lose their thermo-regulation capacity if they are dinged or punctured, so the tougher the materials used, the better!
In our experience, the most durable and ding-resistant material is 18/8 stainless steel, though other options are available for buyers who'd prefer a lighter carry or something more sustainable.
Below, we've included a short overview of different materials to help you decide which is right for you:
Stainless Steel
Durable
Free from all forms of leaching
Prone to dents and scratches (less so if powder-coated)
Heavy
Can be pricey
Plastic Bottles
Lightweight
Cheap
Most are BPA-free
Often have plasticky smell/taste
Glass
More sustainable option
No metallic or plasticky taste
Prone to breaking and shattering
Heavy
Leakproof & Drink-Friendly Lid Design
The biggest question every hiker has in mind when purchasing a thermos or flask is: "will it spill?"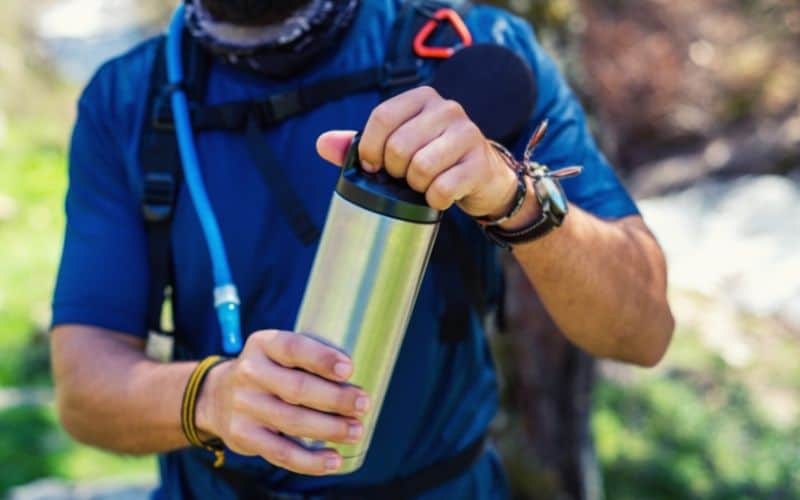 Spills, of course, are no fun. Not only can they soak your gear and deprive you of your mid-hike refreshment, if you're carrying anything other than water they can leave your pack with a virtually life-long, immovable stench. And of course, if you're carrying hot liquid, an imperfect lid could also result in some serious burns.
Most flasks and thermoses claim to be "leakproof." However, some models remain leak-free only when kept upright and can be prone to leaking when shaken or tipped sideways. In our experience, the most leak-resistant bottles are those with screw-on lids minus any pour holes or spouts.
In this review, we've carefully selected models that are time- and trail-tested to remain leak-free, even when exposed to a little rough and tumble on our hikes.
But what makes a lid "drink-friendly"?
While this is largely a matter of personal taste, we find that wide-mouth lids are generally the easiest to drink from because of the increased flow rate. Some users, however, prefer a narrow mouth opening or drinking spout that reduces flow rate and, thus, also the risk of spillage while drinking.
Extra Features & Accessories
A few features can greatly enhance a thermos's convenience and practicality.
Here are the most important:
"Easy-grip"
This feature helps give you a better hold on the flask to prevent slips and drops, which is kinda important if you're dealing with hot beverages!
To improve handling some flasks, like the Primus Trailbreak EX, use a tapered design. Most stainless steel models on the other hand use a powder coating. The Hydro Food Flask and Healthy Human Stein are good examples of this.
Multiple Lids
The ability to change out your lid lets you match the lid to your drinking preferences or the type of beverage you're carrying in the flask. If, for example, you're carrying water, then a wide-mouth lid that's easy to drink from may be your best bet. For hot drinks, a lid with a pour-hole may be more suitable, as this design helps to minimize the loss of heat when the lid is opened.
If your flask lid doubles as a cup, all the better! This may seem like a small add-on, but an integrated lid cup will save you having to carry a separate one, thereby saving a cup-sized amount of pack space!
Both the Primus Trailbreak EX and KK TKWide have multiple lid options, while the Trailbreak EX, Stanley Classic, Thermos Food Jar, and Thermos Compact have lids that double up as a cup.
Carry handle or strap
A handy strap or handle makes it much easier to transport your flask and reduces the risk of pouring liquids on your hand when refilling.
Exterior Covers
Some vacuum flasks have covers that provide extra protection against dings or to help you avoid freezing your fingers when using the flask on cold days. The Primus Trailbreak EX Vacuum Bottle, for example, has an added silicone cover.
Built-in Spoon
If soup, stew, or any other more solid edible is among your favorite trail-time eats, then this handy extra will save you having to carry separate cutlery. In our review, only the Thermos Food Jar has a built-in spoon.