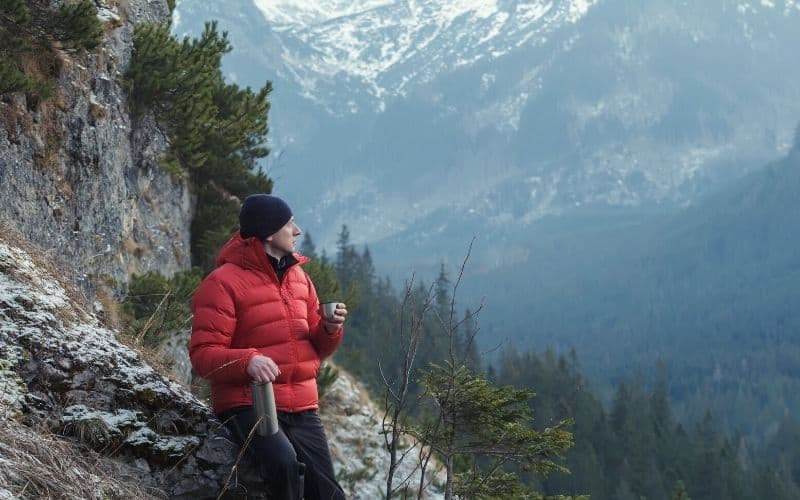 The Best Thermoses and Insulated Water Bottles Reviewed
Buyer's Guide: How to Choose a Thermos Flask
A lot more goes into the making of a great camping flask than meets the eye. Here's what to look for when buying:
Capacity
The capacity of the thermos you need will depend on a number of variables. The most important are your group size, your intake levels, and where you plan on doing your hiking.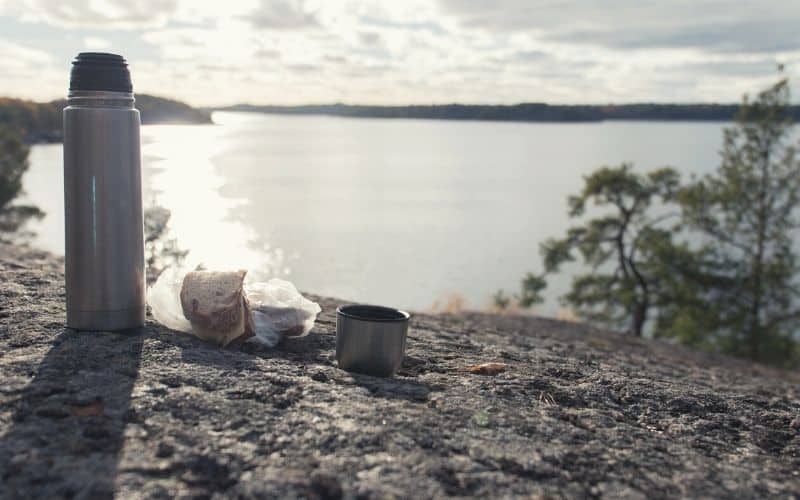 If you're not hiking alone, tend to guzzle fluids rather than sip them, or hiking in areas where water sources are few and far between, we recommend opting for a large-capacity thermos. Ideally something in the 22-35 oz. range.
For personal hydration only, or if you're hiking in an area where you can refill frequently with water from wild sources, then a smaller bottle will do the trick.
The thermoses in our review range from 16 oz. to 35 oz. (1L). The biggest of the bunch is the GSI Outdoors Microlite, which has a 1-liter (35-oz.) capacity. The smallest are the Thermos Food Jar, Thermos Compact, and Zojirushi Stainless Steel Mug, all with a capacity of 16 oz.
The only downside to higher-capacity thermoses is that they are, of course, a little bulkier and heavier than their low-capacity counterparts.
Insulation
The type and quality of insulation used in a thermos determines how long it can keep its contents hot or cold.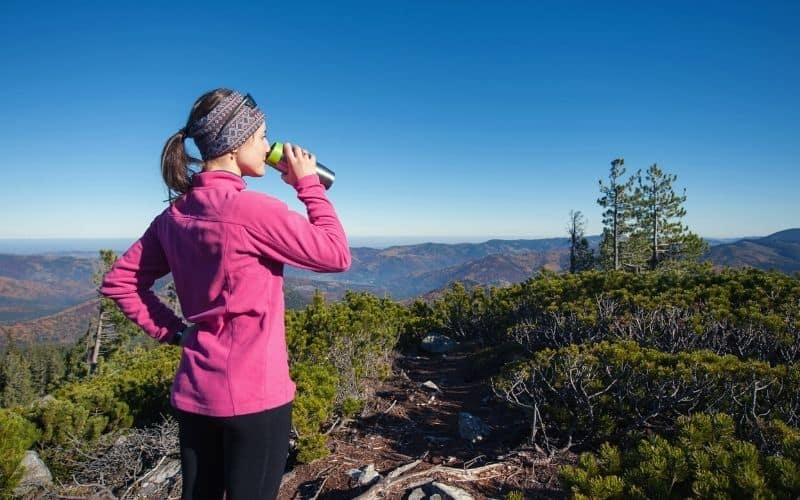 The two main types of insulation used are foam insulation and vacuum insulation. Of the two, vacuum insulation is the most effective.
Models that use vacuum insulation have a double-wall construction that is vacuum-sealed, meaning there's no air between the two layers. This provides a more robust buffer against ambient temperatures and helps keep the flask's contents at the desired temperature.
All of the products we reviewed have double-wall construction, making them highly effective insulators.
ProTip: Whichever type of flask you choose, a little pre-use prep can go a long way. By pre-cooling or pre-heating the flask with ice-cold water or boiling water, you can significantly increase its heat/cold retention.
Durability
If you plan on using your thermos for hiking and camping trips, you need a model that can withstand a little bit of rough treatment. Thermoses will lose their thermo-regulation capacity if they are dinged or punctured, so the tougher the materials used, the better!
In our experience, the most durable and ding-resistant material is 18/8 stainless steel, though other options are available for buyers who'd prefer a lighter carry or something more sustainable.
Below, we've included a short overview of different materials to help you decide which is right for you:
Stainless Steel
Durable
Free from all forms of leaching
Prone to dents and scratches (less so if powder-coated)
Heavy
Can be pricey
Plastic Bottles
Lightweight
Cheap
Most are BPA-free
Often have plasticky smell/taste
Glass
More sustainable option
No metallic or plasticky taste
Prone to breaking and shattering
Heavy
Leakproof & Drink-Friendly Lid Design
The biggest question every hiker has in mind when purchasing a thermos or flask is: "will it spill?"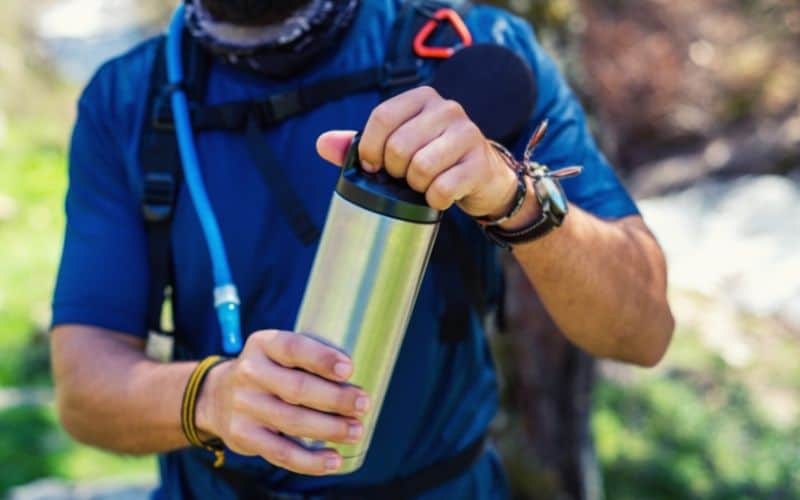 Spills, of course, are no fun. Not only can they soak your gear and deprive you of your mid-hike refreshment, if you're carrying anything other than water they can leave your pack with a virtually life-long, immovable stench. And of course, if you're carrying hot liquid, an imperfect lid could also result in some serious burns.
Most flasks and thermoses claim to be "leakproof." However, some models remain leak-free only when kept upright and can be prone to leaking when shaken or tipped sideways. In our experience, the most leak-resistant bottles are those with screw-on lids minus any pour holes or spouts.
In this review, we've carefully selected models that are time- and trail-tested to remain leak-free, even when exposed to a little rough and tumble on our hikes.
But what makes a lid "drink-friendly"?
While this is largely a matter of personal taste, we find that wide-mouth lids are generally the easiest to drink from because of the increased flow rate. Some users, however, prefer a narrow mouth opening or drinking spout that reduces flow rate and, thus, also the risk of spillage while drinking.
Extra Features & Accessories
A few features can greatly enhance a thermos's convenience and practicality.
Here are the most important:
"Easy-grip"
This feature helps give you a better hold on the flask to prevent slips and drops, which is kinda important if you're dealing with hot beverages!
To improve handling some flasks, like the Primus Trailbreak EX, use a tapered design. Most stainless steel models on the other hand use a powder coating. The Hydro Food Flask and Healthy Human Stein are good examples of this.
Multiple Lids
The ability to change out your lid lets you match the lid to your drinking preferences or the type of beverage you're carrying in the flask. If, for example, you're carrying water, then a wide-mouth lid that's easy to drink from may be your best bet. For hot drinks, a lid with a pour-hole may be more suitable, as this design helps to minimize the loss of heat when the lid is opened.
If your flask lid doubles as a cup, all the better! This may seem like a small add-on, but an integrated lid cup will save you having to carry a separate one, thereby saving a cup-sized amount of pack space!
Both the Primus Trailbreak EX and KK TKWide have multiple lid options, while the Trailbreak EX, Stanley Classic, Thermos Food Jar, and Thermos Compact have lids that double up as a cup.
Carry handle or strap
A handy strap or handle makes it much easier to transport your flask and reduces the risk of pouring liquids on your hand when refilling.
Exterior Covers
Some vacuum flasks have covers that provide extra protection against dings or to help you avoid freezing your fingers when using the flask on cold days. The Primus Trailbreak EX Vacuum Bottle, for example, has an added silicone cover.
Built-in Spoon
If soup, stew, or any other more solid edible is among your favorite trail-time eats, then this handy extra will save you having to carry separate cutlery. In our review, only the Thermos Food Jar has a built-in spoon.