For many, hiking is an adventure in exploring the great outdoors, a way to appreciate nature, and the motivation they need for living an active lifestyle. Whether your desire to take up day hiking is rooted in one or all of those things, you're already on the right track.
Even if with little to no experience in the great outdoors, learning to hike can be done in a very short timeframe. Once you learn the basics, you'll be on the road to gaining a satisfying new hobby.
This guide to hiking for beginners will help you familiarize yourself with some of the fundamentals of hiking, demonstrating that with minimal supplies and a little training, hiking can be for almost anyone.
Key Takeaways
Start slow and easy. Pick a short, fairly flat hike to start out with.
Pack the "Ten Essentials" and understand how to use them
Be respectful of nature and others
If you "pack it in, pack it out" – don't leave any trash (or other gear) behind
Don't underestimate how long a hike will take you – make sure you give yourself plenty of time
What is Hiking and Why Should you Start?
Collins Dictionary defines hiking as the "activity of going for long, often strenuous, walks in the country".
This poses two questions:
How long?
Broadly speaking, hiking can be split into two categories: day hiking and thru-hiking. Day hikes can range from 1-hour saunters to 14-hour epics, whereas thru-hikes can be 2 or 3-day section hikes all the way up to multi-month Odysseys like the Pacific Crest Trail, the Great Himalayan Trail, or the Sentiero Italia.
What kind of "country"?
Hiking needn't necessarily be in mountainous terrain. Forest walks, coastal walks, and moorland walks on flatter ground also qualify. As long as you're doing your walking in relatively wild, undeveloped landscapes, then that walking can rightly be called "hiking".
Hiking's popularity has exploded in recent years. More and more people, it seems, are discovering that nature offers perhaps the single greatest counteragent to the stresses of modern-day living.
Mental well-being aside, there are numerous other benefits to taking up hiking: aerobic exercise, broadening your social circle, exploring new locations, challenging yourself, and enjoying oodles of gobsmackingly gorgeous scenery are just a few.
How to Pick the Right Hiking Trail
Some of the factors to consider when choosing the right hike are elevation, rating, and difficulty. Before deciding on a trail, however, you need to start by determining your current fitness level. Be honest with yourself about your capabilities, and if you have any medical concerns, talk to your physician before you begin.
Assess Your Physical Abilities and Health Conditions
Can you comfortably walk a mile?
Do you suffer from any allergies, asthma, or heart problems?
Do you have joint problems (particularly in your legs)?
How long can you walk before running out of breath?
Knowing and understanding your fitness level and health status will help you pick a hike most suited to your abilities.
Hiking for Beginners 101: Trail Guide
Most hiking trails are classified by a general system to help you determine if it's suitable for your circumstances.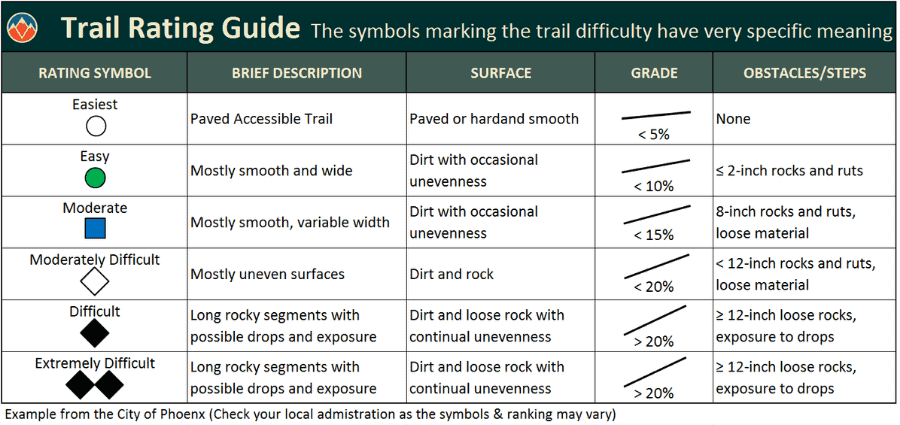 Easy: Well-maintained hiking trail, oftentimes paved, with little or no elevation gain. Suitable for most ages and beginners.
Moderate: Steadier elevation gains combined with rougher terrain that may have roots, rocks, or other obstacles. Suitable for physically fit people.
Strenuous: Steep, long, challenging ascents in rocky terrain that could contain debris or talus. Generally a full-day hike. Suitable for experienced hikers that are physically fit.
Difficult: Long, rugged, and possibly exposed trail usually in a remote location. May require multiple days to complete. Suitable only for expert hikers in peak physical condition.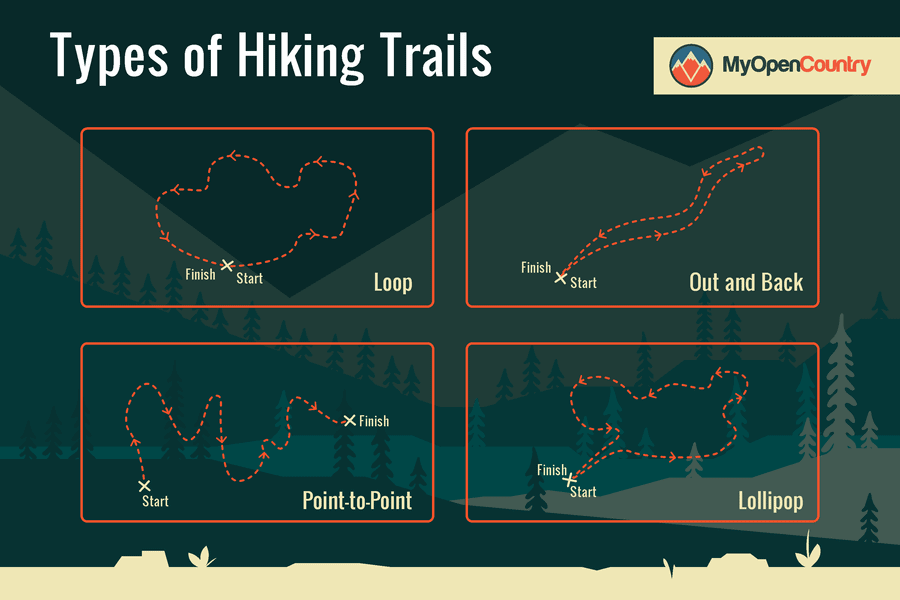 It is equally important to understand the type of trail you are setting out on. Here is a guide to common hiking terminology you might find when reviewing a trail's description:
Loop: A hike that begins and ends at the same point. Sometimes referred to as a circuit trail.
Out and Back: Takes you to a particular destination, usually a lookout point, lake, or waterfall, and then back along the same trail to your start point. The distance listed on the hike is generally to the end and back again. Sometimes called an in-and-out trail.
Point-to-Point: A hike that is designed to be walked from one point to another and generally takes too much time to get back to your starting point. Usually requires you to be dropped off at your point of departure and then picked up once you've reached your destination.
Lollipop: A hike with a loop at the end of an out-and-back start/finish.
Day Trail: A short trail that can be completed in less than a day (aka a "day hike").
Long-Distance Trail: A trail that takes more than a day to complete and usually has areas along the way for camping. In most cases requires carrying your own water, food, and supplies. Sometimes called a backpacking trail.
Where to Find Information on Day Hikes
Most State and National Park websites in North America offer details of their marked trails, including maps, distances, difficulty ratings, and expected durations. Alternatively, to find beginner hiking trails near you, we highly recommend taking a look at AllTrails.com, which features trip reports and allows you to search for hikes in your area. It also uses handy filters to help find the right hiking trails for your levels of fitness and experience.
Hiking Preparation for First-Time Hikers
Improve Your Fitness Levels
As a beginner, building things up gradually is a great way to ensure you don't bite off more than you can chew on your first outings. If new to hiking, we recommend starting off on easier, well-marked trails of no more than 5 miles with minimal elevation changes (under 500ft), then upping your target distance, step by step, with a training plan. Taking this approach will allow you to build up your cardio fitness, strengthen your leg and glute muscles, and gain confidence.
If you happen to live far from where you'll be doing your first real hikes, try to put in a few miles in your neighborhood or local parks so the culture shock to your system (legs and lungs in particular) won't be so extreme. Failing that, a cardio workout on a stepper in your local gym or treadmill with an incline function will do for starters.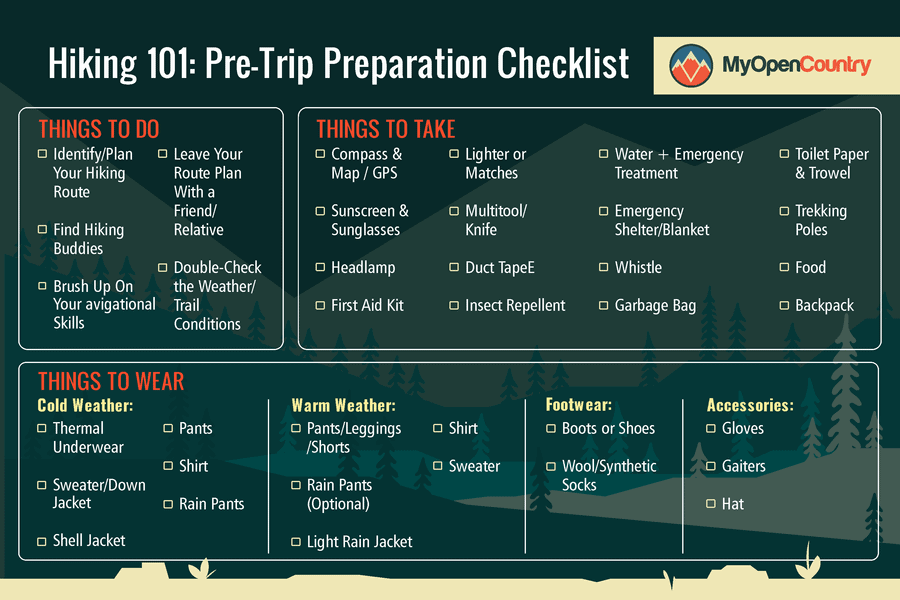 Go Hiking With a Friend Your First Time
Hiking alone is easy to idealize for the sense of freedom and self-reliance it entails. However, there are several reasons why doing so is unwise on your first hiking trip and why we recommend you go hiking with an experienced hiker to learn the ropes.
Firstly, an experienced hiking buddy will be able to show you the basics of navigation and make you feel more at ease about completing the hike safely. Secondly, if either of you gets injured, the other will be there to help. Thirdly, your partner will likely know the trails most suitable for beginners and help you find something appropriate to your level.
If you don't have friends with hiking experience, there are plenty of ways to make or find hiking partners. Most areas have local hiking groups and apps like MeetUp post group hikes throughout the year, countrywide. Failing that, we're a big fan of Facebook's Find a Hiking Partner Group, where members exchange plans and get together for both day hikes and longer camping trips.
Go Early & Plan Enough Time
When setting out on the trail, make sure you leave enough time to return to your starting point or where you want to get to well before sunset. Factor in that you may need additional time to locate trail markers and deal with unplanned obstacles, especially if it's a trail you're unfamiliar with.
Pro Tip: Know Your Expected Trip Duration
As a beginner, expect to travel about 2-2.5 miles per hour on a flat, paved surface. For every 1,000 foot increase in altitude, plan for an additional 30 minutes per mile.
Learn How to Use a Map & Compass
If there's one must-have skill that every beginner hiker should learn, it's how to use a map and compass. While hiking without this skill is perfectly feasible, doing so in anything but the easiest and most well-signed terrain could easily result in far graver consequences than not making it home in time for dinner!
Tell Someone Where You're Going
Even if you are hiking in a group, make sure to leave a trip plan with a friend or relative. Inform them of where you will be when you plan to be back, what hiking route you'll be taking, and where you'll be parking your car.
Check the Weather Conditions
Backcountry weather is notoriously fickle and prone to change. And while hiking in suboptimal weather can be fun, it's always wise to check forecasts for your hiking area carefully before setting off.
We recommend checking at least three weather forecasts to be on the safe side. In addition to regional forecasts, more area-specific forecasts provided by national or state park services will give you a better idea of what conditions to expect.
If forecasts aren't available for the area where you plan to hike, try calling park offices or ranger stations before you leave home.
Finally, it's a good policy to always carry wet-weather gear just in case the forecasts are wrong.
What to Wear Hiking
Choosing appropriate footwear and apparel is an essential aspect of planning your hike. From top to bottom, what you wear on your hike can mean the difference between having the time of your life or being miserable, or, worse, putting your life in danger.
Proper Clothing
When setting out on your hike, remember to prepare for any weather. Whether you're a beginner or pro, it's always a good idea to bring along a hat, gloves, and a jacket. Here are some essential clothing items and guidelines for dressing for the outdoors.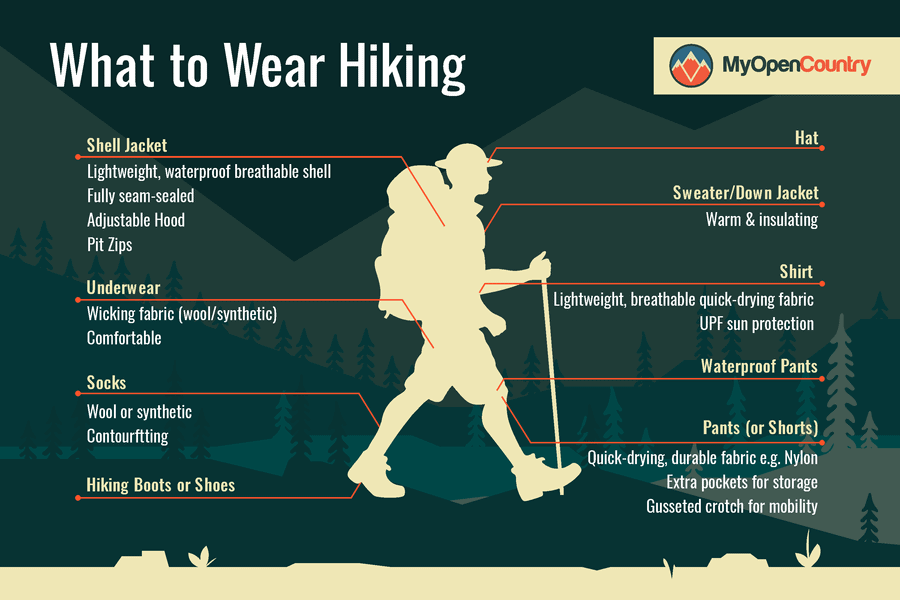 Layers
As the temperature and weather conditions change, your clothing requirements will change as well. The most efficient way of adapting to changing conditions is by layering clothes. This involves using a system of layers that can be removed or put on depending on the circumstances. The three basic hiking layers are:
Base Layer: For mostly warm weather, start with a synthetic or merino t-shirt and shorts. For cold-weather hiking, incorporate long underwear. Make sure your base shirt is comfortable and made of a breathable fabric.
Insulating Layer: An insulating layer keeps you warm in lower temps. A fleece jacket or wool or down sweater/jacket are good choices.
Shell Layer: Even if you aren't expecting rain, it's best to pack a good waterproof rain jacket and waterproof pants. A lightweight poncho can also come in handy for dealing with unexpected downpours.
Other Clothing
Shorts: Great for low-altitude summertime hikes, these offer more mobility and reduce the risk of chafing.
Pants: Offer more protection and a safer bet if hiking in brush or off-trail. Stretchy fabrics like a nylon-spandex or nylon-elastane combo dry quickly and offer more comfort and mobility. Large pockets for your topo map are handy.
Convertible pants: Bring the best of both worlds, any time of year!
Hats: In summer, carry a wide-brimmed sun hat to avoid sunburn and sunstroke. In low temps, bring a beanie made with warm, breathable fabric.
Hiking Footwear: Boots or Shoes?
Let's start with the semi-statutory warning: trail running shoes won't cut it unless you're on very easy-going, well-maintained trails. That leaves two more suitable options: hiking shoes and hiking boots.
Hiking shoes (aka "approach shoes") are best suited to hiking on established trails, in gentler terrain, and in dry weather. They're lighter, usually more comfortable, and offer more breathability than boots, but also provide less support and protection, are less robust, and are easier to get wet.
Hiking boots are warmer, sturdier, more supportive, and provide better protection in rougher terrain than ankle-height alternatives. However, they're typically less comfortable and also much heavier, meaning you're more likely to suffer leg fatigue toward the end of your hikes.
The bottom line? Choose the option best suited to the weather and trail conditions in which you'll be hiking. The same applies to hiking socks. And whether you're buying lightweight summer socks or midweight cold-weather socks, choose breathable, quick-drying fabrics to reduce the risk of blisters and fungal infections.
What Hiking Gear Should You Pack for Your Hike
The length of the hike you're planning will determine what type of equipment and quantity of supplies you'll need to take along with you. Once you're out on the trail, you are responsible for your own safety, which means packing the proper essentials is absolutely vital.
To help ensure you never forget anything (easily done with so much to remember!) we've prepared a handy checklist of what to bring on a hike.
The 10 Hiking Essentials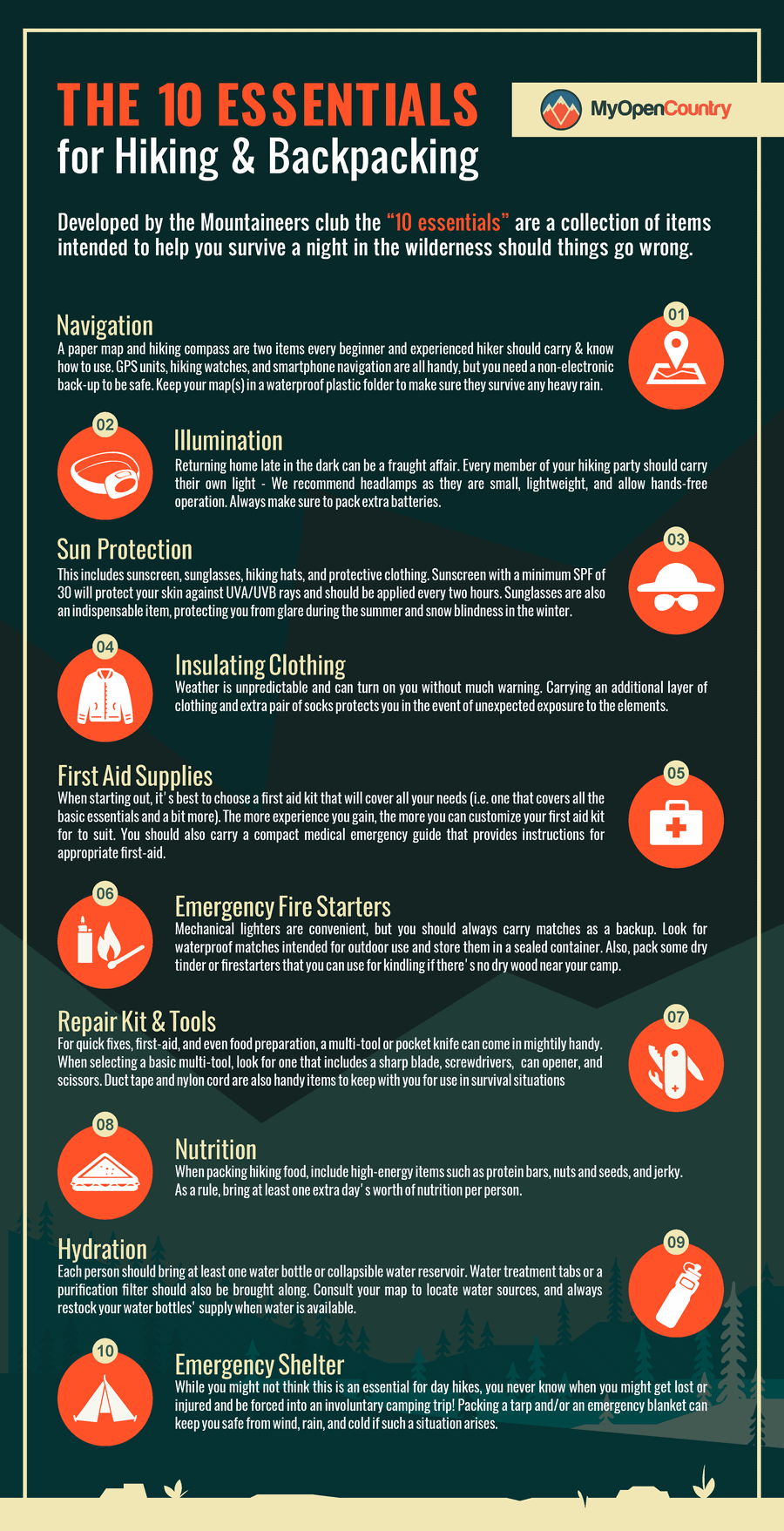 There are 10 basic items that all hikers should carry with them, no matter what distance they'll be hiking. Every hiker should be familiar with, and know how to use, these 10 essentials for hiking before heading out into the wilderness.
1. Navigation. A paper map and hiking compass are two items every beginner and experienced hiker should carry. Electronic GPS units, hiking watches, and smartphone navigation are all handy, but you need a non-electronic back-up to be safe. Learning how to use a map and compass are vitally important in the event you become lost in the outdoors.
2. Sun Protection. This includes sunscreen, sunglasses, hiking hats, and protective clothing. Sunscreen with a minimum SPF of 30 will protect your skin against UVA and UVB rays and should be applied every two hours. Don't forget to use lip balm with sun protection as well. Sunglasses are also an indispensable item, protecting you from glare during the summer and snow blindness in the winter.
3. Insulation. Weather is unpredictable and can turn on you without much warning. Carrying an additional layer of clothing and extra pair of socks protects you in the event of unexpected exposure to the elements.
4. Illumination. Every member of your hiking party should carry their own light, be it a rechargeable headlamp, flashlight, or a packable lantern. Headlamps are small, lightweight, and allow hands-free operation. A headlamp with a strobe option is optimal for emergency situations, as this feature will extend the battery life. In any case, always make sure to pack extra batteries just in case.
5. First-Aid Supplies. When starting out, it's best to choose the best first aid kit for hiking that will cover all your needs (i.e. one that covers all the basic essentials and a bit more). As you spend more time in the outdoors, you'll have a better understanding of those needs and be able to put together a more customized DIY first aid kit containing everything you need. You should also carry a compact medical emergency guide that provides instructions for appropriate first-aid.
6. Fire. Mechanical lighters are convenient, but you should always carry matches as a backup. Look for waterproof matches intended for outdoor use and store them in a sealed container. Also, pack some dry tinder or firestarters that you can use for kindling if there's no dry wood near your camp.
7. Repair Kit and Tools. For quick fixes, first-aid, and even food preparation, a multi-tool or pocket knife can come in mightily handy. When selecting a basic multi-tool, look for one that includes a sharp blade, screwdrivers, can opener, and scissors. Duct tape and nylon cord are also handy items to keep with you for use in survival situations.
8. Nutrition. When packing hiking food, include high-energy items such as protein bars, nuts and seeds, and jerky. As a rule, bring at least one extra day's worth of nutrition per person.
9. Hydration. Each person should bring at least one water bottle or collapsible water reservoir. Water treatment tabs or a purification filter should also be brought along. Consult your map to locate water sources, and always restock your water bottles' supply when water is available.
10. Emergency Shelter. While you might not think this is an essential for day hikes, you never know when you might get lost or injured and be forced into an involuntary camping trip! Packing a tarp and/or an emergency blanket can keep you safe from wind, rain, and cold if such a situation arises.
In addition to these top ten essentials, there are a few other items you may want to consider bringing along if you have enough room in your pack:
Whistle: To summon help in an emergency situation.
Toilet Paper: Can also double as a firestarter.
A Garbage/Grocery Bag: To carry out any garbage you create or find (i.e. leave no trace).
Insect Repellant: Lotions or sprays should contain DEET or picaridin.
A Trowel: To sanitarily dispose of human waste.
Entertainment: Bring a small book, journal, or sketchpad to enjoy once you've reached your destination.
Use Trekking Poles
A lot of beginner hikers (and beginner backpackers) scoff at the idea of using trekking or hiking poles (presumably as they see it as some form of weakness). However, as many veterans of the trail will tell you, they greatly help your balance and efficiency of your stride if you learn how to use trekking poles correctly.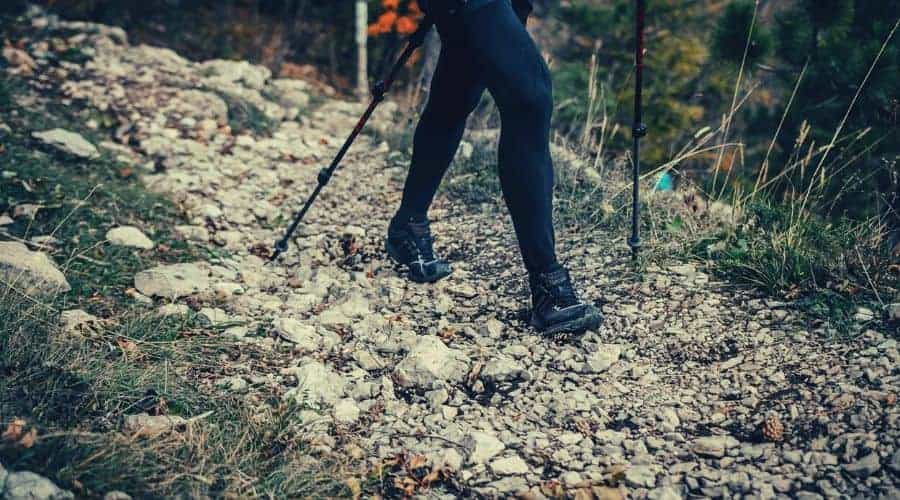 Hiking Daypack
Since you won't be traveling with too many items for a day-long hike, a small backpack should accommodate most of your essentials – to help sort the wheat from the chaff, we've tested several models to find the best hiking daypack on the market.
Hiking Food and Water
You can burn up to 600 calories per hour when hiking. With this in mind, it's always best to carry enough calories to cover the number of hours you'll be on the trail, then throw in a small emergency backup supply just in case.
To cut down on weight and pack size, the best trail foods are typically calorie-dense. Also, because you'll be exposed to either high or low temps in most cases, it's wise to choose eats that won't melt or freeze easily. Some examples include trail bars, trail mix, nuts, seeds, dried fruits, and jerky.
The general recommendation with water is to carry 1 liter for every 2 hours of hiking. This, however, will change depending on the temps your hiking in and the toughness of the terrain. To be on the safe side, we recommend you always carry a little more than you think you'll need.
Further Tips for Newbie Hikers
Embarking on your first hike is exciting and intriguing, and by now, you should know most of the basics. However, we've got a few more tips for beginners that are useful, practical, and will help to ensure you stay safe.
General Hiking Tips
Don't Wear New Boots
You just got yourself a new pair of hiking boots and can't wait to try them out on the trail. Newly purchased boots, though, are usually stiff and can cause your feet some serious soreness and blistering, potentially ruining your hike. As such, it's best to break in your new boots by wearing them around the house for a couple of weeks before hitting the trail.
Don't Pack Too Much
A very common mistake beginners make is to pack every piece of hiking gear they can squish into their pack. For your first day hike, try to stick to just the 10 essentials and a few extra supplies, ditching anything that isn't necessary. Extra gear will only weigh you down and cause you to tire out more quickly.
Reduce Weight by Repackaging
Keeping your pack as lightweight as possible will conserve more of your energy during the hike. Pour liquids like sunscreen and insect repellents into smaller containers and remove prepackaged food items from their boxes.
Pace Yourself
When they first start out on the trail, many newbies want to go full steam ahead. Even if your hike starts out easy, pacing yourself will preserve the stamina you need to complete the trail. Once you near the end of your hike, you'll be glad you left yourself a little in the tank!
Clean Up
When you get home, it's important to take a hot shower in case you have come into contact with any poisonous plants. After hiking in a heavily wooded area, be sure to conduct a thorough check for ticks.
Learn a Correlating Skill
The easiest way to enhance your hiking experience as a beginner is to learn a new skill that will be useful in the outdoors. Plant identification, wildlife tracking, photography, and bird watching are all hobbies that can gradually be learned during hikes and increase your appreciation for nature.
Safety Tips
Solo Hiking
Solo hiking isn't something we'd recommend until you've learned the ropes and got a few hikes with more experienced partners under your belt.
And when you do eventually set off solo, it's always a good policy to stick to established trails to avoid getting lost and leave a route description with a friend or family member at home. Also, make sure you establish a time by which that friend/family member should notify the authorities if you haven't returned.
Packing too much
For your first day hike, it's advisable to just stick with the 10 essentials and a few extra supplies. Evaluate the contents and weight of each item in your pack and ditch anything that isn't necessary. Extra supplies will only weigh you down and cause you to get tired faster.
Pay Attention
Be observant of your surroundings. If you are distracted by talking with others, fatigue, or wearing headphones, you risk twisting an ankle, stubbing a toe, or worse. Watching your feet can also prevent you from stepping on any poisonous wildlife such as rattlesnakes.
Forgetting to Stretch First
Before you get started at the trailhead, loosen up your body by doing a few routine stretching exercises for your back and legs to help prevent day-after aches and pains.
Forgetting to Eat or Drink
It's never a good idea to wait until you're already thirsty to drink water. Try to take a drink (even a small amount) every half hour at a minimum. Likewise, rather than putting off lunch until you reach your destination, you should snack along the way to keep your energy up.
Going Off-Trail
While there are ways to safely practice off-trail hiking, it requires specific planning. Hiking off-trail, including taking "shortcuts," is one of the easiest ways to get yourself lost or injured as a beginner.
Feeding Wildlife
Whether intentionally or accidentally, feeding animals in the wilderness can change their foraging habits. It can also cause animals to associate humans with food, which comes with unintended consequences. Store and dispose of your food properly to prevent wild animals from accessing it.
Wildlife Encounters
Two of the most commonly feared non-human critters likely to cause consternation are snakes and bears.
In bear country, be sure to carry bear spray (if permitted) and make plenty of noise while walking. In most cases, bears will scatter before you get near if they know you're coming. If you do happen to encounter a bear, how you should respond varies depending on the type of bear.
Snakes are common in many popular hiking areas around the globe. If you are bitten by a snake, you should seek medical assistance immediately. To avoid that happening, there are a few precautions you can take.
First, don't put your feet where you can't see them when walking. Second, stand on top of fallen trees or logs as opposed to either side of them. Third, consider using trekking poles and stomp your feet as you walk – snakes might not hear or see you coming but can detect vibrations over long distances. Finally, to be ultra-cautious, consider investing in a pair of snake gaiters.
Hiking Trail Etiquette & Leave No Trace
There are few common-sense guidelines that will allow you to enjoy the trail, maintain the trail for others, and preserve nature as it should be.
Pack It In, Pack It Out
This long-standing rule of Leave No Trace is self-explanatory. For the sake of all other trail-goers and wildlife, leave nature how you found it, carrying out everything you brought in with you.
Don't Create Noise Pollution
Most people hike to get away from all the noise of civilization and enjoy the sounds of nature. Speak quietly, turn your cell phone down and, if listening to music, wear headphones so you aren't disturbing the peace for others.
Be Mindful of Where You "Go"
If you have to relieve yourself while out in nature, ensure that you're at least 200 feet away from water sources and trails where others are walking. Bury your waste in the dirt and pack out used toilet paper in a plastic bag to dispose of later.
When going downhill, yield the right of way to hikers going uphill. While cyclists should yield to foot traffic, if you encounter any horseback riders on the trail, you should yield to the horses. When hiking with a group, remember not to take up the entire width of the trail. Hiking single-file will allow others to pass. When hiking a wider path, stay to the right and leave the left for passing.
Abide by Local Regulations
Read the guidelines posted at the trailhead. Often, individual trails will have rules and regulations specific to that area or the particular season.
Be Courteous
When encountering other hikers, it's customary to acknowledge them with a greeting or smile. Most people outdoors-goers are friendly and it's considered good manners, and part of fostering a positive atmosphere, to recognize others along the trail.
Take Care of Your Pet
If you plan to go hiking with dogs, remember to keep them leashed at all times. Keeping your dog under control is vital to making sure your pet is safe on the trail – we'd strongly advise using a dog hiking harness. Also, don't forget to dispose of your pet's waste and carry a couple of poop bags to carry it out.