Not everyone may have a hiking playlist, nor is there a single 'best hiking song'. However, listening to music while walking on the trail is guaranteed to uplift your spirits, bring you close to other hikers, or help you tackle the next uphill slog.
Whether your playlist needs groovy bass lines, epic guitar solos for a summit push, or slow ballads to contemplate life in the outdoors, we've got the best songs for you.
Thanks to the convenience of apps like Apple Music and Spotify, you can now create your playlist before your next adventure. So, if you want to listen to music on that big rock, your playlist is downloaded and ready to go!
Not everyone enjoys listening to music while out on their wanders in the wild. If you're blasting your hiking music on your Bluetooth speaker, put in one earbud or your headphones when you come across others so as not to disturb someone else's hike. (Of course, if they join you, then keep the tunes bumping!)
When the good music plays, get those feet moving!
1. Fools Gold, The Stone Roses
Released on their self-titled record in 1989 and winner of the NME Single of the Year, 'Fools Gold' is ominous, but the drum beat is sure to keep you putting one foot in front of the other. Fifteen days. Heavy pack. All alone. Does this all sound familiar?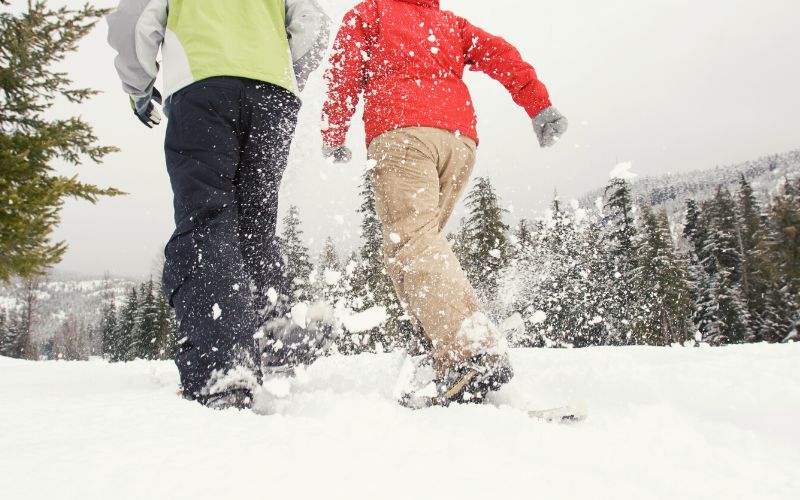 2. I'm Gonna Be (500 Miles), The Proclaimers
No doubt an absolute classic – but, 500 miles is quite a long way! Although the Scottish group's song was well received in 1987, it blew up after serving as the soundtrack to Benny & Joon (1993). It has since been the tune for many walking and running events, and is in more than twenty films!
3. Walk On The Wild Side, Lou Reed
Few songs have such a recognizable opening riff. Whether you first heard it in a movie, playing in a record shop, or from a friend, it strikes a chord. Although this song explores New York's 1960s countercultures rather than explicitly talking about hiking, its uplifting beat will set a rhythmic, contemplative beat to any hike.
4. I Will Survive, Gloria Gaynor
Rain-sodden, scared, petrified, or simply need to tackle that steep incline? Put this tune on – it is a must for any hiking playlist. 'I Will Survive' is sorrowful, yet hopeful and resilient. Like any hike, it sways. You might dance up the mountain, or stop and cry. But, if all goes well, you will survive!
5. Take Me Home Country Roads, John Denver
Whether at a bar, karaoke, around a campfire, or in a movie, this is an American classic. A cool breeze, the mountains, and trees, this is one of our favorite songs for the trail and belongs on any playlist. We like to play it at dusk, after a great day on the trails. 
6. Only Happy When It Rains, Garbage
Power chords, reverb, riffs – this is 90s rock at its finest, and will surely evoke feelings of nostalgia. How many people can claim they're only happy when it rains? Not many, but surely, thru-hikers are indifferent, for sometimes, the best things on the trail happen in the rain.
7. Here Comes the Sun, The Beatles
Some songs bring to mind a 'classic' movie scene, while others, like this one, evoke that feeling. 'Here Comes the Sun' is a classic hiking song. Whether it's on the first spring hike or after a heavy rainfall, when the clouds part and the great outdoors are glistening . . . well, the sun is 'alright', isn't it?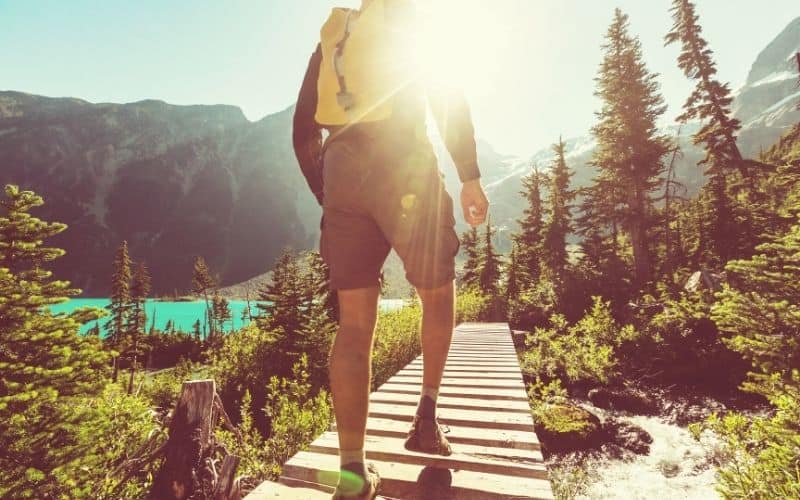 8. The Long and Winding Road, The Beatles
Another Beatles classic? Released on Let it Be (1970), which won the NME for British Album of the Year, this song is a sonic daydream. Slow piano chords backed by a gentle brass section, this is a tune we've all thrown onto our own playlists! 
9. Old Pine, Ben Howard
The British musician's open guitar tuning, chords, and finger-picking riffs will transport you to the fireside, nestled in your warm sleeping bag beneath the stars. This song is both youthful and melancholic. These moments on the trail are the best of your life, but they are ephemeral, passing with time, and will one day only be memories.
10. Rise, Eddie Vedder
Written for the film Into the Wild, now part of one of the most iconic movie soundtracks, 'Rise' is an unconventional tune for the Pearl Jam frontman. A mandolin replaces the electric guitar, but Vedder's voice is as powerful as ever. Hitchhiking, resilience, solitude, and solidarity – this is one of our favorite songs, and has long since been on our own hiking playlist.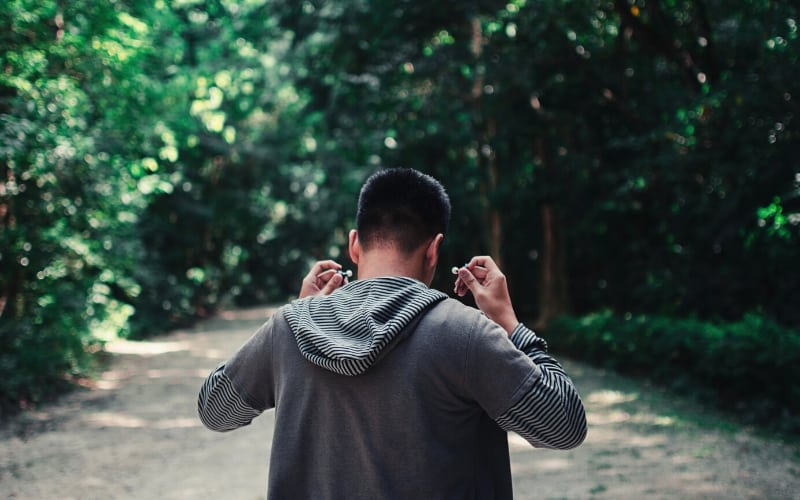 11. The Long Road, Eddie Vedder and Neil Young
Music often reflects the nature of the trail – slow, desolate, upbeat, beatdown – and this song is no exception. These artists are recognized for their songs of the country and the open road. But, in this collaboration for America: A Tribute to Heroes, following the 11 September 2001 attacks, their stripped-back performance reveals another part of the landscape.
12. You'll Never Walk Alone, Gerry & the Pacemakers
This may be the anthem for the Liverpool and Celtic Football Clubs, but it is also hiking music at its finest. Whether you're hiking solo or with other hikers, this slow bop with sing-aloud lyrics will make sure you never feel alone on the trail.
13. I Walk the Line, Johnny Cash
An American classic – put this on your hiking playlist. The steady rhythmic bass line and train-like drum beat will keep you going, on the line or the trail.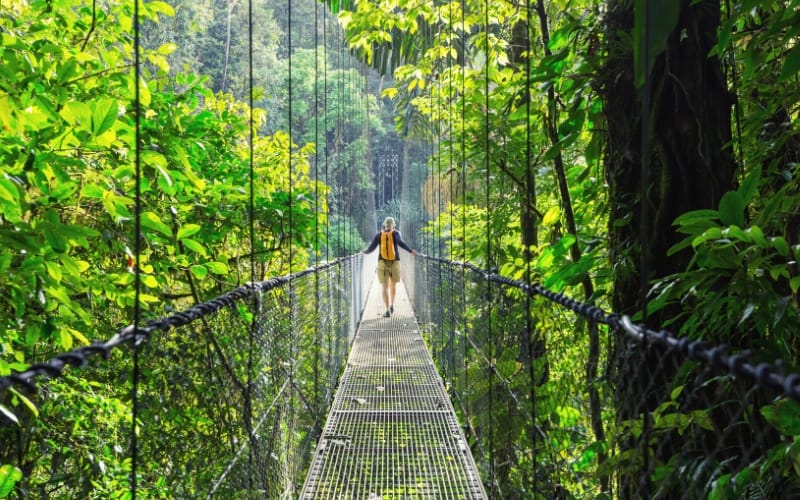 14. Stairway to Heaven, Led Zeppelin
We won't claim this is the greatest rock song, but it is up there with the best. Released in 1971, this 8-minute song is a physical, sonic, and spiritual journey. It starts slow . . . builds . . . the drums kick in . . . the high-hat . . . then, Page's iconic guitar solo, followed by Plant's vocals. This song is perfect for any hiking experience.
15. Ain't No Mountain High Enough, Marvin Gaye & Tammi Terrell
Nature has always provided music with great love metaphors. High mountains, wide rivers, low valleys, wind, and rain – nature is our language, especially if you love hiking! You'll be dancing and strutting along the trail with this bumping in your ears.
16. Voodoo Child, Jimi Hendrix
Listening to music on the trail isn't for everyone, but sometimes it's exactly what you need to get up that mountain – or, like Hendrix, to cut it down. Released in 1970, Hendrix's guitar playing has an unrivaled attitude. Aggressive, deliberate, messy, fast, and gentle, this is music to listen to when you've got to power through a tough section.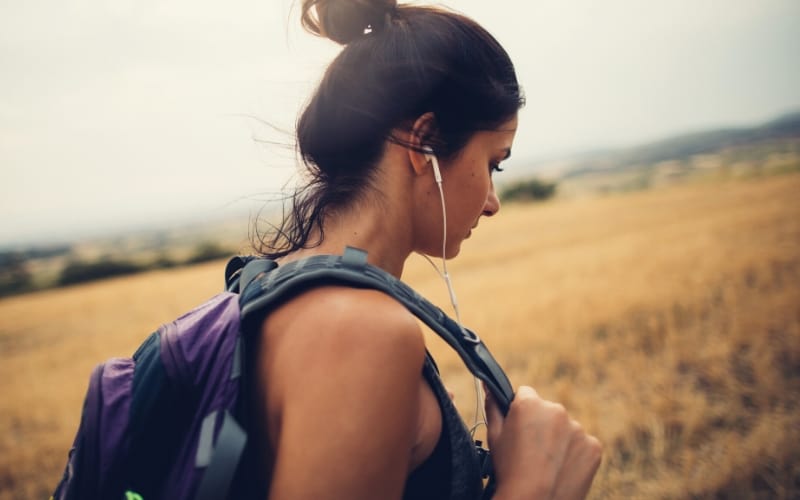 17. Born To Be Wild, Steppenwolf
Empty highway, hot sun, cold breeze, the open desert – this may be the soundtrack to Easy Rider, but it's much more than that. This song is a feeling: the bass line has a groove, the chords are uplifting, and the overall mood? Gusto.
18. Wild Mountain Thyme, The Corries
Listen closely: the Scottish Highlands. Blooming heather, the raging sea, clear lochs, empty straths and glens – this traditional folk song tells the story of a landscape, its people, and its culture. It is one of the best songs for the trail, and most certainly, a beautiful campfire sing-along. 
19. Don't Stop Me Now, Queen
From the progressive piano notes to the oscillating solo and backup vocals, this is one of our favorite tunes. If other hikers try to slow you down or there's an unappealing uphill slope, listening to this song will get you in the zone.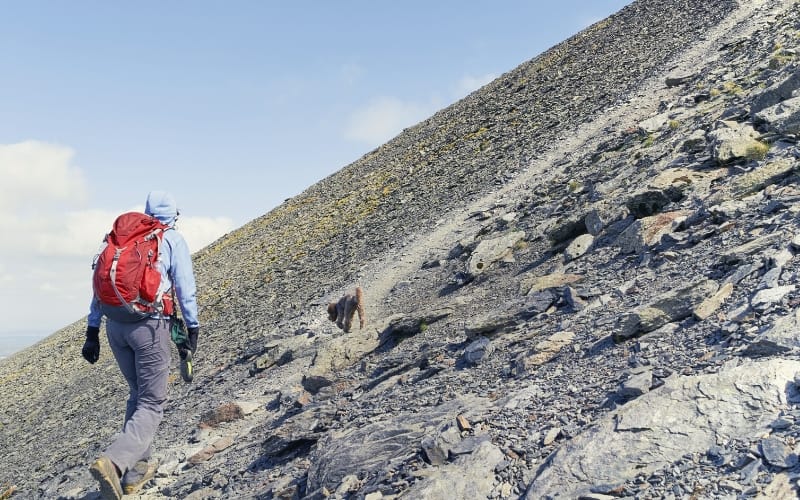 20. Like a Rolling Stone, Bob Dylan
Bob Dylan is undoubtedly one of the greatest lyricists of our era. Moving away from his acoustic tunes, this organ and electric song is uplifting, meditative and, as always, asks more questions than it answers.
21. Up Around The Bend, Creedence Clearwater Revival
Have you ever looked up from the trail and wondered what's around the bend? Well, you're not alone. This song opens with one of the most recognizable riffs in American rock, and the lyrics move as swiftly as the wind.
Hiking songs for happy hiking!
Not everyone wants to listen to music on the trail, but music will always surface in your mind. Whether it's a landscape, people you meet, or simply a sound you hear, there is a song for every mood, sunrise, and mountain pass. These 21 hiking songs are bound to keep you putting one foot in front of the other! 
If you liked this post, feel free to share the music with your friends! Drop us a line in the box below if you have any questions or comments.