Disclosure: The team at My Open Country highlights products we hope you might find interesting. If you buy them, we get a small share of the sale revenue from our partners at no additional cost to you. This never drives our decision as to whether or not a product is featured or recommended – you can read more about
our editorial process here
.
Osprey Daylite Review
Our Rating: 4.1/5
The Osprey Daylite Backpack is the perfect choice if you are hiking up to a 6,000-foot summit or on a weekly visit to the local farmer's market. The versatile Osprey Daylite can be attached to several of the larger Osprey packs and travel bags, and it is an excellent accessory for any day trip.
You can quickly open the main compartment through a large zippered panel, and the side mesh pockets are ideal for storing water bottles and other various necessities. The mesh organizer on the front pocket can store small items, while the attached key clip secures your keys.
This is just a great basic backpack for many outdoor activities or for running errands around town. When you are looking for a compact pack, you will find the Osprey Daylite is the perfect answer with its compression straps, shoulder straps, breathable back panel, front zipped pocket, hydration compartment, and water bottle pockets. It is very tough little pack, and it has a variety of colors to choose from. The Osprey Daylite is a simple, comfortable and easy to use backpack for outdoor or day to day adventures with great features that propel it past the other regular day packs on the market.
Key Features
Roomy main compartment with panel load access making it easy to locate your gear.
Added capacity when attached to other Osprey packs and travel bags.
Mesh organizer on the front pocket with key clip.
Storable mesh shoulder strap with integrated handle.
Interior sleeve dedicated to hydration pack (or tablet).
Back panel is mesh covered with slotted foam to help keep your back cool.
Category Scores
Comfort
Weight to Volume
Versatility
Durability
Ease of Use
PROs

Very lightweight yet durable.
Quite comfortable and easily adjustable
Simple & very versatile
Can be attached to Osprey "AddOn" series backpacks.

CONs

Small capacity for standard day pack.
Narrow unpadded waist strap.
No external gear loops.
Bladder sleeve doesn't hold it's shape.
Hands on Review
When purchasing a backpack, there are going to be several key items to consider. The most important considerations of these are 1) how much the pack can hold and, 2) how well it will hold up or work in the type of activity you have planned.
In this case, the Osprey Daylite is primarily used as a day pack, and it works well in this capacity. Its features include more than enough room to carry the necessities needed for a day trip including water, food, extra clothes, a few valuables, and some safety gear.
It is not particularly well suited for carrying a big load for a long trip, especially if it requires bulky outerwear.
Comfort
The Osprey Daylite daypack has several great features to improve your comfort level. The 3D mesh shoulder straps help keep moisture away, and the hip belt is a nice added feature even though you probably won't use it when you are only carrying a few items. But, if you plan to wear the pack while you are running or jogging, the hip belt will come in handy. The back panel design with its mesh-covered die-cut foam allows for comfort and ventilation in hot climates, and it keeps your back cool while you work up a sweat.
https://www.instagram.com/p/8gpeVFSVmD/?utm_source=ig_embed
It comes with a ventilated harness and a mesh harness spacer with an integrated handle, plus the sternum sliding strap is adjustable and comes with a whistle as an additional safety feature. The waist strap is removable, and it is just a basic thin webbing strap that does not have padding, but it still serves its purpose well with this pack. There is nice padding on the shoulder straps that come with accessory loops that you can use a lot.
No matter what your height, the pack is comfortable since there are so many adjustable features on it, and the adjustability gives it a lot of flexibility when you are on the trail.
The pack is well-ventilated in the back and on the sides. It is breathing along with you as you exert yourself. The hydration reservoir is another nice feature that adds comfort with its easy-to-access hose that hooks under an accessory loop on the shoulder straps. You can carry additional bottles of water comfortably in the broad and deep side pockets, and the bottles are held in place by a strap that holds them in securely at an angle over the top of them. The compression straps are also very useful if you need to use them.
Weight
The Osprey Daylite backpack has a lightweight suspension that is easy to adjust when sharing the carrying duties with your partner. Ideal for winter activities or short day hikes when you don't need a larger capacity pack with you.
A center stiffener made of a foam frame sheet allows you dynamic body movements without any discomfort as its spread out the load across the whole back panel. As it is so lightweight, you can take it along on camping trips and take it out to use just for day hikes. It only weighs one pound, so it will not slow you down, but is perfect for taking with you up to the summit.
Versatility
The Osprey Daylite daypack is compatible with many other Osprey backpacks and travel bags for additional options like the Volt/Viva Series, Shuttle Series, Aether/Ariel Series, Porter Series, Ace 75, and the Farpoint 80. The Osprey Daylite is a very versatile and lightweight daypack that can be used on the trail or for day-to-day outings. Plus, it can be used as a summit pack, or for running errands around town. There is also a back panel cushion that is removable if you want to create a much larger bag for use as an ultralight summit pack.
The Osprey Daylite only comes with a few extra features beyond the standard use of a basic pack. It does not have a front pocket, and it only comes with two compression straps, so it is not as versatile as its competitors. However, when you aren't using it out on the trails, it comes in handy as a work bag and can hold your papers, plus your phone, keys, and wallet on the subway. It's a pack that you will be using for a long time.
Ease of Use
The Osprey Daylite is lightweight and not bulky, so it is comfortable to wear, especially over summer clothing or light winter wear. The addition of reflective trim is a great feature when you are sharing a trail with snowmobiles. The easy-to-open main compartment is large, and it has a long zipper that goes from side to side. It also has a sleeve area that is allocated for tablets and a smaller pocket that comes outfitted with a clip.
https://www.instagram.com/p/-sZ4SvIYKq/?utm_source=ig_embed
The integrated water pocket holds your water bladder safely. The pack is easy to fill, although it was not created for a lot of weight. If you do end up weighing it down some with necessities, it remains comfortable to wear. It has an easy-to-adjust hip belt that comes with a 3/4″ adjustable webbing strap that is also storable. It's not the best bag to lug around a lot of items, but it comes in very handy when you are cycling or plodding along and need that pack to stay on your back securely. The shoulder straps are light and airy and comfortable to wear, and the sternum strap comes with an included emergency whistle on its buckle.
Durability
The Osprey Daylite is made of 210 denier nylon on the front, and the bottom has 420 denier packcloth. Made with reasonably durable materials, the Daylite can hold up well with the average use of a day pack. This is not the best pack for climbing, but it should last you a while if regularly used on routine daylong adventures. It has been found to be pretty durable while in regular use, and if you spill a liquid on it, the liquid will quickly bead up and it can be wiped off without leaving a stain.
Technical Specifications
| | |
| --- | --- |
| Best Use | Hiking, Travel |
| Bag Style | Backpack |
| Frame Type | Frameless |
| Gear Capacity (L) | 20 liters |
| Gear Capacity (cu. in.) | 1,220 cubic inches |
| Weight | 1 lb. 3.8 oz. |
| Pack Access | 2 + main compartments |
| Hipbelt | Yes |
| Dimensions | 18 x 10 x 9 inches |
| Gender | Unisex |
Limitations
The streamlined design of the Osprey Daylite is a great fit as a day pack, but the water bottle pockets on the side are a bit too small. They can only fit a standard water bottle if it is put in first before the rest of the pack is filled. Otherwise, the pockets could be stretchier for water bottles, although the external access hydration pocket lets you make quick fill-ups. There are also no smaller compartments to put small valuables like your cell phone which would be nice to have handy.
Best Applications
The Osprey Daylite is a great option if you need a pack for a day hike. It can help you carry basics for a single day like water, snacks, a jacket, flashlight, and a first aid kit, plus still, have a little room left over. It is best used in the summer for short hikes when you don't need to carry bulky outerwear.
Value
If you have a tight budget or just really relish a good deal, you will be thrilled with the value of the Osprey Daylite. For such a low price point, you will appreciate the versatile design, durability, and simplicity of the Daylite.
Other Versions & Accessories
If you are looking for a few more features than the basic Osprey DayLite, then you could opt for the DayLite Plus which also includes an extra 7 liters of space for your kit and extra padding in the front bladder pocket to give more insulation.
Regarding accessories, the key one is the fact that it is "Hydration-compatible" meaning it'll accept an Osprey Hydraulics reservoir. Sadly, not included with the pack from the get-go.
Alternatives
BEST HIKING DAYPACK
Deuter Speed Lite 20
The Deuter Speed Lite 20 has the best balance of lightweight, minimalism in a comfortable pack. The pack holds a lot more than one would think when the compression straps are reversed around the pack.
It has larger water bottle pockets than the Osprey Daylite, and it has a great attachment feature that is useful for carrying rope, skis, ice ax, extra clothing, or even camera equipment. Although it can be used for other purposes like an airline carry-on, the Speed Lite is a great day pack that is perfect for a long day hike.
See here for our full Deuter Speed Lite review.
BEST CLIMBING DAYPACK
Arc'teryx Cierzo
If you have climbing in mind, the Arc'teryx Cierzo has a design that is simple and functional. It has specialized features that are preferred by those who take it on climbs including the rope strap that lets you quickly load down the Arc'teryx Cierzo.
It has a similar design to the REI Flash 18, but the Arc'teryx Cierzo is more comfortable. It is also versatile and can be used for pack-rafting or backpacking.
It does lack a few features like front-loading accessibility and water bottle pockets like the Osprey Daylite has, so it is not the best day pack, but it makes up for any deficiencies with its climbing applications. Otherwise, if you don't mind a few unnecessary features, the Arc'teryx Cierzo is a compact, simple, and durable backpack.
BEST BUDGET DAYPACK
REI Flash 18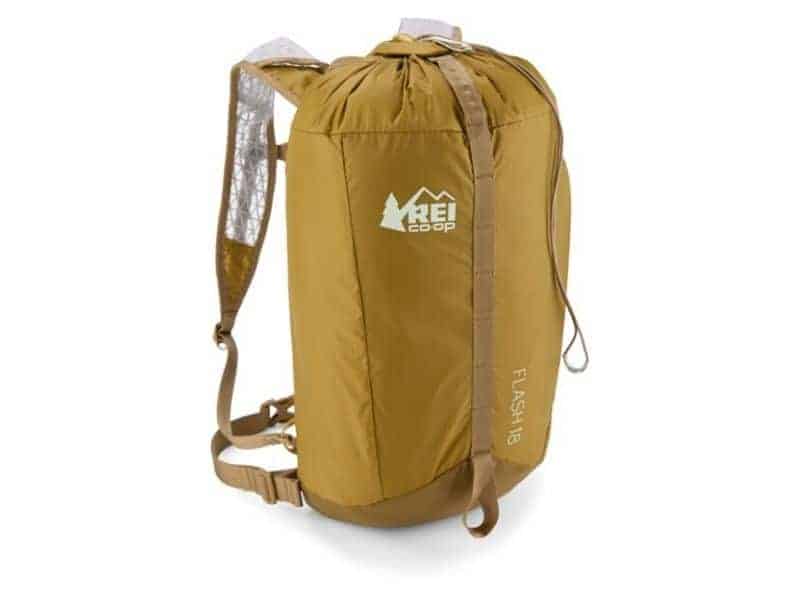 If you are on a budget but still want a great lightweight bag that works well on any adventure, the REI Flash 18 is a great option for you. It is a great lightweight and uncomplicated pack that scores high in versatility and simplicity. It has an easy top-loading design that opens up into one compartment, and it is a comfortable pack no matter what your activity is.
Even though it is a great lightweight pack, it is not specifically a hiking pack, but it is versatile enough to work with several different adventures if you have a tight budget. With its narrow profile, it can easily be used for multiple days of hiking or when you attempt a summit. It is not as durable as the Osprey Daylite, but it will work if money is tight.