Disclosure: The team at My Open Country highlights products we hope you might find interesting. If you buy them, we get a small share of the sale revenue from our partners at no additional cost to you. This never drives our decision as to whether or not a product is featured or recommended.
Osprey Stratos 36 Review
Our Rating: 3.9/5
Backpacking in the great outdoors can make for amazing adventures, and it can be all too easy to fill your closet and storage space with a mountain of specialized outdoor gear.
In this Osprey Stratos 36 review, we found this backpack to offer incredible versatility in its functionality and ability to carry essential equipment. Additionally, the comfort of the Stratos 36 was difficult to beat. While its innovative design gives it unparalleled performance and comfort, it drops points on its weight; being one of the heavier packs in this size category.
Key Features
The Airspeed™ Suspension system combines a lightweight alloy frame with a tensioned mesh panel to provide stability and support when carrying heavy loads.
Dual entry points to the main pack; internal sleeve and internal hydration reservoir sleeve (reservoir not included).
Ergonomic shoulder and hip straps use Ospreys ErgoPull™ closure with molded waffle foam at contact points for breathability.
Lots of "extras" – lower sleeping-sack compartment, integrated raincover, Stow-on-the-Go trekking-pole attachment point, and single ice tool loop and handle clip.
Category Scores
Comfort
Weight to Volume
Versatility
Durability
Ease of Use
PROs

Comfortable Design
Large Load Capacity
External trekking pole loops
Compression straps

CONs

One of the heavier backpacks in this category
Bottom-Line: The Osprey Stratos 36 is a lightweight, midsize backpack comfortable enough for demanding day hikes or 1-2 day overnight camping trips.
Features
In our review of the Osprey Stratos 36, we found this pack to have some impressive features creating a comfortable backpack with incredible versatility. It starts with the dual upper-side compression and carrying straps which provide a great deal of versatility. Once supplies are loaded, the straps can be tightened down to keep the weight centered and close to the body to prevent shifting. With a 36L maximum load capacity, this bag can hold enough equipment for an overnight backpacking trip with the compression straps working well enough to make it a great pack for day hiking.
The ability to have a tight pack is also enhanced by the two mesh side pockets. Equipped with InsideOut compression, a feature unique to Osprey, this creates extra tension needed to improve the security of your load. Some packs in the daypack/mid backpack category allow items to shift which creates a loss of balance while wearing. Users have even been able to use the Stratos 36 while bouldering without detrimental weight shifting. The straps can also be used to carry extra gear if needed.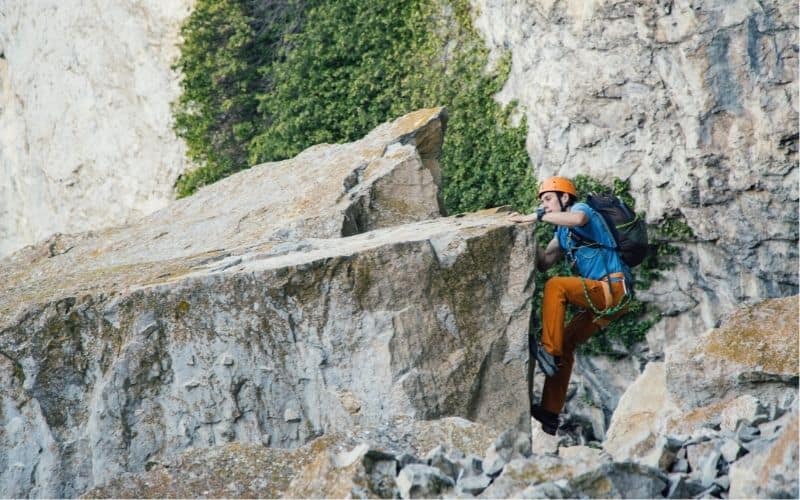 There are two entry points on the main front panel storage pocket for load access. Firstly this day pack has side panel zip access for easy front loading. This handy feature gives you easy access to food, maps, and other equipment without having to unload the entire pack. The second access point is through the top. Once you've loaded through the front you can zip it up and pack more through the top drawstring closure. The fixed top lid has an external zippered top pocket and underneath an extra mesh pocket to keep items that may require easy access such as a first aid kit.
Another favorite feature is what Osprey calls their Stow-on-the-Go Trekking Pole Attachment. Two straps are located underneath the left arm which can hold trekking poles out of the way until they are needed. The poles can be removed or stowed while the Stratos 36 is still being worn. This is particularly useful when you are hiking a trail that varies between areas that need trekking poles and those that don't.
Keeping yourself and your gear dry is paramount to a comfortable hiking or camping experience. The built-in rain cover can be pulled over the entire pack to prevent extra clothing and equipment from getting wet. It's convenient to have a built-in rainfly so you don't have to carry it separately or indeed remember to bring one in the first place. If you know you aren't going to need it; the rainfly can be removed and stored in a pouch on the bottom of the backpack.
When using the Stratos 36 as an overnight pack, there are two straps for attaching a sleeping pad, and a separate sleeping bag compartment underneath the main compartment. The sleeping pad straps are adjustable and removable, so they won't be in the way when they are not needed. The wide-mouth zippered sleeping bag compartment has space for bulky items but is not waterproof because of the zipper. It is suggested to use a waterproof stuff sack before putting your sleeping bag in if you suspect rain.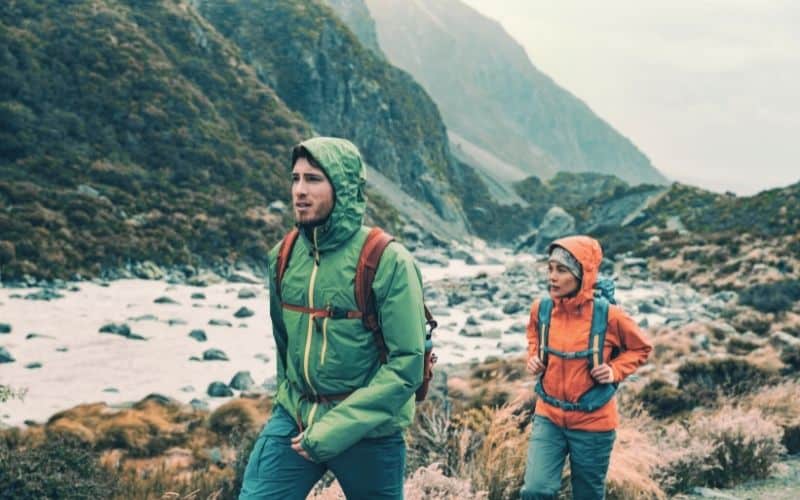 The use of zippered hip belt pockets allows for small gear that may be needed frequently to be accessed easily. Important items like a compass, or chapstick can be kept in these pockets where they can be used without stopping or removing the pack. Also included are two bungee tie-off tool loops to keep extra gear and tools secure.
The lightweight alloy frame has a signature curved panel that creates excellent airflow between the user and the pack. It also adds to the overall balance of the backpack while it's being worn. The back panel of the Stratos 36 uses a 3D breathable mesh so sweat can easily evaporate.
Hands-On Review
Comfort & Fit
Comfort and fit are one of the major strengths of the Stratos 36. The design of the frame and lightweight build make it easy and comfortable to wear all day. The amount of air that flows between the pack and the wearer's back prevents overheating. Preventing that excess sweat can mean the difference between an enjoyable hike and being a sweaty mess when you reach your destination.
Mesh-covered die-cut foam on the shoulder straps keeps them firm but comfortable even with a heavy load. Whilst the ErgoPull™ hip closure is easy to secure and stays in place while maintaining the pack weight in the right location. The Stratos 36 comes in two different sizes, S/M and M/L. One downside of this backpack is that it doesn't have an adjustable torso length and so it cannot be adjusted. However, if you follow the sizing guide based on your height and weight, you should be able to get the right fit.
Weight
At between 2 lbs 14 oz and 3 lbs (depending on which size you pick), this is one of the heavier backpacks on the market for its size. The bulk of the weight comes from the curved panel which provides most of the comfort benefits. This is not the bag to pick if you want to move light and fast.
Versatility
The size and load capacity make the Stratos 36 an ultra-versatile daypack/overnight pack. While there's not enough room for an extended packing trip, it's certainly sufficient for the avid day hiker or an occasional overnight trip if you pack light. One of the challenges of a combo backpack is keeping the load weight in place when carrying a light load.
The pockets and dual-side compression straps on the Stratos 36 work extremely well at keeping everything secure while in motion. As long as the shoulder straps, sternum straps, and hip belt are appropriately adjusted and everything is tightly compressed, you should experience little to no movement of the pack weight. This will help you stay balanced and reduce fatigue while you hike.
Related Topics
If you are new to hiking then check out our beginner's guide! Consider carefully what you want to take on your next hiking adventure but don't forget to pack the ten essentials along with the rest of your hiking gear.
Many of the great features of the Stratos 36 may or may not apply to you in any given situation. But, most of the additional features can be removed or stowed away when not in use. The integrated rain cover, for example, can be separated and stored in its own compartment on the bottom of the pack. If you're not going on an overnight trip, remove the two sleeping pad straps. Having the ability to use or remove the features that you need for each trip is helpful as you keep track of equipment.
Ease Of Use
Staying organized on a hike or overnight trip can mean the difference between focusing on enjoying yourself and spending the day searching through your pack for an extra pair of socks. The Stratos 36 has many storage and organization options that allow you to keep your gear separate while also keeping the load tight to your back.
The pockets on the lid make for a good storage option for climbing gear while the compressible side stretch mesh pockets give you options for storing items you want to keep separated like water bottles, snacks, or maps. Furthermore, the sleeping sack compartment has a mesh separator to keep a rain jacket or other clothing safely stowed and in place. Having lots of options gives you the ability to organize the pack in a way that makes sense for you.
Durability
Not quite as durable as the Deuter Speed Lite 20 but stood up to a fair amount of bashing without any significant signs of wear and tear. Initially, our main concern was with the aluminum frame which looked to us a little flimsy, but in retrospect, it is well made and does the job it was intended for.
Technical Specifications
| | |
| --- | --- |
| Best Use | Hiking |
| Bag Style | Backpack |
| Frame Type | Internal Frame |
| Gear Capacity (L) | M/L 36 liters, S/M 34 liters |
| Gear Capacity (cu. in.) | M/L 2,197 cubic inches, S/M 2,075 cubic inches |
| Weight | M/L 3 lbs., S/M 2 lbs. 14 oz. |
| Fits Torso | M/L 18 – 21 inches, S/M 16 – 19 inches |
| Fits Waist/Hips | M/L 28 – 50 inches, S/M 26 – 45 inches |
| Material(s) | Ripstop nylon |
| Frame Material | Aluminum |
| Number of Stays | 1 |
| Suspended Mesh Back Panel | Yes |
| Pack Access | Top / front |
| Number of Exterior Pockets | 6 + main compartment |
| Hipbelt | Yes |
| Sleeping Bag Compartment | Yes |
| Raincover Included | Yes |
| Dimensions | 25 x 12 x 10 inches |
| Gender | Men's |
Value
The Osprey Stratos 36 is on the more expensive end of the scale for a lightweight backpack with these features. That said, this is the right pack for the avid day hiker or occasional overnight camper who places comfort at a premium. Even if you only plan to use it on day hikes, it could serve well for trips that require extra gear or for a family where one parent carries most of the equipment. This Osprey backpack does all of that while being comfortable and practical.
Other designated day packs are often too small to expand for extended day use. While mid-sized packs are often too large and bulky for a simple day hike. The Stratos 36 can fill both of those needs with one backpack.
Osprey also offers its 'all-mighty guarantee' meaning it has a lifetime guarantee for any faults in the integrity of the bag. This means that it doesn't include replacement for certain types of damage such as that caused by an airline baggage handler, damp-related damage, or typical wear and tear.
Other Versions & Accessories
The Osprey Stratos Series comes in five different sizes; Osprey Stratos 24, Osprey Stratos 26, Osprey Stratos 34, Osprey Stratos 36, and the Osprey Stratos 50. The first three are designed as daypacks, while the last two can be used for overnighting. Similarly, the women's version, the Osprey Sirrus 36 also comes in four different sizes.
Alternatives
Similar products include the REI Trail 40 Men's, Deuter Futura Pro 42, and the Mountain Hardware Hueco 35. All are intended to be used as daypack/overnight backpacks. However, both the REI Trail 40 Men's and the Deuter Futura Pro 42 have large capacities that make them more suitable for one or two-day overnight trips. These options have some of the compression abilities of the Stratos 36, but because they have so much more space, you aren't going to be able to get the tighter fit of the Stratos 36 with either of them.
These two backpacks can be used for day hiking but unless you have a lot of gear, or carry large equipment, they may result in a lot of pack movement. Both the REI Trail 40 and Deuter Futura Pro 42 work best for short one or two-day packing trips rather than day hikes.
The Mountain Hardware Hueco 35 is similar in size to the Stratos 36 and has similar compression capabilities. It too can be used for either a day hike or an overnight trip. However, the Hueco has features that make it more suitable for someone traveling by airplane with their pack. It has carry handles that make taking it on and off a luggage rack easy, while the Stratos is intended purely for hiking and camping purposes.
Final Verdict
The comfort and quality of the Osprey Stratos 36 is great and it is sure to hold up to frequent use over time. It boasts a host of practical features to make access a cinch including various attachment points, tool loops, hip belt pockets, as well as an integrated rain cover to keep all your gear dry.
However, the comfort and storage options this backpack offers do come at a cost, namely in weight. But at almost 3 lbs it still doesn't do too bad in that spec either. A great all-rounder we recommend this pack is best for challenging day hikes or as your bag for a 1 to 2-night camping trip.
How did you like our review of the Osprey Stratos 36? If you have any questions or comments, please drop them in the comments box below. And if you'd like to share this post with your friends, share away!