While fried foods might not be the healthiest option, sometimes you crave a greasy burger or some crispy bacon after a long day of hiking. To satisfy that need, you'll need something a little more substantial and task-specific than your regular backpacking cookware. Enter the trail-ready frying pan.
With so many options on the market, trying to find a backpacking skillet for your needs can be a bit of a chore. However, we've done the research for you and compiled a list of our top picks for this year. Whether you're an experienced camper or a first-time hiker, a great chef or a dismal one, one of these pans will help you cook up a delicious meal in no time.
Top Choices by Category
Budget: GSI Outdoors Bugaboo Frypan and GSI Outdoors Glacier Stainless Frypan
Ultralight: Sea to Summit Alpha, MSR Quick Skillet, and Boundless Voyage Titanium
Heavy Duty: Primus Campfire and GSI Outdoors Glacier Stainless Frypan
Editor's Choice
Sea To Summit Alpha
The Alpha is everything we look for in a frying pan for backpacking. It's compact, lightweight, easy to clean, and fries food better than its competition thanks to some neat technology used in the cooking surface.
The Alpha is available in 8 and 10-inch sizes. The smaller model is great for solo campers or couples and the larger model is ideal for groups. These weigh 8.6 oz. and 10 oz., and both have a collapsible handle, so they're also among the most portable on our list.
The Alpha's show-stopping selling point is its Halo® nonstick surface which has "an interlocking matrix" that takes heat from your stove and spreads it across the pan. This results in shorter cook times and a more even transfer of heat, meaning food at the edges of the pan cooks at the same speed as food in the center.
Bottom Line: Ticks every box that needs ticking!
At a Glance: Quick Recommendations
Best Backpacking Frying Pans: Our Top 9 Picks
Sea To Summit Alpha
Editor's Choice
We rarely come across a piece of outdoor kit that's absolutely perfect for the job it's designed to do, but in the Sea to Summit Alpha, we think we finally succeeded!
This aluminum pan ticks all the boxes. It weighs a tiny 8.6 oz. (8" size), has a large enough cooking surface for slap-up meals for two, boasts a user-friendly handle, and has a fancy, high-tech surface that transfers heat from your camping stove up to 62% faster than traditional non-stick coatings.
The Alpha is also available in a 10-inch size which will set you back a little more but weighs just 10 ounces and is a better option for large groups or couples with large appetites!
PROs

Lightweight
PFOA-free nonstick surface
Halo surface transfers heat up to 62% faster
Available in 8" and 10" sizes
Stainless steel handle with heat-resistant rubber grip

CONs

Aluminum pans aren't as durable as stainless steel or cast iron
Bottom-Line: A great choice if you want an outdoor frying pan that offers the perfect blend of portability, durability, and efficiency.
Primus Campfire Frying Pan
Runner Up
The Primus Campfire Frying Pan is a great choice for campers who are happy to carry a little extra weight in return for last-a-lifetime durability.
The 18/8 stainless steel construction makes this pan one of the toughest on our list, while the aluminum base ensures even heat distribution. The 8.25″ cook surface is perfect for cooking smaller meals, and the 16.6 oz. weight is about par for the course for stainless steel models.
While a little too heavy for thru-hiking, it's a good option for car camping or shorter backpacking trips.
The Primus Campfire also features a collapsible handle that folds under the base, making it easy to store, and comes with a great storage sack that helps to keep the rest of the gear in your pack clean.
PROs

Highly durable
Aluminum base distributes heat evenly
Available in 21cm and 25cm sizes
Folding handle

CONs
Bottom-Line: A well-made, stainless steel pan that's a little on the heavy side but far tougher than aluminum competitors.
GSI Outdoors Bugaboo Frypan
Best Budget
For the camper who wants the convenience of non-stick without the high price tag, the GSI Outdoors Bugaboo Frypan is a great option.
The Teflon coating ensures that foods won't stick to the surface, and at 12.8 oz., it's lightweight and easy to pack. The 9.2″ surface area is just right for one or two people, and the SureLock folding handle makes it easy to store. Its weight and size also make the Bugaboo a good pick for both front country and backcountry camping.
The only downside to this pan is that you'll have to take a little extra care when cleaning and cooking to avoid damaging the Teflon lining (silicone utensils and soft sponges recommended!).
PROs

Non-stick Teflon coating
Affordable
Nicely sized cooking surface

CONs
Bottom-Line: A good halfway house between the larger, heavier models on our list and ultralight models with smaller cooking surfaces.
MSR Quick Skillet
Best Ultralight
Looking for a versatile and compact skillet that can handle all your cooking needs on the trail? Look no further than the MSR Quick Skillet.
This 7.75″ skillet is made from hard-anodized aluminum, making it lightweight (5.9 oz) yet durable. The removable handle makes it easy to pack away, and the non-stick surface ensures that your food will always come out perfectly cooked.
While the Quick Skillet's size and trifling weight make it ideal for thru-hiking or longer backpacking trips, it is a little on the small side for groups or even camping couples with larger appetites.
PROs

Ultralight
Compact
Durable
Removable handle

CONs
Bottom-Line: The most portable option on our list.
MSR Alpine Fry Pan
Most Durable
The MSR Alpine is made of high-quality stainless steel designed for expeditions in rugged and extreme environments.
This pan performs just like the ones we have at home thanks to its tough stainless steel build and a heat-spreading aluminum disc welded to the bottom, which ensures your food is cooked evenly and more efficiently.
The Alpine's 7.7″ diameter is a fraction on the small side for big appetites, but we did like that it's deep enough for the odd risotto or fried rice. It also weighs just 11.4 oz. and has a removable handle, so it's portable enough for forays deep into the backcountry.
PROs

Aluminum disc base provides excellent heat conductivity
Lightweight
Compact
Ideal for boiling water too

CONs

Relatively small cook surface
No non-stick coating
Bottom-Line: A rugged, durable steel fry pan that's designed with the more intrepid adventurer in mind.
GSI Outdoors Glacier Stainless Frypan
Best Value
The GSI Outdoors Glacier Stainless Frypan is the ideal choice for anyone looking for a large, durable frypan at a friendlier price point.
This 10″ frypan is made of high-quality stainless steel and is the heaviest we reviewed, weighing in at 22.2 oz. It is also, however, the largest frypan on our list, making it perfect for large families or groups.
The aluminum base ensures even heat distribution, and the pan is also oven-safe, making it a versatile cooking tool.
While not the most portable option available, the GSI Glacier is a good option if you tend to do shorter backpacking trips and just want an affordable workhorse for your morning and dinnertime fry-ups.
PROs

Durable
Resistant to dents
Aluminum base cooks food evenly
Fairly priced
Removable handle

CONs
Bottom-Line: Not the most portable, but hardwearing and ideal for group camping.
Jetboil Summit Skillet
Best Non-Stick
The Jetboil Summit Skillet is a solid choice for anyone looking for a compact and lightweight skillet that can still handle all of their cooking needs.
The Summit Skillet measures 8.5″ in diameter and weighs 10.6 oz., making it one of the most portable options on our list. It also has a folding handle to reduce bulk and comes with a handy Triton spatula that fits inside the pan, so you won't have to buy one separately.
Varied wall thickness provides even heat distribution, and there's also a PFOA-free, ceramic, nonstick coating that is durable, easy to clean, and eco-conscious.
All of the above means the Summit Skillet ticks just about every box. Sure, it'll be a little too small for some and others may want the lifelong durability of steel, but if compact, lightweight, and user-friendly is your bag, this one's hard to beat!
PROs

Highly packable
Lightweight
Even and efficient heating
PFOA-free nonstick coating

CONs

Smaller and heavier than Sea to Summit Alpha
Bottom-Line: A little small for some, but otherwise a winner!
Boundless Voyage Titanium
Best Titanium Pan
If you're a dyed-in-the-wool ounce counter and happy to forego a few inches of frying space to save yourself a little weight, the Boundless Voyage Titanium should be somewhere near the top of your shortlist.
Like all titanium cookware, the BVT's main selling point is its ultralight weight. Tipping the scales at just 4.3 ounces, this is the lightest pan on our list. Titanium is also highly durable, so those weight savings don't entail compromising on toughness and durability.
There is, however, a compromise. With a surface area of just 7.1 inches, this is the smallest model on our list, so it's only really suitable for solo backpackers or groups with the patience of a saint. Titanium also won't distribute heat as well as a steel, aluminum, or cast iron pan, so your grub won't be cooked quite so evenly.
PROs

Ultralight
Compact
Ceramic non-stick coating
Folding handle

CONs

On the small side
Doesn't distribute heat evenly
Bottom-Line: A good pick for any backpacking trip where keeping pack weight to an absolute minimum is your top priority.
Sea to Summit X-Pan 8″
Honorable Mention
The S2S X-Pan is a frypan that has split opinion among our testers. For some, its lightweight, compact design, durable materials, and duo of heat-resistant handles made it a keeper. For others, the lack of a nonstick surface and its poor heat distribution were a dealbreaker.
This split in opinion makes it fairly clear who this pan is for. If portability, robust construction, and fancy handles are high on your priority list, it's well worth considering. It weighs just 10 ounces, is made with hard-anodized aluminum (tougher than other varieties), and its handles do, indeed, make handling far easier, especially when frying heavier fare.
If you prefer the user-friendliness of a non-stick coating and the performance of a heat-distributing cooking surface, a similar-sized model like the Jetboil Summit Skillet is a better option.
PROs

Two folding handles
Lightweight
Compact
High-quality materials

CONs
Bottom-Line: Has a few shortcomings but is still a solid option if you'd prefer a two-handled design and want steel-like durability without the weight penalty.
How to Choose the Best Frying Pan for Backpacking and Camping
Pan Types
In a few words, the best option for lightweight backpackers who don't want to carry a lot of gear is a traditional fry pan. Skillets are better for cooking larger meals because they're deeper (many also have a lid), and mess kits are better for groups because you have multiple pans to work with.
The one notable exception to the above rule is the MSR Quick Skillet, which weighs a piddly 5.9 ounces and is too small to cook for large groups (unless the group members have lots of patience!).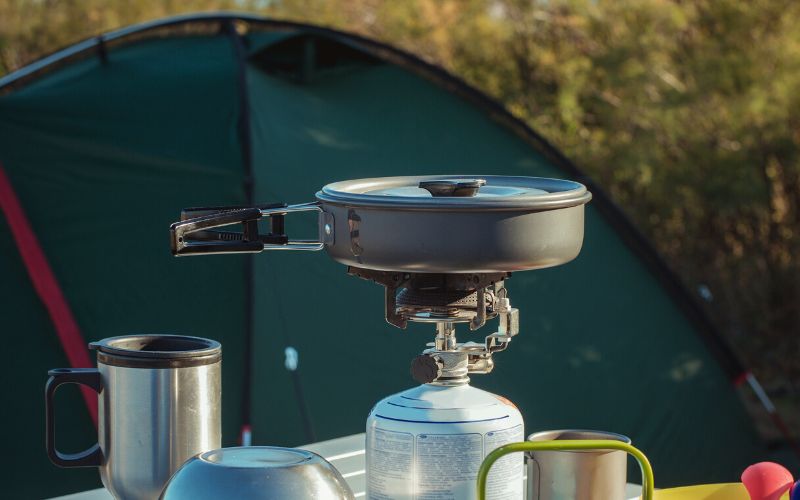 If you're looking for the best all-around option, traditional fry pans like the MSR Alpine and Sea to Summit Alpha are the way to go. They're great for solo backpackers who want to save weight, but they're also big enough to cook for a group.
Size
The pans on our list range from 7 inches (Boundless Voyage Titanium) to 10 inches (S2S Alpha and GSI Glacier) in diameter. While this difference may seem negligible, it will be very noticeable both when you're packing your gear in your backpack and when doing your cooking.
As you'd expect, larger pans are better for larger groups or larger appetites, and smaller ones will do the trick for solo backpackers or couples. When buying, however, bear in mind that most larger pans will weigh a little more.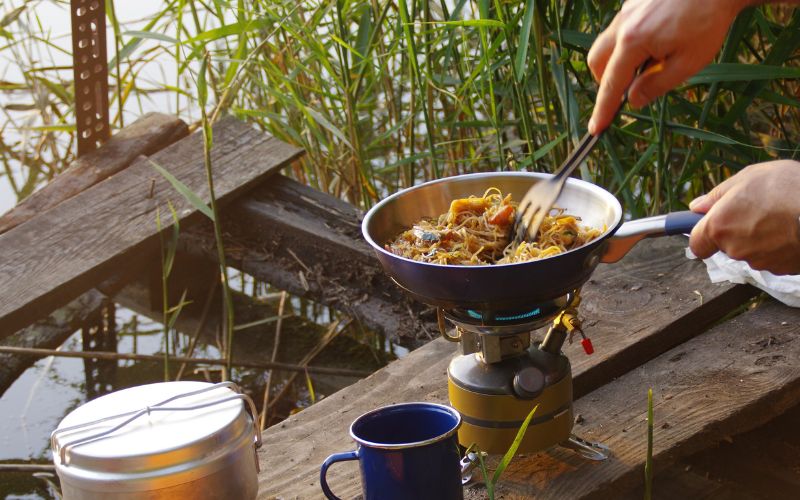 Weight
The above pans range in weight from 4.3 ounces (Boundless Voyage Titanium) to 22.2 ounces (GSI Outdoors Glacier), so the difference in terms of portability is significant. Needless to say, lightweight pans are the best option for thru-hiking or multi-day backpacking, while heavier ones are a good pick for shorter trips if you need a larger cooking surface.
As the above example demonstrates, there's almost always a direct correlation between size and weight, which may make you reconsider just how big you want your fried feasts to be!
Material
Aluminum, steel, titanium, or iron?
Aluminum is a popular choice because it's lightweight, cheap, and heats up evenly across the pan. However, it's also not as durable as other materials and can be easily damaged.
Stainless steel pans like the GSI Outdoors Glacier are more durable than aluminum, but they're also heavier. Cast iron models are even more durable, but they're also heavier still, so we'd only recommend them for car camping.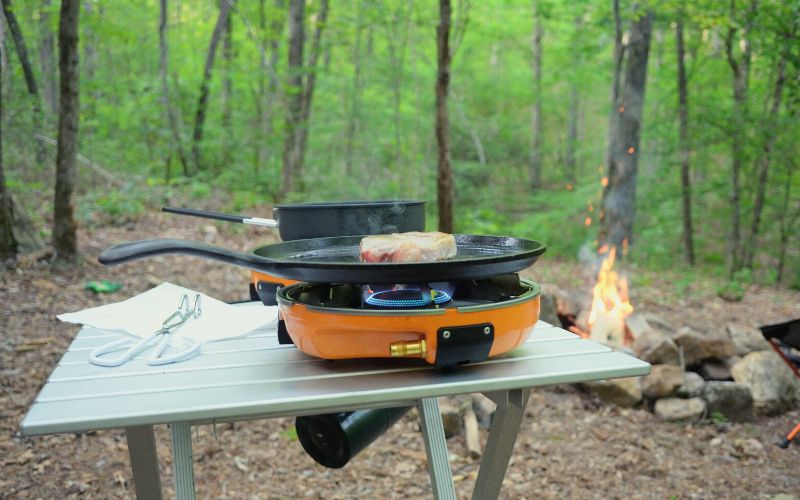 Titanium pans are the lightest of the bunch but don't distribute heat evenly, so won't cook food as evenly as other materials.
Ultimately, the best material for a backpacking frying pan depends on your individual needs and preferences.
Ease of Use
What makes one backpacking fry pan easier to use than the other? The most important things to consider are the use (or absence) of a non-stick coating, the handle, and how easy it is to clean.
Using a frying pan almost always entails a fairly labor-intensive minute or two of clean-up after cooking. If this sounds like too much hassle to you, you might want to choose a model with a non-stick lining like the GSI Bugaboo, Jetboil Summit Skillet, or Sea to Summit Alpha.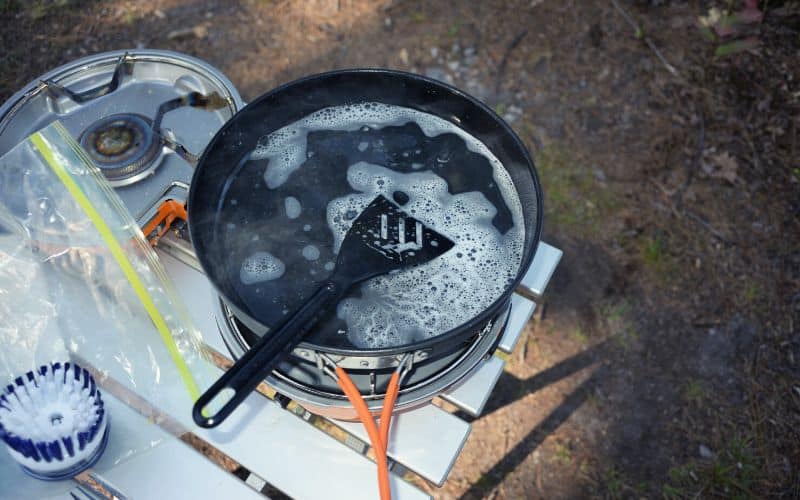 While non-stick frying pan coatings make cleaning easier and reduce the risk of burning your eats, they do however have a few drawbacks. For starters, some coatings have been shown to contain PFOA (perfluorooctanoic acid), which could be as damaging to your health as the name suggests.
Coatings are also pretty delicate, so you'll have to be much more careful when cleaning. This isn't the case with iron on stainless steel models, both of which you can scrub to your heart's content, even with steel wool, without causing any significant damage.
Lastly: handles. Removable handles or collapsible handles are the way to go as both reduce the amount of space the pan takes up in your pack. All models reviewed on our list have at least one handle, with the S2S X-pan having two.
Best Frying Pan for Backpacking: The Verdict
Unsure which is the best backpacking frying pan to add to your outdoor cooking gear? Just in case you are, let's have a short recap of our top picks.
Our favorite frypan is the Sea to Summit Alpha. The Alpha ticks every box – it's lightweight, tough, PFOA-free, distributes heat evenly, and takes up very little space in your pack.
If you're looking for a cheaper option, we recommend the GSI Bugaboo Frypan, which is a fraction on the heavy side but otherwise a great frying pan for everything from gourmet campfire cooking to breakfast pancakes.
Happy backpacking!
If you liked this article or have any questions, let us know in the box below. And if you'd like to share it with your friends, please do!