There are dozens upon dozens of worthy axes out there, leaving many would-be buyers scratching their heads when it comes to choosing the best option for their needs. From all the axes we put through their paces, we selected our 11 favorites to help you decide.
Below, we provide our feedback on each axe as well as a detailed buying guide to help you choose the perfect axe for you.
At a Glance: Quick Recommendations
What is the Best Hatchet or Camp Axe?
Whether you're looking for an affordable axe to split firewood or something a little more versatile our reviewers have shortlisted the following models for you.
Gerber 17.5-Inch Freescape Hatchet
Estwing Sportsman's Axe
Husqvarna 13" Wooden Handle Hatchet
Gerber Pack Hatchet
SOG Camp Axe
Columbia River Kangee T-Hawk
Fiskars X7 Hatchet
Schrade SCAXE2 Survival Hatchet
Estwing E44A Camper's Axe
Gransfors Bruks Small Forest
LEXIVON V14 Camping Hatchet
Gerber 17.5-Inch Freescape Hatchet
Editor's Choice
Materials: Forged steel blade, composite handle ⸱ Weight: 2 lbs. ⸱ Overall length: 17.5"
The best camping axe we tested was the Gerber Freescape. While the Freescape is available in multiple sizes, we found the 17.5-inch model offered us the most versatility, making it capable of carrying out both smaller and larger tasks with ease.
Weighing in at 2 pounds, the Freescape strikes a happy medium between the ultra-lightweight axes in our review and the beefier, car-camping models designed for high-volume wood processing.
The Gerber combines a lighter composite handle with a hefty, forged steel blade to optimize balance and provide far superior striking power to most of its straight-shafted competitors.
The lightweight composite handle also absorbs shock better than almost any other axe in our review and is grippy enough to reduce slippage, even when using the tool in wet weather or when working up a sweat.
Another nice touch is the PTFE-coated blade, which is designed to reduce friction and provide a clean chop or cut. We didn't expect this feature to make much of a difference in practice, but it did!
PROs

Versatile
Good grip
Shock-absorbent
PTFE-coated blade
Affordable

CONs

Will be a little heavy for some
Bottom-Line: A relatively lightweight and portable model that oozes quality and hits the sweet spot between backpack weight savings and striking power.
Estwing Sportsman's Axe
Best Value
Materials: Leather, Tool-Grade Steel ⸱ Weight: 1.86 lbs. ⸱ Overall length: 14″
This one-piece, lightweight tool is the perfect camping companion for buyers who like to get their chop on around camp but ain't too keen on carting too much extra poundage in their pack.
Estwing is an American company that has been manufacturing axes, pry bars, and hammers that have served their users for well over 100 years. The company's Sportsman's Axe is a sleek, tidy little tool that weighs in at a mere 1.86 pounds but packs enough punch for light wood splitting and chopping.
The Sportsman has a comfortable, leather-covered handle that is easy to grip and uses a hand-sharpened blade forged from a single piece of steel.
This makes it great for performing more delicate campsite tasks like food prep, whittling, or delimbing branches, while its 14" length offers a little more leverage to boost strike power and make up for the lighter weight of the head.
This axe also comes with an easily removable sheath, has a sharper edge than many of its weightier competitors, and has a nicely sized butt-end that's perfect for hammering in tent pegs or stakes or even tenderizing your steak dinner!
PROs

Sharp cutting edge
Ballistic nylon sheath
Compact size

CONs

Not ideal for large wood-processing jobs
Bottom-Line: A lightweight, low-cost model that's great for backpacking trips and splitting smaller pieces of wood or making kindling around the campsite.
Husqvarna 13" Wooden Handle Hatchet
Best Wooden
Materials: Hickory handle; hand-forged Swedish steel axe head ⸱ Weight: 2.24 lbs. ⸱ Overall length: 13″
If you are keen to get your paws on the most classy-looking camping hatchet out there, look no further than this.
Husqvarna has a 300-year history of producing high-quality, last-a-lifetime products, from rifles and shotguns to sewing machines, motorcycles, and lawnmowers. But it's in the camping axe market that this prestigious Swedish brand really makes its mark.
When it comes to weight and packability, this wooden hatchet is a true winner, using a 13-inch shaft that provides enough leverage for solid strike power yet weighing in at a very portable 2.24 pounds. This makes it ideal for light cutting, building shelters, splitting small pieces of wood, and driving in your tent stakes.
PROs

Compact
Quality materials
Good strike power for its size
Ideal for splitting small logs

CONs

Heavy for its size
Pricey
Bottom-Line: A classic, no-nonsense kinda axe that's built to last a lifetime and, dare we say it, is a bit of a handsome devil in the looks department.
Gerber Pack Hatchet
Most Portable
Materials: Stainless steel with rubber grip ⸱ Weight: 1.3 lbs. ⸱ Overall length: 9.5″
If portability is your main concern, look no further than the Gerber Pack Hatchet.
Measuring just 9.5 inches, this is the smallest option on our list. It also weighs a mere 1.3 pounds, making it among the lightest, too. Despite its diminutive size, however, we found the Pack Hatchet to pack a reasonable punch. While it won't ever chop logs or limb trees for you, it has enough heft to split kindling and let you carry out other small chopping tasks.
The full-tang construction means the Pack Hatchet feels nice and steady in your hand and is strong enough for swinging strikes.
We are big fans of a few small features included in this hatchet. The best of these are the molded, rubberized handle, which provides great grip, a nylon sheath that can be mounted to your backpack, and a lanyard hole that ensures it stays there when you're on the move.
PROs

Lightweight
Compact
Sharp!
Full-tang
Belt loop

CONs
Bottom-Line: Not the best option if you'll be using it to chop wood, but ideal as a backpacking hatchet for everything else.
SOG Camp Axe
Best Survival Axe
Materials: 2Cr13 Stainless steel blade, glass-reinforced nylon handle (GRN) ⸱ Weight: 1.1 lbs. ⸱ Overall length: 11.5″
If you're looking for something that's the perfect size for backpacking, this lightweight survival axe may be the model for you.
SOG (Studies and Observations Group) has long excelled in making knives and small axes and their combination of strength, multitasking ability, and durability has even made them a standard issue tool for Navy SEAL units and the US Special Forces. Credentials don't come much better than those!
This SOG Camp Axe combines all of the combat-worthy features that have made SOG's products so popular since first being used during the Vietnam War. It's light, tougher than nails, measures just over 11 inches, and uses a super sharp, 3.5-inch blade that's ideal for more delicate tasks around camp.
PROs

Glass-filled nylon handle
Affordable
Lightweight
Compact

CONs

Not suitable for larger tasks
Bottom-Line: Not the best bet for felling or splitting large quantities of wood, but a great option for those who like to travel light and looking for a low-volume, versatile campsite tool.
Columbia River Kangee T-Hawk
Best Tomahawk
Materials: High-performance SK5 carbon steel, Glass Reinforced Nylon (GRN) handle ⸱ Weight: 1.53 lbs. (with sheath) ⸱ Overall length: 13.75″
This tomahawk-style hatchet isn't made for processing large quantities of wood, but is ideal for cutting, trimming, splitting kindling, and campsite food prep.
As mentioned above, tomahawks are primarily combat and survival tools and the Kangee T-Hawk is, simply put a survivalist's dream. It's incredibly versatile, low-volume, incredibly well made given its budget price, and light enough to be carried even on long-distance backpacking trips without overburdening yourself with pack weight.
The Kangee is made with lightweight carbon steel with a glass-reinforced nylon handle. This combo provides a nice weight balance and decent strike power for such a small axe. It also boasts a secondary blade on the top of the head that allows you to cut, trim, and slice with more precision when need be.
The full-tang design used in this product makes it very easy to handle and absorbs vibration nicely when striking harder woods, while the splitting spike on the butt end makes it easier to process chunkier logs than with other models in this weight class.
PROs

Lightweight
Full-tang
Compact
Shock-absorbent handle

CONs

Not suitable for larger tasks
Bottom-Line: A high-quality, lightweight backcountry tool that goes the extra mile in terms of versatility.
Fiskars X7 Hatchet
Bargain Buy
Materials: Forged steel blade ⸱ Weight: 1.38 lbs. ⸱ Overall length: 16.5"
This lightweight, long-shafted axe is ideal for backcountry campers who want an axe that's tough enough to take on larger chopping tasks but light enough not to overload your pack.
Fiskars is a Finnish company with a long history of building rugged and durable hardware. This hatchet was designed in Billnas, Finland, and it's perfect for any camping task, including getting those tent poles in place, chopping up to medium-sized logs of wood, or making kindling to get your bonfire started.
As with all things Fiskars, it's also pretty much unbreakable and built to last a lifetime. It also uses a hugely convenient, textured non-slip grip that effectively absorbs shocks and is great for all-day use.
PROs

Cheap!
Versatile
Portable
Low-friction coating on blade
Non-slip grip

CONs
Bottom-Line: A lightweight but powerful axe that's about as practical as they come for campers heading deep into the backcountry before they do their chopping.
Schrade SCAXE2 Survival Hatchet
Honourable Mention
Materials: 3CR13 Stainless Steel with Glass Fiber Filled PA Handle, TPR Rubber Grip ⸱ Weight: 1.62 lbs. ⸱ Overall length: 12″
Schrade is a well-known manufacturer of knives and outdoor tools and accessories that's been around since 1892 when George Schrade patented the press button switchblade.
Although their trade is mostly in knives, they have wandered into the survival and camping hatchet market in recent years, making scores of high-quality full-tang hatchets, survival hatchets, and axes.
This 1.6-pound, 12-inch model performs well across the board. It offers decent striking power, uses a tough, ding-resistant blade that doesn't require frequent resharpening, and uses a handle that's absolutely ideal for camping in cool conditions.
Because it's made with a protective rubber coating with finger grooves, it's much more comfortable to grip for longer periods than most other designs and far better at absorbing shock. If you've ever tried to sink a regular axe into a stiff chunk of wood on a cold morning, you'll know just how valuable this attribute will be!
PROs

Relatively lightweight
Great handle
Compact

CONs

Too small for splitting logs
Bottom-Line: A compact, lightweight, well-designed hatchet that's ideal for smaller campsite tasks.
Estwing E44A Camper's Axe
Best One-Piece
Materials: Forged Steel ⸱ Weight: 2 lbs. 13 oz. ⸱ Overall length: 17.3″
This Estwing Camper is hand-made in the USA and is one of those no-nonsense, one-piece axes that offers, above all else, lifelong reliability.
Estwing Manufacturing Company is based in Rockford, Illinois. Their founder, Ernest Estwing, was from Sweden and started the company back in 1923. Since then, Estwing has developed a rep for producing high-quality yet low-cost hammers, axes, and other forged tools.
The Camper is another model that sits somewhere between a backpacking and car camping option. It weighs in at 2 pounds and 13 ounces and measures 17.3 inches overall. While this doesn't make it the most portable chopper in our review, it still has plenty to offer that makes it well worth a punt.
First of all, it uses a full-tang design that, together with the rubberized, shock-absorbing handle and curved shaft, make it far less likely to sting on errant strikes or when chopping particularly stubborn wood types. Estwing even claims that this shock-reducing grip reduces vibration and shock by up to 70%.
Secondly, the Estwing's 17.3-inch length means it packs way more cutting power than other axes in the 2 to 3-pound weight range, meaning it's more than capable of slicing through large chunks of wood and a solid choice for high-volume processing.
Finally, the Camper also uses an incredibly sharp bit that stands up well to repeated use and abuse, meaning it provides far better value for money in the long term than pricier competitors.
PROs

Affordable
One-piece
Full-tang
Quality stainless steel
Shock-absorbent grip

CONs
Bottom-Line: A low-cost but high-performing and powerful tool that's as comfortable to use as any other in our review.
Gransfors Bruks Small Forest
Best for Chopping & Limbing
Materials: Wood, steel ⸱ Weight: 2 lbs. ⸱ Overall length: 19"
If you have some more serious lumberjacking to do on your car camping trips, there are few options out there as suitable as the Gransfors Bruks Small Forest.
The GB Small Forest weighs in at 2 pounds and measures 19 inches in length. This means it's not the most portable option out there, of course. But it also means that it offers far superior leverage and head weight than most of the other axes in our review.
Because head weight and shaft length typically translate directly into striking power, this one's a winner for anyone who envisions using their axe for high-quantity processing, felling small trees, or any other larger and tougher tasks.
In terms of quality, this product is truly hard to beat, too. It's made with a forged steel head with a 4-inch, broad edge that slices through tougher woods with absolute ease, even when striking against the grain. The shaft is also as robust as they come and curved into a nice ergonomic shape for easy handling.
PROs

Super-sharp
Powerful
Quality stainless steel head
Ergonomic shape

CONs

Pricey
Not the most portable
Bottom-Line: While too heavy and bulky for backpacking, this axe's raw power makes it ideal for car campers who plan on using the axe primarily for splitting firewood, felling trees, limbing, or building makeshift woodcraft shelters in the wild.
LEXIVON V14 Camping Hatchet
Best Budget
Materials: Hi-Tech Fiberglass Composite Injected Handle, Drop-forged Grade A High-Carbon Steel ⸱ Weight: 1.45 lbs. ⸱ Overall length: 15″
This quirky-looking camping hatchet might lack the old-school aesthetics of the hickory-shafted items above, but is a good choice for those looking to balance portability with striking power.
The V14 weighs just 1.45 pounds but uses a 15-inch shaft that provides plenty of power-boosting leverage when swinging at larger logs and branches. The lightweight shaft also makes weight distribution surprisingly effective and the textured handle makes for easy, slip-resistant handling.
While there are more suitable options out there for processing large volumes of wood, this one's a solid option for buyers keen to have an axe for every occasion, whether that means a backcountry backpacking trip, a car camping trip, or light use around the home.
PROs

Good for chopping firewood, cutting angles, and driving stakes
Two protective sheaths
Versatile

CONs

Not as powerful as other axes of its size and weight
Bottom-Line: A lightweight, effective little hatchet that's agile enough for more nimble tasks but long and powerful enough for heavier chopping and splitting.
Our Top Picks by Category
Budget: Gerber Freescape, Gerber Pack Hatchet, Fiskars X7, LEXIVON V14
Hatchet: Gerber Freescape, Husqvarna 13′ Wooden Hatchet, Gerber Pack Hatchet, Fiskars X7
Axe: Schrade SCAXE2, Estwing Camper's, Estwing Sportsman's, Gransfors Bruks Small Forest
How to Choose the Best Camping Hatchet or Axe?
Camping axes aren't like any other part of your equipment. Choose wisely, and the chances are you'll have a chopping companion for life, not just a few seasons. But what makes the difference between a wise choice and an unwise one? Below, we've added a quick, at-a-glance overview of the important factors to consider.
Weight
Primary Purpose
Strike or Chopping Power
Materials
Weight
What are you using your axe for? Car camping or backpacking? If car camping, then weight is less of a concern. If backpacking, it's best to opt for a model that weighs less than two pounds.
Primary Purpose
Do you want to split, chop, or have a great multitasker? For splitting and chopping, the best axes have curved handles, longer shafts (16"-25") and a wider head. For more delicate tasks that require more precision, a sharper, narrower blade and hatchet-style axes with straight shafts are usually more convenient.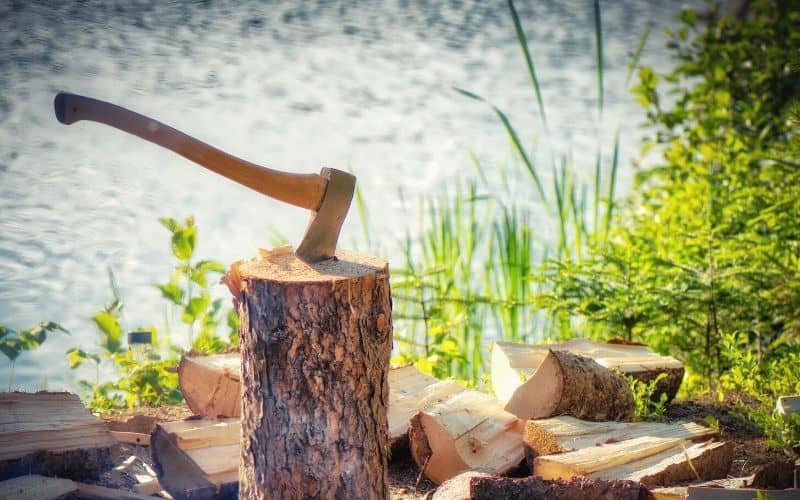 Strike or Chopping Power
An axe's strike power – i.e. the force that can be generated with it when swinging – usually corresponds more or less directly to the length of the shaft and the weight of the head. In short, longer shafts and heavier heads provide greater strike power, while shorter shafts and light heads will require more brute force from the user.
Materials
Different axes and hatchets use different types of materials in their construction. As a general rule, the best of the bunch are made with forged steel heads and hickory shafts, but in recent years plenty of highly effective models that use carbon fiber or GRN (Glass-Reinforced Nylon) shafts have hit the market.
While wooden shafts offer classy aesthetics and a nice feel when striking, synthetic materials often provide better grip and shock absorption.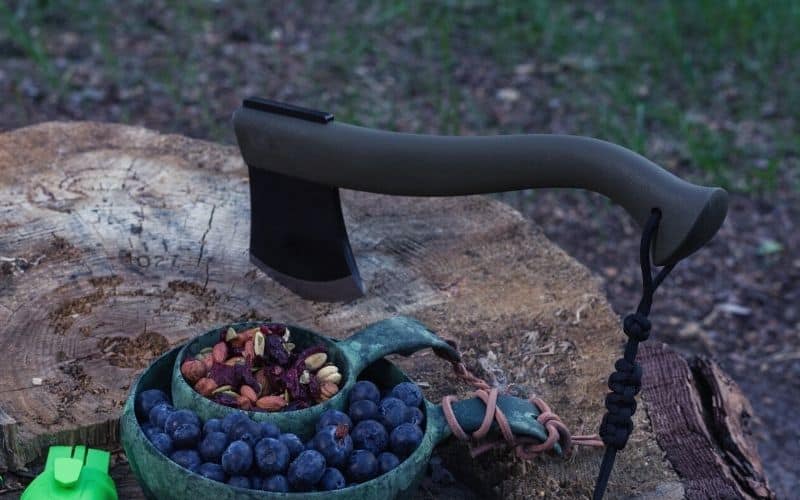 Do I Need A Camping Axe?
Few backcountry accessories are quite so capable of making you feel as badass as a great camping axe.
But a camping axe is far more than a simple symbol or bringer of backcountry swagger – it's also a versatile piece of kit that, perhaps more than any other, can supercharge your independence, survival skills, and self-efficiency out in the wilds.
Whether you're deep in the wilderness trying to chop firewood to size or constructing a makeshift shelter or out car camping with the kids, an axe can be an indispensable tool.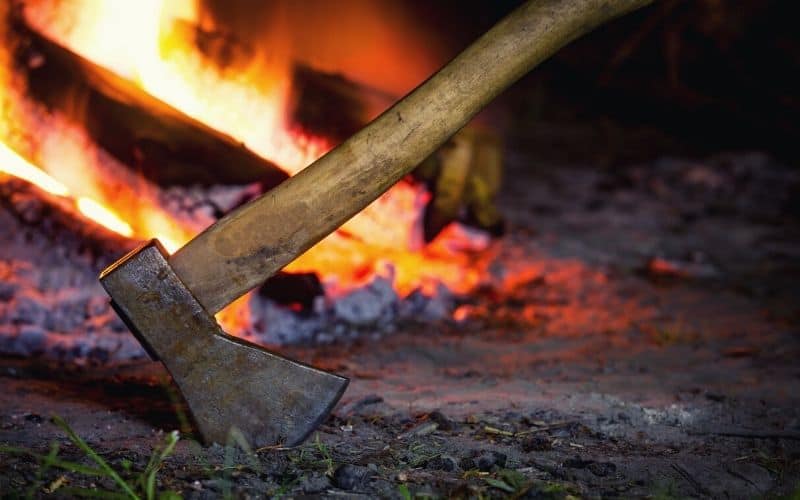 In addition to processing wood, it can be used to hammer in tent stakes, for food prep, self-defence, as a pry bar, and, of course, for the odd axe-throwing competition with your camping chums.
What's the Difference Between Camping Axes and Hatchets?
At first glance, hatchets and axes for camping look very similar. So what's the difference?
Hatchets tend to be more petite, a bit easier to handle and have thinner and smaller blades. This makes them ideal for lighter tasks like trimming firewood or kindling and even a little bit of camp kitchen food prep. For the most part, hatchets are similar in appearance and structure to tomahawks. Which, of course, begs the question: "what's a tomahawk?"
Tomahawks are general-purpose defence and bushcraft tools traditionally used by Native Americans. Originally made out of bone, over the years they've evolved into slim metal axes with a straight shaft. This sleek design makes both hatchets and tomahawks great for multi-tasking, but not quite as effective as axes for processing wood or chopping.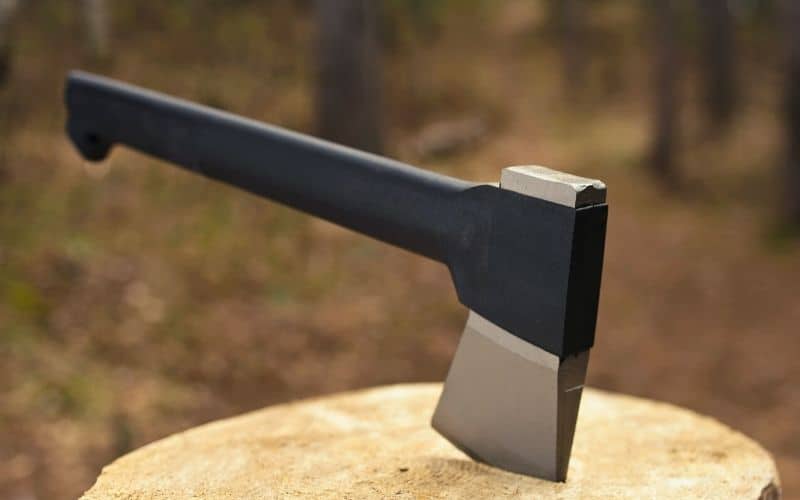 Camping axes, on the other hand, are typically much larger, heavier, and are designed almost exclusively for chopping and splitting wood.
Axes designed specifically for splitting wood are called splitting mauls. These come in particularly handy if you have a whole tree or log to process. They use a more rounded, wider head shape that forces apart the fibres in the wood when striking.
Mauls are usually made with softer metals that allow you to strike their poll or butt (the side opposite the blade, often called the 'hammer head') with a mallet or hammer. Standard axes, conversely, are made out of much harder metals that could split if struck with a metal mallet.
How Should You Maintain a Bushcraft Axe?
Camping axes and hatchets need regular maintenance to stay in good shape. Below, we offer some insights into how it's done.
These are the tools you need for axe maintenance:
Leather gloves
Dust mask
Sandpaper – 180, 320, 400 and 800
Electric sander
Wire wheel/bench grinder
Cleaning Your Axe
Here are a few tips to remember when cleaning your axe.
Clean your axe after each use by wiping it down with a cloth or rag
Use oil to moisturize and condition the wood in the shaft
Use fine-grit sandpaper to clean the blade/head of your axe if any dirt is ingrained
Sharpening Your Blade
Follow the steps below when sharpening your axes blade.
Use a knife sharpener, file, or whetting stone
Bring your sharpener to the blade, not the other way around
Use a heavy-duty file if your axe blade is really dull or damaged
Follow through with a finer sharpening stone or a knife sharpener to get a razor-sharp edge
If your blade has dents or dings, you can start with a go-over with a wire wheel, then an electric sander, to restore a sharp edge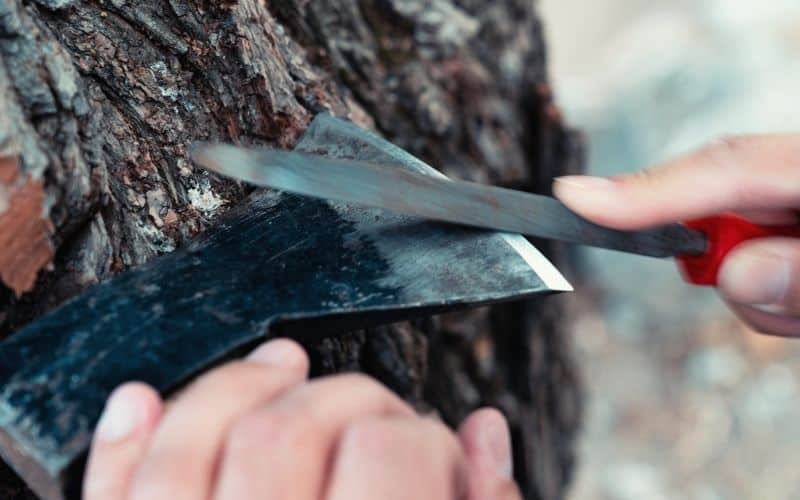 Wooden Axe Handle Maintenance
To keep your axes handle in could shape follow the following tips.
Wash away any dirt on the handle
Towel-dry the handle
Apply linseed oil with a paper towel
Choose a warm day for treatment – this helps the wood absorb the oil
Repeat this process at least once a year
What Axe Safety Tips Should You Know?
Because using an axe is a little riskier than using, say, a spork (!) or any other gear items we've reviewed elsewhere, before leaving you we thought we'd add a little note on axe safety and maintenance:
Always use your tools the right way
Only swing a full-size, tree-felling axe with two hands
Lash your axe or hatchet to your backpack when you're hiking to minimize the risk of injuring yourself or others
When walking with your axe, always carry it blade down
Don't take the sheath off until you are ready to use your axe
Make sure your tools are sharpened – like knives, it's more dangerous to use a dull blade
Make sure the area around you is clear of clutter and obstacles, such as rocks, when cutting
Don't use your whole strength to chop, but focus on accuracy with your hit and use the tool's momentum
Finally, inspect the axe or hatchet for any damage before use, especially if it's not made with single-piece construction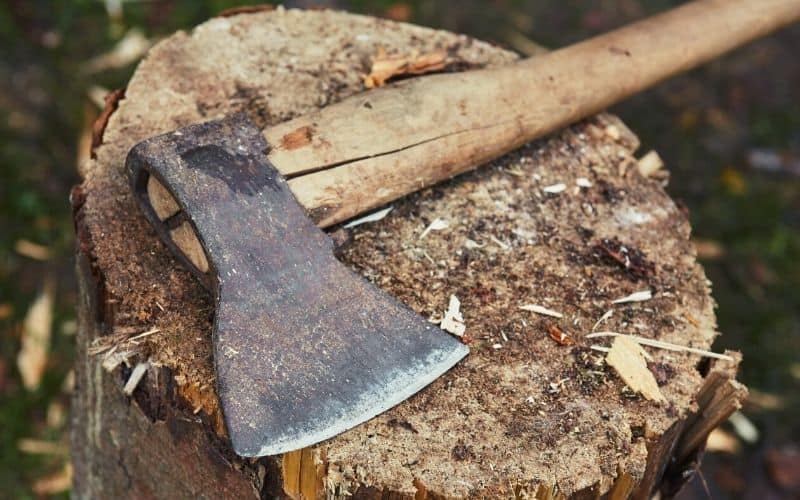 Best Camp Axe: The Verdict
Whether you're off-roading and trying to get your truck through rough territory by clearing felled trees, or car camping and just want to chop some firewood and knock in some tent stakes in, you need the right tool for the job.
Above, we've introduced you to eleven camping axes that fit that description perfectly. While each one is designed for use in different scenarios, they all have in common lifelong durability, quality craftsmanship, and the kind of build that will make them your go-to camping companion for many years to come.
Our pick of the bunch is the Gerber Freescape Hatchet. The Freescape is everything that most people need in a camping axe. It's relatively light and compact, it's powerful enough for splitting and limbing, and yet nimble enough for more delicate jobs. It doesn't hurt that it's very fairly priced, either!
If you need something more compact, we recommend the Gerber Pack Hatchet. This hatchet is tiny and lightweight but will do everything you need it to do besides chopping logs.
Did you like our article? If so, please feel free to comment, like, or share with your friends!