Editors Choice
Black Diamond Apollo
When choosing from the best camping lanterns, several models stood out as a contender, but the overall winner goes as the best camping lantern goes to the Black Diamond Apollo.
The Apollo sits at a sweet spot where its 250 lumens max brightness, and 25 hours of burn-time should be sufficient for most regular camping trips. Yet at only 12.1 oz (344g), and the ability to use either a rechargeable battery or regular alkaline batteries makes it equally suitable for backpacking.
If you want a longer/brighter camping lantern and don't mind the extra weight, then we'd recommend packing the Streamlight The Siege. Alternatively, if you want something lighter for longer backpacking trips, then the Goal Zero Lighthouse Mini V2 would be a great alternative.
Bottom line: Great specs across the board make the Black Diamond Apollo one of the best camping lanterns available. No matter whether your camping style is light and fast, or with some creature comforts.
2021 Guide to the Best Camping & Backpacking Lanterns
Need a good camping lantern for your next trip?
You're in the right place! In this guide, we will be covering the following:
Which important features to consider in the best camping lanterns
Reviews of the 11 best camping lanterns
Our favorite camping lantern
Camping season is here!
The best lanterns for camping are a must-have piece of camping kit for your next adventure. Whether you're backpacking, car camping or just looking to light up the night sky with friends, these top 11 lanterns will do the trick.
We have reviewed 11 of the best camping lanterns so you can find one that suits your needs perfectly. Whether you want something small and lightweight or bright enough to light up an entire campsite, there's a perfect option for everyone in our list below.
Whether you're a seasoned camper or just starting out, these top-rated products will help make your next trip easier than ever before. Make sure to check out our list of important features to consider to ensure you match your needs to the perfect camping lantern – and get ready for an amazing adventure in the great outdoors!
Let's find your perfect camping lantern today!
Buyer's Guide: How to Choose a Camp Lantern
Power Sources
Fuel Burning Lanterns
Traditional gas lanterns are iconic in design, but they've declined in popularity as of late. While these lanterns are brighter and have an adjustable flame to control light intensity, traditional camping lanterns suffer from safety concerns.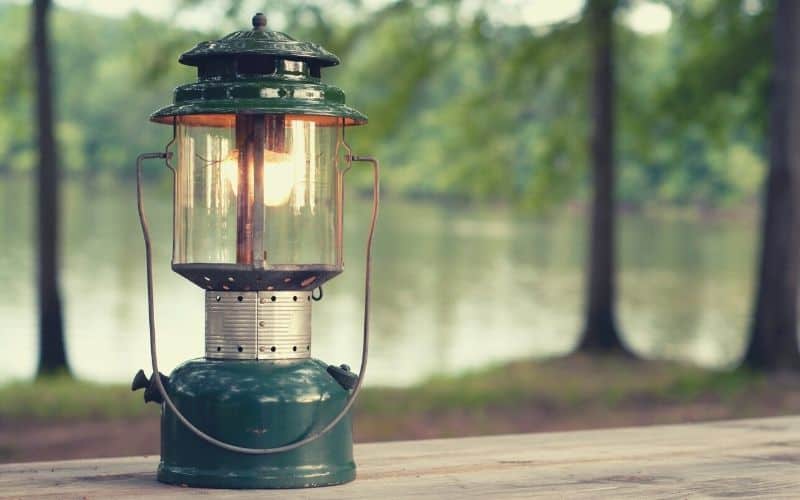 Gas-powered lanterns are dangerous to use in tents because they emit toxic fumes and generate a lot of heat.
If you're a traditionalist in terms of design or need to light a large outdoor area then a gas-powered lantern may be the way to go.
Battery Powered Lanterns
Nowadays, the most popular lamp power sources are disposable and rechargeable battery-powered lanterns.
In comparison to traditional camping lanterns, LED electric lanterns are safer, meaning they're tent, dog, child-friendly. In addition, battery-powered lanterns have a superior "burn time", meaning you won't be left in the dark too early.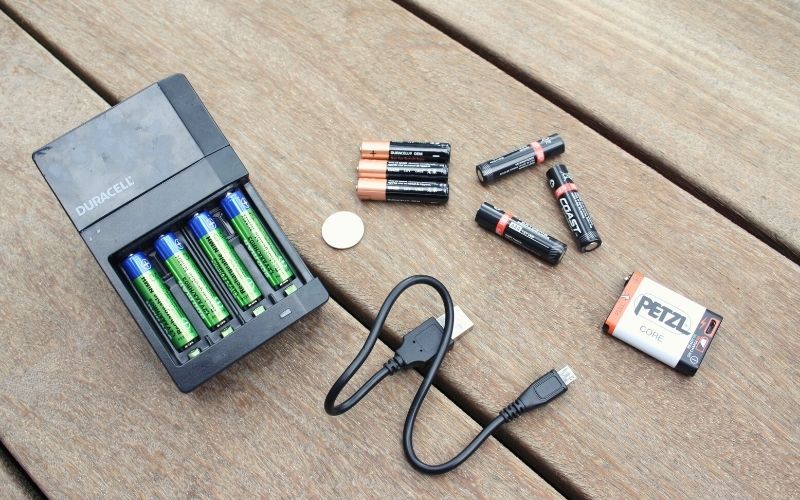 If safety and longer battery life aren't enough to convince you then electric lanterns tend to be lighter and more durable than their gas-powered compatriots.
The downside to battery lanterns is the frequent need to replace the batteries, which will discharge even when in storage.
Increasingly, rechargeable batteries are becoming the norm in most lanterns as a power source. These lightweight batteries can be charged and discharged hundreds of times making them a much more environmentally friendly option.
Rechargeable Lithium-ion batteries are typically charged with micro-USB cords connected either to a power outlet, battery pack, portable solar panel, or a built-in solar panel.
Pro-Tip: Always fully charge or replace with a fresh set of new batteries before every trip.
The main issue with rechargeable batteries is that once you've run the battery down, you'll need an external power source (outlet, battery pack, or the sun) on hand to charge it up again.
On the flip side, disposable alkaline batteries are small & easy to carry, meaning there is no excuse not to take backups.
Some of the best camping lanterns like the Black Diamond Apollo have an internal rechargeable Li-Ion battery and are also compatible with 3 AA batteries. This gives you the benefit of rechargeables with the redundancy of disposables – the best of both worlds.
Brightness (Lumens) & Light Quality
One of the banner specifications manufacturers will specify is a camping lantern's brightness given in lumens. The higher a lantern's lumen output, the greater its light intensity.
For the technically inclined, one lumen is equal to the intensity of one candle shone onto an area of a meter square. Thus, the 210-lumen Goal Zero Lighthouse Mini is equivalent to the light output of 210 candles.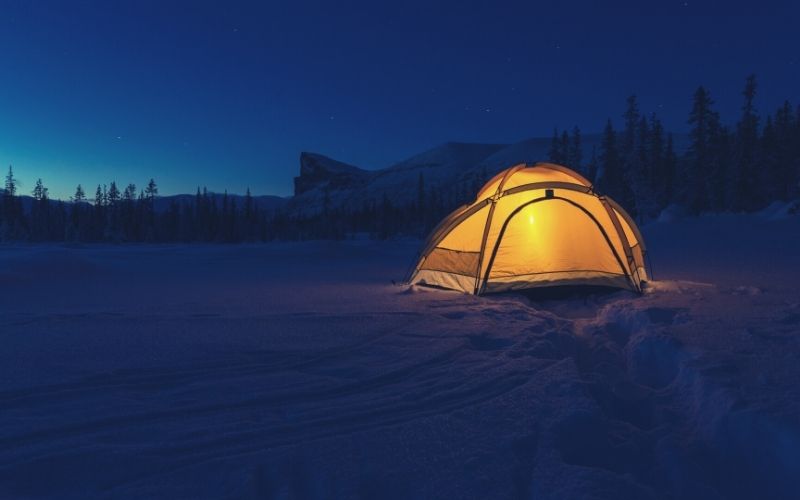 The camping lanterns we've tested range from Goal Zero's Crush Light's 60 lumens up to the staggering bright light of the UST 60-day Duro Glow at 1200 lumens.
How much light you need depends on your usage, but we recommend the following as a rough guideline:
60 to 100 lumens: Gives pleasant glow perfect for reading in a small tent
100 to 200 lumens: Perfect for solo-use or a two-person tent
200 to 600 lumens: Great for group use
600+ lumens: Enough light output to light up a room or a large outdoor area
If you like your lantern to light a large area, all-out brightness is a good thing. However, lower light outputs are easier on the eye late into the night.
In fact, we've found there is such a thing as too bright. Particularly for certain tasks or situations.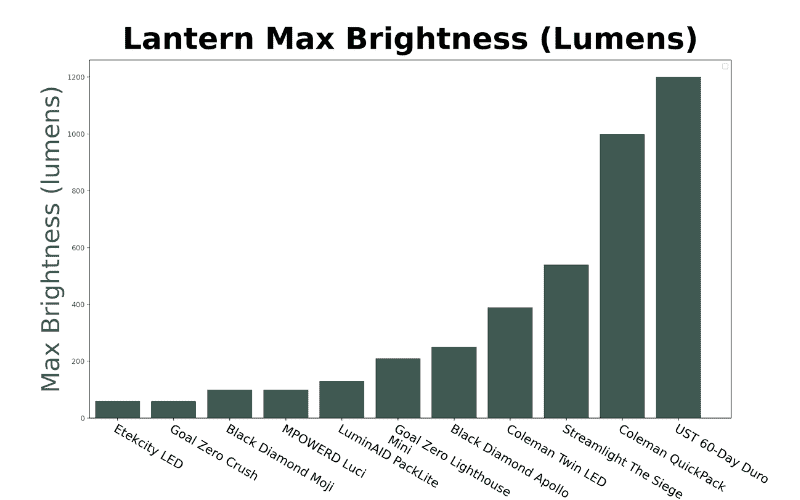 In our opinion, the quality and adjustability of the light are more important than the max brightness alone.
All the lanterns featured have multiple brightness settings available. However, a continuous dimming feature is one "upgrade" that we recommend almost as a must-have. This will allow you greater flexibility in adjusting the brightness level to suit the task at hand.
The quality and color of a lantern's light is another key consideration, with a spectrum of light tones available. These range from bright white most suited to illuminating a large area, to a warmer orange glow, better suited for reading.
The more you move towards the red end of the light spectrum, the easier on the eye the light becomes. Too far towards the cooler-blue-white end like the Etekcity and you can feel like you've been caught in a prison light spotlight.
Lastly, the casing plays an important role in helping to diffuse the light, making it softer and easier to look directly towards.
Burn Time (aka Battery Life)
When you're camping or backpacking for extended periods of time, the battery life of your camping lantern is an important consideration.
A good tip is to calculate the approximate number of hours each evening your group will need light. Multiply this by the number of days of your typical camping trip and, hey presto, you've got a baseline number to work with.
Bear in mind that the "headline" number of hours of light output given by lantern manufacturers is typically given for the lowest setting. If you run your lantern on the maximum brightness, then expect a significantly shorter burn time.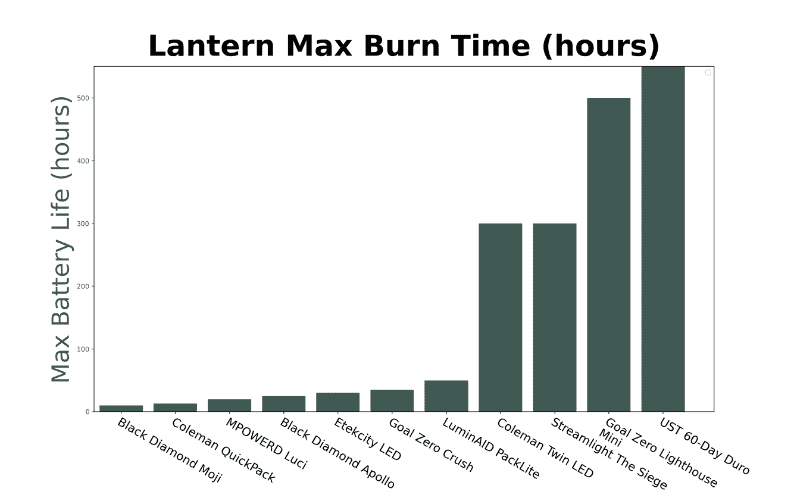 For example, the Streamlight Siege can run for just shy of 300 hours on its lowest brightness output (55 lumens). Crank that up to its max brightness of 540 lumens, and you'll drop the battery life to around 30 hours.
Specs should also be treated with skepticism as we've yet to find a lantern that performs in the wild to the manufacturer's battery life claims.
For longer car camping adventures it makes sense to choose a heavier lantern such as the Siege or the UST Duro which can keep emitting light for even the longest of trips.
Longer backpacking trips will necessitate looking for a lantern that has its own solar panels (such as the LuminAID Packlite Max) or bringing along a portable battery pack, solar charger, or one that takes disposable batteries (like the Black Diamond Apollo).
Durability & Water Resistance
Like most pieces of outdoor equipment, durability and resistance to water are key to owning a long-lasting lantern. While all the models we've tested will hold up well to the rigors of camping, some still perform better than others.
If you need a lantern that can take battering then impact-resistant plastics, and rubber such as seen on the UST Duro or the Streamlight Siege help protect the lanterns from accidental drops and falls.
Unsurprisingly the lighter lanterns are made with less durable materials, but the products we tested all held up well to the demands of the backcountry.
The most susceptible ones to damage are inflatable solar lanterns like the LuminAid Packlite, or string lights such as the MPowered Luci, where punctures or fraying respectively could place them in early retirement.
Water and dirt are an inescapable part of spending time in the outdoors, both of which don't mix particularly well with electronic products. The IP rating system is a standardized international system for rating the protection provided against intrusion, dust ingress, and water. It's made up of two numbers, the first is the solids protection (rated from X – 6) and the second is the product's water resistance (rated from 1-8).
The higher the number the more protection is offered by the lantern from solid or liquids. For more details on the IP ratings take a look at the following chart: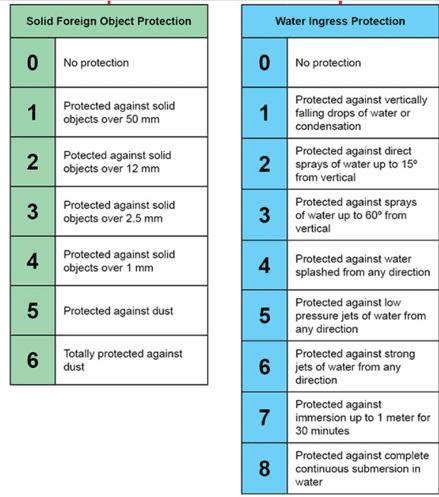 All of the electric LED lanterns we've reviewed are a minimum of IPX4 rated, which means they can handle splashes of liquid (i.e. light-moderate rain). At the top end, the LuminAid Nova (IP67) and the Streamlight Siege (IPX7) are the highest-rated and can be submerged (for a short time) without issue.
Ease of Use
For ease of use, electric lanterns win hands down over propane lanterns. A simple on/off switch is much easier to operate than trying to get your gas lantern to light.
If you're looking for something basic then you can't get much simpler than a large, and easily accessible on/off switch (or dial) and a hook to hang your lantern – the Coleman Twin LED is a good example of such a camping lantern.
Beyond this then the intuitiveness of selecting the correct light mode should be frustration-free. This is where we feel dimmable lanterns such as the Goal Zero Lighthouse or the Black Diamond Apollo win over products like the Goal Zero Crush or UST Duro where you have to cycle through light levels.
Pushing a button multiple times may seem like an easy operation, but the lighting you require may be between two brightness settings (sometimes necessitating cycling through them all more than once to find the right setting). In instances like this, simply turn a dial to the desired brightness is (in our opinion) the better option.
Setting up your lantern should be a piece of cake, whether you plan to set it down somewhere or hang it.
Wider bases or camping lanterns with legs are the better options for getting them to sit well on uneven surfaces. The rubber-tipped legs of the Black Diamond Apollo made it a cinch to find a place to set it down at dispersed campsites.
If easy hanging is your wish, then look for good hooks (again the Black Diamond Apollo's twin hook design is a winner). Also, pay attention to a lantern's weight, as heavier lanterns are much harder to suspend. At 1.5kg and with a small recessed hook, the UST Duro is not great for hanging.
If you opt for a rechargeable lantern then take a look a the charge time (particularly for a solar-powered lantern). Longer charge times like the 7 (USB) to 16 hours (solar) charging time of the MPowered Luci may not necessarily fit with your itinerary.
Weight and Packed Size
The importance of weight and packed size on your decision-making comes down to your intended style of camping.
Unless your campsite is a long distance from the car park, then the packed size and weight won't be an issue for car camping.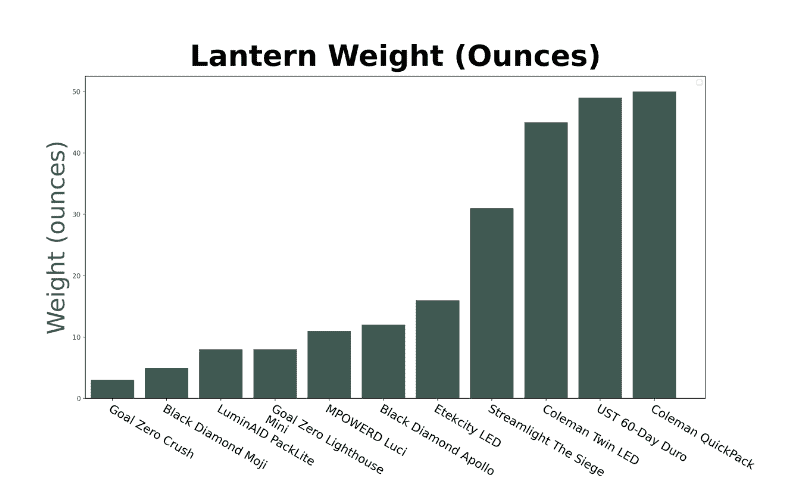 If you plan on backpacking, you're going to want a lantern that is lightweight and doesn't take up a lot of space. We'd recommend nothing larger than the Black Diamond Apollo (12 ounces) depending on your other gear requirements.
Ultralight backpackers and serious gram counters will likely want to opt for something even lighter. The Goal Zero Crush (3.2 ounces) and the Black Diamond Moji (4.3 ounces) being two of the lightest camping lanterns we would recommend.
Further reading: If you're looking for something more lightweight, then check our guide to the best headlamps for hiking & backpacking.
Additional Features
While not essential to the lantern's main function, extra features can help make like in the wilderness that little bit easier.
One of the more popular features seen on the best camping lanterns like the Goal Zero Lighthouse is the ability to charge other mobile devices like your phone or GPS unit via USB. Definitely, a handy function if you intend to be out on a longer camping trip.
Power runs out unexpectedly? Several of the lanterns, such as the LuminAid Packlite or the Black Diamond Apollo have a battery life meter. It's a useful function to keep an eye on…and turn down the brightness level if you need light for a little bit longer. While it didn't make the final cut, the Goal Zero Lighthouse 400 features a hand-crank so you can manually power up your lantern.
One feature useful feature we'd like to see on more light sources is a night vision mode – red lighting is an unintrusive light setting that won't disturb your tent mates' sleep. It also doesn't dilate your pupils like white light does, meaning you'll be able to see while retaining your night vision
Beyond this, there are camping lanterns with other interesting features such as flashlight mode, or directional light settings. While handy, these features are unlikely to be useful enough to sway your decision one way or another.
The 11 Best Lanterns for Camping
LuminAID PackLite 2-in-1 Inflatable Lantern
Best Solar Lantern
Our top pick as the best solar-powered lantern goes to the LuminAID Packlite 2-in-1. Providing up to 50 hours of warm light (on the lowest setting), it has the longest battery life of all the solar power lanterns we reviewed. Combine that with a 10 hour solar charge time (or 1-2 hours using the micro-USB port) it beats out the competition for speed of charging too.
With 5 brightness levels, we found its 130 lumens of light on its highest setting more than enough to light smaller backpacking campsites. At only 8.36 oz (237g) and with a pack size of only 6″ x 6″ x 1″, it's a great choice for lightweight backpackers who want something for shorter trips (or longers one's with reliable sunlight).
Other cute features include the ability to recharge your phone, a battery meter to ensure you're never in the dark, and the fact it floats.
While it is made with rugged thermoplastic polyurethane and is IP67 rated, due to its inflatable nature, any small puncture and it's done. While 130 lumens is probably more than sufficient to light most backpackers' campsites, it is one of the dimmer options we reviewed.
PROs

Fast solar charge time
Long battery life (for solar rechargeable)
Compact & Lightweight
Waterproof & even floats
USB port for your phone, GPS & other devices

CONs

Not a very bright lantern
Concerns about punctures
Bottom-Line: Backpackers looking for a lightweight and packable solar rechargeable lantern would be hard-pressed to find a better option than the LuminAID PackLite 2-in-1.
Black Diamond Apollo
Editors Choice
Depending on your use, arguments could have been made for several of the tested lanterns ending up as our best camping lantern. When pushed into a corner we'd have to choose the Apollo as the best camping and backpacking lantern.
The Apollo sits at a sweet spot. With 25 hours of burn time, and weighing in at 12.1oz (344g) it is light enough and has enough battery life to be a great choice for a short backpacking trip.
At 250 lumens on max brightness, a diffuser globe gives off a pleasing light and dimmable lighting. It is plenty bright enough to light the entire campsite for smaller car camping groups.
Possible the stand-out feature of the Apollo is the ability to use either the Li-Ion rechargeable battery or standard AA batteries. Giving you the eco-friendliness of rechargeables with the redundancy of battery-operated lanterns.
The rubber-tipped folding legs are excellent at creating a stable base, even if your campsite resembles the lunar surface. Combine that with the best hanging hooks we saw, and you'll have no campsite frustrations setting the Apollo up.
If we're going to be hard on the Apollo, then the run-time on a single charge is middling to low, particularly when compared to the 60-day runtime of the UST Duro or the 500 hours of the Goal Zero Lighthouse.
PROs

Takes rechargeable or standard batteries
A lighter option that still gives a good light output
Collapsible lantern stand give great stability
Dimmable lantern

CONs

Middling runtime
Dimmer can be fiddly
Bottom-Line: In a very close call, the excellent performance across the board pushes the Black Diamond Apollo into first place as the best camping lantern.
Black Diamond Moji
Best Value
The Black Diamond Moji is our value pick. This darn cute frosted globe produces 100 lumens of ambient light on the highest setting from its TriplePower LED lights. Which is plenty bright enough to illuminate a small tent for an incredibly low price.
The Moji takes three AAA batteries and will give you up to 10 hours of light. It has one of our favorite features a dimmer switch, and its brightness memory will ensure you don't blind yourself next time you turn it on.
Weighing in at 5.5 oz (including disposable batteries), and with a pack size of 5″ x 4″ x 3″ it's a great inexpensive option for short backpacking trips, or as a secondary lantern. The minimal weight and the well-designed collapsible double hanging hook make it the perfect overhang light source for your tent.
The Black Diamond Moji is unlikely to win many fans if you need a brighter, longer-lasting camping lantern. In which case you should look to its big brother the Black Diamond Apollo, or the Streamlight Siege.
PROs

Compact & lightweight
Inexpensive
Dimmable with brightness memory

CONs

Very basic
Not very bright
Short battery life of AAA batteries
Bottom-Line: A simple, lightweight battery-powered lantern that's great value for hanging inside your tent.
Coleman Twin LED Lantern
If you're looking for a straightforward LED lantern with a dimming switch, then the Coleman Twin LED lantern may just be your ticket. This simple camping lantern can dole out 390 lumens of light on its maximum brightness for a whopping 80-hours. Turn the dimmer dial down low to save battery life and it'll crank out 100 lumens of light for around 300-hours.
This simply designed LED lantern provides enough illumination for a larger group campsite, but thanks to its dimming is not so bright that you'll be blinded inside your tent.
The battery compartment is easily accessible by unscrewing the base of the lantern, where it takes 8 D cell batteries. As a result, this Coleman lantern is a heavy option, weighing in at 2.87 lbs (1.3kg), making it more suited to campsites that are accessible by car or emergency situations such as power outages.
PROs

Good run time on low setting
Very durable

CONs

8 D Cell batteries makes it very heavy
Large
Bottom-Line: The Coleman Twin LED is a good lantern with simple functionality for car camping or power outages at home.
Etekcity Portable LED Camping Lantern
Best Budget
If you are looking for the best lantern with a low price tag then they don't come much cheaper than the Etekcity LED camping lantern. This hardy IP54 LED lantern is surprisingly compact at 7″ x 3″ x 3″, and weighing only a pound making it a pretty portable option.
The magnetic base is an interesting idea, but not a particularly useful one if your intended use is camping. At 60 lumens, this is the weakest camping lantern in our review (tied with the Goal Zero Crush), yet produces a surprising amount of light. The lack of a diffuser tube or globe on this little lantern means that the illumination given off is hard on the eyes. Even cycling through the 4 lighting levels and onto the lowest lighting setting is harsh to look at.
It takes AA disposable batteries and has a burn time of up to 30 hours. on the lowest setting making it one of the poorer performing camping lanterns.
PROs

Lightest weight of the traditional car camping lanterns
Very durable
Very low price tag

CONs

Not very bright
harsh light source
Poor battery lifespan & not rechargeable
Bottom-Line: If you're looking for a cheap but functional option then Etekcity could be for you.
Goal Zero Lighthouse Mini v2
Best Rechargeable Camping Lantern
While we awarded the Goal Zero Lighthouse the title of best rechargeable camping lantern, it was a strong contender for the overall title of best camping lantern. It occupies the same sweet spot as the Apollo making it a good choice for either backpackers or small car camping parties.
The lithium-ion rechargeable battery can illuminate your campsite for up to 500 hours, making it the longest-lasting rechargeable camping lantern on our list. The light levels are adjustable up to a maximum brightness of 210 lumens and it's the only lantern on our list that has adjustable light direction.
Unlike the Apollo, the Lighthouse does not accept regular disposable batteries but does charge faster from a solar panel. This is impressive considering the lantern's battery burn time.
Where the Lighthouse fell away is the overall durability, feeling a lot more flimsy and susceptible to drops and knocks than Black Diamond's Apollo.
PROs

Incredible burn time for a lightweight rechargeable lantern
Dimmable brightness & adjustable light direction
Good light output for such a small lantern

CONs

Rechargeable battery power only
Durability concerns & not the most waterproof
Bottom-Line: The Goal Zero lighthouse is the king of the rechargeable battery camping lanterns, and depending on your priorities is a strong contender for the overall title.
Goal Zero Crush Light
Best Lightweight Lantern
The Goal Zero Crush weighs in at a lightweight 3.2 oz (91g) and packs down to a tiny 5″ x 5″ x 0.5″ making it both the smallest and lightest camping lantern in our test.
The single power button provides three levels of lighting (60-35-6 lumens) for up to 35 hours the Crush is the perfect lightweight lantern for solo ultralight backpackers. The Crush can be fully recharged in as little as two hours by connecting to any USB port to any power bank or mains power source. If you're carrying a portable solar panel, then expect charging to take a significantly longer time (up to 20 hours).
While not a functional selling point, the Crush comes in a more expensive version called the Chroma which allows you to choose between six different colors.
The low power output is only going to illuminate small tents or provide enough light for activities if the Crush is in close proximity, making it unsuitable for larger groups (unless you buy multiple).
PROs

Lightweight & Packs "Flat"
Good warm light
Durable
Cheap

CONs

Brighter lanterns available
Bottom-Line: Great lighweight solar lantern, perfect for short backpacking trips where every gram counts!
Streamlight The Siege
Best Car Camping Lantern
The Streamlight The Siege came finished as one of the best camping lanterns for car camping. The Siege is one of the hardiest lanterns on our list, being able to take some rough treatment without any impact on its functioning.
The pint-size (7.25″ x 3″) Siege takes three D cell batteries, that'll produce up to 300 hours of lighting on its lowest setting. It'll run for 30 hours if you need the full 540 lumens of lighting on full power, and you can remove the diffuser cover if you need extra light.
One cool extra feature that the siege has is a red light mode. Red light is a great setting for finding things in your tent without disturbing your tent mates or affecting your night vision.
Where the siege falls is the weight, clocking in at nearly 2 lbs, and the lack of dimmer. You can only cycle through three brightness settings.
PROs

Red Lighting Mode
Long battery life
Durable

CONs

Heavy, largely due to three-D batteries
Three preset lighting modes – not dimmable
Bottom-Line: The Siege packs a punch in a small package. Its weight precludes it from backpacking, but its red LED mode, battery life, light output, and durability make it a clear winner as the best car camping lantern.
MPOWERD Luci String Lights
Best String Lights
The MPowered Luci is a quirky solar lantern that consists of 20 LED light bulbs, distributed in 10 nodes on an 18-foot long cord. The LED lanterns' nodes produce 100 lumens of light, and the string nature of the device makes it excellent to more evenly illuminate a larger area of your campsite with its four brightness settings.
The rechargeable Li-Ion battery can keep the power on for up to 20 hours. Once you've run the battery down you can recharge it with the built-in solar panel (16 hours to charge) or connect it to an external power source to charge in 7 hours. This makes it one of the slower LED lanterns to charge up, but if you're leaving it set up then the unit should take some recharge through the day.
The Luci LED lantern is one of the lighter options to make the cut and is IPX4 rated so hanging it outdoors in the backcountry won't be a problem. The main issue we had during testing was that depending on your campsite, it can be difficult to find good hang points.
PROs

Solar-powered
Can illuminate a larger outdoor area more evenly
Doesn't take up much space in your backpack
Easy to pack up

CONs

Can be difficult to hang
Can catch easily on passersby
Bottom-Line: The MPowered Luci LED camping lantern is a great option for providing even illumination across a small campsite or larger tent at night.
Ultimate Survival Technologies 60-Day Duro Glow
Brightest Camping Lantern
Capable of producing 1200 lumens, and with a long battery life of up to 60-days the UST Duro Glow outshines the competition on these two metrics. The Duro has three brightness settings along with an SOS strobe function, which is unique amongst the camping lanterns we tested. Combined these make the UST Duro an excellent piece of emergency kit.
Despite the staggering lumen output, the diffuser does an excellent job of giving out easy-on-the-eye soft light.
The Duro takes a whopping 6 D cell batteries to power, making it one of the heaviest lanterns on our list (the Coleman Quickpack is the heaviest) at 3.1 lbs. It also loses out to the Siege in ease of use, with replacing batteries a challenging task. Getting the battery compartment open is easy, but aligning the lantern and its base again takes some proper focus.
PROs

High lumen output
Longest burn time of any lantern
SOS strobe function

CONs

Heavier lantern
Pain to replace the batteries
Bottom-Line: While the UST is a great lantern, the Siege outperforms it for most car camping trips. The long burn time, brightness, and SOS function make this an excellent pick for emergency situations such as a power outage.
Coleman QuickPack Deluxe Propane Lantern
Best Propane Lantern
If you're a traditionalist who prefers gas-powered lanterns, then Quickpack is the Coleman lantern we would recommend. A 16.4 oz propane canister can deliver 7.5 – 13 hours of adjustable light, with a 1000 lumen output on the highest setting.
The Quickpack name comes from its innovative design that transforms the sturdy lantern base into a carrying case, by pushing the globe and mantle down and locking it into place.
The downsides to the QuickPack are common to all liquid fuel lanterns, in that using them in a confined space is dangerous, and we would recommend them for outdoor use only.
PROs

Bright at 1000 lumens
Dimmable
Compact storage design

CONs

Not recommended for confined spaces
Heavy at 3.2 lbs
Bottom-Line: While many campers will pick electric lanterns, if you're in the hunt for fuel-burning lanterns, then the Coleman Quickpack Deluxe propane lantern would be our top recommendation.
Last update on 2021-06-16 / Affiliate links / Images from Amazon Product Advertising API