Sick of stubbing your toes on your way to the bathroom at night while camping? Keen to do some bedtime reading without blinding your tentmates with the glare of your headlamp? Or add a little ambiance to your campsite with a cozy, home-like glow?
If so, there are plenty of easy, low-cost, and fun solutions out there. In this guide, we introduce you to the best of them with a list of 13 awesome ideas to light up your next camping trip.
Read on, and let there be light!
1. String Lights/Rope Lights
A simple and sustainable way to light up your tent or camping area is with classic, Christmas-style string or rope lights. This will add an almost mystical aura to your tent while giving you a little boost of light for reading or card-playing.
String or rope lights will also give you just the right amount of light without drowning your tent in blue light that may keep you awake hours after you turn them off.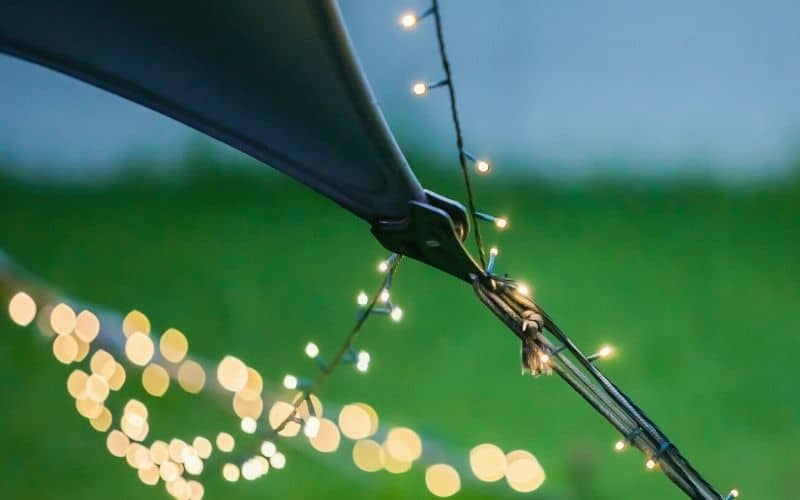 To maximize the green factor of your lighting, or when camping without an electrical hookup, you can even try solar-powered string lights or battery-powered string lights. Our favorites are the Brightown Outdoor Solar String Lights and the Fly2Sky Tent Lamps light bulbs.
2. Camping Lantern (Candle Lantern, LED Lantern, Propane Lantern)
For a completely old-timey, classic look to your campsite, bring along a camping lantern. You have a plethora of options here: choose from candle lanterns, LED-powered lanterns, or even gas-powered lanterns (aka propane lanterns).
An LED rechargeable lantern is the most practical way to light up your entire campsite. These are rechargeable and powered by triple-A batteries. They can also give you 1000 lumens, enough to illuminate your whole site.
For something that offers more natural light to your tent or site, there are a myriad of lighting options out there fueled by fire power alone. All you have to do is light the candle and you'll have cozy lighting that lasts all night long.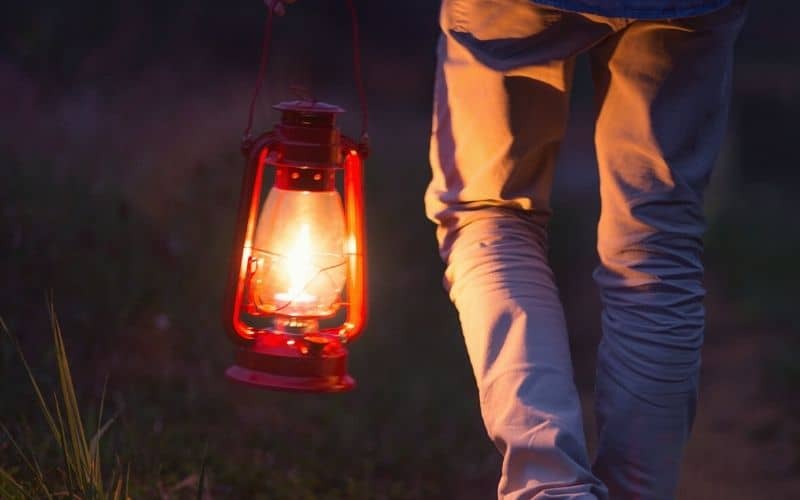 If you have some leftover fuel from cooking or don't want to pack extra batteries for your lantern, you can use a propane or gas lantern for your camp lighting. Just be sure you have also packed the correct type of fuel for your specific lantern. And because fuel-burning lanterns need ventilation for safety reasons, they can't be used inside your tent.
3. Disk Lights
Disk lights are another low-cost option that can be easily clipped to hang from anywhere in your tent and cast a bright light throughout.
These camping lights are USB-rechargeable and last for up to 10 hours, making them perfect for an overnight trip or a multi-day camping trip if you pack along a power bank.
Their compact design makes them easy to pack and super light – ideal for backpackers. They also have a neat swivel design so you can send the light exactly where you need it.
4. DIY Lantern with Your Headlamp (Water Bottle)
While a headlamp is useful for navigating your tent and campsite, it doesn't exactly lend itself to casting a cozy glow for playing cards at the camping table. Worry not! This homemade lantern solves the problem and requires just a water bottle and your trusty headlamp.
This is a simple idea and allows you to illuminate your campsite without packing any extra camping gear. Just strap your headlamp to your water bottle with the beam facing inward. Tighten down the elastic strap and – voila! – you have the ambiance of a regular lantern without having to actually carry a regular lantern!
5. Tin-Can Lanterns
An option that can also involve a fun crafting afternoon is a tin-can lantern. A perk of this camping light is you can recycle tin cans you may already have at home.
Either bring along an unadorned can from your recycling bin and place a tea light inside or get a bit more creative. All it takes is poking holes in the can with a hammer and nails to create the design you want, which makes for a fun pre-trip activity.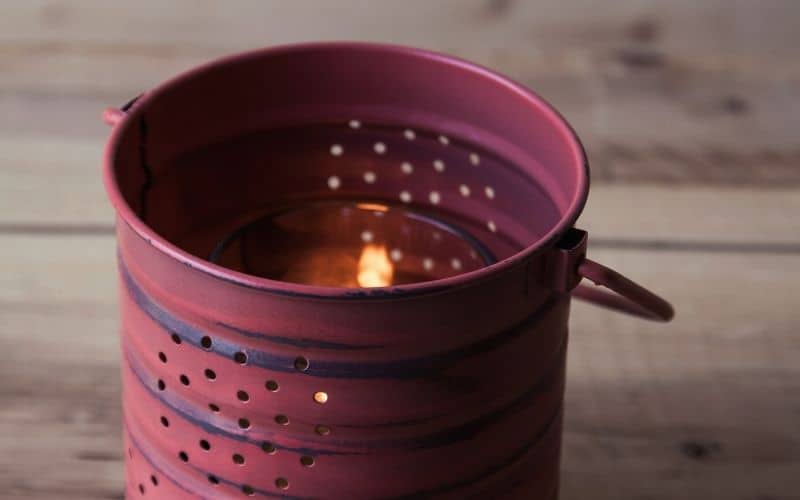 Look for citronella candles to light the tin cans if you're camping in areas where you're worried about mosquitoes.
6. Dimmable LED Strip Lights
Another option for camping string lights is a dimmable LED strip that gives you a reliable light source throughout your campsite or tent.
You can hang LED strips up on the ceiling of your camping tent or even place them on the floor or ground for navigating your site.
These light strips will function much like the string lighting on a Christmas tree or fairy lights but pack more of a punch when it comes to illumination.
These lighting solutions are dimmable and controlled via remote control, so there's no need to get out of your cozy sleeping bag as the daylight wanes or in the a.m.
7. Flameless Luminaries
While paper lanterns are popular in festivals around the world, flameless luminaries offer a festive vibe and cast a gentle light around your campsite without the fire risk.
You can make your own by buying paper bags and flameless lights to avoid the fire hazard posed by fire-powered tea lights, an important factor to consider if you're planning on using this option in your tent.
You can snazz up your camping area even more by cutting shapes into the paper bag before your trip. When it comes to the ambiance and ease of use, a flameless luminary is unparalleled.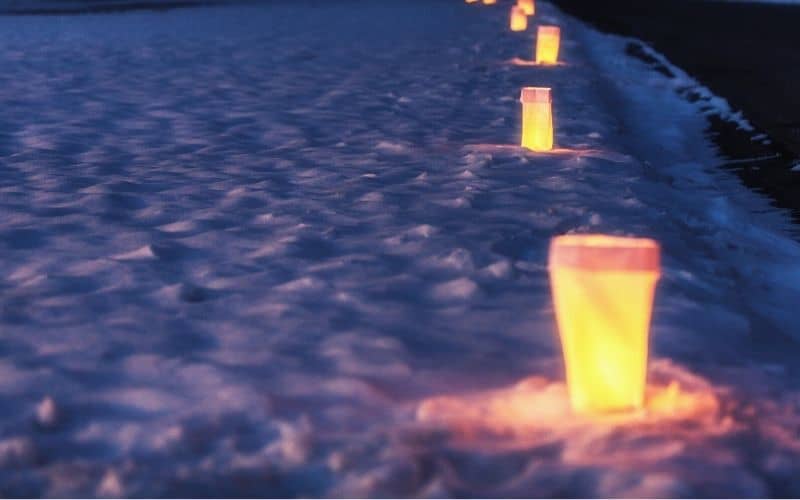 8. Battery-Powered Tea Lights
Battery-powered tea lights emit a soft glow throughout your campsite. String them along your picnic table or even illuminate the way to the tent using these small yet very bright lights. They flicker like a regular tea light without the fire hazard.
Look for a model that comes with a timer for even more catered lighting. You can set them out upon arrival at your campsite and be assured they'll pop on when the sun goes down. As these are lightweight, they're an excellent lighting solution for backpackers looking for illumination with a little more ambiance.
9. Fan-Integrated Lighting
Packing a double punch of lighting your tent while also cooling you off in hot summer months is the fan-integrated lighting system.
You can hang these from your tent to keep you cool at night or even from a tree branch for a little extra breeze. They also collapse down and can be used on a tabletop for when you're hanging out at your picnic table and need enough light to cook with.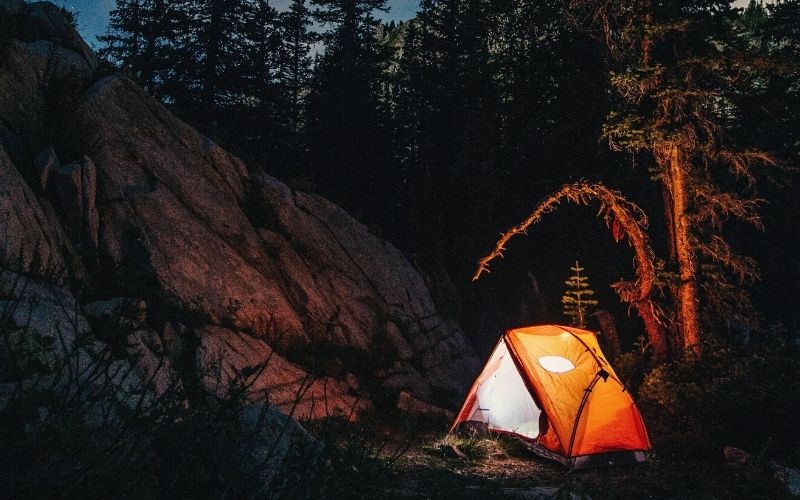 These are USB-rechargeable and super lightweight at just one pound. One good charge will give you 10 hours of illumination and cool air, even when the fan is at its highest setting. They also offer three settings, allowing you to adjust how much light you need for different hours of the evening.
10. Nite Ize BugLit Micro LED Lights
A lighting option that may put on a smile on your face is the Nite Ize bug-shaped flashlight. These tiny lights with wrappable bendy legs pack a serious punch and can be wrapped around tent poles or even zipper pull on your backpack.
These little ditties probably aren't bright enough to illuminate your campsite alone, but with a small colony of them spread around throughout you'll find yourself in a small fairyland!
These are perhaps most useful for reading a book before going to bed in your tent. They're also handy, however, for clipping to the gear loop in the vestibule of your tent, allowing you to grab your shoes quickly if you need to take a nighttime bathroom run and don't want to wake up your tentmates.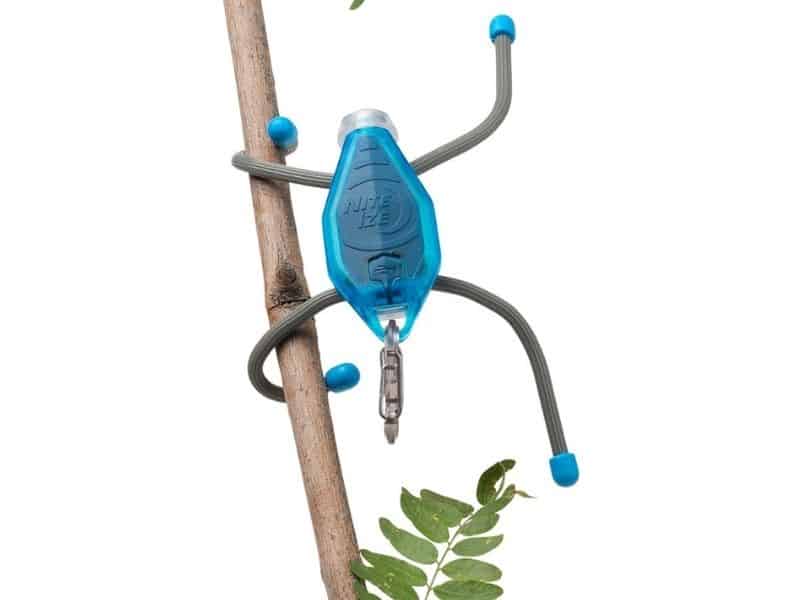 11. Solar Torches
To send your campsite straight to party mode, grab a set of tiki torch solar torches. These are, essentially, tiki torches without the fire risk. You can use these sets of torches to line the path to your tent or kitchen for a more easily navigable campsite. They come with integrated stakes to keep them upright.
As far as campsite lighting ideas go, these are one of the most sustainable options as they're completely solar-powered. You won't need a power source at your campsite or extra batteries.
They're also waterproof, so you can set them up upon arrival at your campsite, and rest assured they can weather any conditions the sky sends your way.
They turn on automatically as the daylight wanes and switch off during the daytime, so you'll know the torches are using their solar battery efficiently.
12. Glass Jars/Mason Jar Lanterns
Glass jars are a great way to bring a little rustic, low-cost lighting to your campsite.
Mason jars will be your best bet here, although repurposing an old peanut butter jar or other recycled jar works as a wonderful sustainable option.
You can fill the glass jar with any light source you can think of. Candles are the most obvious option, but you can also coil up LED string lights, solar lights, or battery-powered tea lights to cast a soft light and create a lovely camp lantern.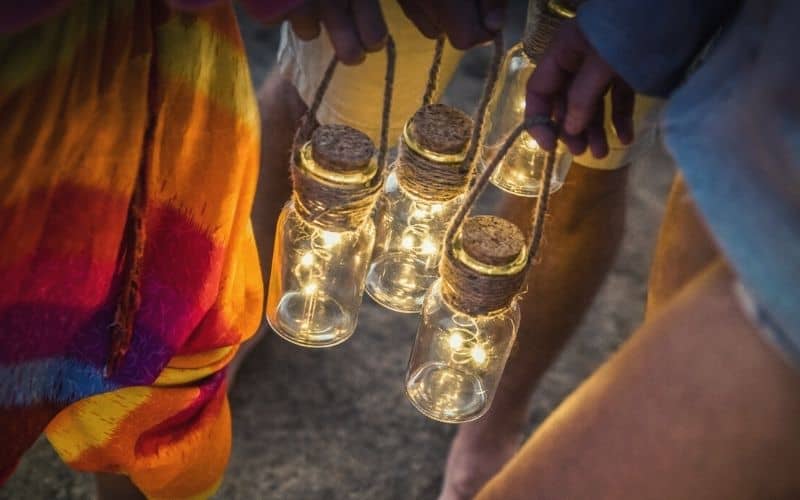 This form of camp lighting works for anything, from card games at the table or lining the path to the bathroom. Just be sure to put yours out before bedtime if you're using real fire.
13. Glow Sticks
To really amp up the festival vibe of your campsite or tent without having to worry about batteries or a USB charger, grab a few glow sticks to light the place up.
Glow sticks don't exactly cast a lot of light but are handy for hanging on guy lines or clotheslines to prevent tripping in the dark.
You can use zip ties to attach the glow sticks to your guy lines or even low-hanging tree limbs. Another trendy move is to put these babies on a string around your neck and crank up the Grateful Dead…!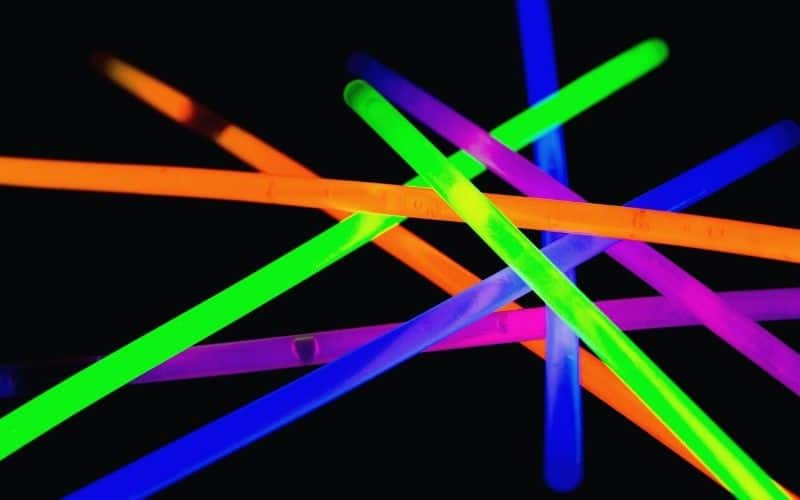 13 Campsite Lighting Ideas!
There is no end to the lighting options for your campsite out there. Look on the market for any of the options listed above, or make your own! From solar-powered lights to a battery-operated lantern to just a regular old candle, there's something for any camping situation.
What did you think of our suggestions? Did we miss anything? Let us know in the comment section below if you have some more bright spark ideas!