String or fairy lights around your camp can create an almost magical atmosphere that's hard to beat. On top of being charming, they are also inexpensive, compact, and lightweight. Many string lights even offer enough bright light to illuminate your entire campsite, meaning you can ditch the bulky lanterns for good!
In our article, we'll review 9 great camping LED string lights, explain why we think the KeShi Solar Lights are the best on the market, and guide you through the important factors to consider in our buyers guide.
Already convinced you need some camp string lights? Then use our guide to our favorite options on the market to help you choose a set that matches your camping style.
At a Glance: Quick Recommendations
What are the Best Camper String Lights?
Our team has tested a number of products over the last couple of years around our homes, car camping and even backpacking the John Muir Trail. We've narrowed down our 2023 best camping fairy lights to the following products.
KeShi Solar Star Lights
Revel Gear Camping String Lights
Coleman LED Lantern String Lights
Eno Twilights LED Camping String Lights
Barebones Edison String Lights
Power Practical Luminoodle Light Rope
MPOWERD Luci String Lights
ZOUTOG Battery-Powered String Lights
Loende Battery-Operated String Lights
KeShi Solar Star Lights
Editor's Choice
The KeShi Solar Star, solar-powered string lights, impressed our reviewers enough to take the top spot. The included solar panel provides 8–10 hours of continuous light on a full charge.
Other than the bonus of having a clean energy source, the real selling point of these solar-powered illuminators is their incredibly affordable price. Despite being one of the least expensive options on our list, you'll enjoy impressive features like a high IP rating, a long length (40 feet), and a 2-year replacement warranty.
The Keshi do, however, require sunlight to charge, so they're not well-suited for rainy or winter climates.
PROs

2-year replacement
High IP rating
Sustainable power

CONs
Bottom-Line: Affordable, set-and-forget lights that run on clean, solar energy.
Revel Gear Camping String Lights
Runner Up
The Revel Gear Camping String Light came a close second to the KeShi solar light in our testing.
Thanks to 100 high-efficiency LEDs emitting 350 lumens, you'll have more than enough intense light for your favorite camping activities. The bulbs are spaced across a lengthy 30ft. wire strand, meaning you won't have to purchase multiple sets to illuminate your entire basecamp.
The Revel also has 6 different lighting models and 8 brightness settings, which makes them amongst the most versatile options on our list and the best for energy conservation. Create your ideal camping vibe with options ranging from solid, warm light to strobe and flashing light, or save on juice by opting for a low-lumens output.
One minor downside is that although their wire construction allows them to withstand dust and rain, it does tangle easily.
PROs

High IP rating
Bright
Multiple modes

CONs
Bottom-Line: These energy-efficient, extra-bright lights provide enough illumination to cast a warm glow throughout your campsite.
Coleman LED Lantern String Lights
Honorable Mention
The Coleman LED String Lights will add a bit of fun flair to any campsite thanks to their intense brightness and unique design,
Each strand contains 10 bulbs fashioned to look like classic little Coleman lanterns. Despite their small size, the Coleman LEDs emit more than enough direct lighting for camping activities like reading or playing cards. With just three AA batteries, you'll enjoy up to 20 hours of continuous light.
The only drawback to these Coleman LEDs is their short string. At just 5ft long, these are the shortest on our list, so reserve them for lighting small areas like a picnic table or your camping tent.
PROs

Very bright
Unique design
Long-lasting light

CONs

Only one power source
Length
Bottom-Line: Campers looking for a fun but functional lighting solution will love these mini-lanterns.
Eno Twilights LED Camping String Lights
Best Battery Life
Our reviewers found the Eno Twilights offer a whopping 72 hours of continuous light on just three AA batteries. (That's more than 3x longer than the other LED string lights on our list, the Coleman LEDs!)
Four lighting and brightness modes ranging from 'dim' to 'fast blink' allow you to set the right mood to match all your camping activities.
With an IP rating of just IPX4, the Twilights aren't the most rain-resistant model on our list, so you might want a backup plan if the forecast calls for rainy days.
PROs

Long-lasting light
Many lighting modes

CONs
Bottom-Line: The perfect choice if you need a battery-powered lighting solution that can last for days.
Barebones Edison String Lights
Best Premium
The BareBones Edison are a USB-rechargeable lighting solution that works with either a portable charger or while plugged into an adapter. Although they're a bit on the pricey side, their price is justified by their durable design and premium materials like water and rust-resistant powder-coated steel.
While the Barebones might not offer enough light to illuminate your entire camp, their sophisticated, triple-mini-lamp design is perfect for creating warm mood lighting for camping activities like dining or playing cards.
PROs

Quality and durable build

Carabiners included

CONs
Bottom-Line: Awesome ambient lighting for dining or relaxing at camp.
Power Practical Luminoodle Light Rope
Most Practical
If you're regularly caught camping in rough weather, you can count on the Power Practical Luminoodle to light your way, even in the rain!
The Luminoodle rope light is all about practicality. Thanks to a built-in utility loop and magnet hanging system, the Luminoodle is easy to hang anywhere. Another unique feature is its nylon carrying pouch, which allows you to instantly transform the lights into a portable camping lantern or camping light.
At only 5 feet, they're the shortest lighting solution on our list. If, however, you upgrade to the 10ft. model, you'll enjoy not only the extra length but an insanely bright 360 lumens as well!
PROs

Affordable
High IP
High lumens

CONs
Bottom-Line: A practical, 2-in-1 camping lighting solution with a high waterproof rating.
MPOWERD Luci
Best Solar
If you're looking for solar string lights that aren't scared of cloudy weather, then the MPOWERD Luci are the perfect solution for you!
Unlike the KeShi Solar Star, the MPOWERD offers the choice of charging in two camping-friendly ways: via a solar panel or a USB cable. The entire system is incredibly lightweight and compact, too, because the solar panel is built right into its carrying case.
The MPOWERD comes with some pretty great perks too. The all-in-one carrying and charging case has a built-in battery level indicator and it can even be used as a battery pack to charge cell phones. Other useful features include a 2-second shut-off and a built-in LED flashlight.
PROs

Versatile charging
4 modes
Battery level indicator

CONs
Bottom-Line: Versatile, solar-powered camping lights that pack a decent punch.
ZOUTOG Battery-Operated String Lights
Best Value
The ZOUTOG are a budget-friendly choice for campers looking to add some personality and warmth to their camp.
Hate stumbling through your campsite after you switch off your last light? A handy wireless remote solves this problem by allowing you to control both the brightness and scroll through eight different lighting modes.
While the ZOUTOG are similar to another battery-powered option on our list, the ENO Twilights, they're almost 3x longer at 33ft. If you're looking to illuminate a large portion of your camp, then, the ZOUTOG is the better option.
PROs

Eight different lighting modes
Length
Remote control

CONs

Can't connect to other lights
Bottom-Line: Water-resistant, battery-powered, and remote-controlled – what more could you ask for? 
Loende Battery-Operated String Lights
Best Budget
The Loende BOLS are an affordable yet feature-packed choice that won't break the bank if you change your mind.
The Loende are the most affordable option featured on our list, but that doesn't mean they skimp on fancy features. With 8 different lighting and brightness modes, a waterproof battery box, and a 1-year warranty, you get a lot of value for such a budget-friendly price.
Like the ZOUTOG, the Loende are battery-operated and include a remote, but they cost considerably less. As such, they make a great first choice for campers that want to try out string lighting before committing to a more expensive set.
PROs

Price
High IP rating
Lighting modes

CONs
Bottom-Line: Impressive bang for very few bucks.
How to Choose the Perfect Tent String Lights
Before you rush off to make your purchases, make sure you understand the technical aspects of the lights you're purchasing. Here we cover everything you need to know to make an informed decision based on the following factors.
Brightness
Length
Power Source
Weatherproofing
Lighting Modes
Brightness
The most important factor to consider when choosing a camping string light is brightness. The brightness of any form of lighting is measured in lumens. The higher the lumens, the brighter the light emitted.
Generally, string lighting products with under 100 lumens (like the Barebones) are most suited for ambient lighting, while those that have 150+ lumens (both the Power Practical Luminoodle and Revel Gear Camping String Light) offer enough brightness to illuminate your entire camp.
Before choosing, then, it's wise to think carefully about what you're trying to achieve. Do you want just a faint glow for some cool ambiance lighting or do you want enough light to illuminate your entire campsite?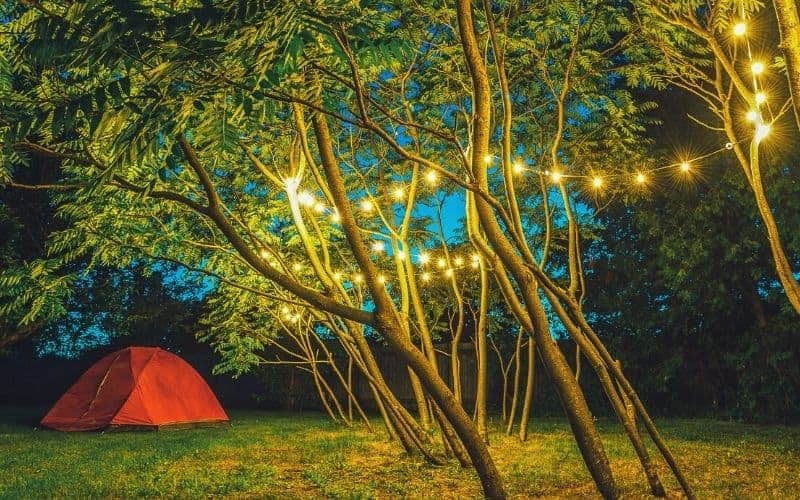 Length
When choosing string lights, it's important to consider the size of your camp and how much of it you want to illuminate. Do you need lighting over just one particular area, such as a table, or do you want to hang string lights between trees to provide enough lighting to replace your torches and lanterns?
Typically, string lighting solutions range in length from 5ft (Power Practical Luminoodle) to over 40ft (KeShi Solar Star). Don't forget to consider the number of bulbs spaced across the strand too.
Power Source
How you will power your string lights is an important consideration. There are four different power sources used to power up the majority of string lights:
12 volt: This is the standard method for powering up electrical appliances at hook-up sites. To use this type, you'll need to ensure your campground offers a power source like an electrical outlet.
Batteries: Most string lights will use either AA or AAA batteries. You'll need to make sure you always carry an extra set to avoid being left in the dark.
USB: Instead of an outlet, these types of light use a USB port to plug into a portable battery pack or another power source.
Solar: Some solar string lights, like the MPOWERD Luci, allow you to recharge through a portable solar panel.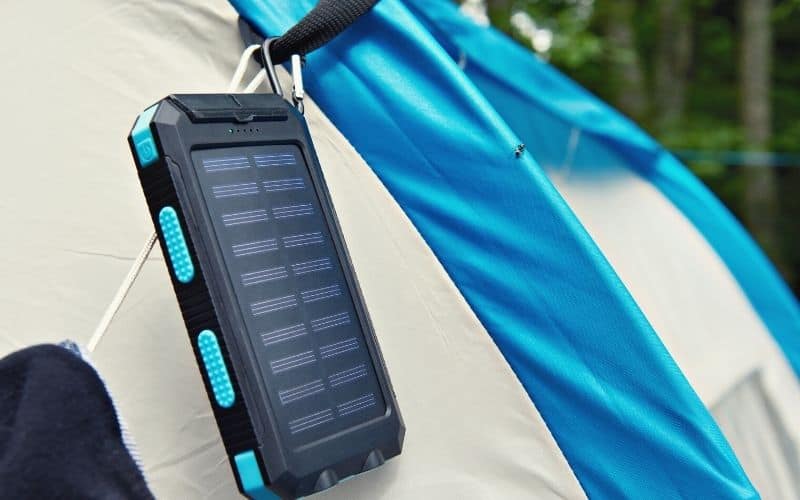 Weatherproofing
Since the lights you pick will likely be hanging outdoors on your camping trip, you'll want to make sure they can withstand rough weather conditions like rain and wind.
To understand your light's weatherproofing, take a look at its IP rating. The IP rating consists of two numbers. The first tells you how well the light fares against dirt and dust on a scale from 0 – 6, while the second number tells you how well it can stand up to water and rain on a scale of 0 – 9. An X means the light has no rating for that particular condition.
For 3-season camping, you'll want to choose a set with a well-rounded rating of at least IP44.
Lighting Modes
Not the most important feature, but to add some fun, several models offer extra features like lighting and brightness settings. From flashing, colorful lights to a warm, steady glow, these extra modes are just a fun feature some lighting solutions offer. Many models also provide a remote control for extra convenience.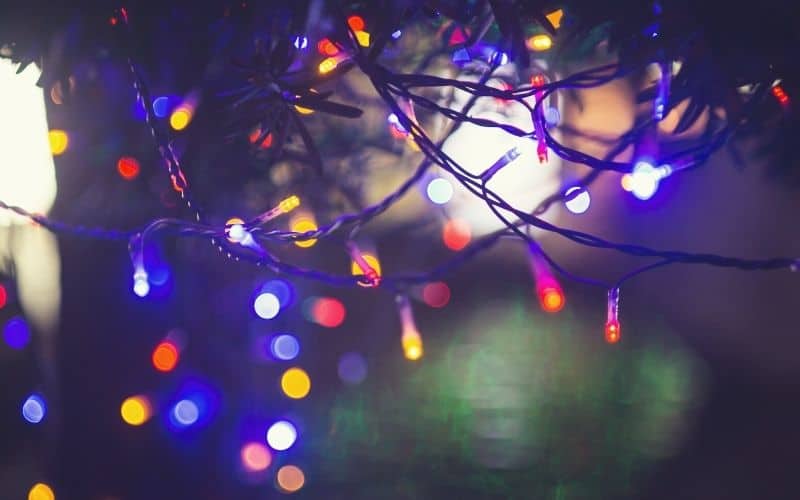 Outdoor String Lights for Campers: The Verdict
There you have it! While we think the KeShi Solar Star offers the most bang for your buck, any of the options on our list will help brighten your campsite and set the mood. Remember to think carefully about the technical stuff like lumens and string length before you start shopping.
So how do you feel about camping string lights, yay or nay? Let us know in the comments below and feel free to ask us any questions about camp lighting!