Oregon is home to a whopping 361 state parks, 5 national park sites, 11 national forests, 50 mountain ranges, and a shedload of epic coastal terrain. It even has an absolute beast of a stratovolcano in Mount Hood, which is one of the most prominent mountains in the US.
All of this means, unfortunately, that you'd need at least a dozen or so lifetimes to explore Oregon in full.For those of you not willing to bank on reincarnation and keen to see the best that "The Beaver State" has to offer in this lifetime, we've whittled down the best camping in Oregon to 12 amazing sites to help you prioritize the state's most awesome locations over those that are only outstanding.
Oregon's 12 Top Camping Locations
Oregon has an overwhelming choice of prime camping locations, and we've done the difficult job of narrowing down to our list of the 12 best campsites – if you disagree with us or want to suggest something different please respond in the comments below. Oh, and if you're after more outdoor adventure then check out our guide to the best hikes in Oregon.
1. Crater Lake National Park: Mazama Village & Lost Creek Campgrounds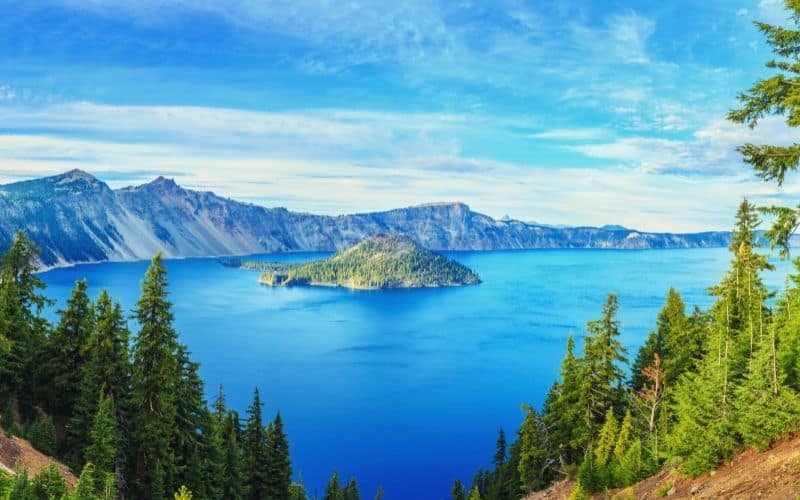 Crater Lake is one of the USA's oldest national parks, and without doubt, one of its most awe-inspiring.
Formed just 7,700 years ago when a violent eruption triggered the collapse of a lofty peak, the crater from which the park takes its name is the deepest lake in the US. It's also one of the most impressive pieces of natural eye candy on offer in the Cascade Mountain Range as a whole.
The hiking options around the lake are plentiful. The best routes of the bunch, however, are the easy 3.4-mile round trip hike to Garfield Peak and the slightly testier 5-mile return hike up Mount Scott, the highest point in Crater Lake National Park.
The park's two main camping options are Mazama Village Campground and Lost Creek Campground.
Mazama Village is open June to September and is usually fully booked weeks in advance, so be sure to make reservations early. It boasts 200 campsites for RVs and tents and a full complement of facilities, including flushing toilets, potable water, shower, metal food lockers, a general store, and a gas station.
Lost Creek Campground is a tent-only campsite that operates on a first-come, first-served basis. Located on the road to Pinnacles Overlook and just three miles from the rim of Crater Lake, this is a far quieter spot than Mazama but throughout peak season (early July to mid-October) it's wise to arrive early as the camp's 16 sites can fill up in a hurry.
The campground has portable toilets, picnic tables, and bear-resistant food lockers, but all other facilities and amenities are located at Mazama Village.
Both campgrounds offer easy access to Crater Lake, the Pinnacles Overlook hike, and Whitehorse Falls
Nightly ranger programs are offered at Mazama Campground June 21-Sept. 2
Maximum of 6 people per campsite
2. Cape Arago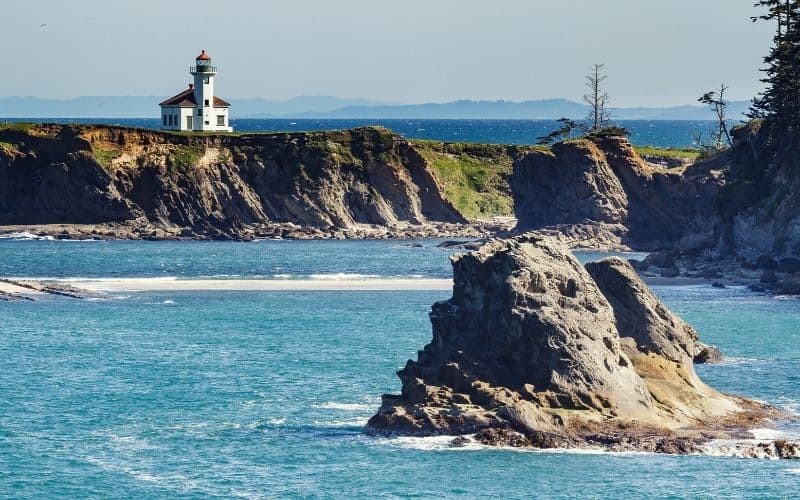 If lounging within a stone's throw of the Pacific Ocean on one of the most unblemished stretches of Oregon's coastline sounds like something you might be interested in, then expediting Cape Arago to the top of your "gotta go" list might be well worth considering.
The cape is formed by a jagged horn of headland at the end of the Cape Arago Highway and is home to a handful of very easy-going (if occasionally steep) trails, towering, rugged cliffs, secluded coves, tidepools, plentiful birdlife, and a raucous colony of seals and sea lions whose yelps and yowls present an ever-present and curiously endearing soundtrack.
There are also a handful of scenic overlooks that offer views of Coquille Point, Cape Blanco, Simpson Reef, and Shell Island. Oh, and the odd whale's been known to swim by from time to time, too…
Of the three state parks strung along this stunning stretch of coastline—Cape Arago, Sunset Bay, and Shore Acres—Arago provides the greatest potential for exploration and adventure.
While the three coves formed by the jagged landmass are rather unimaginatively named (South Cove, Middle Cove, and North Cove), the trails leading down to all three are nothing short of spectacular, with the south cove trail taking you to an exquisite stretch of sandy beach and north cove trail to a sandy inlet directly in front of the seals' and sea lions' hangout on nearby Shell Island.
While there are no designated campgrounds within the park itself, just a few miles north at Sunset Bay State Park you'll find a homely, family-oriented campground with full amenities and, another 1.5 miles north, free wild camping on Bastendorff Beach.
Located in Coos County, near both Shore Acres State Park and Sunset Bay State Park
Free wild camping at Bastendorff Beach
Campground at Sunset Bay State Park has 29 full hookup, 34 electrical, and 66 individual tent sites, and also two group tent areas and 8 rustic yurts
3. Silver Falls State Park Campground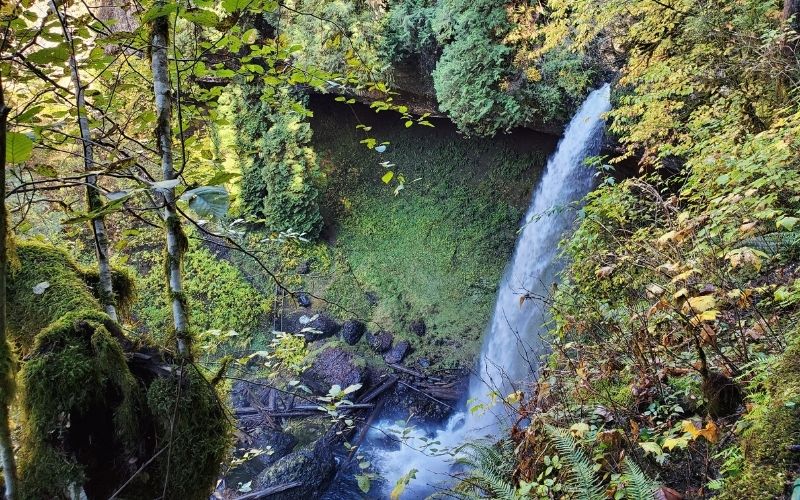 Silver Falls is the largest state park in Oregon, encompassing over 9,000 acres of land blessed with old-growth forests, a wealth of stunning waterfalls, 24 miles of walking trails, 14 miles of horse trails, and a 4-mile bike path.
The park is situated in the foothills of the Cascade Mountains and can be reached in under an hour from the state capital of Salem. The highlight for most visitors to the park is the 7.8-mile loop hike on the Trail of Ten Falls, which, as the name suggests, meanders throughout the 9,200-acre state park, passing by and behind and very nearly under multiple towering waterfalls.
The park's campground is a well-appointed and very convenient affair, with 45 sites for tent camping, another 52 with hookups for RVs, hot showers, flushing toilets, potable water, a playground, and an off-leash area for dogs near the visitor center.
Open year-round
Over 35 miles of trails for mountain biking, hiking, and horseback riding
2 group camp areas
Reservations must be made 1 day ahead of arrival and can be made up to 9 months in advance
4. Lost Lake Campground And Resort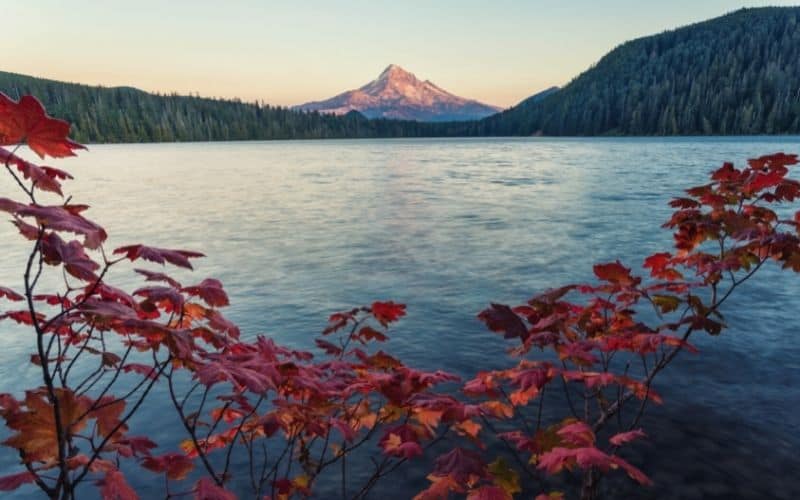 Situated between Mount Hood and Lost Lake, beneath the boughs of some of Mount Hood National Recreation Area & Forest's tallest and most majestic specimens, Lost Lake Campground and Resort occupies some of the most prime real estate in all of Oregon, both in terms of the views on offer and its easy access to the area's main attractions.
And while those attractions are numerous, the one that steals the show for most visitors is the imposing, pointy peak of Mt. Hood, which is particularly impressive and most photogenic from the overlook to the north of the lake in the early evening, when the snowy slopes and shapely form of Oregon's tallest peak are reflected in the waters of the lake.
Another worthwhile wander is on the Lost Lake Loop, a 3.2-mile hike that takes you around the shores of the lake through the forest of massive, ancient western red cedar, Douglas fir, and hemlock and offers up sublime views throughout.
An extension to Lost Lake Butte Departs from near the lake's northeast shore and climbs steadily on a well-marked forested trail to another prime viewing point offering panoramas of the valley below and across to Mount Hood.
Other attractions around Lost Lake include biking trails, the forest boardwalk next to the campground, canoeing, kayaking, and birdwatching.
Sites available on first-come, first-served basis (but booking is available)
148 campsites, including 40 sites that accommodate 40′ RVs (no hookups)
Facilities include pit toilets, washrooms, and picnic tables
5. Little Crater Campground, Newberry Volcanic Monument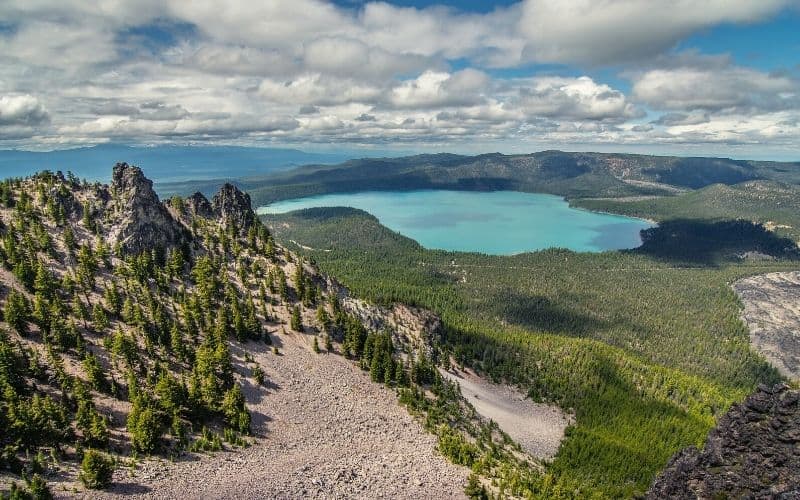 With Oregon's "big" crater at Crater Lake stealing most of the headlines, its smaller sibling—the caldera of Newberry Volcano at Paulina Lake—may strike many as something of a poor man/woman's substitute. They would, however, be sorely mistaken.
While this area may lack some of the grandeur of Crater Lake, there's more than enough on offer on and around Paulina Lake and nearby Little Crater Campground to make it well worth a visit.
Newberry National Volcanic Monument's four main highlights are Lava Butte, Lava River Cave, Lava Cast Forest, and the Newberry Caldera, all of which can be reached in under twenty minutes from the campground and showcase some of the most outlandish, quirky, and downright cool volcanic features you're ever likely to lay eyes on.
For those who feel like mixing up their geological explorations with a little stretch of the legs, the 7-mile, out-and-back hike up to Paulina Peak (7,985 ft) makes for a fun day out that culminates on a rocky summit offering stupendous views of the Oregon Cascades, the high desert, East Lake, and Paulina Lake.
And if that one sounds a little stiff, the 0.6-mile trail through the volcanic debris of the 700-acre Big Obsidian Flow offers a gentler but no less scenic alternative with superb views of Paulina Peak and Paulina Lake, and also provides the pretty unique experience of wandering through what was, not so terribly long ago, a blistering, 1,500°F river of molten lava.
Little Crater Lake Campground boasts 49 campsites, all of which offer views of Paulina Lake and the surrounding volcanic landscape, vault toilets and potable water, picnic areas, boating, and shoreline walking trails.
Paulina Hot Springs accessible on a two-mile shoreline hike
The campground operates on a first-come, first-served basis from mid-May to early June but reservations are required from early June through early September
6. Paradise Campground, Willamette National Forest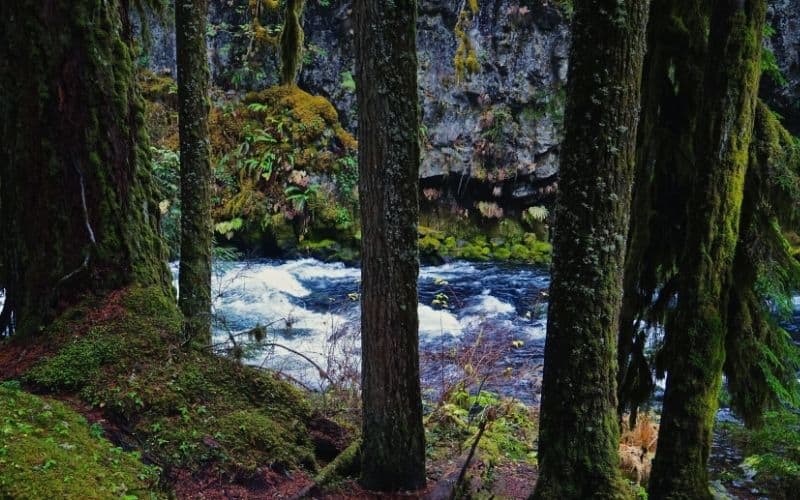 Tucked away in an extremely lush, tranquil, ancient forest that at times seems more like the Amazon than America, Willamette National Forest's Paradise Campground is about as aptly named a spot as you can imagine.
This campground offers up a visual feast of water features that include a handful of cascading waterfalls, hot springs, and the astonishingly vibrant, teal waters of the McKenzie River.
Beyond its aesthetic appeal and very rustic vibe, the area around Paradise Campground has plenty of other attributes that make it well worth a visit, including trout and steelhead fishing, whitewater rafting, kayaking, and easy access to one of the best hiking trails in Oregon, the 25.9-mile McKenzie River Trail.
The campground itself was constructed by the Civilian Conservation Corps in the 1930s and consists of 64 campsites, around half of which have views of the river.
Flushing toilets and potable water available throughout both campground loops
Parking spurs are paved
Educational programs are provided at the amphitheater
7. Harris Beach State Park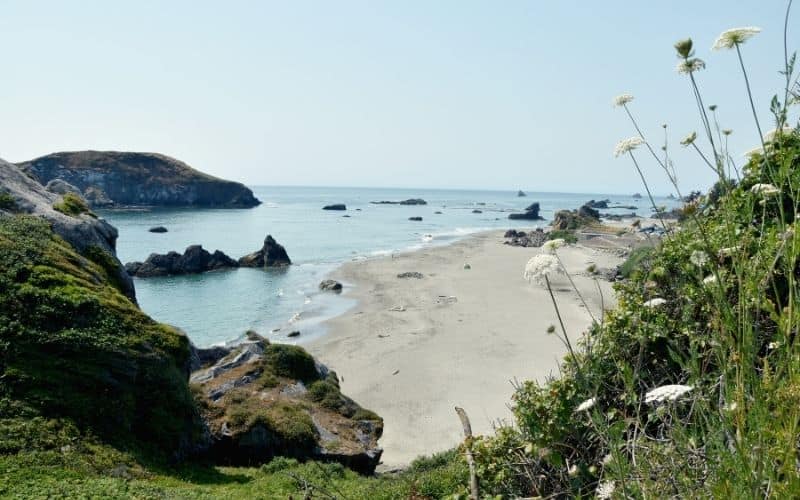 Oregon's rugged southern coast is home to many spots of outstanding natural beauty and Harris Beach State Park ranks among the best of them, offering easy access to wild coastal trails with views of towering cliffs, sea stacks, natural arches, tidal pools, outstanding bird and wildlife watching, and one of the best beaches in all of Oregon, if not the west coast as a whole.
All in all, it offers the kind of camping experience that ocean-loving campers dream of.
In terms of hiking opportunities, the area offers a handful of worthy options.
The most impressive, for our money, are the park's 2.8-mile Harris Beach Loop and the more challenging Samuel H. Boardman State Scenic Corridor, which begins just north of Harris Beach and hugs the coastline for 12 miles of craggy bluffs, secluded beaches, and views of outlandish offshore rock formations.
The park's campground offers over 150 campsites for tents and RVs with flush toilets, drinking water, hot showers, a handful of semi-private sites, a picnic area, and a playground.
65 hookups, 25 electrical sites with water, 60 sites for tent campers, 6 rustic yurts (one pet-friendly), and a hiker/biker camp available
Open year-round
Campsites are reservable
8. Toketee Lake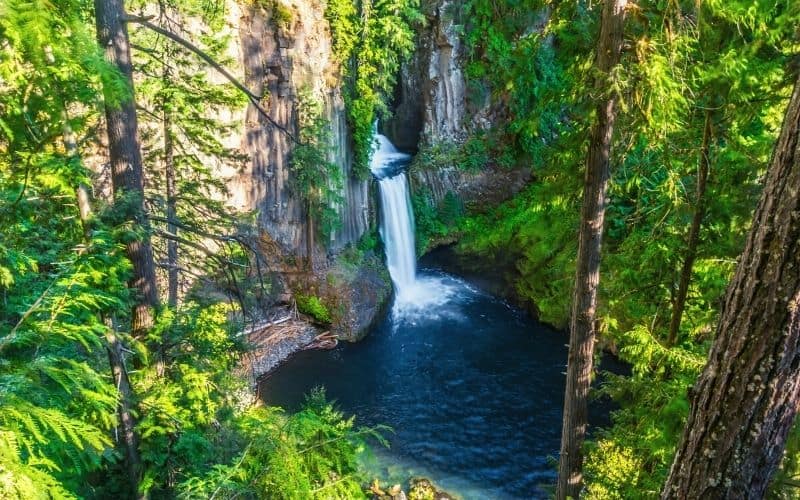 One of our favorite Oregon camping sites, Toketee Lake Campground is located in a wonderfully quiet grove of willow, alder, and maples on the northeast shores of Toketee Lake in Umpqua National Forest.
Those who opt not to stray too far from the campground will suffer no disappointment. However, just 3 miles along the North Umpqua Trail you'll find the outstanding Umpqua Hot Springs and a 20-minute stroll from the lake's western edge will land you at the foot of one of the state's most spectacular waterfalls in Toketee Falls.
Toketee Lake is also famed for having some of Oregon's best German brown trout fishing, as well as being a great spot for sightings of eagles, beavers, ducks, geese, great blue herons, kingfishers, and otters.
For those keen to venture further afield on foot than the aforementioned waterfalls and hot springs, the North Umpqua Trail offers 80 miles of awesome hiking that can be broken up into more manageable sections of varying difficulty, ranging from the challenging 15.7-mile "Tioga" and 13-mile "Dread & Terror" sections to the breezy, 6.3-mile "Lemolo" section.
Campground is dry (no running or potable water)
There are 32 sites, 15 are reservable and the rest available on a first-come, first-served basis
Pets allowed
9. L.L. "Stub" Stewart State Park
For those in the Portland area and with less time on their hands, the L.L. Stewart State Park offers a very convenient and attractive getaway that can be reached by car in under an hour.
Although located just thirty-four miles from the city, this 1,800-acre state park feels like another world entirely, with its dense, old-growth forest, rolling hills, forest glades, gleaming streams, and wealth of wildflowers providing a very alpine feel with a touch of Middle Earth's Shire thrown in for good measure.
The park boasts 25 miles of hiking trails and also 6 miles of designated trails for mountain biking (cross-country and free-ride) and horse riding. It is also home to four campsites: Dairy Creek Camp West, Dairy Creek Camp East, Hares Canyon Horse Camp, and Brooke Creek Camp.
Dairy Creek Camp West is the only campground open year-round and offers 43 full hookups, 12 walk-in tent sites, flush toilets, hot showers, and potable water.
Dairy Creek Camp East is open March 1-Oct. 31 and offers 35 full hookups, flush toilets, hot showers, potable water, and a playground.
Hares Canyon Horse Camp is open March 1-October 15 and offers 13 full-hookups with four-stall corrals, two double-size full-hookup sites with six-stall corrals, manure bins, flush toilets, hot showers, and drinking water.
Brooke Creek Camp has 23 primitive campsites, 9 of which are open year-round, and has picnic tables at each site, nearby drinking water, two common areas with fire rings, and two vault toilets. Nine of the sites are first-come, first-served and the other fourteen are reservable.
Pet-friendly
Grocery stores available in nearby towns of Banks and Vernonia (10/11 miles away)
Easy access to Banks-Vernonia State Trail
10. Cape Lookout State Park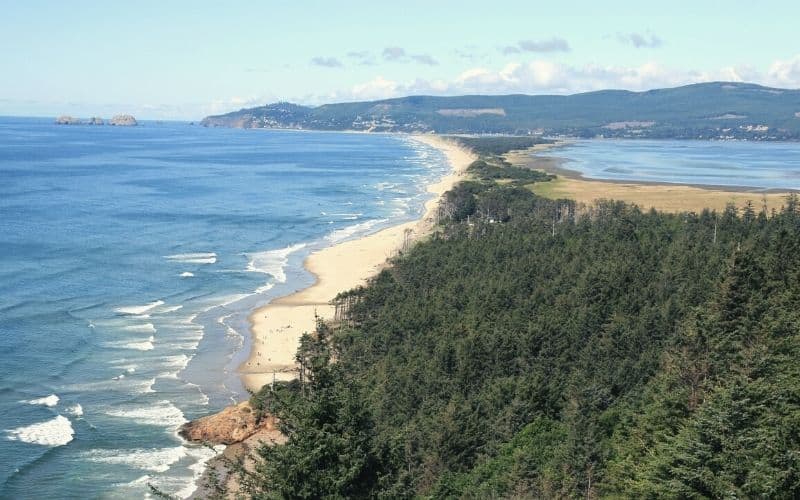 Cape Lookout State Park lies at the center of Three Capes Scenic Route on US-101 on a windswept, rugged headland that protrudes into the Pacific just south of the curious natural sandbar of Netarts Bay.
As the name suggests, the park's main selling point is the views of the surrounding landscape and seascape, with the Netarts Spit to the north and the raw, undeveloped coastline south as far as Cape Kiwanda representing the highlights of the optic awesomeness on offer.
But to say the park is only about the views would be to do it a disservice…
It's also home to eight miles of mellow but enjoyable hiking trails that wander through the park's very lush, old-growth forest and the Cape Lookout Trail, a 4.7-mile out-and-back hike along the spine of the cape's finger-like peninsula that is dotted with a wide variety of coastal wildflowers and from which whale sightings are not uncommon during the spring and fall migration periods.
The park's campground is located a mere quarter of a mile from the shore and offers over 200 campsites (38 full-hookup sites and 170 tent sites), 13 yurts, 6 cabins, hot showers, flush toilets, and drinking water.
Open year-round
Campsites are reservable
Pet-friendly
11. Green Mountain Campground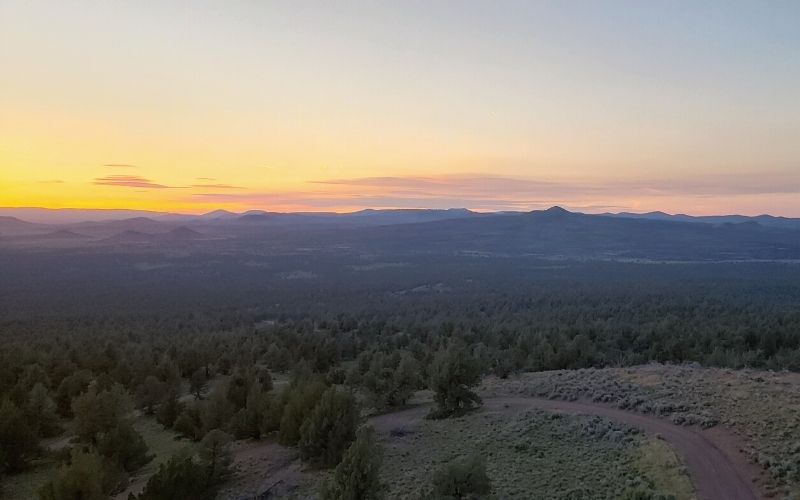 If solitude, seclusion, and seriously vast panoramas of the surrounding landscape are your thing, southern Oregon's Green Mountain Campground may well be worth a spot on your shortlist of places to pitch your tent for a night or two in the wild.
This diminutive primitive campground only has six campsites, but owing to its remoteness, spartan amenities, and tricky access via a rough gravel road, the chances are you'll have only the Forest Service employee posted in the site's Green Mountain Fire Lookout Tower for company.
Beyond the tranquility, this campground merits a visit on account of its proximity to several impressive nearby geological sites, including cinder cones in the Fort Rock area, the Four Craters Lava Field, and the wonderfully named Crack in the Ground.
The last of these is a volcanic fissure about 2 miles long that provides an utterly unique hiking experience for those happy to partake of some light scrambling and brave the bottom of the fissure's often spookily chilly temps, which can be up to 20 degrees lower than those at the top, just 60 feet up.
Open year-round
Access is via a rugged dirt road that is often impassable—four-wheel-drive vehicles recommended
Operates on a first-come, first-served basis
Vault bathrooms
No drinking water
12. Devil's Lake State Recreation Area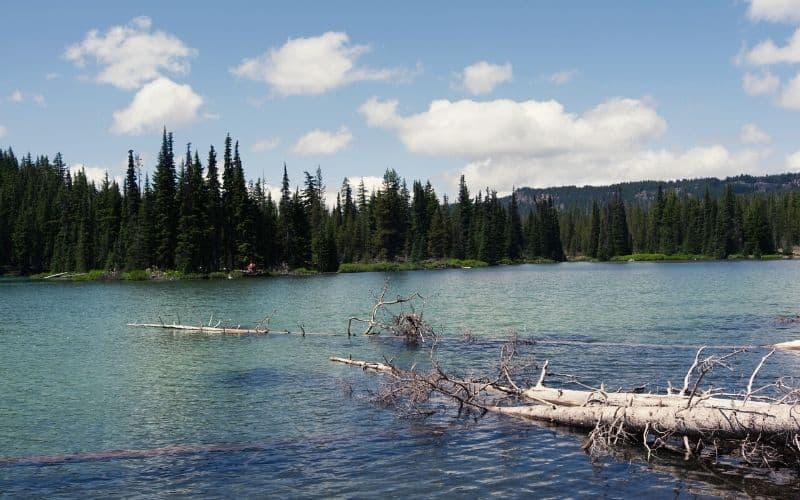 Looking for awesome ocean camping near Portland? If so, Devil's Lake Campground may be the place for you!
Devil's Lake Campground is the only coastal campground in Oregon that's located within the bounds of a city (Lincoln). Despite this, it offers lake camping at its best and also a great little escape for those in the city who want to avoid long drive times but still enjoy nature to the full.
The lake's 685 acres of water are popular with paddlers, kayakers, fishers, boaters, and wildlife watchers. Some of the wildlife you might see here include migratory geese, ducks, osprey, and even the odd bald eagle.
While there's no boat ramp at the campground itself, you'll find one just 3 miles south at East Devils Lake State Recreation Area, which also has plenty of day-use campsites for day-trip visitors who don't plan on spending the night.
Open 365 days a year
10 rustic yurts (one pet-friendly); 28 full hookups with satellite TV; 4 electric and water campsites also with Satellite TV; 54 tent campsites
Hiker/biker camp
Boat moorage slips (no launch sites)
2 campsites and 2 yurts are accessible to campers with disabilities
Awesome Oregon!
We hope our list has inspired you to get out and enjoy the bounty of awesome camping locations the Beaver State has on offer for campers of all inclinations. From hidden forest gems to coastal campgrounds, Oregon has it all!
How did you like our guide to the best camping Oregon has to offer? If you know of any camping sites in Oregon we missed or have any questions, please let us know. And if you'd like to share this post with your friends, go ahead!