If you haven't been camping in the Sooner State yet, you might want to revisit your summer plans!
From lakes and rivers to mountains and deep valleys, the 'heart of America' is hiding some amazing campgrounds. Try backpacking in the Ouachita National Forest or head to Broken Bow Lake for some sublime fishing. Everywhere you go in Oklahoma, there's rugged wilderness waiting to be discovered!
To help you plan the perfect trip, we've created this guide featuring all our favorite campgrounds, so you've got no excuse to not visit the beautiful Sooner State sooner!
Read on to discover the top campgrounds in the state, must-see attractions near each camp, and other useful tips.
1. Beavers Bend State Park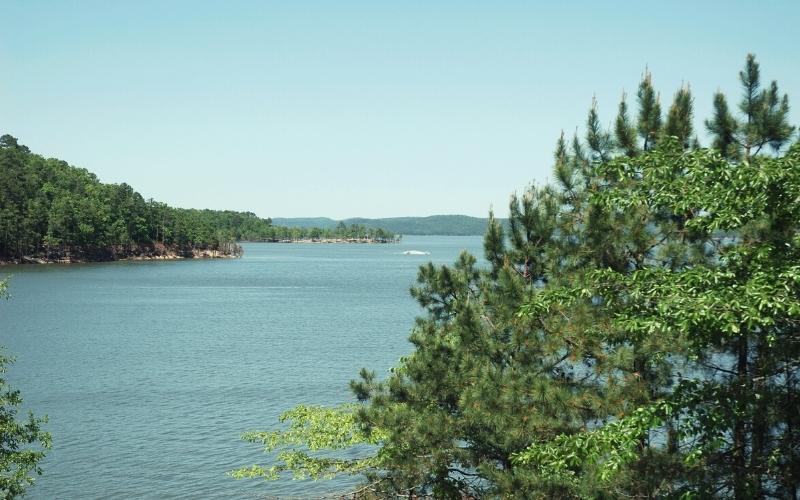 Beavers Bend State Park is located on the banks of the Lower Mountain Fork River. The river winds its way through the rugged countryside and every bend offers another exceptional view of the rural Oklahoma landscape.
Rent a canoe and enjoy the 2-and-a-half-mile trip down the river or try your hand at reeling in some of the trout you'll find stocked year-round. Get up early enough and you can enjoy the mist as it settles over the river before sunrise.
While there are over 10 campgrounds to choose from at Beavers Bend, we recommended the Dogwood Campground. You'll find several RV and tent campsites along with a picnic area, playground, and trout fishing area. Nearby you'll find a sandy beach for swimming, a miniature golf course, and boat rentals.
Don't forget to check out the nearby Forest Heritage Center!
2. Sequoyah State Park & Fort Gibson Lake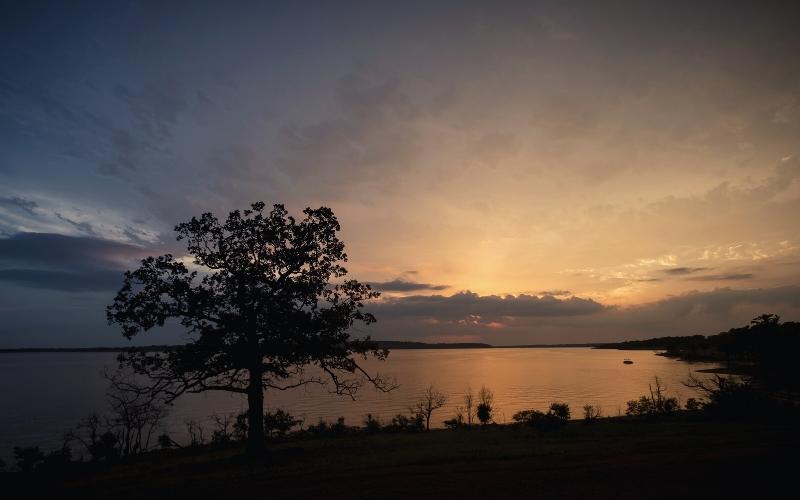 Sequoyah State Park is located on a peaceful peninsula surrounded on three sides by Fort Gibson Lake. With over 225 miles of shoreline, there's no better place to enjoy a vacation on the water. There are several excellent beaches with opportunities for water skiing, boating, fishing, and other water sports.
There are both wild and rustic campsites and fancy, glamping accommodations spread throughout Sequoyah State Park. Creek and Choctaw campgrounds offer campers full hookups, hot showers, restrooms, and boat launches. If roughing it isn't your thing, book a room at the local lodge or rent a rustic cabin.
3. Illinois River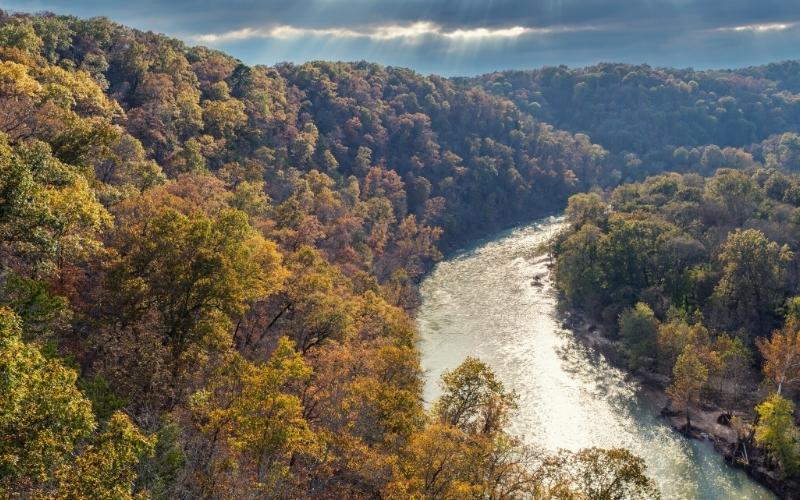 The Illinois River in Tahlequah is a Class II river that offers all sorts of fun recreational activities for visitors of all skill levels. Its gentle, moderate current and scenic banks make it a can't-miss destination for kayaking, canoeing, and rafting.
You'll find plenty of places to pitch, park or glamp it up in this picturesque landscape. Arrowhead Resort offers full RV hookups, tent, and primitive camping along the river's shores and a family-friendly atmosphere.
Peyton's Place is another fantastic choice and the oldest canoe camp on the Illinois River. Here you'll find accommodations to fit every budget and style, including an RV park, electric campsites, primitive campsites, and air-conditioned cottage rentals. The campground also has a handy camp store and playground.
4. Chickasaw National Recreation Area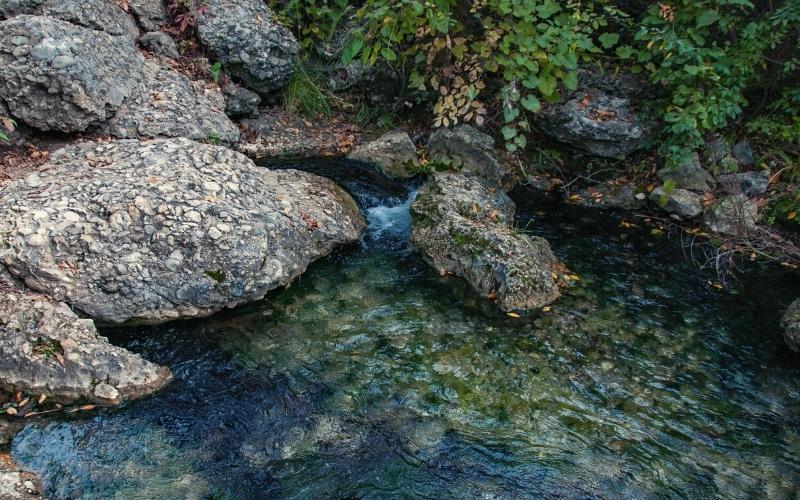 Tap into your adventurous side at Chickasaw National Recreation Area! Located in the central lower portion of the state, this area of Oklahoma is filled with waterfalls, rivers, and scenic streams.

Catch dinner at Lake of the Arbuckles, one of Oklahoma's top bass fishing spots, or head deep into the forest along one of the many hiking trails. You can even hike to Little Niagara swimming hole, a small waterfall and swimming area popular amongst the locals. You'll be sharing the park with a resident buffalo herd, so keep a lookout as you head down the trail!
Point Campground is located in Chickasaw and operated by the National Park Service. The camp offers 50 tent and RV sites with electric and water hookups. There are also a handful of walk-to primitive sites up for grabs. Amenities include flush toilets, showers, picnic grounds, and an amphitheater.
5. Red Rock Canyon Adventure Park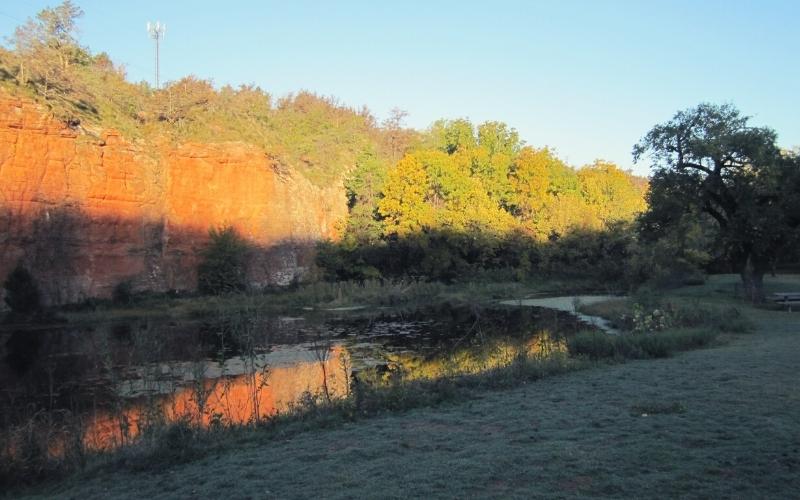 Red Rock Canyon Adventure is a camping paradise just a 30-minute drive from downtown Oklahoma City. Over 300 red rocks made from prehistoric soil deposits pepper the landscape, providing plenty of opportunities for hiking, rock climbing, and mountain biking.
Red Rock Canyon has a lot of historical significance, too. This former state park was once a major landmark on the California Road in the 1800s as prospectors headed west hoping to strike it rich on California's coasts.
Red Rock Canyon features two campgrounds, Canyon and Walnut Grove, each with water and electric hookups, restrooms, and showers. Fancy glamping tents are also available for those that enjoy camping in luxury. In the summer, a swimming pool opens up while year-round you can enjoy hiking the local trails or challenge yourself to a climb up the canyon's rim.
6. Ouachita National Forest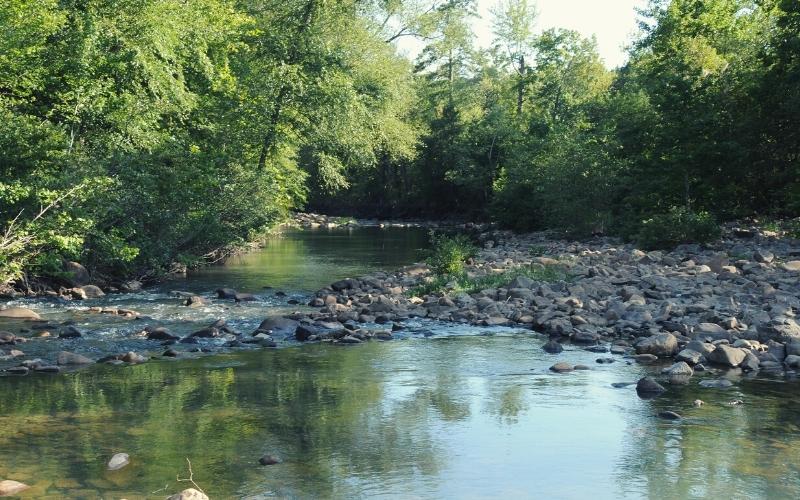 Spanning more than 1.8 million acres, Ouachita National Forest is a true mecca for outdoor adventure. On the Arkansas side, you can visit the impressive Lake Ouachita or take a float trip down the Ouachita River. You can even try hand gliding!
If you're up for a real adventure, try hiking the 192-mile Ouachita National Recreation Trail. You'll be winding your way through the Ouachita Mountain Range and passing by several historic and natural landmarks along the way. There are campgrounds and dispersed campsites along the entire route.
If you're just looking for a peaceful place to pitch or park, try Winding Stair Campground. Located at the top of Winding Stair Mountain, you'll enjoy mesmerizing views of southeast Oklahoma and the Winding Stair mountain range.
Winding Stair is a no-frills campground that offers just the basic amenities at each site – fire rings, tent pads, and picnic tables. Flush toilets are available but potable water is not, so plan accordingly.
7. Robbers Cave State Park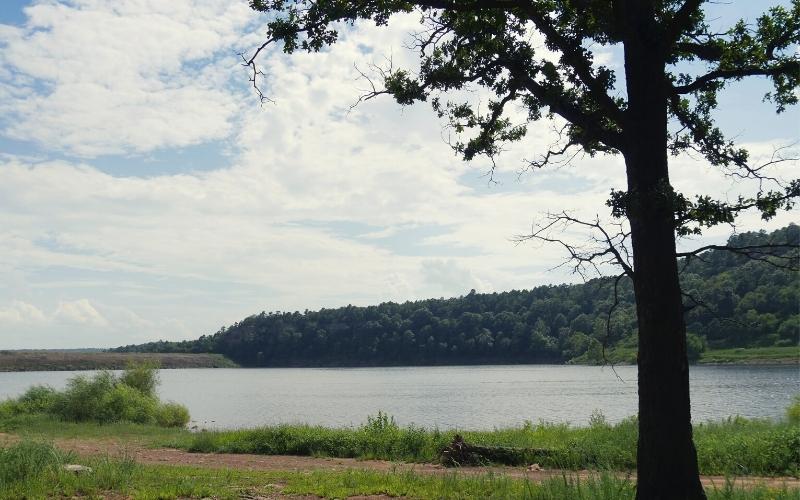 History buffs, equestrians, and rappellers will all find something to love at Robbers Cave State Park.
What was once a rugged hideout for infamous outlaws is now the campsite of choice for outdoor enthusiasts. You'll find miles and miles of hiking trails and horseback riding trails, along with rugged sandstone cliffs that are perfect for rock climbing.
Both Lake Carlton and Lake Wayne Wallace are ideal for water sports, and nestled in the pristine wilderness you'll also find 250 acres of dedicated ATV trails. Robbers Cave State Park is also home to an amphitheater, a seasonal swimming pool, and a golf course.
Robbers Cave State Park Campground offers 22 camping sites with water, electric, and sewer hookups. All along the secluded trails you'll find an additional 82 primitive sites. Available amenities and facilities include a bathhouse, playgrounds, paddleboat rentals, a camp store, and a nature center.
8. Boiling Springs State Park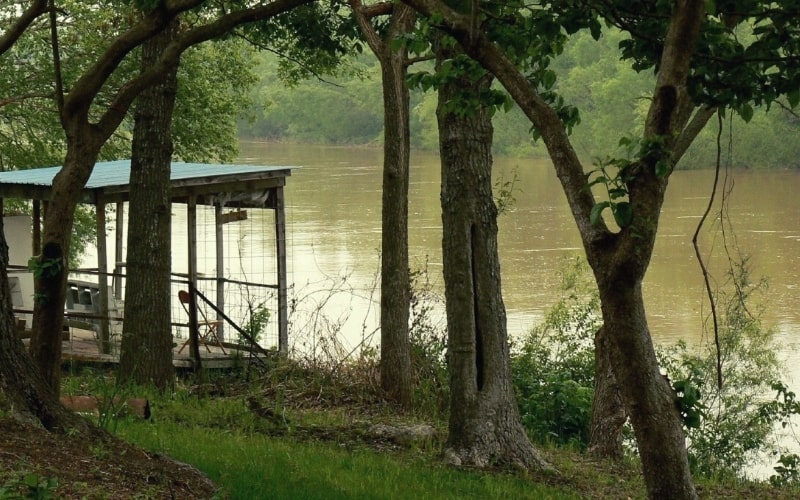 Just outside of Woodward, you'll enjoy some beautiful camping at Boiling Springs State Park. The park earned its name from the "boiling " spring located at the welcome center. The park is one of the original Oklahoma state parks built in the 1930s by the Civilian Conservation Corps.
You won't find a lot of green in this semi-arid climate, but what you will find is a visually striking landscape perfect for hiking, mountain biking, and horseback riding. Water and wildlife are abundant in this area, so keep your eyes peeled for critters big and small.
There are two public campgrounds available: Spring Hill and White Tail. Both offer tent and RV sites along with group campsites. The campgrounds are primitive but the nearby city of Woodward has everything you need to camp in comfort.
Both campgrounds are well connected to the park's trail system so consider taking a trek to Shaul Lake or the North Canadian River.
9. Greenleaf State Park
There's no better place to plan a family camping trip than Greenleaf State Park in northeastern Oklahoma. This hidden gem is nestled on the shores of scenic Greenleaf Lake. The surrounding lush greenery and commanding mountains offer visitors some of the most incredible scenery in Oklahoma.
Greenleaf State Park is jam-packed with family-friendly activities. Hike one of the many trails, swim in Greenleaf Lake, play a round of miniature golf, or brave the swinging bridge over the lake.
If you're hoping to enjoy a pampered stay, try Greenleaf State Park Campground. The park has over 100 campsites and 16 cabin rentals. The camp is filled to the brim with fun amenities like a marina, amphitheater, swim area and kids' pond, nature center, and 18-hole miniature golf course.
10. Black Mesa State Park & Nature Preserve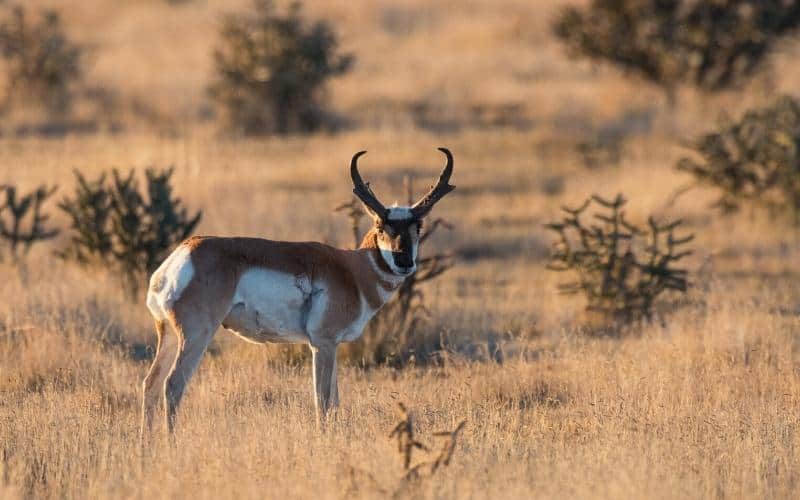 Black Mesa State Park is home to some of the most impressive views and unique landscapes in northwest Oklahoma. 30 million years ago, black rock coated the entire area, giving this park its unique name. These days, Black Mesa is a nature reserve consisting of approximately 1,600 acres and is home to a number of rare plant and animal species.
Pack a picnic and head lakeside for some rest and relaxation or cast a line and try your hand at the in-season trout fishing. Black Mesa is also home to some of the darkest night skies in Oklahoma. Be sure to pack a tent with a sky window because you won't believe the stargazing!
At the Black Mesa State Park Campground, you'll find 25 RV sites with water and electricity along with primitive tent sites. About 15 miles from the camp is Lake Carl Etling, a 159-acre non-motorized lake.
11. Wichita Mountains Wildlife Refuge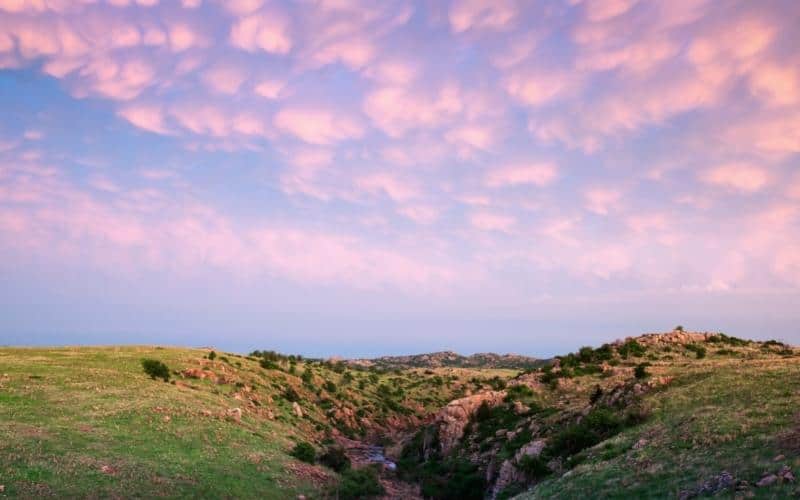 If you're heading to Oklahoma to spot some wildlife, then you simply must visit the Wichita Mountains Wildlife Refuge. Bring your binoculars and camera because this wildlife refuge is home to bison, elk, deer, prairie dogs, and longhorn cattle.
At the Wichita Mountains Wildlife Refuge, you'll also find Mount Scott, one of Oklahoma's tallest mountains. Hiking, mountain biking, climbing, fishing, bird watching… There's practically no outdoor hobby you can't partake in at the Wichita Mountains.
There's only one public campground available at the refuge, Doris Campground. The camp is located on the shore of idyllic Quanah Parker Lake and features 47 tent and RV sites. Each campsite comes with a fire pit, tent pad, and picnic table. Other available amenities include flush toilets and showers.
Best Camping in Oklahoma!
Whether you're looking for a bustling, family-friend RV park or a secluded campsite to enjoy the night sky, the Sooner State offers something for every camping style.
We hope this guide has convinced you to roll up your sleeping bag, pack up your tent, and head to stunning Oklahoma for your next camping adventure.
Did you enjoy our post on the best camping in Oklahoma? Did we miss any of your favorite locations or campgrounds? Be sure to let us know in the comments below, and feel free to share this article with your camping friends!