Best Tarps for Camping by Category
Budget: Free Soldier Large Rain Shelter, Stansport Reinforced Multi-Purpose Tarp, Kelty Noah's Tarp, Aqua Quest Guide
Ultralight: Sea To Summit Escapist, Rab SilTarp, REI Quarter Dome SL
Full-Coverage: Eagles Nest Outfitters Housefly, Free Soldier Large Rain Shelter
Reviews Of Shelter Tarps For Rain Or Shine: The Results
How To Choose The Right Outdoor Tarp for Your Needs
When on the hunt for a great camping tarp, you might be surprised at how many things there are to consider.
For example, will you be using yours as a temporary shelter while scaling the rocky face of El Capitan, or will you simply be using it for a weekend exploring the trails out your backdoor?
Do you plan on using it as your primary camping shelter, or do you want to use it as a temporary rain tarp when conditions take a swing?
You get the point. You should ask yourself these questions and more to zero in on the best tarp for you to avoid wasting your hard-earned money.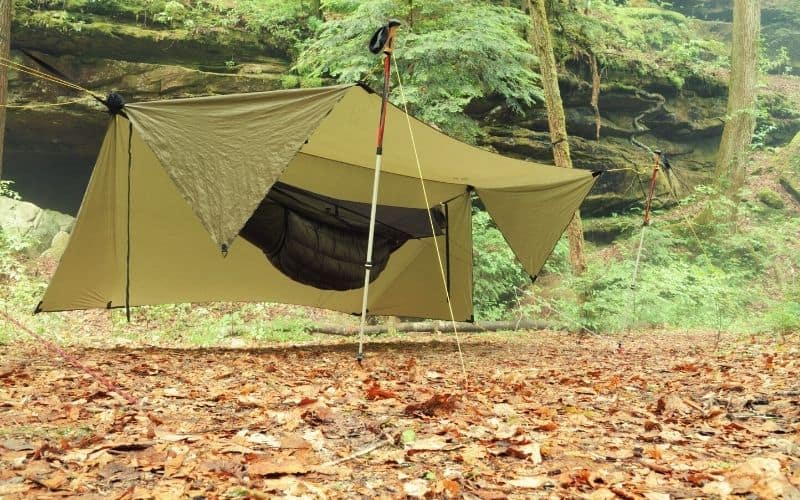 To help you out, here are some specific things to keep in mind.
Intended Use
A camping tarp is a versatile and flexible piece of gear, but zeroing in on your intended use for it is the first step to take when trying to find the right one.
Will you be using it as a sun tarp, a quick source of shade on a hot summer day? Is it going to be your go-to to stay dry when a rainstorm suddenly strikes? Will it be your primary shelter for when you're out backpacking or an emergency survival tarp?
Asking yourself these questions is a critical component of the selection process. Once you've determined what you'll be mostly using it for, you can look for tarps with the right specifications to meet your needs.
Camping Environment
Your camping environment or where you pitch your camping tarp can also help you determine which model to pick. While poly tarps are cheaper and made of strong material, they get brittle when the temperature dips.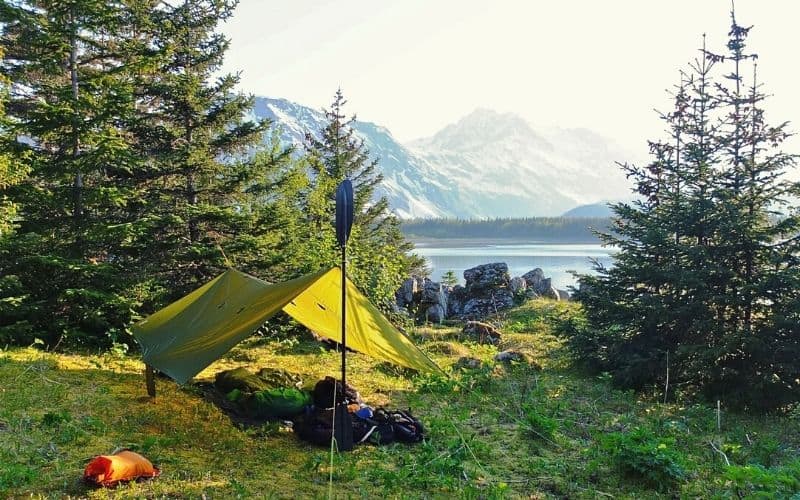 If you're searching for a great campsite tarp, you'll want one made of nylon or vinyl. Tarps made of these materials offer superior resistance to rain, wind, and general wear and tear, which means they can be used in just about any camping environment.
Seasonality
Whether you're looking for a rain tarp to pull out on the trail when the rain hits or a camping tent tarp to use as a primary camping shelter, almost all models are made to hold up to summer and spring weather.
However, while we wouldn't suggest one for wintertime use unless you're in The Keys, there are some tremendous three-season models to use for when the leaves start to change color. A three-season tarp will allow you to backpack lightly, enjoy better protection from the elements, and experience the outdoors for more months of the year.
Shape
Most tarps come in a square or rectangular shape. Square tarps use more material and provide better protection for your gear and equipment, but they also add weight and take up more space. Rectangular tarps, on the other hand, work better for covering a sleeping bag or tent.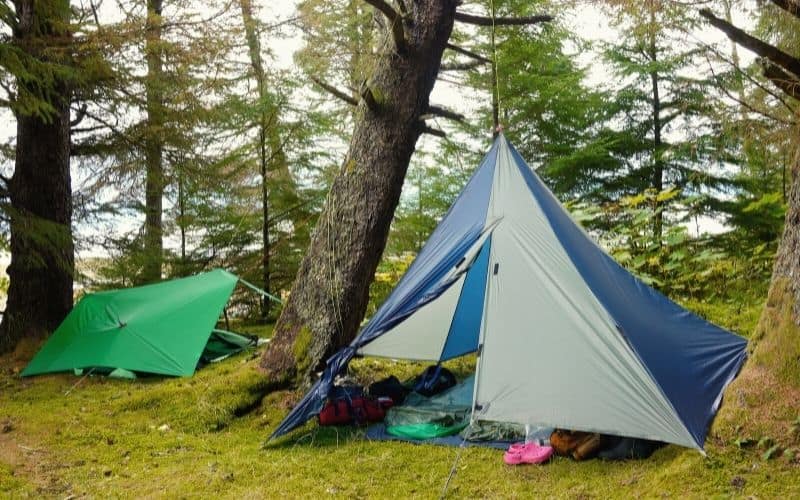 While these shapes are the most common, as you'll see below, tarps come in other forms too. So, keep this in mind when shopping to make sure you pick the right tarp in the right shape for your needs.
Size
Camping tarps also come in different sizes. While you might be tempted to go with as large a model as possible for added protection, the larger a tarp is, usually, the more it weighs. The last thing you want when hiking or backpacking is to lug around more weight than you need.
Nonetheless, you don't want a model that's too small for your needs. A smaller model may be ideal for solo thru-hiking the Appalachian or Pacific Crest Trail, but you'll need a larger tarp for family backcountry outings.
Durability
Most of the products in this guide are constructed of ripstop nylon. As its name suggests, lightweight tarps made from this material are much more difficult to rip and tear, making them great for sheltering outdoors. Many quality tarps also have not one but two layers around the corners for even more durability.
It's also a good idea to choose a tarp with a water-repellent coating. Not only will this help the fabric hold up better for longer, but it will keep rain from seeping through and getting you soaking wet. Trust us; you'll thank yourself later.
Important Features
Taped Seams
When it comes to leak protection, fabric choice is essential. However, you should also consider heat-taped seams. These tarpaulins have seams that are taped with a special waterproof material to keep water from finding a way through.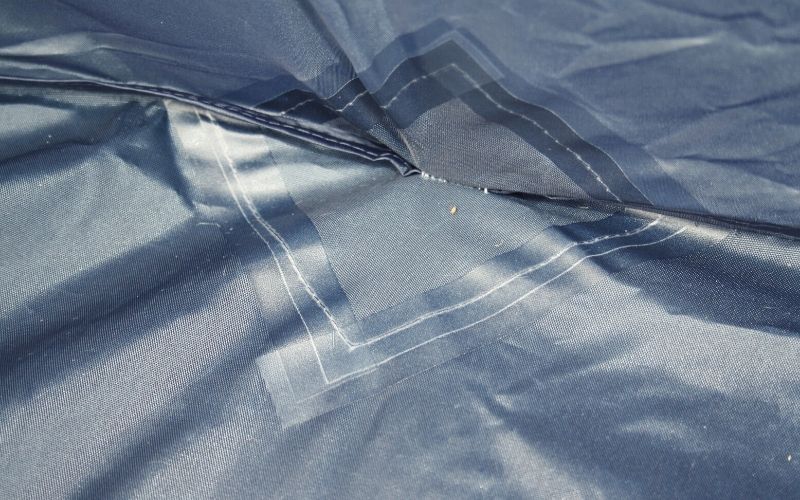 Anchor Points
A tarp's anchor points are the areas where you tie a cord to pitch the tent. These tie-out points look like round metal holes, and they're strategically placed around the edges and corners of the tarp to allow you to pitch a variety of tarp configurations.
In most cases, the more tie-outs a camping tarp has, the better. Every tarp comes with at least four tie-out points, but many of the tarps below have up to a dozen or more anchor points for greater versatility, tautness, and protection.
Guy Lines
If you've never gone camping with a tarp before and are new to some of the terminology, a guy line is simply the rope or cord used to pitch a tarp or tent. It goes through the anchor points, allowing you to create a taut pitch in the tarp configuration of your choosing.
Some of the camping tarps in this guide feature pre-measured guy lines to help you avoid having excess cord flying around in the wind or getting wet. Some even have reflective guy lines to help you see them and get under safely when the campfire goes out.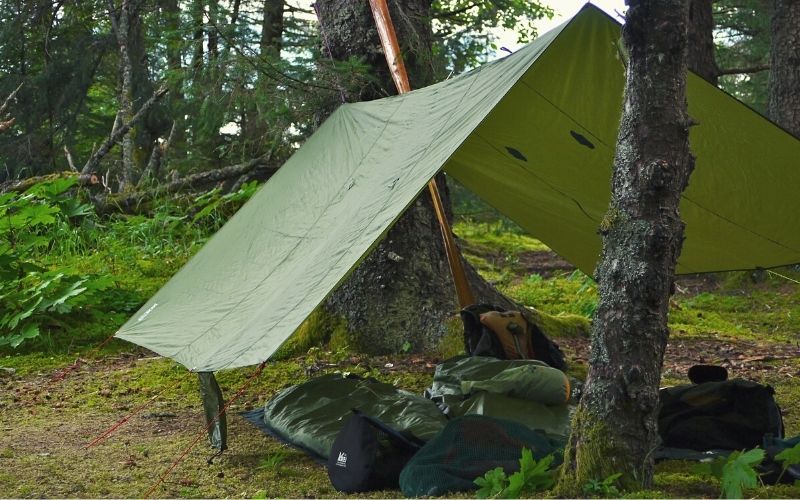 Line-Lock Tensioners
Line-lock tensioners are a helpful feature designed to make tightening the guylines more straightforward and less hassle. They're particularly useful to get a taut pitch and pretty much do all of the hard work for you.
Once you have your tarp ready to pitch, tighten the line-lock tensioners found on the cords to pitch the tarp nice and taught. It might be a little confusing at first, but you'll get the hang of it in no time at all.
Best Camping Tarp: The Verdict
Let's have a quick recap of our top picks.
If you're looking for the best camping tarp your money can buy, we highly recommend the S2S Escapist. The Escapist ticks every box – it's lightweight, packable, durable, and can be configured in multiple ways.
If you're looking for a cheaper option, our top picks are the Free Soldier Large Rain Shelter and the Stansport Reinforced Multi-Purpose. The former of these is best if you want tent-like full coverage and the latter if you're more of a minimalist.
Heading on a thru-hike? If so, check out the REI Quarter Dome SL and Rab SilTarp, both of which are ideal for ultralight backpackers.