There's a good reason all "bug-out" bags have tarps in them. They're compact, lightweight, and able to provide shelter and protection from the elements at a moment's notice.
These features also make a good tarp a popular option for hikers, backpackers, and general outdoorsmen who are trying to pare down their gear and cut weight from their backpack.
Ready to lighten your pack? Find out what to look out for in a tarp and read reviews of some of the best models on the market this year.
Our Top Picks by Category
Budget: Free Soldier Large Rain Shelter, Stansport Reinforced Multi-Purpose Tarp, Kelty Noah's Tarp, Aqua Quest Guide
Ultralight: Sea To Summit Escapist, Rab SilTarp, REI Quarter Dome SL
Full-Coverage: Eagles Nest Outfitters Housefly, Free Soldier Large Rain Shelter
Editors Choice
Sea To Summit Escapist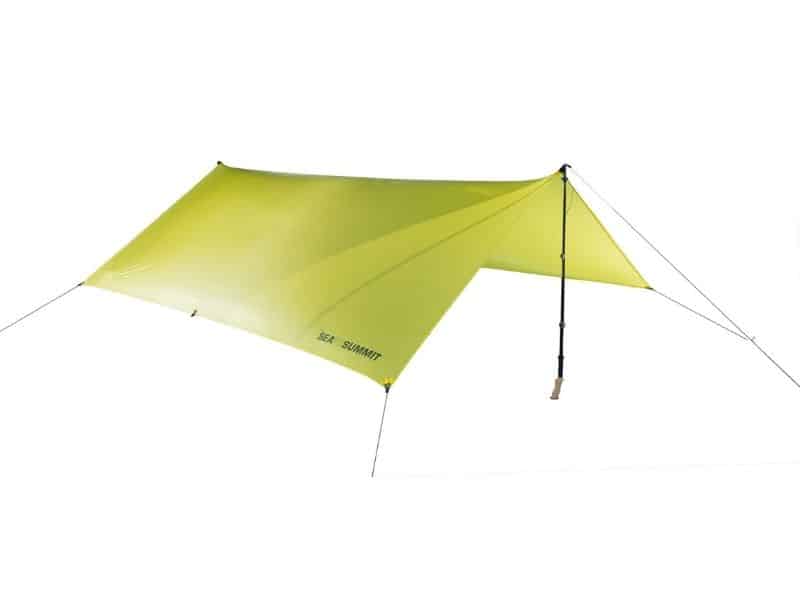 Our pick for the overall best tarp for camping goes to the S2S Escapist tarp. Many folks consider the Escapist the best tarpaulin in the business, and we don't disagree.
At 120 x 120 inches, it's a large and comfortable overnight camping option for a couple of hikers and their gear. The Escapist is also available in a medium-size, which is smaller and suitable for one hiker plus their gear, or two hikers and no gear. The large option comes in at 15.5 oz, and the medium at 10.5 oz, so unless you are trying to shave off a few ounces then the large option is the smarter buy.
This popular camping tarp is also as sturdy as can be. It's made of waterproof treated nylon and features eight anchor points with guy lines designed to fit to the bottom of trekking poles, making setup a breeze. When pitched, it holds up against even heavy rain and strong winds with ease.
Bottom Line: Despite its tangy greenish/yellow color, the Escapist checks all of the boxes that matter most, earning it our top spot as the best backpacking tarp shelter on the market today.
At a Glance: Quick Recommendations
Reviews Of Shelter Tarps For Rain Or Shine: The Results
Sea To Summit Escapist
Editor's Choice
Material: 15 denier Ultra-Sil Nano ⸱ Waterproofing: N/A ⸱ Dimensions: M – 8ft. 6 in. x 6 ft. 6 in., L – 10 ft. x 10 ft. ⸱ Weight: M – 10.5 oz., L – 15.5 oz.
The Escapist is our best overall camping tarp for several reasons, it checks all boxes and has a variety of functions up its sleeve. It can be used to form several different types of A-frame shelters, a standard overhead shelter, tent awning, windshield, or a simple ridgeline fly hammock covering.
Made of 15D, PU-coated nylon and featuring fully taped seams, it provides excellent weather protection in all conditions. The Escapist doesn't even weigh a pound, and it can pack down to the size of a water bottle in the included stuff sack, so it's great for backpackers.
With the Escapist, you get eight reinforced anchor or attachment points with adjustable guylines, line-lock tensioners, and reinforced corners, making it easy to set up at a moment's notice. Combined with the optional Escapist Bug Tent/Net, you'll have the perfect lightweight setup for camping off the beaten path.
The only real drawback to the Escapist is its bright neon green color, which definitely stands out. While it's admittedly stylish and great for the trail, you probably don't want to use it out in the woods if you are hunting game or if you simply prefer to be a little more low-key.
PROs

Super tough nylon construction
Waterproof
Ultra-lightweight tarp at less than a pound
Multiple configurations

CONs

Bright color may not appeal to all
Quite pricey
Bottom-Line: The Escapist checks all the boxes and then some, making it one of our favorite backpacking and camping essentials.
Eno Profly Waterproof Camping Tarp
Most Versatile
Material: 70D Ripstop Nylon ⸱ Waterproofing: 1000mm PU Coating ⸱ Dimensions: 6ft. 4 in. x 10 ft. 6 in. ⸱ Weight: 22 oz.
The Eno Profly is the result of the Asheville, NC-based company's deep roots in the hammock camping niche. Rather than featuring a simple design, it's specifically designed to combine with other Eno products to create a safe and dry, off-the-ground camping experience.
At 22 ounces, it weighs more than some of the other great waterproof tarps on this list. However, it offers 10.6' x 6.4' of coverage and features six reinforced anchor or guy points that allow it to be configured for a number of uses. Plus, it's made of 70D ripstop nylon, so it will shed rain and snow with ease and withstand years of backcountry abuse.
Our only suggestion would be to replace the included nylon rope with Paracord for even greater durability and toughness, but we could make the same suggestion with every other backpacking tarp on this list.
PROs

Flexible and versatile design
Excellent materials and construction
Will withstand years of abuse

CONs
Bottom-Line: The Eno Profly rain tarp is versatile, well-made, and ready for years of abuse on the trail, making it a reliable option for anyone into backpacking in the great outdoors.
Eagles Nest Outfitters Housefly
Best Tarp for Hammockers
Material: 30D Silicone Impregnated Nylon ⸱ Waterproofing: 1000mm PU Coating ⸱ Dimensions: 8ft. 10 in. x 10 ft. 8 in. ⸱ Weight: 29 oz.
If you love hammock camping, then the Eno Housefly may be the perfect camping tarp for you. It gets its name from its two large doors, or "wings", which overlap to create a full enclosure and keep you cozy, warm, and dry during a downpour.
In addition to providing the perfect setup for hammock camping, its enclosed design also makes it as close to a tent as you can get. Plus, at 128 x 106 inches, it's spacious enough for one or two people and their gear.
Made of silicone-impregnated nylon, this unique hammock tent tarp is super durable and designed to hold up to the elements too. Being hit in the face with 40 mph winds? Sun or rain beating down on you? The Eno Housefly has you covered.
All that said, it weighs in at 29 ounces, making it nearly twice as heavy as the Escapist and some of the other models on this list. However, if you don't mind lugging around a little extra weight, it won't let you down. We also think you'll like its extra coverage and features.
PROs

Perfect setup for hammocks
Excellent protection from the elements
Spacious
Reinforced stitching

CONs

A bit heavy for backpacking
Bottom-Line: The Eno Housefly's unique wings make it great for creating a warm, cozy, and protected environment for hours of hammock lounging.
Free Soldier Large Rain Shelter
Best Budget Full-Coverage Tarp
Material: 210T ripstop polyester fabric ⸱ Waterproofing: 2500 PU waterproof rating ⸱ Dimensions: 9ft. 10 in. x 10 ft. 6 in. ⸱ Weight: 42 oz.
Looking for a real bargain? If so, the Free Soldier might be the camping solution for you. It measures 118 x 126 inches, so it's large enough to shelter two people with ease. It's strong and heavily stitched to hold up well in the wind and rain, and you can tie the ends semi-closed for added protection from the elements.
Unlike a lot of models on our list, which have only four or six anchor points, the Free Soldier has 10, giving you plenty of setup configurations as well. The color is also nice, and the orange trim around the edges makes spotting the tent easier in thick coverage or low light conditions.
Despite all this, this budget-friendly product tips the scales at 42 oz., so it's not the best option for lightweight adventures. It can also be a bit of a pain to pack up and doesn't come with stakes or poles, so that will need to be factored in as well.
PROs

Budget-friendly price point
Heavy duty and well-made
Ten anchor points for added security and flexibility

CONs

Quite heavy
Not the easiest to set up and pack
Bottom-Line: If you're on the hunt for a large, sturdy tarpaulin that won't bust your budget and you don't mind carrying a little extra weight, then the Free Soldier might be right up your alley. As far as bang for your buck goes, it's one of the best around.
REI Quarter Dome SL Tarp
Runner Up
Material: Polyurethane-coated ripstop nylon ⸱ Waterproofing: 1200mm HH ⸱ Dimensions: 9ft. 7 in. x 9 ft. 7 in. ⸱ Weight: 12 oz.
If you've been inspired to give thru-hiking a go from watching "Into the Wild," "Wild," or any other "wild" film, the REI Quarter Dome SL will work just fine. Equally suited for the Appalachian and Pacific Crest trails or to serve as a lightweight shelter for a weekend backpacking trip, the Quarter Dome is a personal favorite, and for a good reason.
For instance, the QD SL is made with polyurethane-coated ripstop nylon. It's also equipped with corner grommets with double-layer reinforcement and multiple webbing loop lash points for easy setup and extra durability. Combined, these features allow it to fight off rain and wind exceptionally well.
The Quarter Dome's square, symmetric cut also means it can be configured in a variety of ways, while its 90.25 square feet of coverage mean there's plenty of room for 4-6 campers plus gear.
Best of all, it only weighs 12 ounces, making it the lightest camping tarp on our list. While you would expect it to be lightweight since it's made for thru-hiking, 12 ounces is pretty impressive, especially considering its durable and robust design. You can trek hundreds of miles with this ultralight tarp and not even know it's there.
The only thing we found fault in was the price tag, which may be a little too steep for occasional users.
PROs

Super lightweight
Excellent materials and construction
Super durable and weatherproof
Large tarp coverage area

CONs
Bottom-Line: The REI Quarter Dome SL is a tremendous all-around product with a lightweight design and excellent features for extended backpacking adventures. As ultralight backpacking tarps go, this one's a winner.
Stansport Reinforced Multi-Purpose Tarp
Best Budget
Material: Rip-stop polyethylene laminated on both sides ⸱ Waterproofing: N/A ⸱ Dimensions: Multiple from 8 ft. x 10 ft. to 30 ft. x 60 ft. ⸱ Weight: Varies with size
The Stansport is a no-frills bushcraft tarpaulin that's ideal for occasional weekend warriors. It's made of tough, rip-stop polyethylene that's laminated on both sides, and has double-reinforced corners, reinforced edges, and heavy-duty, rust-resistant grommets for added durability.
The Stansport is available in multiple sizes (8 x 10 ft. to 30 x 50 ft.), so you can choose according to your needs or group size.
There are six guy-out points in all, which means six anchor points. While more would be helpful for even greater strength and support, there are enough to make it reasonably secure in everything but severe weather.
PROs

Resilient and durable fabric
Waterproof
Rope reinforced edges and grommets
Affordable
Available in multiple sizes

CONs

A little on the heavy side
Bottom-Line: The Stansport offers a robust design and reasonable protection without breaking the bank. If you're an occasional weekend backpacker who rarely goes off the beaten path for more than a day or two, it's worth a look.
Kelty Noah's Tarp
Honorable Mention
Material: 68D Polyester ⸱ Waterproofing: 800 mm DWR coating ⸱ Dimensions: 3 sizes – 9 ft. x 9 ft., 12 ft. x 12 ft., and 16 ft. x 16 ft. ⸱ Weight: 9ft. – 32 oz, 12 ft. – 46 oz., and 16 ft. – 50 oz.
If you want a low-cost, tough, well-made tarpaulin and are happy to carry a few extra ounces the Kelty Noah is a solid option.
The Noah is made with burly, 68D, DWR-coated polyester fabric. It comes in three sizes from 9 ft., 12 ft., and 16 ft., and weighs at a ponderous 32, 46 oz., and 50 oz. respectively.
We've included the Kelty Noah on our list mainly because of its low price point and plethora of potential configurations. It costs less than half the price of the most expensive options on our list and has a total of 14 reinforced attachment points, so you can really get creative with your setup. The drawback, especially with the larger sizes is the additional weight you'll be carrying.
PROs

Multiple guy-out points
Double-stitched
Works as a sunshade or basic shelter

CONs

Doesn't use ripstop fabric
No ideal in extreme weather
Bottom-Line: Not the lightest or the most protective, but tough as nails and a safe bet for 3-season adventuring.
Rab SilTarp
Most Durable
Material: Cordura 30D siliconized nylon ⸱ Waterproofing: PU coated (67 gsm) with 2000mm HH ⸱ Dimensions: 8 ft. x 10 ft. ⸱ Weight: 16.3 oz.
British brand Rab's name has become synonymous with high-quality, dialed-in outdoor gear. And the Rab SilTarp is a fine example of why this is the case.
The SilTarp is elegance and practicality defined. It's made with extra-tough silicone, "Sil-Coat" impregnated 30D ripstop Cordura nylon, which means it's tough as nails and a shoo-in for adventures in rougher terrain. Despite this, it weighs in at 16.3oz and packs down to a pack-friendly bundle (6.3" x 9.8").
Measuring 8' x 10', the SilTarp offers enough coverage for 2-3 people. While it isn't quite a square, it can still be configured in multiple ways thanks to its 16 reinforced attachment points. In testing, we found it worked great as an A-frame or an open-ended windbreak with the front end suspended by two hiking poles.
The only quibble we have with the SilTarp is the price tag, but this is forgivable given its quality built and spot-on feature set.
PROs

Ultralight
Tough
Multiple configurations

CONs
Bottom-Line: A seriously well-made tarpaulin geared towards serious adventurers.
Aqua Quest Guide
Best Value
Material: 40D ripstop nylon ⸱ Waterproofing: Dual silicone and PU coating ⸱ Dimensions: Multiple from 7 ft. x 10 ft. to 13 ft. x 20 ft. ⸱ Weight: Varies with size
The peeps here at My Open Country are big fans of big bang for our buck. This being so, we love to come across products like the Aqua Quest Guide.
The Quest Guide isn't the lightest option out there, but it ticks every other box. It comes in multiple sizes from 7' x 10' to 13' x 20', is made with 40D Ripstop Nylon fabric with a non-toxic dual silicone and PU coating, and has a whopping 17 reinforced webbing loops that let you set it up in myriad ways. Its 5,000mm hydrostatic head also makes it one of the most waterproof camping tarps out there.
One notable difference in the attachment points on the AQ guide is that they aren't built into the material using grommets, but take the form of extended loops. For us, this made setup a little easier and gave us peace of mind in knowing we wouldn't trip the fabric if tying it down extra tight in strong winds.
PROs

Highly waterproof
Ripstop fabric
17 attachment loops

CONs
Bottom-Line: A great pick for campers who head out no matter what the weather's doing.
How To Choose The Right Outdoor Tarp for Your Needs
When on the hunt for a great camping tarp, you might be surprised at how many things there are to consider.
For example, will you be using yours as a temporary shelter while scaling the rocky face of El Capitan, or will you simply be using it for a weekend exploring the trails out your backdoor?
Do you plan on using it as your primary camping shelter, or do you want to use it as a temporary rain tarp when conditions take a swing?
You get the point. You should ask yourself these questions and more to zero in on the best tarp for you to avoid wasting your hard-earned money.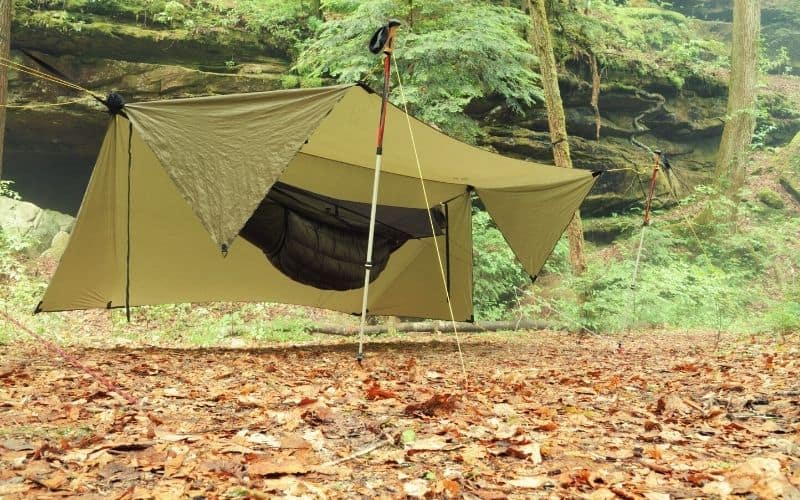 To help you out, here are some specific things to keep in mind.
Intended Use
A camping tarp is a versatile and flexible piece of gear, but zeroing in on your intended use for it is the first step to take when trying to find the right one.
Will you be using it as a sun tarp, a quick source of shade on a hot summer day? Is it going to be your go-to to stay dry when a rainstorm suddenly strikes? Will it be your primary shelter for when you're out backpacking or an emergency survival tarp?
Asking yourself these questions is a critical component of the selection process. Once you've determined what you'll be mostly using it for, you can look for tarps with the right specifications to meet your needs.
Camping Environment
Your camping environment or where you pitch your camping tarp can also help you determine which model to pick. While poly tarps are cheaper and made of strong material, they get brittle when the temperature dips.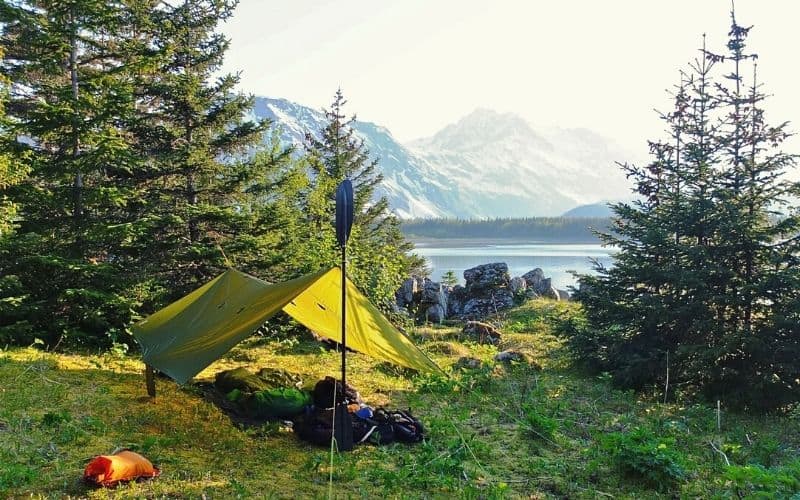 If you're searching for a great campsite tarp, you'll want one made of nylon or vinyl. Tarps made of these materials offer superior resistance to rain, wind, and general wear and tear, which means they can be used in just about any camping environment.
Seasonality
Whether you're looking for a rain tarp to pull out on the trail when the rain hits or a camping tent tarp to use as a primary camping shelter, almost all models are made to hold up to summer and spring weather.
However, while we wouldn't suggest one for wintertime use unless you're in The Keys, there are some tremendous three-season models to use for when the leaves start to change color. A three-season tarp will allow you to backpack lightly, enjoy better protection from the elements, and experience the outdoors for more months of the year.
Shape
Most tarps come in a square or rectangular shape. Square tarps use more material and provide better protection for your gear and equipment, but they also add weight and take up more space. Rectangular tarps, on the other hand, work better for covering a sleeping bag or tent.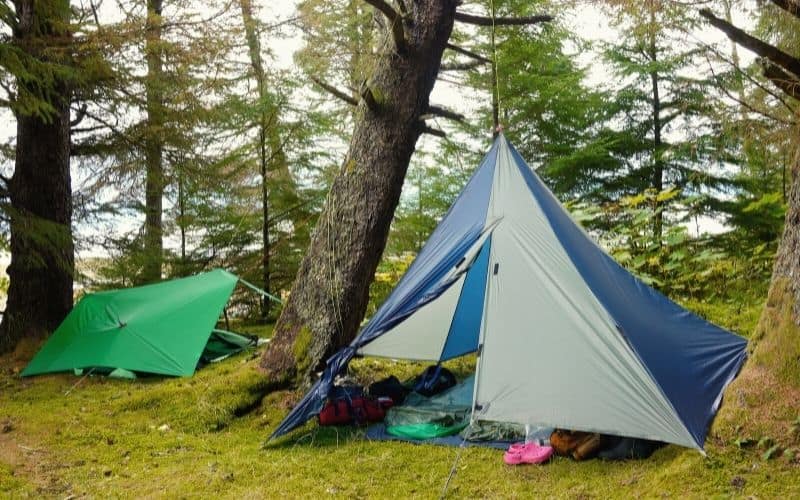 While these shapes are the most common, as you'll see below, tarps come in other forms too. So, keep this in mind when shopping to make sure you pick the right tarp in the right shape for your needs.
Size
Camping tarps also come in different sizes. While you might be tempted to go with as large a model as possible for added protection, the larger a tarp is, usually, the more it weighs. The last thing you want when hiking or backpacking is to lug around more weight than you need.
Nonetheless, you don't want a model that's too small for your needs. A smaller model may be ideal for solo thru-hiking the Appalachian or Pacific Crest Trail, but you'll need a larger tarp for family backcountry outings.
Durability
Most of the products in this guide are constructed of ripstop nylon. As its name suggests, lightweight tarps made from this material are much more difficult to rip and tear, making them great for sheltering outdoors. Many quality tarps also have not one but two layers around the corners for even more durability.
It's also a good idea to choose a tarp with a water-repellent coating. Not only will this help the fabric hold up better for longer, but it will keep rain from seeping through and getting you soaking wet. Trust us; you'll thank yourself later.
Important Features
Taped Seams
When it comes to leak protection, fabric choice is essential. However, you should also consider heat-taped seams. These tarpaulins have seams that are taped with a special waterproof material to keep water from finding a way through.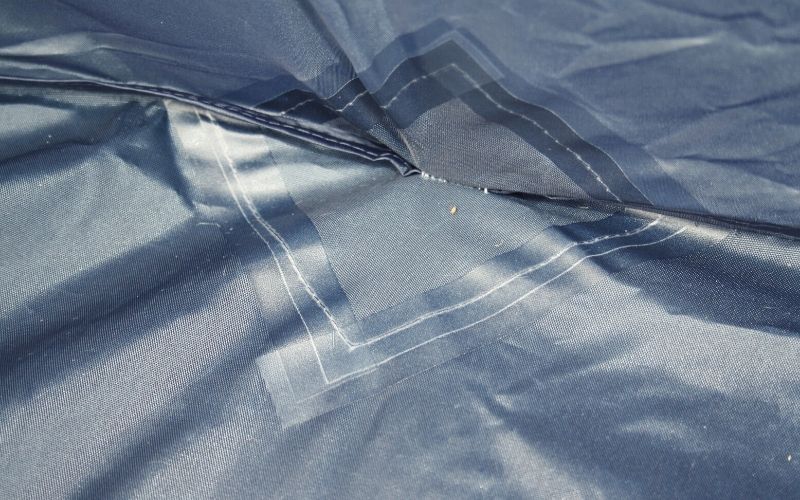 Anchor Points
A tarp's anchor points are the areas where you tie a cord to pitch the tent. These tie-out points look like round metal holes, and they're strategically placed around the edges and corners of the tarp to allow you to pitch a variety of tarp configurations.
In most cases, the more tie-outs a camping tarp has, the better. Every tarp comes with at least four tie-out points, but many of the tarps below have up to a dozen or more anchor points for greater versatility, tautness, and protection.
Guy Lines
If you've never gone camping with a tarp before and are new to some of the terminology, a guy line is simply the rope or cord used to pitch a tarp or tent. It goes through the anchor points, allowing you to create a taut pitch in the tarp configuration of your choosing.
Some of the camping tarps in this guide feature pre-measured guy lines to help you avoid having excess cord flying around in the wind or getting wet. Some even have reflective guy lines to help you see them and get under safely when the campfire goes out.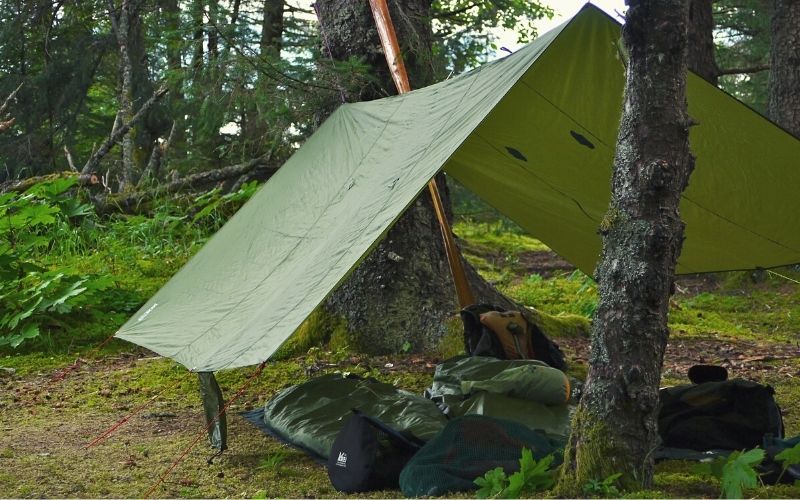 Line-Lock Tensioners
Line-lock tensioners are a helpful feature designed to make tightening the guylines more straightforward and less hassle. They're particularly useful to get a taut pitch and pretty much do all of the hard work for you.
Once you have your tarp ready to pitch, tighten the line-lock tensioners found on the cords to pitch the tarp nice and taught. It might be a little confusing at first, but you'll get the hang of it in no time at all.
Best Camping Tarp: The Verdict
Let's have a quick recap of our top picks.
If you're looking for the best camping tarp your money can buy, we highly recommend the S2S Escapist. The Escapist ticks every box – it's lightweight, packable, durable, and can be configured in multiple ways.
If you're looking for a cheaper option, our top picks are the Free Soldier Large Rain Shelter and the Stansport Reinforced Multi-Purpose. The former of these is best if you want tent-like full coverage and the latter if you're more of a minimalist.
Heading on a thru-hike? If so, check out the REI Quarter Dome SL and Rab SilTarp, both of which are ideal for ultralight backpackers.