A camping trip should be a fun way to get away and explore the great outdoors. But if every time you go you spend more time digging through bags and unpacking your camping gear than enjoying nature, you might need some storage inspiration for your campsite.
We've put together a list of our top camp organization and storage suggestions to save you time and space. Whether you're going out for the first time or the thousandth time, these organizing tips and camping hacks will make you the most organized camper at the campground!
1. Color-Code Your Dry Bags
Nothing is more frustrating than ripping apart every one of your dry bags trying to find something. And, of course, the thing you need is always in the last dry bag you open. Say goodbye to that hassle with this ingenious and perfect storage solution for camping.
Next time your camping trips take you out on the water, try color-coding your dry bags. For example, assign breakfast, lunch, and dinner foods with separate colors. Because tape and marker might wash off, find a different way to differentiate the bags.
Maybe yellow reminds you of sunrise, so you use a yellow dry bag for breakfast items. Or blue for dinner because blue is like evening.
Red is the universal color of first aid and emergency, so reserve red for your emergency and first aid kit supplies. The last thing you want in an emergency is to waste time searching through different bags!
Luckily, dry bags come in many different colors. You could have a different color for kitchen items, clothes, and sleeping gear. You'll never run out of colors and it'll streamline your experience at camp.
2. Bring a Fanny Pack
Thank goodness fanny packs are back in fashion! They are by far the most convenient way to organize and transport your everyday carry items.
The most important things you carry are all right there around your waist. Imagine coming across a beautiful view or extraordinary wildlife and not being able to find your phone for a photo. Problem solved!
Sunscreen, chapstick, hand sanitizer, bug spray, and your phone/camera all belong in a fanny pack. Keep the things you need close and accessible in there. As they say, once you go fanny pack, you'll never go back!
Our favorite mini pack for the trail is the Mountainsmith Tour with its padding, thoughtfully laid out pockets and organizational features, and robust design. What's not to love?
3. See-Through Storage Bags
Instead of unpacking and repacking every time you look for something, simply use see-through storage bags. The advantage of see-through bags for storing camping gear is self-explanatory. You can see the contents and keep an eye on what gear, food, and clothes you have packed, and where everything it all is.
See-through bags work well for everything from clothes to toiletries to food and camp kitchen accouterments. You can find these clear bags in various sizes and shapes for even more camp convenience.
For food items, we love these smaller BPA-free storage bags. Critically for camping, they are leakproof so they get the thumbs up from us!
4. Compression Sacks
Here's another simple but brilliant organizing tip. Compression sacks squeeze their contents down by removing as much air as possible. Your sleeping bag stuff sack is a compression sack, but you can use them to reduce any bulky items to a third of their size. Use them for down jackets, outer layers, other clothes, and your camp pillow.
Compression sacks save tons of room and are a must-have on backpacking trips where space is limited to what you can carry on your back. That said, compression sacks also allow you to maximize the space in your vehicle, so are useful even if you're on a car camping adventure.
Our go-to sack for maximum protection, as well as compression, is the Sea to Summit Ultra-Sil Compression Dry Sack.
5. Bring a Trash Can
Trash and trash removal have a whole new meaning on a camping trip. Nine times out of ten, you must pack all your garbage out with you. To optimize your Leave No Trace practices, bring a trash can!
You can either find a camp-specific trash receptacle that folds down or hangs from your car (or picnic table), or repurpose and recycle. Five-gallon buckets make the perfect trash can, especially when they have a lid.
For backpacking trips, try gallon-size Ziploc plastic bags. If you don't have a designated spot for trash, it will fill your pockets, backpack or duffle bag, and random car compartments. In other words, even your waste needs to stay organized.
6. Plastic Drawer Organizers
Who says plastic drawer organizers are just for dorm rooms? A portable, plastic chest of drawers will simplify your campsite storage and organization. There are many different sizes of plastic drawers, from desk-top small to waist-height. It should be easy to find the right size for your vehicle.
Plastic drawers can store your clothes, maps and guide books, and any other loose items you don't want just rolling around the back of your car. You can label your drawers for an even more organized trip. They may be bulky, but this is probably our favorite camping organization hack for car-accessible campgrounds.
7. Create a Clothesline
One of the first things you should do for camp organization is set up a clothesline. Clotheslines have so many uses. You can dry out jackets and wet or sweaty clothes, air out sleeping bags, and keep your snacks away from critters. Clotheslines also help keep your things out of the dirt and in a safe place.
Clotheslines can double up as a place to hang lights, tarps, and dog leads. No camp setup is complete without at least one – try it out on your next camping trip and see how it transforms your camp experience!
8. Carry Collapsible Water Containers
Hard-sided water jugs and bottles take up precious space in your pack or car. They are an organizational nightmare. Enter collapsible water containers, your new best friend. Once empty, these containers take up very little space and are easy to store and transport.
Collapsible water containers come in all different sizes, from half-liter bladders to five-gallon jugs. If you know there will be water at your destination, fold down or roll up your water containers and tuck them away. This will save space for other essentials.
We like this robust collapsible container from WaterStorageCube complete with handy spigot for pouring!
9. Make Use of Your Gear Loops
While planning your next backpacking trip, remember you have extra space on the outside of your bag. The loops and daisy chains on the outside of your backpack are there to increase your organization and carrying capacity. Instead of shoving all your gear into your bag, use the gear loops.
Gear loops are perfect for awkwardly-shaped gear like trekking poles and trowels. You can also use gear loops to dry wet or damp clothes while hiking.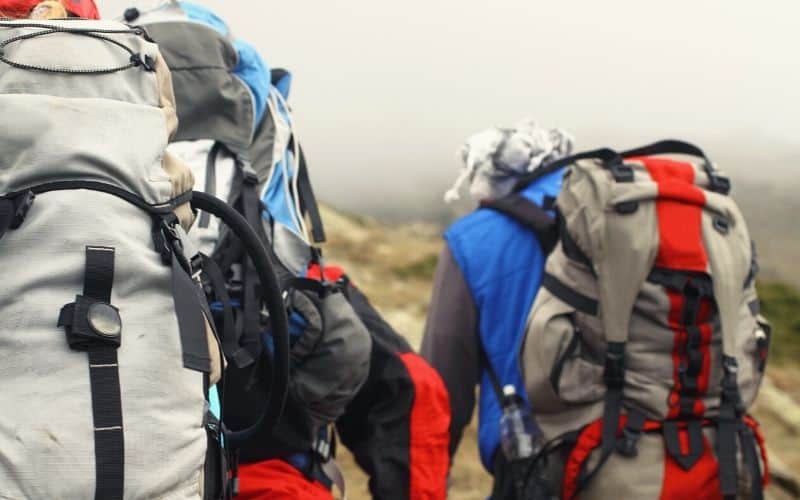 10. Bring a Tarp
A tarp is an essential piece of gear whether you're car camping or backpacking. Like clotheslines, tarps have endless uses.
You can set up an awning or extended dry storage area in the rain to prevent you and your gear from getting wet. In hot or sunny weather, use a tarp for shade and comfort.
On water-based camping trips, a tarp can help keep gear out of the sand while it dries. You can use a tarp to make a lean-to, a quick shelter, for water collection, or to add insulation to your tent floor. The list goes on. Long story short: always bring a tarp.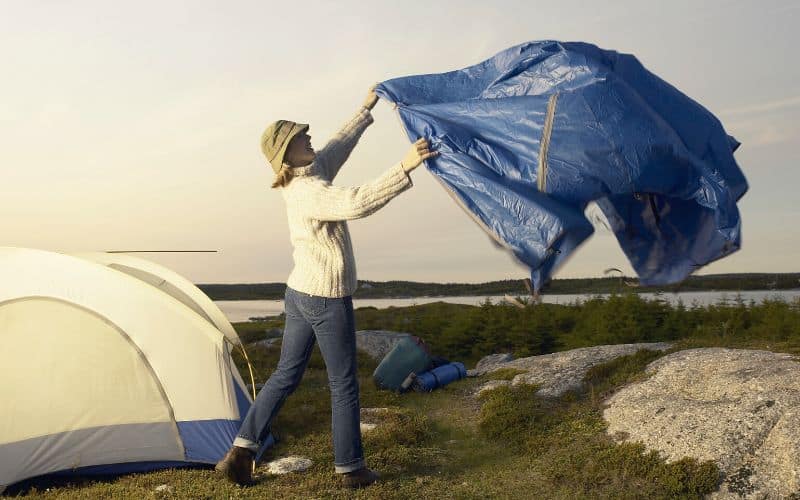 11. Buy a Tent With a Gear Loft (or Create Your Own)
Fumbling around your tent at night looking for your headlamp or seeing glasses is one of the most frustrating things about life at camp. If this sounds familiar, consider buying a tent with a gear loft.
A gear loft is a piece of mesh that clips into the ceiling of a tent and can be used to store lightweight items. Imagine a little storage hammock at the apex of your tent. We love the roomy Eureka Copper Canyon with its tall height which easily accommodates its included gear loft.
If buying a whole new tent just for a gear loft doesn't fit your budget, you can make your own. Most tents have loops in the ceiling. You can clip a stuff sack into the loops and use it as a gear loft. Or string paracord through the loops to hang up and organize your things.
12. Hanging Shoe Rack
Re-using a hanging shoe rack is good for the environment, as well as for your camping organization. If you are van, RV, or car camping, we cannot recommend a shoe organizer highly enough.
The many pockets in a shoe rack or closet organizer are ideal for storing and organizing your camping equipment. For example, put your cooking utensils in a shoe organizer and hang them next to your camp kitchen. When you need a spatula or knife, you will know exactly where to find it.
Or fill the pockets with granola bars and other snacks, so everyone knows where to find something to eat. To try this camping hack, look for a hanging shoe organizer next time you're at the thrift store.
13. Coffee Cans
Old coffee cans are stackable, durable, and water-resistant. You can use them to store and transport all sorts of things, from dog food to random loose items like sponges and dish soap.
You can also use a coffee can for your fire-starting kit. It will keep your matches, lighters, and starters dry and ready to go.
Many experienced campers like to use coffee cans to keep their toilet paper clean and dry. You can paint and label the toilet paper can so you know exactly what to reach for when nature calls.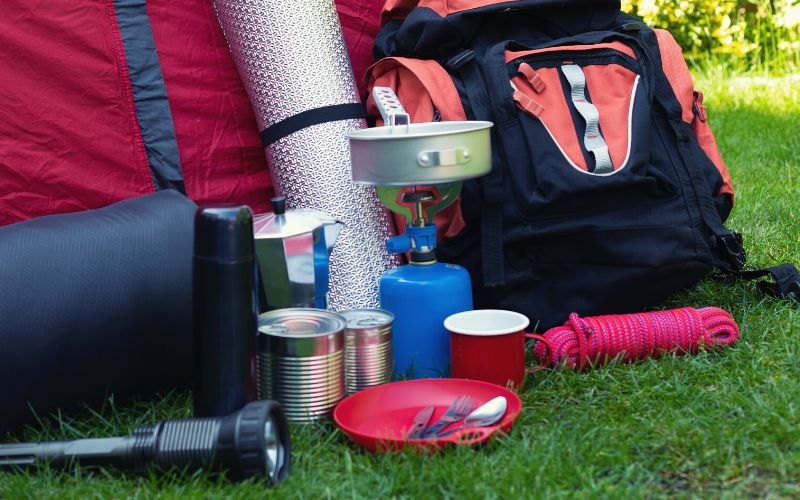 14. Storage Bins for Your Camp Kitchen
This is one of the simplest but most amazing organizational solutions out there – the camp kitchen storage bin. You will save so much time and space by consolidating all your kitchen supplies into one or two plastic bins. If you can't find clear containers, make sure to clearly label the ones you do use.
So what goes in a camp kitchen box? Pretty much anything and everything you will need to prepare and cook gourmet meals at camp. Your kitchen bin should include plates, bowls, utensils, and paper towels or napkins.
Put your pots, pans, and oven mitts in the same plastic bin. Your camp stoves, fuel, fuel hoses, and lighters should also be in your kitchen bin. Don't forget a can opener, cutting boards, and serving spoons.
If you want as robust as they come, and with an IP67 waterproof rating, you can't go wrong with a Yeti LoadOut GoBox for storing your camp kitchen.
There's a lot that goes into a good camp kitchen. But with some research and trial and error, you'll get it dialed in. Starting with everything in one spot makes prep, cooking, and clean-up a breeze.
At the end of a trip, go through your kitchen storage and make sure everything is restocked, like fuel, hand sanitizer, and paper towels. Sharpen your knives and replace any broken or missing utensils. This way, when it's time to pack for the next trip, everything is ready to go, and you can check off all your kitchen items without even looking.
15. Grocery Store Plastic Bags
Use grocery store bags for dirty clothes. Seasoned backpackers and campers know the importance of keeping smelly garments separate from clean ones. Besides the obvious hygiene concerns, stinking up your clean clothes, sleeping bag, or tent may attract bears or other critters.
Keep your used, dirty clothes, especially the ones you cook in, away from your other clothes like your pajamas. Grocery bags work well for this. If the campsite has a bear box, use it to put the dirty clothes bag away at the end of the night or before you leave for the day.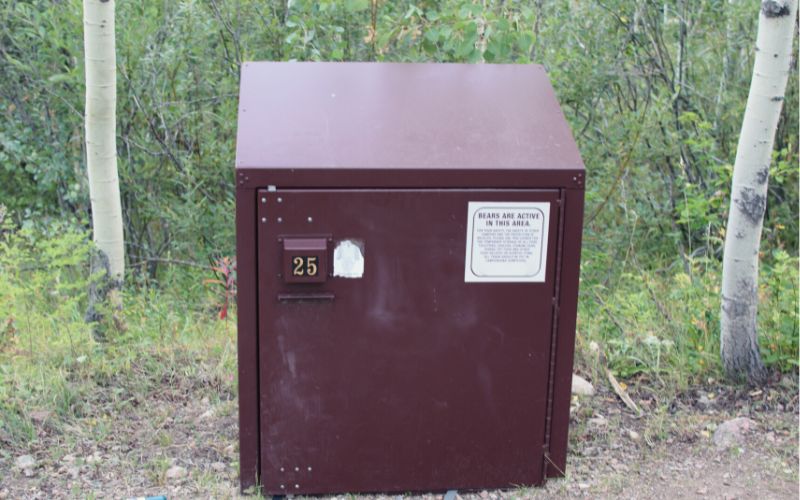 Camping Storage Ideas = Sorted!
A fun day can turn sour if you get to camp and can't find what you need. From your dry bags to your kitchen box, even a one-night camping trip involves a lot of planning, packing, and organization. We hope our list of the fifteen best camping storage ideas will help you to prepare for your next camping adventure.
Did we miss anything? What are some of your go-to hacks and tips for staying organized on outdoor adventures? We'd love to hear them. Let us know in the comment section below!