If you are a serious hiker or mountaineer, winter conditions aren't going to stop you from scaling your favorite mountain.
Hiking crampons can be used for everything from icy hikes to technical climbs. You can even scale frozen waterfalls with some of these impressive under-the-foot travel systems. Despite that, almost all crampon models include the same key features, including durable metal frames, sharp metal points, and flexible foot bindings.
We've done our fair share of the heavy lifting and tested several top-selling crampons. In the section below, you'll find our top seven crampon selections. We've done our best to include entry-level devices and technical options.
Our Top-Rated Crampon
Camp USA Stalkers
After careful consideration, we've selected the Camp USA Stalkers as the best crampon for hiking and mountaineering. After considering every last defining detail, we found that these crampons had what it takes to traverse snowy hills and icy mountains.
With their durable steel foundations, 12-point spike systems, and universal bindings, Stalkers were destined to become one of our favorites. Still, they earned our top award because of their unparalleled performance on winter landscapes.
The chromly steel bases offer unmatched durability in extreme winter conditions. Meanwhile, the aggressive front points provide a secure grip on technical routes. The Stalker's universal strap-on bindings pair well with every type of boot. Best of all, they are easy to attach and adjust. While these crampons are a bit on the heavy side, their weight is justified by their impressive strength.
Bottom Line: With their impressive steel frame and 12 stabilizing points, Camp USA Stalkers reign over all the others as the best mountaineering crampons.
How To Choose The Best Crampons For You
What Are Crampons?
Crampons are trekking systems that attach to the bottom of winter boots. They improve hikers' traction and speed in snowy and icy conditions. Quality crampons enable hikers and mountaineers to cross extreme surfaces. With crampons, ice-covered rock slabs and snowy slopes are not off-limits. These systems consist of spiky metal foundations and flexible bindings.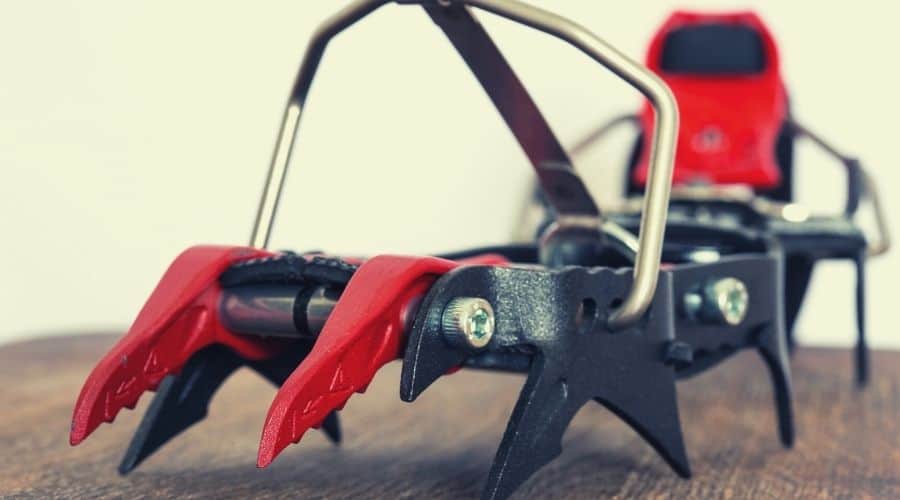 Types Of Hiking Crampons
Strap-On
Strap-on crampons are the most versatile traction systems on the market. These systems attach to footwear with the help of strap bindings. Strap-on models have adjustable bindings that make them universal. Yet, they also tend to offer a less precise fit than step-in alternatives. As such, we only recommend this type of crampon for modest mountaineering.
Step-In
Toe bails and heel tabs bind step-in crampons to outdoor footwear. You can only use this type of crampon with boots that have dual-point welts. Welts are small grooves that are sometimes cut into the upper soles of boots.
Most step-in products have lockable levers that make them easy to secure to footwear. Their advanced security systems make them a popular option with technical climbers. Step-in models only pair with specific types of footwear. Yet, they are some of the most reliable snow and ice-climbing crampons on the market.
Hybrid
Hybrid crampons offer a combination of step-in and strap-on features. These systems consist of a locking heel lever and a locking over-the-foot strap system. You can only pair them with winter boots that boast heel welts.
These systems offer a little more security than strap-on models. They are also more versatile than step-in alternatives.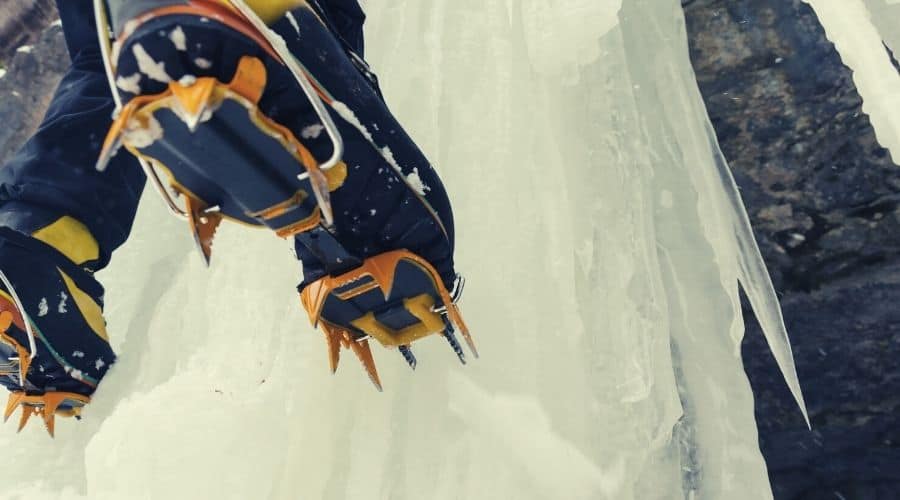 The Advantages Of Crampons Vs. Microspikes Or Snowshoes
You can Climb Icy Inclines
Snowshoes and microspikes for hiking have their purposes. Still, crampons are the quintessential choice for steep icy inclines. Their numerous metal points enable climbers to ascend slippery surfaces without issue.
While hiking spikes are similar to an ice crampon, the points of even the best microspikes are too small to penetrate dense ice covers. As such, they tend to give climbers a sense of false security. On top of that, snowshoes are only good for traversing relatively level yet deep snow. While they do an excellent job of redistributing a hiker's weight, they do not provide adequate traction.
If you are looking to ascend alpine terrains, quality hiking boot crampons and an ice pick are going to up your chances of success. These are the top gear items for glaciers and icy inclines.
Further Reading: How to Use Crampons Correctly
Can Be Used for More Technical Excursions
Most advanced ice-climbing techniques require the use of crampons. Many methods involve various applications of the front, middle, and rear contact points. Steep or vertical ice faces are no match for non-penetrating traction cleats. Of course, crampon-covered snowshoes are not a match for icy glaciers.
Less Likely to Tire Your Feet
It can be challenging to preserve your energy when your feet are slipping behind you. Quality crampons empower you to grip the surface of packed snow and icy expanses. They enable you to make more progress than you would with snowshoes or microspikes.
Of course, there are some ideal times for these alternative winter travel systems. Familiarize yourself with local weather patterns. Then, adapt your gear pack according to predicted conditions. When in doubt, bring a lightweight set of aluminum crampons. Crampon sets usually weigh less than 2 pounds and stored inside a day pack.
Move Faster and More Efficiently
Ice and snow make it impossible to gain traction in an ordinary pair of winter boots. That's why crampons are an ideal outdoor travel solution. These spiky systems dig into packed snow and dense ice. You'll be able to ascend hills and alpine areas without losing your footing. You can scale mountains with enough speed to beat those annoyingly premature winter sunsets.
Important Features To Consider in Ice Clampons
Construction
Crampons may have a flexible or semi-rigid construction. Flexible models are typically made from lightweight metals, such as aluminum or steel. They are ideal options for general mountaineering i.e. people who are hiking moderate snow-covered inclines.
So, semi-rigid crampons are the preferred option for more technical mountaineering. Their modest flexibility provides climbers with a solid foundation for technical footwork.
Some products enable users to switch back and forth between full and partial flexibility.
Type of Bindings
It's important to consider all your binding options. Most manufacturers offer strap-on, step-in, and hybrid bindings. As discussed earlier, strap-on bindings can be paired with a wide range of winter footwear. However, they are the least secure type of crampon system. As such, these crampons are not usually employed by technical climbers.
Hybrid bindings tend to fit a bit snugger. However, these bindings can only be paired with boots that have a heel grove. Finally, step-in bindings require toe/heel welts. This last type of binding offers the most security. As such, it is favored by technical climbers.
Number of Points
Most crampons boast 10 to 12 points. Models with 10 points are used on modest snowfields. Meanwhile, 12-point models are ideal for highly technical climbs.
Hybrid bindings offer a more precise fit. However, these bindings can only be paired with boots that have single-point welts. Finally, step-in bindings require dual-point welts. As such, they offer the most security. As such, it is favored by technical climbers.
Pay attention to the number, position, and shape of the points. Technical climbs require angled tines. However, vertical points can be cumbersome for individuals who spend most of their time walking on relatively flat surfaces.
Additionally, some products have adjustable points. These points can be moved during different stages of climbs.
Boot Compatibility
Amateur hikers may purchase crampons without considering whether or not they are compatible with their footwear. This is never a wise idea. A crampon's binding system determines its compatibility with different types of footwear. For example, one type of binding may require a boot with dual-point welts. Meanwhile, a different binding may not require any prerequisites.
Some manufacturers utilize a universal grading system to help consumers pair their boots with crampons. Shoes that successfully pair with crampons fall into the B1, B2, or B3 categories.
B1 boots are hiking boots. They are moderately rigid and do not boast welts. B1 boots pair with C1 (strap-on) crampons.
B2 boots are more rigid than B1 boots. They also boast a heel clip. As such, they can pair with C1 (strap-on) and C2 (hybrid) crampons.
Finally, B3 boots are engineered for mountaineering. These boots have dual points welts. They should only be paired with C3 (step-in binding) crampons.
Weight
Crampon weights vary depending on their core construction materials. The lightest crampons are made from aluminum. These are ideal for modest hikes but tend to wear out faster than the steel alternatives.
Stainless steel models tend to be a bit heavier. Besides, they are resistant to wear and rust.
Most crampon sets weigh no more than 2 pounds. Yet, many aluminum sets only weigh a few hundred grams.
Further reading: How to pack your crampons safely
Best Hiking Crampon Reviews
Camp USA Stalker
Best for Mixed Climbing
Our top award for the best hiking/mountaineering crampons goes to Camp USA's Stalker. This incredible chromoly steel crampon system can be bound to nearly any type of boot. In an instant, you can transform ordinary outdoor footwear into technical boots that are fit for steep slopes of ice or snow.
The Stalker's durable foundation serves as an incredibly secure system for mountain travel. There are even built-in CC4U wear indicators on the sides of each crampon. With a clear replacement marker, you'll never have to question the longevity of this model. The Stalker's fixed horizontal front points provide hikers with impressive stability.
The crampon's bindings are made from thermoplastic heel and toe harnesses and durable nylon bindings. The bindings come in an assortment of colors, making it easy to coordinate them with an ice pick or other outdoor accessories. `
With its dual front points and 12 points of contact, the Stalker is an excellent option for technical mountaineering and high-altitude/ice climbing. The set weighs a little over two pounds.
The Stalker's universal strap system enables you to pair it with nearly any hiking or mountaineering boot. There's no need for special tools or frustration.
It's also worth noting that the Stalker features anti-balling plates, making them a premium choice for snowy landscapes. On top of that, the crampons come with a custom carrying bag, making them perfect for outdoor getaways.
PROs

Durable chromoly steel crampons
Dual front points
Dynamic anti-balling plates and carrying bag included
Semi-automatic/universal boot compatibility

CONs
Bottom-Line: As our top pick, the Camp USA Stalker crampons help create premium hiking and mountaineering experiences.
Petzl Leopard Fl
Best Entry-Level Option
If you're looking for a lightweight system that's ideal for snow-covered approaches, the Petzl Leopard Fl are an excellent option. This Petzl model is made from ultralight aluminum and CORD-TEC. As such, each pair weighs less than 1 1/2 pounds.
This product also have a flexible linking system. The CORD-TEC construction lets you stuff them into a small carrying case when they are not in use. In case you were wondering, a carrying case is included with each purchase.
With just 10 points, the Leopard FL are best suited for entry-level snow and mountain travel.
Leopard FL's flexible binding system does not require installation tools. What's more, it can be matched with hiking or approach shoes. No heel or toe welts are necessary.
With an all-aluminum body, you can expect the Leopold FL to wear our faster than stainless steel crampons. Still, their lightness makes them ideal for alpine getaways.
PROs

FlexLock Binding System is ideal for snowfields
Super lightweight aluminum construction
Flexible CORD-TEC linking system
The system does not need to be paired with hiking boots with heel or toe welts

CONs

Aluminum points wear out rather rapidly
Bottom-Line: The Leopold FL are an ultra-lightweight traction system that is ideal for general mountaineering on ice and mixed snow.
Black Diamond Serac Strap
Best Technical
This lightweight 12-point model features a super durable stainless steel construction. Each crampon has dual horizontal front points for securing feet on icy inclines. The secondary and rear points also serve as deep-digging points of contact.
We love that these shoes are resistant to rust. Despite the lack of toe bails, they do a fantastic job of preventing under-the-foot snow clumping.
They come in three different styles. The professional ones pair well with technical boots that have toe/heel welts. Meanwhile, the clip version is built for mountaineering boots that only have welts. There is also a strap version that is well suited for technical footwear. All three versions weigh less than 2 pounds.
You will find it easy to slip this model over your footwear. An adjustable heel bail will help you find the right fit.
These bad boys make it easy to traverse ice fields and steep snowy inclines.
PROs

Super durable rust-resistant construction
Dual horizontal front points
Low-profile micro-adjustable heel bail
Can be paired with hiking boots and technical footwear

CONs

Must be sized before movements
Bottom-Line: The unmatched durability of the Black Diamond Serac will give you confidence when scaling modest mountains.
Black Diamond Contact Strap Stainless Steel
Best Lightweight Option
Build confidence with these rust-resistant stainless steel contact crampons. Black Diamond is known for producing hard-wearing products. Their contact strap model is no exception.
The crampon's low profile design fits with nearly any type of outdoor footwear. This system also has a low profile that is best suited for modern mountaineering boots. A flexible foot strap makes it easy to install them.
This Black Diamond product is light and compact, making them an excellent option for travel.
They also come with dual-sensitivity ABS plates. The plates do an excellent job of keeping snow from sticking to the bottom of your boots.
Despite the Black diamond crampon's durable foundation, a complete system weighs less than 1 1/2 pounds.
PROs

Rust-resistant stainless steel construction that resists snowballing
Low-profile fit provides a better compatible crampon for boots
Dual-sensitivity ABS
10 points for easy walking

CONs

Require defined heel and toe welts to stay on
Bottom-Line: These incredible 10-point stainless steel crampons are superb for general mountaineering on ice and mixed snow. The contacts are sharp and wear-resistant. They also serve as a lightweight foundation.
Grivel G-10
Best 10-Point
If you're after a solid entry-level crampon, check out Grivel's 10-point strap-on system.
This incredible system features a single strap closure. It also boasts toe and heel pieces for a more secure fit over a wide variety of footwear.
The 10 points of contact make it easy for you to traverse intense icy covers. Omit, we recommend this system for travel over flat earth and modest inclines.
The Gravel G-10 feature removable anti-balling plates. These plates prevent snow and ice from building up below your feet.
They weigh just under 2 pounds, making them a bit on the heavy side. Still, the chromoly-stainless steel spikes is an unbeatable option for winter landscapes. Keep in mind that this model is very flexible. As such, they pair well with rigid technical footwear.
PROs

Lightweight crampons
Portable, fold up for transportation
Perform well on snow, ice, and rocks
Made from chromoly steel
Toe, heel, and strap system

CONs
Bottom-Line: These entry-level crampons have ten razor-sharp points for tackling snow, ice, and earth & our pick for the best 10-point crampons.
Hillsound Trail PRO
Best Budget Option
Hillsound's budget-rate Trail Pro Crampons are vastly underrated. This incredible strap-on system features ten ice-penetrating carbon steel spikes.
The foundation is supported by an adjustable spring bar. Not to mention, they are fortified with quality anti-balling plates. As such, you never have to worry about snow or ice clumping up beneath your feet.
The Hillsound Trail's buckle closure system is super intelligent. While some users said that the buckles pop open when covered in ice, the system is mostly reliable. Not to mention, it allows you to create a precision fit with a variety of footwear options.
The Hillsound model is incredibly light. While they have no trouble sticking into frozen hills, they are better suited for flat earth.
This product has an unbeatable price. As such, they are a reliable alternative to worn-out rental gear.
PROs

10 carbon steel points that range from 3/4 to 1 inch
Anti-balling plates reduce snow buildup
Spring bar offers tool-free adjustments
Ratchet buckles for a more secure binding

CONs

Locking mechanisms are prone to opening
Bottom-Line: The Hillsound Trail PRO Crampons are an affordable system that will give you unmatched confidence on icy trails.
BRS Professional Edition Fourteen Teeth
Best Crampons For Hiking Boots
The BRS 14-point snow crampons are one of the most budget-friendly options we've come across. While this system is not ideal for steep climbs, it does great on cross-country terrain. The manganese steel foundation holds up well in extreme temperatures.
It does not rust easily or wear out prematurely. The bindings feature elastic, plastic, and woven ribbon parts. You do not need tools to make adjustments. You will gain confidence as your feet cling to the icy surface of winter wonderlands.
The BRS model can handle everything from snowy earth to ice-covered rock faces. Many users have had success using the BRS in high altitudes. We recommend clingy systems for entry-level excursions. They are lightweight and portable. They even come with a durable carrying bag.
PROs

Durable high-density manganese steel spikes and chain system for extreme excursions
low price point
Durable elastic binding
Perform well in extreme temperatures

CONs

Not suitable for vertical climbs
Bottom-Line: BRS's Professional Edition 14-point Crampons hug icy inclines with expert precision.